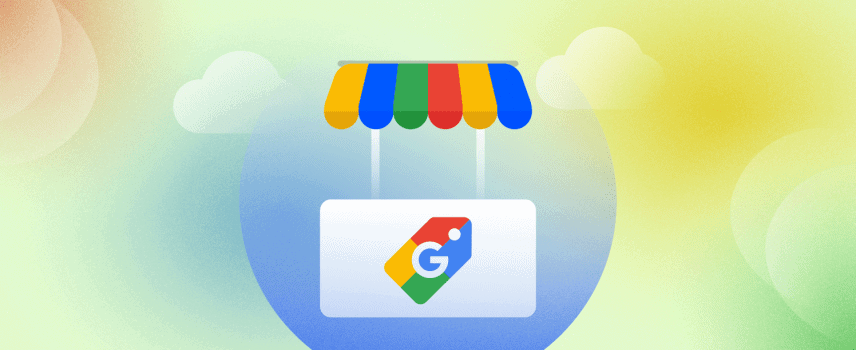 How to Sign Up & Start the journey with Google Merchant Center
Behind a successful Google Shopping campaign, an excellent Google Merchant Center account is mandatory. You can tweak Google Shopping settings to get benefits from your WooCommerce shop. When it comes to success, you must use Google Merchant center effectively. Your product listing ads won't be effective without an optimized product feed on Google Merchant Center.
Why? Well, your WooCommerce product feed is synced on Google Merchant Center. Google Merchant center is the place from where AdWords functions. From the product feed, every detail about your store's product is then used by Google Merchant center to portray the ads and search results.
In effect, a properly organized Google Merchant center is as important as managing your product feed. If you focus and take your time to manage Google Merchant, then you will succeed. If you get messy while organizing, you will lose money.
To help you start your journey with Google Merchant Center, we will guide you on how to sign up and start the journey with Google Merchant Center. We will also let you learn how to run effective Google Shopping campaigns. So, let's get started.
What is Google Merchant Center?
Google has the unique algorithm of all other search engines, but still, it cannot read minds. Google is not aware of your WooCommerce products in default. You have to provide your product information to Google, and that is where Google Merchant center comes.
To provide the product information to Google, you will be needing a Google Merchant Center account. On Google Merchant Center, you can upload your product information such as product name, price, description, etc.
Google then uses your product information from Google Merchant Center to show Ads. Google also shows your product information on Google search results. The benefits of Google Merchant center are countless for eCommerce business owners. Let's discuss the benefits of the Google merchant center below.
Grow your Business
Google merchant center enables you to manage how your online store's product appears on Google. Online and especially Google is flooded with customers looking for products. Merchant center helps you to get a notable amount of customers to buy your products.
So, Google Merchant Center is one of the best channels to grow your business substantially.
Product Promotion and Customer reach
Through Google's promotion or Ads, your online store and website get increased traffic. The best part is, you have to pay google only if the customer clicks the ads. Google will represent your product on search results, Shopping, and YouTube. Enough marketing channels
Drive sales
Your products are getting displayed to millions of customers looking for products. Your sales get increased progressively and notably through Google Shopping. WooCommerce store owners generated more sales than ever via this platform.
Get business insights
Each and every sales insight is represented to you, and you can measure the impact as well. With detailed sales insight, you can sort out your valuable customers. You can also differentiate the products that are performing well.
Creating a Merchant Center Account
Now that you know the benefits of Google Merchant center, you surely want to know more. We are moving forward to the Merchant Center account creation process. First of all, you have to open an account on Google Merchant Center. The next step is to verify some essential details related to your online business.
You have to use a Gmail account to create a new Google Merchant Center account. Create a Gmail account or use your previous email address. If you have already connected the AdWords account with an email address, don't use another email address.
You will only need to keep track of a single email address to manage your Google Shopping. Once you have the email address, creating an account becomes very simple. Click the green "sign up" button and connect your google account to create an account.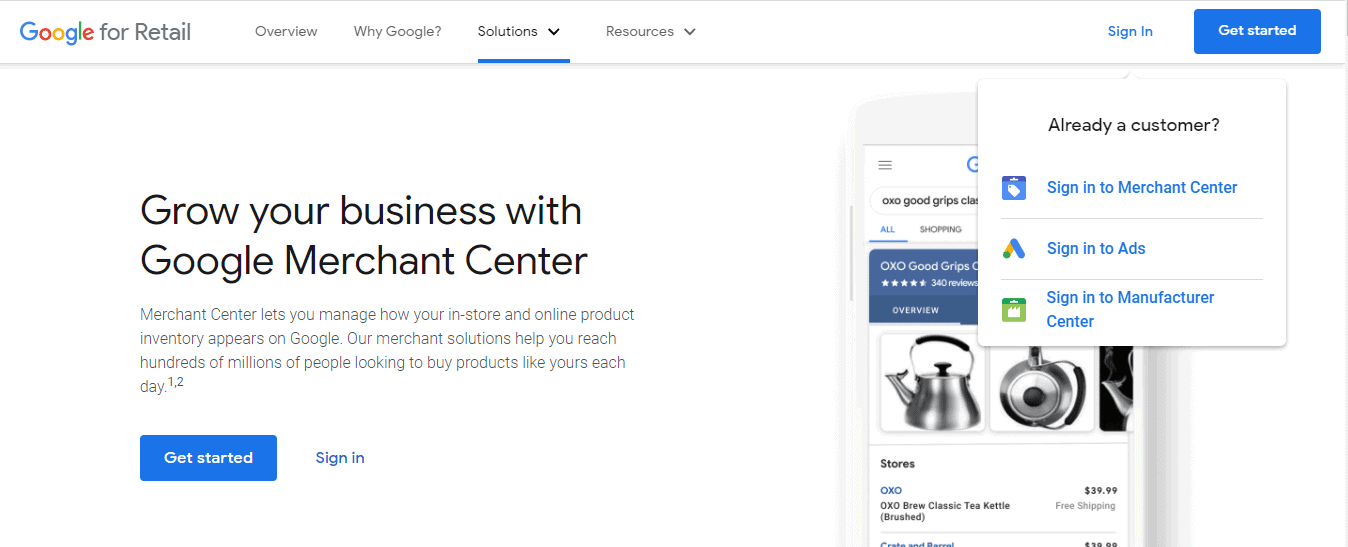 After creating a Merchant Center account, connect your AdWords account. Click the three dots on the top right corner. The dropdown menu will occur after clicking the dots where you will get several options.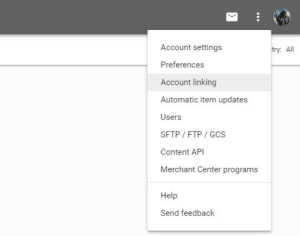 Select the "Account Linking" option from the dropdown menu. You will be suggested to link your AdWords account that is linked with your Gmail.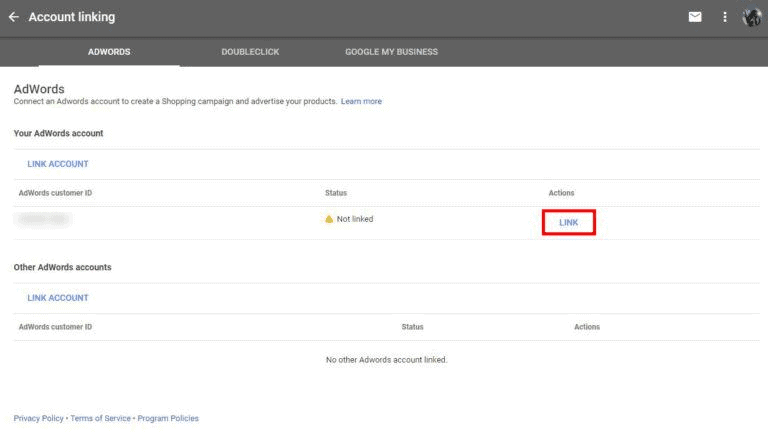 To link a separate email address for Google Merchant Center, click the "Link Account" option on the bottom of the page. Now enter your AdWords ID.
In the next step, you have to verify your website on Google Merchant Center. This step is crucial to verify that you are the owner of the website that you are linking. Navigate the Business information tab on the left column and select "Website."
Now, select one of four methods to link your account:
Download a snippet of HTML code and add it to your website's theme file. Add the code on the <head> tag.
Verify via HTML file that you will upload on your site, which is the most popular method.
Via Google Analytics
Via Google Tag Manager
If you have verified your website previously via Google AdWords with this email address, you don't need to follow these steps. I hope you've understood why we recommend using the same email address for both accounts.
The following things are Shipping and Tax settings that you need to set up on Google Merchant Center. But don't be overwhelmed; the process is simple.
To set up the Tax settings, click on "Tax," located on the left-hand navigation menu.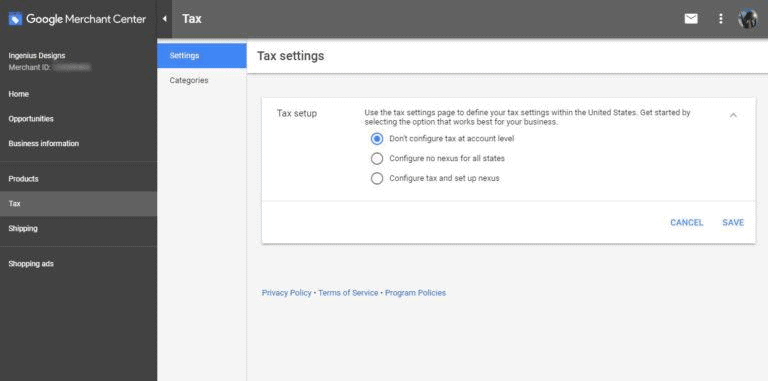 The good news is, you only need to set up rules for the states that you charge sales tax in (typically just the states you have a physical store in).
Shipping settings may require a bit more work based on the complexity of your shipping rules. Google will not let you run any Shopping campaigns until you add this information, so click on "Shipping" in the left-hand navigation.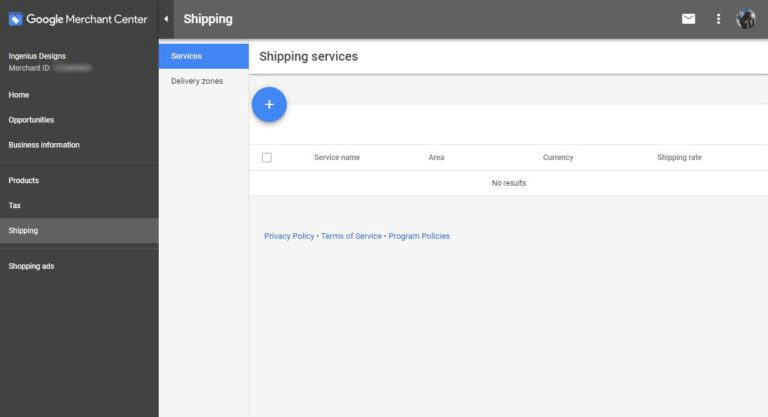 Provide information regarding the locations, weights, and prices for your offered shipping options. If you are offering free shipping, select Fixed Rate and enter $0.00 as price. You won't be able to see the "Free Shipping" promotional text on Google Shopping Ads if you don't set the price as $0.00.
Connecting the Feed
Awesome! Now you can connect your product feed to Google Merchant Center. There are several ways to upload a product feed. The first step is to click on "Products" located on the left-hand navigation menu. Now click on "Feeds":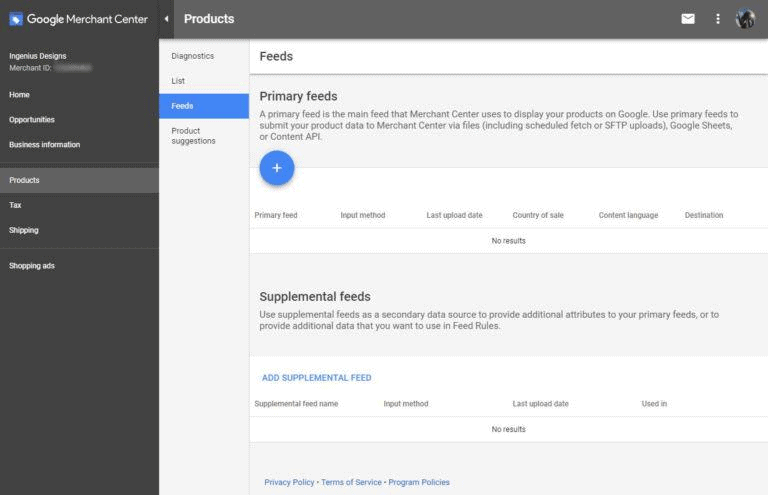 You will get numerous options to connect the product feed to the Merchant Center account:
Uploading a .TXT or .CSV file that includes product information with google product attributes.
Use WooCommerce Product Feed plugin: CTX Feed to connect your Product Feed on Google Merchant Center.
Use Feed URL, which is also available on the CTX Feed plugin. The URL updates dynamically, which means no hassle of updating products manually.
We will be focusing on connecting the product feed via CTX Feed. This method is the most recommended option for WooCommerce store owners.
CTX Feed – Upload WooCommerce product feed on Google Merchant Center easily

CTX Feed is the most popular WooCommerce plugin for generating Product Feed. With this plugin, you can generate a product feed that is already optimized for Google Merchant Center. The plugin includes a built-in template to create an optimized product feed for Google Merchant Center.
The built-in Google Shopping template includes all the product attributes that google understands. This means you don't need to organize your product feed manually. Moreover, you are getting the file format.
To create the most optimized product feed for Google Merchant Center, learn more about the plugin. Let's install this excellent WooCommerce feed generation plugin to take your journey further with Google Merchant Center.
Once the feed has been connected using one of the above methods, you will then be able to see whether your product is pending, approved, or disapproved.
Feed issues on Google Merchant Center
It takes 72 hours to get the initial approval on a new account. You can contact Google support if it takes more than 72 hours to approve your account. Well, an error-free product feed does not take long to get approved.
You don't need to panic If you see that your product feed has disapproved products. On the diagnostic tab of the Merchant Center, you can see the error detected by Google. You can identify the error report by downloading the .csv file.
In case all your products are disapproved, click the account section of the diagnostic page. You can find the reason for the disapproved products by clicking learn more located next to the error.
After complying with all the Merchant Center requirements, click fetch now to update the feed. It will make the product feed with the changes you have made.
Google Shopping Feed
Shopping Feed optimization may seem complex, but it is easy and makes a huge impact on sales. We will take a quick look at the common but crucial fields on a product feed.
Title
People performing a relevant search will see the product title at first. Customers identify a product by viewing the title of a product. It is the most prominent product attribute of a feed. It is recommended to invest some time to craft a lucrative title for your product.

Google allows up to 150 characters in the title attribute and gives priority to 70 characters. Put important keywords at the beginning of your title to make it more effective.
Using promotional text (offers, shipping, etc.) on title attributes is prohibited by Google. Your title should only focus on product-related details such as color, size, etc.
Product Category
Google Shopping campaign is not designed to use the keywords to target the ads. Instead of the keywords, it uses product categories. So, entering the correct product category is really important, which might seem complex.

With CTX Feed, the hassle of including the exact "google_product_category" is minimized. You can synchronize the WooCommerce product category with the Google Product Taxonomy list.
Description
Description field contains a description of the product that describes the product details. Customers can get a better understanding of a product by looking at the description.

You are allowed to enter 5,000 characters in the description field. In google search results, you can see only one or two sentences. So, use this field wisely and include exclusive information at the beginning.
Promotional text is not allowed, just as we explained before. Focus on the features and benefits of the product. Do not represent the benefits of buying from your store in the description.
Link
Guess what? If you are running ads on Google, the customer clicks should be pointed somewhere. You have to point the clicks precisely and link them to your product page.

According to Google product attribute guidelines, the link should carry the "http://" part of your URL. If you have separated the product page for mobile users, that link should be included in the "mobile_link" field.
Image link
The "mage_link " field should include a link to your product image that is high quality. Don't forget to include the product image without any text or logo.
Provide an eye-catching image to be successful in product listing ads. Provide a high-quality image that draws the customer's attention.
Condition

Condition field has three options, including new, used, and refurbished. This field is required to mention the state of the product. It is a vital product attribute because Google uses it for refined search results.
Availability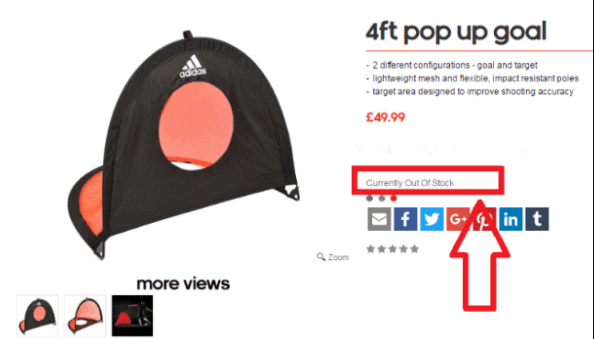 You need to fill in the availability field, which is easy to complete. Pick the value of this field from in stock, out of stock, and preorder. This field should be updated regularly; otherwise, customers will be disappointed.
Price
Price attribute informs Google how much you are charging for a particular product. This is the field that customers really care about. Mention the selling price and the currency in this field.

The displayed currency should match the country where you are advertising your product. Remember that the product price, condition, and availability should match the information on your website. Google won't show or penalize your ads if the information of the feed does not match with your site.
Global Trade Item Numbers (GTINs)
Google uses GTIN to represent and gather identical products on the Google shopping result page. Some familiar GTINs you will see are mentioned below: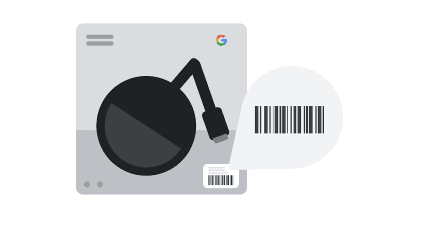 UPC — GTIN used in North America
EAN/UCC — GTIN used outside of North America
JAN — GTIN used in Japanese
ISBN — GTIN used for books
There are some products with multiple GTINs (e.g., UPC and EAN ). Pick one GTIN to use from products with multiple GTINs.
Read More: GTIN Guide for WooCommerce Store Owners
MPN
MPNs are the numbers that the manufacturer creates. These numbers are specific and made for a particular part of a product. MPNs serve the same purpose that GTN does. To identify your product's MPN, you can check your suppliers.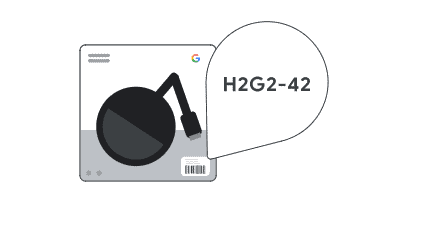 Brand
The brand field informs Google about a specific brand or company of your product. You can include your company's name only if you are manufacturing the product. Customers can easily identify a product according to its brand name.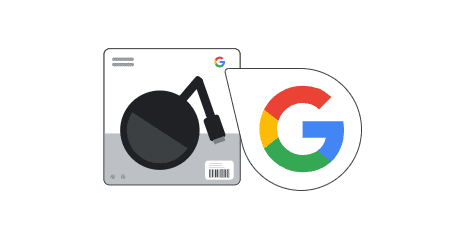 A product packaging or label should include the brand name, and it should be clearly visible. Do not add brand name artificially on a product image.
Color, Gender, Age Group, Size
[Image]
While selling products such as clothes, the color, gender, age, group, and size fields are essential. Customers looking for clothes or shoes will match their preference according to this information. Users can narrow the search results according to color, gender, age group, and size.
ID
[image]
Id field essential for each product, and it can be used for your personal reference. This unique number will let you connect the Google data to your store data. Using any type of system such as SKU, internal reference number, etc., will make your product identifiable.
Optimizing Product Feed
Google represents a search result after considering different product attributes. Three product attributes are the most essential among all other attributes. You can optimize all the product attributes, but these three are the most crucial ones:
Title
Include short but precise words that create the most importance. The title carries the potentiality to grab customers' attention at a glance. So it is evident that an optimized title increases the opportunity of your ads being clicked.
Make sure that you are including the main keywords in your title. Remember not to stuff keywords on the title. People are looking for something specific (color, size, material) while searching for a product. If you can make a title with the information your customers are looking for, your product will be sold for sure.
Figure out the search terms that the customers search on Google Shopping ads. Click on "Keywords" and then click "Search" terms. By creating a filter for "Conversions > 1," you will be allowed to see the search terms people entered and bought our products.

These search terms will help you decide what type of words you need to include on a product title. The customers will feel like they have found their product if you include their preferred keywords.
Description
Product description describes the product in detail to google and the customers. There are lots of ideas on how to create a perfect product description.
The key to creating the product description is to put important keywords on the front. Google focuses on the keywords at the beginning of a product description. Adding all the keywords creatively in the first sentence is adequate.
Your description is more likely to show up and get a higher relevance score as well. Your description should cater to customers, not the Google bot. For expensive products, create a detailed description, and for cheaper products, keep it short but sweet.
Google Product Category
Your chosen google Product category affects the search result where your products will show up. Google product category is essential to sort your product and show it on a search query. Find the relevant categories and subcategories of your products.
The more specific your category is, the more chance your products get eligible. Avoid looking for broader categories and focus on specific categories.
Conclusion
A perfectly organized Google Merchant center is the key to make your WooCommerce journey successful. Opening and optimizing your Google Merchant product feed and the merchant center might seem overwhelming. But Google Merchant center is very effective, and if you can work with it properly.
Setting up and managing Google Merchant Center is not complex at all. If you follow our mentioned guidelines, you can set it up in no time.