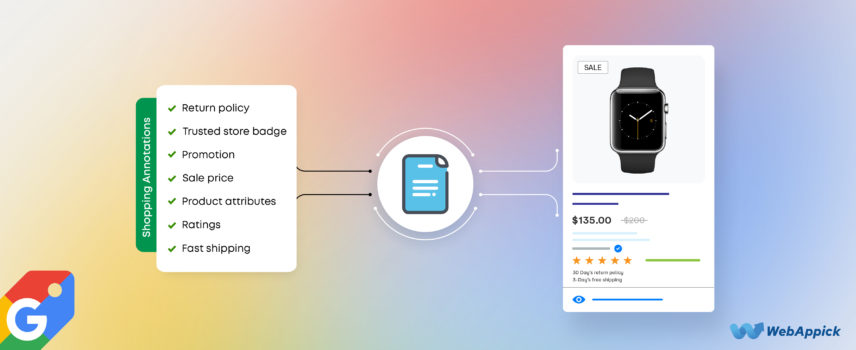 Google Shopping Annotations: Tips and Tricks to Improve Your Product Listings
If you are running an eCommerce/WooCommerce store and aren't aware of Google Shopping and product feed marketing, you are missing out on a world of opportunities.
76% of all eCommerce industry search ad spend goes toward shopping ads, indicating high levels of interest in the category and a significant investment of ad dollars by major brands.
Google Shopping receives an average of 1.2 billion searches per month.
At present, 85.3% of all clicks from Adwords and Google Shopping campaigns come from shopping ads.
It is projected that by 2040, nearly all purchases will be made online. That means the competition will also be fierce. To survive, store owners like you need to have a sustainable marketing strategy in place.
Product feed marketing and promoting products on Google Shopping is one very effective way you can reach your audience and grow your eCommerce business.
This article, as the title suggests, is about Google Shopping annotations. However, to understand the term better, you must first understand the full process of promoting your products on Google Shopping.
Therefore, in this comprehensive guide, we will cover the following topics –
What is Google Shopping?
How to list and promote products on Google Shopping?
What is product feed marketing?
What are Google Shopping Ad Extensions, Annotations & Labels?
How to apply Google Shopping annotations
If you are already using google shopping product feed and Google Shopping and only want to learn about Google Shopping Annotations, then you can jump directly to that section using our table of content scroller.
So, without further ado, let's begin.

What is Google Shopping?
We all are familiar with the traditional Google search text ads. For example, here're some examples of text ads.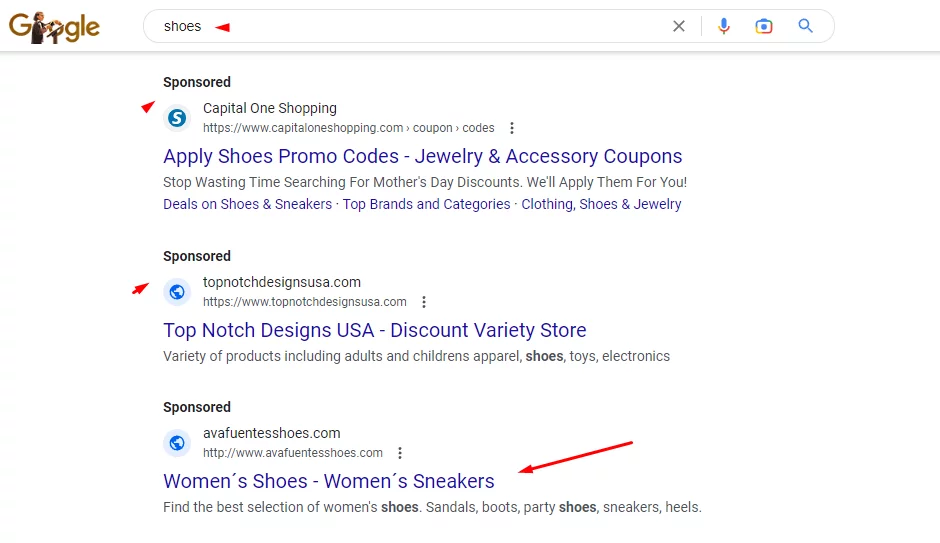 You see a title, URL, and some meta descriptions in the ad. This has been the traditional Google ads from the very beginning.
However, 75% of online buyers use pictures of products to help them make a decision about whether or not to buy.
Therefore, if you can include product images and some more details, such as price, your ad will have a significant impact on the users and will generate more reach, conversion, and revenue.
And Google calls these types of ads Google Shopping Ads. Google also has its own product comparison engine site called Google Shopping.
Confused?
Go to the official link of Google Shopping. You can also use the shopping tab on the SERP page.

This is a price comparison engine. Here store owners like yours can list and promote their products.
When a user searches for a product in Google Shopping, it will return a list of similar products from different eCommerce store owners.
You can list your products for absolutely free on this platform and also can run paid ads here. Google displays the paid shopping ads at the top and the free listings below.
Besides Google Shopping, Google also displays your shopping ads on search results (SERP pages) and across different Google networks.
How to list and promote products on Google Shopping?
We will not dig deep into detail about how you can list your WooCommerce products on Google Shopping. But let's quickly review the process.
To list your products on Google Shopping for free and also run paid campaigns, you will need three things.
A Google Merchant Center account
A product feed file
A Google Ads account
Creating a Google Merchant Center account
The process is pretty straightforward. Go to the official link and sign up with your email.
After you go through the initial steps, you must fulfill the following steps.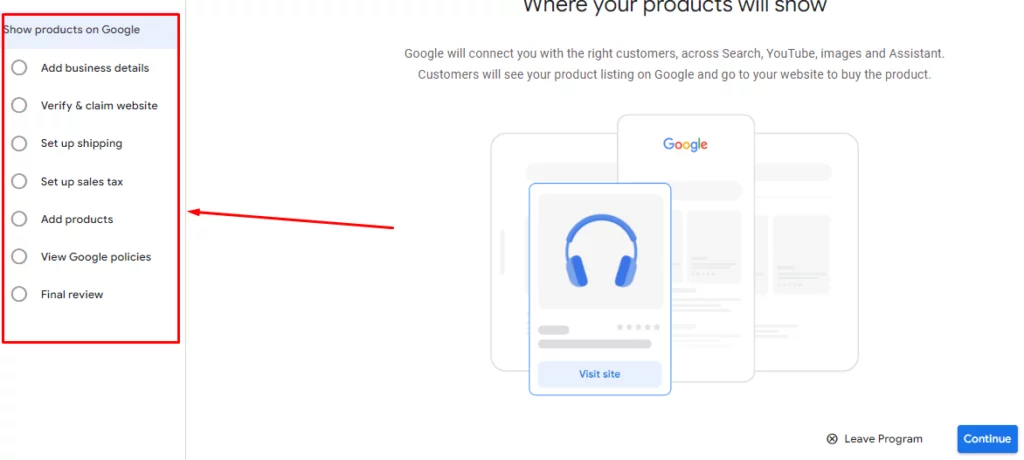 The main part of the process is uploading a product feed file. You can quickly upload and list all your WooCommerce products with a product feed file.
We will learn about the product feed file in detail in the later part of the article, but let's quickly review how to upload the product feed in the Merchant Center.
Navigate to the Add Products tab when setting up your Google Merchant Center account. To begin uploading your Google Shopping feed, choose the Add multiple products at once option.

Choose Free listings if you want your products to appear on the organic results page of Google Shopping.
Next, you need to name your feed and select the Scheduled Fetch. We will discuss in detail why we are selecting the Scheduled Fetch option later in the article.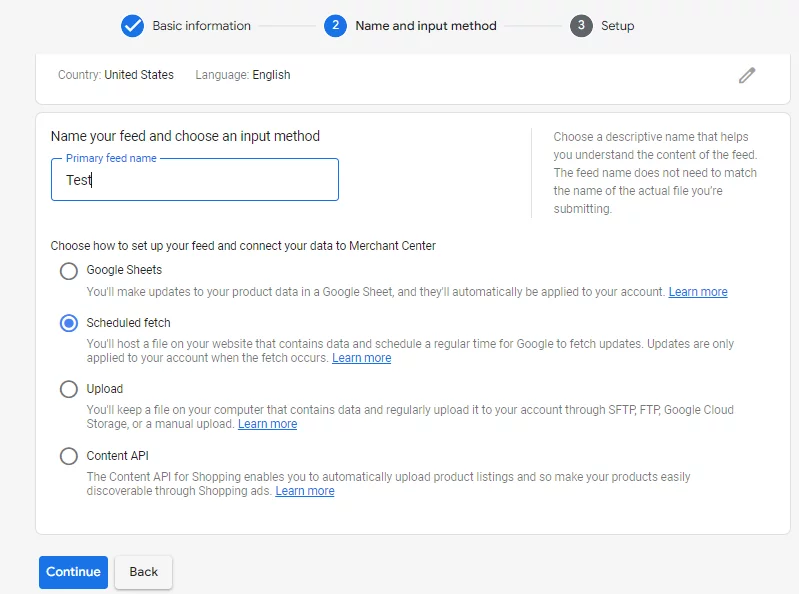 Input your product feed file name and paste your feed URL. You can set the update frequency of your feed.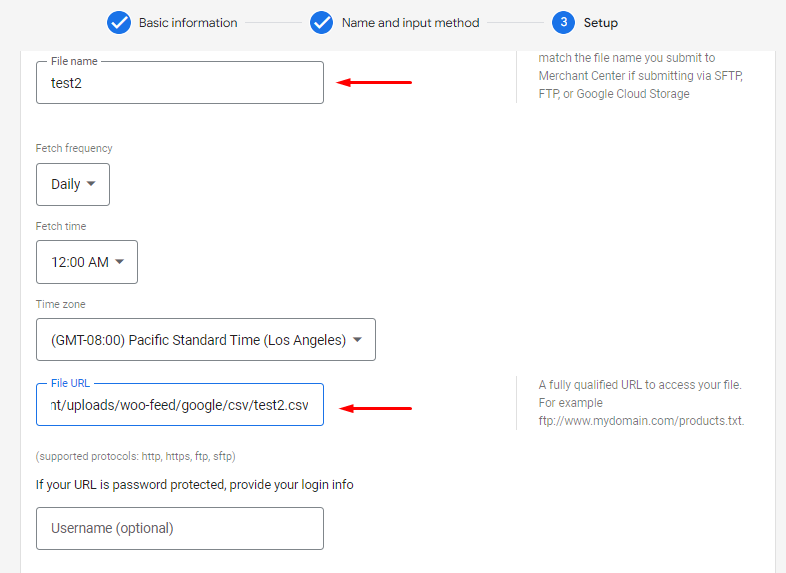 Once you complete all the processes, Google Merchant Center will fetch all your data and list them in Google Shopping free listings.
Running Google Shopping Ads
You will need a Google Ads account to run paid shopping ads for product listings.
Sign up with the same email/Gmail you used for GMC (Google Merchant Center) account. Next, you need to link your GMC account to this Ads account.
Go to the Tools and Settings menu and click the Linked Accounts option.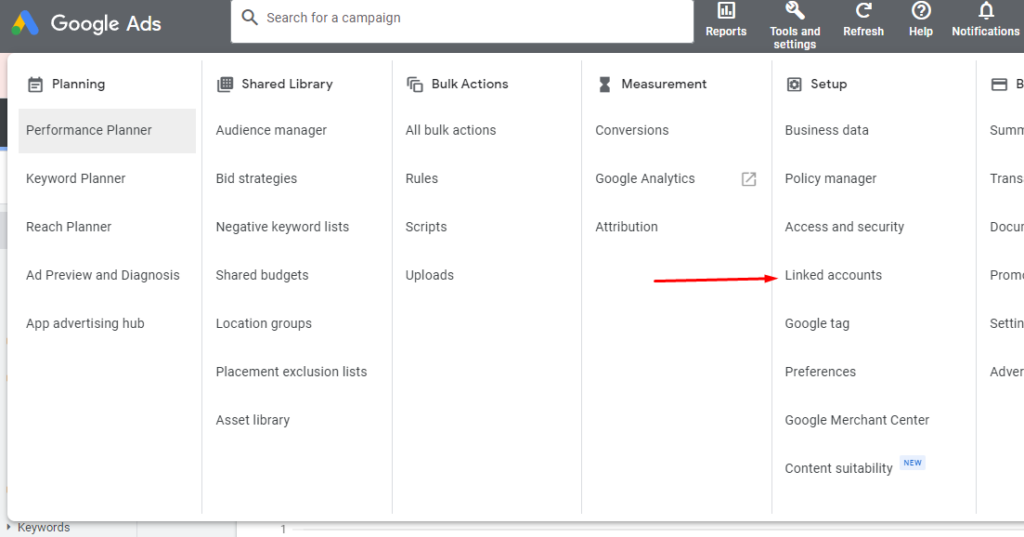 Search, find, and connect the GMC account.

Now you can start creating a shopping ad campaign.
Select Sales after you click on the New Campaign button.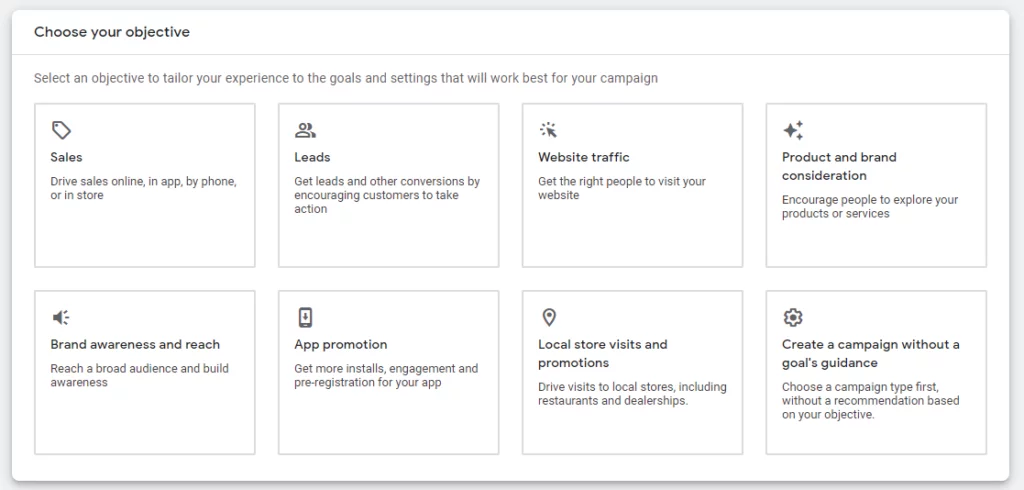 Select Shopping.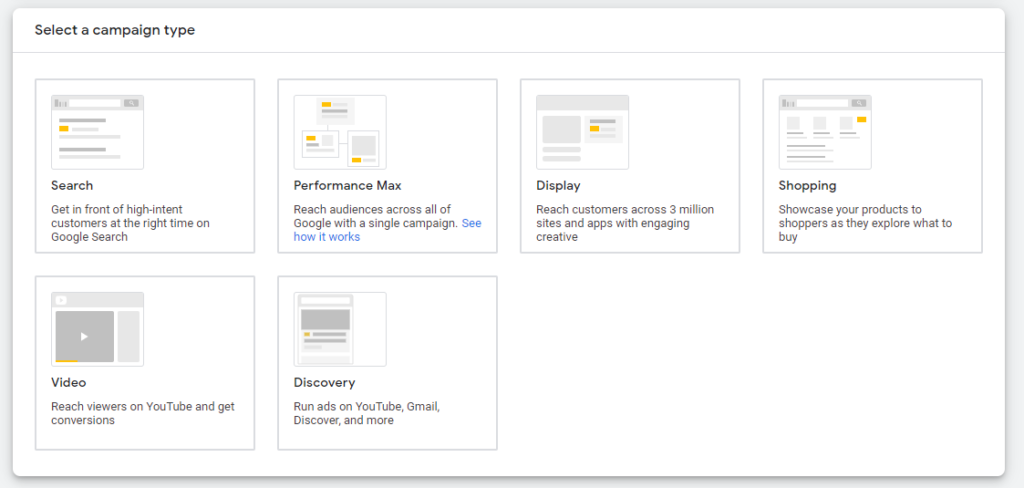 Then select the appropriate option for your bidding strategy.

Ultimately, Google will fetch your product data from the product feed file you connected to the GMC account and create and run ads automatically. Additionally, you can subdivide your product groups and run ads on specific categories or products.
Now the question of the hour is, what is a product feed file, and how to create one for your WooCommerce store?
Let's find out.
What is a product feed file?
Imagine you have a WooCommerce store with a wide variety of products.
A product feed file is like a comprehensive catalog or a digital spreadsheet that contains all the important information about your products. It's a handy way to organize and share your product data with different platforms, such as search engines, marketplaces, and comparison shopping websites.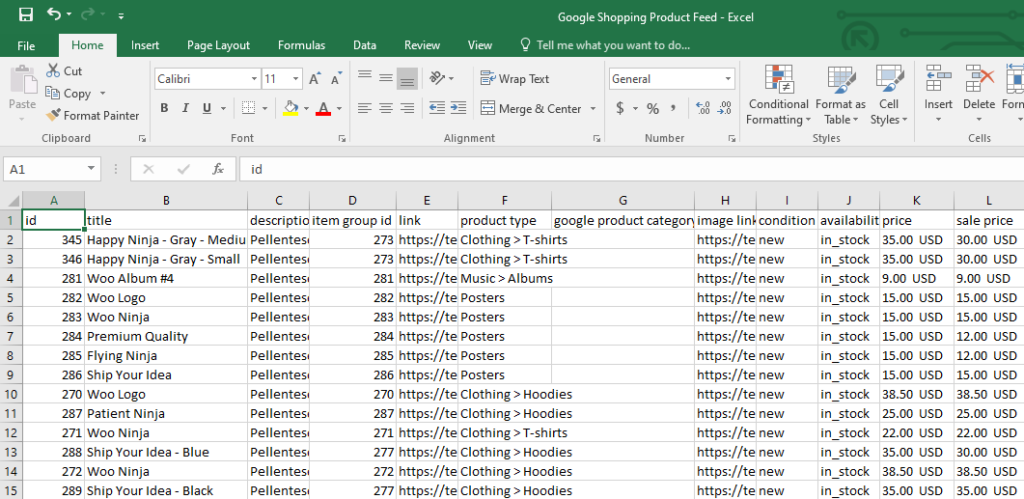 In this file, you'll typically find details about each product, like its title, description, price, availability, brand, category, images, and even unique identifiers like SKU (stock keeping unit) or GTIN (Global Trade Item Number).
It's like a treasure trove of information about your products, neatly organized in one place.
The great thing about a product feed file is that it comes in a standardized format, like XML or CSV, making it easy for different platforms to understand and process the data. By regularly updating and submitting this file to various platforms, you can ensure that your product information is accurate and up to date across the internet.
Why is this important, you might ask?
Well, when you have your product feed file integrated with different platforms, it allows potential customers to find your products more easily. For example, if someone searches for a specific item on a marketplace or uses a search engine's shopping feature, your products will show up if your feed is properly set up and optimized.
Product feed files help streamline the managing and distributing of your product data, making it more efficient and less prone to errors. Plus, it saves you from manually entering and updating product information on multiple platforms. So, it's a win-win situation!
In a nutshell, a product feed file is like a comprehensive inventory of your products. You can share this with different platforms to boost your product visibility and reach a wider audience.
What are the attributes in a product feed file?
Attributes in a product feed file are the specific pieces of information that describe your products. They provide detailed characteristics, properties, and features that help define each item in your inventory.
Attributes act as the building blocks of your product data. These allow you to provide rich and accurate information to potential customers and the platforms you distribute your feed to.
Attributes can include various information about your products, such as title, stock unit, description, price, brand, category, availability, etc.
Necessary attributes for Google Shopping product feed
When it comes to Google Shopping ads, several attributes are considered required or strongly recommended to ensure your product data meet Google's guidelines and improves the performance of your ads.
Here are some of the essential attributes of Google Shopping ads:
ID: A unique identifier for each product in your feed.
Title: The title of your product, which should accurately describe what it is.
Description: A detailed and accurate description of the product, highlighting its key features and benefits.
Link: The landing page URL where users can find more information and make a purchase.
Image Link: A URL pointing to an image of the product. It's crucial to have high-quality and visually appealing images.
Price: The price of the product, ideally including any applicable taxes or shipping costs.
Category: The category or taxonomy that best represents the product. It helps organize and classify your products for better targeting.
Condition: The condition of the product, such as new, used, or refurbished.
Availability: Indication of whether the product is in stock or out of stock.
Brand: The brand or manufacturer of the product.
MPN (Manufacturer Part Number): The manufacturer's part number for the product.
Even though these are the attributes that matter most, it's important to note that Google may have other suggestions or requirements depending on the type or category of products you're advertising.
For the most up-to-date information on attribute requirements, it's always a good idea to check Google's Merchant Center guidelines or contact their support.
If you make sure to give accurate and complete information for these attributes, your products will show up in relevant search results, and your Google Shopping ads will work better.
How to create a product feed file in WooCommerce
You can use tools like Google Sheets or Microsoft Excel to generate CSV files. You can collect the attribute guidelines and format your file according to that.
After that, you can copy and paste your WooCommerce product data under the attributes. However, this is an entirely manual process. It doesn't really serve the main purpose of a product file which is automating the product listing process.
Also, every time you add some products or make some changes to your existing products, you will need to manually update the file and re-upload it again to the channel. This can be a daunting task, especially when you have a good number of products.
Your best choice is to use a product feed plugin such as the CTX Feed.

CTX Feed – product feed plugin for WooCommerce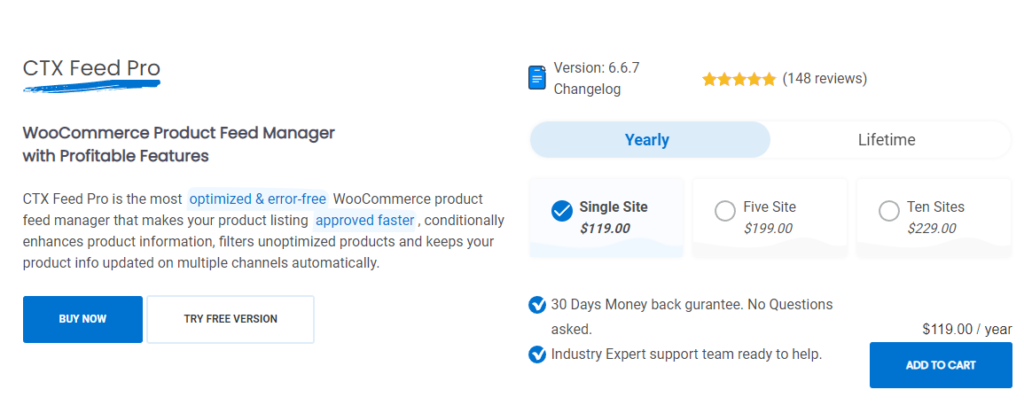 The CTX Feed plugin is a handy tool for WooCommerce users. It helps you create and manage product feed files to promote your products on different marketing channels.
You can list and promote your products to 130+ channels. You can promote your WooCommerce products on giant marketplaces and price comparison engines such as Google Shopping, Amazon, Walmart, Target, PriceGrabber, etc.
With this plugin, you can easily generate product feed files in formats like XML, CSV, and TXT. These files contain all the important details about your products, such as names, descriptions, prices, and availability.
What's great is that the plugin already knows what attributes different platforms require. It has integrated attributes and guidelines for each channel under templates. The moment you select a template, the plugin will automatically populate the necessary attributes.
The plugin also lets you customize your product feeds to fit the requirements of various platforms. You can choose the specific attributes you want to include and even create custom ones if needed. This way, you can make sure your product data matches what each platform expects.
And hey, no need to worry about manually updating your feeds when things change. The plugin can automatically update your product feed files. So, if you tweak prices or adjust stock levels, the plugin takes care of updating the feeds for you. It's a real time-saver!
All in all, the CTX Feed plugin is a nifty tool that simplifies the process of creating and managing product feeds. It helps you get your products out there and in front of more potential customers across various marketing channels. So, you can sit back, relax, and let your product data shine!
How to create a Google Shopping product feed using CTX Feed
As we have mentioned, creating a product feed file using CTX Feed is as simple as it can get. Let's begin by installing and activating the plugin first.

You can install the free version from the WordPress repository.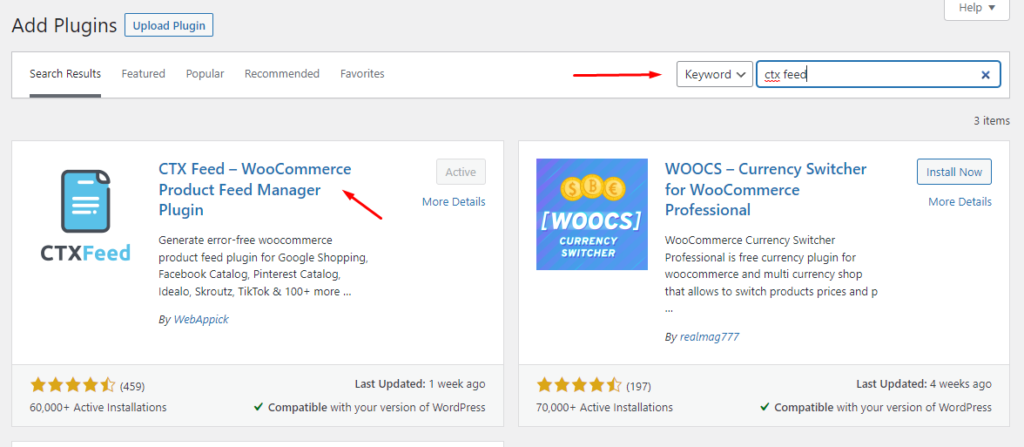 CTX Feed will create a separate menu on the left panel. Click on Make Feed.

This is the new feed window.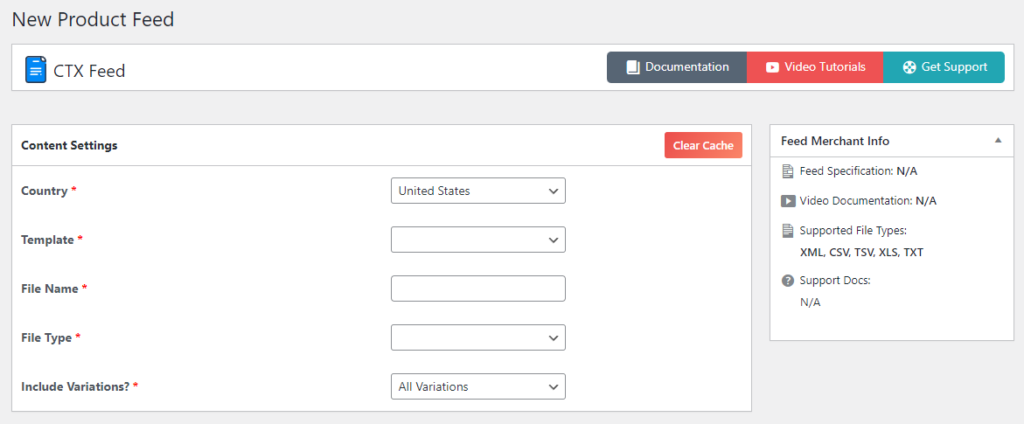 From the Template dropdown, select your template.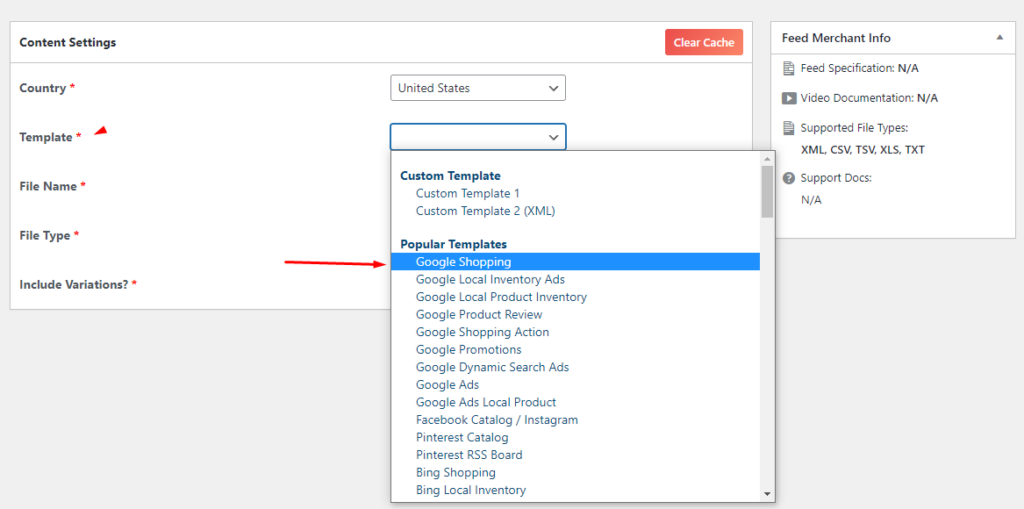 The plugin will automatically populate the necessary attributes when you select the template. Not only that but after you click the generate button, the plugin will automatically collect all your Woo product data and generate a product feed file for it.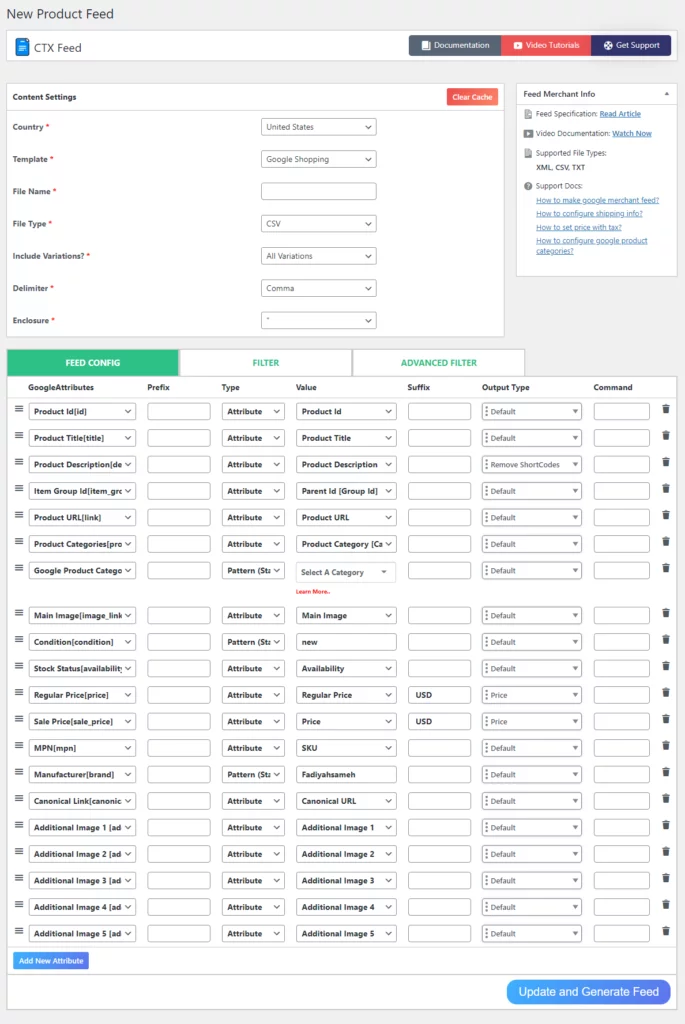 Now go to Manage Feeds.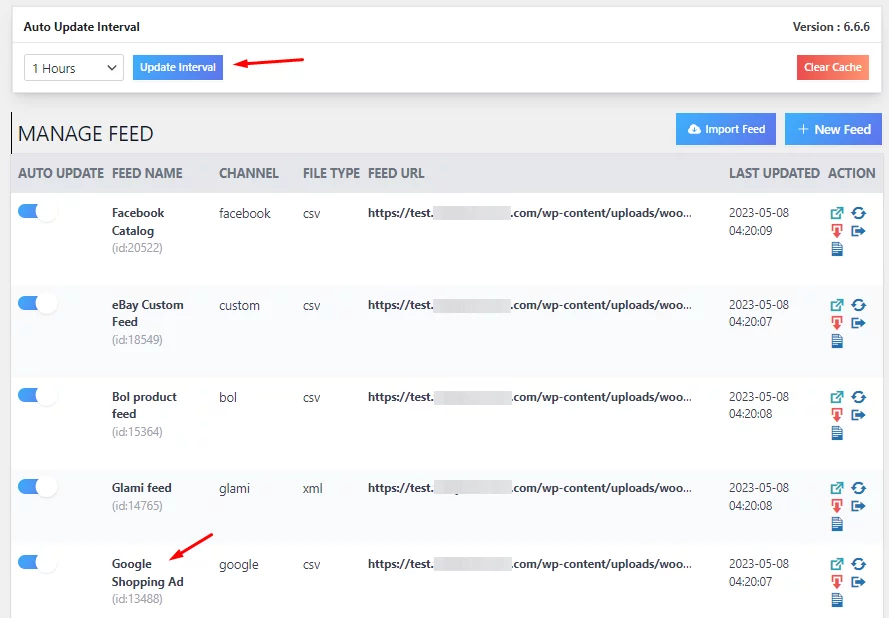 The update interval is where you set the time, after which all your feed files will be updated automatically.

From different settings here, you can edit, delete, regenerate, download, view, and copy feed URLs. Do you remember the Scheduled Fetch option?
We will discuss why that is the best option for uploading the Google Shopping product feed.
As you can see, CTX Feed automatically updates all your product feed files according to your set interval. You can download the feed file and then upload it to the channel again to display updated information.
However, that process is also kind of manual. To automate the whole process, CTX Feed allows you to copy feed URLs and connect using SFTP/HTTP/FTP/Scheduled Fetch option.
In this process, you are hosting your feed file on your own WooCommerce website server. For any changes you make to your WooCommerce products, CTX Feed will collect them and update the feed files. And then, after your set interval, Google will fetch those updates from your feed URL automatically.
Therefore, you can automate the entire process of listing and updating WooCommerce product data to a channel like Google Shopping. And as a result, you can display the same and accurate information across all your connected channels.
What are Google Shopping Ad Extensions, Annotations & Labels?
Let's first find out what a Google Shopping ad or list contains.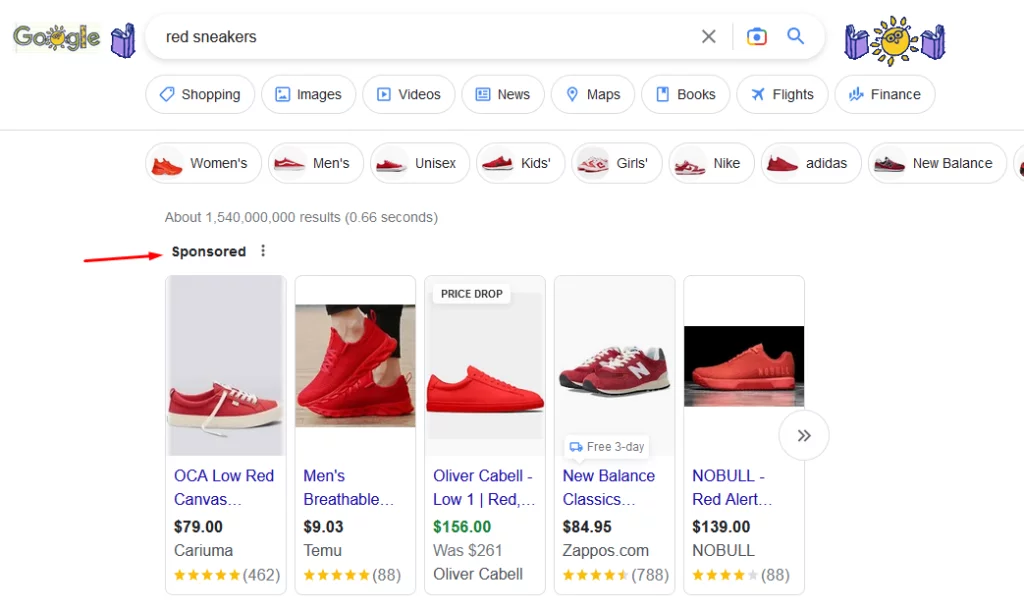 As you can see, a Google Shopping ad contains a title, image, price, and brand or store name. When you create a product feed for your Google Shopping ad or listing, Google fetches these data from the feed file and displays them in search results.
However, with millions of competitors, you would always want to stand out from the rest. That's what Google Shopping annotations, ad extensions, and labels can do for you.
Google Shopping Ad extensions, annotations, and labels are extra pieces of information that show up on Google Shopping ads in addition to the title, price, image, and store name. These extra pieces of information can help your ads stand out in the crowded SERP space and get shoppers to click on your ads instead of your competitors.
You can add additional information to your Google Shopping Ads, such as special offers, price drop annotations, shipping labels, customer reviews and ratings, local inventory ads, sales annotations, and return policies.
If we talk about Google Shopping annotations, in particular, Google Shopping annotations are labels or tags that provide additional information about your products in Google Shopping ads. These annotations appear as text overlays on your product images, highlighting specific details or features to attract the attention of potential customers.
Annotations can include information such as "Price Drop," "Percent off," "Free Shipping," or "Sale." These labels help shoppers quickly identify key attributes of your products and make more informed purchasing decisions.
By utilizing Google Shopping annotations, you can make your ads more engaging and stand out from competitors, ultimately increasing the likelihood of attracting clicks and conversions.
List of Google Shopping Annotations
Category
Title
Short description
Product-specific annotations
Sale price
Allows you to set a sale price for potential customers to view how much they'll save
Promotion
Allows you to set special offers for your product (for example: free shipping, 20% off)
Product ratings
Shows aggregated reviews for your products in the form of a 1 to 5-star rating
Other product attributes
Describes the main characteristics of your product (for example: material, size)
Merchant badges
Trusted store badge
Displays a "Trusted store" badge to improve user confidence in buying from you
Business identity attributes
Tells customers about the identity of your business
Shipping and fulfillment annotations
Shipping speed
Calculates the delivery time based on the customer's location on eligible ads and free listings
Return policy
Helps customers review the return time frames and other return related annotations on your listings (for example: 30 day return policy, free returns)
Minimum order value
Allows you to indicate a minimum purchase amount before you'll provide shipping (either at an additional cost or for free)
Free and fast shipping
Allows you to showcase products that can be shipped fast/for free
Estimated delivery date
Calculates the overall delivery time which includes cut-off time, handling time and transit time
Automatic annotations (no additional data required)
Currency conversion
Automatically converts the price of the product based on the user's country.
Price drop
Displays a new price alongside the original price of the product for customers to view the price difference
Local products annotations
Local promotions
Shows store-specific promotions using the information already updated for your local inventory ads
Regional availability and pricing
Provides product availability and variable pricing based on the location of the user
Pickup today and curbside pickup
Indicates that an option to pick up the product at a local store nearby exists
Pickup later
Indicates that an option to pick up a product at a local store nearby within a specific SLA (service-level agreement) exists
On display to order
Indicates that an option to back-order a product that is not available for immediate purchase exists
How to add Google Shopping annotations in your ad or listing
We already know you need a product feed to upload and list your WooCommerce products on Google Shopping. You also need this feed file to run shopping ads as well.
If you want to add additional information to your ads, such as Google Shopping annotations, you must also add them in the feed file under specific attributes. In the following sections, we will talk about different Google Shopping annotations and how you can add them to your listing/ad feed.
Sale Price
Sale price Google shopping annotation is visible at the top of the ad. You will see a Sale tag or label at the top of the ad.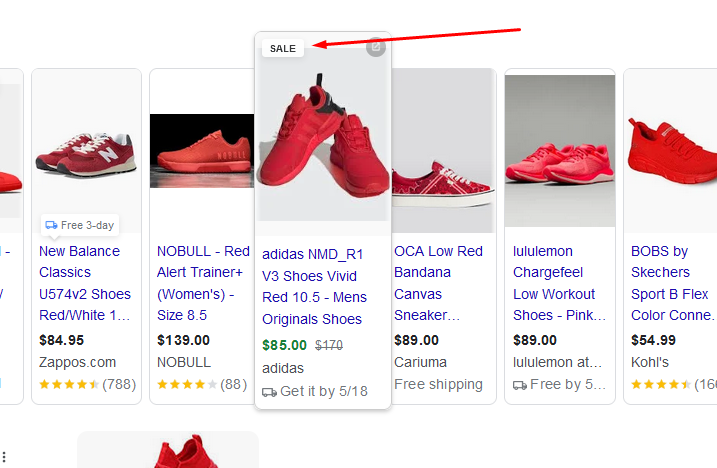 Also, it displays the sale price in green color, and the regular price is displayed in strikethrough font. You shouldn't just update the discounted price in your feed; rather, put it separately.
This way of displaying discounts has a significant psychological impact on the customers. They are triggered to click or purchase when they see a discount.
How to add Google shopping Sale Price annotation in your feed
CTX Feed can not only automatically populate necessary attributes, but you can also add as many attributes as you may need. It has also integrated all Google Shopping annotations inside its attribute library.
If you have products that are on sale in your WooCommerce store, CTX Feed will automatically include those data in your feed. The plugin already knows that the attribute Google requires for this annotation is sale_price.

If you go back to that Google shopping feed you created earlier, you will notice that Google Shopping annotations like Sale Price already exist in the list.
In case you ever want to add it manually, then click on the Add New Attribute button and select the appropriate attribute from the list.

Here's how your feed will look after adding the sale price.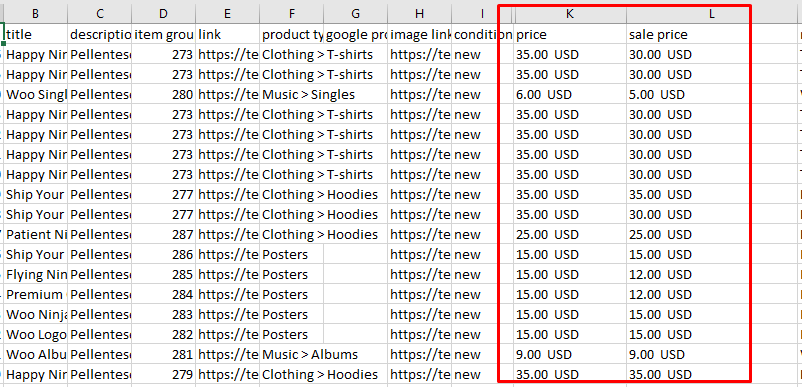 Now your Google Shopping ad or free listing will include a Sale tag.
Free or Fast shipping Google Shopping annotations
You can display a free shipping tag along with the delivery time in your listing or ads.
Why would you need to display such Google Shopping Annotations?
If offered free shipping, 90% of consumers would make more use of online shopping.
If an item comes with free shipping, 73% more people will choose to buy it.
You can also display fast delivery times in your ads. For example, Free 3-Day.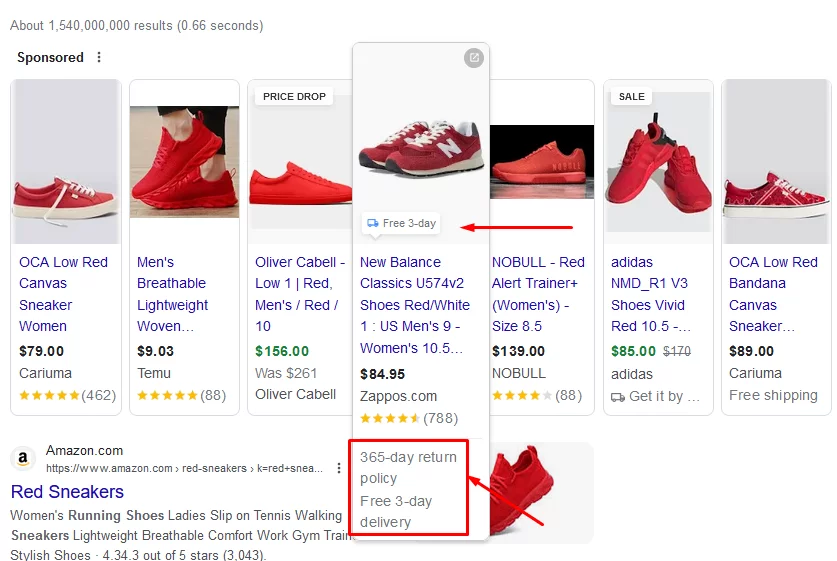 How to add free or fast shipping on a feed
If you offer free shipping on any product in your Woo store, CTX Feed will automatically include that information in the feed. In case you want to add it manually, look for the attribute – shipping and select shipping (Google Format) as the value.
To display the delivery time, use the attribute transit_time_label.
Return policy annotation
A Return and Refund policy will encourage customers to shop at your store and to have confidence in your brand. It is even possible to put it to use as a marketing strategy in order to bring in more customers and boost your sales.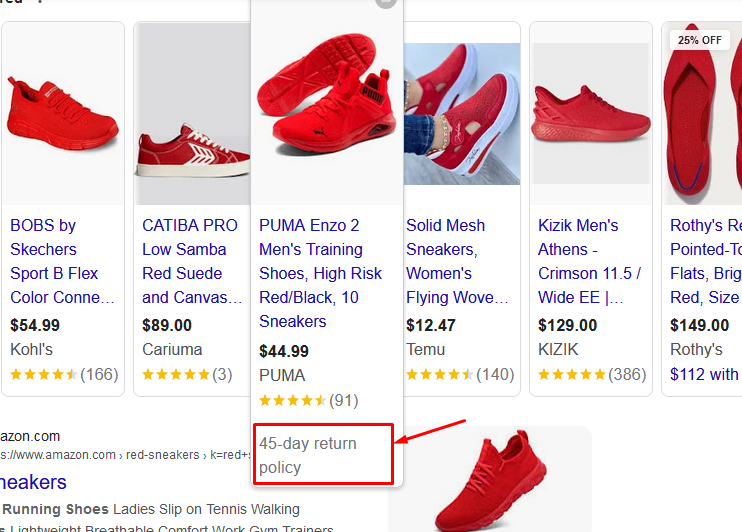 To enable the return policy on your Google Shopping ads, go to Merchant Center. The jump to Shipping and returns > Return policies > Add Policy.
Here you can pick a suggested policy or make your own, complete with details like the number of days a customer has to complete the returns and the types of products to which it applies (new or used).
How to add return policy Google shopping annotations in your feed
Besides enabling the settings in your GMC account, you must also include the information in your feed file. For this, you need to insert the attribute – return_policy_label.

Google Shopping Price Drop annotation
This is one of the automatic Google Shopping annotations.
Annotations indicating a "price drop" help customers recognize when a product has been discounted. Customers who search Google for your products will notice a "Price drop" badge next to relevant results.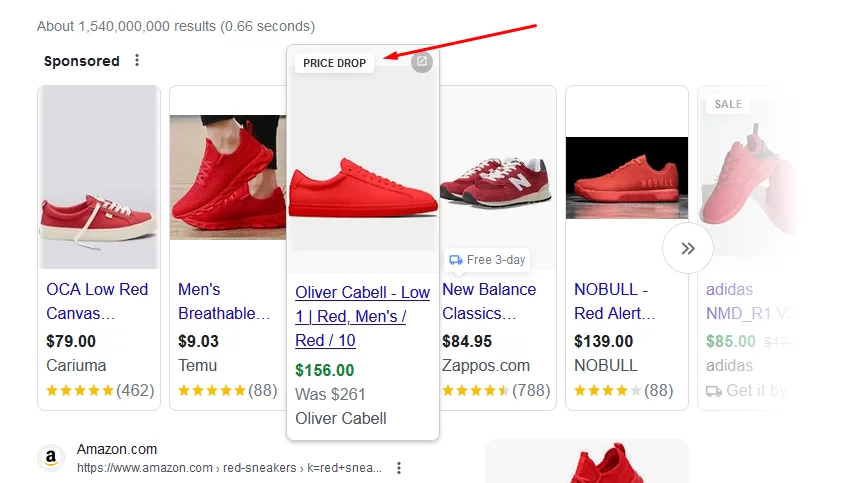 If you lower the price of your product below its historical average, Google may highlight this fact with a "Price drop" badge. Badges indicating a "price drop" are intended to be displayed only when a substantial decrease has occurred in a previously stable price.
As you can see in the image above, the previous is displayed as – Was $261. The retailer has lowered the price significantly. That's why Google is displaying the Price Drop badge.
You won't need to include any attributes in your feed for this badge. Google automatically decides where to show this.
Promotion Google Shopping annotations
You can display a specific percentage off, free/discounted shipping, or 'Special offer' badges in your ads. These are promotion annotations.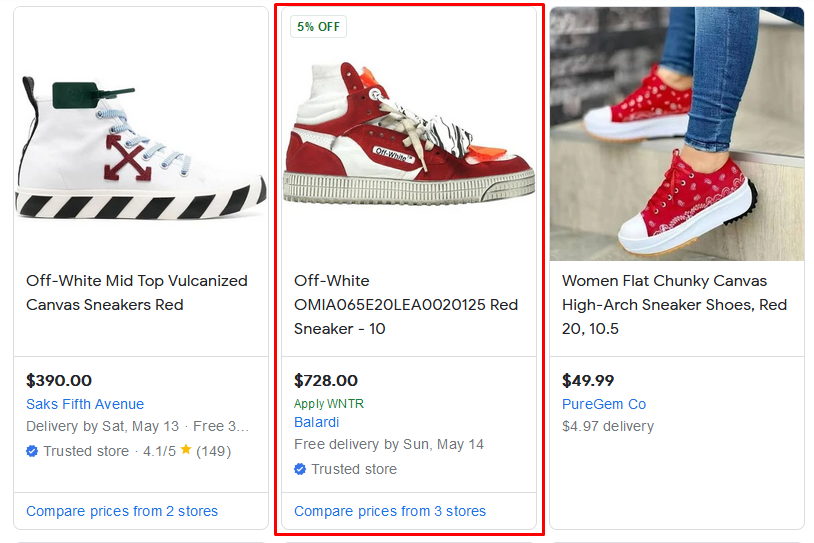 Google supports the following Google Shopping annotations for promotion-
Discounts: Buy one get one free, a percentage off, cash back, and buy one get two percent off are all examples of discounts.
Free gifts: Offers of a free product or gift card worth a certain amount
Shipping: No Charge or Reduced Rate
How to add promotion Google Shopping annotations in your feed
We have already seen how to add shipping information to the feed. For discounts, you can use the attribute- percent_off.
You can also add dynamic discounts in your WooCommerce Google Shopping feed using CTX Feed.
Product ratings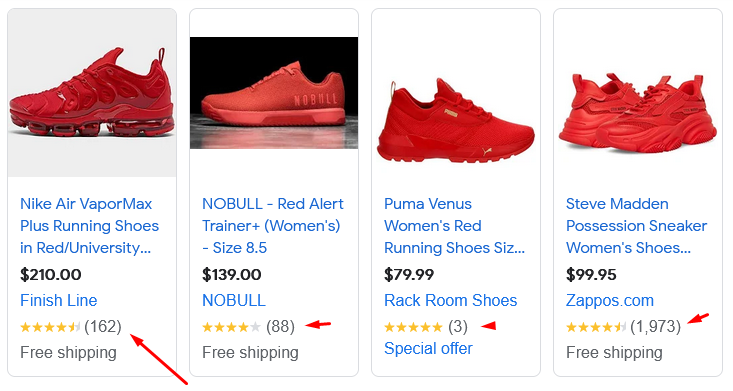 Product ratings on Google Shopping ads and free product listings provide an opportunity for businesses to showcase aggregated reviews and ratings to customers.
The Product rating annotation appears as 1 to 5-star ratings alongside the total number of reviews for a particular product. These ratings are shown in both ads and free product listings on Google Shopping.
The number of stars shows the overall rating for a product. This rating comes from many different sources, such as merchants, review aggregators, review sites, and Google users. This makes sure that the product's performance is judged completely and fairly.
To participate in the Product Ratings program, businesses must have at least 50 reviews across all their products. These reviews can be submitted to Google through supported reviews aggregators or directly by the business itself.
Product ratings help customers in their product research and purchasing decisions, attracting more qualified customers to product pages. They provide valuable insights into the quality and reputation of products.
How to add product ratings to your feed
You can submit your product review and rating feed to Merchant Center. If you already collect reviews and ratings in your WooCommerce store, you can create a separate review feed file and upload it to the GMC account.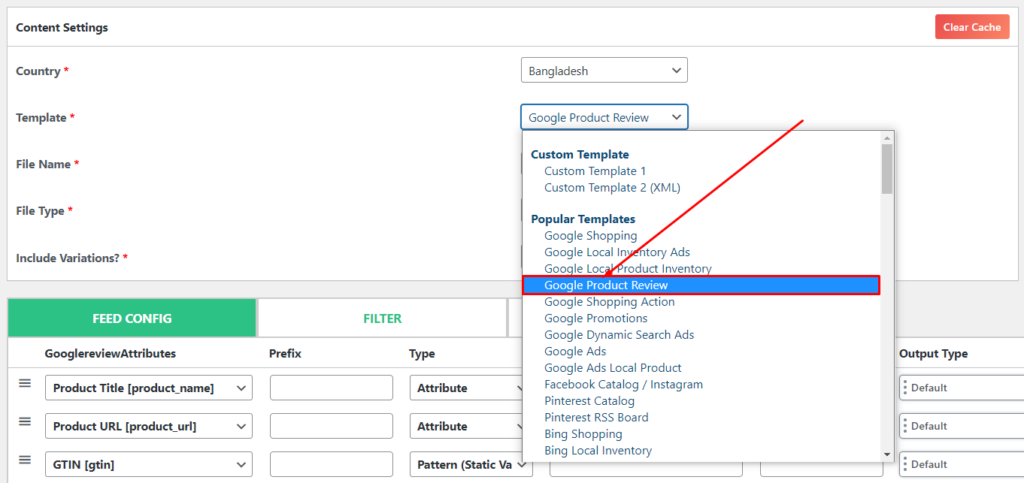 From CTX Feed, you can use the Google product review feed template.
-> How to Generate Google Product Review Feed on Google Shopping
Trusted store badge
This is another automatic annotation Google decides for you.
The Trusted Store badge is part of Google's Shopping experience scorecard program. When participating in Buy on Google or free listings in the United States, Australia, New Zealand, and Canada, merchants have the opportunity to earn the Trusted Store badge.
Here's what a trusted badge looks like on a listing –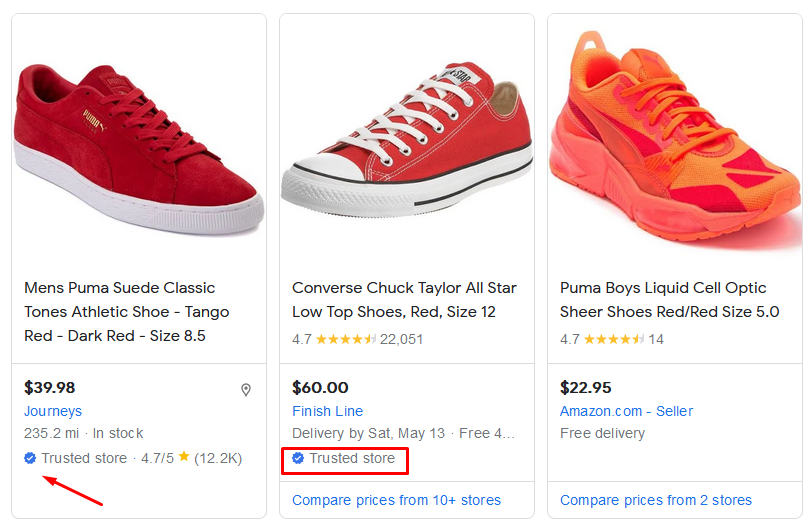 It signifies that your store provides a reliable and trusted shopping experience to potential customers.
To be eligible for the Trusted Store badge, you need to meet certain criteria and provide an excellent customer experience across multiple metrics measured by the Shopping experience scorecard program.
Google automatically monitors your performance in various areas, such as average delivery time, average shipping cost, average return window, average return cost, and seller rating. Your performance is evaluated against other merchants, and you receive ratings of "Excellent," "Comparable," or "Opportunity" for each metric.
Once you meet a certain performance threshold in the required metrics, you may receive the Trusted Store badge. Earning the badge indicates that you have consistently provided a high-quality shopping experience to your customers.
The Trusted Store badge can lead to several benefits, including prominence in placements on the Shopping tab. It helps your store stand out, gain visibility, and potentially attract more customers.
Business identity Google Shopping annotations
This one is only for US-based stores.
Business identity attributes allow businesses based in the United States to share information about their identity with customers on the "Search," "Maps," and "Shopping" tabs. These attributes help customers understand the identity of your business and make informed decisions when shopping.
Here are the available options –
Asian-owned
Black-owned
LGBTQ+ owned
Latino-owned
Veteran-owned
Women-owned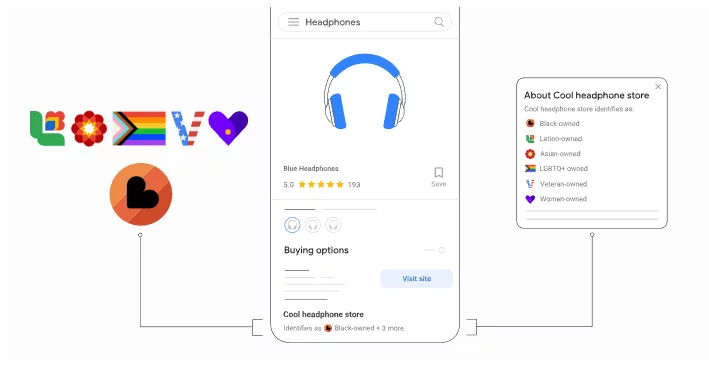 By selecting an attribute, your business will be identified with a small icon on your product description pages (PDP) on the "Shopping" tab. Customers can also use these attributes to filter businesses.
When you choose an identity attribute, you may also opt for promotions that highlight businesses with specific attributes. This means your business and products could be featured on Google pages that showcase businesses with the selected identity attributes.
To set up your business identity attributes, sign in to your Merchant Center account and navigate to the "Business information" page. From there, go to the "About your business" tab and scroll down to the "Business identity attributes" section.
You can toggle the attributes on or off based on your business's identity. Remember, toggling an attribute on publicly states that someone of the selected identity owns your business.
Minimum order value
The minimum order value is an important part of your shipping settings because it lets you tell customers how much they have to buy before you'll ship their orders. This rule makes sure that customers spend at least a certain amount, like $30, before you ship their products and fill their orders. By setting a minimum order value, you can control shipping costs and ensure that sending products to your customers makes good business sense.
When configuring your shipping settings, it's essential to consider the minimum order value if you have a threshold that customers must meet to be eligible for shipping. If any of your products are priced below the minimum order value, customers will not be able to purchase those products individually. This helps prevent customers from placing orders that do not meet the minimum requirement.
It's important to remember that you should only add the minimum order value if you don't offer shipping for orders under that amount. You don't need to set a minimum order value if you offer free shipping on orders over a certain amount and charge for shipping on orders under that amount.
By specifying the minimum order value in your shipping settings, customers will see this information on your ads or free product listings. This transparency helps customers understand any shipping restrictions before they visit your website, which can save you from paying for clicks from individuals who are not intending to make additional purchases.
How to add minimum order value Google shopping annotations in your feed
You can search and find the minimum_purchase_amount attribute in CTX Feed to insert minimum order value data in your feed.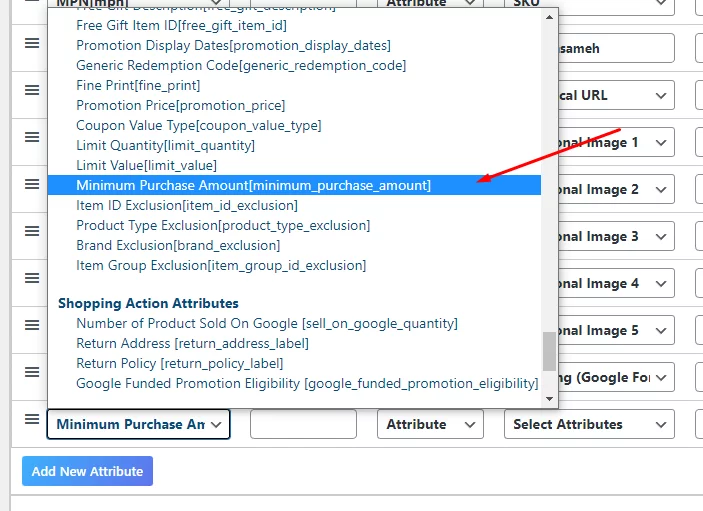 Estimated delivery time
Estimated delivery time is a crucial piece of information for customers when they are considering a purchase. It provides them with an idea of how long it will take for their order to arrive.
In Google Shopping, the estimated delivery time can be displayed as an annotation in your free listings and Shopping ads, helping customers make informed decisions.
To calculate the estimated delivery time, you need to consider three factors: cut-off time, handling time, and transit time. The cut-off time is the time by which a customer needs to place their order for it to be processed on the same day.
If an order is placed after the cut-off time, it will begin processing on the following business day. The handling time refers to the number of business days required to process an order before it is shipped.
Finally, the transit time is the number of business days it takes for the carrier to deliver the package once it is picked up.
How to add estimated delivery time data in your feed
As you know by now, you will need to include handling time and transit time. You can find the necessary attributes under Tax & Shipping.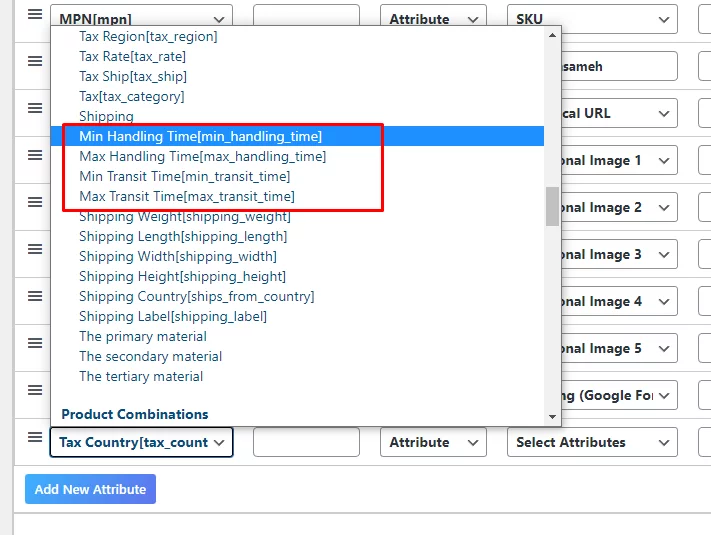 Currency conversion Google shopping annotations
Another of the automatic Google shopping annotations.
Converting currency allows you to sell your goods in more countries. If you ship products internationally but don't have separate product pages for each country's currency, this could be a huge help.
All Merchant Center accounts incorporate an integral currency converter. To have the tool estimate the currency conversion in the ads, you need only submit the products and prices you use on your WooCommerce website.
You need to submit those data in your feed file.
Regional availability and pricing
Regional availability and pricing is a feature available for products advertised through Shopping ads on Google Search and listed in free listings on the Shopping tab. It lets businesses choose where their products are sold and set different prices for each area.
How to setup regional availability and pricing Google shopping annotations
To add regional availability and pricing to your Google Shopping listings, you need to follow these steps:
Set up regions in your Merchant Center account:
Sign in to your Merchant Center account.
Click on "Products" in the navigation menu.
Select "Feeds" and then click on "Supplemental feeds."
Choose "Add product inventory feed" and select "Regional inventory" as the feed type.
Configure your feed using the required attributes, including ID [id] (offer ID) and region ID [region_id] (the value you define for the region).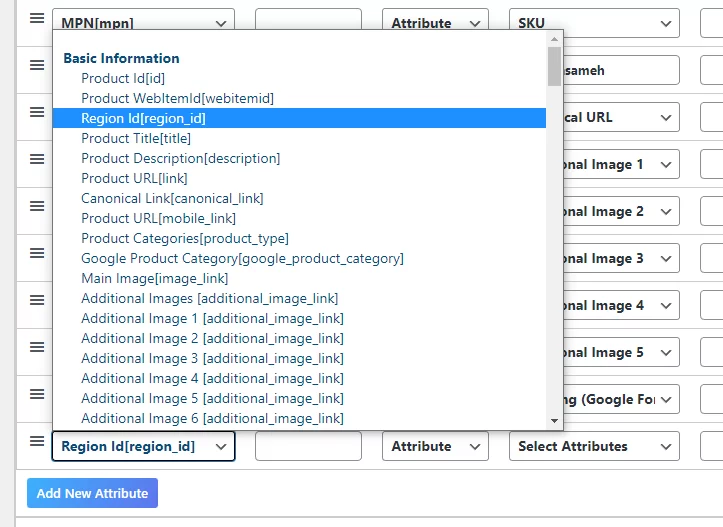 Adjust your landing pages to accept the region ID parameter:
Edit your landing page URLs provided in the "link" and "mobile_link" attributes of your primary feed.
Add the "region_id" parameter to the URLs, using the value specified for the region.
Ensure that your landing pages can accept the region ID parameter and display the corresponding price and availability.
Update your primary and regional feeds:
a. Update your primary feed:
For all products, set the "availability" attribute to "in_stock" and set the national pricing (price shown on the landing page for customers coming from Display ads).
b. Update your regional feed:
For regionally available products, set the "availability" attribute to "out_of_stock" for regions where the product isn't offered online.
For regionally priced products, set the "price" attribute. Optionally, set the "sale_price" and "sale_price_effective_date" attributes for regional promotions.
You can find all these attributes in CTX Feed and easily include this annotation in your feed file.
Benefits of Google Shopping annotations
Using Google Shopping annotations offers several benefits for your product ads:
Increased visibility
Annotations make your ads more eye-catching and distinguishable among competitors. As a result, this will increase the likelihood of attracting clicks from potential customers.
Improved click-through rate (CTR)
Google Shopping annotations provide additional information that can entice users to click on your ads. This will lead to a higher CTR and potentially more conversions.
Enhanced product differentiation
Annotations provide an opportunity to highlight the unique features or attributes of your products, effectively setting them apart from similar offerings. This differentiation makes your products more appealing to shoppers, increasing their likelihood of choosing your products over others.
Increased trust and credibility
Annotations like "Best Seller" or "Top Rated" can instill confidence in potential buyers as they see that your products have gained recognition or positive feedback from other customers.
Quick decision-making
Annotations allow shoppers to grasp key information about your products quickly. It enables them to make faster purchasing decisions without extensive research.
Improved ad relevancy
By using annotations that match what people are looking for or what they like, you can make sure that your ads are relevant to their needs and wants. This makes it much more likely that qualified leads who are really interested in your products will find you, which improves the overall effectiveness of your advertising.
Better ad performance tracking
Annotations can be used as useful performance indicators to help you figure out how well different labels work with your audience.
By looking at engagement metrics like click-through rates or conversions for certain annotations, you can figure out which labels have the most impact and make decisions based on data to improve your ad campaigns in the future.
Customization and flexibility
You can customize Google Shopping annotations to match your brand's messaging and marketing strategies. This allows you to adapt them to different promotions or campaigns.
Frequently Asked Questions (FAQs)
What are some common mistakes to avoid when using Google Shopping Annotations?

Some common mistakes to avoid include overusing annotations, using irrelevant or misleading labels, inconsistent annotations, ignoring customer feedback, not testing and optimizing, and neglecting updates and changes.
Can Google Shopping Annotations be used for all types of products, or are they better suited for certain categories?

You can use Google Shopping annotations for a wide range of products in different categories. But their effectiveness can change depending on the products and the tastes of the people they are trying to reach.

Some categories, like fashion, electronics, home decor, and beauty products, can benefit from labels like "New Arrival," "Best Seller," or "Limited Stock." On the other hand, some types of products may not need or benefit from annotations as much.
It's important to think about how relevant and useful annotations are for your products and target market in order to figure out how well they work.
Wrap up
Google Shopping annotations are a great way to enhance your Google Shopping ad/listings. They make your ads more appealing and engaging.
They can help you maximize the impact of your product ads, drive more targeted traffic, and ultimately increase the chances of converting potential customers into buyers.
I hope this article on Google shopping annotations was of help to you. Let us know in the comments if you have any questions or suggestions.