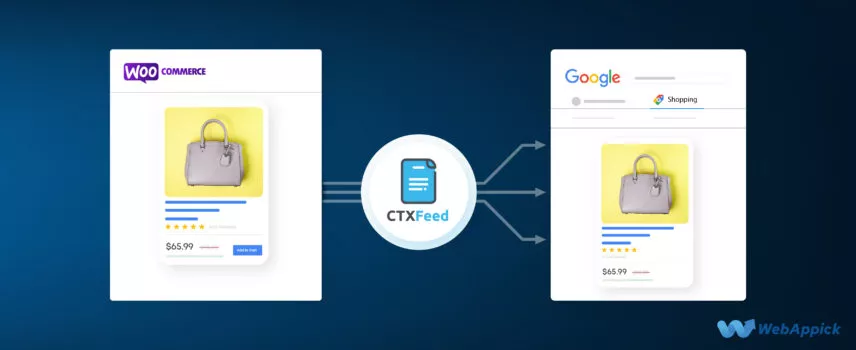 How to Generate Google Product Review Feed on Google Shopping
Would you buy a product with 2 ratings instead of one with 5 ratings?
It's highly unlikely, right?
Just like you, product ratings influence almost everyone in their buying online decisions.
A good product rating and review is the ultimate testimonial and advertisement for a product.
So, it's critically essential for sellers like you to display product reviews and ratings on WooCommerce websites.
However, what about bringing those product reviews to Google Shopping?
If you're a WooCommerce store owner as well as a seller on Google Shopping, you should display the product rating of your products on Google Shopping too.
How?
This is what this blog is all about.
At the end of reading this blog, you'll know the steps you should follow to generate a Google Product Review Feed for Google Shopping using a WooCommerce Product Feed Manager.
Ready?
Let's dive right in.

What is Google Product Review or Rating?
Google product review or rating is a feature of Google Shopping that displays the interested buyers how the previous buyers reviewed and rated a particular product.
Google Shopping adopts a five-star rating system with 1 being the lowest satisfaction and 5 being the ultimate satisfaction symbol.
This rating system shows the buyer reviews of any product on their platform so that interested buyers can judge a product based on the rating and understand the level of user satisfaction before going to buy the product for themselves.
However, it's important to note that the product reviews are meant for the products and customers may see them in organic search results as well.
When a customer clicks on any Google Product Rating, s/he is redirected to the product page that offers more information about the product and shows the ratings and reviews too.
That page also shows the merchant biddings, pricing, offers, seller ratings, and more.
By the way, whether a product will show a rating or not is completely dependent on the sellers' input.
If you use product ratings on your website as a seller, it's more likely for the customers to see your products compared to those products that do not have any ratings.
What's the Difference Between Product Reviews and Seller Reviews
Though you may think that seller reviews and product reviews are the same things, they are not.
Let us clarify both the product review and seller review to you in simple terms:
Google Shopping product review or rating is applied to individual products only. The products are rated based on a 5-star rating system.

Google Shopping also displays seller ratings but for qualifying merchants. However, it's not as same as product ratings.

While product ratings only rate a product, seller ratings are related to the evaluation of the entire business or brand.

A business or brand's seller rating on Google is actually influenced by multiple review platforms such as Google Business Page reviews, Trustpilot reviews, and PowerReviews.

Seller ratings are usually displayed in organic searches. On top of that, seller ratings also appear in Google Ads search along with Google Shopping listings.

Product reviews help to grow on-site conversion as well as search engine optimization while seller reviews help build trust, brand value, and reputation.
The bottom line is, you must take care of both the seller rating and the product rating simultaneously.
How to Generate a Google Product Review Feed on Google Shopping (Step-by-step)
It's very easy to make a Google Product Review Feed on Google Shopping from your WooCommerce website.
Here's what you need:
An e-commerce website with WooCommerce
Google Merchant Center account
Let's now create a Google Product Review Feed step-by-step and with ease.
Step 1: Install CTX Feed Free or Pro plugin
Apart from having a WooCommerce-powered eCommerce store on WordPress, the next thing you need to generate a Google Product Review Feed easily is a popular feed generation plugin named CTX Feed.
It has already reached 70K+ installations and millions of downloads on the WordPress plugin directory.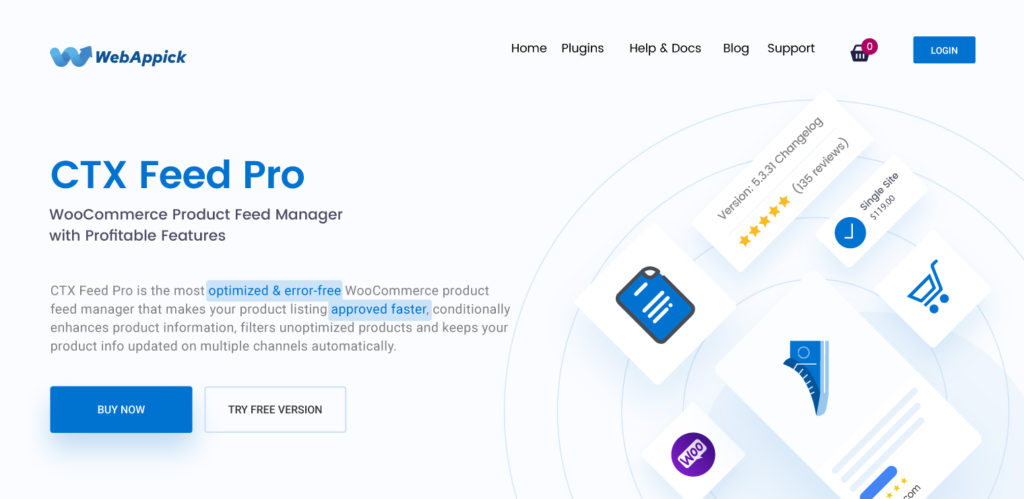 This plugin helps generate a Google Product Review Feed along with feeds for 130+ marketing channels.
Some common marketplaces it can create feeds for are Google Shopping, Facebook, TikTok, Rakuten, Kelkoo, Heureka, Bol.com, Wish.com, Walmart, and more.
It offers a readymade template (equipped with all the required attributes) for each marketing channel to make the feed creation process a piece of cake.
Leveraging the CTX Feed plugin, you can make unlimited product feed for an unlimited number of products.
To start installing the free version of the plugin, go to Plugins > Add New from your WordPress dashboard.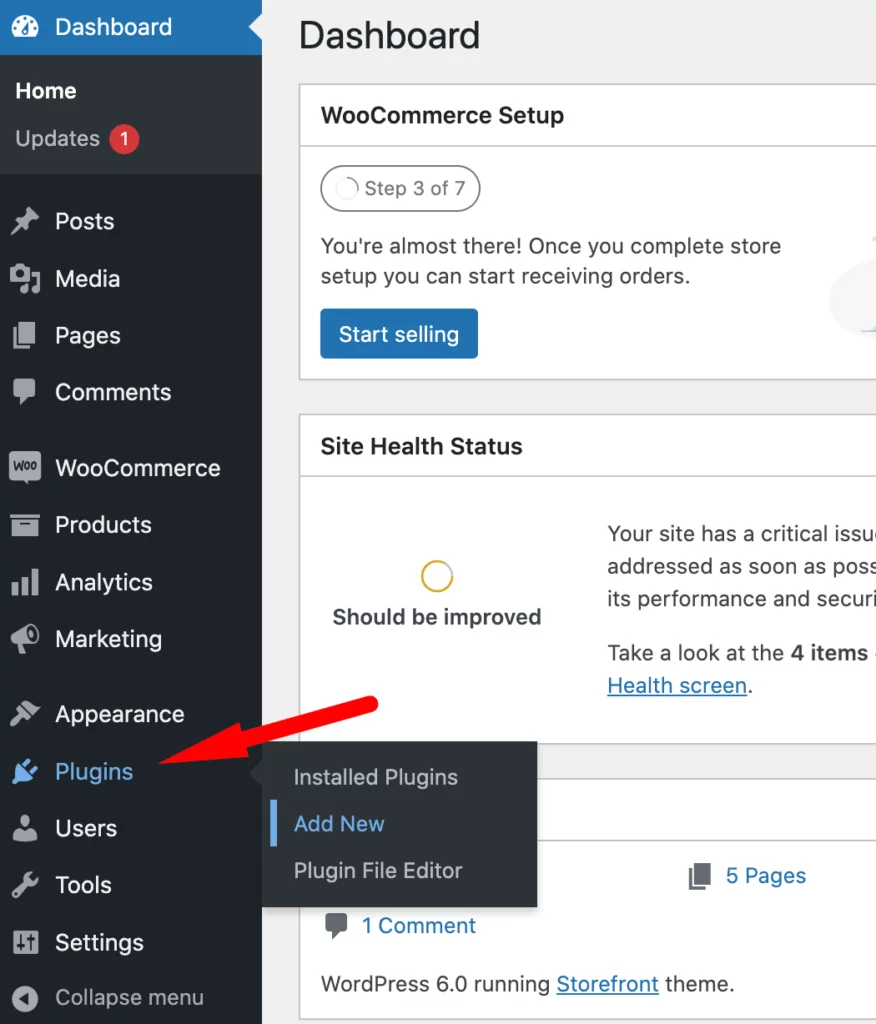 Search CTX Feed on the search bar, install, and then activate the plugin.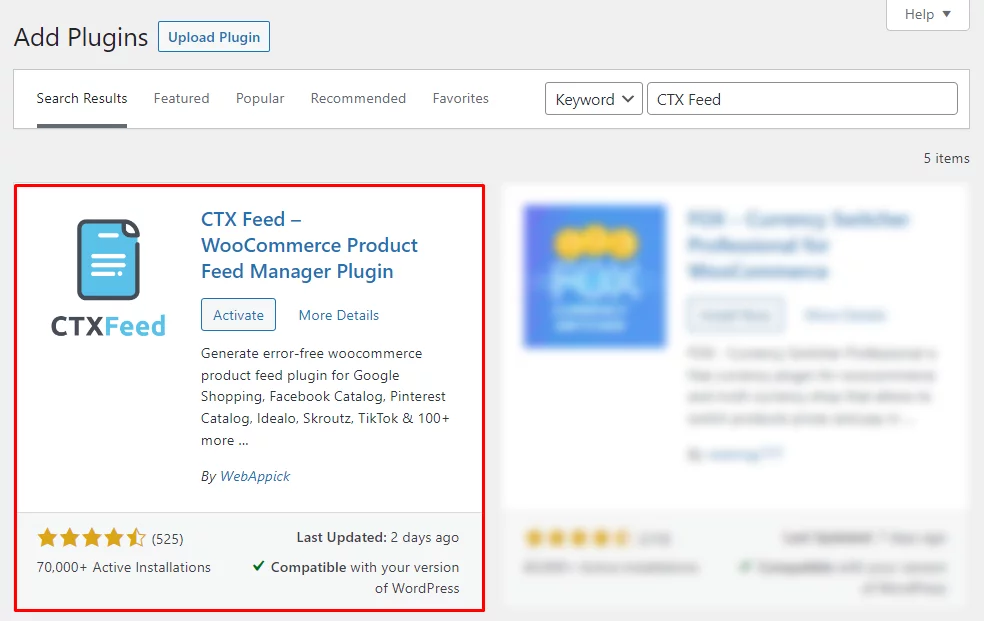 To enjoy features like attribute mapping, dynamic attributes, filters, advanced filters, multicurrency, etc. you can install the Pro version of CTX Feed which is available on the official website.
Here's a guide on how to install CTX Feed Pro on your website.
Step 2: Make the Google Product Review Feed with Template
Once you're done installing the CTX Feed, it's time to go ahead and generate a Google product review feed using the readymade template of the CTX Feed plugin.
To start making the Google Product Review feed, go to your admin dashboard and then click on CTX Feed > Make Feed.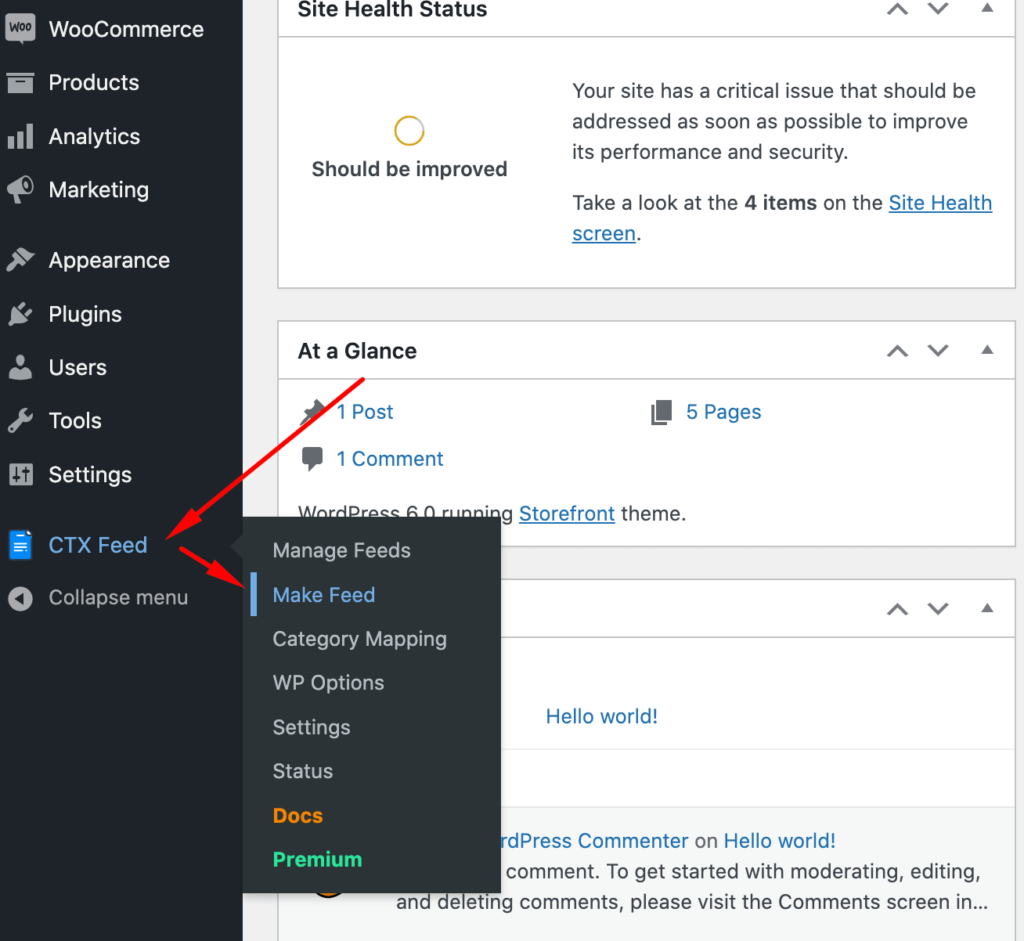 Content Settings
In the content settings, you have to insert the country, choose the template, file name, file type, and the types of variations you want to include in your Google product review feed.
For the country, it's automatically set. However, you can change it if you need.
Next, choose the "Google Product Review" template from the dropdown.
Then, give your file a unique name and choose XML as your file type.
Last but not least, choose the type of variations you want to include in your Google Product Review feed.
That's all in the content settings.

Step 3: Configure the Google Product Review Feed
Now that you're done choosing the template and completing the content settings, the next thing that comes up is the Google product review feed configuration. You'll find this section just below the content settings part.
FEED CONFIG
This is actually the outcome of your content settings where you chose the Google product review template.
Keep in mind that feed elements like version, aggregator, publisher, reviews, reviewer, review_url, etc. are inserted in the template by default and that's one of the biggest reasons why you should use the CTX Feed plugin.
So, at this point, you don't have to worry about those feed elements anymore. CTX Feed plugin will take care of that.

In the attributes fields under the FEED CONFIG tab, you'll find attributes like Product Title, Product URL, GTIN, MPN, SKU, and Brand.
You can add prefixes and suffixes to any of these attributes along with inserting their value.
You can also choose to add or delete any attribute if you need to use the respective buttons.
Use FILTER
This tab is just to the right side of the FEED CONFIG tab. Here you'll have the option to do the following: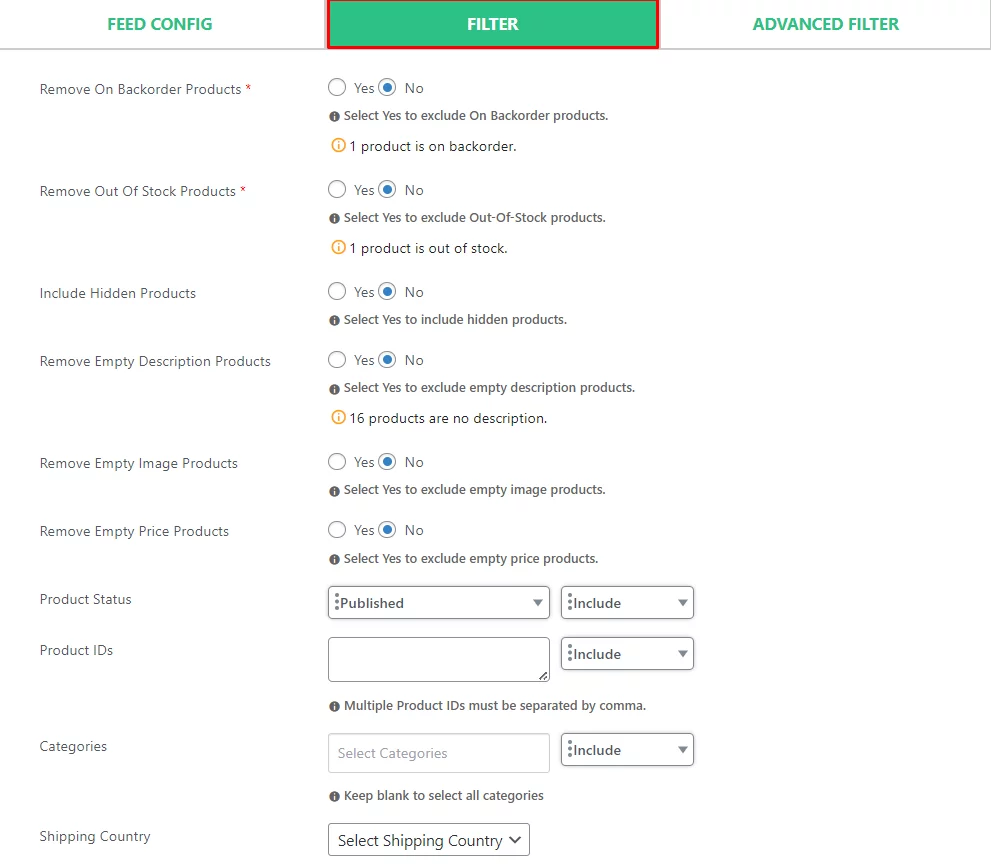 Include or remove backorder products from the feed
Include or remove hidden products from the feed
Include or remove empty description products from the feed
Include or remove empty image products from the feed
Include or remove empty price products from the feed
Filter products based on product status
Filter products based on shopping country
Filter products based on the tax country
Choose the appropriate number format
Build campaign URL
Use Advanced Filter
When you create your Google product review feed with CTX Feed Pro, the advanced filter feature will allow you to use multiple conditions to customize your product feed as per your preference.

Here you can set conditions and values for certain attributes to filter out the products accordingly.
Use Other Pro Features
Along with the Filter and Advanced Filter features, you can also use attribute mapping, category mapping, multichannel, dynamic attribute, multicurrency, and more features if you're using the CTX Feed Pro plugin.
Complete the Feed Creation
When you're all done, just click on the "Update and Generate Feed" button.

Voila!
Your Google Product Review Feed generation will start right away.
Step 4: Manage the Google Product Review Feed
After the creation of your product Google Product Review feed, you'll be redirected to the Manage feed page. Alternatively, you can visit this page from CTX Feed > Manage Feed.
From this page, you can see all the feeds you've created with the CTX Feed plugin including the Google Product Review feed.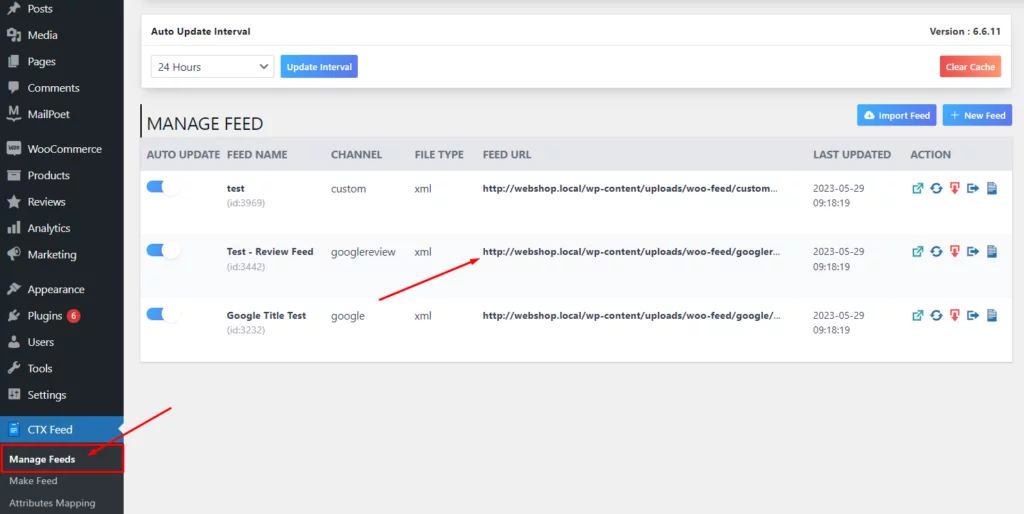 You can set auto-update intervals, copy the feed file URL, and take other actions like deleting the feed and downloading the feed log.
-> Check the documentation on how to manage your product feed effectively.
Remember, you'll need to download the Google Product Review XML feed file to upload that later for Google Shopping from your Google merchant account.
Step 5: Upload the Product Review Feed on Google Merchant Center
Now that you're done with the total feed creation process, the last step is to upload the product review XML feed to Google Merchant Center to add the user's product ratings to your products.
That's it.
Final Thoughts
By now you know how to create a Google Product Review Feed on Google Shopping. Making a Google product review feed isn't as daunting as you thought, right? Just install CTX Feed on your WooCommerce website, and you're good to go.