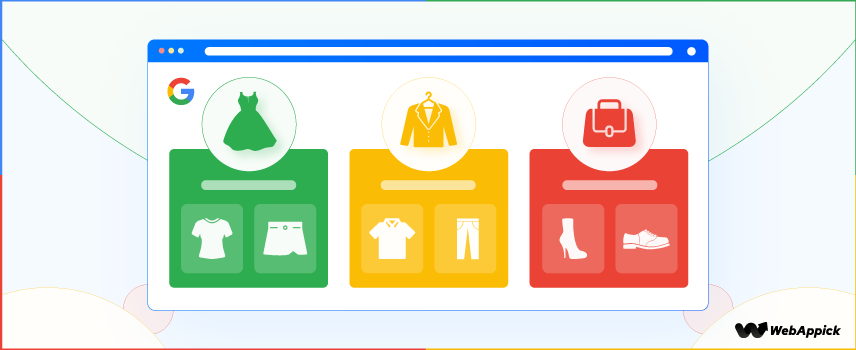 Google Product Category Taxonomy: The Definitive Guide
If you're wondering about what Google product category taxonomy is, how it functions, and how you should use it, this post is for you.
At the end of reading this post, you'll know everything you should know about the Google product category and Google product category taxonomy.
Understanding these concepts will help you optimize your product feed better and will offer your WooCommerce business more exposure to the target audience.
Let's dive right in.
What is Google Product Category Taxonomy?
Google product category taxonomy is the list of product categories used by Google to departmentalize any type of product in a shopping feed.
Google product category taxonomy consists of more than 6000 categories. However, Google updates the product taxonomy pretty often.
To get a clear idea about how they look, you can check the complete Google product category list and taxonomy here.
Remember, product category subdivision is available in 12 countries. These countries are- the USA, UK, Australia, Germany, Netherlands, France, Japan, Turkey, Brazil, Norway, Sweden, and Italy.
The rest of the countries of the world are not able to do this right now. If you want to subdivide among these countries, you have to do so using 'product type'.
Google Merchant Categories/Taxonomy List for Top Countries of the World
If you know in which country you want to sell your products, it's best to know the Google merchant categories available for those countries.
Below is a list of Google Merchant categories based on different parts of the world. However, if you do not find your desired country in the list, you can refer to the US categories.

3 Common Ways to Categorize Your Products and When to Use Them
When it comes to categorizing the products of your stores, there are basically three ways that you can leverage:
1. Manual categorization
2. Category mapping, and
3. Mixed categorization (blend of both category mapping and manual)
Manual Categorization
Let's start talking about manual categorization.
As the title suggests, the manual categorization process will allow you to overwrite the categories Google assigns to your products by default. If you choose this way, you have to manually categorize all of your products one by one.
Using this process will save you some money as you do not need to buy any third-party software or plugin. However, this is extremely time-consuming, especially if you have hundreds of products in your store.
You always need to make sure that the product categorization you do goes hand in hand with the Google Product Taxonomy. You or your assigned person should have the full list of Google Product Taxonomy downloaded so that you can easily find out the exact category and subcategory where your products fit in.
However, if you download the taxonomy data in Excel, you can easily find out your desired category by searching with the CTRL+F function.
You can go for this type of categorization only if you do not have a lot of products on your feed.
Category Mapping
Next comes the second method: category mapping.
How it differs from Google's automatic categorization is that it allows you to automatically assign categories of your preference instead of leaving the thing up to the algorithms.
However, to apply this process efficiently, you need to use a third-party tool.
You will find a bunch of third-party plugins for easy category mapping such as CTX Feed. It will save you time and effort.
The category mapping process is really quick and hassle-free compared to the manual categorization process. By mapping your categories according to Google's taxonomy, you can stay relaxed as you minimize the risk of product disapproval from the Merchant Center.
Mixed Categorization
By the way, it is also possible to make a fusion between category mapping and manual categorization.
Using both together will help you in terms of relevance and a higher degree of personalization.
Following this approach will let you add the finer details and product differences to show how it stands apart from the other products in its category.
Why Should You Categorize Your Products?
It is not mandatory to include the categories for all of your products in the data feed.
However, there are some specific categories such as "Software" "Apparel & Accessories" and "Media" for which it is compulsory to include the product categories while you create your product data feed.
Though many categories do not require the use of Google product categories, we highly recommend you leverage Google product categories for a variety of reasons.
Let's see some of the reasons why you should categorize your products:
1. Help Google decide the search terms for which your products will be displayed. It means your ads will reach the right target audience.
2. Help potential customers find you. When their search terms match your products, they are more likely to visit your website and buy from it.
3. Relevance gets a big boost. If the relevance improves, you'll automatically experience an improvement in cost-per-clicks (CPC). The same happens for the CTR or click-through rate.
4. If you're going to sell in the US, choosing the appropriate category will ensure that the correct tax rate is applied to your products.
You should know that multiple powerful platforms such as Bing Shopping and Facebook Product Ads use Google's product categories to ensure a better user experience for the customers. So, if you want to adopt an omnichannel retail strategy, categorizing your products will be immensely helpful.
How Does Google Product Category Affect Your Ads?
Google chooses what it will display to the searchers based on different factors and attributes such as Title and GTIN.
Google product category is also one of the many factors Google takes into consideration while showing ads to the audience.
However, that's not the only reason why you should always try to use the right Google Product category.
You should know that Google treats different categories in different ways. Google has different editorial requirements and advertising policies for different categories.
Let us clarify it to you with an example.
You have to insert the brand attribute for all the products. However, there are exceptions.
For movies, books, and musical recordings, the brand attribute does not make sense. For these kinds of products, what you may alternatively do is to add the publisher as a brand.
No matter what kind or category of products you sell, you must specify the correct Google product category first so that you get them approved. And next comes the use of the brand attribute.
Guidelines for Google Product Category
Here are a few guidelines that you should follow regarding the Google Product Category
Use only a single and predefined product category: Make sure that you choose either ID or the entire product category path.
Choose the category that best describes your product: Pick a category depending on the key characteristic of the product. An MP3 player may have functionality such as a clock. But that does not change its primary purpose and so it is still to be considered an MP3 player, not a clock.
Be very specific: If you are selling an MP3 player charger, don't just categorize it under the Electronics category. Instead, the ideal category example should look like this: Electronics > Audio > Audio Accessories > MP3 Player Accessories.
Use categories that went live after August 2011: Do not use terms of the past. Take help from the latest Google product taxonomy page to find out the exact categories and subcategories you should use for your products.
When Should You Use the Google Product Category Attributes?
Though usage of the Google Product Category is optional, you can use override the automated categorization of Google in the cases mentioned below:
US tax calculation: If you are selling in the US and you want to ensure the application of the correct US tax rate, you can override Google's by default or automated categorization.
Enforcement of category-specific attribute requirements: Product categories like Apparel & Accessories, Mobile Phones, or Software may require additional fields. If your product is categorized in one of these categories incorrectly by Google, you can choose to override the categorization and thus remove the requirements imposed by these categories.
Alcohol: It's a must to correctly categorize alcoholic beverages. In case the category of your alcoholic beverages is not correctly assigned by Google, you should use the Google Product Category (google_product_category) attribute to make things accurate. Doing this will override the automated category to keep your product fully compliant with the alcoholic beverages policy.
Google Ads campaigns targeting: In case you defined any of your ad campaigns according to Google's product categories, you can use this attribute to reassign products within your campaign structure. 
What are the Benefits and Challenges of Categorization?
Categorization has multiple benefits as well as some challenges. Let's explore them one by one.
Categorization Benefits
There are dozens of benefits of using proper and in-depth categorization for your store products.
Let us tell you about some of the categorization benefits in brief:
Google can easily identify the match between the search query and the products you sell. Though GTIN can help Google to do the same, Google Shopping uses Google Product Categories for both smooth comparison and navigation.
The right category means better exposure to your products in the search query. This also helps improve the click-through rate.
Better CTRs will help your product ads perform better compared to the products of your competitors.
More relevant ads translate into lower ad costs.
Other channels such as Facebook Dynamic Product Ads and Bing Shopping leverage the Google Product Category. Thus it helps better optimize your website for multichannel marketing.
Though the categorization process may seem a daunting task, its benefits should motivate you to execute the categorization process.
Categorization Challenges
As mentioned above, there are some challenges you may encounter with the product categorization process.
Automatic categorization might end up labeling your products incorrectly. This may cause item disapproval and the display of ads for irrelevant search queries.
This is exactly why Google lets the business owners use the 'google_product_category' attribute to override the automatic product categorization.
As Google product taxonomy consists of more than 6000 categories, it is quite a tedious task to categorize all the products, especially if you have hundreds or thousands of products in your product data feed.
How to Set Google Product Category?
You can use any of the three methods for setting the values of Google Product Category in your feed. They are:
Method 1: Just leave the google_product_category attribute blank and wait for Google to auto-categorize it. For most of the common products, Google can easily do the job of categorization. So, you can go for this option if you do not have much time.
Method 2: Set a value that's the default for all items. You can create a default value that would be applicable for all items in your feed where no other google_product_category value is available or applicable.
Method 3: Map to a field in the catalog. In case you already have the google_product_category values available in your product, you can choose to map your catalog field to the 'google_product_category' field in the feed using the CTX Feed plugin.
Examples for Google Product Category
Software subscription
Product: CTX Feed Pro
Title: CTX Feed Pro (1-year subscription)
Price: 119 USD
Google product category: Software > Computer Software > Business & Productivity Software
Brand: WebAppick
gtin: 0075896600****
Shipping Charge: 0.00 USD
Apparel products
Product: Long Johns
Title: Long Johns – White
Google product category: Apparel & Accessories > Clothing > Underwear & Socks > Long Johns
Mobile phones
Product: Nothing Phone (1)
Title: Nothing Phone (1) – 128 GB – White – 50MP CAM
Google product category: Electronics > Communications > Telephony > Mobile Phones
gtin: 0072376600****
Brand: Nothing Technology Limited
All About Product Types
When we are talking about product categories, we cannot deny the importance of the 'product_type' attribute as it affects both our feeds and campaigns.
Adding Product Types
Many marketers may find it difficult to distinguish the Google Product Category (google_product_category) attribute from the Product Type (product_type) attribute.
And you know what?
This very confusion leads many merchants to provide Google with their Product Type thinking that's all they should do. And what they forget to do is to check Google's taxonomy.
While the Product type attribute is perfect for the merchants to use for categorizing the products on their website, Google Product Categories is not exactly the same as that Product Type attribute. Rather, Google Product Categories are based on the predefined taxonomy supplied by Google.
Though it is not compulsory to use the Product Type attribute field for Google, you should keep it on your feed for some reasons:
1. It helps google get more details about the product or service you offer.
2. Taxonomy gets another descriptive layer from it.
3. It helps you get better results while bidding on your product types.
The Product Type attribute actually helps merchants like you to organize the shopping campaigns in product groups for better bidding and efficient campaign management.
Though you can assign any value of your choice as a Product Type attribute, Google recommends using this attribute keeping similarity with the Google Product Category attribute.
Google Product Category vs. Product Type: What's the Difference?
Both the Google Product Category and Product Type attributes help you categorize your store's products in the Google Shopping product feed. However, there are slight differences between these two. Let us clarify the differences to you in simple words.
The key difference between the Google Product Category and Product Types lies in the fact that Google Product Type lets you follow your own and preferred categorization process. You have all the liberty to choose the value you want to set for your products. On the other hand, when it comes to the Google Product Category, you must follow the exact and precise Taxonomy list offered by Google to fill up the category accordingly.
So, why is that?
It's because both the attributes do not serve the same purposes.
You use the Product Type attribute with a view to organizing both the bidding and reporting in the Google Ads Shopping campaigns. And you use the Google Product Category (as used by Google) to make sure that your ads are displayed in the search result for the appropriate query.
Understanding the differences is important because it will help you understand how Google Shopping works and what's the best way to optimize the campaigns you run.
You use Google Shopping to display your ads to the right audience as much as you can, right?
Both the Google Product Category and Product Type attributes will help you achieve that goal, though in different ways. While the first one works during the feed optimization, the second one works best during the campaign level. That's why you should focus on setting both attributes properly.
Even though your product feed allows you not to use the Product Type and Google Product Category attributes, you should try to leverage them as much as possible in your product feed.
Frequently Asked Questions (FAQs)
What is Google Product Category? 

Google Product Category is how Google categorizes a product or service according to their standard and criteria. 

Every product that you see displayed on the Google Shopping platform comes with a category. Though Google assigns a category for each product with the help of its algorithm, a merchant can map the product category with that of the Google product category following the taxonomy list. 
Google takes the help of title, product description, brand, GTIN, etc to properly categorize a product as precisely as possible.

If a merchant makes use of the "Google_Product_Category" attributes properly by filling the right category from the taxonomy list, the automated Google category assigned by Google gets overridden. 
Should I Use Google Shopping Category IDs or Only the Category Names?

It really does not matter that much. For Google product categories you can choose to use either IDs or category names as Google will convert the IDs to names in the backend. However, it's better to use the category names for understanding purposes from your end. 
What Google Shopping Categories Should I Use for the Bundled Products? 

If you're selling products in a bundle, the best idea is to consider the main or key product to categorize. For example, if you're selling a DSLR camera bundled with a camera bag, you should consider the camera as the main factor for categorization. 

Therefore, your categorization of the product will be focused on the main product, not on the accessories or second products that come with the bundle. In the case of the DSLR bundled with the bag, you should set the product category like 'Cameras & Optics > Cameras > Digital Cameras' as the camera is your key product, not the bag. 
What If My Product Falls Under Multiple Google Shopping Categories? 

Though some of your products might fit well in multiple categories, Google allows you to use only one category for a specific product. So, you should choose the most appropriate category that best suits your product. 
What Format Should I Use for Google Product Category? 

For proper formatting of the Google Product Category for your products, you can either submit the product ID or the full path of the product category. However, you cannot submit both together. 

So, if you are selling dresses, you have to either use the category code 2271 or use the full category path Apparel & Accessories > Clothing > Dresses. 
How Can I Find the Exact Google Category of the Product I Sell?

To find the Google category of your products, you have to look at the taxonomy list offered and updated by Google pretty often. Here's the list.  

This list contains more than 6000 product categories and subcategories for you to choose from. You can map the category of your products with these categories using a plugin like CTX Feed. 

However, there are also country or area-based taxonomy lists that you'll find in the upper part of this post. 

By the way, make sure that you're always updated about the latest product taxonomy published by Google and assign your product categories accordingly. 
What are the Best Practices for Google Product Categorization? 

Proper categorization of your store's products will need you to be careful about certain requirements and recommendations. 

To get the most out of Google Shopping and prevent your products from being disapproved, you must follow the best practices for product categorization. 

First of all, you must make sure that you use only one category for a certain product. Using a specific category that best fits your products will help show your products to the right audience. 

Secondly, you must use the 'product_type' where required. If you feel like your product does not belong to any of the 6000+ categories, you can submit your own product category by leveraging the product type.

And finally, using the latest product category list is very important. You should use the up-to-date Google product taxonomy list to make sure you can cope with any changes in terms of categorization. 
What are the Pros and Cons of Automated Categorization?

As a merchant, you should know the pros and cons of automated categorization. Automated categorization has both benefits and drawbacks. 
Let's talk about the benefits first.

Automated categorization ensures that you do not need to assign your product categories one by one as per the Google Taxonomy list. It means that you can save your time from going through the list of 6000 product categories. It will help you start advertising quicker. 

Now, let's face the drawback. 

Though automated categorization may seem to be a time-saver for you, it is like a gamble to leave the complete categorization part merely on algorithms. It should be your priority to make sure that your products are assigned with the proper categories and never otherwise. 

The automated assignment of the category relies on the product title, brand, GTIN, description, etc. That's why it's likely for the algorithm to make a mistake in determining the right category. 
An issue that comes as a result of the wrong allocation of the category is that incorrect assignment often leads to tax miscalculation, especially for those merchants who sell their products in the US market. 

If you want to get rid of all these drawbacks, it's best to optimize your product feed by using the category mapping feature of any popular third-party plugins like CTX Feed. 

Also, if you want to have greater control over your campaign targeting, it would be wise for you to categorize your products precisely.
Final Thoughts
By now you know almost everything about Google product category taxonomy and how you should leverage it for better categorization of your WooCommerce store's products.
If you have an opinion or question regarding this blog, please let us know in the comment box.
Also, don't forget to share this blog. Your sharing will inspire us to write more blogs like this in the days to come.
You May Also Read