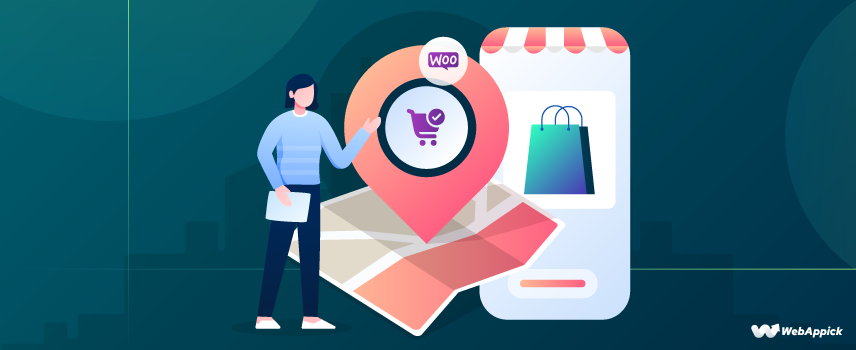 11 Must-Try WooCommerce Order Tracking Plugins in 2023
Do you want to track the shipment of the orders you receive in your store? Do you want to keep your customers stress-free about their orders by giving them access to see where their ordered products are? If yes, all you need is a WooCommerce order tracking plugin on your website.
A WooCommerce order tracking plugin, also known as the WooCommerce shipment tracking plugin can help you bulk import tracking code received from a wide range of shipping carriers worldwide. You can also use this type of plugin to let your customers know the estimated delivery date of their products by tracking status of the shipping with the help of a unique tracking ID.
In this article, we are going to introduce to you 11 must-try WooCommerce order tracking plugins for your online store. The list contains both free and premium plugins to track shipment.
So, are you ready to pick the best WooCommerce order tracking plugin for you? Here you go.
① Advanced Shipment Tracking for WooCommerce (Free and Premium)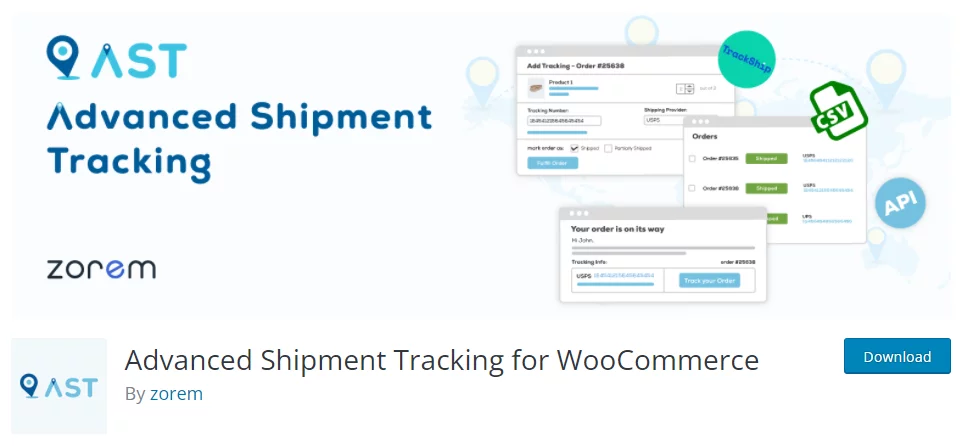 Advanced Shipment Tracking for WooCommerce is one of the most popular WordPress plugins for Woocommerce order tracking. This plugin will help you supply the tracking information to your customers seamlessly.
Apart from sending customers order completion emails, you can leverage this WooCommerce plugin to add tracking details on the Orders section of their My Account page.
One of the reasons why this plugin is one of the best is that it supports tracking information from over 300 shipping carriers.
This freemium plugin allows you to add tracking information of carriers and customize the tracking messages, email templates, and order statuses.
Key Features
Add shipment tracking data and shipping date to order details page and emails
Import tracking details in bulk from CSV file format
Customize the tracking information display as per your preference
Add multiple tracking numbers to a single order
Translation-ready and compatible with many plugins
Add custom order status
Integrate with Ordoro, Royal Mail Click & Drop, TrackShip, Dear Inventory, Ali2Woo, Printify, and more
White label the shipping providers
Export tracking information to PayPal
Add custom details or select from a wide range of custom carriers
Unlock more features with premium addons
② AfterShip Tracking – All-In-One WooCommerce Order Tracking (Free and Premium)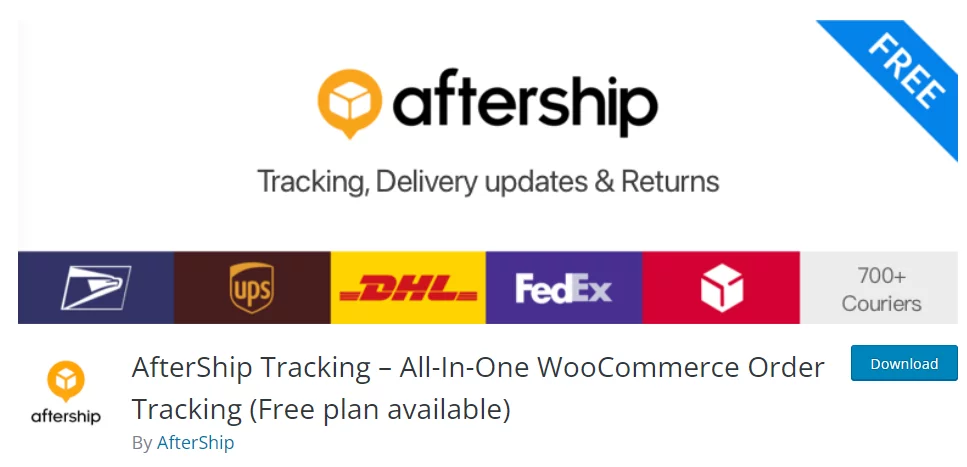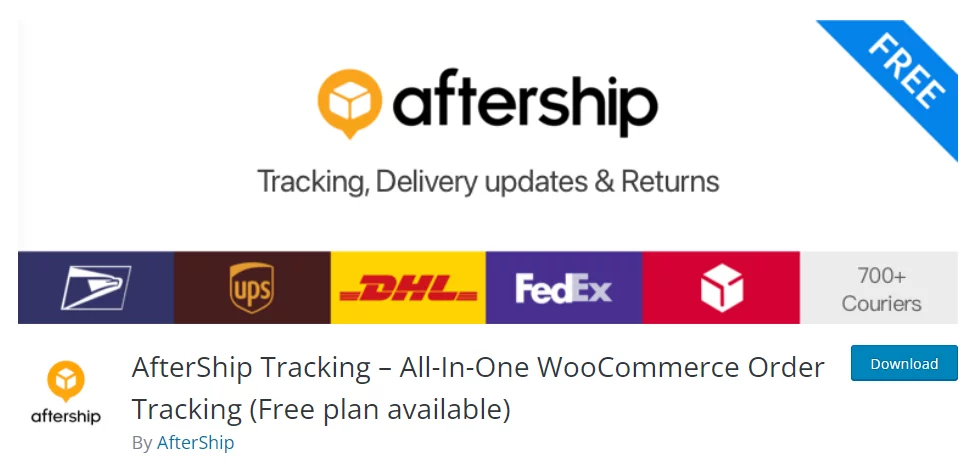 AfterShip Tracking plugin lets you automatically add tracking numbers and courier fields to your admin panel so that you can manage and stay updated about all your shipments from different shipping providers.
This order tracking plugin enables you to choose your preferred carriers from more than 900 supported shipping carriers such as UPS, USPS, DHL, China EMS, etc. You can also display the tracking info on the order page of your customers.
Once you complete shipping an order, just add the tracking number and select a shipping provider at WooCommerce. From its dedicated smart dashboard, you can filter and track all the shipments.
Another amazing feature of this plugin is that you can use it to create a branded tracking page. For any of your shipments, you can customize the tracking page's appearance using a custom logo and WooCommerce URL.
Key Features
Filter all the shipments by their statuses, shipping providers, dates, and destination.
Sort shipments by order date, order title, created, last event, and pickup date.
Identify the delays of the shipment and make sure all the shipments are delivered on time.
Send shipping and delivery notifications to customers via Email and SMS
7 shipment tracking statuses
Send multilingual email notifications
Embed the AfterShip tracking button for your customers
Show tracking info to the customers after order placement
Choose from more than 900 shipping carriers
View multiple shipments effortlessly with the smart dashboard
Add branding elements to the tracking page
③ Parcel Panel Order Tracking for WooCommerce (100% FREE)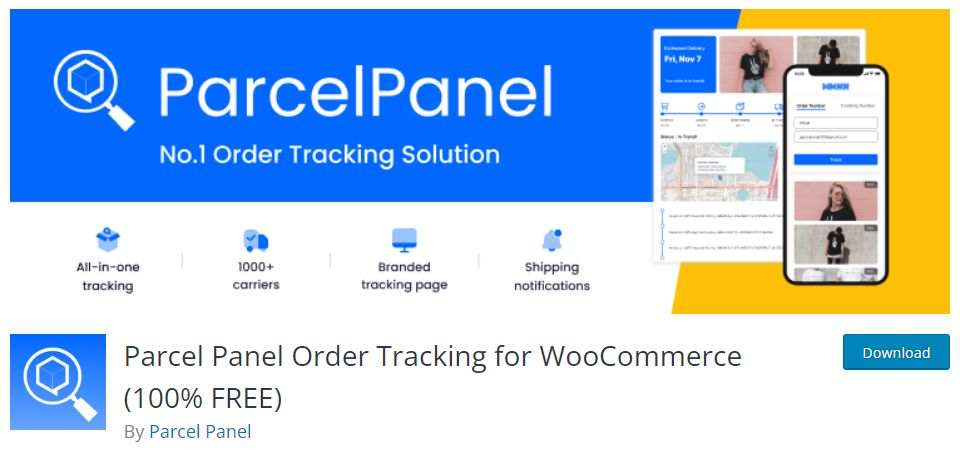 "where is my order?" is the biggest concern of your customers. Parcel Panel Order Tracking to help WooCommerce merchants get access to the order tracker, improving customer satisfaction and driving more sales by providing the best post-purchase experience.
Parcel Panel Order Tracking has been focused on parcel tracking for years, we make sure accurate results for all trackings, covering 1080+ carriers worldwide including USPS, Cainiao, Royal Mail, YunExpress, 4PX, YANWEN, etc.
Parcel Panel order tracking is a 100% FREE WooCommerce order tracker plugin with all features available and Unlimited quota!
Key Features
Optimize order fulfill workflow
Automatically sync WooCommerce order data
Auto-matching courier, covering 1080+ carriers worldwide
Import tracking number in 3 ways, including adding tracking number widget/CSV file/Third-party fulfillment or dropshipping plugin
Filter shipments by dates, statuses, and carriers.
Manually update order status, perfect for merchants who have their own shipping team or local delivery team.
Branded tracking page allows customers to easily check their orders by themselves to save time.
Parcel Panel order tracking allows you to add a track button to the orders history page, so your customers can track their orders with one click there.
The best for WooCommerce dropshipping – Hide all Chinese origins easily, bringing your customers an all-around brand shopping experience
④ Orders Tracking for WooCommerce (Free and Premium)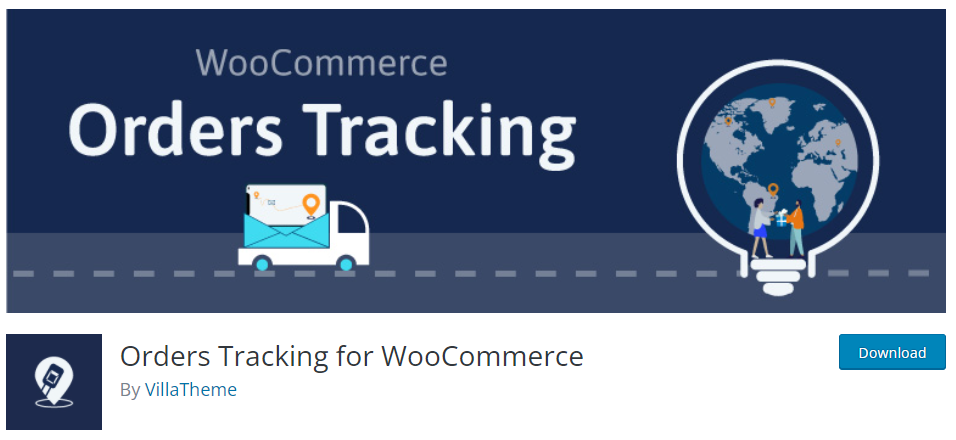 Orders Tracking for WooCommerce is another popular WordPress plugin for WooCommerce stores to bulk add product order tracking code to WooCommerce orders.
Once the tracking code is added for the ordered products, you can use this plugin to send tracking emails to the customers with the tracking URLs so that they can easily track their ordered products anytime.
Apart from that, this freemium plugin will help you to add tracking code and the carrier's name to your Paypal transactions that will obviously save you from mistakes and waste of time.
Key Features
Add tracking code to each product manually or bulk upload the codes with CSV file
Let the customers track their products from their My Account page or use the tracking URL sent to them via email
Integrate more than 80 shipping carriers along with adding custom shipping carriers
Send and edit the tracking emails
Schedule update tracking data
Create and customize the tracking page
Change order status and manage tracking in email
Enable SMS notifications by Twilio, Nexmo, and Plivo
Add reCAPTCHA for tracking forms
⑤ YITH WooCommerce Order Tracking (Free and Premium)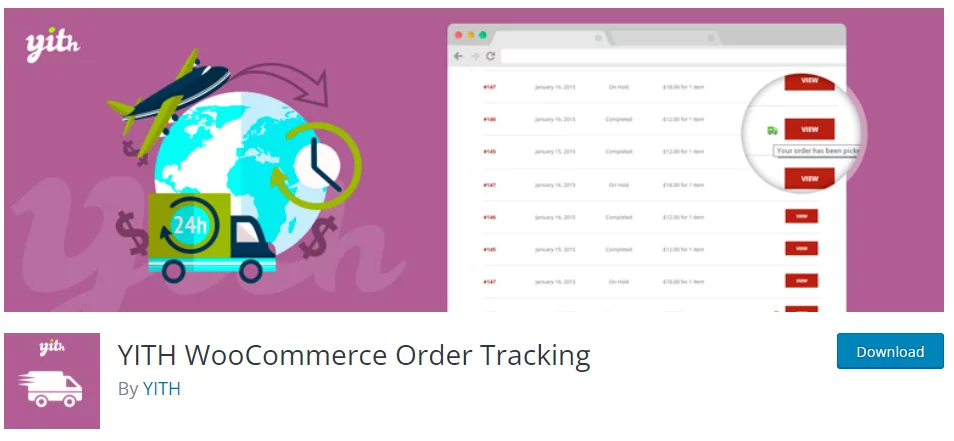 If you use the YITH WooCommerce Order Tracking plugin for WordPress, you don't have to keep your customers clueless about where their ordered products are!
This plugin will enable your customers to track all the orders they place in your online shop.
Along with seeing the current status of their order, they can also view the estimated delivery time from the carrier's page. All they need to do is to click on a button placed on their My Orders page.
When it comes to shipping carriers, this plugin offers a wide range of them. You can collect information from these carriers and provide them to your customers without much hassle.
On top of that, you can also choose any carrier you prefer as your default option. Next, this plugin offers you a shortcode that you can leverage to display a search form for the customers to check the tracking status of their orders.
Key Features
Provide shipping tracking details to your customers from more than 90 shipping carriers
Set a shipping carrier you prefer as the default
Navigate tracking effortlessly on the Order admin page with the tracking action button
Import tracking data as CSV file format from other tools
Update the order status automatically after adding the tracking details
Combine PDF Invoices plugin to insert tracking data into delivery note
Let the customers view the tracking information in a single click
Customize the message for your customers that you want to show in detail about their WooCommerce orders
Send tracking data to customers via email when the order is completed.
Choose the place in the order details page where your customers will see the tracking messages.
⑥ TrackShip for WooCommerce (Free and Premium)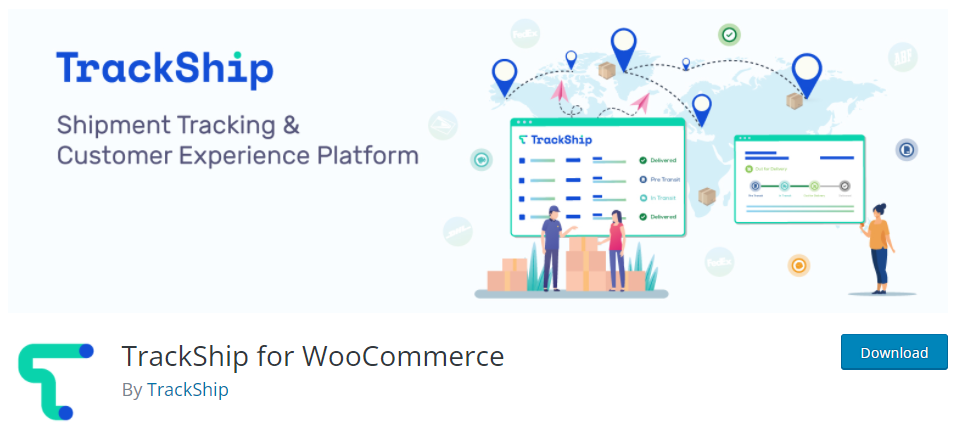 TrackShip for WooCommerce plugin auto-tracks orders with over 300 shipping providers around the globe. You can leverage this plugin to automate the post-shipping workflow and reduce the time you spend on maintaining the highest level of customer support.
This plugin enables you to stay connected to your customers after shipping by offering a quality post-purchase customer experience.
TrackShip free version plugin lets you start for free offering 50 shipment tracking per month for free. If you need more, you can choose a premium version as per your customer base.
Key Features
Come with a dedicated shipment dashboard
Get notifications for shipment status and delivery
Add tracking widget on emails
Track analytics widget
Automate post-shipping order status
Add tracking page on your store
Display shipment status and estimated delivery time on the Orders page of the admin
Set custom order status as delivered
Integrates with other WooCommerce plugins
Filter orders by the status of the shipment.
⑦ WooCommerce Shipping Tracking (Premium Version Only)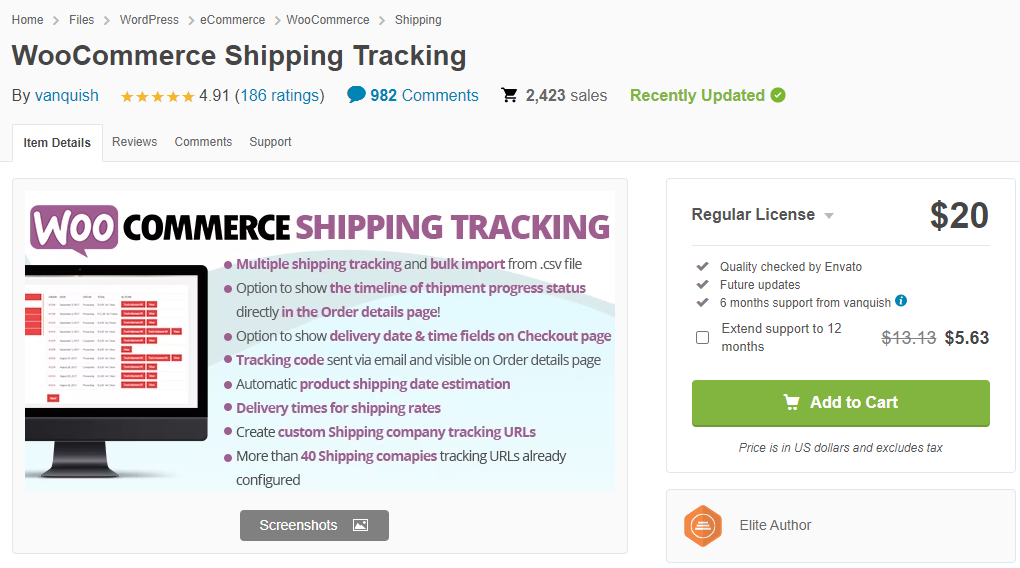 WooCommerce Shipping Tracking is a premium plugin to help you and your customers track WooCommerce shipping. Leveraging this plugin, you can assign multiple shipping tracking data to your orders swiftly and effortlessly. The tracking data gets displayed both on the Order details page and WooCommerce notification emails.
Moreover, if you want, you also have the scope to display the progress of the shipment via a visual timeline.
WooCommerce Shipping Tracking plugin for WordPress comes well-configured with more than 40 shipping companies by default. However, if you don't find the shipping company listed on this plugin, you can define your own custom shipping companies following a few simple steps.
Key Features
Enable multiple shipping tracking and bulk import them from the CSV file
Show the timeline of the shipment progress status on the Order details page
Display delivery data and time filelds on the Checkout page
Send tracking code via email and display on the Order details page
Automatically receive an estimated product shipping date
Create personalized shipping company tracking URLs
Customize the email and order detail HTML snippet
Show estimated delivery time for shipping methods
⑧ WooCommerce Shipment Tracking Pro (Premium Only)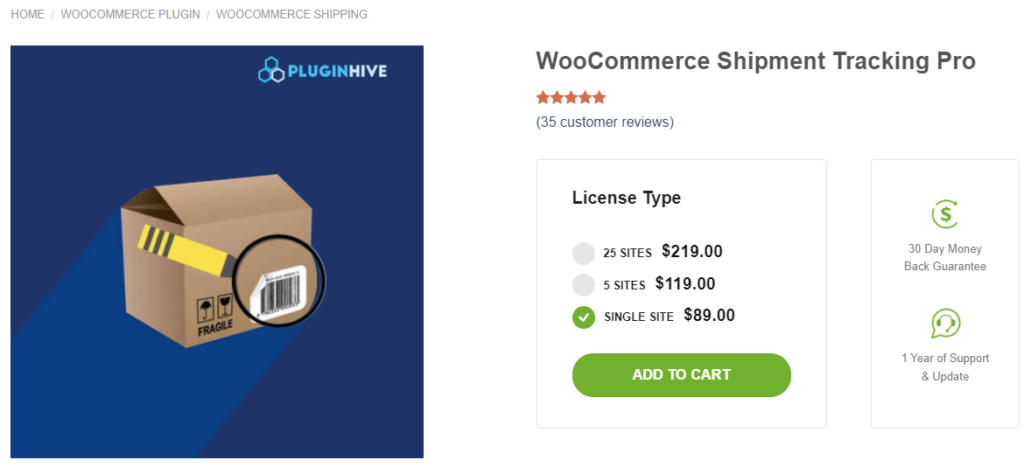 WooCommerce Shipment Tracking Pro plugin is another cool plugin for you to help you integrate order tracking functionalities to your eCommerce shop.
With this plugin installed on your WordPress website, you can ensure an easy way for your customers to track the delivery of their ordered products from 80+ different shipping carriers such as DHL, UPS, FedEx, USPS, and more.
Key Features
Add shipment tracking information to your WooCommerce orders page instantly
Send WooCommerce shipment tracking notifications to your customer base via email
Use CSV, SFTP, and FTP to import WooCommerce tracking details in bulk
Add or remove shipping service providers easily
Customize the order tracking messages
Schedul the import of the WooCommerce tracking details automatically
Get real-time order status updates with API
Display shipment tracking information to customers on their My Account page.
Mark orders as completed automatically
⑨ Shipment Tracking (Premium Only)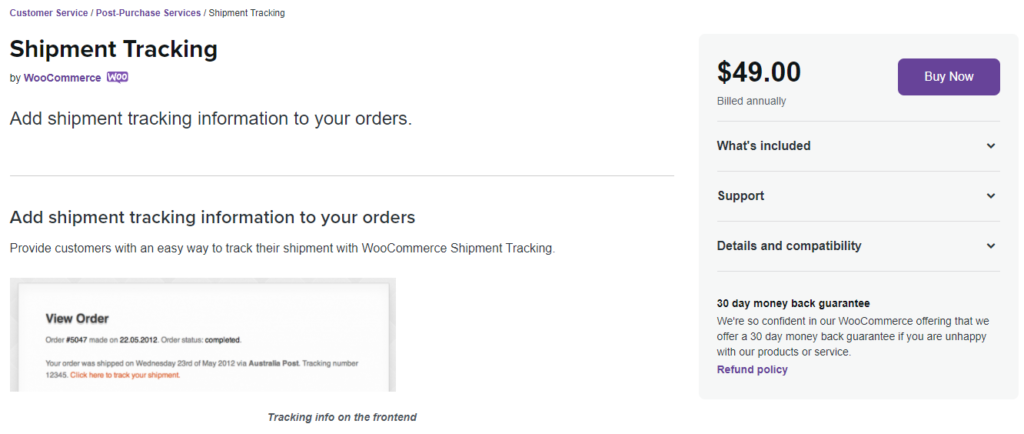 Shipment Tracking is a WooCommerce extension for helping the customers receive tracking information of the products they order on your WooCommerce store. Using this plugin, you can add the tracking information of any orders on the order details page.
Once you collect the tracking data information from the shipping carriers and add the tracking data you found, the information will be shown in the order view of the "My Account" page of the customers.
Moreover, the information can also be sent to the customers via email or displayed on the order tracking page. The plugin is also capable of supporting automatic tracking linked and custom links. Last but not least, can use it on the mobile app of WooCommerce simultaneously.
Key Features
Add tracking information to the order tracking page, order emails, and My Account page
Supports WooCommerce mobile app and is compatible with a wide range of shipping carriers
Easy to use
Supports custom and automatic tracking links for many order shipping providers.
⑩ Order Tracking – WordPress Status Tracking Plugin (Free and Premium)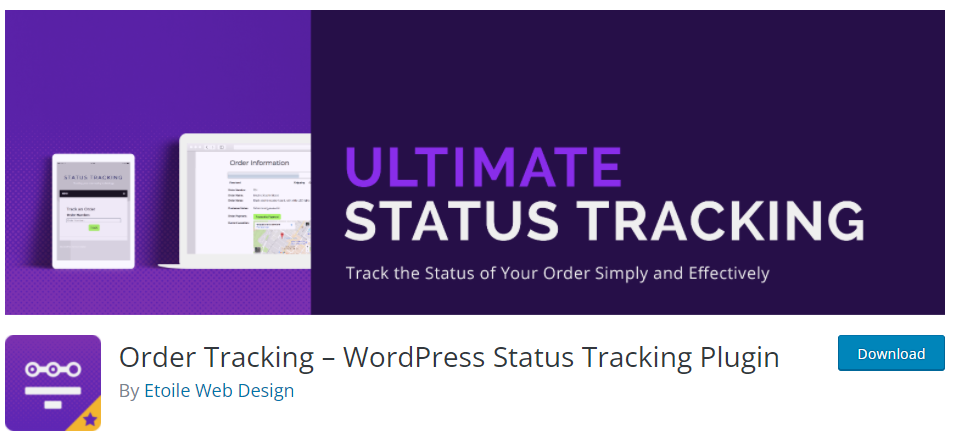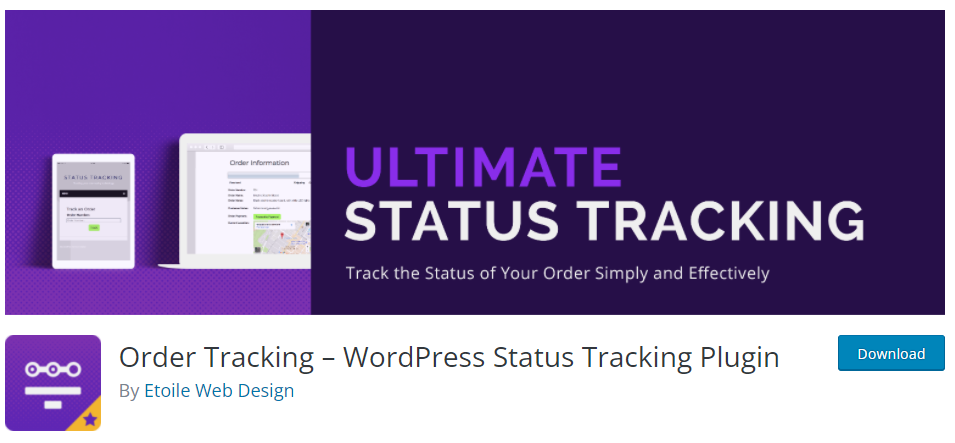 Order Tracking enables you to manage the status of the orders, shipments, and projects without much hassle. Brought to you by Etoile Web Design, this plugin posts order tracking updates or tickets that you can easily view from your website.
This plugin will help you manage orders quickly and easily via a series of easy shortcodes. You can easily customize this plugin with CSS, input the statuses, projects, and updates manually. Alternatively, there is an option for you to enter the information by uploading a spreadsheet.
There is a wide range of status tracking options to let you choose the information you want to display and import. Furthermore, it also lets you print orders, hide blank fields, send order alerts, order status updates via email, and whatnot.
Key Features
Update the order and project statuses
Customize the CSS as per your requirement
Delete or hide orders
Export orders to spreadsheet to allow updating in bulk
Enhance the tracking experience of your customers leveraging dozens of labelling and styling options
Create custom order alert emails for different order statuses
Integrate PayPal to let the customers pay for orders
Set up ticket or searchable orders for the customers of your WooCommerce shop
Send order status notifications via email when an order is placed or updated
Create custom order tracking statuses that suits best for your business
Decide what tracking information that you want to display in the order search results
11. TrackFree – WooCommerce Tracking (Free and Premium)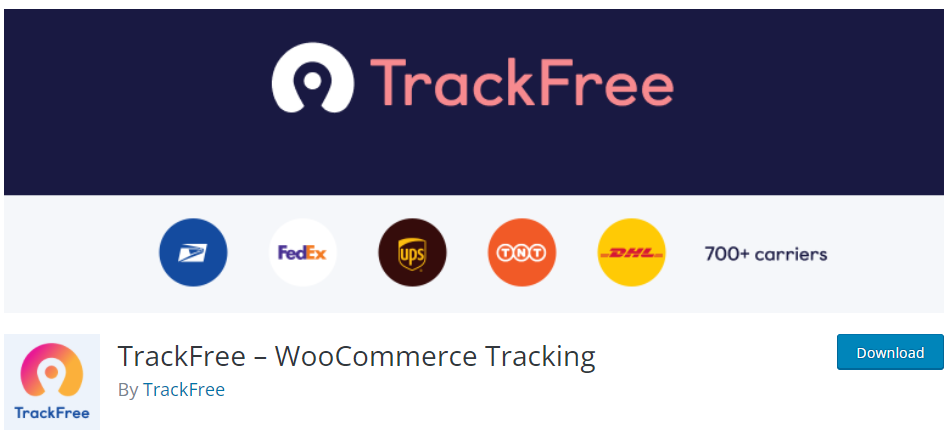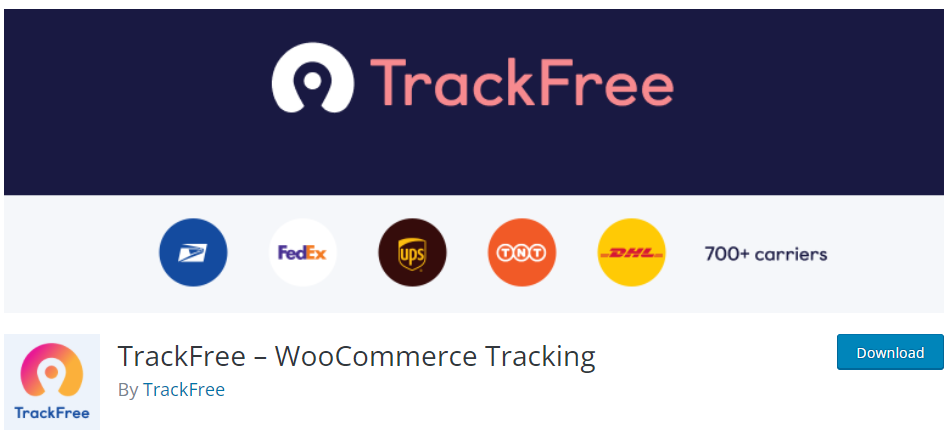 Being a freemium plugin, TrackFree enables businesses to engage better with their customers. With this plugin installed on your website, you can ensure long-term customer loyalty by delivering a high-quality post-purchase experience. This plugin lets you track up to 100 shipments (lifetime) for free. It supports a wide range of carriers from North America, the UK, Ireland, Europe, Asia, China, Australia, New Zealand, Latam, and more regions.
Key Features
Use a beautifully designed dashboard
Get a custom order tracking page
Own the tracking experience with product recommendations powered by machine learning.
Track shipments easily and effortlessly
TrackFree supports more than 700 carriers worldwide
Generate and Print PDF Invoice and Packing Slips for FREE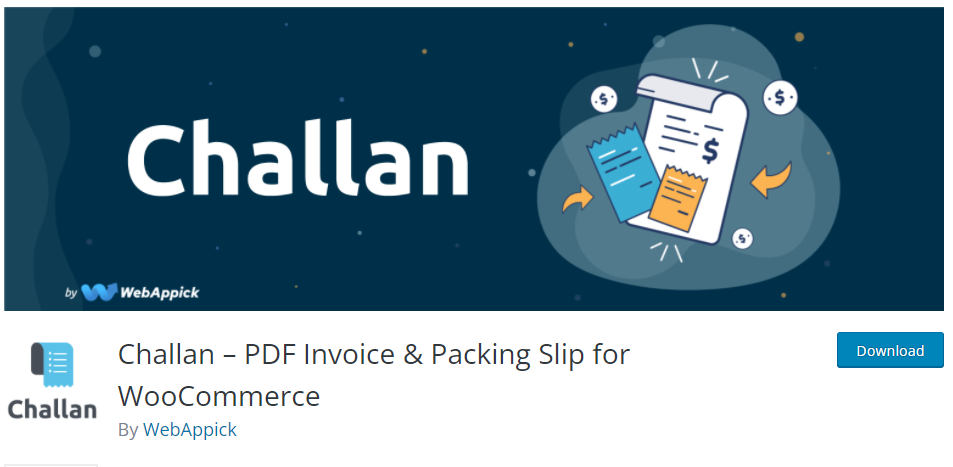 If you want to generate and print PDF invoice, delivery notes, and packing slip, you can try Challan, one of the best plugins of its kind. It has a free version to let you check if it's the plugin you need for your business.
Final Thoughts
So, that was our must-try suggestion list for WooCommerce order tracking plugins. Choose any of the WooCommerce shipment tracking plugins from the above list and let us know which one you like most in the comment section.
You May Also Read