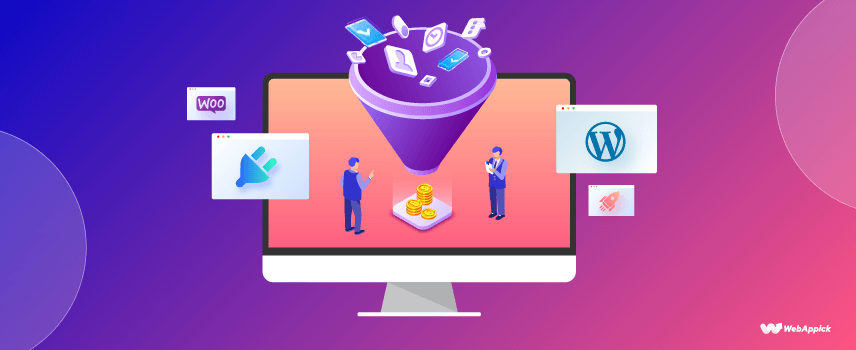 Best WooCommerce WordPress Plugins to Boost Conversions in 2023
An online store that fails to optimize conversions fails to cater to its customers' varied needs and ends up losing its competitiveness. WordPress not only allows you to design the most contemporary online store but also lets you expand its functionality through the different WordPress plugins.
In that sense, WooCommerce plugins are an amazing way of pairing eCommerce stores with customers' experience and increasing conversions. And Increased conversions mean more sales. Although there are several free plugins that can help optimize your WooCommerce store's conversions, free plugins don't necessarily mean they are good plugins.
Things to consider when selecting a WordPress plugin
The price of a plugin and your budget are always the most important considerations when setting up an eCommerce store. But that shouldn't be the only consideration for WooCommerce store owners. Some other things you need to consider when selecting a plugin for your new store are:
Feature set
Developer (or company's) reputation
How current is the code
Features of a particular plugin will tell you exactly what your plugin is supposed to do for your online store. Advanced features are even better.
Similarly, plugins that have good reviews are typically the ones that are trusted more and have more features.
A plugin that does the job but hasn't been updated in four years or tested with a recent version of WordPress will usually end up costing you more time and money than it is worth.
Also, there are some tips that might come in handy when choosing your WooCommerce WordPress plugin.
Establish the purpose of your store.
Assess what features are missing from your WooCommerce and what features you need to run an effective business.
Look for WooCommerce themes that satisfy these needs.
If a theme doesn't seem to help, start looking at the best plugins and extensions.
Either buy packages to save money and prepare for the future or opt for individual plugins to save money and stick to what you absolutely need.
Paid vs. Free WooCommerce Plugins
All WooCommerce plugins fall into two broad categories:
Although a lot of WooCommerce plugins are free in the online marketplace, you might be tempted to use them for your online store, especially if your store is a new one and runs on constrained budgets. However, you will have to spend a little to get more features from these plugins, which will ultimately boost conversions for your WooCommerce stores.
The plugins I list here are top plugins, regardless of whether they are free or paid. If they happen to be free, then that's a win for everyone.
Best WooCommerce plugins for your WordPress stores.
For your convenience, we have categorized the best WooCommerce plugins into four sections.
Checkout and Payment
Shipping
Products and Website Optimisation
Marketing and Communications
Checkout and Payment
1. WooCommerce Stripe Payment Gateway
This plugin simplifies the payment process for your online store by giving your customers multiple payment options. It allows you to accept payments from a very wide range of credit and debit cards in most countries, as well as Apple Pay, Google Pay, and Payment Request API.
2. Amazon Pay
With Amazon Pay, your customers can place an order on your store but have the same payment and shipping options as the one they would have used when buying from you on Amazon. The buyer simply logs in to their Amazon account to complete the order, but they remain on your website the whole time. The drawback however is that this WooCommerce WordPress plugin is not available in all countries.
3. WooCommerce Direct Checkout
WooCommerce Direct Checkout speeds up the checkout process by allowing shoppers to bypass the shopping cart and go straight from the product page to the checkout page. A faster and efficient check-out means fewer instances of cart abandonment and happy customers.
4. WooCommerce Checkout Manager
With the WooCommerce Checkout Manager, you can offer your shoppers a personalized checkout experience. This WooCommerce WordPress plugin lets you add custom fields to the checkout based on your customer's preferences. It also makes order sorting smoother. It's an ideal tool for B2B.
5. WooCommerce Wallet
With WooCommerce Wallet, your customers have a virtual wallet for handling payments and refunds. It is a safe and secure way of handling online transactions and it also allows business owners to issue instant cash-back offers and refunds.
6. WooCommerce Payments
WooCommerce is one of the new plugins in payment processors. Although it's powered by Stripe as the payment processor, you neither need the Stripe extension on your online store nor an existing Stripe account prior to installing and using WooCommerce Payments. This plugin is better integrated into WooCommerce than any of the other payment gateway plugins – meaning, you can manage everything to do with payments from one central place – your own site's WooCommerce dashboard. It should be remembered that one of the biggest selling points of this plugin is that this plugin can get almost immediate access to your funds. WooCommerce Payments also enables Apple Pay and Google Pay.
Shipping
7. WooCommerce PDF Invoices & Packing Slips
With this WooCommerce WordPress plugin, you can generate professional PDF invoices and packing slips in different languages. It comes with a customizable template with all the usual invoice and packing slip essentials. You can also create, download, and e-mail invoices in bulk.
Other features:
You can print out PDF invoices and packing slips for your current and past orders.
The plugin comes in multiple languages to use.
All invoices are organized sequentially.
You can generate invoices and packing slips in bulk or individually.
You can send out emails with invoices attached based.
Features in the Pro version for sending packing slips directly to a printer, using premium templates, and connecting to Dropbox.
8. Order Delivery Date for WooCommerce
Shipping is still one of the biggest customer service challenges for online stores; and a major reason for most cart abandonments. Eliminating shipping-related dissatisfaction by allowing shoppers to specify a delivery date during the checkout process is sometimes the least you can do. And that's what Order Delivery Date for WooCommerce lets you do, along with managing other shipping options, like a local pickup.
9. Smart Manager for WooCommerce
Smart Manager gives store owners like you an Excel-like interface for managing all your site's information, such as products, orders, and customers. It's a fantastic way to get an overview of your most important information and even includes a full-screen mode for easier working.
10. ShopLentor (formerly WooLentor)
ShopLentor, a feature-packed and modern WooCommerce plugin, makes it simple to create the perfect online storefront with no coding knowledge required. It's incredibly powerful yet easy to use – offering various widgets, preset page templates, plus extra modules such as multistep checkout, customized wishlists/product comparison functions/quick view capacity & multiple checkouts. If you're looking for an advanced but uncomplicated option to build your store then ShopLentor can be the ideal choice.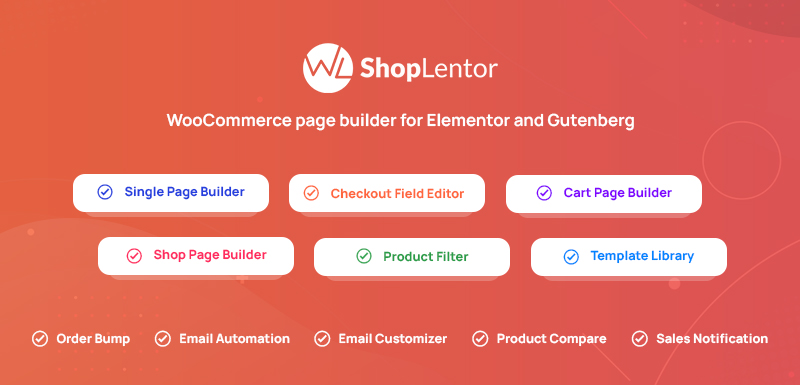 Additionally, you can take advantage of the following features:
Easily create beautiful WooCommerce websites without any coding skills
105+ Elementor widgets and 54+ Gutenberg blocks make customizing a breeze
With access to over 24 advanced modules, you'll no longer need multiple WooCommerce plugins for your store
Seamless compatibility with Elementor and Gutenberg page builders for intuitive website creation.
A library of ready-made page templates allows for effortless customization
A dedicated customer service team is available to provide you with expert support.
11. WooCommerce Multivendor Marketplace
If you're thinking of getting onboard the multi-vendor marketplace bandwagon, the WooCommerce Multivendor Marketplace can help you get it set up. With this WooCommerce WordPress plugin, you can keep an eye on important payment-related information, like commissions and withdrawals. It is also compatible with all the major payment systems, including PayPal, Stripe, and Skrill.
Products and Website Optimisation
11. WooCommerce My Account Widget
WooCommerce My Account Widget is a pretty straightforward plugin for displaying customer account information and allowing shoppers to conveniently log in within the widget. It gives the shopper quick links to the shopping cart, their account, checkout, and other pages. It also gives repeat shoppers a quick and easy way of navigating your site.
13. YITH WooCommerce Wishlist
YITH WooCommerce Wishlist is similar to the "Favorites" feature that you can find on many larger eCommerce stores, like Amazon. Although it may not be suitable for all stores and store owners, it often makes sense to give your customers a way to save certain products for later. The plugin seamlessly integrates with WooCommerce. Customers are able to check back and find their favorite products for later consideration. This potentially boosts your own sales and makes for a nicer interface for customers.
Some more features:
The plugin has the potential to increase sales per checkout, and it reminds customers of past interests.
It launches the ability to offer gift lists for events like weddings and baby showers.
Users can share their wishlists on social media.
The plugin also allows you to make different lists with names.
It shows an add-to-wishlist button on certain places on your website.
You can customize the wishlist formatting with adjustments like the number of columns and the number of products showing up on the page.
14. Custom Product Tabs for WooCommerce
Custom Product Tabs for WooCommerce is a plugin that enables you to clean up your product pages with consolidated tabs. This way, you can name tabs with information like descriptions, product specifications, reviews, and more. All the tabs you add to your online store will support multiple types of content such as images, video, and text. You can also manage the tabs in the standard WordPress editor without any need for custom coding.
Some other features include:
Quick installation with simple tabs on your product pages.
You can edit all the tabs in the basic WordPress editor.
The plugin allows you to save certain tabs to paste into other product pages.
All tabs allow for shortcodes, images, text, and other elements.
The plugin is compatible with WPML for translating in the future.
The tab data is exported with your product data if needed.
15. WooCommerce Multilingual
The WooCommerce Multilingual plugin combines the popular WPML plugin with WooCommerce to establish the best experience for changing the language of your site. This comes in handy if you would like to give your customers multiple language choices.
All WooCommerce products, pages, and categories are modified to ensure that the right language is being displayed. Multiple currencies are also available just in case.
Features:
It integrates with WooCommerce and some of the most popular WooCommerce extensions, including WooCommerce Bookings, Tab Manager, and Subscriptions.
The plugin changes your text into the language of your choice.
Translations are available for texts on your website on different pages, such as products, collections, and homepage text.
You can change currencies with one click.
The plugin has the feature to offer multiple currencies on a single site.
The checkout process and cart can maintain the language of your choice with the plugin.
All emails sent out through WooCommerce retain the language of your choice.
16. Advanced Coupons
Advanced Coupons is the best WooCommerce WordPress plugin for coupon codes on the market. It extends the limited WooCommerce coupon capability and allows you to create coupons with better offers. This plugin integrates nicely with WooCommerce and offers features like BOGO offers, scheduled coupons, coupon URLs, auto-apply coupons, shipping coupons, and more. It is a simple plugin to use and helps you boost sales on your eCommerce store. There's a free version of this WooCommerce plugin available.
17. Uncanny Automator
Uncanny Automator is the best WooCommerce automation plugin that allows your WordPress plugins to talk to each other. For instance, it can automatically create a new customer account when someone submits a contact form on your website. Automating routine tasks can prevent WooCommerce store owners who spend a lot of their time performing repetitive tasks. By allowing you to automate WooCommerce tasks and save time, the plugin offers a better user experience to your customers. You can create recipes that can be run when a user triggers an event- and then choose an action to perform based on that trigger (for instance, sending users an email with similar products they may like). There are dozens of recipes that you can create and save hours. You can also use Uncanny Automator to send notifications to Slack, send WooCommerce SMS notifications, and more.
18. Breeze
Breeze is a powerful caching plugin from Cloudways that promises to help you improve your site's performance. This free WooCommerce plugin lets you optimize various aspects of your WooCommerce site and fine-tunes your website to help it run like a breeze. Your WooCommerce website needs to run optimally to deliver a great shopping exercise to your customers, and features like the file-level cache system, support for Varnish cache, and database cleanup option, etc., make it really easy for you to do that. With its simple interface, Breeze is one of the best plugins for your WooCommerce website.
19. Cartflows
CartFlows is a simple sales funnel builder for WooCommerce websites. It allows you to design powerful checkout flows that take your visitors down your sales funnel and make it easy for them to purchase more products from your WooCommerce site. CartFlows also offers tried and tested sales funnel templates so that you can publish conversion-focused funnels within minutes. You can also increase your average order value with rule-based dynamic offers for upsells, downsells, and more. With Cartflows, you can target your customers using powerful inbuilt conditions and promote the most relevant offers to your customers, so they are more inclined to buy the addon.
20. Doofinder for WooCommerce
If your customer can't find what they're looking for, they won't buy it. It is as simple as that. So, as an online business owner, you need to make sure your customer finds the product they're looking for? Doofinder is a powerful WooCommerce search plugin that delivers highly accurate results really fast, thanks to its powerful search algorithm. It not only improves the overall user experience but also helps increase your sales. The search results also give you relevant data, such as insights into what products people search for the most.
21. WISDM Customer Specific Pricing for WooCommerce
WISDM's Customer Specific Pricing plugin is a perfect dynamic pricing plugin that helps to boost revenues for your eCommerce website by giving you the edge over your competitors. The plugin allows you to set up different personalized prices for user roles, groups, and customers in order to increase loyalty and customer satisfaction. You can also lure your buyers to purchase more with cart discounts, quantity discounts, product category discounts, and multiple pricing tiers, leading to an increase in bulk purchases and sales of popular and trending products. The Customer Specific Pricing plugin is ideal if you want to bridge the gap between you and your customers and increase the sales figure of your WooCommerce store.
22. WooCommerce Product Filter (WOOF)
This WooCommerce WordPress plugin is a flexible tool to set up product filter options on your WooCommerce store. Once you install WOOF, your shoppers can immediately filter products on your online store based on categories, subcategories, colors, tags, prices, etc. You can also customize the filters according to your needs by using WOOF extension API. It requires advanced coding skills to do such high-level customizations. If you're not a PHP developer, you don't need to worry because its default options are enough for basic customization needs.
KEY FEATURES:
It has products shortcode so you can paste it on any page: [woof_products per_page=8 columns=3 is_ajax=1 taxonomies=product_cat:9]
WooCommerce product searching by AJAX
Dynamic products recount
You can show taxonomies/ attributes in the search form as radio, checkbox, drop-down, multi-drop-down, radio buttons in drop-down.
Different skins for radio and checkboxes in the plugin settings
23. WooCommerce Product Feed Pro
WooCommerce Product Feed Pro is an amazing plugin that saves you time and effort on basic marketing tasks. This WooCommerce plugin automatically generates a product feed to sync your products with your merchant center on your eCommerce platform– including Google Shopping, Google Dynamic Remarketing, Amazon Product Ads, Facebook Remarketing, Bing Ads, and more. You can quickly add all your products from your online store to connected dealer shops without any extra work.
Features:
You have access to over 100 different merchant sites, and you can easily choose which sites you would like to display your products on.
Pre-built templates available for the merchant sites.
You can choose to post your products manually or automatically.
The supported file formats include XML, TXT, and CSV.
Things like product codes, marketing, and promo text, product descriptions, and prices can be easily added.
Feed updates can be placed on a set schedule of your choice.
Automatic feed updates can be made through FTP.
24. Siteground
When you set up a new WordPress site, you should always consider installing SiteGround Security. You need not always use all of the options in this WordPress plugin, and that is alright. Everything is optional in this free plugin. You can use one or two features, or you can use them all. Make sure that your site is as secure as it possibly can be by installing the SiteGround Security plugin. This is one of the many WooCommerce plugins that should be on your list of plugins that will optimize your WordPress site. If you are hosting with another hosting company, you can still use 100% of the features of the SiteGround Security plugin. It does not require SiteGround hosted sites.
25. Customer Reviews for WooCommerce
Search engines love customer reviews on eCommerce stores, and when you have customers talking about your brand online, it is bound to improve your search ratings. No matter what type your online store is, be it for online bookings, digital goods, a dropshipping store, or a print-on-demand one, creating product reviews requires a lot of time and hard work, especially when you want it custom made. This is when the Customer Reviews plugin becomes mandatory for a WooCommerce store. In other words, this plugin is designed to help set up automatic reminders to leave reviews for customers who recently purchased a product from your store. Reminder emails are sent to your customers, inviting them to review the recent product they have purchased. Once customers leave a review, this plugin automatically displays them on your storefront/product pages as social proof.
Marketing and Communications
26. Beeketing for WooCommerce
Beeketing for WooCommerce is one of the top all-in-one marketing tools for WooCommerce online stores. More than ten marketing features are bundled into this plugin, including tools for preventing cart abandonment, boosting online sales, and improving your email marketing. You will be amazed at options such as cross-selling, upselling, email capture, and more.
Some more features:
The plugin offers upselling and cross-selling, along with capabilities to improve your cart values.
Coupons and discounts anywhere in the checkout process.
Choose from templates for abandoned cart popups and emails.
Options for Facebook Messenger support, welcome emails, and drip campaigns.
Large collection of extensions to choose from, with options like Personalized Recommendations, Sale Popup, and Quick Facebook Chat.
27. Booster for WooCommerce
Booster for WooCommerce adds an interesting collection of features to your WooCommerce store that you may be missing. Some of these features include currencies, bulk price converting, global discounts, and various tools to allow your customers to offer their own pricing. The list of additional features goes on. You'll find features for payment gateways, products, checkout, and more. Overall, it's worth a shot before opting for a premium plugin.
Some added features include:
The Booster for WooCommerce plugin is a complete eCommerce plugin in itself. It allows for an elevated WooCommerce store experience without the need for a new theme or multiple plugins.
You can change pricing and currencies with tools for multicurrency, price formats, and wholesale pricing.
You will get features for custom price labels, free price labels, and more button labels.
Customize products with features for product imaging, input fields, etc.
You can transform the cart and checkout with the help of core fields, cart buttons, and checkout fees.
Improve your payment gateways with the help of min/max amounts, gateways by shipping, and gateways based on category.
It gives you the capability to amplify your shipping process with a wide array of features for order quantities, shipping calculations, and icons.
You can make your emails and PDF invoicing better.
28. All in One SEO for WordPress
All in One SEO is the best SEO WooCommerce WordPress plugin for WooCommerce stores on the market. It is used by more than 2 million users and is the most comprehensive SEO toolkit that helps you improve your search rankings without the knowledge of SEO. There's a free plugin that you can use when you're getting started. You can set it up to dynamically generate SEO titles and descriptions for all your products. You can also easily add SEO titles and descriptions for individual products when adding them.
It automatically generates XML sitemaps like Product and Product Categories. These help search engines easily find and index your products more efficiently. It also supports rich snippets schema markup out of the box, which helps search engines display your products with rich snippets. This helps products stand out in SERP and brings in more organic traffic.
29. MonsterInsights
MonsterInsights is the best Google Analytics plugin that you can find for your WooCommerce store. It comes with enhanced eCommerce tracking which enables you to easily track eCommerce data in Google Analytics reports. Many new WooCommerce store owners find it difficult to understand Google Analytics reports. MonsterInsights makes it easier for them by displaying all the information they need inside your WordPress dashboard. This allows you to make data-driven decisions and grow your business by increasing sales. You can see your cart activity, top-performing products, and other important data without leaving your website.
30. Constant Contact
Constant Contact is the best email marketing service for eCommerce businesses. It is also the most trusted beginner-friendly plugin that allows you to easily add it to your store and start building your email list. It comes with multiple professionally designed email templates for various niches. You can also create multiple lists and create custom funnels to send personalized emails to selected audiences.
31. LiveChat
As a store owner, you constantly need to interact with your customers to understand their needs and to address and answer their queries. Did you know that on average, more than 67% of customers abandon their carts before completing a purchase? That's because customers can't gets their questions answered. LiveChat is the best live chat support software for your WooCommerce store. It allows you to easily add live chat to your WooCommerce store and answer customer queries instantly. This can prevent a visitor from abandoning your cart before becoming a customer. LiveChat works with Google Analytics, all top email marketing providers, CRM software, and more.
FAQs
Can you use WooCommerce WordPress plugins on multiple sites?

Yes, WooCommerce is compatible with WordPress Multisite. That means you can certainly create a WooCommerce Multisite where each site in the network can be an online store.

How do I use plugins in WooCommerce?

➜ Download the WooCommerce plugin. Go to your website.
Go to: Dashboard > Plugins > Add New > Upload. Select the downloaded plugin. Install.

➜Search for the WooCommerce plugin from within your website.
Go to your website. Go to: Dashboard > Plugins > Add New > Search Plugins. Search for "WooCommerce" Install.

Are WooCommerce plugins free?

Some plugins are free, and you will need to pay a price for some plugins. Although you may get basic functionalities with the free version, you may need to buy the premium version for advanced features.
What plugins do I need for WooCommerce?

➜ WooCommerce PDF Invoices & Packing Slips. …
➜ YITH WooCommerce Wishlist. …
➜ Custom Product Tabs for WooCommerce.
➜ Beeketing for WooCommerce. 
➜ WooCommerce Customizer. 
➜ PickPlugins Product Slider for WooCommerce. 
➜ WooCommerce Multilingual. 
➜ Booster for WooCommerce.
What are plugins in WooCommerce?

Plugins are the best part of making an online store come alive. They allow you to add new functionalities, optimize your online store, and grow your business. There are tons of free and premium plugins that you can use, but not all of them will serve your specific purpose.
How many plugins does WooCommerce have?

There are more than 50,000 plugins to choose from, and you will be able to add features that will look and feel your store better with these plugins.
Do plugins slow down WordPress?

Every line of code you add to WordPress will increase your loading times. And all plugins slow down your site, but if you choose well-built or small plugins, the performance impact is negligible. You must test your WordPress website both before and after installing the plugin, choose a plugin with good reviews, and evaluate your needs before installing plugins.
Wrapping Up
These were our top 30 picks for WooCommerce WordPress plugins for your online store. All these WooCommerce plugins are drastically different in what they do. And therefore, it's best to decide on what you would like to improve about your store first, identify issues and challenges, then choose the right options.
I hope this list will help you get the best out of your online store that best suits your needs. If you have other great plugins in mind, don't forget to let us know in the comments section below.