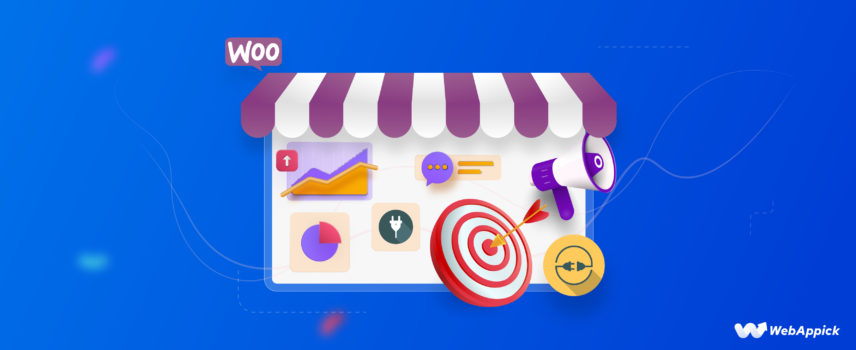 20+ Best WooCommerce Marketing Plugins for eCommerce Store (2023)
Having a great online store and not doing marketing is like putting on Harry Potter's Invisibility Cloak over a golden dress in the middle of a bustling crowd. No one will see/notice you!
After successfully developing the eCommerce/WooCommerce store, your next challenge is driving traffic to your store. For that, you must have a robust and sustainable marketing strategy to attract potential customers and convert them into buying customers.
Marketing is an integral part of any business, let alone eCommerce businesses. Marketing can help you with –
Increased sales and revenue
Reach target audience
Data-driven decision making
Global market reach
24/7 availability
Competitive advantage
Building brand awareness
Personalize customer experiences
Improved customer engagement
Scalability and growth opportunities
When it comes to marketing, digital or online marketing leads the way. Out of 1 trillion spent on marketing worldwide, online marketing expenditure is expected to reach over 800 billion. That's 80% of the total marketing investment globally.
And with 24 million online stores and counting and increasing every day, it is more important than ever to jump into marketing your WooCommerce products efficiently. But how do you do that with your WooCommerce store?
The greatest joy of WordPress and WooCommerce is its flexibility and many plugin options, right? You can find plugins for just about any task for a WooCommerce store.
Marketing is also a significant part of WooCommerce, and that's why there are plenty of helpful marketing plugins available in the market. However, it is indeed a daunting task to find the best WooCommerce marketing plugin among the ocean of plugins.
No worries; in this article, we will discuss the best marketing plugins for WooCommerce that can help you increase your visibility, reach, traffic, and sales.
Let's dive in.
20+ best WooCommerce marketing plugins
Marketing is not limited to just running ads. It's a long tree with a lot of branches. You need to explore all the branches to get the optimum results.
In the following sections, we'll delve into various on-site and off-site marketing areas and recommend the best WooCommerce marketing plugins for you.
Product feed marketing
Surprisingly, a large number of eCommerce startups are unaware of this mammoth marketing medium. Did you know you can reach millions if not billions, of potential customers with minimum effort and sometimes even for free?
Nope, it's not like those clickbait lines you see on YouTube thumbnails. It's possible with product data feed marketing.
With product feed marketing, you can display your WooCommerce products on giant marketplaces like Amazon, Google Shopping, Walmart, Facebook, Snapchat, Target, Instagram, eBay, etc.
Product feed marketing means connecting and listing your WooCommerce products on multiple channels with a product feed. A product feed is a spreadsheet data file that generally contains all product details under characteristics such as title, price, description, stock unit, shipping info, etc.
In a product feed, these characteristics are known as attributes. All channels that allow product feed have their own set of guidelines and attribute lists.
You can upload this feed to marketplaces, social media sites, affiliate sites, and price comparison engines.
Did you know product shopping ads are the number one advertisement medium for eCommerce stores? To run product ads on Google Shopping, Bing Smart Shopping, Snapchat, Instagram, etc., you must also upload a product feed.
Product feed marketing aims to streamline the process of displaying your products on multiple platforms, making it easy and effective. You will need a product feed management WooCommerce marketing plugin that can automate the whole process.
Our pick of the best product feed plugins is CTX Feed.
CTX Feed – Product feed WooCommerce marketing plugin
CTX Feed is the ultimate WooCommerce marketing plugin for product feed marketing. This plugin makes the product feed generation and connection process a breeze.
The developers have done a fantastic job of creating individual templates for over a staggering 130 channels. These templates come packed with all attributes and guidelines.
This means you don't need to learn any guidelines or attributes. The plugin also copies and pastes your product details under the attributes automatically. In a word, almost the whole process is automatic.
Moreover, this plugin has automatic update and URL connection features. When you connect a feed to a channel using the feed URL, the channel and the plugin will handle everything from thereon.
You won't need to re-upload the feed when you make changes to your product details. The plugin will automatically update the feed with all changes, and the channel will fetch the updates through the URL connection.
CTX Feed Pro includes even more features like Product Brand, Dynamic Attribute, Smart Filter, Multi-language and Multi-currency feed support, Multi-vendor feed, Custom Attribute and Fields support, Product Meta and Taxonomies, and top-notch customer support.
Key Features
Support for 130+ channels: CTX Feed supports over 130 recognized channels, allowing you to reach a diverse range of marketplaces, search engines, affiliate sites, and price comparison platforms.
Unlimited products: Whether you have a small or large inventory, you can upload an unlimited number of products with ease.
Pre-configured Templates: Access over 130 built-in templates that simplify the process of creating product feeds without the need for extensive research.
Multiple feed file types: Generate product feeds in various formats, including XML, CSV, TSV, XLS, TXT, and JSON, ensuring compatibility with different marketing channels.
User-friendly interface: CTX Feed offers a user-friendly interface where you can create and customize product feeds without the need for advanced technical knowledge.
Support for various product types: This plugin supports a wide range of WooCommerce product types, including Bundle products, composite products, mix-and-match products, and subscription products.
Variable and variation features: Easily include multiple variable child products and define which variations to include in your feeds.
Dynamic attributes: Apply dynamic attributes based on conditions, ensuring that your products meet the requirements of various marketing channels.
Smart filters and conditions: Use smart filtering and advanced conditions to include or exclude products based on specific attributes or conditions.
Category mapping: Improve product discoverability by mapping your WooCommerce store categories to those of your preferred marketing channels.
Auto feed update: Automatically update product feeds at specified intervals, saving you the hassle of manual updates.
Dynamic discount and pricing: Easily integrate discounting and pricing information into your product feeds. CTX Feed is compatible with various discount and pricing plugins.
SEO title and meta description: Assign SEO Meta Titles and Meta Descriptions to enhance your products' visibility and click-through rates.
Built-in plugin cache: Reduce server load and improve feed generation efficiency with built-in caching.
Price
You can find the free version on the WordPress repository. The pro version has different pricing plans, such as –
Yearly cost –
Single Site – $119.00
Five Site – $199.00
Ten Site – $229.00
You can also buy lifetime licenses of the pro version.
Creating a product feed using CTX Feed
Creating a product feed with this marketing plugin for WooCommerce is pretty straightforward. You can install the free version to test it out.
The Make Feed button will take you to the feed generation window.
Select your channel template from the dropdown and choose file type.
Your job is actually pretty much done. CTX Feed will automatically generate the necessary attributes and collect your Woo product data accordingly.
You now only have to click the generate button. You can find your feed files on the Manage Feeds page.
You can find the automatic update options and the other feed file settings on this page.
WooCommerce discount plugins
Offering discounts is the most powerful on-site marketing strategy for any eCommerce business, in fact, for any business globally.
Why?
97% of total online shoppers in the world look for discounts and coupons before buying anything. As a retailer, even you look for on-sale products or discounts from wholesalers, aren't you?
Coupons and discounts can increase your sales by 85%, and 65% of your customers will even try new products when offered discounts. Therefore, offering different discounts is an effective way to increase your revenue and growth.
WooCommerce comes with coupon options; however, it doesn't offer automatic discounts. But, as usual, there are plenty of great discount plugins available in the market.
Let's find out the best bulk discount plugins for WooCommerce.
Discount Rules for WooCommerce by Flycart
We have tested this plugin personally. It is one of the best discount plugins you can find on the market.
This WooCommerce marketing plugin can help you create a wide range of discounts. Whether you're looking to create bulk discounts, dynamic pricing, or specialized discounts, this plugin covers you.
This feature-rich WooCommerce plugin is designed to give you complete control over how you offer discounts in your store. You can customize discounts based on various parameters, including user roles, product categories, quantity, etc.
For instance, you can set up eye-catching discounts like "Buy T-shirts from Category Apparel and save 10%" or "Get 30% off on Category A & Category B." It also allows for dynamic pricing, enabling you to be more flexible in your pricing strategy.
With the PRO version, you can explore even more possibilities, such as Buy One Get One (BOGO) deals and dynamic pricing for different user roles. You can boost sales and customer retention by tailoring your discounts to your customer's behavior and preferences.
Key features
A user-friendly design for effortless discount rule creation.
Offers diverse discounts, including percentage, fixed price, and more.
Discounts for specific products, categories, or attributes.
Flexible pricing rules based on cart contents or user roles.
Create Buy One Get One offers with ease.
Tailor discounts for different customer roles.
Discounts on one product based on another's purchase.
Create enticing package discounts.
Customized discounts for specific regions.
Price
Along with the popular free version, there's a pro version of the plugin. Price starts from $69 per year.
Conditional Discounts for WooCommerce
Conditional Discounts for WooCommerce is an all-in-one pricing solution for your WooCommerce store. This powerful plugin allows you to create a variety of discounts, from bulk pricing to customer-specific deals.
You can offer Buy One Get One (BOGO) promotions, free gifts, and automatic discounts. This WooCommerce marketing plugin can help tailor your pricing strategy to boost sales, reward loyal customers, and streamline your discount management effortlessly.
Key features
Create bulk discounts for both simple and variable products
Apply bulk discounts with precision based on specific product attributes such as tags, price, variation attributes, stock levels, and more
Target customers with designated roles and offer them exclusive bulk discounts
Fine-tune your discounts using specified intervals to meet your pricing strategy
Display clear and informative pricing tables directly on product pages for customer convenience
Implement percentage-based bulk discounts to attract cost-conscious shoppers
Utilize fixed amount-based bulk discounts to provide consistent savings to your customers
Price
Available for Free on the WordPress repository.
Bulk Discounts for WooCommerce
This Woo extension is a robust WooCommerce marketing plugin that allows you to establish advanced bulk discount pricing strategies for your online store. It boasts an array of powerful features.
This plugin allows you to run multiple discount campaigns concurrently. It enables you to create discounts based on quantities, buy-X-get-X, buy-X-get-Y scenarios, and flat discounts, catering to the entire shop, specific products, or categories.
With its user-friendly interface and compatibility with most WooCommerce themes and plugins, integrating it into your existing setup is a breeze. Thanks to its outstanding features and adaptability, this extension can revolutionize your store's pricing approach, ultimately boosting sales.
Key features
Generate an unlimited number of discount rules and promotions.
Offer discounts based on quantities, including buy-X-get-X, buy-X-get-Y scenarios, and flat discounts.
Apply discounts to designated products, categories, or user roles.
Provide gift items based on specific cart conditions.
Support three discount variants: fixed amounts, percentages, and discounted prices.
Extend discounts to specific user roles.
Showcase pricing tables directly on product pages.
Price
Billed annually at $59.
Advanced Dynamic Pricing for WooCommerce Plugin
The Advanced Dynamic Pricing for WooCommerce plugin makes it easy to set up bulk discounts and pricing rules for your WooCommerce store. It gives you the flexibility to create and manage discounts according to your preferences, including fixed dollar adjustments, percentage discounts, and more.
You can adapt pricing for different customer roles and create custom pricing tables for a clear and appealing display. This WooCommerce marketing plugin offers versatility in applying pricing rules based on various conditions, and you can monitor usage limits per rule to control discount distribution.
Key features
Simplify the setup of bulk discounts and pricing rules for your WooCommerce store.
Create and manage discounts with the flexibility to activate or deactivate rules as needed.
Offer fixed dollar adjustments, percentage discounts, or specific prices for products.
Supports role-based pricing and bulk discounts to cater to different customer needs.
Design custom bulk pricing tables with an integrated customizer for informative displays.
Apply pricing rules based on various conditions, including cart items, user roles, dates, and custom fields.
Price
The pro version's price starts from $60 per year.
Smart Coupons for WooCommerce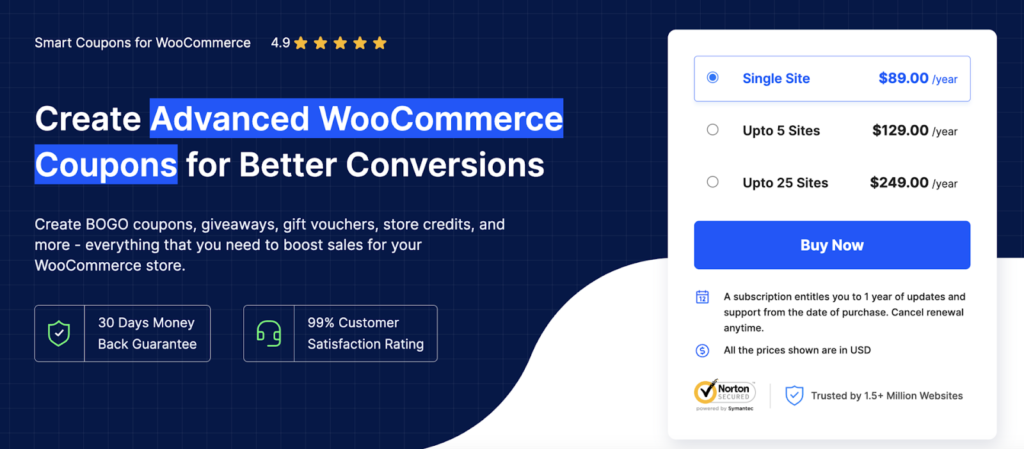 If you're a store owner running thousands of coupons at once and can't seem to manage it, WooCommerce Smart Coupons might be the perfect solution for you. This coupon generator plugin lets you create a variety of coupon offers, from sign-up coupons to multiple BOGOs, storewide coupons, cart abandoned coupons, store credits, gift cards, coupons based on shipping locations/user roles, and much more.
You can easily categorize your coupons and email them to customers based on their WooCommerce order statuses. And if you need to create a count-down discount banner, you can do that right away with this plugin.
Key Features:
Create multiple conditional advanced discounts
Generate bulk coupons, BOGO coupons, and more
Make smart coupons based on categories or tags
Regain sales with abandoned cart coupons
Offer sign-up discounts to your new customers.
Convert coupon codes to URLs and share them on social media
Trigger a sense of urgency with count-down coupon banners
Create coupons based on payment methods, specific shipping locations, etc
Price:
The free plugin is available. The premium plugin price starts from $89/year.
Email marketing
Some might think email marketing is a backdated method in this era of social media and messengers. Well, we have talked about how mighty powerful discounts and coupons are for an eCommerce store.
Do you know what is the most successful channel for marketing and distributing these discounts?
Yes, email marketing. 80% of people in the US sign up for email newsletters only to receive discount codes. Email marketing has an incredible return on investment (ROI) of $36 on every dollar spent.
Email is the number one medium to leverage customer personalization. You can create personalized emails tailored to individual customer's behavior, activities, and purchase history.
50% of people buy from promotional emails at least once a month. Autoresponder and transactional emails are significantly important for your WooCommerce store as well.
If your customers do not receive the order confirmation emails within a short time, they will lose trust in you. In fact, 98% of people open these autoresponders.
Let's find out the best email marketing plugin for woocommerce.
Mailchimp for WooCommerce
Undoubtedly, the most popular name in the email marketing landscape and, to many, the best WooCommerce email marketing plugin. Mailchimp is the best platform for starting your WooCommerce email marketing for free.
Mailchimp for WooCommerce marketing plugin serves as a valuable bridge between your online store and Mailchimp's versatile marketing tools. This connection enhances your marketing capabilities without the need for promotional fluff.
Alongside email, Mailchimp offers a number of marketing features such as retargeting ads, CRM, digital ads, social media posts, etc.
Key features
Automation: Streamline key customer interactions with automated emails, from cart reminders to post-purchase messages.
Retargeting Ads: Re-engage potential customers on Facebook and Instagram with targeted ads.
CRM: Organize your audience with tags and segments for more personalized communication.
Digital Ads: Drive website traffic by reaching the right audience on social media and Google.
Social Media: Craft compelling, brand-focused social posts to promote special offers and engage customers.
Analytics: Track campaign performance and make data-driven decisions.
Price
As your email list and business expand, you must upgrade your Mailchimp plans. Price starts from $6.50 a month.
MailPoet – Newsletters, Email Marketing, and Automation
This is another popular WooCommerce marketing plugin for email marketing. You can send automated follow-up emails with this plugin and abandon cart emails.
You can extensively customize and personalize your emails through its easy-to-use interface. Additionally, You can also design impressive newsletter sign-up forms.
You can create highly personalized email campaigns using list segmentation options. You can segment by total spending, order history, customer location, subscription status, membership status, and more, even unlocking multi-condition segments with a paid plan.
Key features
Allows you to create automated follow-up emails to introduce your brand, upsell products, and recover abandoned carts.
You can personalize emails based on customer purchase history and behavior.
Lets you customize WooCommerce emails to reflect your brand with logos, colors, and business information.
Allows to design newsletters and promotional campaigns with a drag-and-drop email editor.
Enables you to design eye-catching signup forms, including pop-ups and checkout opt-ins.
Price
MailPoet paid plan starts at $10/month.
AutomateWoo
As the name suggests, this WooCommerce marketing plugin can automate email promotions. However, it can do a lot more than just sending emails.
It offers diverse automation workflows, robust templates, strong segmentation and personalization options, SMS notifications, and tools for enhancing customer loyalty.
With AutomateWoo, you can automate tasks like sending follow-up emails, recovering abandoned carts, and rewarding loyal customers. It is an essential tool for growing your online store.
Key features
Diverse automation workflows for convenience.
Robust templates for easy email marketing.
Strong segmentation and personalization features.
SMS notifications for broader customer reach.
Tools for enhancing customer loyalty.
Price
You are billed annually at $119.
Hubspot WooCommerce email marketing plugin
Besides being the most influential CRM system, Hubspot provides decent email marketing options.
HubSpot is a versatile platform encompassing a range of sales and marketing tools, making it an ideal choice for various business needs. It includes a robust CRM solution suitable for larger eCommerce enterprises looking to elevate their marketing efforts.
With its extensive features, HubSpot empowers eCommerce merchants with tools for project management, contract tracking, lead management, and essential components like email marketing and free live chat.
HubSpot is like a handy toolbox that helps eCommerce businesses like yours to run their marketing and sales more smoothly. It's a valuable asset for those aiming to step up their game.
Key features
Landing Page Editor
A/B Testing and Analytics
Signup Forms and Popups
Basic Email Segmentation
Seamless Integration with CRM, Chat, and Chatbots
Price
The free plan is enough for most of the startups. If you want to upgrade, it will cost at least $800 a month.
Constant Contact
Constant Contact is a well-established email marketing platform with years of experience in the industry. It's packed with the tools that eCommerce store owners need to connect with customers through various channels.
This WooCommerce email marketing plugin goes beyond the essentials. It offers convenient features, such as marketing automation, that respond to user behavior.
You'll also find a wide selection of professionally designed email templates. Additionally, it provides in-depth reporting to help you gain insights into your contacts.
Moreover, it offers user-friendly signup forms and landing pages, making it easy to grow your email list. And if you want to engage your audience in different ways, you can create surveys, polls, and event RSVPs with ease.
Key features
Marketing automation based on user behavior
Offers an extensive collection of professionally designed email templates
Provides detailed reporting for a better understanding of your contacts
User-friendly signup forms and landing pages
Has the ability to create surveys, polls, and event RSVPs
Price
Starts from $12 per month.
Affiliate marketing
Why not let other people do the marketing for you and grow your sales manifold when you can? Affiliate marketing allows you to tap into a dynamic approach that can drive substantial growth for your business.
81% of the brands in the world now have affiliate programs. Affiliate marketing contributes 15%-30% of total sales for advertisers, and it drives 16% of all global eCommerce sales.
Let's find out the best affiliate marketing plugins through which you can create affiliate programs at your WooCommerce store.
Referral Candy
ReferralCandy is a well-known WooCommerce affiliate marketing plugin that transforms your customers into affiliate partners, enabling your business to thrive through referrals.
This robust affiliate tool automates your referral program, saving you time by handling automatic customer payouts. The user-friendly dashboard has recently been updated for improved speed and efficiency.
Key features
Customized reward options for your referral partners.
Data and dashboards with analytics and essential insights.
One-click integrations with other platforms.
Live chat support for your convenience.
Price
Starts at $47 per month.
Affiliate for WooCommerce
Affiliate for WooCommerce, created by StoreApps, a well-known affiliate marketing plugin WooCommerce developer. It provides comprehensive control over your affiliate program.
With this plugin, you can manage tasks like approving affiliate requests, handling payouts, and turning customers into affiliate partners.
The intuitive dashboard offers a user-friendly, single-page interface, ensuring you have easy access to essential information without the need to navigate between tabs. Plus, you'll receive full support from the plugin developers if you ever encounter any issues.
Key features
Utilize coupons for tracking referrals.
Set up an unlimited number of affiliate partners.
Customize storewide affiliate commission rates.
Monitor affiliate performance with the affiliate leaderboard.
Access real-time sales reporting for valuable insights into your affiliate program's effectiveness.
Price
It will cost you $179 per year.
AffiliateWP WooCommerce marketing plugin
AffiliateWP is a popular WooCommerce affiliate plugin designed to supercharge your affiliate marketing efforts, ultimately boosting your sales and conversions. Setting up this plugin is a breeze – just install it on your WooCommerce store, and your affiliate program is good to go.
With its cutting-edge dashboard, you can track real-time sales, monitor traffic from affiliate partners, and even keep tabs on new affiliate sign-ups. Plus, you have the flexibility to manage creative materials and brand elements that your affiliates can use to promote your store and products.
Your affiliates also get their dedicated area to check their earnings, sales, and retrieve their affiliate URLs.
Key features
Integrated payout service for hassle-free transactions.
Affiliate coupon tracking for precise referral monitoring.
Manual affiliate approval and automatic affiliate creation.
User-friendly shortcodes for easy integration into your website.
Price
Starts from $149.60/ year.
YITH WooCommerce Affiliates
YITH WooCommerce Affiliates is a valuable addition to the lineup of WooCommerce plugins by YITH, a renowned plugin developer group. This tool empowers store owners to manage affiliate programs while granting them more control efficiently.
With this plugin, you gain the ability to set varying commission rates for different affiliate partners based on their performance and revenue contributions. You can also create enticing discounts and provide coupons to your affiliates, enhancing your product promotions and driving more sales.
Key features
Customize commission rates for each product or user.
Streamline affiliate partner management with email notifications.
Offer daily commission payments to your affiliates.
Automate the commission payment process for convenience.
Price
Costs € 179,99/ year.
SEO marketing
Any online business, website, or eCommerce store's marketing goal is centered around earning organic traffic. Organic traffic is the traffic/people that find you online and come to your website without clicking on any paid ads.
This happens when your brand pops up naturally on relevant searches and ranks at the top of search engine results. In order to achieve these, you will need SEO (Search engine optimization).
When your website appears organically in relevant search results and ranks at the top, it can significantly boost your online visibility and drive more visitors to your site.
With the right SEO strategies, you can immensely grow your ranking, sales, and business reputation. And WordPress is the best platform for implementing SEO strategies.
There are many great SEO plugins available for WordPress WooCommerce. Let's discuss the best ones.
Yoast SEO WooCommerce marketing plugin
Yoast SEO literally defined and paved the way for WordPress SEO. Using this fantastic SEO plugin, even a novice can turn into an expert on-site SEO specialist.
It provides easy-to-follow guidelines for performing SEO tasks. The plugin has SEO recommendations and indicators for all pages, including product pages, product category and tag pages, blog pages, general pages, etc.
It also simplifies connecting and enlisting your website on different search engines. It's a one-stop solution for all your on-site SEO requirements.
Key features
User-friendly interface for easy on-site SEO management.
Content analysis and optimization guidance for improved readability and SEO.
Automatic generation of XML sitemaps for better search engine indexing.
Title and meta description templating for consistent and compelling search results.
Control over advanced SEO settings, including canonical URLs and breadcrumbs.
Social media integration for optimizing content sharing on platforms like Facebook and Twitter.
Price
Yoast SEO premium will cost you $99 USD / year.
Rank Math SEO WooCommerce marketing plugin
This is comparably a newcomer but a very strong contender to the Yoast SEO plugin. It provides a number of advanced features in the free version, which you can only find on the paid version of Yoast.
Rank Math simplifies the process of optimizing your entire website for SEO. With its user-friendly setup wizard, it quickly grasps your website's needs and configures your WordPress site for optimal SEO settings.
Within Rank Math, you can also use over 15 Schema Markups, connect with Google Search Console, and monitor your keyword rankings. In essence, Rank Math offers all the essential SEO tools you require to kickstart your SEO journey.
Key features
User-friendly setup wizard for easy configuration.
Keyword ranking tracking capabilities.
Advanced SEO options for fine-tuning your website's SEO settings.
Social media integration for enhanced content sharing.
Import data from other SEO plugins for a seamless transition.
Price
Price starts at $5.75 / month.
All in One SEO
All in One SEO is a powerful WordPress plugin designed to help website owners improve their SEO (search engine optimization) and boost their website's visibility in search results. With over 3 million users, AIOSEO is a popular choice for those looking to enhance their website's search engine rankings.
What sets AIOSEO apart is its user-friendly approach.It offers an intuitive setup wizard and an actionable checklist that makes optimizing your website for search engines a breeze. You don't need to be an SEO expert to use it effectively.
Key features
Easy WordPress SEO setup without the need for an expert.
TruSEO analysis and SEO checklist for content optimization.
Integration with popular social media and webmaster tools.
Smart XML sitemaps and rich snippets for improved search visibility.
Support for local SEO, WooCommerce SEO, Google AMP, and other WordPress plugins.
Price
Starts at $99.60/ year.
Social media marketing
You can't possibly ignore social media, no matter what business you have. 77% of businesses in the world use social media to promote their products/services and reach their target customers.
Even businesses that don't have any websites do have official pages on Facebook or Instagram. For eCommerce/WooCommerce stores like yours, social media is significantly important to reach a large audience, build relationships with potential customers, and drive traffic to your website.
Let's check out some of the best social media plugins.
Social Share For WooCommerce
Social Share for WooCommerce, developed by WPXtension, is a valuable plugin designed to enhance your WooCommerce store's social media presence.
WooCommerce is a feature-rich platform, but it lacks a built-in option for adding actionable social media icons to your product pages. This is where Social Share for WooCommerce comes in.
This plugin empowers you to seamlessly integrate social media icons into your product pages. Furthermore, it offers a "Copy to Clipboard" button alongside the social media icons, enabling users to easily copy product links.
Key features
One-click social sharing for WooCommerce products.
Customize social media icons to suit your brand's needs.
Easily arrange the order of social media icons on product pages.
Control the display position of social media icons.
Tailor the content and appearance of the icons to your preferences.
Pop-up modal for access to various social platforms.
Pro version with additional features like floating icons and advanced customization.
Price
Starts at $13 per year.
FS Poster WooCommerce marketing plugin
FS Poster is a powerful social media scheduling tool that boosts your online presence and streamlines your social media efforts. With a wide range of features, it simplifies engaging with your audience and enhancing your social media feed, all while freeing up time for other important tasks.
You can easily schedule posts and create custom messages using emojis, shortcodes, and hashtags for individual website posts and WooCommerce products. This integration with 15 social networks not only broadens your reach but also enhances SEO through organic growth.
Key features
Connect with 15 different social networks.
Schedule unlimited posts for profiles, business pages, community groups, and boards.
Support multiple accounts for each network.
Schedule various content, including blog posts, website articles, and WooCommerce products.
Utilize URL shorteners like Bit.ly and TinyURL.
Price
You can buy the plugin from here for $45.
Easy Social Share Buttons for WordPress
Easy Social Share Buttons for WordPress is a user-friendly choice among social media marketing plugins for WooCommerce. It offers a wide range of options to help you better engage your customers and encourage them to promote your products.
With compatibility across 50+ social media platforms and over 30 automated display choices, it provides great flexibility. You can also tap into limitless color and design possibilities and access advanced analytics insights.
Key features
Wide support for over 50 social media networks and 55+ share button templates.
Mobile-friendly display options.
Customize the placement of share buttons.
Display follower counts for your preferred social media platforms.
Enjoy social live chat for selected platforms.
Price
Costs $22.
Conversion rate optimization
Conversion rate optimization means turning more visitors to your site into buying customers.
You can get traffic/visitors from different marketing efforts. However, no marketing channel or ads can guarantee you sales.
With the right CRO strategies, you can encourage the customers to take the desired action, like signing up for email, adding items to the cart, and, of course, making purchases.
There are many different ways to improve your conversion rate, and many different plugins can help you with that. Let's check out some of them.
Cartflows WooCommerce marketing plugin
CartFlows is a powerful plugin designed to supercharge your sales funnel on WordPress. It makes it easier to increase conversions and boost your profits. It offers an array of features that benefit various aspects of your online business.
Key features
Create sales funnels with ease using a drag-and-drop interface.
Customize your checkout experience to match your brand and increase conversions.
One-click upsells and order bumps for increased sales.
Smart dynamic offers tailored to your customers.
A wide range of conversion-boosting templates.
Pre-checkout offers to increase order value.
Price
Besides the free version, the pro version price starts at $79 annually.
WPLoyalty – Points and Rewards for WooCommerce
WPLoyalty – Points and Rewards for WooCommerce is a powerful WooCommerce marketing plugin designed to help you build customer loyalty, enhance your brand value, and increase sales in your WooCommerce store. With a user-friendly interface and a range of flexible features, it's a must-have tool for any online business.
Key features
Reward customers for various actions, including purchases, sign-ups, reviews, referrals, and social media sharing.
Choose from multiple reward types, such as points, percentage discounts, fixed discounts, free shipping, and free products.
Implement gamified loyalty programs with levels or tiers to encourage customers to earn exclusive rewards.
Set point expiry dates to motivate customers to redeem their points before they expire.
Utilize a rewards panel widget for quick and easy reward discovery and redemption.
Allow customers to return rewards and regain their points.
Price
WPLoyalty PRO price starts at $99 a year.
Serial Numbers for WooCommerce
PluginEver's Serial Numbers for WooCommerce is a handy tool that helps WooCommerce store owners effectively manage product licenses and activations. It's versatile and can be used for various products like software, digital goods, memberships, and courses.
For instance, if you're selling software, this plugin allows you to generate unique license keys for each customer. This ensures that your customers have valid licenses for your software, preventing piracy.
Key features
Automatic serial key generator for effortless key creation and assignment with each order.
Generate bulk license keys with your own custom key generation rules.
Supports both random and sequential order for generator rules.
License key encryption for enhanced security.
Flexible options for creating, assigning, and managing license keys.
Price
Starts from $99 per year.
Wrap up
This was our list of some of the best WooCommerce marketing plugins. However, the specific plugins you should install will ultimately depend on your unique marketing strategies and goals.
Let us know what WooCommerce marketing plugin you use for your online store.