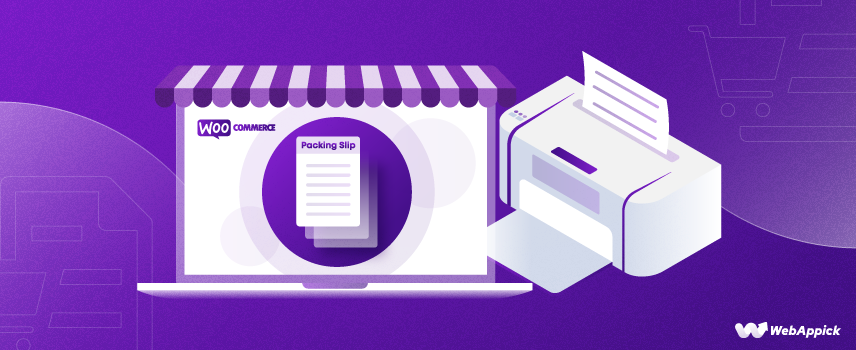 How to Print a Packing Slip in WooCommerce 
So you have overcome the hurdles of launching your WooCommerce store, doing marketing for the products, and finally started gaining your golden goose – orders.
What's next?
Now you need to fulfill your orders by delivering the products to your customers. And obviously, you want everything to go smoothly. This is when you need to take care of tasks like creating PDF invoices, WooCommerce print packing slips, and print shipping labels.
Today we are going to discuss how to print a packing slip in WooCommerce easily. But before that, we will talk about the standard packing slip features and show you 5 reasons why a packing slip is so important for your business. Here you go…
What is a packing slip?
In simple words, a WooCommerce print packing slip is a piece of paper that contains all information about the ordered products you are sending to your customer, along with your and the customer's address.
Here's an example of a print packing slip WooCommerce.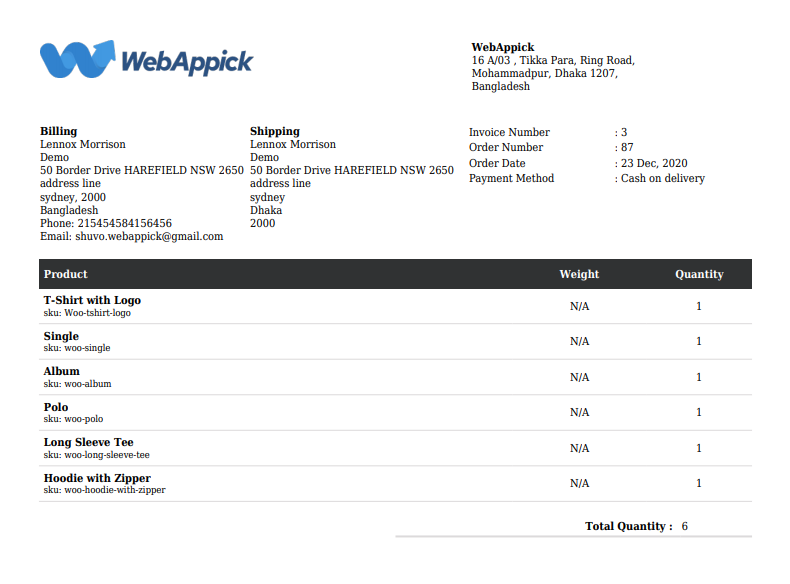 A packing slip includes the SKU numbers, weights, dimensions, and unit counts of the products you are shipping.
Suppose you have a large WooCommerce business with a separate warehouse and shipping department. In that case, your shipping department can use the packing slips to determine what inventory must be shipped to fulfill an order accurately.
Then finally, when your customer receives the package, they can check and verify from the WooCommerce packing slips whether they have received all the items they ordered or not.
What should a standard packing slip include?
A standard WooCommerce packing list should have things like SKU, product quantity, and shipping address at the least.
Although the list of items in a packing slip may vary based on business and product types, there are some common elements you will find in almost all professional WooCommerce packing slips:
Shipping address and company address
A standard WooCommerce packing slip always contains the shipping address and senders' address (Your company address).
Along with that, it also includes the order number, date, and payment method.
Even though shipping labels are the primary address source for shipping carriers, packing lists can also serve as a backup source for them.
List of the shipped items
A WooCommerce packing slip must include the product list you are delivering so that your customers can verify if they have received everything they ordered.
SKU or product id
SKU means stock keeping unit. This is a unique identifier only store owners like you can recognize. WooCommerce stores use SKUs to identify their inventory.
If a customer faces any issues with the products, they can contact you with the SKU, and you can figure out the root of the problem using this number.
Therefore, including SKUs or product IDs are very important to manage return or refund issues.
Quantity of each item
Suppose a customer ordered 5 t-shirts from the same product page and of the same size and color. That means the ordered quantity for that specific t-shirt is five.
You cannot just list the items five times in your packing slip. Therefore, a quantity field is required in the listed item table. This will also save you from creating several pages long packing slips.
5 reasons why you need WooCommerce packing slips
It may seem unnecessary to some, but WooCommerce packing slips have a number of benefits.
Confirm everything is in place
When it comes to eCommerce fulfillment, it's crucial to check and double-check everything. A packer must verify that all items are included in the shipment box before it is sealed and labeled, including exact counts of SKUs.
A packing slip is a record of all the items that were ordered and a record of all the physical items you included in the shipping package.
After verifying, you can then place the WooCommerce packing list print paper inside the box and forward it to the shipping company.
Track all items in the order
Orders may need to be split into multiple shipments if they are large or contain a variety of SKUs from various warehouses, all of which must be shipped separately. This means you may need to send certain items in different boxes.
When an order is shipped in multiple boxes, both the sender (you) and the recipient (your customer) may find it helpful to keep track of the contents of the order using a packing slip.
Ensure quick delivery
If somehow your shipping label gets damaged and the shipping address cannot be identified from the label, then your packing slip comes in handy.
When a shipping label is damaged, shipping companies are allowed to open the package to look for shipment details. As your packing slip contains the recipients' address, they can recover the address from there and send it to your customer.
This will save you from a lot of hassles. The shipping company doesn't have to return the package to you, or the package won't go missing. Also, your customers will receive the package without any delay.
Identify damaged items
If a package is damaged in transit, packing slips can be used to identify and sort out the damaged items. There are times when deliveries do not go as planned, but if you have a packing slip on hand as a backup, it can help speed up the process of issuing a refund or resending the package.
Brand building
You can customize your WooCommerce packing slips with brand elements such as logo, color fonts, etc. A personalized packing slip and invoice will increase your professional appearance and earn the trust of your customers.
However, you need the help of a plugin to create a professional packing slip in WooCommerce. We will cover this in the following section.
How to Create Packing Slips in WooCommerce?
The standard WooCommerce plugin doesn't come with the tools and options to create packing slips or PDF invoices. However, as we all know, there're plugins for just about anything you can imagine in WooCommerce.
There are a number of plugins available for WooCommerce to create packing slips. In this guide, we will use a freemium plugin called Challan to create packing slips/lists.
Challan is an easy-to-use, awesome free PDF invoice and packing list creator plugin that can create your packing slip within seconds.
The first step is installing the plugin.
Go to your WordPress admin panel and click on Plugins>>Add New. Type in Challan In the search bar to find the plugin.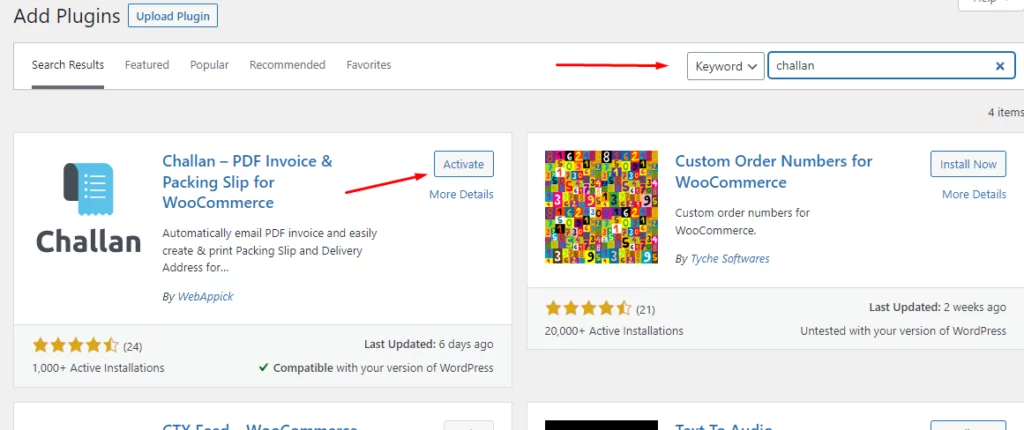 Install and activate the plugin.
Now let's jump to WooCommerce>>Orders and open an order that is in the "Processing" stage.

When inside, you will notice a new Challan tab on the top right.

Click on the Packing Slip button, and it will prompt you to download the WooCommerce packing list print pdf file.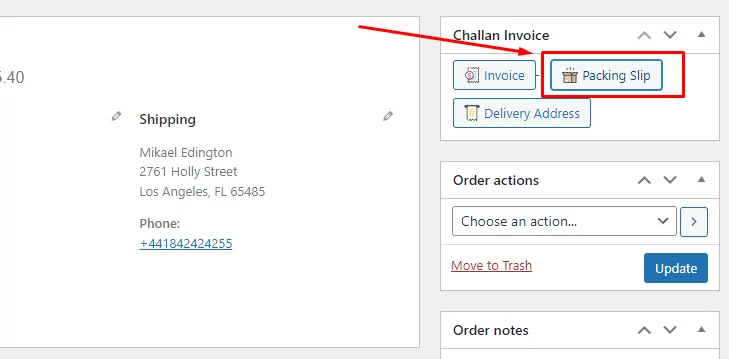 This is how your packing slip looks without altering any plugin settings.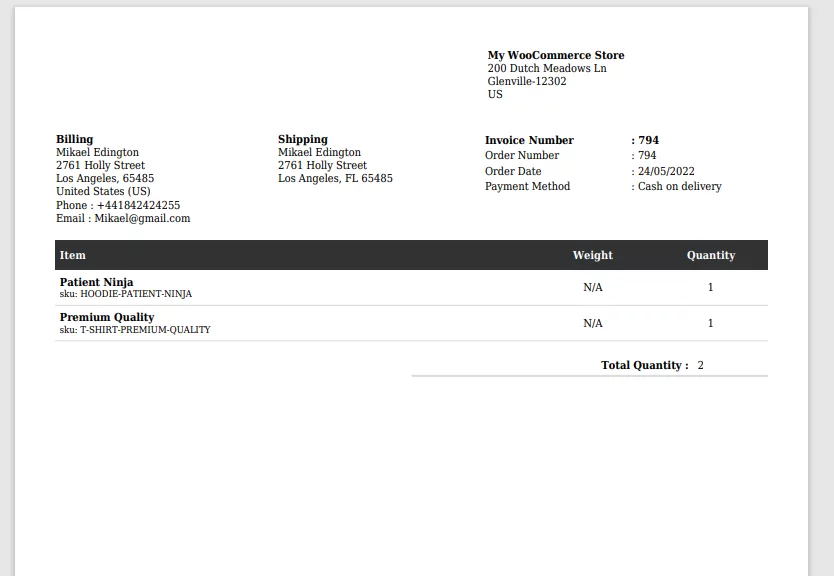 This can work but doesn't look like the most professional packing slip, right?
Let's take a look at the different settings of the Challan plugin and how we can customize the packing slip.
Create personalized packing slips using Challan
Challan, also known as WooCommerce PDF Invoices and Packing Slips by WebAppick, also has a pro version with advanced and extensive customization features. But first, let's see what we can do with the free version.
After activating, you will notice a new menu called Challan in your WooCommerce back panel.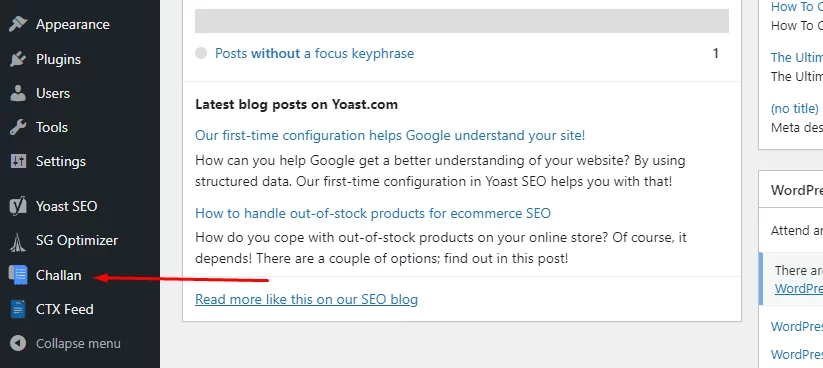 Hover over it and click on Settings.

As this is also a PDF invoice creator, the first options you will see are for PDF invoices. However, there are a lot of similarities between invoices and packing slips in terms of design, formatting, and information.
Therefore, changes to some invoice settings will also take effect on your WooCommerce packing slip's appearance. For instance, template and paper settings.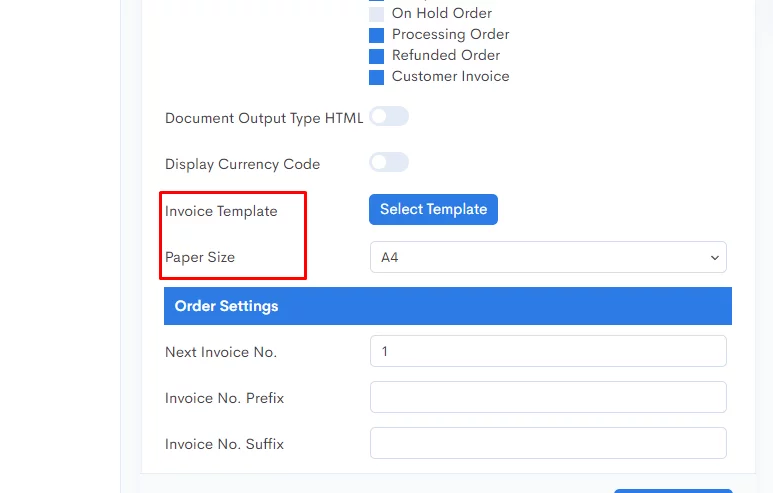 Scroll down a bit to find the Invoice Template section.
For the free version, you can choose from 2 different templates.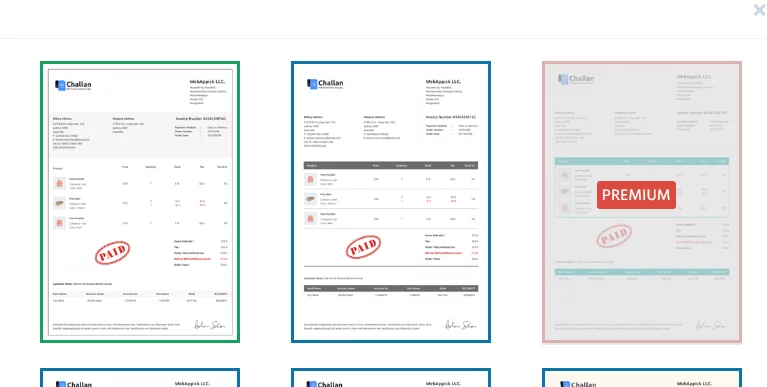 You can select different paper sizes as per your requirements. However, A4 is the standard size to print WooCommerce orders and packing slips.

Now we will go to the Seller & Buyer tab.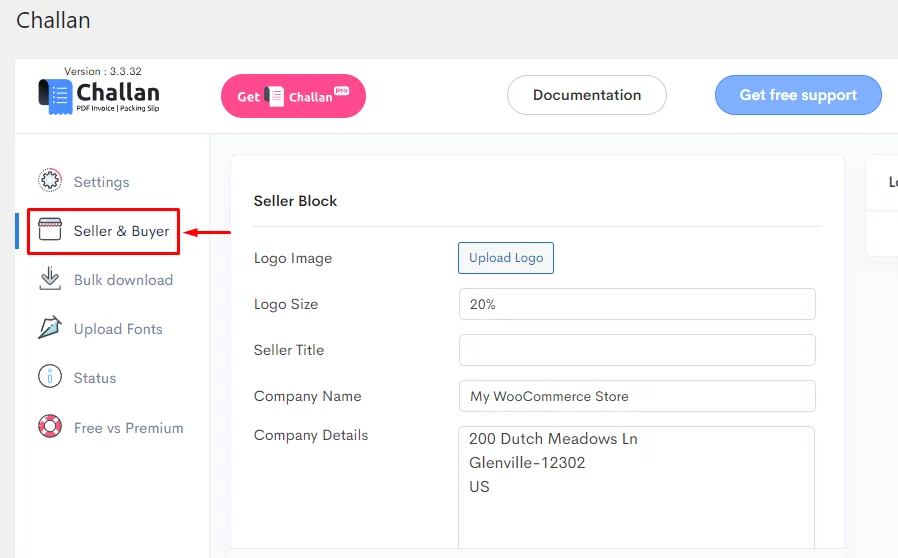 As you can see, you can further personalize your WooCommerce packing slips from this section by adding your logo, company name, address, and footer.
This is how it looks after we have added a logo to the packing slips.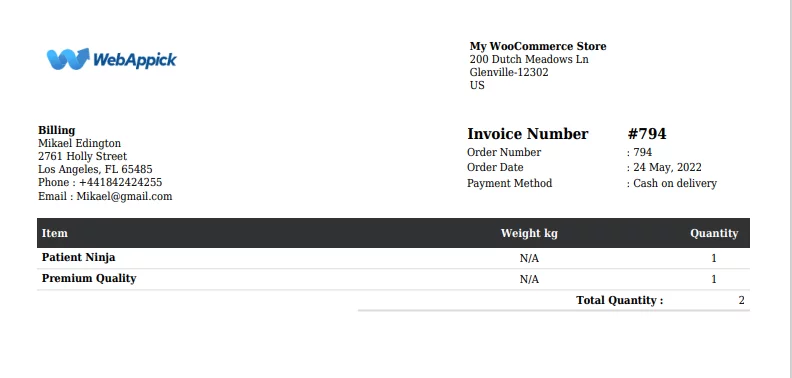 Much better, right?
Additionally, you can download all your previous and currently ordered packing slips from the Bulk Download section.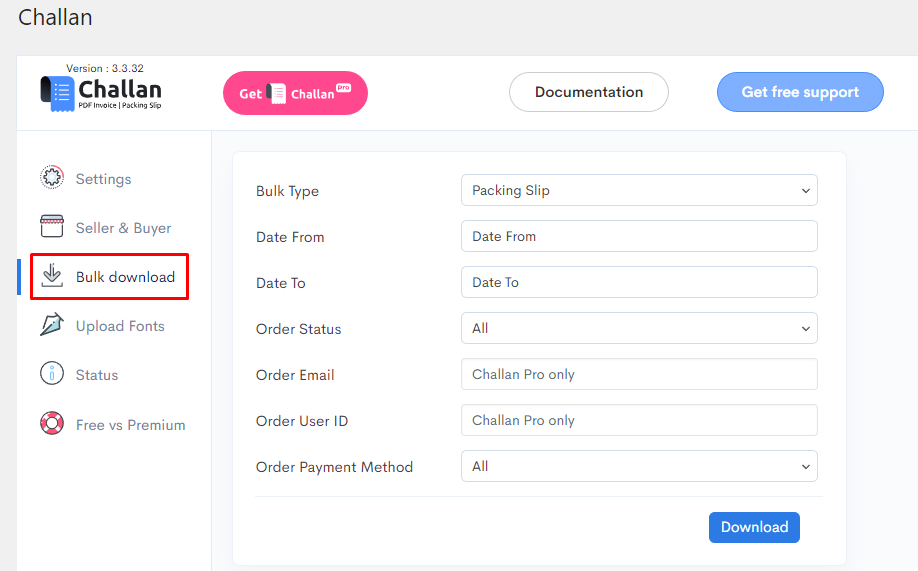 You can also filter by specific dates and order status. This is a great option because this will save you from manually going to every order and clicking the Packing Slip button individually.
Challan pro for packing slips
Now we will show you some of the premium features the Challan Pro version offers for creating personalized packing slips.
As soon as you download and activate the Challan pro plugin, you will notice quite a few changes in the Challan menu. There are dedicated tabs for invoices, shipping labels, and WooCommerce packing slips.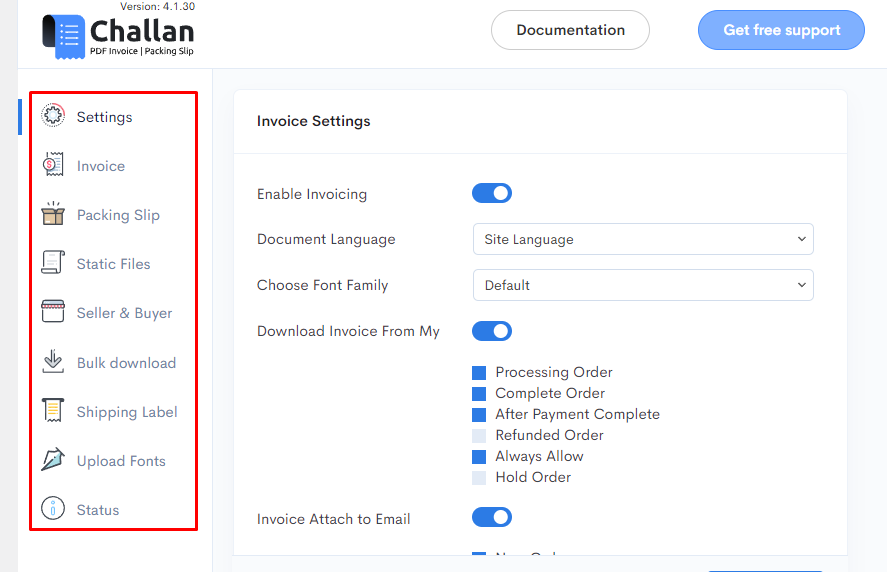 We will start with the Settings tab again. When scrolling down, you will find several new options to attach packing slip, bar code, QR code, etc.
When you enable Attach Packing Slip option, Challan will attach the packing slip along with the invoice in the order confirmation email. You can also allocate user roles to track which member of your team creates which packing slips and invoices.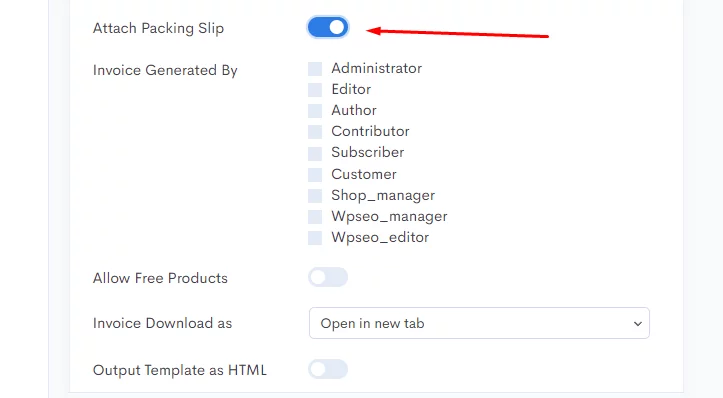 Bar Code and QR code Settings let you insert a bar code and QR code in your packing slip.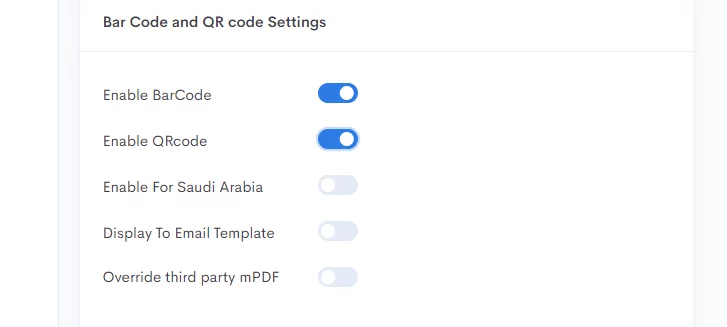 This is how it looks when you enable these options.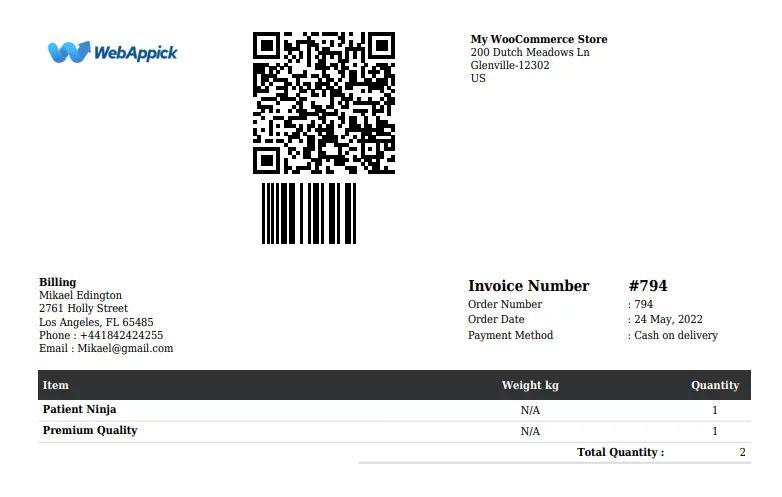 Additionally, you can input your custom CSS codes to customize the appearance of the WooCommerce packing slips.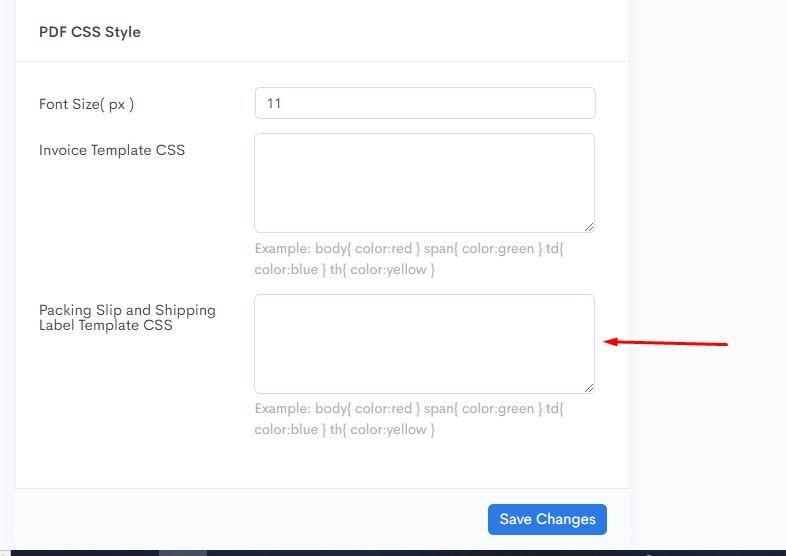 Packing Slip settings – Challan pro
Click on the Packing Slip tab. The first section lets you add a background image for your WooCommerce print orders automatically. You can also set the image opacity from that section.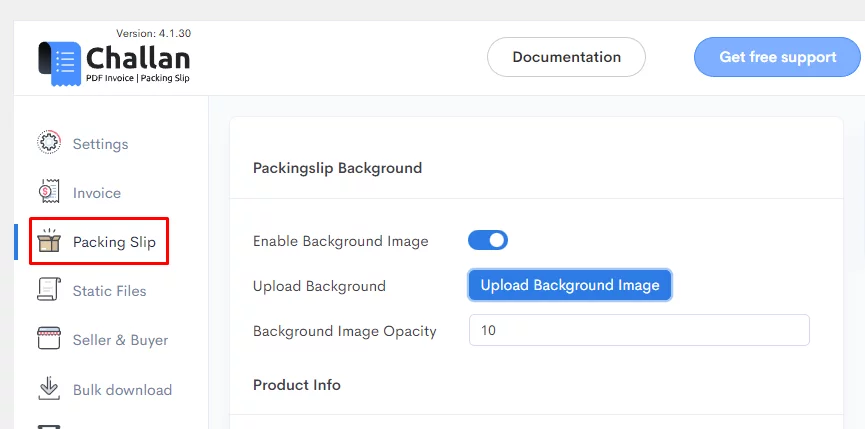 In Product Info, you can choose how many products you want to include in a single page of your WooCommerce packing list print.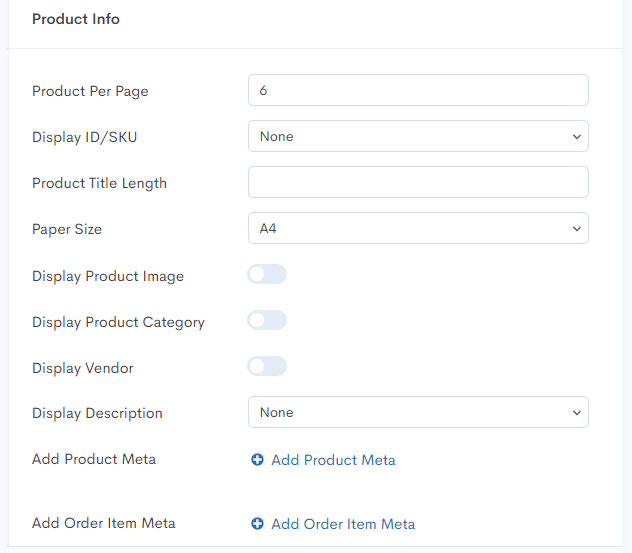 Along with that, you can choose to display product SKU/ID and set specific lengths for your product titles.
In the pro version, you have more paper size options to choose from. You can also set your custom paper size when needed.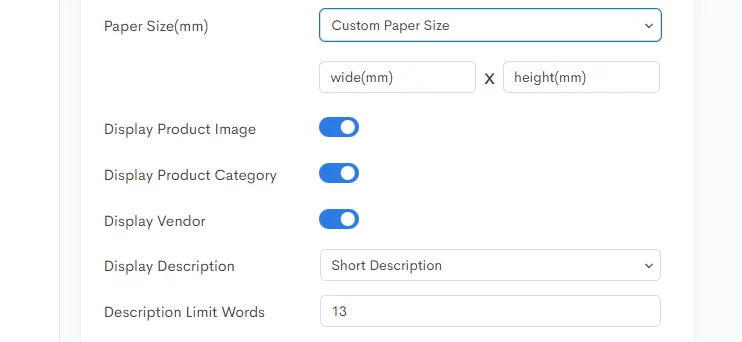 Features like displaying the product image, category, vendor name, and short description in your WooCommerce packing slips will increase your professionalism, and your customers will love it.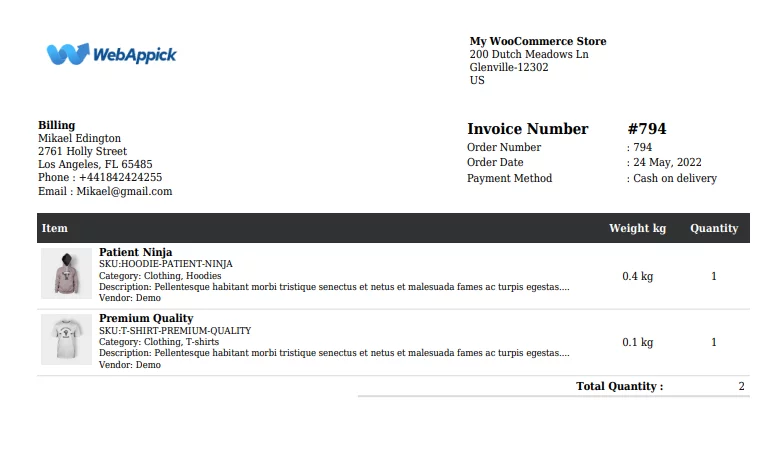 These options will help you create more personalized packing lists and help you stand out from your competition.
Additionally, you can add product and order meta in the product section of your packing list. Order meta can also be displayed in the order info section of your slip along with special order notes (if any) and refund address.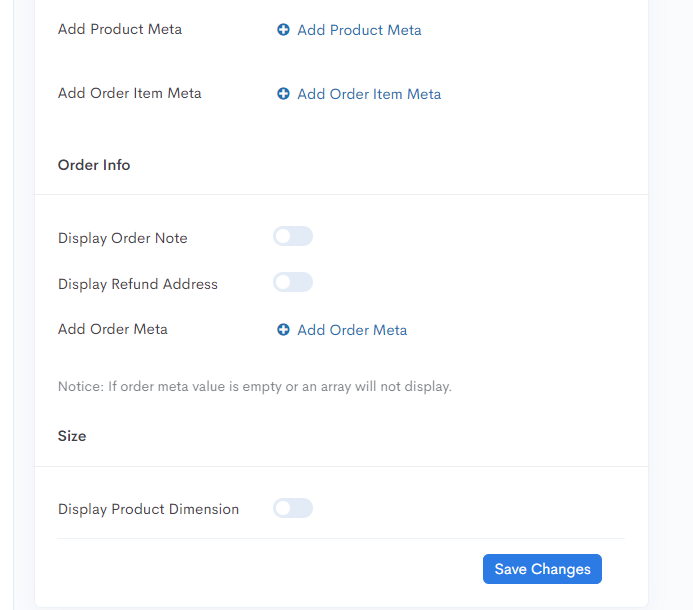 Other options related to packing slips
The Seller & Buyer tab also has some added features in the pro version of the Challan plugin. It includes a field for you to include your VAT number to increase the trust of your customers.
The Buyer Info section of this tab lets you enable or disable various options such as shipping address, your customers' phone or email address, etc.
In the bulk download tab, now you can also download WooCommerce packing slips for specific customers. You can filter by customer's user ID or their email and download packing slips for all the orders they have made so far.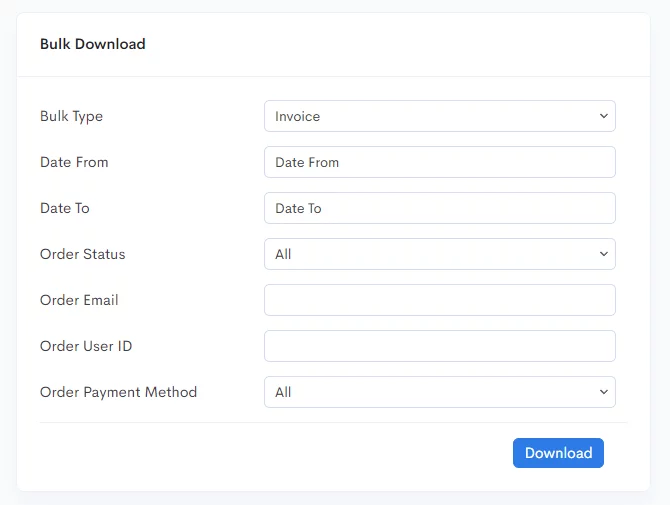 Let's take a final look at the WooCommerce packing slip we have made with the Challan pro plugin.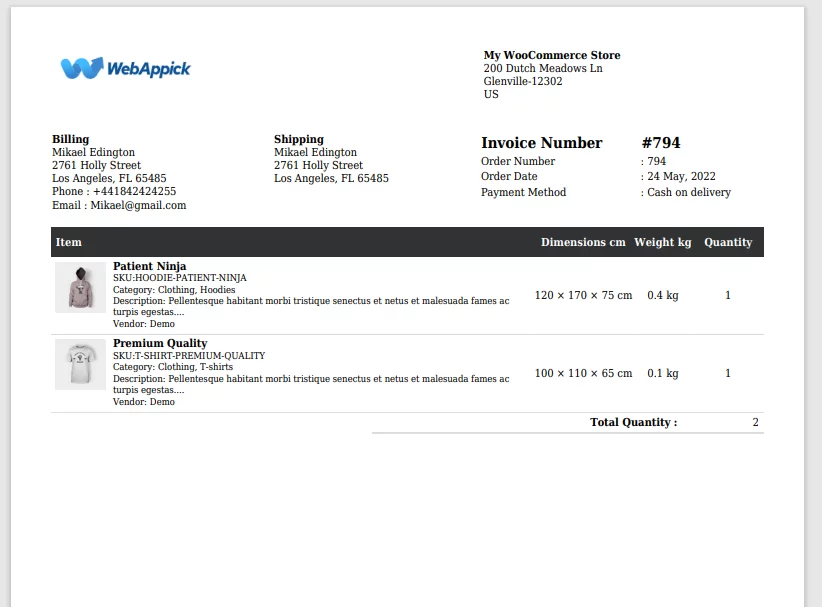 Frequently Asked Questions (FAQs):
Packing slips vs. shipping label vs. pdf invoice: What's the difference? 

You may get confused with WooCommerce packing slips, shipping labels, and WooCommerce print invoices (PDF invoices). Let's find out what they are.

PDF invoices are more of a financial paper where you mention how much money the customer paid for which products. You need to send a PDF invoice to your customer via email right after they place an order.

Additionally, you can choose to print this invoice and send this with your package. However, that's not a mandatory practice.

While both print invoice WooCommerce /PDF invoices and packing slips originate from your WooCommerce store, the payment platform triggers invoice generation while the shipping or fulfillment technology triggers packing slip generation.

This is something you can usually confuse with WooCommerce packing slips. A packing label contains the shipping information for the carrier companies to safely deliver the package to the recipient (your customers).

Shipping labels are the stickers you find in the package.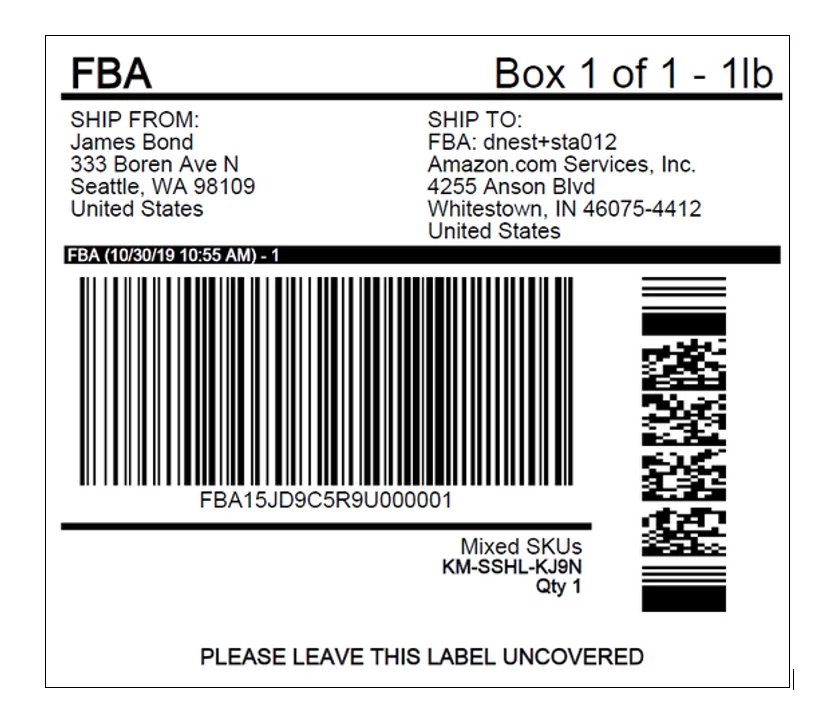 If your customer ordered the product for someone else, your customer will receive the PDF invoice, and the recipient will get the packing slip or list and shipping label in the package.

Also, for digital products, no packing slip or shipping labels are required.
Can I print a packing slip from WooCommerce?

The standard WooCommerce plugin doesn't have the tools to print packing slips. However, there are plugins such as Challan to create and print WooCommerce packing slips in minutes.
How do I make a packing slip in WooCommerce?

To create a packing slip for your orders, you need to install an invoice and packing list plugin such as the Challan. Once you install and activate the plugin, you can move to your order page and click on the dedicated packing slip button to download and print your packing list.
What is the best plugin for printing packing slips?

There are a number of free and paid plugins available for you to create and print PDF invoices, shipping labels, and packing slips. Some mentionable names are Challan, WooCommerce PDF Invoices & Packing Slips Professional, WooCommerce Print Invoices and Packing Lists by SkyVerge, etc.
Is a packing slip the same as an invoice?

Even though they may seem identical at some points, packing slips and pdf invoices serve different purposes for your order fulfillment. To indicate the delivery of physical goods, a packing slip is used, while the order's invoice serves as its financial documentation, containing information such as the amount of money charged for each item, the payment terms, the method of payment, and the date.
Where do you put the packing slip?

The best practice for you should be to put the packing slip inside the box or package. In case the packing label is damaged, the shipping carrier will still be able to recover the details from your packing slip.
Wrap up
There are a crazy amount of WooCommerce stores created every day. In this booming market, it's not a walk in the park to stand out from the massive competition.
WooCommerce store owners like you should not leave any chance to impress your customers and earn their trust. Personalized WooCommerce invoices and packing slips can grow your brand's reputation and make your product fulfillment operations more efficient.
With the help of the plugin mentioned above, you will be able to create your WooCommerce packing slips and invoices effortlessly.

We hope this guide on creating packing lists was of help to you. Let us know if you have any suggestions or questions for us.