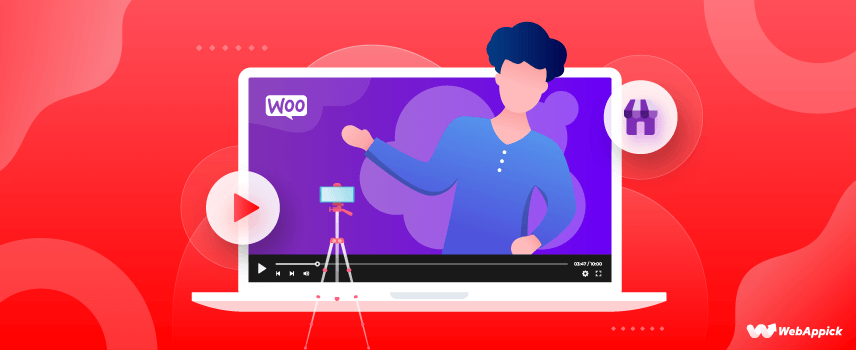 The Ultimate Guide To WooCommerce Product Video in 2023
If you are using WooCommerce for your business, do not overlook the opportunity to use WooCommerce product videos. Why?
93% of marketers nowadays nod, affirming that videos play a pivotal role in their marketing strategy. Meanwhile, 85% of customers stated that a brand's video had allured them to buy a product or a service.
The verdict – Visual look of a product or service appeals more to a customer.
So, if you are using WooCommerce for your business, you should consider using product videos for better conversions.
Though users can insert one or more videos into the WooCommerce product image gallery, you don't have the built-in support to create featured videos with WooCommerce.
This guide is all about the nitty-gritty of adding videos to your WooCommerce product gallery.
But first, let's look at some of the benefits of using videos with your products:
Why should you add videos to WooCommerce Product Gallery?
You must be aware that creating high-quality videos for your product pages can be a costly affair, but facts tend to say a lot: 73% of the leads convert to sales if the product description supports a video. Hence by including videos, you'll be sure to reap the benefits later with higher sales and generating more conversions.
What should you include in your Product Video?
Use plenty of product photography, ideally a 360° overview of your products showcasing every physical attribute.
The product dimensions allow viewers and prospective customers to know how big, heavy, or light your product is.
A call-to-action to your website and/or a follow on social media pages, etc.
Positive customer reviews and testimonials to show why your product or service is better than your competition.
Your unique personality and take on things.
How long should your Product Video be?
If you have not already seen videos on YouTube, Vimeo, Dailymotion, or Facebook, you need to know the length and duration of an ideal product video. Here's a round-up:
Quick demo: anywhere from 15 seconds to 1 minute.
Explainer: anywhere from 30 secs to 90 secs.
Quick tutorial: If you're publishing on short-form-friendly social media platforms like Instagram.
In-depth tutorial. If you are a vlogger and for channels like YouTube, the duration of your video should be anywhere from 7-15 minutes.
Here are three major reasons to make video a part of your WooCommerce product gallery
1. Videos offer consumers with the much-desired details, intuitively
Try to place yourself in the shoes of a customer. Even after reading the detailed description of a product, a customer may still be filled with doubts. This makes sense because online purchase means zero possibility of a product trial. Hence, convincing becomes difficult. That's when a video shows up to your rescue showcasing all the aspects of a product that a customer wants to know about.
Keep in mind that 10 seconds of videos leave more impact than 2000 words of details.
2. Videos promote SEO and enhance the ranking of your store
Google loves videos. Google loves videos more than blogs. The reason behind it is that customers prefer videos over blog posts. Hence, adding videos to your WooCommerce product will surely boost your store's performance.
Add a product video, and it will enhance your reach and help you gain higher sales opportunities.
3. Videos help to retain consumers in the long run
With the attention span of consumers getting narrower, they prefer watching a video rather than absorbing paragraphs of details. Thus, if you create a video and edit it into a 3-5 minute video using a video editor, you will have a better impact on your consumers.
Also, it just takes around 0.05s for a buyer to make a buying decision on your website. So, the more you retain buyers, the greater is your chance to boost your sales.
Three types of videos you need in your WooCommerce Product Gallery
1. Explainer videos
Explainer videos focus primarily on the "WHYs" and the "HOWs." They tell your customers why they need your products and how the latter can help them get what they need. Most people watch an explainer video to know the details of a product or service.
2. Demo videos
80% of the people agree to buy an application, product, or service after watching a demo video. When you add a product video demonstrating the usage of a product, people will look forward to buying your product because after the why is answered; they look forward to knowing the "how".
3. Tutorial videos
35% of people search for "How To" videos on YouTube. Hence, a product tutorial video takes your marketing to another level as it gives a detailed explanation of how your product works.
For instance, if your customer needs a WordPress content password protection plugin but doesn't know their options. A quick YouTube will help them get familiar with the different brands, and they will choose your brand – because you posted a tutorial video.
The moment their questions are answered, the product attracts their attention.
Videos are just another way of saying that you care about your customer's needs.

Why should you add a product video on the product landing page?
When you add a video to your product landing page, it increases your eCommerce sales by almost 80%. Studies have shown that 90% of users feel that a video about a product helps in their buying decisions.
When you add product gallery images, related videos can help you increase your website's Google ranking. Visitors will now spend more time on your website than they would see an uploaded image. Thus, longer exposures build trust and alert search engines that your website has good content.
WooCommerce Product video plugin
The official product video plugin from WooCommerce enables the addition of videos to your WooCommerce product gallery images. All you need to do is embed or upload the videos from Facebook or YouTube along with Vimeo or anywhere else. Just include a featured product single video or multiple videos on your product page.
Put the featured videos on the store's listing and use custom video thumbnails. Some of the major features of the plugin are given below:
Features of WooCommerce Product Video:
With the plugin, you can
Add related videos on all types of products.
Include a product video.
Add a video or multiple videos on the product page.
Play videos in the form of popup, full screen, or from the page.
Upload or attach videos from famous websites.
Personalize the height and width of videos on the product page and shop page.
Use configurations for self-hosted videos and embedded video.
Attach thumbnails for attached videos.
Select from two video gallery options (HTML LightBox as well as WooCommerce Style Gallery).
Different Ways to Add Featured Videos to your WooCommerce Product Pages
1. Add Product Featured Video
On the WooCommerce admin panel, go to Products and add/edit a product.
Now go to the Product Data section and click on the Featured Video tab. Here you will find the Enable Feature Video settings. Choose Enable / Disable this extension to enable it, which will then allow you to add featured videos, gallery videos, and eCommerce product variation videos. Videos run in the form of popups or on the same page. The product featured video can be added from the edit page of the product.
2. Add Videos in Gallery
The plugin helps you to include images as well as videos to the WooCommerce Product Gallery. You can personalize the thumbnail for every video in the product gallery to convey your message to your users before they play the video.
3. Add videos on the Listing Pages
It is your choice to display or hide a featured video from the WooCommerce listing pages. By default, the plugin displays the current image on the listing page after it has been configured to display the video on the product page.
4. Embed or upload videos
You can upload and embed videos from renowned websites such as Metacafe, YouTube, Vimeo, Dailymotion, or Facebook.
The WooCommerce Video Product supports you to upload videos in multiple formats such as WMV, FLV, MOV, AVI, MKV, MP4, and others.
5. Custom Thumbnail
Every attached or uploaded video can be customized with a thumbnail. The custom thumbnail videos are displayed in an appealing popup.
The extension, when enabled, the WooCommerce Product Video lets you run lightbox videos.
6. Popup Videos
The gallery videos are mostly available in a popup that can be customized with a thumbnail image.
7. Run videos from your shop page
Users can watch featured videos from the shop pages rather than going for a popup display. Videos can play on the entire screen once the "full-screen" option is clicked. However, videos with no thumbnails are displayed on-page, and those with thumbnails are seen in popup.
8. Add a video in the gallery to several products
You can add a featured product video in the image gallery and choose to include it in several products in one go. But, the videos can be added from product pages.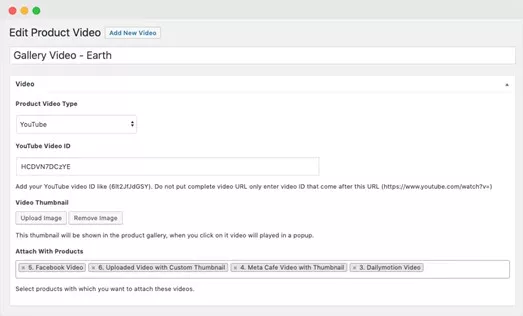 Setup and Configuration
The plugin has a straightforward and installation process in 3 easy steps.
Open your WooCommerce account and download the .zip file.
Open WordPress Admin > Plugins > Add New and Upload Plugin(i.e. the downloaded file).
Install and activate
Once the Product Video Plugin is activated, you will see the WooCommerce Product Videos section in the menu of the WordPress admin along with a featured video section on the edit page of the product.
How to Add a Featured Video
In order to include a related video, you will be required to open the product edit page and click on the "featured video section". Then embed or upload the featured video and customize the thumbnail and edit its display. Choose if you want to display the video on the listing page or the product page gallery.
Adding Video to Product Gallery
You can include videos in the product gallery by clicking on "Product Video" section, placed on the left side of the admin menu. To find out if all the videos are attached, click on All Videos. It allows you to add, edit and also remove videos.
When you add a featured video to the gallery, you can upload or embed videos from different websites. You can also link this video to several products at the same time. Just type the name of the product and attach it to the number of products you want to.
Gallery Thumbnail
A custom thumbnail can also be uploaded. If you don't want a thumbnail, then the default red video icon appears as a thumbnail.
Configuration Options
WooCommerce Video Product extensions are available in different settings for self-hosted and embedded videos.
Configuration Options for Product Videos
The plugin offers enhanced configuration alternatives, both for videos from third-party and self-hosted.
Common Settings:
With the launch of variant 1.4.0, you can select the style of the video gallery you want to use for your website. The plugin extension provides two gallery styles:
HTML 5 Lightbox Gallery Settings
This gallery style allows you to play videos featured on the product and shop page and the videos play in a popup.
Woo Custom Gallery Setting
This allows you to showcase images and videos in the gallery rather than showcasing them in a lightbox. The existing gallery images can be placed at either side of the box, and the gallery content numbers to be displayed can be customized.
Self-Hosted Video Configurations
Below is a list of options that can be configured for videos attached from the disk:
Mute videos
Play video continuously in a loop
Allow/deny auto-play video
Alter the width in percentage as well as the height of the videos in px
Show/ hide controls
Configuration Options Embedded Videos
The plugin allows you to different settings galleries and videos attached via third-party gallery videos. This is the list of options that can be configured to third-party featured videos:
Allow/deny auto-play video
Enable/disable full-screen
Mute video
Reveal/hide related video
Change the video width and height for shop and product pages.
The Setting for Third-Party Gallery Videos
The plugin offers different configurations for third-party videos.
Allow/disallow automatic play video
Enable/disable full-screen
Mute video
Reveal/hide inter-linked videos
Auto-adjust thumbnails
WooCommerce Plugins to add video in the Landing Page
By default, Woo Commerce doesn't offer any function to add videos to the product gallery images. However, it does support extensions to allow adding videos to the product gallery of your store. Here are the best WooCommerce Plugins to add videos to the product gallery of your store:
1. Product Video for WooCommerce
This plugin is often known as the premium video extension for WooCommerce; this plugin allows you to include customized videos or embed YouTube videos, Facebook videos, or Vimeo videos to your product page.
Features:
Include videos in any product gallery
Include video in the featured product section
Add several videos to the gallery
Display videos in the form of popup or full-screen mode
Customize videos or embed videos
Upload videos in any format such as WMV, FLV, MOV, MKV, AVI, MP4, and more.
Personalize video thumbnail
Play in loop
Reveal or hide video controls
Customize video width in percentage and height in px
Mute videos
Enable/ disable full-screen
2. YITH WooCommerce Featured Audio and Video Content
This WooCommerce extension was developed by YITH Developers. The YITH WooCommerce Featured Audio and Video Content plugin lets you add audio and video to your product rather than a featured image.
Features
You can set a custom aspect ratio of the video.
Allows autoplay of the video.
Allows you to add multiple videos in the gallery.
You can include video instead of featured images.
Display/hide default video controls.
Supports custom videos and embedded videos from popular sites like Vimeo, YouTube.
Allows video autoplay.
You can add several audio files to the gallery.
Links audio and video sliders to products.
Displays audio or video files in a modal window.
3. WooCommerce Product Featured Video
This extension adds a feature to your WooCommerce store that allows you to include videos on your product. The WooCommerce Product Featured Video plugin enables you to display a video on your store and product page.
Features:
Supports YouTube videos, Vimeo videos, and self-hosted videos.
Displays videos on the product page, store page, as well as category pages.
You can Allow/cancel video controls.
Allows related YouTube videos.
Customizes thumbnail image.
Customizes the height and width of videos.
Enables Video popups for product page and shop page.

FAQs
How do I use featured video in WooCommerce?

1. Open the admin panel in WooCommerce, click on Products and then add or edit product.
2. Go to Product Data and open the Featured Video tab
3. Allow Featured Video
4. Link
5. Add the link to the video website here
6. Allow Gallery
7. Add Video in Gallery

How do I customize my WooCommerce gallery?

WooCommerce provides a way to change the product image dimensions in case you want to.
Go to the Dashboard> Appearance> Customize> WooCommerce> Product Images.
You can customize the dimensions of the image and edit it accordingly.
How do I embed video in WooCommerce?

1. On the WooCommerce Admin Panel, go to product and click on add product.
2. Now open the Product Data section and click the Featured Video tab
3. Enable it
5. Link
6. Put the video URL here
7. Allow gallery
8. Add a video
How do I Sell videos on WooCommerce?

1. Click on the virtual and download checkboxes
2. Check the visibility function on YouTube
3. Attach the purchase note under the advanced button
4. Customers can only witness the link after making the payment
5. Copy the link
6. Click a screenshot showcasing the video in the featured image
How to add a featured video to the WooCommerce product gallery?

1. On the WooCommerce admin panel, Open Products and add any product.
2. Click on the Product Data section and open Featured Video Tab
3. Allow Featured video
4. Connect
5. Put links to any website here
6. Allow Gallery
7. Add videos to the gallery
Wrap Up
Adding featured product videos to your WooCommerce Product Gallery has never been this easy. Videos are now a significant part of any business, mainly because videos leave a lasting impression on the customer's mind.
Adding videos to your WooCommerce store helps you engage with your target audience and nudge them into buying your products. When you have a gallery video, you are showcasing the best features of your products intuitively. With customers getting a broader insight about the product through the videos, there is a higher chance that they will understand your product, its function, and its working.
Once the customer gets familiar with your product, they would go for it if they needed. According to statistics, videos have always been a deciding factor for customers, especially Gen Z. Hence, when you add featured video to your WooCommerce product gallery, you will not just enhance the legitimacy and reliability of your brand. Still, it will also help you gain the trust of your customers.
Overall, it enhances your store ranking and diverts more audiences towards your store. The best thing about it is that it keeps your customers with you in the store for a longer time and offers you a fair chance to convert your leads to sales.
You May Also Read