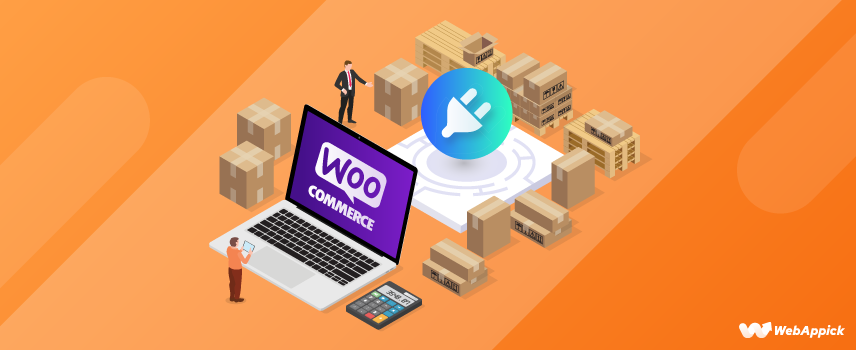 Best WooCommerce Stock Management Plugin for 2023
We all want to focus on business growth and stay on top of the competition. But the frustrating WooCommerce stock management or store management tasks suck your time and energy.
There are hundreds of operations to take care of while managing the WooCommerce stocks. Adding and updating products, deleting products, updating prices, changing stock status, assigning categories and attributes…it's quite tiresome and prone to errors.
If there are hundreds and thousands of products, it's become even more stressful, and if you make a mistake, it would be a nightmare to revert to the original.
Didn't you wish there was an easier, faster, better way to manage products, set up sale prices, assign/remove attributes, prices, categories? Or a simpler process to look at all your orders, customers, coupons, any WordPress post type?
If so, the Smart Manager is that tool you will need to ease the stock management process.
A lot of misses with default WooCommerce stock management
Managing stock with default WooCommerce is straightforward if you're just handling a seldom of products. You can add products, prices, images and manage stock quantity. But you have to go to each product every now and then to make changes.
What if you have 100, 1000, or even 10,000 products. What if you want to reduce the sale price by 20% of all these 10000 products?
It's a very time-consuming process to update these products one by one. Also, you can't update all product prices or other fields in bulk for all product types.
Even the search filters are also not that good.
But the good news is that there are plugins out there to manage your stock quickly and easily. And one such plugin is Smart Manager for WordPress and WooCommerce.
Manage your store from a single screen…10x faster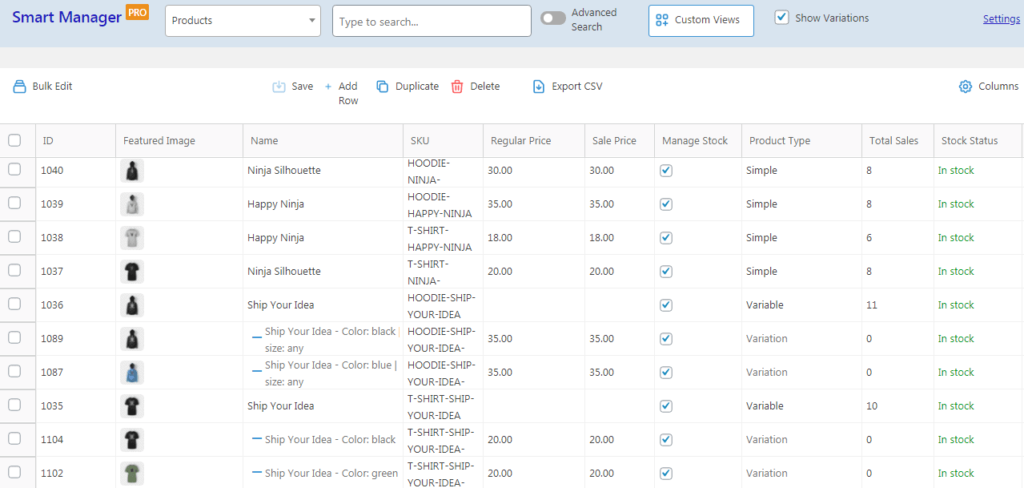 As the name goes, this WooCommerce stock management extension allows you to manage your products smartly.
Smart Manager comes from StoreApps, the official WooCommerce extensions developers. It's the same team behind Smart Coupons, Affiliate for WooCommerce, Offermative and other plugins.
You get an Excel-like spreadsheet to manage all your products, coupons, orders, users, pages, any WordPress post type from a single screen. You can use bulk edit, inline edit, delete, duplicate, export, advanced search and a lot more features to manage all post types.
It saves your time and leaves no room for errors. Because of the advanced features, 20K+ users rely on Smart Manager to accomplish their store management tasks daily.
We'll focus more on Smart Manager features for inventory management/stock management operations in this post.
Installation and activation
Smart Manager plugin has a freemium version. You can download the free version from WordPress.org or buy the premium extension from StoreApps website.
Once you download the plugin, install and activate it as you do for any normal plugin.

Now, go to your WordPress admin panel > Smart Manager and your Products dashboard will load up by default. You can use the dropdown to switch to Orders, Coupons, Users, and other dashboards.
Simplifying stock management with ease and peace
All of your products need to be arranged in an Excel-like spreadsheet. Each column header will indicate what the data is about for the products. You get infinite scrolling for smoother navigation.
So making changes and navigating is fast and simple! Whether adding or deleting records, inline editing, bulk updating records, or filtering them, accomplish all tasks from a single window.
Simple, variable, product variations, bundles…manage all WooCommerce product types with Smart Manager.
Let's look at its main functionalities that help manage inventory faster.
Inline edit
The plugin allows you to make changes directly without navigating to individual product pages. You can increase or decrease price, assign product categories and attributes, edit a product description, add or remove featured images directly using the spreadsheet.
The extension packs a smart search option to easily find a product based on price, inventory, category, and so on. Get your desired products and then make edits.
You can also use copy-paste options for product editing. Drag and drop like Excel to copy the values from one cell to another or multiple data cells in the column. Try the live demo to get a better overview of these functionalities.
Add product
You can add single or multiple new products directly to the spreadsheet and manage them. You can also quickly jump to your entire product page and edit whatever you want.
Delete all products
You can delete a single product, multiple products in bulk, or also all products. You can also search for products and then delete those products in one click.
Smart Manager also gives you the flexibility to delete products based on complex filters, using categories, attributes, or any custom field. You can also delete featured images, media library images directly from the grid.
Bulk edit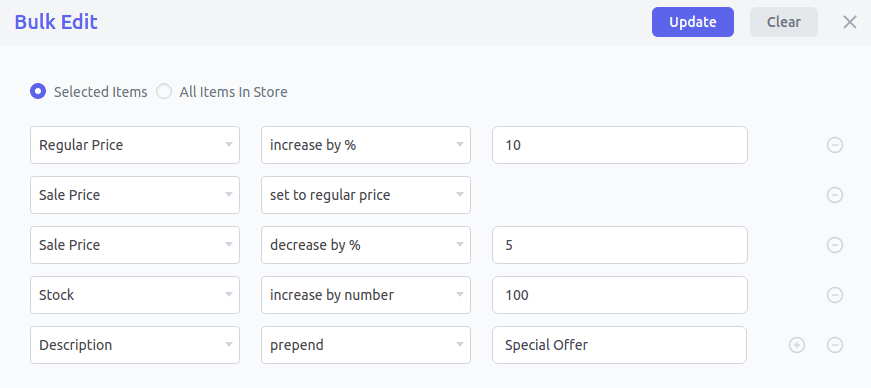 The USP of Smart Manager is a massive time-saver. Using this feature, you can update millions of product records, orders, coupons, and any WordPress custom post type within a few minutes.
Modify the product description, sale price, regular price, SKU, backorders, backorders, tax, stock status, assign or remove product categories and sub-categories, attributes…all in bulk. WooCommerce stock management was never so easy
Select the required product or your entire store, set the required parameters, and it's done.
You can also perform operations like append, prepend, increase, decrease, etc. in bulk amount. For example: Reduce the price by 35%, append ** special ** to product names and increase inventory by 1000 units.
You can also copy values from one record to multiple records for a particular field using bulk edit/batch update. Another benefit of the bulk edit feature is you can switch to other tasks while bulk edit operation runs in the background.
With Smart Manager, you can't go wrong with calculations. We call it "smart" for a reason!

Pro tips – Utilize the time saved with Smart Manager to focus on your other business activities or spending time with your loved ones.
Simple and advanced search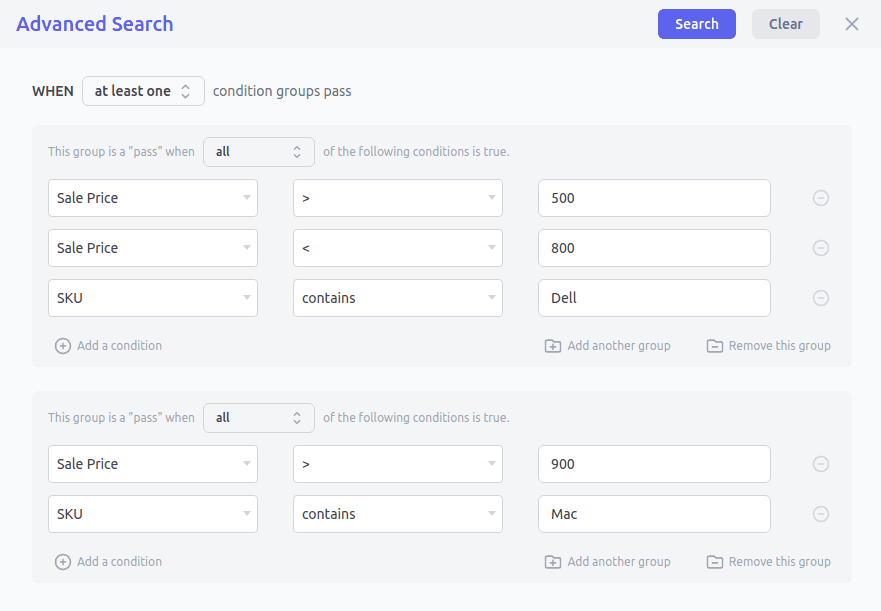 Search for products using search filters, date filters, and column filters to make edits. You can search by using keywords, categories, attributes or any custom field.
You also get the advanced search conditions to filter products. However complex the conditions be, Smart Manager will fetch you accurate results.
Search using multiple AND, multiple OR, multiple AND + OR conditions to get very specific results. Use search operators like <,>,=,<=, >=, is, contains, etc.

Example – Search for SKU – WC01 and price >= $100
After applying search filters, you can then perform inline edits, bulk edits, export, and other operations.
Admin columns management
As mentioned above, your data is neatly arranged under columns in Smart Manager.
You can show/hide data columns as per your requirements. It's a simple drag and drop thing. Sort data to personalize the dashboard view. Like sorting the regular price in ascending or descending order.
Duplicate product
You can duplicate single or multiple products at once via this tool. Either you are duplicating products, make changes to attributes, prices and other details, everything is possible on this tool. You can also duplicate your entire store in one click if needed.
Excel-like custom views
Create Excel-like custom views or segmented views, i.e view only the data you want. Enable/disable data columns, make edits, apply filters, save, and your task is done!
For example, you need a view of products containing only featured images, prices, stock, descriptions and make edits to those all the time.
You can also set permissions based on user roles as to who can create and access custom views.
Advanced product export to CSV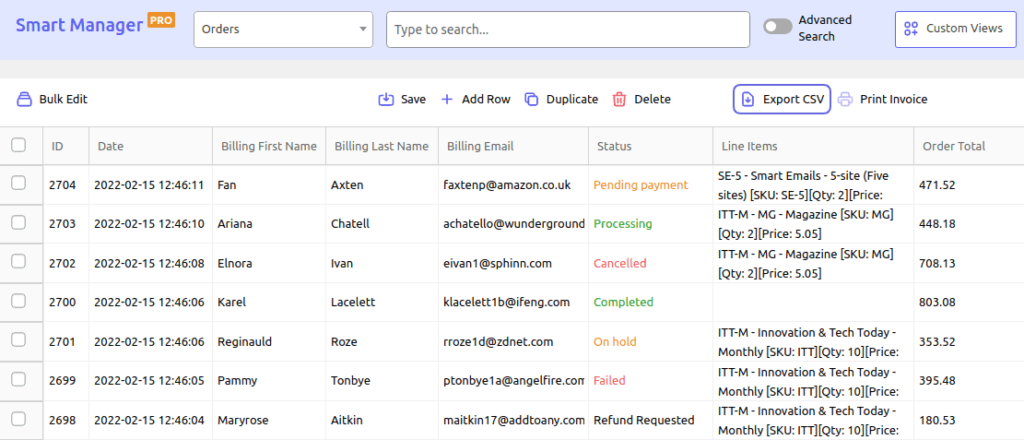 Export all products data or products based on search, date and column filters, custom taxonomies, categories, product fields of compatible products like WooCommerce Subscriptions, WooCommerce Bookings, etc. all as a CSV file.
You can export WooCommerce products with images – featured images, product gallery images. This plugin supports unlimited product export facility. So, you can export as many products as you want. It not only saves time but also makes the exporting process smoother than ever!
You can also export custom views or segmented views i.e export only required data by enabling/disabling data columns.
Print PDF invoices
Generate and print PDF Invoices in bulk or individually. View all your orders in one place, edit them directly and then print invoices.
Smart Manager allows you to add your brand logo to the invoices.
You can also apply search filters to print only those invoices for the orders you want. Or print order invoices PDF for a particular date range, precise time.
Compatibility
Another major highlight of Smart Manager is its compatibility with top WooCommerce & WordPress plugins.
Advanced Custom Fields (ACF)
WooCommerce Subscriptions
WooCommerce Smart Coupons
Min/Max Quantities
WooCommerce Bookings
Germanized for WooCommerce
WooCommerce Product Add-Ons
WooCommerce Cost of Goods
WordPress SEO Plugin – Rank Math
Woocommerce Minimum and Maximum Quantity
LifterLMS
ShopEngine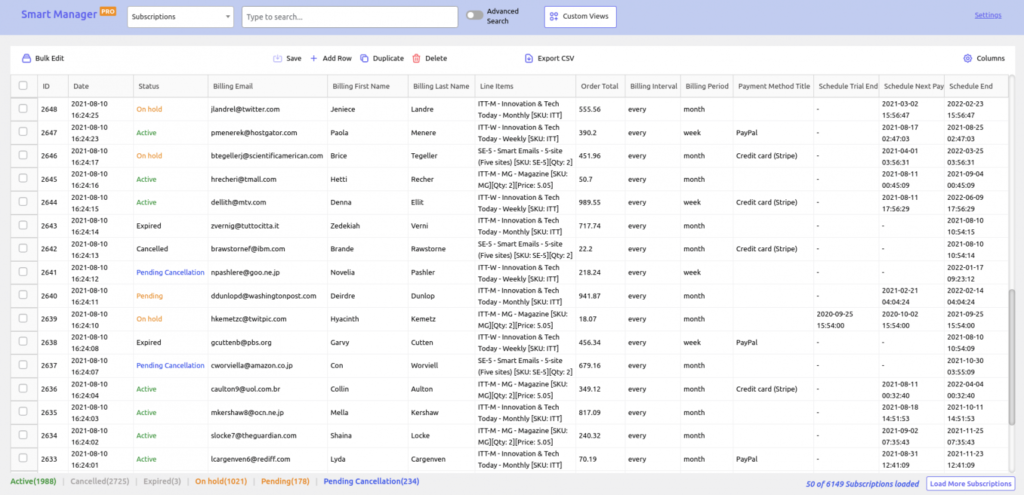 Smart Manager automatically recognizes all custom fields added by other plugins. This helps you manage all the custom fields of those plugins within Smart Manager.
Search for all expired subscriptions and delete them, bulk edit bookings made between a date range, inline edit a membership based on search, search for all posts having the same keyword and make an edit, modify the cost of goods in bulk, manage courses, assign dropshipping products to suppliers and a lot more.
Here's more you can do with Smart Manager
Search, view, edit and bulk manage all post types.
Manage WordPress user roles – change user role, change password, etc.
Give dashboard-specific access to non-admin users including any custom user role.
Change order status, billing details, shipping fields, subscription status, currency, etc.
Modify coupon usage, amount, type, expiry date, etc.
Update post status, SEO status, title, image, etc.
Duplicate single, multiple or all records for any post type in a few clicks.
Set – and revert – sale prices and sale price from & to dates for promotions
Export orders, products, customers, any WordPress post type data
Add custom meta field values
Quickly change discount rules for many coupons at once
Search and bulk edit backorders, offer discounts for backorders, export them.
Change product image for all products in a category
Set SEO, customer reviews, subscription and other properties
Change customer's email address – as well as other details
View customer's lifetime value, last order date, and contact details
and many more
Smart Manager Pricing
There's a free version of Smart Manager with limited yet useful features on WordPress.org.
The premium version costs you $149 for a year and $499 for a lifetime license. You can also get agency licenses.
Final words
20K+ users, 11 years of track record…you can't go wrong with Smart Manager.
Smart Manager is designed to blaze you through daily store administration tasks and help you focus on growing your business.
Increase or decrease stock, inventory, price, change order statuses, extend coupon expiry, and perform thousands of other control operations quickly via using the Smart Manager.
It's your smart WooCommerce store manager that boosts your productivity 10x and gives you massive time savings. So don't let the store mundane rob your time. Use Smart Manager and simplify your store management forever.