The Importance of WooCommerce Product Feed in 2023
Over the past decade, online shopping has grown into a vast marketplace with lots of customers. Nowadays, people are relying on online shopping rather than visiting physical stores.
WooCommerce stores are outshining the current marketplace and getting rising sales output. You can even triple your sales output via the WooCommerce store in a brief period. The way is simple, using the WooCommerce Product Feed properly in numerous marketing platforms.
Proper integration of product feed on different marketing platforms such as Google and Facebook can boost your sales right away.
How?
Well, Platforms like Google and Facebook are full of shoppers who are looking for products online. Promoting on these merchant platforms can improve your sales outcome effortlessly.
In this article, we will brief you about the importance of WooCommerce Product Feed in 2023.
WooCommerce Product Feed
Before learning the importance of WooCommerce product feed, you need to know what product feed is. The product feed file contains all the product information of your online store. The product feed generated from a WooCommerce store is called the WooCommerce product feed.
Generally, the product feed file comes in XML, TXT, CSV, XLS, or TSV file format. The file contains the product information in a listed format. The file includes all the product attributes, such as id, title, price, image, link, etc.,
You can integrate the product information into different marketplaces via product feed. As a result, different search engines display and advertise the products as well. Users can compare the products and prices efficiently. Moreover, you can place the products for affiliate marketing.
Most importantly, buyers surfing around different marketing channels can find your WooCommerce product. They just have to execute search queries in search engines.
If you are running a WooCommerce store, the WooCommerce product feed is the key. Obviously, you want to promote your WooCommerce products to get more sales. Product feed does the work via advertising and displaying them in search results.
Buyers can easily find your WooCommerce products online if you promote them in marketing channels. Ads are created based on the information provided in a feed file.
There are different marketing channels where you can run your marketing campaigns via product feed. WooCommerce product feed minimizes all your hassle by automating the feed management process.
Importance of WooCommerce Product Feed
We are assuming that now you have some basic idea about the WooCommerce product feed and its importance. Still, we will extend your knowledge by pointing out the importance of the WooCommerce product feed.
The main purpose of transferring product feed in marketing channels is to drive more sales and profit. An adequately generated WooCommerce product feed will give you a competitive advantage.
You will get access to different merchant sites and use their features to promote your products. You can apply your settings on the merchant sites which gives you a huge benefit.

WooCommerce Product feed will bring you the following advantages:
Proper Representation to the Customers
Customers usually search for a product in different marketing channels such as Google and Facebook. These marketing channels display a product according to their own set of algorithms.
They only accept accurately organized WooCommerce product feed against a search query. Marketing channels display the relevant search outputs to the shoppers. So, your products have a higher chance to get customer exposure when your feed file is optimized.
Increased Product Visibility
The more you promote your product, the more sales output you will get. Naturally, the visibility of your products gets increased by listing the products via the WooCommerce product feed. Increased visibility has the potential to convert into sales.
You are allowed to list your WooCommerce product in multiple marketing channels. As a result, there is always a chance to get new customers.
While selling products through popular marketing channels, you are utilizing their customer base. Customers who are regularly buying products from these channels will make a repeat purchase. This is where you get the chance to provide exceptional customer service to the buyers.
Creating Buying Intention
With WooCommerce product feed, you can share the updated product information of your store. When customers get their desired product in different channels, they are convinced to purchase and build a long-term relationship with your store.
If you take some time and optimize all the necessary product data, the displayed result becomes attractive. Customers are always happy to get detailed product information that creates a buying intention.
When you supply a polished WooCommerce product feed, it stands out compared to other competitors. It increases your sales opportunity and keeps your customer engaged with your store only. As a result, customers do not look anywhere else for that product and make a repeat purchase.
Providing Crucial Yet Complete Product Information
Via WooCommerce product feed, you will be able to display only the crucial yet complete product information. The feed file and the product information come in a very structured way.
Promoting your products in the marketing channel is not free of cost. So, carefully provide the feed data that matters the most. You should customize your WooCommerce product feed but maintain completeness.
Reaching International Market
Marketing channels such as Google, Facebook, eBay have a significant global presence. By integrating the WooCommerce product feed in different marketing channels, you will also get the opportunity to reach out to international markets.
Different plugins allow users to integrate their WooCommerce product information on various platforms. We are going to discuss not only a plugin but the best one in the market.
CTX Feed – The Best WooCommerce Product Feed Generating Plugin
CTX Feed offers you the easiest way of creating a WooCommerce product feed. This plugin is a revolution of WooCommerece product feed technology. It literally takes a few clicks to create the feed file via this plugin.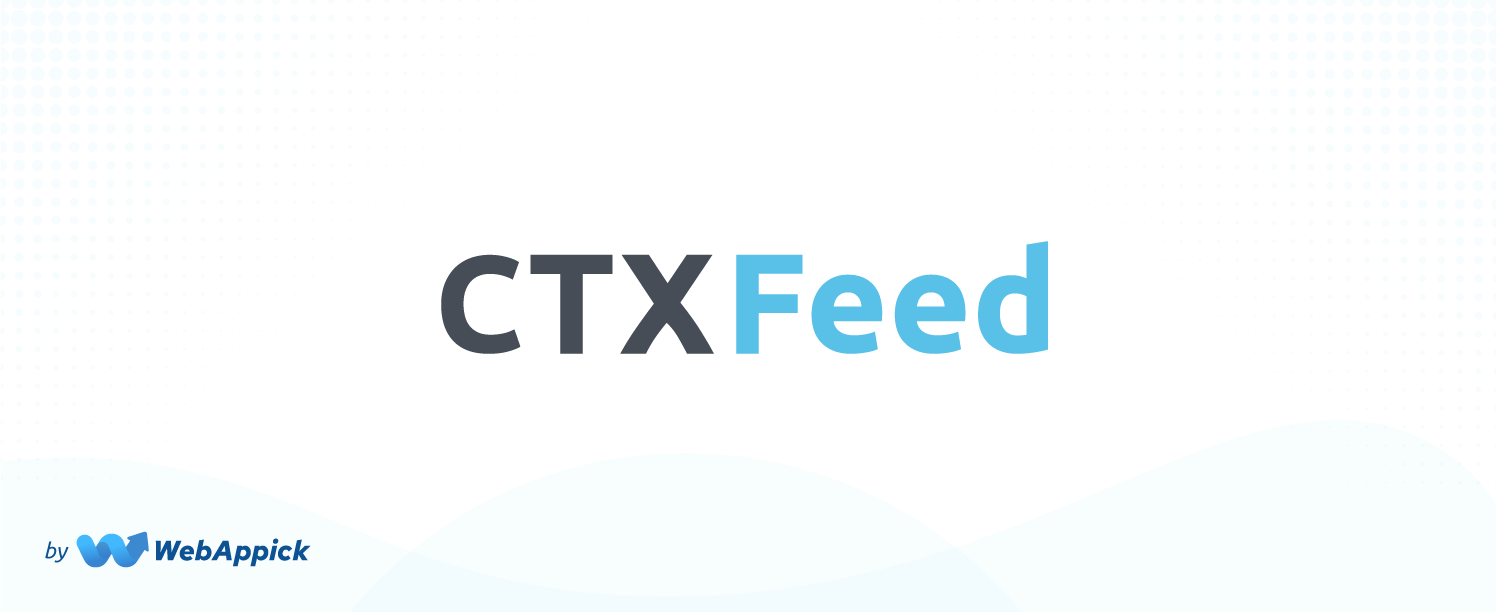 You can create automatic or manual product feed that can be synchronized in shopping channels. The fun part is, you won't be needing any technical knowledge as a retailer to operate this plugin.
With the CTX Feed plugin, you can share updated product info in your desired marketing channels. The feed file comes with all file formats, including XML, CSV, TSV, XLS, and TXT.

How CTX Feed Outsmarts Other Plugins
Earlier, we have mentioned that CTX Fee is the best plugin in the market. You may be thinking about why we did so. Let's dive into the reason behind it.
Unlimited Feed Creation
You can call CTX Feed, the ultimate add-on for websites to generate WooCommerce product feed. Assuming you have an online store with multiple products or a large inventory. It is pretty unrealistic to provide all the product information manually to different marketing channels.
CTX Feed has the functionality to create unlimited product feeds. No matter the size of your inventory, create a feed by including all of it.
You might be thinking, how is it even possible? Well, the plugin's template section includes pre-built templates for 100+ marketing channels. This means an unlimited number of WooCommerce product feed for all your products.
Customizable WooCommerce Product Feed
As a retailer, you may have a specific channel in mind to promote your products. You may also want to promote your products in multiple channels at once.
The solution is simple. Select the desired channel from the template of the plugin and generate the feed file. Remember that you must have your WooCommerce store up and running on your website. To generate a feed file, your store must include WooCommerce products.
Different merchant sites have their own set of requirements when it comes to product attributes. You can customize the product attributes anytime. The customization option of the plugin minimizes the time and effort needed to create a product feed.
You have the freedom to add suffixes and prefixes in product attributes via this plugin. Moreover, you can also limit the output length to match your merchant's requirements. Finally, there is an option to create a customized template if the merchant site requires it.
Upload Options
You can upload the WooCommerce product feed manually or automatically on merchant platforms. The manual upload option requires you to generate, download and upload the feed file. In contrast, the auto-submit option allows you to generate a link and integrate it with the merchant site.
The automatic upload option via link gives you an added benefit. Because whenever you update the feed file on your WordPress website, the product information gets updated on the merchant platform.
There are many more features of CTX Feed, but we have introduced the common ones. To learn more about this plugin, visit this link.

Final Words
Product listing bears huge importance in the current eCommerce era. To get consistent success in the WooCommerce business journey, you must utilize the WooCommerce product feed. It allows you to organize, promote and ultimately generate more sales.
If you want an error-free product feed that is automated and reliable, CTX Feed is your tool. The plugin has all the options to generate an effective WooCommerce product feed that syncs with any marketing channel. Thus you will get a ready-made customer base and the conversion that you desire.