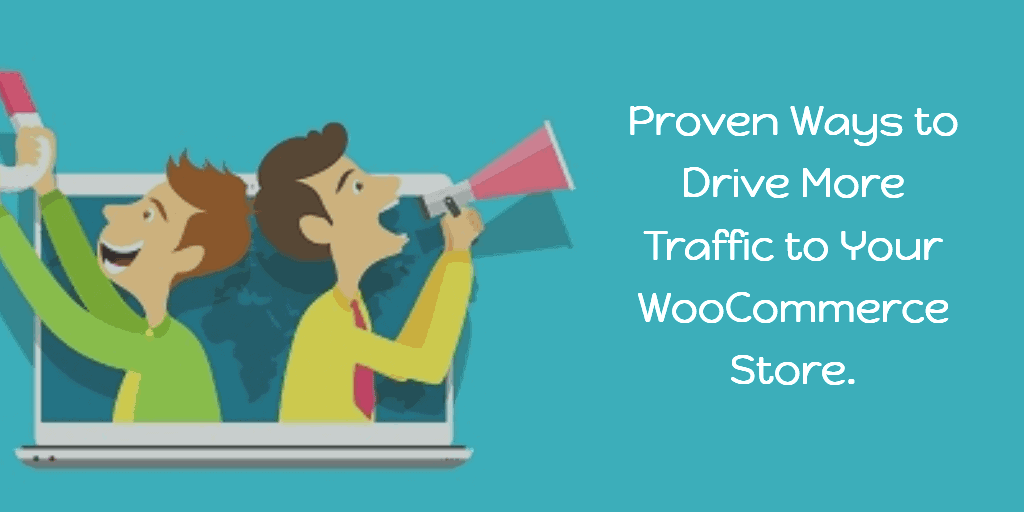 Proven Ways to increase More Traffic to Your WooCommerce Store
You won't be able to sell anything without getting traffic to your online store. Remember that, quality traffic is the key. Wrong customers are not going to buy your product, and there is no point in attracting them.
A great way to get more traffic to your online store is not easy when you don't follow proper guidelines or strategies.
Ecommerce is considered a great way to run a business and earn money while you are on the go. You can run an eCommerce business on the side of your day job and choose to sell anything you want. Once the profit is big enough, most store owners make it a full-time job.
A report of an eMarketer predicts that worldwide eCommerce sales will hit approx. $4 trillion by the year 2020, which clearly shows that eCommerce is all set to rule.
WooCommerce is one of the most popular eCommerce platforms. Once you have your concept, products, and store set up, the next step for you is to increase traffic to your WooCommerce store.
Few effective ways to drive more traffic to your WooCommerce store are discussed below:
Optimize WooCommerce store for search engines
When people search anything, they usually click among the top 5 results and maybe 1 or 2 ads that show on top of search results. It's essential for you to make sure that for specific search terms your online store shows up among those results. There's no use in targeting keywords that people do not search for.
Search engine optimization results are not immediate, and you need to understand how it works. These are the main reasons for which small online stores widely forget search engine optimization.
Take some time to understand the guidelines and then optimize each page of your online store.
Few SEO tips are given below:
Use search engine tools to guide you.
Make sure your site loads fast on all browsers and devices.
Make sure your site works well on mobile browsers and devices.
Optimize key pages in your online store.
One of the best ways to generate traffic is SEO. Make sure to optimize your WooCommerce store for Google and also make sure each page and product on your online store is optimized for the right keywords to generate highly targeted traffic.
Be active on social media
The best way to get the most out of your social efforts to drive free traffic to your store is by creating valuable content consistently and growing your audience.
You can consider targeting Facebook, Twitter, Pinterest, Instagram, Linkedin and Snapchat as your social media networks.
Few steps you should follow:
Create social media profiles and start branding.
Post content regularly and be consistent.
Engage with others by replying to their content.
Leverage live chat
A great way to engage traffic and improve conversions is to provide a live chat option. In some way, live chat is better than sending support tickets, emails or other modes of support.
With a one and one chat, you get to understand your site visitors' requirements better, and it also helps to build trust.
Benefits of using live chat:
Easy to spot chat window.
Helps to convert customers.
Improve customer service.
Automated chat greetings.
Chatting with several customers at one time.
Collaborate online with similar audiences
Collaboration with other individuals within your industry is another proven way to get more traffic to your online store. In this way, you are not only allowed to tap into their network but also able to reach new audiences.
Keep in mind that, collaborate with those who have the attention of your target audience instead of collaboration with everyone. You should cooperate with Youtubers, Bloggers, Podcasters, etc.
Things to remember:
Collaborate carefully and don't collaborate with someone who can affect your reputation negatively.
Focus on the engagement level. There is no use in collaborating with someone having millions of followers, but no one is paying attention.
Focus on providing value and be genuine.
Use comparison shopping engines
One of the benefits of Comparison Shopping Engines is that consumers must interact directly with your brand to make a purchase. They will know who they are buying exactly.
Most of the comparison shopping engines require retailers to submit a formatted product feed. If you are a merchant with an eCommerce store and want your product into the search engine or price comparison, then you need a product feed.
Data feed or product feed plugin such as WooCommerce product feed will make your work much more comfortable. This feed plugin Sync your products with merchant centers like Google shopping, Amazon, Facebook Product Ads, Bing Ads, eBay, etc.
There are many more ways to drive traffic to your WooCommerce store. Only a few of them are discussed in this article which is more specific to your online store. To learn more about how to get real customers for your WooCommerce store, follow the linked article.