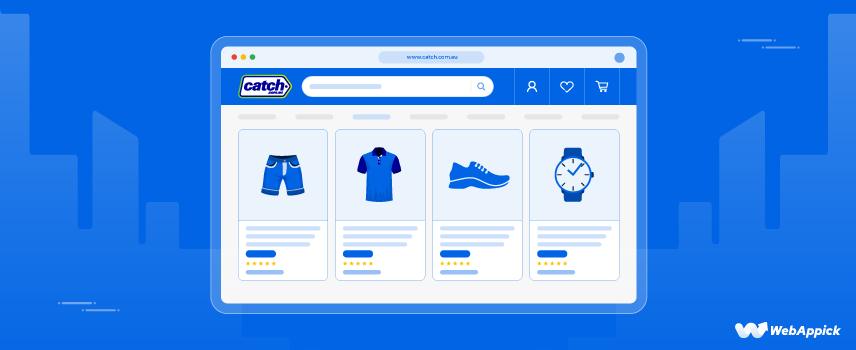 A Guide to Generate Catch Product Feed on WooCommerce
Did you know you can reach billions of shoppers online without spending a dime on advertisements?
Sounds ridiculous?
If you have already built your WooCommerce store, you are already aware that launching a new store is not child's play and requires careful planning, innovative marketing ideas, excellent content, and a sustainable implementation strategy to make a store successful.
This is especially true in a market that is saturated with a large number of products that are identical to one another, fierce competition, and false promises made to the customers. Moreover, you need to invest in marketing and advertisement in order to drive traffic to your new Woo store.
So coming back to the first line, how on earth can you reach 'billions' of shoppers for free when you already know even after a decent amount of marketing and advertisement, grabbing people's attention and leading them to your product page is quite a tough row to hoe.
The answer is pretty simple; online marketplaces.
Whether you are dropshipping or manufacturing your own products, you can list them in online marketplaces such as Amazon, Google organic shopping list, eBay, Facebook, etc., for free.
92% of US customers shop from online marketplaces, and in 2020, 62.7% of all internet revenue was generated by sales on the top 100 online marketplaces. Therefore, along with your WooCommerce store, you can list your products in popular online marketplaces and reach a humongous audience with little effort.
But will you have to manually create the products in every marketplace? Nope, you can create a product feed in your WooCommerce store and upload it in the marketplaces.
Today we will discuss a very popular online marketplace in Australia- Catch and learn how you can generate a catch product feed.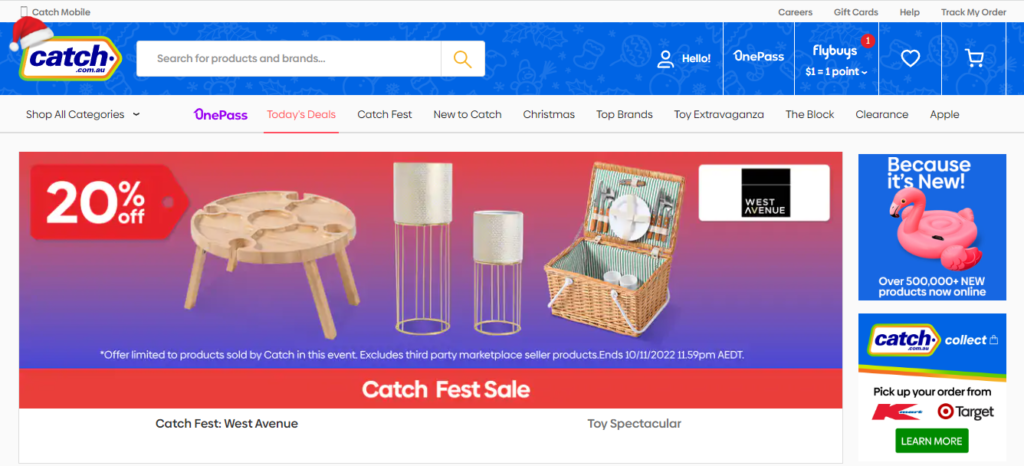 Catch is an online marketplace similar to Amazon or Aliexpress. It is one of the leading marketplaces in Australia.
It has raised the bar for online retailers everywhere by introducing novel features at the point of sale. By successfully establishing partnerships with suppliers, building a cutting-edge IT foundation, and investing in its supply chain, the platform has consistently delivered on its promise to the market.
Gabby and Hezi Leibovich, two brothers, founded CatchOfTheDay in 2006 with the intention of reintroducing levity into the retail experience. The Leibovich brothers were tired of the catalog-based online shopping sites that dominated the industry in the 90s and wanted to find a way to better leverage the Internet to give customers a compelling reason to shop online.
And the compelling reason is – Amazin deals/flash sales/ deal of the day, etc.
CatchOfTheDay was rebranded as the Catch in 2017 and is now a part of the Wesfarmers Group, the same group that also runs Kmart, Target, and Bunnings & Officeworks in Australia.
Catch offers a wide range of products to its shoppers, including fashion, electronics, accessories, health & lifestyle products, home decor, toys & games, furniture, beauty, appliances, grocery & liquor, and sportswear.
So, as a seller, whatever your niche is, you will probably find the category in the Catch marketplace. Let's take a look at some stats and find why Catch is a great place to list your WooCommerce products.
Reasons to sell in Catch
Here's why you should choose to sell on Catch:
8.4 million visitors per month.
3 million active customer base
More than 1 million app users.
20k orders per day.
Products are sold every 2 seconds.
Offers you 2 months of a free trial period on monthly subscriptions to sell your products.
Allows you to upload a catch product feed.
Doesn't require any listing fees.
Returns the commission in full for all refunded orders.
Supports platforms like WooCommerce, Magento, Shopify, etc., to connect to the catch product feed.
Extensive support for sellers.
How to sell on Catch au using Catch product feed
Because of Catch's long history of success, more and more merchants are choosing to list their items for sale on the platform in the hopes of gaining more exposure for their products and ultimately making more money.
Let's find out how you can list your products in this Australian marketplace.
First thing first, you need to create a seller's account in the Catch marketplace.
Creating a seller account in Catch
Catch has a separate domain for sellers to sign up and list their products.
In order to begin the process of registering with them as a seller, go to sell.catch.com.au, and you will see an Apply now link in the header.
Click on it, and it will take you to their registration page.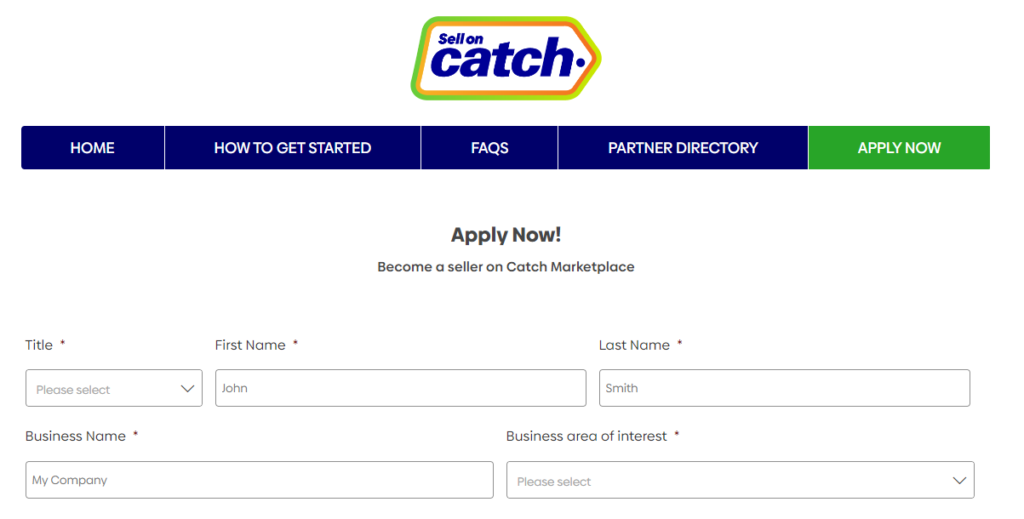 Fill in your name and business name. From the Business area of interest dropdown, you have the following options to choose from.
Wholesale Selling to Catch
Catch Marketplace
Both Wholesale Selling to Catch and Catch Marketplace
Now select your categories, whichever niche your products belong to. Along with that, you need to input your email and cell phone number.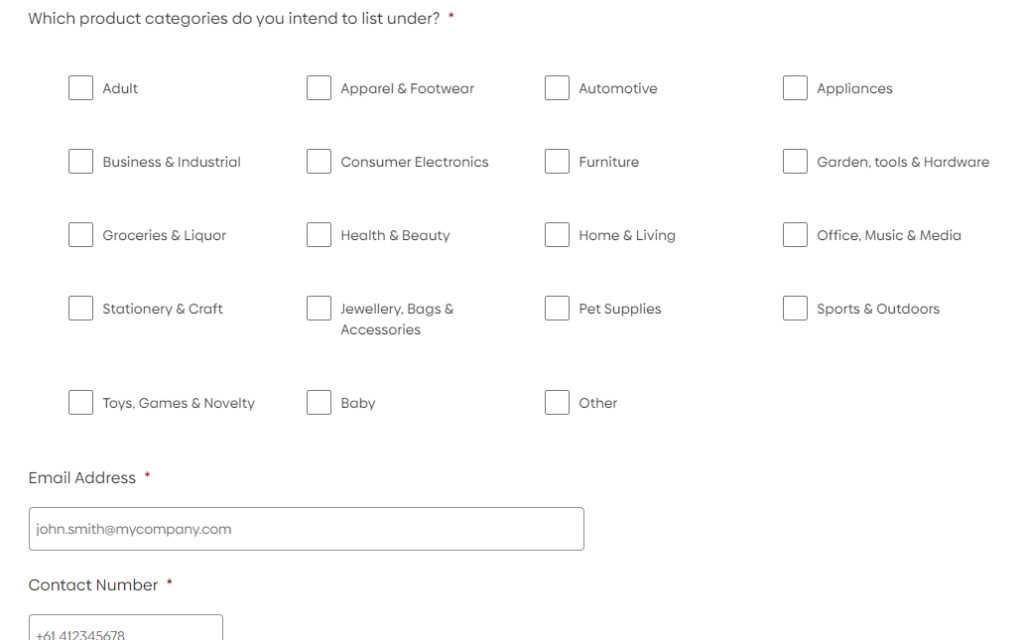 After that, you need to fill in the following data for your application.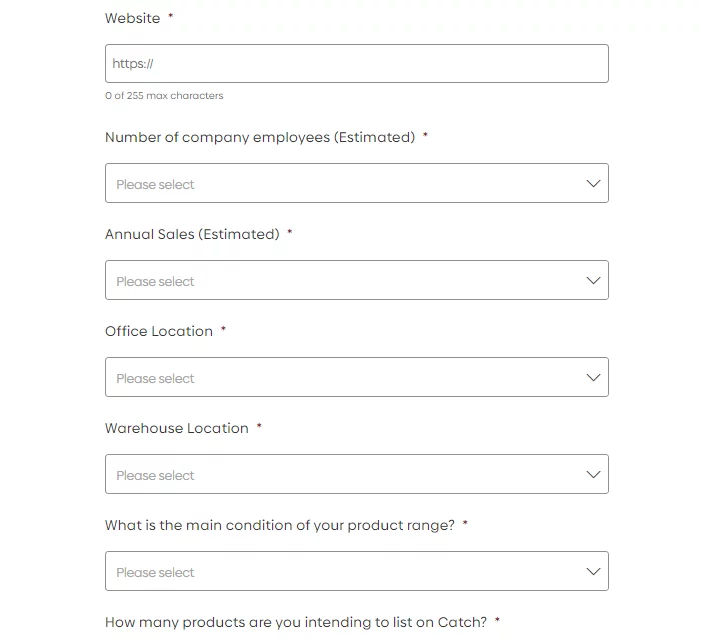 Once you are done, hit the apply now button, and you will be taken to the success page.
Catch will now review your application and contact you. If they approve your application, they will give you login access to the marketplace and also send you the agreement document.
Next, you need to create your products or select a method to upload your Catch product feed.
Creating products for Catch marketplace
After Catch approves your account, you can then start creating products to sell. Login to your Catch seller account and start creating the products if you want to manually create them one by one.
The attributes you need to be aware of are as follow:
Title
Description
Product images
We will talk in detail about these attributes later in the article. Also, in WooCommerce, you have other necessary attributes than these common ones, such as price, size, etc., right?
How do you add those to Catch so that your product page looks the same as your WooCommerce store?
You can achieve that by uploading a Catch product feed.
Uploading products in Catch marketplace
There are three ways you can upload your WooCommerce products in the Catch marketplace. You can import products on catch au through:
Product spreadsheet
FTP/HTTP integration
API
Product spreadsheet
If you have less than a thousand products, then you can create a spreadsheet file and upload it to the Catch marketplace. This is the most basic method for uploading a Catch feed file that contains your product data.
You can upload product data via a spreadsheet in Catch in two ways-
Using the Catch template.
Using your CSV or Excel file.
Catch platform provides you with a template that you can download and input your details, and upload. It contains fields for your basic attributes.
We all are somehow familiar with CSV or Excel files. If you are familiar with Google sheets or Microsoft Excel, then you already know what a spreadsheet looks like. Basically, you need to create a sheet that contains your product data.
For example, if you are trying to make a spreadsheet for a product, you need to start the spreadsheet with the attribute's name at the top and then insert your product data underneath them. For instance, write the common attributes, such as product title, description, image link, price, etc., at the top and then input the values underneath them.

This method is useful when you have very few products. However, if you have a large number of products, this would be painful for you to individually collect and insert all your WooCommerce product data inside the file.
API integration
If you run a medium to large WooCommerce store, you can integrate Catch in WooCommerce through an API. If you have the skills or have a developer team, then you can integrate Catch features, such as product and shop management, offer and order management system, etc., in your WordPress back panel.
However, as we mentioned, you will need the proper skills to play with APIs. Also, it will cost you a big sum of money and time to develop the system using API.
FTP/HTTP integration
If you have a large number of products in your WooCommerce store and want to sell the same products in the Catch marketplace, then you can generate a catch WooCommerce product feed and upload your product details in bulk using this method.
Most importantly, using this method, you can connect your own hosted catch data feed and import and update the catch product feed for WooCommerce automatically. Using the FTP/HTTP integration, you can update all your product data information from your WooCommerce admin panel, and the Catch platform will fetch that update from your Catch product feed file automatically.
Catch supports CSV, XLSX, and XML files as a Catch product feed file. However, you will need to map the categories of the Catch marketplace onto your product sheet.
So, how can you create a product feed for Catch in WooCommerce that can automatically update all product data in the Catch platform if you make any changes?
That's what we will find out next.

How to create a Catch product feed in WooCommerce?
WooCommerce is the champion eCommerce platform for a reason. It packs a bundle of features for any type of store owner, whether you sell physical products or virtual services.
Moreover, if there any feature is missing, there are thousands of extensions and plugins available to cover it up for you.
Even though there aren't any built-in feature to create a product feed in WooCommerce, there are plenty of third-party plugins available that lets you generate product feeds.
For generating a Catch product feed, there are actually dedicated Catch Integration For WooCommerce plugins available for you. However, we will not recommend you install an individual plugin for a single marketplace, instead, install one that can handle product feed for all marketplaces.
This is where we can justify our first statement, reach billions without investing in advertisements. You can install one product feed plugin and connect to all popular marketplaces and sell your products on those giant platforms.
And the plugin that can do this is the CTX product feed. Let's discuss about this plugin in detail and show you how to create a Catch product feed with this.
CTX product feed plugin for WooCommerce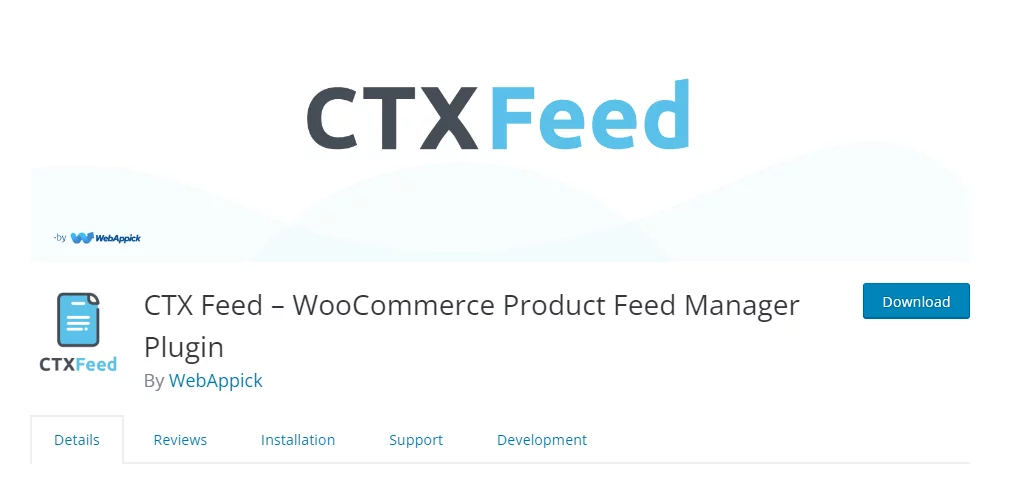 CTX feed is a freemium product feed generation plugin for your WooCommerce store. You can connect and generate a product feed file for hundreds of marketplaces and update them from your very WooCommerce admin panel with little to no effort.
CTX feed supports more than a hundred distribution channels for managing product feeds. As a result, you can promote your products to customers extensively through any available channels, be they online marketplaces, search engines, affiliate websites, social media platforms, or price comparison websites.
You can quickly and easily generate the best Google Shopping product feed or Google Merchant feed, Pinterest shopping feed, Snapchat catalog, TikTok catalog, Bing shopping ads, Facebook catalog feed, Instagram catalog feed, eBay ads, Rakuten, PriceSpy, PriceRunner, Kelko, Catch and a wide range of other channels as well from your WooCommerce store.
Let's check out some of the benefits and key features of this plugin.
Quick and efficient
When creating spreadsheets manually, you may face a lot of difficulties, and channels may not accept your feed. Also, different channels have different feed formats, and you need to follow them when creating a product feed for that particular channel.
You may face difficulty changing the name or description of the product, or there may be problems with the product image links, especially for products that come in multiple variations.
In addition, if you want to make the feed in CSV format, you'll have to manually enter the data into the spreadsheet, which will be a huge time drain. There is no simultaneous change when switching between CSV and XML when creating two feed files.
In this situation, the CTX Feed Plugin can provide you with an ad hoc solution that solves all of the problems. In addition, you can format any attributes in accordance with the output type that the plugin provides for you.
Therefore, the plugin's specialized solutions are able to solve straightforward issues, such as changing the format of the price listing from two decimals to any decimals while providing the option to use an integer. At the same time, CTX feed offers a variety of helpful identifiers add-on options in order to prevent any sort of mismatch between products belonging to the same brand.
Unlimited product feed
No matter how many products you have in your WooCommerce store, you can create a product feed for them and connect to your multiple channels within minutes.
100+ preconfigured templates & different file types
Different marketplaces or marketing channels have different requirements for product feeds. It will be a big hassle for you to study everyone's product attributes and create individual files for them manually.
CTX feed saves you from that. The plugin has 130 pre-made templates built in. You really don't have to do anything, just select the template and create the feed and connect.
The plugin also supports six types of file formats-
With these 5 types, you can make sure that your product feed looks different and unique on the different marketing channels that will be promoting the products. They have information about the product, like the title, description, URL of the image, price, identifiers, and other attributes.
So, how they show up in the feed file depends on the type you've chosen and how the channel wants to add them. Once you choose the type, CTX Feed does the rest for you.
Price
The free version is available in the WordPress repository. The pro version comes in different price plans.
Annual cost –
Single Site – $119.00
Five Site – $199.00
Ten Site – $229.00
They also offer lifetime plans. You need to contact them to get a quote on a lifetime license.
How to generate Catch product feed with CTX feed plugin
Let's first install the free version of the plugin.
Login to your WordPress admin panel and go to Plugins, and click on Add New. Type in CTX feed in the search box and install & activate the plugin.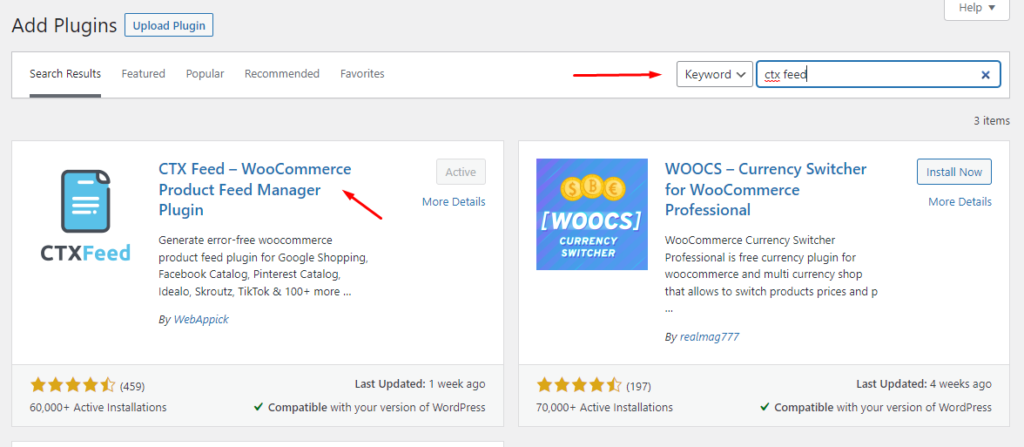 After installing, you will see a new menu called CTX feed in your WordPress menu panel. You can check out and play with different settings from there.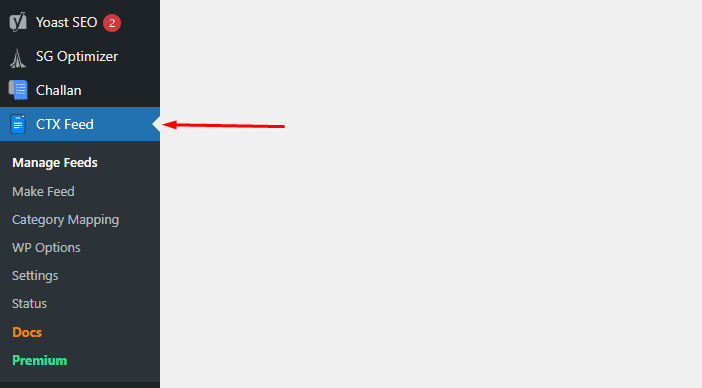 Generating Catch product feed
To create a Catch product feed, click on the Make Feed menu.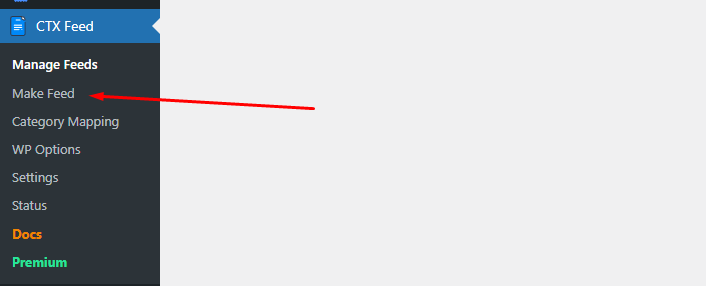 This is how the new WooCommerce product feed window looks like.

From the Country dropdown, select your country. Even if you don't select it, the plugin will automatically detect your location and place it for you.
The Template dropdown is where you will see the list of marketing channels. You will find 130 channels there, including all the giant marketplaces like Amazon, Google shopping, Bing shopping, PriceSpy, Catch, etc.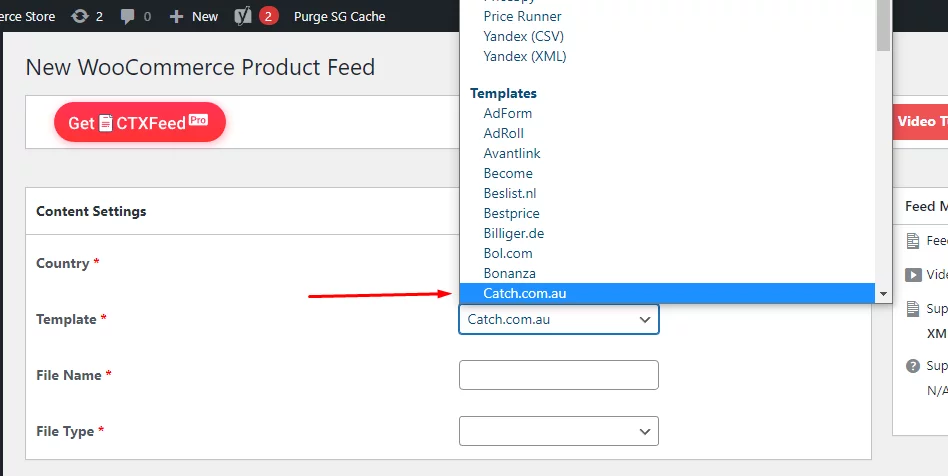 Go ahead and select the Catch.com.au option. Right after you select that, all the required attributes will pop up at the bottom.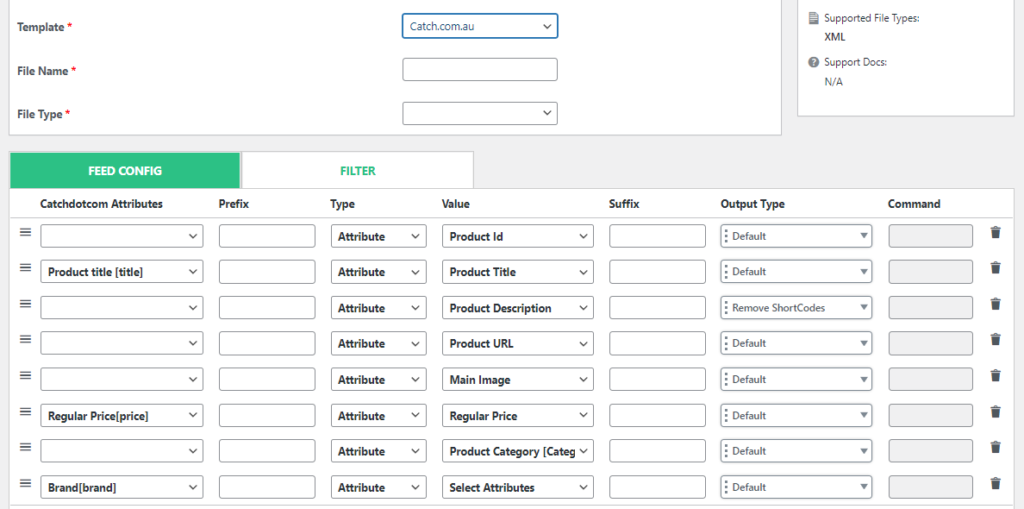 Give your file a name. We highly recommend you put the channel's name or give it a name that you can easily find later from the list of feeds. We are naming this Catch product feed for this demo.
After that, select the file type you want the choice for the feed. In the free version, you can only select XML format for the Catch product feed.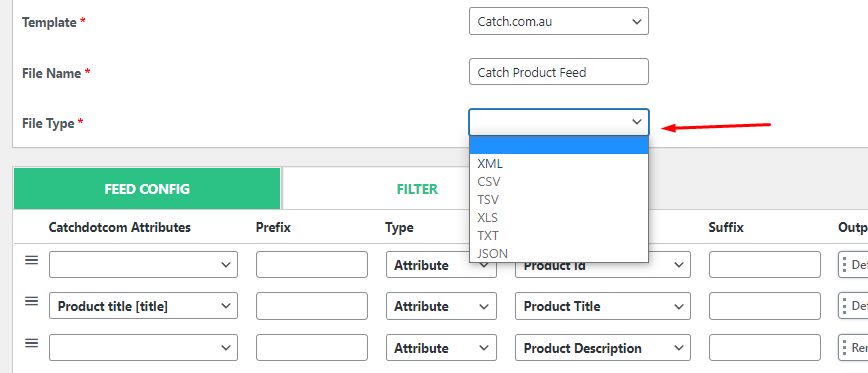 If you have variable products, then you can include the variations in your Catch product feed. Select your variation settings from the dropdown.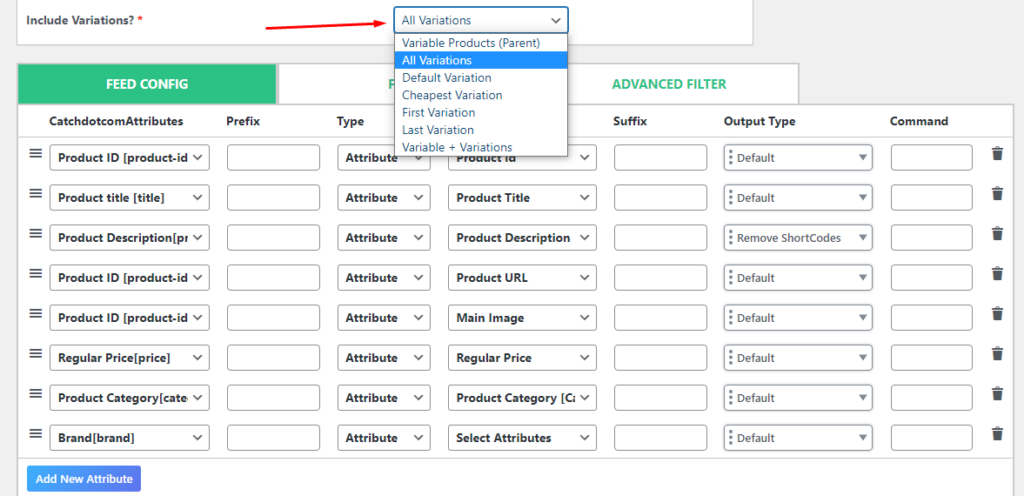 CTX feed already knows what attributes Catch marketplace will ask for. So, as soon as you select the Catch au template, it will fetch all required information from your WooCommerce store and create the necessary attributes.
However, if you want to add new attributes or make changes to any current ones, you can go ahead and do it from the Feed Config table. Once you are done, click on the Update and Generate Feed button.
CTX feed pro filters
If you use the paid version of CTX Feed, you can also filter the Catch product feed for things like out-of-stock items, products with no descriptions, and products that are on backorder.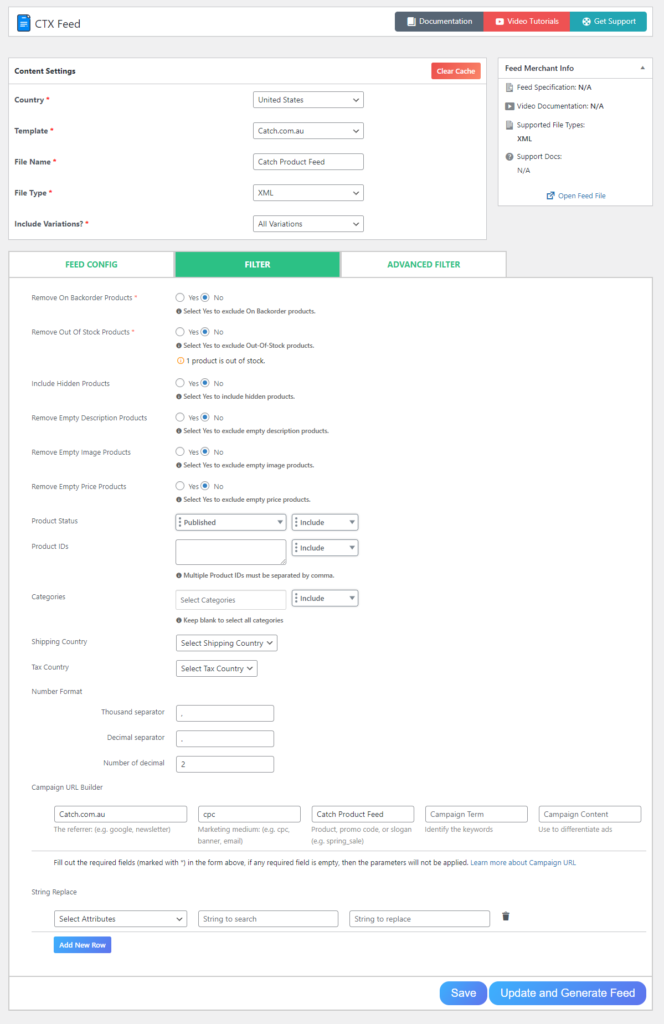 You can also exclude free products and generate custom URL for the feed, as well as include shipping zones and tax country in the Catch product feed.
There's also an advanced filter setting in the pro version where you can add new conditions.
Manage and edit Catch product feed
Once you generate the Catch product feed, it will be listed in the feed list along with other product feeds you create. Go to CTX Feed >> Manage Feeds, and you will see your Catch product feed there.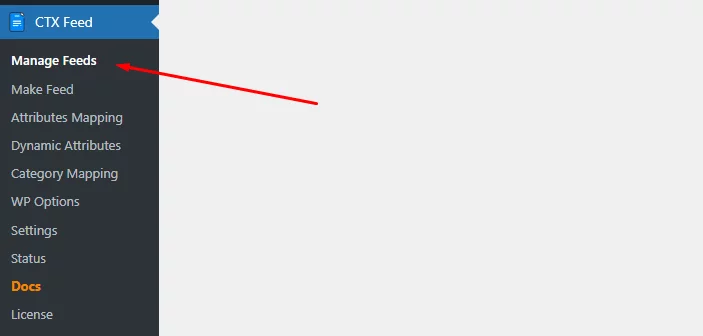 Here's how it looks in the feed list.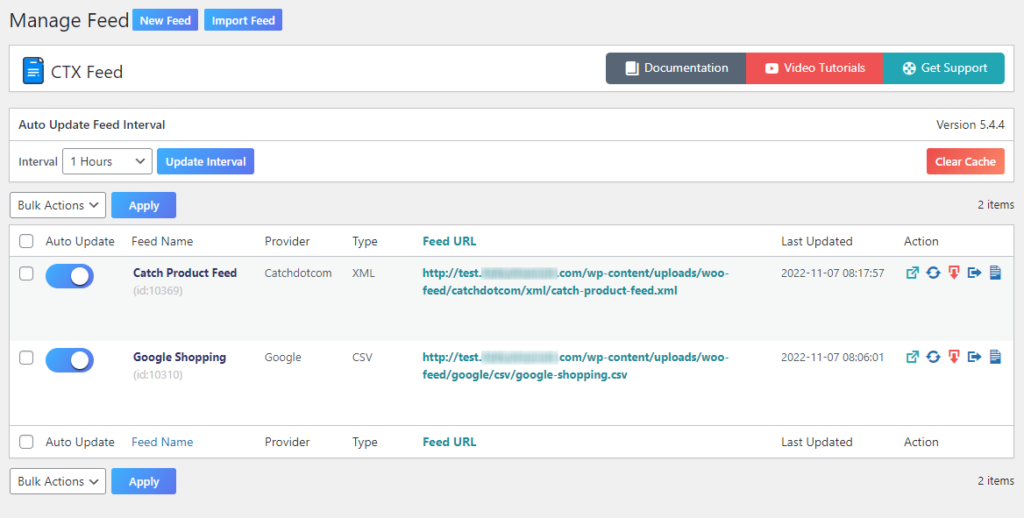 Let's check out the different available settings for the feeds.

The first option is to enable auto-updates. If you enable this option and set an interval, and connect this to the Catch platform, all your product details will auto-update. We have set a 1-hour interval, so the Catch product feed will update every hour.
Whatever changes you make in your WooCommerce products, the CTX feed will fetch those changes and update the feed accordingly. Therefore, all your marketing channels, including Catch au, will display the updated information collecting from the product feed.
Now, isn't that life-saving for a store owner?

You can hover over the product feed, and the edit options will pop up. If you click on the edit button, it will take you back to that feed generation window we saw when creating the Catch product feed.
You can also duplicate the feed if needed, as well as delete it from there.
CTX feed connecting options
Before we talk about the feed URL, let's first take a look at the rest of the options on the right side. The first option is View.

If you click on it, the CTX feed will show the feed in a separate window of your browser.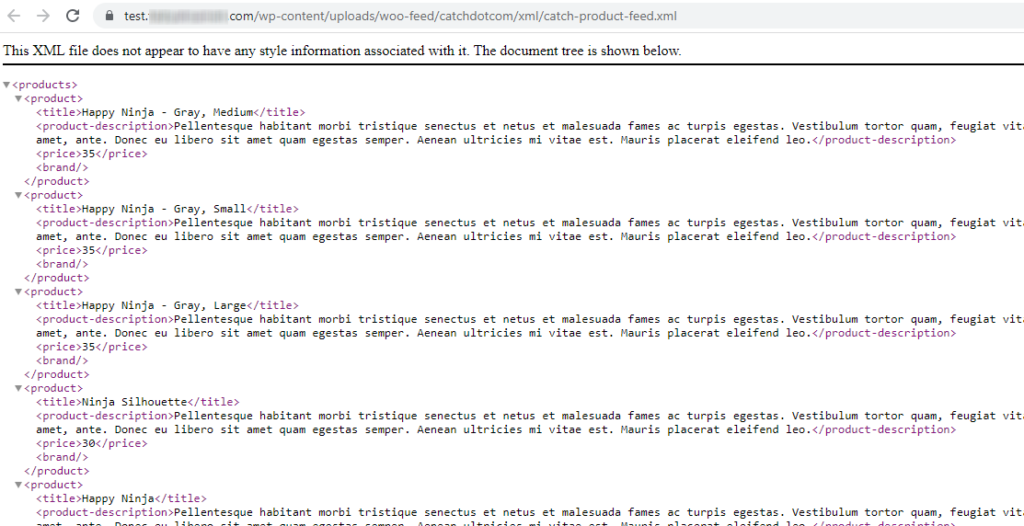 The second icon is for regenerating the Catch product feed. For instance, if you have made some important changes in one or some of your product pages and want them to be updated in your marketplace instantly, then you can click on this icon.

Additionally, CTX feed also allows you to download the feed file and upload it manually in the marketplace, just like you upload a spreadsheet. We have already talked about that Catch supports uploading manual spreadsheets.
If you want to manually upload your product data but don't have the time to manually put them together in an Excel file, then you can use CTX feed in your WooCommerce back panel to quickly create one feed file for you. All you have to do then is to upload it.
The rest of the icons are for exporting product feed configurations and downloading feed logs.
Now let's talk about feed URLs. This is the most important thing you will need to connect to your marketing channels or marketplaces. Marketplaces will fetch your product data from this URL.
How to connect the Catch product feed to the Catch marketplace?
If you hover over the feed URL, you will notice a small copy icon pops up. Copy the URL by clicking that icon.
Now go back to your Catch sellers account and select the FTP/HTTP Integration settings for product uploading on Catch. There you need to paste the CTX catch product feed URL, and that's about it.
Some marketplaces also provide additional options, such as feed update intervals, feed editing, etc., inside the seller account to manage the product feed files.

Frequently Asked Questions (FAQs)
How to Sell Woocommerce products on Catch Marketplace?

You can create a seller's account in the Catch marketplace and sell your WooCommerce products there. You can either manually create products inside Catch or upload your WooCommerce Catch product feed file to upload all your products at once.
How to promote your product on catch marketplace?

You can generate a Catch product feed file inside your WooCommerce store and upload it to your Catch seller account to connect, display and promote them in the marketplace.
How to get registered on
catch.com.au
?

You need to go to sell.catch.com.au and register a seller's account, inputting your store business details. Catch will then review your application and approve it once they are happy with all the details.
Wrap up
You can think of Catch as an additional sales channel thanks to its diverse and devoted user base of over 3 million monthly users. Daily new events and exciting deals are posted on their dynamic website to keep customers interested and make their purchases more worthwhile.
The ability to sell your products on a site frequented by millions of potential buyers is a powerful tool for expanding your company's customer base.
Therefore, if you already run a WooCommerce store, you can quickly add your products to the Catch marketplace using the Catch product feed you can generate with CTX feed and reach millions of potential Australian buyers.
Let us know in the comments if you have any questions regarding the topic of this article.