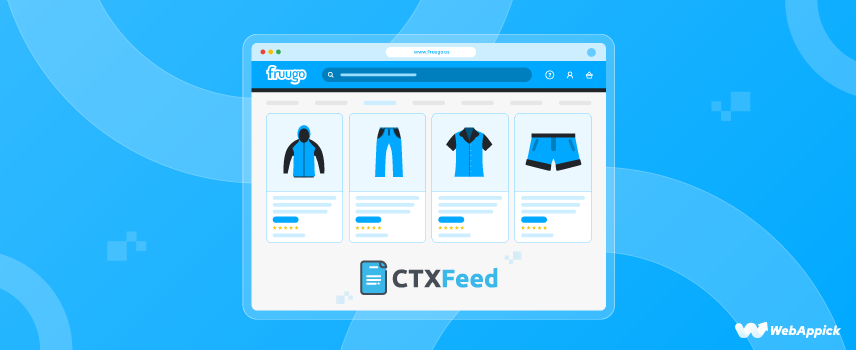 Simple Guide to Generate Fruugo Product Feed on WooCommerce
It is estimated that 12-24 million online stores exist worldwide, and the number is increasing every day. The pandemic has only added fuel to this.
2021 saw a whopping 119.9 billion online store visits, and by this year, eCommerce sales are expected to reach 5.5 trillion! The stats are very alluring for store owners, right?
However, not even a million of those stores can make a $1000 revenue in a year. Understandably, with so many stores created every day, the competition is fierce.
A newcomer or existing WooCommerce businesses have to constantly cope with the market trends and come up with innovative strategies to survive in the online space.
Therefore, you will need to continuously research your competitors and the market, optimize your content and find lucrative ways to promote your products. Sounds like a lot of work, right?
Indeed you need to put a lot of effort into finding ways to attract and lead visitors to your website. With so many competitors and giants like Amazon, eBay, Walmart, etc., even your ad campaigns can fail.
So why not list your products in these popular marketplaces and reach their billions of customer base? Yes, you can do that, and moreover, you can do it for free!
In this article, we will show exactly how you can do that. We will discuss about the popular online marketplace Fruugo and how you can create a Fruugo product feed in WooCommerce to list all your existing products to the marketplace within minutes.
Let's dive in.
What is Fruugo?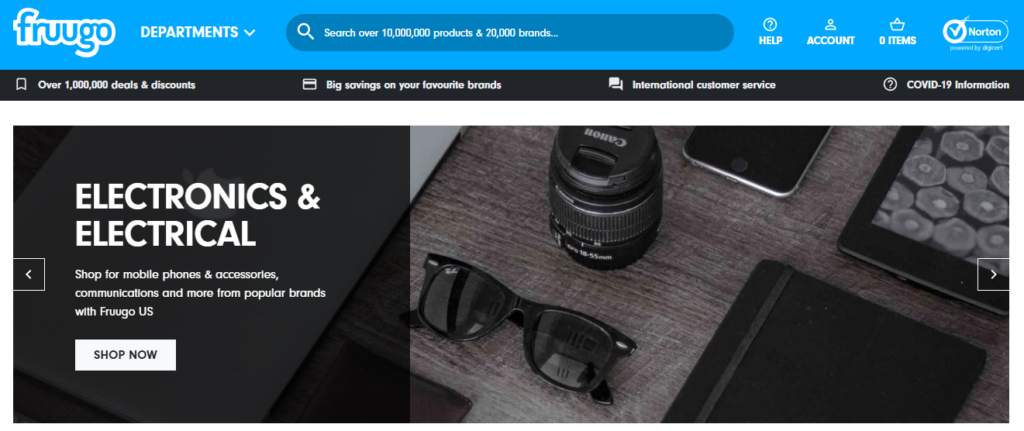 Fruugo is an international online market that is headquartered in the United Kingdom and serves customers all over the world. This marketplace was established in 2006, and in 2012, its current CEO and Director of Operations, Dominic Allonby and Darren Naylor, purchased the company and took over its leadership.
Fruugo offers a wide variety of products, including electronics, fashion, toys, health and beauty, sports equipment, books, and even furniture. It is currently available in 42 countries.
The marketplace attracts a sizable portion of its users from the United States and China, two of the world's most prolific markets for e-commerce.
Fruugo works with third-party sellers to help them sell their goods all over the world. Fruugo is proud of the fact that, according to the company's website, it "provides an end-to-end eCommerce solution from demand generation to order orchestration and customer service."
To put it another way, this indicates that buyers from any one of Fruugo's countries are able to purchase items from sellers located in any other one of Fruugo's countries. The marketplace handles all of the marketplace's practicalities, such as the conversion of currencies, the translation of listings into local languages, shipping, payments, and so on.
Fruugo statistics
Fruugo has over 1800 sellers using its international marketplaces, as reported by the company itself. Over 80% of the 7.9 million orders processed annually by the marketplace are international in nature, with a total value of 340 million GBP (approximately 407 million euros).
About 240 million people visited Fruugo's country-specific platforms in 2021, and the site now features an inventory of more than 34 million items. Based on these metrics, which include an average of 10 million monthly website visits, it ranked 89th (out of 155) in the world's top online marketplaces.
This data suggests that Fruugo is a sizeable marketplace that serves buyers and sellers in various countries.
Which countries are supported by Fruugo?
Currently, Fruugo supports sellers from the following countries,
Australia
Austria
Belgium
China
Czech Republic
Finland
France
Germany
Greece
Hungary
India
Ireland
Japan
Netherlands
Norway
Poland
Portugal
Qatar
Romania
Russia
Saudi Arabia
South Africa
Spain
Sweden
Switzerland
Turkey
United Arab Emirates
United Kingdom
United States
Why should you sell on Fruugo?
Selling on Fruugo has a number of benefits. The most notable benefit, however, is the possibility of international sales in as many as 46 different countries.
In addition, Fruugo is expanding and attracting new users on a daily basis, giving you a larger and larger pool of potential customers to market to. Fruugo even localizes your product ads for international consumers, translating text and converting prices to local currencies.
One great advantage of selling on Fruugo is its large affiliate member base. Fruugo has a large network of affiliate partners in 46 countries.
In other words, Fruugo's extensive network of affiliated websites and partners is already actively promoting your product across the globe without you having to lift a finger.
The marketplace also provides sellers with information/insights about international markets, which is an added bonus. This allows you to see which of your products would sell best in different countries if you were to start selling abroad.
This not only provides a head start for sellers, but it also means they can save money by cutting back on the amount of market research they conduct on their own.
You also get the added bonus of working with a personal account manager. This highly customized feature of Fruugo prevents you from having to perform numerous calculations on your own or pay someone else to do so.
How to sell your products on Fruugo?
The best thing about selling on Fruugo is you won't have to pay any upfront or subscription fees to list your products. The platform will only charge a commission when you make a sale through them.
Fruugo will charge 15% of the shopper's cart value, excluding VAT. Additionally, a transaction processing fee of 2.35% of the total amount will be deducted.
In other words, you can take advantage of the massive audience and pay only a small percentage of your profits. When you think about how many sales this marketplace could help you make, the price seems quite reasonable.
To be a seller on the platform, you need to start by joining as a seller in Fruugo.
Creating a seller account on Fruugo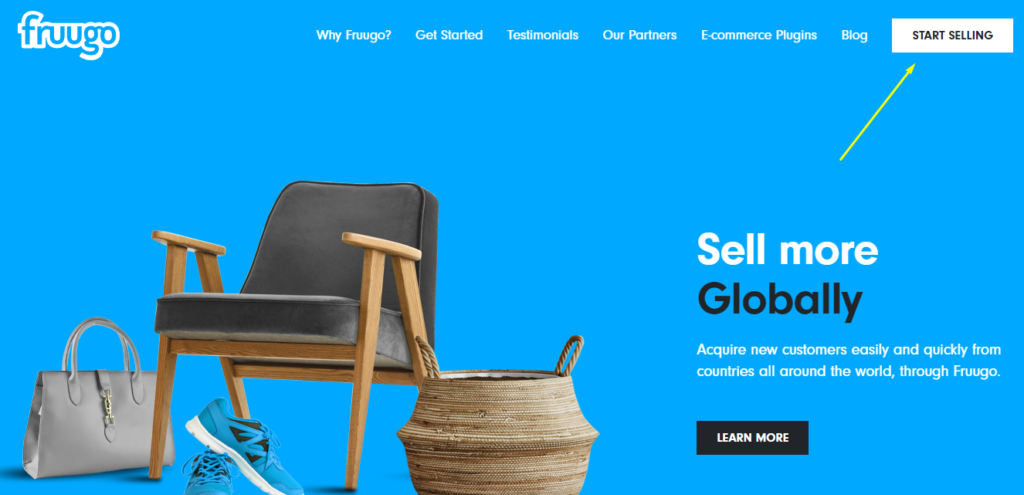 Go to Fruugo's seller domain – sell.fruugo.com and then click on the Start Selling button to get started.
The button will take you to the registration form page. You can choose your language or continue in English. Be sure to read their requirements to be a seller before you checkmark the apply radio box.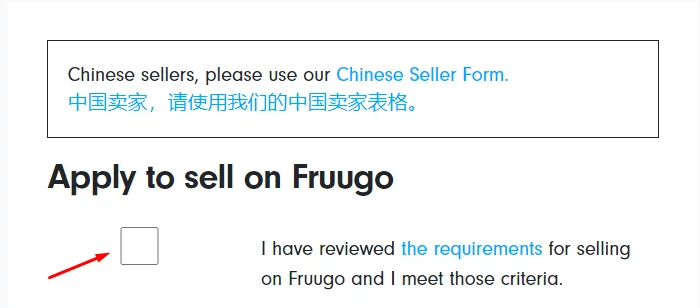 Next, input your personal details.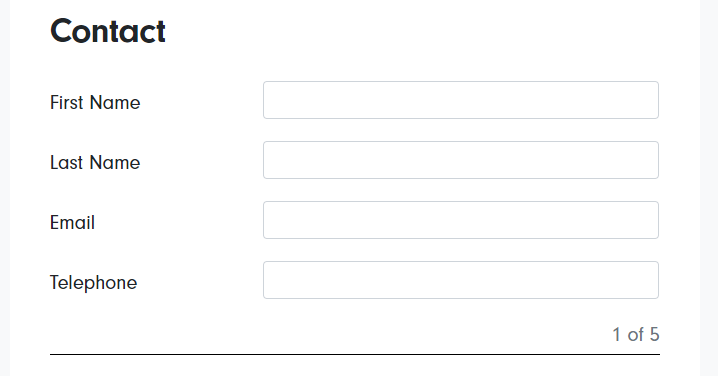 Now, start filling out your WooCommerce business details.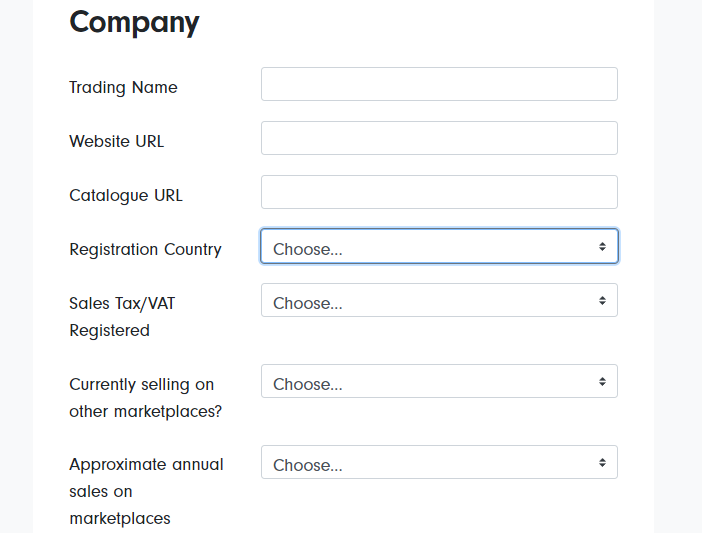 The trade name will be your WooCommerce store's domain or your brand name. You will also need to put your WooCommerce store's website URL.
Select the country you are registering from and select Yes from the Sales Tax/VAT Registered dropdown when applicable. Also, select yes from the 'Currently selling on other marketplaces? ' dropdown, as you are selling on WooCommerce already.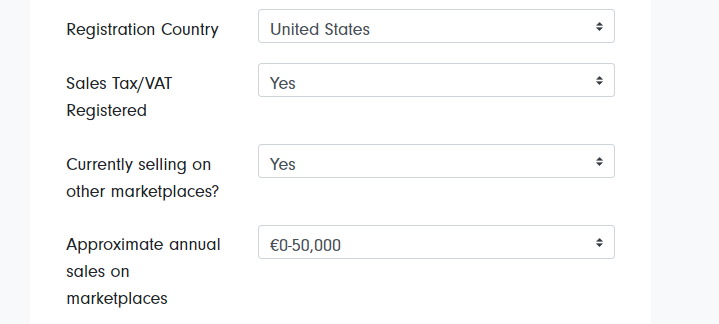 After that, input your order fulfilment data. Choose your country of shipment and choose whether you will ship globally.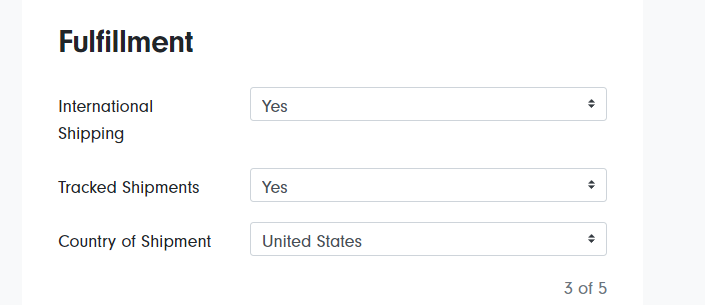 Next up, product data. Enter the probable number of products you will list in Fruugo. Select yes from the "GTINs (EAN, UPCs) for all Items?" dropdown when applicable.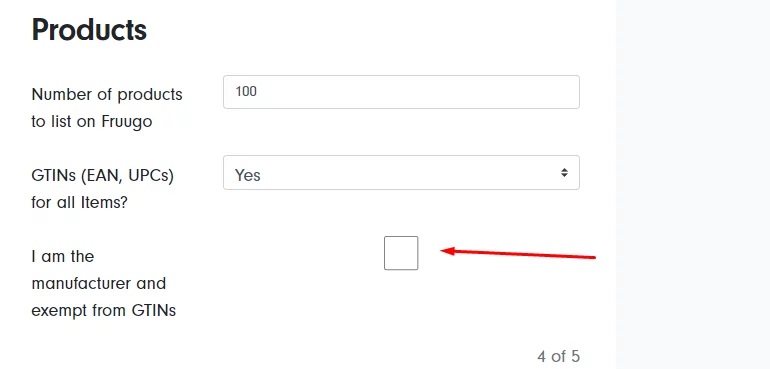 If you manufacture your own products, you can tick mark the "I am the manufacturer and exempt from GTINs" box. We will discuss this later in the article.
Be sure to read Fruugo's technical documentation and checkmark the box. After that, select the integration method through which you want to upload WooCommerce products on Fruugo.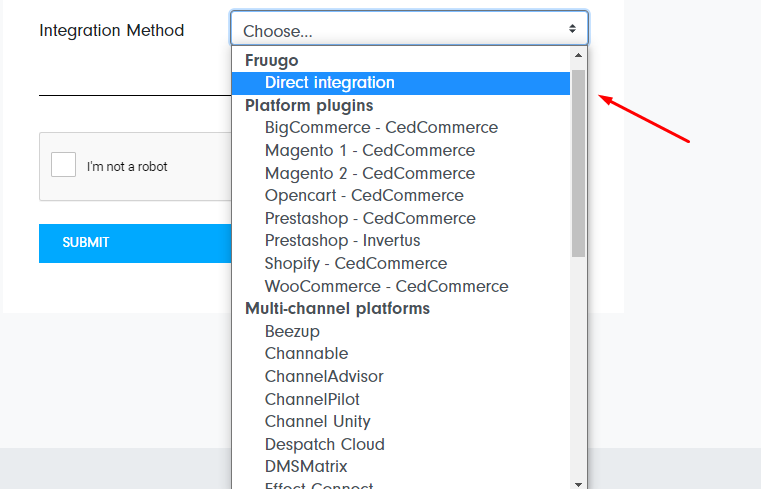 Fruugo lets you choose from a number of platforms and supports numerous plugin that allows you to generate Fruugo product feed. For this example, we will select the direct integration method.
Once you are done, click on the submit button to apply as a seller. Fruugo will redirect you to a thank you page, and a team member will contact you within seven working days before approving your application.

Creating Fruugo product feed
There are three ways to create and upload a Fruugo product feed to your seller's account.
Manual Fruugo product feed
Self-created Fruugo product feed
Automated Fruugo product feed
Manual Fruugo product feed
You can export your existing WooCommerce products and generate product feed for Fruugo manually using software like Google Sheets or Microsoft Excel. You can then save the file in CSV format and upload it to the Fruugo seller's account.
However, the problem will arise when you need to update the data. If you have a fast-moving stock, you will need to update your new products or changes in your stock constantly. In that case, maintaining a manual Fruugo CSV feed would be painful.
One solution for this would be to upload the Fruugo data feed to a server and connect the URL to Fruugo. That way, when you make any changes in the CSV, Fruugo data feed management will fetch that data from the file.
Self-created Fruugo product feed
You can download the Fruugo feed template and copy and paste your WooCommerce product data into the file. In this process, you will have to manually collect your product details and paste the into the file one by one.
This will take ages if you have a large number of products. And also, updating the file will be equally stinging.
Automated Fruugo product feed
You can use third-party plugins to generate and upload your Fruugo product feed for WooCommerce. There are plenty of plugins available which allow you to create product feeds inside your WooCommerce admin panel and connect to the marketplaces.
Fruugo allows you to connect your product feed using HTTP/HTTPS. Plugins such as the CTX Feed lets you generate Fruugo product feed and connect to the Fruugo seller's account using the feed URL.
Generally, these plugins let you create a feed file within a few clicks, and when you connect through the URL, any changes you make will automatically be updated in the marketplaces.
Moreover, you can schedule feed updating intervals in Fruugo. You can set retrieving time several times a day.
Fruugo supports XML and CSV formats for HTTP/HTTPS uploading methods.
Before we check how to create an automated feed, first, let's check out Fruugo's required fields or attributes.
Fruugo Feed specifications
Let's have a look at the required attribute or fields you need to include in your Fruugo product feed.
Title
This field can be filled in with the title or name of your product in WooCommerce. Include the brand name in the title for maximum brand recognition.
You should not, however, add any sales language, feature names, or price information to the title.
Description
Briefly explain your product and focus on its strongest points. This property can be fulfilled by simply using the product description in your WooCommerce store, provided that there are no links, emails, or contact details that will cause the user to leave the page.
GTIN
A GTIN, UPC, EAN, UCC, or other globally unique identifiers should be assigned to each of your products regardless of where they were made. Every individual product and every possible variation of a variable product requires this identifier value to be submitted.
In WooCommerce's product data section, you won't typically find a pre-populated field for this information. Adding the value as a product attribute won't work for variable products, so you'll need to create a custom field for each product instead.
For Fruugo to sell your products, they require unique product identifiers. In order for Fruugo to drive sales of your products, they need access to Global Trade Item Numbers (GTINs; EAN, UPC, or ISBN).
We'll talk about how to add a custom field for GTIN without using any codes in next section.
SKU ID
The SkuId distinguishes and organizes variants of a product. The SkuId and ProductId can be the same for a product with only one variant. This means that no two products can have the same ProductId and SkuId (s).
WooCommerce does provide SKU or product IDs for every product, and you can use them in the Fruugo product feed.
Brand
Depending on the product, this could be the name of the company that makes it or the name of the brand under which you sell the product.
Once again, WooCommerce does not prepopulate a field for Brand. However, a WooCommerce Brand plugin, a custom field, or a product attribute will make it simple to apply the brand to each and every one of your products.
Category
You will need to map your products into Fruugo's own unique set of categories in order to use the platform. On the other hand, updating your WooCommerce categories is not necessary in order to accomplish this goal.
When it comes to generating the Fruugo product feed, we will discuss a tool later in the article that will allow you to properly set up category mapping.
Stock status and quantity
Stock availability is a representation of a product's actual availability for purchase. In order for the field to have any value at all, it must either:
INSTOCK – this means that you have the product available right now.
SOLD OUT – You are currently out of this item, but it may be available again soon.
NOTAVAILABLE – This item has run out of stock and must be removed from the site (but cannot be removed from the feed).
Image URL
To fill out this field, simply insert a link to the product's featured image or primary image. A white background and a minimum resolution of 400px x 400px are required for this image's use. There should be no invisible text, watermarks, or placeholders.
Normal price with or without VAT
Fruugo allows you to submit prices with or without VAT, so you can choose which you prefer when uploading a file.
NormalPriceWithVAT – Include the attribute header NormalPriceWithVAT if your product prices already include VAT.
NormalPriceWithoutVAT – Use the product excluding vat or NormalPriceWithoutVAT header if your product prices do not include value-added tax.
Depending on the prices of your WooCommerce products, submit one of the attribute headers in the feed.
VAT rate
You must provide the VAT rate if you are a European Union (EU) retailer. Don't use the % sign; just put a numeric value. Use the value 0 for this attribute if VAT is not charged in your VAT-registered country of sale (common for non-EU retailers).

How to create Fruugo product feed in WooCommerce?
WooCommerce is the undisputed king for creating eCommerce websites. But it doesn't pack all the tools you need.
Connecting to other platforms to sell the same products is not something WooCommerce promises in its core system. However, the extensive amount of extensions and plugin support is what makes WooCommerce the champion.
There are a number of plugins available for you to generate Fruugo product feed. In this article, we will talk about the best one, which is called CTX Feed.
CTX Feed – WooCommerce product feed manager plugin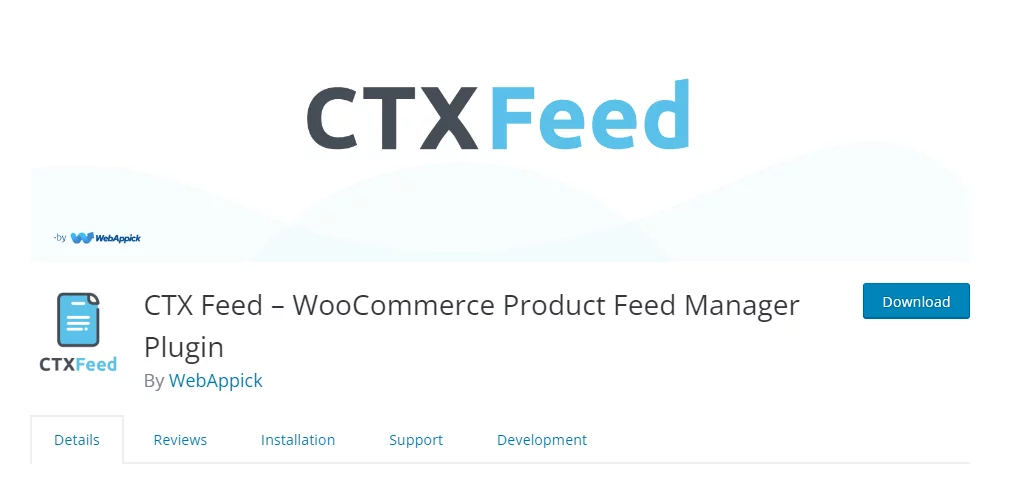 CTX feed is a freemium WooCommerce plugin that helps you generate product feeds. From the convenience of your WooCommerce control panel, you can connect to and automatically generate a product feed file for hundreds of marketplaces, allowing you to keep them all up to date easily.
If you need to manage product feeds across multiple channels, CTX feed has you covered. Price comparison sites, marketplaces, affiliate sites, and social media sites are just some of the many online venues where your products can be promoted to potential buyers.
With WooCommerce, you can easily and quickly generate the best product feed for Bing shopping campaigns, Google shopping, Google organic listings, TikTok, Pinterest, Snapchat, Facebook Catalog Feed, Fruugo, Instagram Catalog Feed, eBay Ads, Rakuten, Idealo, Kelko, Catch, PriceSpy, PriceRunner, and many other channels.
Different channels require different attributes in their product feed files. For example, the Fruugo product feed must contain GTIN id but Catch marketplace doesn't ask you for that code.
The best thing about CTX Feed is that it already knows which platform requires what attributes and automatically applies those attributes when you create a product feed for any particular channel.
In simple words, CTX Feed lets you create a product feed for multiple channels within a few clicks and automatically updates the data across those channels when you make changes in your WooCommerce store.
Price
The free version is available in the WordPress repository. The CTX Feed pro comes in different price plans.
Annual cost –
Single Site – $119.00
Five Site – $199.00
Ten Site – $229.00
You can also buy lifetime licenses of the pro version. However, you need to contact the company for a price quote.
How to generate Fruugo product feed using CTX Feed plugin
First things first. Let's install the plugin.
Login to your WordPress admin panel and jump to Plugins>>Add New and type in CTX Feed in the search box. Once you find it, install and activate the plugin.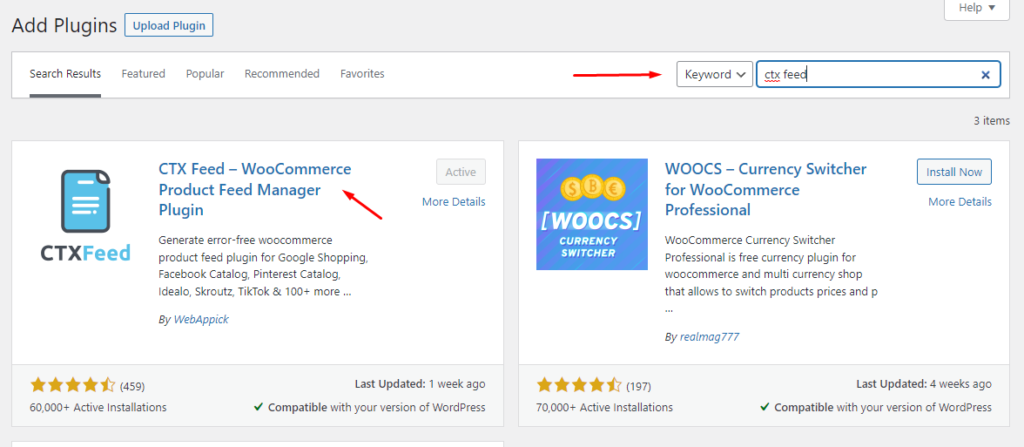 As soon as you activate it, the plugin will create a separate menu in the left menu panel.
Adding GTIN, Brand, etc.
We have already discussed that WooCommerce products don't have the fields for GTIN, UPC, EAN, UCC, ISBN, Brand etc., so we need to create custom fields for these attributes.
CTX Feed makes it a breeze to create these fields. You won't need to manually add any codes or any custom field plugins; CTX Feed already has the settings built-in to enable these fields.
Go to the CTX Feed menu and click on Settings.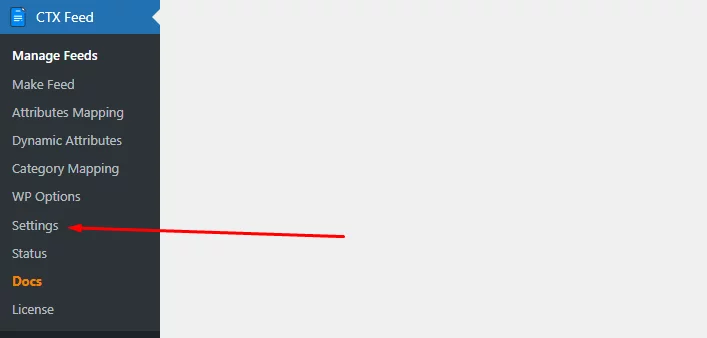 The settings page has a dedicated section for custom fields. Scroll down to find the section.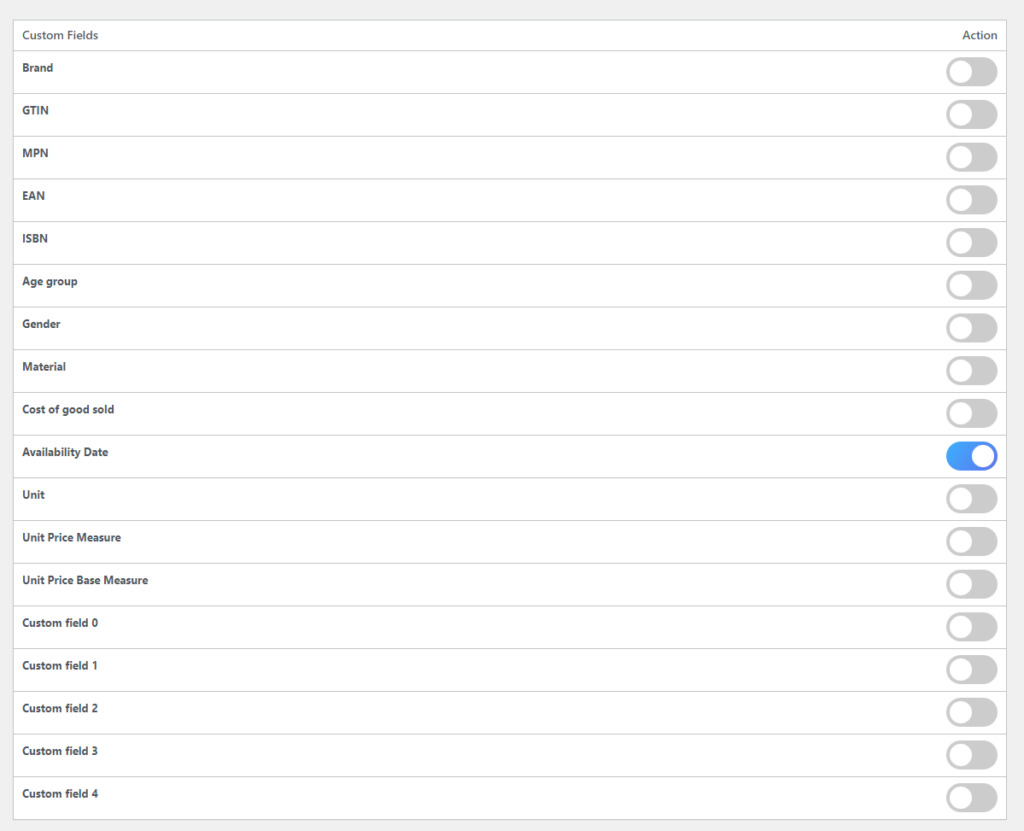 As you can see, there are dedicated buttons for Brand, GTIN, MPN, EAN, ISBN, etc. You can simply toggle to enable any of them.
For instance, let's toggle to enable GTIN.

Now go to Products>>All Products and open any product page. Scroll down to the Product Data section.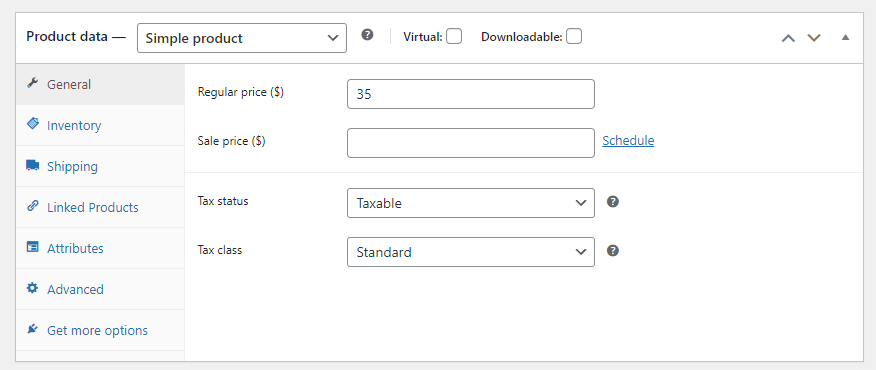 Now click on the Inventory tab.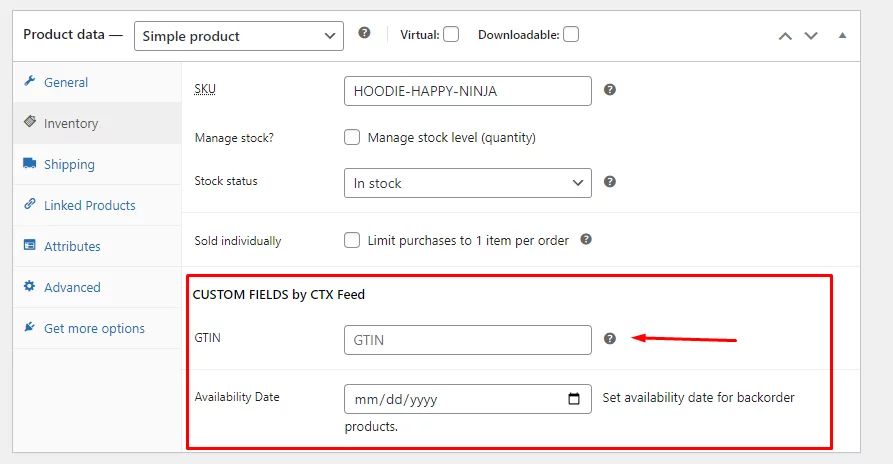 As you can see, CTX has created a dedicated custom field section. In the GTIN box, you can now input your GTIN number.
In the same way, you can enable other custom fields and set their value on the product pages.
Generating the Fruugo product feed
Hover over the CTX Feed menu and click on the Make Feed link.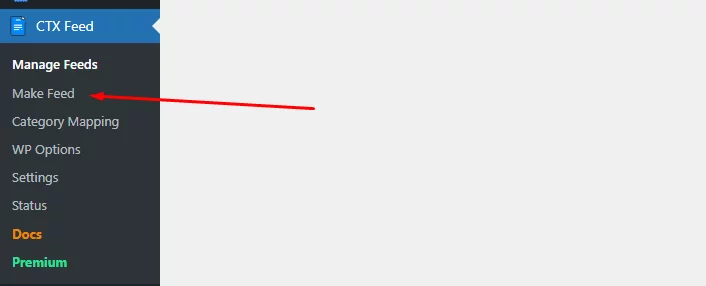 It will take you to the new feed generation page.

Make your selection from the Country menu. The plugin can detect your location even if you don't tell it to, so there's no need to manually enter it.
Template is where you'll find the available promotion channels. There are over 130 channels to choose from, including all the major online marketplaces like Google Shopping, Bing Shopping, PriceSpy, Rakuten, etc.
Find and select Fruugo. As soon as you select the platform, the necessary fields and attributes will pop up below.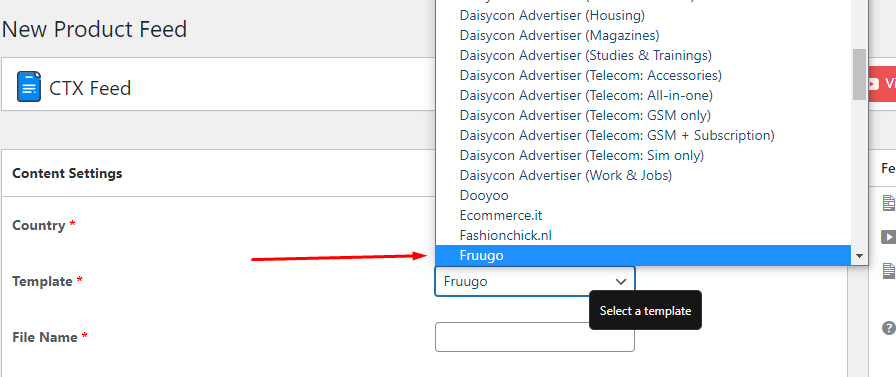 Before we check the attribute fields, first select your file format. As we have mentioned already, Fruugo supports XML and CSV. Select the one that suits you best.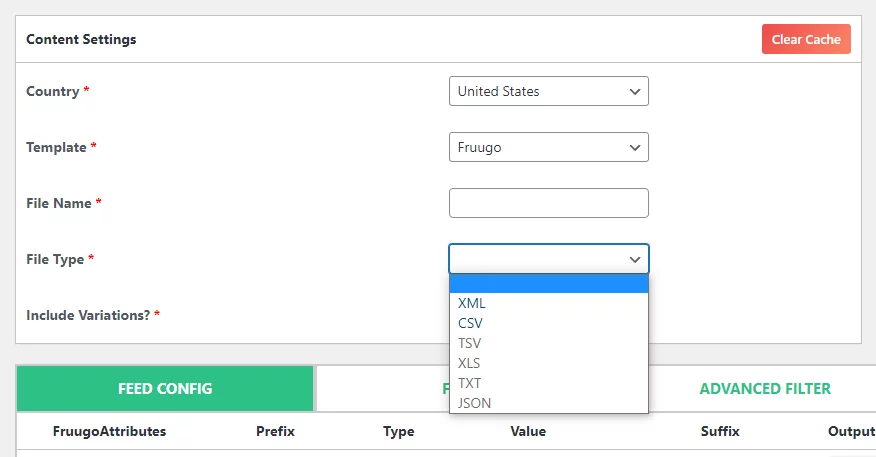 Give your Fruugo product feed file a name and select your variations. We highly recommend you name it as per the channel name. That way, you can quickly search and find the feed file from the feed list.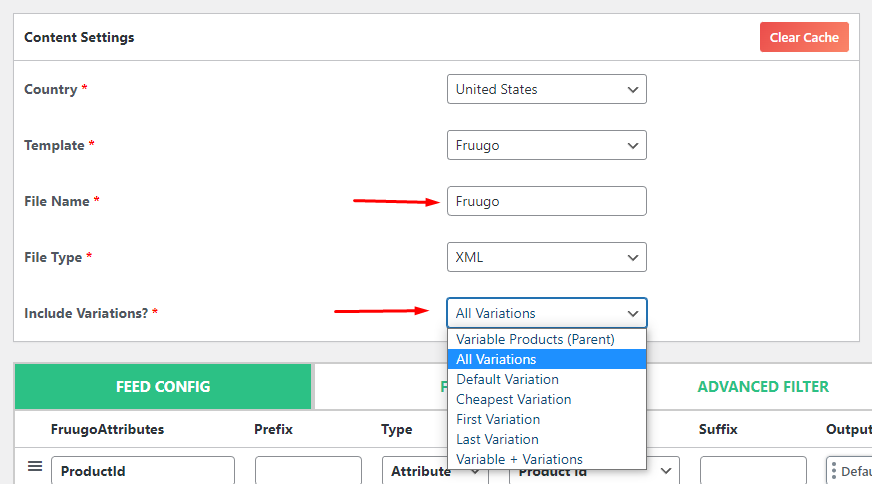 Let's check out the attributes CTX Feed automatically allocated for this feed as soon as we selected the Fruugo template.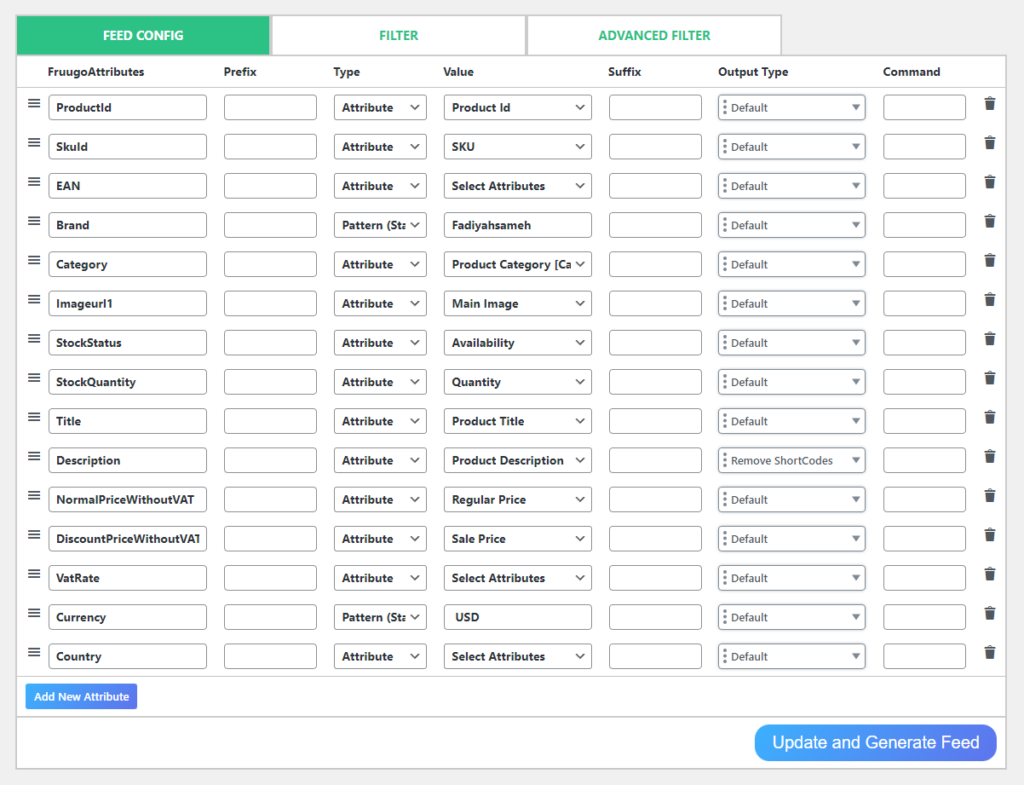 As you can see, all the Fruugo-recommended attributes we talked about earlier are present here. You can make changes if you need or also can add new attributes.
Otherwise, you don't need to change anything here. CTX feed will automatically collect all your product information and organize them in an XML/CSV file according to the attributes in this list once you hit the Update and Generate Feed button.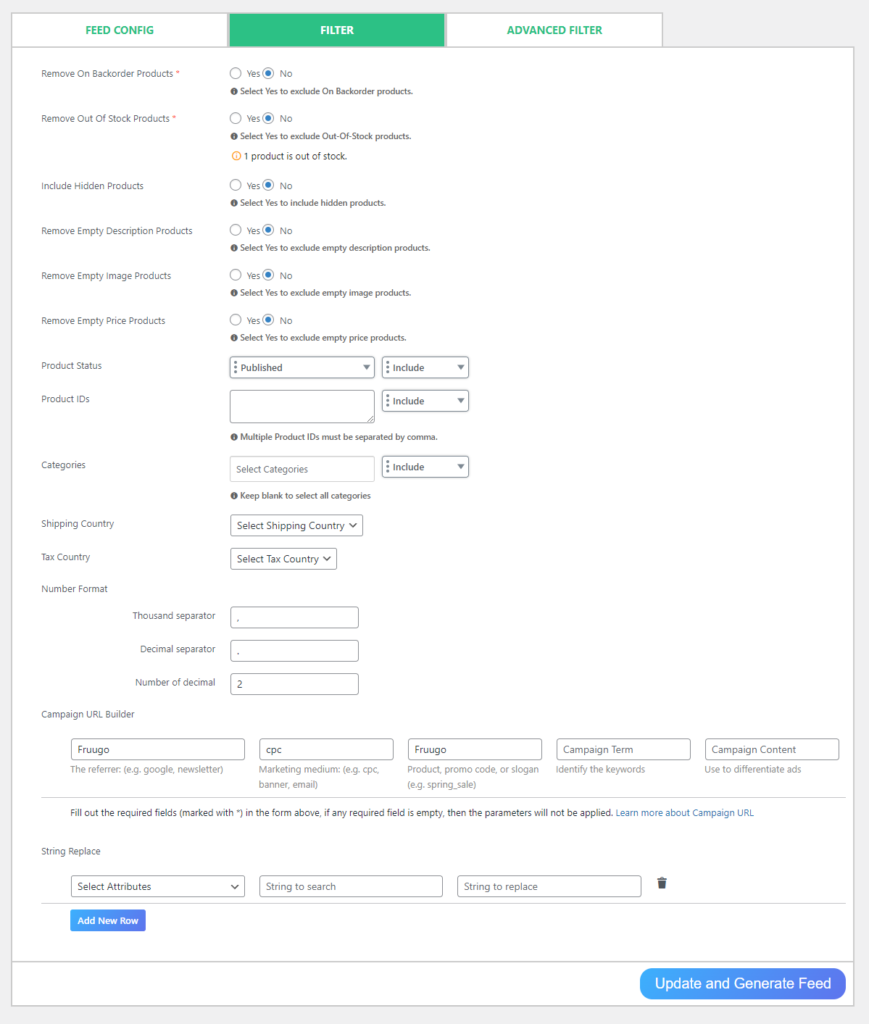 When you upgrade to the premium version of CTX Feed, you'll have access to additional filters, including the ability to hide products that are out of stock, have no descriptions, or are on backorder from the Fruugo product feed, etc.
Connecting the product feed to Fruugo
Go to Manage Feeds, and there you will see your new Fruugo WooCommerce product feed in the feed list.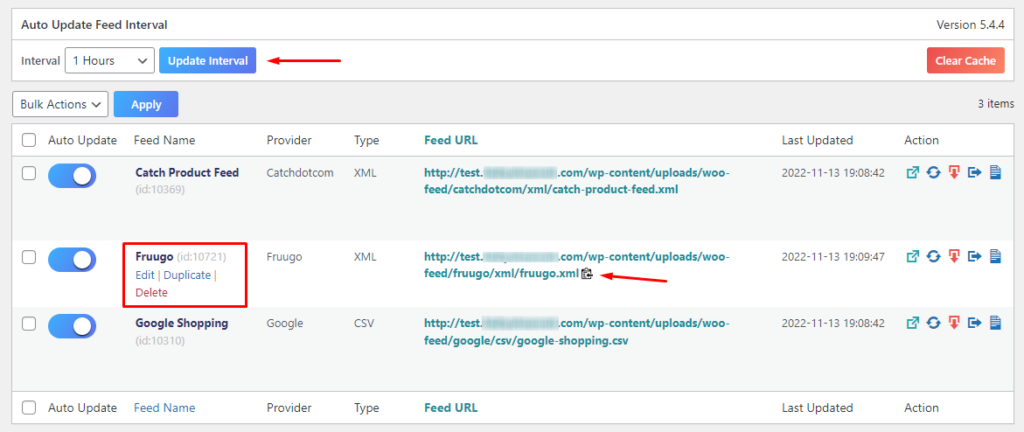 You can set the update interval from there. Also, when you hover over the feed, you will see several options, including edit, delete, download, regenerate, etc.
Hover your mouse over the URL, and you will see a small copy icon pops up. Click that icon to copy the URL.
Now login to your Fruugo seller's account and select the HTTP/HTTPS option for uploading Fruugo product feed. Once you find it, just paste the URL you copied in the dedicated box, and that's about it.
Fruugo will now fetch all the data from the Fruugo product feed file and list them in their marketplace.

Frequently Asked Questions (FAQs)
How to sell WooCommerce products on the Fruugo marketplace?

You can upload your WooCommerce products in the Fruugo marketplace through a Fruugo product feed. You can install a plugin such as the CTX Feed to automatically generate and update your WooCommerce products across multiple platforms such as Fruugo.
How to promote your product on the Fruugo marketplace?

If you already have a website in WooCommerce, then you won't need to create separate product details manually for Fruugo. You can promote and sell the same products in the Fruugo marketplace. All you need to do is, generate a Fruugo product feed and upload it to the Fruugo retailer account.
What are the required product attributes for Fruugo feed?

A Fruugo product feed must have the following attributes –

➜ Product ID (ProductId)
➜ SKU Id (SkuId)
➜ GTINs – EAN / UPC (EAN)
➜ Brand (Brand)
➜ Category (Category)
➜ Image URL 1 (Imageurl1)
➜ Stock Status (StockStatus)
➜ Product Title (Title)
➜ Description (Description)
➜ Normal Price (NormalPriceWithVAT or NormalPriceWithoutVAT)
➜ VAT Rate (VATRate)
Wrap up
Fruugo has already proven to be a significant factor in the rapid expansion of small and medium-sized online stores, so advertising your WooCommerce products there could be a game-changer for you and your company.
This platform allows you to expand your brand's reach into a plethora of new countries. Therefore, if you want to broaden your product's appeal and have sales success in countries you haven't tried before, you should not ignore this market.
And we have shown how easily you can generate a Fruugo product feed and list your products in this global marketplace. Let us know if you have any comments or suggestions on the topic.