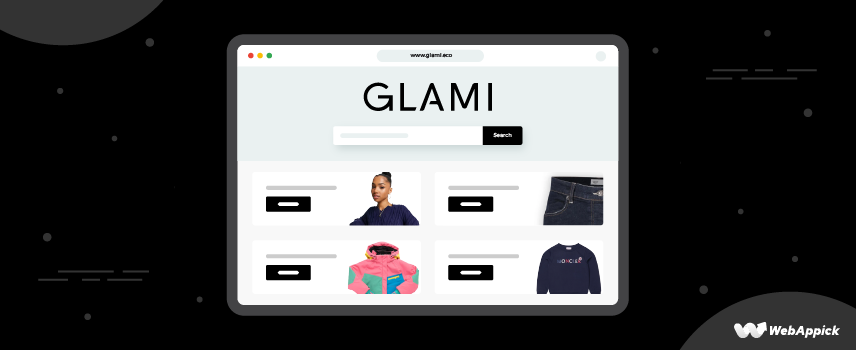 How to Generate Glami Product Feed to Sell WooCommerce Fashion Products
It is quite surprising that most start-ups and WooCommerce SMBs aren't aware that they can promote their WooCommerce products across multiple channels and reach millions of potential customers without investing a dime in ads.
Yes, you read it right. You can list your WooCommerce products in giant marketplaces like Amazon, eBay, Walmart, etc., in price comparison engines such as Google Shopping, Idealo, PriceSpy, etc., and also in social media platforms.
And you can do this right from your WooCommerce admin panel with the help of a product feed plugin such as the CTX Feed Pro. We will not cover all the channels in this article. However, we will show you how to connect any channel from your WooCommerce store.
Today, we will discuss the fashion product search engine Glami and show you how to generate a Glami product feed and display your WooCommerce products in the channel.
What is Glami?
Glami is a fashion search engine with a whopping 15 million products from different retailers in their catalog. Any eCommerce store owner can list their product on this website with the help of a Glami product feed.
Currently, Glami is active in 19 countries and has 3200 retailers who list their products in this shopping engine. The platform has an astounding 40 million monthly traffic and receives about 350 thousand orders every month.
Glami focuses on sustainable fashion items. From clothing to shoes to jewelry, you can list any fashion product on this platform.
How Glami works for customers?
Customers can search for their desired products using the search box. They can also browse through the categories to explore the website's offerings.
Once a customer searches for a product, for example, 'sneakers,' the site will return results that match the keyword. In this case, the site will display all available sneakers from different retailers.
When the customer clicks on any result, it will take them to the retailer's product page. WooCommerce store owners can also display multiple pictures of a product and descriptions in Glami.
Glami also has a built-in personalization system that helps customers find the right products by filtering based on past purchases, searches, and other user actions.
How to list your WooCommerce products in Glami?
Go to the registration link and click on Add Shop.
Register with your email.
Enter the following details-
Your store name
Your WooCommerce store URL
Your Glami XML feed file URL
Your personal details
Your product delivery price
The minimum price for free delivery
Note that you can enter the delivery price details in your Glami data feed file. We will learn how to generate Glami product feed later in the article.
On the next screen, upload your logo.
After that, you need to input your invoice details.
Finally, when you finish registering, Glami will review your product feed for Glami, and once approved, they will display your products in their search results.
Registering and listing your products in Glami is completely free of charge.
Additionally, you can choose to activate some other options, including paid promotional options. When you create a free account, they display your products at the bottom, and your products will have a lesser chance of getting noticed.
However, you can upgrade your account to display your products at the top of the search result. As a result, you will get more traffic and more chance of sales.
You can activate Priority mode or Bidding mode for better results.
Paid options
You'll get more visitors and sales with the Priority mode enabled on Glami. You need to add funds (Top up credit) to your account to activate it, and you'll start seeing improved results in your stats as soon as the next day.
By actively bidding in categories where you have succeeded, you can raise the rankings of your products, the total number of visitors, and the number of orders. If you raise the base price in a given category, the CPC of your products will rise, and they will appear higher in search results across the board, increasing their exposure to a wide audience.
Now, what is CPC?
CPC means cost per click. GLAMI's cost per click (CPC) varies with time and market conditions. This allows them to send large amounts of targeted visitors to the top-performing categories.
GLAMI has a variable cost per click. Seasonal shifts, market fluctuations, popular product types, and cost all factor into the final tally. Because of this adaptability, this platform can provide the highest quality traffic in the highest volumes for the right products.
The platform instituted tiered CPC pricing to accommodate products at various price points. The CPC will be lower for less expensive items and higher for more expensive ones. This leads to a flat COS across the board, regardless of price, by driving more customers to the best-selling products and fewer to the ones with the highest COS.
Now, let's talk about the key player, the product feed.
What is a product feed?
A product feed is a file that contains a structured list of products and their details, such as titles, descriptions, prices, and images. This file can be used to feed product information to a shopping engine, comparison shopping website, or other similar platforms.
Product feeds are commonly used in eCommerce to promote products and make them more discoverable to potential customers. The format of a product feed can vary, but it is often a CSV (comma-separated values) file or an XML (extensible markup language) file.
What is product feed marketing?
Product feed marketing is a type of digital marketing strategy that involves creating and sharing a feed of product information with online shopping platforms and other third-party websites.
The purpose of product feed marketing is to promote a business's products to a wide audience and to make it easier for shoppers to find and purchase those products online. It is often used in conjunction with search engine optimization (SEO) and paid advertising to help drive traffic and sales to a business's online store.
Benefits of a product feed
There are several benefits to using a product feed in your WooCommerce digital marketing strategy:
Increased visibility
A product feed can help your products get in front of a larger audience by making them available on shopping platforms and other third-party websites. You can reach millions of potential customers who are searching for the exact products you are selling.
Improved search ranking
Some shopping platforms use product feed information to rank products in search results, so having a well-organized and up-to-date feed can help improve your search ranking.
Enhanced product information
A product feed allows you to include detailed information about your products, which can help shoppers make more informed purchasing decisions.
Simplified product updates
Updating your product feed is typically easier than making updates going to every website/channel individually. As a result, it can save you time and resources.
Greater advertising opportunities
Some shopping platforms and third-party websites allow businesses to target their ads to specific audiences or use retargeting to show ads to users who have previously shown interest in their products. A product feed can help facilitate these advertising opportunities.
Cost-effective
Product feed marketing can be a cost-effective way to promote your products, especially when compared to other forms of advertising, such as pay-per-click (PPC) or social media advertising.
Time-efficient
Once you have set up your product feed, it can save you a lot of time and effort in promoting your products online. You can simply update the feed with any changes or new products, and they will be automatically reflected on the various shopping platforms and websites that use it.
Easy to track
Many shopping platforms and third-party websites provide detailed analytics and tracking tools, which can help you understand how your products are performing and where your sales are coming from. This can be particularly useful for identifying trends and making data-driven decisions about your marketing strategy.
Increased credibility
Being listed on reputable shopping platforms and websites can lend credibility to your business and make it easier for potential customers to trust you and feel confident in their purchase.
Improved customer experience
A product feed can make it easier for customers to find and purchase your products, leading to a better overall shopping experience. This can help increase customer loyalty and encourage repeat business.
Overall, a product feed can be a powerful tool for promoting your products and driving sales. It can help you reach a larger audience, improve your search ranking, provide detailed product information, and streamline your product updates. It can also be cost-effective, time-efficient, easy to track, and improve the customer experience.
Glami WooCommerce product feed
As you have already seen in the registration process, you need to provide a Glami feed URL in order to list your WooCommerce products on the platform. Different platforms or channels have their own attribute requirements for their product feed files.
Glami also has a set of requirements for the product feed file. But first, let's learn what attributes are in a product feed file.
What are attributes in a product feed file?
Attributes are characteristics or pieces of information about a product that are included in a product feed file. They help describe the product and provide detailed information about it to potential customers.
Examples of attributes that might be included in a product feed file include-
Product name: The name or title of the product.
Price: The cost of the product.
Product Description: A detailed description of the product, including its features, benefits, and any relevant details.
Product image: An image or photo of the product.
Availability: Whether the product is in stock or out of stock.
Brand: The brand or manufacturer of the product.
Model number: The product's model number, if applicable.
Category: The category or type of product (e.g., clothing, electronics, home goods).
Color: The color or colors of the product.
Size: The size or sizes available for the product.
Material: The materials used to make the product.
Weight: The weight of the product.
These are just a few examples of the types of attributes that might be included in a product feed file. The specific attributes included will depend on the platform or channel. Different channels have different attribute structures.
Glami feed specifications (Required attributes)
Many platforms, such as Google Shopping, support CSV product files. You can create a CSV product feed in Microsoft Excel or Google Sheets and upload it to the platform.
However, Glami only supports XML files. Therefore you need to generate a Glami feed in XML format.
Here's the basic format –
<?xml version="1.0" encoding="UTF-8"?>
<SHOP>
   <SHOPITEM> ---PRODUCT ATTRIBUTES AND DATA HERE---
</SHOPITEM>
   <SHOPITEM> ---PRODUCT ATTRIBUTES AND DATA HERE---  </SHOPITEM>
</SHOP>

You need to insert all the attributes and values of a product under the <SHOPITEM> tag. Here are the required attributes you must insert in your Glami product feed,
ITEM_ID
PRODUCTNAME
DESCRIPTION
PRICE_VAT
IMGURL
URL
ITEMGROUP_ID
MANUFACTURER
SIZE
DELIVERY_DATE
CATEGORYTEXT
Additionally, you can add unknown parameters, such as color, length, etc., with the help of the <PARAM> tag. Let's have a look at the known attributes first.
Glami feed elements
Attribute Name: ITEM ID
Description:
In your online store, this is the product's unique number or ID. This attribute's value in WooCommerce can be either the product ID or the stock-keeping unit (SKU).

GLAMI uses ITEM ID to identify products and maintain accurate inventory counts. Letters, numbers, slashes, backslashes, dashes, underscores, spaces, dots, and colons are all acceptable characters to use in the value (:).Varieties of a product, such as sizes and colors, require their own ITEM IDs.

GLAMI piXel – parameter ITEM ID requires the same value. If not, GLAMI piXel won't function as intended.
Example:
<ITEM_ID> SKU-5043 </ITEM_ID>
Attribute Name: ITEMGROUPID
Description:
To organize group products and their variations, you can use this ID (ex: sizes and colors). This will assist in giving better visibility to the different variants of your product.

Variants have their unique ITEM_ID and the same ITEMGROUP_ID.
Example:
<ITEMGROUP_ID> G-97 </ITEMGROUP_ID>
Attribute Name: PRODUCTNAME
Description:
This is the name of the item being sold. You are welcome to use the title of your WooCommerce product as its value. It's a good idea to specify the target demographic in the title, as well as the product's material, primary color, and any other distinguishing characteristics.

You can also use this information to better organize your store's inventory. You shouldn't add marketing jargon like "free shipping" or "discount" to the product's name.
Example:
<PRODUCTNAME> Men Winter Hoodies </PRODUCTNAME>
Attribute Name: URL
Description:
This component allows you to include a clickable link to your product. GLAMI relies on the URL to send customers directly to the appropriate product page on the online store's domain. Always double-check that clicking on a product's URL takes you to the right place.  

Ensure that the content of the landing page corresponds exactly with the product that is being sent to GLAMI.
Example:
URL> <![CDATA[https://yoursite.com/product/happy-ninja]]> </URL>
Attribute Name: URL_SIZE
Description:
Link directly to a specific size of a product with this element. Useful when multiple sizes are sold separately. This link is essential for GLAMI to send users the correct sizing information rather than just the main product page.

People looking for a pair of shoes in size 41, for instance, can simply click on the URL SIZE link to be taken directly to that specific size.
Example:
<URL_SIZE> http://www.yoursite.com/nike-supreme-2023/?size=39 </URL_SIZE>
Attribute Name: IMGURL
Description:
You must provide a product image for every product you list in your Glami product feed. And you can use this parameter to insert the link of the image.   Make sure you input the original product picture links. You must not include any graphics, enhancements, watermarks, or promotional texts of any kind.

In addition, the product should stand out against a white background; the image should contain no extraneous elements. The minimum width required for the image is 500px. If there is more than one version of a product, each image must be of the correct version. In the case of a t-shirt that comes in two colors (say, red and blue), each color option should have its own unique image.
Example:
<IMGURL> http://yoursite.com/ nike-supreme-2023.jpg </IMGURL>
Attribute Name: PRICE_VAT
Description:
Under this element, you can add the price of the product, including VAT. Glami will automatically detect the currency, so you don't need to specify that. Take care to avoid the use of commas and thousand separators. To indicate a fractional amount, you may use only a decimal point (.) or comma (,). 
Example:
<PRICE_VAT> 24.99 </PRICE_VAT>
Attribute Name: MANUFACTURER
Description:
If you are selling a brand product, you can mention this element. Only submit this attribute in the event that the product is part of a brand that is already present in Glami. Therefore, before adding this attribute, you should check to see if any of your products are included in Glami's brand list.
Example:
<MANUFACTURER> Nike </MANUFACTURER>
Attribute Name: CATEGORYTEXT
Description:
It is possible to guarantee that each product will be displayed in its proper category by sending the GLAMI category text. In order for GLAMI to function properly, this element must contain a great deal of information to help users quickly locate the sought-after product.

The GLAMI user will have a pleasant and convenient fashion search thanks to your shop's thorough categorization. Glami can still work with a feed that has inadequate categorization, but they can't promise that all of your products will end up in the right locations.

GLAMI may host your products, but unless you take the time to properly categorize them, it is unlikely that they will be visible to users who are looking for exactly what you offer.
Example:
<CATEGORYTEXT>
Glami.cz|Men's clothing and footwear|Men's clothing|Dress
</CATEGORYTEXT>
Attribute Name: SIZE
Description:
This component allows you to specify a range of sizes for a product. Maintain separate sizing for each product in the store. The ITEMGROUP ID should be used to categorize variants. Do not list out-of-stock sizes. Check to see that you are sending the appropriate sizes for each category.
Example:
<PARAM> <PARAM_NAME> size </PARAM_NAME> <VAL>39</VAL> </PARAM>
Attribute Name: DELIVERY_DATE
Description:
You will be able to inform users whether the product is available, has stock, or has run out of stock if you make use of this element.

If you already have the product in stock, you should enter 0 for the value. If this is not the case, state the number of days after which the product will be available for purchase. If your item is not currently in stock but will be in 3 days' time, indicate the value 3: <DELIVERY_DATE>3</DELIVERY_DATE>
Example:
<DELIVERY_DATE> 0 </DELIVERY_DATE>
How to generate Glami product feed using a plugin?
Things are not looking very bright for you if you are not familiar with XML, is it?
Even if you get hold of the format, it will still be a painful journey for you to generate Glami product feed in XML format manually. You need to collect all your WooCommerce product data and carefully insert the values under all the elements for each product.
That sounds like a tremendous amount of work, especially when you have a large number of products. A WooCommerce Glami feed generator plugin such as the CTX Feed can be your savior here.
Let's quickly review the plugin.
CTX Feed – WooCommerce product feed plugin
CTX Feed is a fantastic plugin that can open a whole new door of marketing opportunities. This WooCommerce plugin can generate product feed files for 100+ channels within minutes.
We have already discussed how different channels have different attribute requirements. Manually creating product feed files for every channel will be a daunting task. It will take ages for you to create and list your products in multiple channels.
Moreover, for any changes you make in your WooCommerce store, you will have to update the changes in every product feed file. That's not practical.
CTX Feed can make your product feed generation a breeze. This plugin already knows which platform or channel requires what attributes.
CTX Feed comes with built-in templates for all the channels. Each template includes the specific attributes that a particular channel asks for.
Therefore, you won't need to worry about anything. All you need to do is, select the template and generate the feed, all done within a minute, if not seconds.
Not only that, but when you upload a feed file using an HTTP/FTP/URL method, CTX Feed will update all the changes you make in your WooCommerce product pages across all your channels via those feed files.
The premium version of CTX Feed also lets you apply different filters in the feed file. So you can list specific products in the channels, not all of your products. This can come in mighty handy when running Google Shopping ads or Bing shopping ads.
Price
The free version is available in the WordPress repository. There are a few different payment options available for the CTX Feed pro.
Annual cost –
Single Site – $119.00
Five Site – $199.00
Ten Site – $229.00
A lifetime license for the professional version is also available for purchase. For a quote, however, you'll need to get in touch with the company.

How to create Glami product feed using CTX Feed
First things first, log in to your WordPress admin panel. After that, go to Plugins and find the plugin. Install and activate.
After you activate, CTX Feed will create a separate menu in the left panel of your WordPress admin.
Click on Make Feed, which will take you to the new product feed window.
From the Template dropdown, select Glami.
Give your file a name and select XML as the format. That's about it. You can now click on the Update and Generate Feed button, and you are done.
CTX Feed will collect all your WooCommerce product data and organize them under appropriate attributes and elements automatically. The plugin will take less than a minute to do all this (Depending on the number of products).
Finally, you will see your Glami product feed file in the feed list. As we have mentioned before, CTX Feed pro offers different filters for you to include only specific products.
Now jump to CTX Feed>> Manage Feeds. Here you will see your list of product feed files you created.
You can set the interval at which all your feed files will be updated. For example, if you set 1-hour interval, then all your feed files will fetch all the changes you make in your WooCommerce products every hour and update the feed file.
After that, all your channels will collect the updates from the feed files from the URL and update their listing. Thus, you can keep the same information across all your channels and avoid misinformation.
How to copy the URL?
Simply hover over the feed link, and a small copy icon will appear. Click to copy the Glami product feed.
Now you can paste it to the URL address of the XML feed section we saw earlier when registering the account on Glami.

Frequently Asked Questions (FAQs)
How to Sell WooCommerce Fashion products on Glami Marketplace?

You need to first generate Glami product feed file in order to list and promote your WooCommerce products on the Glami platform. You can quickly create the feed file from your WordPress back panel using a product feed plugin such as the CTX Feed.
Which countries are supported by Glami?

Glami is active in –

➤ Czechia
➤ Germany
➤ France
➤ Slovakia
➤ Romania
➤ Hungary
➤ Russia
➤ Greece
➤ Turkey
➤ Bulgaria
➤ Croatia
➤ Slovenia
➤ Spain
➤ Brazil
➤ ECO
➤ Estonia
➤ Lithuania
➤ Latvia
➤ Italy
Wrap up
Listing products in multiple channels allows you to reach millions of visitors without investing almost anything initially. People just don't come to these price comparison engines randomly. They come looking for specific products they are willing to buy.
Therefore, when you list your products in these channels, you are not driving random traffic, but you are getting potential customers who are looking for the products you are selling. This creates a high chance of conversion, sales, and overall revenue.
If you are in the fashion niche, then you can't ignore Glami. 19 countries and 40 million traffic are there for you to grab; all you need is a Glami product feed file.
We hope you already learned how to generate Glami product feed from this article. Let us know in the comments if you have any suggestions or questions on the topic.