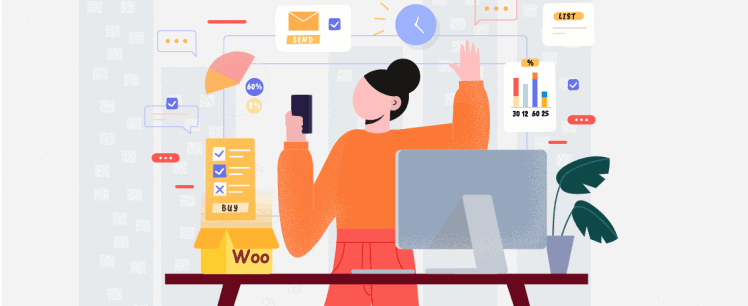 How To Optimize WooCommerce Store In 2023
How To Optimize Woo-Commerce Store In 2020? Be it an eCommerce site, speed is compulsory. The shopping experience instantly becomes better with a faster loading site. Better user experience then leads to enhanced SEO and ROI. To ensure that your shoppers have the best experience, you must employ a renowned eCommerce platform like WooCommerce. So to speed up your website reliably, you must move forward to WooCommerce optimize for getting hands-on high conversion rates. Grow your business safely & steadily with the assistance of a sound WooCommerce development company that will never let your website slow down.
Optimize Your Woocommerce Store For The Better
Settings optimization for performance:
When thinking about how to optimize WooCommerce speed, you must begin by changing the login page URL. Every WordPress website's URL is domain.com/wp-admin/ by default. This is quite easy for remembering, but it brings forward a challenge – even hackers & bots are familiar with it.
One of the best ways to WooCommerce optimize is by changing the login URL to an exclusive one that will safeguard your website from invasions. This task becomes super easy with plugins like Rename wp-login.php & WPS Hide Login.
In case your eCommerce website has a blog too, it is possible to restrict the figure of posts on the blog feed. While operating a high traffic blog, engaging in performance savings offers a lot of benefits. This option is accessible under
WordPress Dashboard –> Settings –> Reading
The next thing to do is disabling the pingbacks on the website. These are responsible for generating useless spam. It will be better if the website generates fewer queries.
Getting hands-on a rapid WooCommerce theme:
The number of mobile-optimized WooCommerce themes that you will find on the web is numerous. Picking the correct one as per your need can be a challenge. A stunning theme with fantastic built-in attributes can appear to be amazing on paper but there are chances of it getting flopped in real usage. The theme that you choose to WooCommerce optimize in the best way possible must be completely well-suited with WooCommerce.
You can choose from themes like Astra, Shoptimizer, Storefront, Divi, etc. These WP themes are lightweight and ultra-fast. You will be able to craft any website of your preference by pairing these themes with page builders like Beaver Builder or Elementor. These themes are designed entirely for operating eCommerce websites, so you will never need to fix third-party plugins to attain the features you seek.
WooCommerce extensions and plugins:
There are more than 54000 plugins in WordPress. There are even more premium plugins available which is why getting lost amidst the crowd is easy. Several popular plugins do not function well in specific hosting environments, especially security and performance-related ones.
To guarantee optimum WooCommerce SEO optimization, it is paramount to utilize plugins and extensions. Make sure the plugins that you choose are built with the finest coding practices. You need to be smart while choosing the WooCommerce extensions and plugins to avoid conflicts between various plugins.
Enhance WP memory limit:
WordPress apportions 32 MB memory for the scripting language called PHP & it is by default. WP will automatically enhance the limit to 64 MB or 40 MB if it runs into crunches of any kind. Such memory limits are never adequate for WooCommerce websites. The dashboard might show you error messages. To optimize WooCommerce speed, the limit must be enhanced to 256 MB. Prior to editing it, file backing up is compulsory. You can then simply restore the edited file with that of the original one if anything goes wrong.
Disabling cart fragments:
You can easily carry on WooCommerce speed optimization as you disable the cart fragments, styles, & scripts of WooCommerce. It is recommended to utilize the Perfmatters plugin for this purpose. With this, you will be able to disable the unused widgets and make the admin load speedily. Other features include disabling WooCommerce scripts on a post or page, restricting autosaves, disabling WooCommerce status meta box, limiting post revisions, limiting heartbeat control, etc.
WooCommerce, by default, employs cart fragments that are actually utilized for updating shopping carts, and for this, you do not even need to refresh the page. However, this is not required for the homepage & you can disable it for enhanced performance. If this is not done, cart fragments can load on all single pages.
Employ an enhanced cache plugin:
In context to cache plugins, you must take three things into account.
If you are actually utilizing a cache plugin
You are using which plugin
Whether the optimal settings is configured or not
WP Rocket, WP Fastest Cache and Swift Performance are some plugins that you can use. By doing this it is possible for WooCommerce to optimize to a large extent.
Compressing images:
You can move forward with WooCommerce image compression with plugins like ShortPixel. Some other plugins that you can opt for are Smush and Imagify. The features of these plugins include compressing images, resizing large images, striping EXIF data, etc. On configuring the settings, you can compress some images that are in the Media section. If you feel that the quality is good, you can compress each and every image on your website.
Cleaning WooCommerce database:
The best way to make WooCommerce mobile responsive and enhance WooCommerce conversion optimization is by scheduling a database cleanup on an interval of 1 to 2 weeks. With this, you can eradicate garbage files such as expired transients, pingbacks, drafts, spam comments, etc. For this, you can utilize plugins like WP Rocket or WP-Optimize.
Final Words
Starting from revenue, ROI, user experience, and SEO, there is nothing that cannot boost with a speedy WooCommerce store. But for this, you need to WooCommerce optimize in the best manner for achieving the desired results. Going through this content's optimization tips will help you discover the bottlenecks that remain in your website. No user would like to wait for a website to load. So let's pace up WooCommerce with professional help from WooCommerce Development Company. Hire a WooCommerce developer carrying first-rate know-how and expertise from us today. Contact us today.