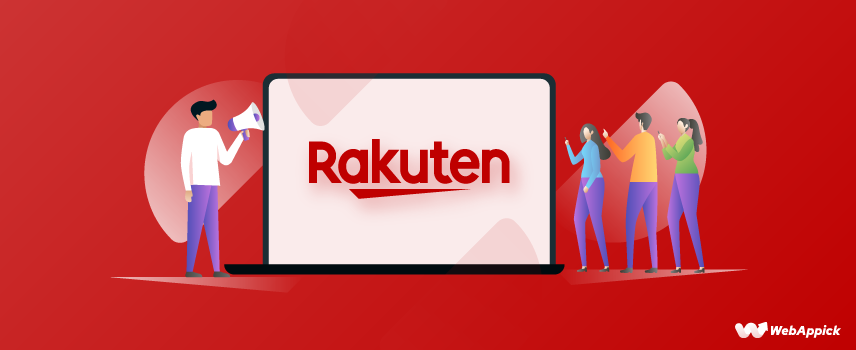 How to Generate an Optimized Rakuten Product Feed for Marketing
Ever wonder what Rakuten is on the FC Barcelona jersey?
Well, this is the "Amazon of Japan"!
You heard it right! Rakuten is the largest Japanese eCommerce marketplace and 4th in the international market (as of April 2022).
But, it doesn't operate business only in Japan. Right now, Rakuten is available in 29 countries and regions with 6 subsidiaries. The Rakuten Group is now serving about 1.6 billion members across the world.
Rakuten has already spanned its business on 70+ platforms. It includes the eCommerce industry, communications, digital content, FinTech, etc. So, this is undoubtedly a great platform to promote your products worldwide.
In this article, we are gonna cover the best method of creating a product feed for Rakuten and promoting it via Rakuten.
Why Choose Rakuten Marketing aka Rakuten Advertising?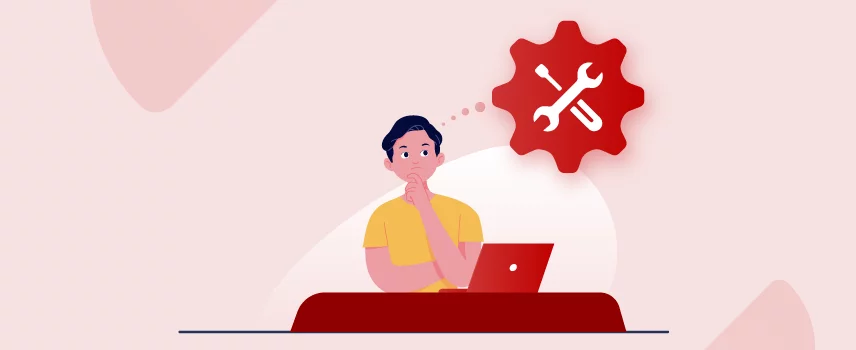 You might already know that Rakuten was founded in Japan by Hiroshi Mikitani in 1997. It is currently competing with Amazon Japan to dominate Japan's eCommerce industry. Check the comparison table below to get a better understanding of the current situation.
| Facts | Amazon Japan | Rakuten Ichiba |
| --- | --- | --- |
| Started business on Japan | 2000 | 1997 |
| Websites rank on Japan* | 6 | 7 |
| Revenue in the fiscal year 2020 | 2.18 trillion Japanese yen | 1.46 trillion Japanese yen |
| Active Users in April 2020 | 52.5 million | 51.4 million |
| Earning in 2020 | €25.8 billion | €29.6 billion |
| Business model | Product centric | Store centric |
* As of April 2022
What a neck and neck competition, right?
However, much like Amazon, Rakuten also became a global marketplace and is currently operating in 29 regions with a 1.2 billion customer base. Besides the huge customer base, there are several reasons for choosing Rakuten Advertising to promote your products. Here are some of those –
Rakuten provides the best omnichannel marketing experience.
A dedicated E-Commerce Consultant (ECC) is assigned to every registered shop.
Lots of coupon codes are available that attract customers.
It offers a certain percentage of cash back for each purchase.
You can increase ROI on resale purchases.
It offers better customer service.
Because of its huge market coverage and benefits, Rakuten Advertising has become a great platform to promote your products online.
What You Need to Create Rakuten Product Feed Easily?
In order to promote your products on Rakuten Advertising Social, Display, and Search channels, you have to submit a product feed on Rakuten. And, if you own a WooCommerce store, you can use CTX Feed to generate the product feed.
Why CTX Feed?
CTX Feed is the best plugin to generate an optimized and error-free product feed for WooCommerce. It allows you to generate unlimited product feeds, including all of the product variations.
Even after generating the feed, CTX Feed can also automatically update that feed after a fixed time interval. Most importantly, the pre-built CTX Feed template is 100% compatible with Rakuten.
So overall, CTX Feed will be a great choice in order to generate your product feed for Rakuten Ichiba.
Supported File Format for Rakuten Product Feed
Rakuten supports several product feed types. These are –
You can use CTX Feed to create a product feed for Rakuten in both CSV and TXT format. However, we will use the CSV format to generate product feeds for Rakuten.
5 Simple Steps of Generating Product Feed for Rakuten
In this section, we will show you the process of generating product feed for Rakuten marketplace. But, let's take a look at those steps at a glance –
Install CTX Feed
Generate a new feed
Use the Rakuten feed template
Add new attributes
Generate the feed
That's it! Now you can create a product feed for Rakuten only by following these steps. Let's discuss these steps in detail below.
1. Install CTX Feed Product Feed Generator
You might already become familiar with the CTX Feed plugin. In case you don't know yet, it's a feed generator plugin that is used to generate product feeds for WooCommerce websites.
To install this feed plugin, you have to log in to the WordPress admin panel first. Then proceed to Plugins > Add New and search for CTX Feed on the plugin store search bar.
Just like the regular plugin installation process, install and activate it afterward. You will notice a new CTX Feed option on the left side panel of the WordPress dashboard if you install the plugin properly.
2. Generate a New Product Feed
After the successful installation, now it's time to create the Rakuten product feed. You can do it by using the Make Feed option from the CTX Feed option.
However, you can access it by clicking on the CTX Feed option from the left sidebar. From there, click on the New Feed button.

By the way, you can also access the Make Feed option by hovering on the CTX Feed option on the sidebar.
3. Use the Rakuten Product Feed
In this step, we will use the Rakuten product feed template of CTX Feed to generate the feed. On the New WooCommerce Product Feed page, you have to provide some basic information in the Content Settings section. These are –
Select your Country name
Choose Rakuten Template
Provide a File Name
Choose the File Type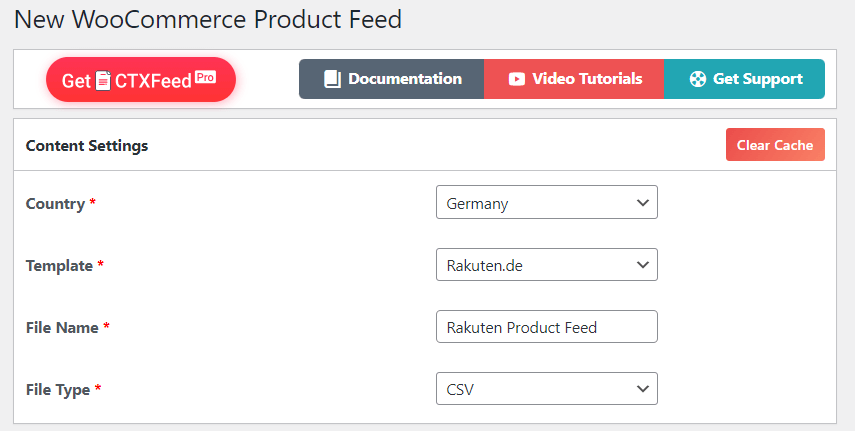 At first, choose your country name from the drop-down menu. The shipping tax will be calculated based on this country.
Then choose the Rakuten template from the Template option. The prebuilt template will be automatically loaded just after you choose the template.
After choosing the template, it's the naming time. Provide a valid file name for your feed. Remember, this file name should be unique and relevant to your feed. For example, we are now generating a feed for Rakuten, right?
So, we set the name as "Rakuten Product Feed" here. But, you can't repeat the same name multiple times. As we have already mentioned, the name should be unique. Otherwise, it will override the previous file with the same name.
And lastly, it's time to choose the File Type of your product feed. Though CTX Feed will select the appropriate feed file type automatically. But, you can also change it if needed.
4. Add Some New Attributes
As we have already mentioned before, CTX Feed will automatically load the template. But, you can customize that template if needed. Here's the default template for Rakuten on CTX Feed –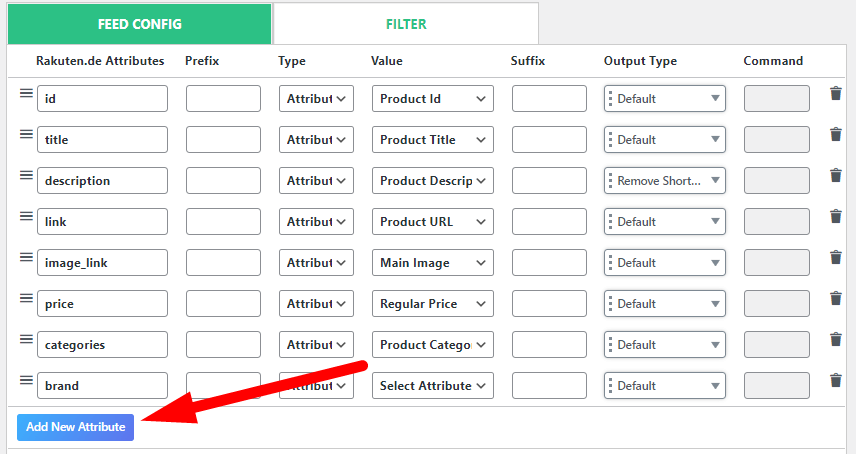 You can add or remove attributes from here. Simply click on the Add New Attribute button, and it will add a new row. Then, set the attribute name and value of this attribute.
For example, you may add MPN, GTIN, age group, availability, etc on the attribute list. We have explained the required attributes in the following section. Check that out to get a clear concept about the required attributes of Rakuten for your product feed.
5. Generating the Feed
It's the last part of generating the product feed to submit on Rakuten Ichiba. If everything seems okay there, it's time to generate your product feed. You may already notice that Update and Generate Feed button, right?

Click on that button, and your product feed will be generated within seconds. By the way, the feed generation time mainly depends on the amount of product.
If you have thousands of products on your WooCommerce store, generating feeds may take some time. But, that will be a couple of minutes only (max)!
Bonus Tips: Updating the feed
You know, CTX Feed will include every product data on the generated feed. But, what will happen when you add more products to your WooCommerce store?
Well, you can keep the feed updated by using the Auto Update Feed Interval section. Both the free and premium version of CTX Feed offers several automatic feed intervals.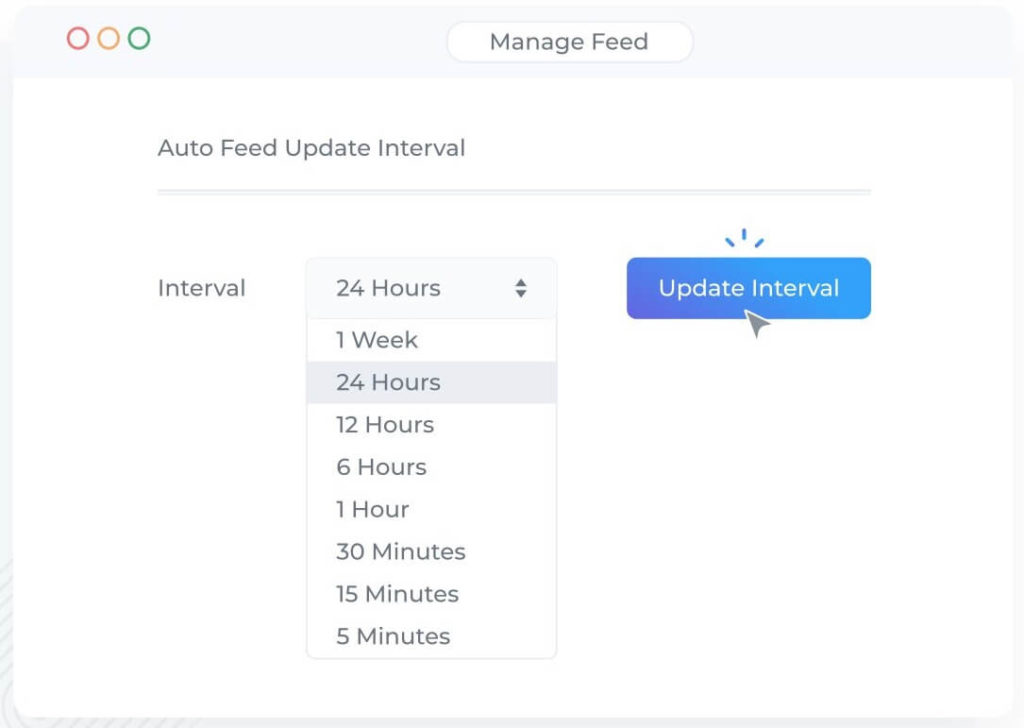 The free version offers 5 update intervals, and the premium version offers 8 different intervals to update your product feed. But, you can also regenerate the product feed manually anytime you need. So, choose whichever suits you the best.
Required Product Attributes for Rakuten Product Feed
Though Rakuten supports the Google Product Feed, it's a good practice to generate a unique product feed for Rakuten with appropriate attributes. In this section, we will show you both the required and optional attributes for Rakuten product feed.
Required Attributes for the Rakuten Feeds
These are the mandatory attributes that you must include on a Rakuten product feed. Rakuten has categorized these attributes as Required Search, aka RSEM.
| Attribute Name | Definition | Example |
| --- | --- | --- |
| id | WooCommerce product SKU or id is the unique identifier of the products. | 136 |
| title | It's the name of your store's product and the name shouldn't exceed 70 characters. | OnePlus 9R 5G (8/256gb) |
| description | It contains detailed information about the product. | OnePlus 9R 5G is powered by a Qualcomm Snapdragon 870 Octa-core processor with Adreno 650 MP11 GPU with 8gb of ram and 256gb of storage. |
| brand | It indicates the manufacturer name of a particular product. | OnePlus |
| google_product_category | It is the preset product category based on the Google product taxonomy. | Electronics > Communications > Telephony > Mobile Phones |
| link | This is the direct product URL | https://webappick.com/plugin/woocommerce-product-feed-pro |
| price | This is the actual price of a product with currency. | 599.00 EUR |
| availability | It indicates the stock status of a product. Available attributes are – backorder, preorder, out of stock, and in stock. | Out of stock |
| mpn | Manufacturer Part Number is a unique number used to identify the products within a single manufacturer. | GO1254OGLE |
| gtin | The Global Trade Item Number or GTIN is a unique number to identify products globally. | 123454677890 |
| condition | It describes the condition of your product. The available values are Used, Refurbished, New, etc. | Used |
| tax | It is recommended to set up taxes from the Google merchant center | 2.99 EUR |
| shipping | Used to set the product shipping cost on Google Merchant Center account | 1.99 EUR |
| age group | Submit a definitive age group for whom the product seems to be a perfect fit. The accepted values are Kids, Adult, etc. | Kids |
| item_group_id | It's the identifier for all variants of a single product. This value is used to locate not only the parent product but also the variants. | 5274009 |
| Image_link | It contains a URL which is linked to an image of the product.The image should be 600x600pm (picometers) in size. | https://webappick.com/wp-content/uploads/2016/10/ctx-feed-banner.svg |
| gender | Gender attribute is used to explain the target gender of a particular product. The available values are Male, Female, Unisex, etc. | Male |
Recommended or Optional Feed Attributes
The following attributes are either optional or required under certain conditions.
Attribute Name
Definition
Recommended/ Optional
Example
image_link_x
It's used to add multiple product image links. Replace the 'X' with the number before posting.
Optional
https://webappick.com/wp-content/themes/webappick/assets/img/ctx-feed/features/thumbnail/variations.svg
additional image link
This attribute is used to include product photos from multiple angles. It supports up to 10 additional images per product.
Required for Publisher or Social;Recommended for search results
https://webappick.com/wp-content/themes/webappick/assets/img/ctx-feed/features/thumbnail/dynamic-attributes.svg

https://webappick.com/wp-content/themes/webappick/assets/img/ctx-feed/features/thumbnail/advanced-filter.svg
sale_price
It indicates the price of a product after a certain amount of discount.
Optional;
Required only if the sale price and regular price is different
10 EUR
sale price effective date
It presents the validity date of the sale price.
Recommended
2023-01-05T20:07:51​+0100
color
This attribute is used to present the color of a product.
Recommended for non-apparel;
Required for all apparel
Purple
size
This attribute indicates the size of your products. It's mandatory for the Apparel category.
Recommended for non-apparel;
Required for all apparel
XL
product type
Use this product_type attribute to add your customized product category to the product feed.
Strongly Recommended
Home > Men > Shirt > Casual shirt
material
It indicates the fabric types or material of the product.
Recommended for the apparel items with material choice
Denim
pattern
It is used to describe the design patterns of a product.
Recommended for the variant apparel products with different patterns
Striped
shipping weight
The shipping weight will be applicable if you calculate the shipping cost based on the shipping weight
Required only if you set up shipping cost based on weight
5.7 lbs
adult
It is used to indicate those products which are only for adult use. Supported attributes are yes and no.
Optional
No
multipack
This attribute is used if the seller wants to sell multiple products within a single package.
Optional
2
So, these are the required and optional attributes of the Rakuten product feed. While uploading the product feed on Rakuten Ichiba, make sure that your product feed contains all of the required attributes.
How to Open A Shop on Rakuten Ichiba?
Rakuten is an international marketplace. It's undoubtedly a suitable place for every sole trader to big enterprises to sell their products. Besides Japan, Rakuten now allows 10 more countries to create a Direct Shop Plan. These countries are –
If you are from any of these countries above, you can start selling on Rakuten just after opening a shop. However, opening a new shop on Rakuten isn't rocket science. But first, let's talk about the requirements.
Requirements for Opening a Rakuten Shop
Here's the list of things you will need to prepare before opening a shop in Rakuten –
If you have everything on hand, it means you are ready to open a store on Rakuten. So, why are you waiting?
Let's open a Rakuten shop.
Step #1: Company Registration
The very first step is registering your shop on Rakuten. You will need nothing but the basic information to register your company in Rakuten Group, Inc.
You have to visit the Rakuten shop creation page in order to register your company. On this page, you have to provide the following information –
Your full name
Business type
Contact information
Country name
Company website
Product category etc.
After submitting the form, Rakuten authorities will take a few days to verify your business information manually. If you pass this screening stage, then you can create your store on Rakuten Marketplace.
Step #2: Setting up the Store
After the initial screening, you will get access to the Rakuten Merchant Server aka RMS. This merchant server will store your business data like sales information, traffic, total order management, customer management, demographics, etc.
Then, it's time to upload your company's information, register products, and set up shipping & return policies. This is the end of sharing your business information on Rakuten.
Once it's done, Rakuten will now assign a "Shop Open Adviser" to you. The advisor will help you to open your shop on the Rakuten marketplace. So, complete the storefront design and seek support from the Rakuten advisor if needed.
Step #3: Opening the Shop
This is the last step of opening a live shop on Rakuten. After creating the storefront, now it's time to make the store live.
Rakuten will assign another E-Commerce Consultant (ECC) to assist you in customizing the store. He/she will help you to maximize the store's performance as well as drive more sales.
So, that's all about opening an online store on Rakuten. After that, you will just need to upload the products via generating a product feed by CTX feed and start generating revenue.
Frequently Asked Questions (FAQ):
1. What is Rakuten Marketing?

The Rakuten Advertising service is formerly known as Rakuten Marketing. It was renamed in 2020. This is the affiliate network section of Rakuten Group, Inc. Its mission is to make the internet a better place for every publisher, advertiser, and consumer. 
2. Is it free to sell on Rakuten?

No!

Rakuten will charge 60,000 JPY for registering your shop and charge a little amount of listing fee for each sale on their marketplace. Check the Rakuten costs and fees section to know more about the costs.
3. What are the types of required attributes for Rakuten?

Rakuten has four different types of attributes for its product feed. These are –

➜ RSEM – Required Search
➜ OD – Optional Display
➜ RS – Required Social
➜ RD – Required Display

Choose the attributes based on your product category.
4. How to upload product feed to Rakuten?

It's pretty easy to upload product feeds on Rakuten. Once you register your shop on Rakuten, set up the storefront, and start uploading your product. On the product section, you will get the feed uploading section. 

However, you may seek help from the assigned E-Commerce Consultant (ECC) if needed. This consultant is automatically assigned by Rakuten, and his/her primary duty is to assist you in growing your business. 
Final Words
Rakuten Ichiba is a rapidly growing eCommerce platform. Right now, Rakuten has over 70+ businesses and serves 1.6 billion people around the world.
So if you want to deliver your product on such a huge marketplace, it's high time to open a store on Rakuten and upload products via the CTX Feed product feed generator.
Start generating your revenue!