How Can CTX Feed Increase Your Revenue and Get You Ahead of the Competition?
Are you looking for a way to increase traffic to your website, improve your search engine rankings, and, most importantly, sell more to boost your revenue?
If so, you might be interested in learning about the CTX Feed Pro. This powerful WooCommerce Feed Manager plugin can help businesses of all types and sizes to achieve their marketing goals and grow their online presence.
With the increasing competition in the digital world, it's becoming harder for businesses to stand out and attract the attention of potential customers.
That's why it's essential to have the right plugins to help you reach your target audience and drive traffic to your website. One such plugin is the CTX Feed Pro.

With its easy-to-use interface and powerful features, the plugin has become a go-to solution for many businesses looking to grow the online presence of their business on multiple platforms.
CTX Feed Pro Plugin is a powerful product feed generation plugin for WooCommerce that can help you increase your visibility online, promote your products to multiple marketing channels and price comparison platforms, improve your search engine rankings, and ultimately drive more sales.
Whether you're an e-commerce business or an affiliate marketer looking to increase your reach, the CTX Feed Pro plugin can provide the means you need to succeed.
So let's dive in and explore everything this plugin has to offer and how it can help your business grow and thrive in the digital age
What is a CTX Feed?
CTX Feed is a full-fledged product feed generator plugin. It can generate the most accurate and optimized product feeds for 130+ merchant platforms.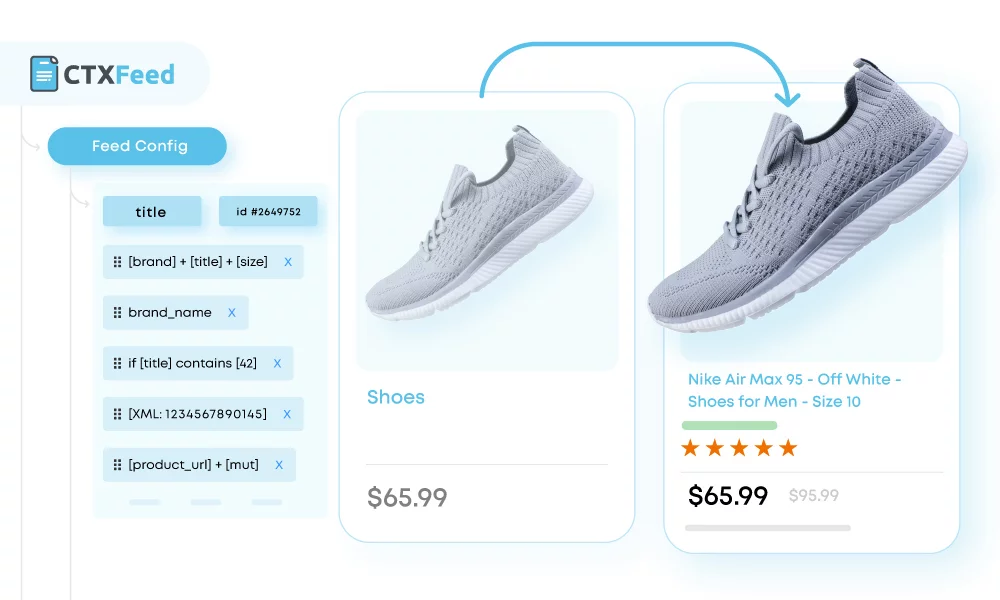 This plugin allows you to add a product feed for Woocommerce to platforms like Facebook, eBay, and most other major platforms. It also ensures that the experience is easy enough so that anyone can create a feed. Thus, it's perfect for beginners.
What is CTX Feed Pro
CTX Feed Pro is the premium version of the CTX Feed plugin. While the free version of CTX Feed is available on WordPress.org, you can download the CTX Feed Pro version from the official website webappick.com.
In simple words, CTX Feed Pro is a product feed generator plugin made for WooCommerce store owners. It works on any WordPress website that sells products and services using WooCommerce.
CTX Feed has received 430+ 5-star reviews from its customers around the globe. It was downloaded millions of times to generate a product feed for multiple channels from the WooCommerce store.
If you have a WooCommerce store and you want to sell your products to multiple marketing channels such as Facebook, Google, eBay, Amazon, TikTok, Rakuten, and more, you can use CTX Feed pro to generate hassle-less product feeds as per the requirement of each channel.
Top Features of CTX Feed Pro Plugin
Being the best product feed manager plugin, CTX Feed comes with lots of notable features.
| | |
| --- | --- |
| Generating Unlimited Product Feed | Multi-vendor support |
| Schedule auto feed update | Multi-currency feed generation |
| Product Attributes | Attribute mapping |
| Reduce ads cost | Dynamic attribute |
| Upload feed via FTP | Multilingual feed support |
| Conditional or dynamic pricing | SEO plugin compatibility |
| Variations & custom attribute value | Updating shipping and tax information |
| Product meta and taxonomies | Built-In cache support |
| Category mapping | Tracking with Facebook Pixel |
| Pre-configured templates | Tracking feeds with UTM links |
Benefits of Using CTX Feed Pro Plugin
There are multiple benefits of using the CTX Feed Pro plugin. Apart from its mind-blowing features that let you generate impeccable product feed, CTX Feed Pro can also help you save valuable time.
By the way, let us discuss the benefits of CTX Feed Pro in a bit more detail below.
Create unlimited feeds: CTX Feed Pro will let you generate unlimited feeds for any marketing channels out there. There is no limit on the number of feeds or even products you can add to your product feeds.
Go worldwide: As CTX Feed is capable of generating a multilingual product feed, you don't have to sell your products just on your own territory. You can go beyond your country and sell your products to global customers. It will, at the end of the day, increase traffic to your website and thus will bring more profit for your business.

Increase product selling: When you promote your products to different marketing channels along with selling them on WooCommerce, you open the door to selling more products and thus grow more revenue.
Increase traffic to your website: By showing your product ads on many platforms after exporting them via CTX Feed Pro, you get more traffic to your website, and this means that there is more probability of getting more units sold.
Better search engine rankings: Search engine ranking depends on a variety of factors that also include increased traffic to your website. So, more traffic will help you get more visibility in the search engines as your website will rank higher than that of your competitors.
Save time and money: Generating product feeds with CTX Feed Pro saves you time and money.
How?
Well, without using a product generator plugin like CTX Feed, you have to draft all the product-related information on an Excel sheet or text editor, which is time-killing, especially if you have hundreds of products. It will also cost you a lot of money as you have to employ manpower to get the task done.
CTX Feed Pro, however, will let you generate a product feed faster and without wasting valuable resources.
How Does CTX Feed Pro Plugin Work?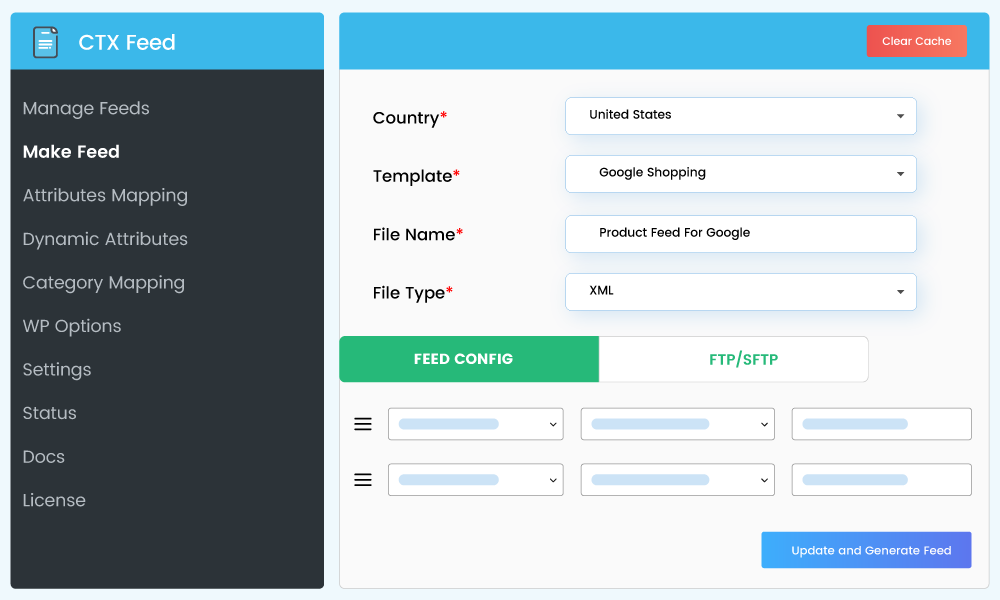 CTX Feed Pro is one of the easiest plugins for product feed generation. Its interface is pretty straightforward and simple.
Just after the installation of the plugin, you can start making a feed by going to the "Make Feed" page.
You'll get tabs for filters and advanced filters while making the feed.
On the other hand, you can leverage the Attribute Mapping, Dynamic Attribute, and Category Mapping options from the CTX Feed Pro menu.
Once you complete making a feed, you can easily manage the feed from the "Manage feed" page. From here you can regenerate, view, download, and delete any feed.
Different Unique Features of CTX Feed Pro
CTX Feed Pro is packed with unique features. It has surpassed the CTX Feed free version in a variety of ways. Let us show you some key features of CTX Feed Pro that you can leverage for generating effective product feeds for multiple marketplaces.
Category Mapping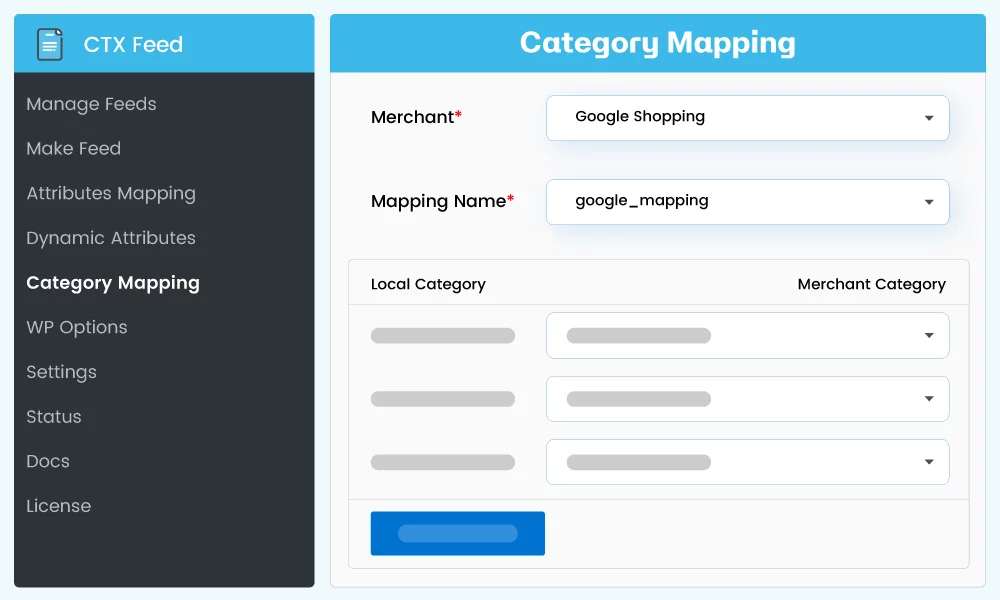 To get your products featured or displayed in the search results, it's truly important to categorize your products into the right section.
When you're uploading your products to multiple shopping engines, it's important to make sure that you assign the most relevant or matching shopping platform's category to your WooCommerce store category for every product. And CTX Feed Pro is there to help you with this.
When you generate your product feed on WooCommerce, you can choose to create a category for that particular product with CTX Feed Pro's category mapping feature.
Once you're done creating the category, you'll be able to map the created category with the shopping platform's category. It is required so that both the categories of the product and the marketplace align together.
For your information, category mapping is widely used for Facebook Product Feeds, Instagram product feeds, and Google Shopping feeds. It's quite a dynamic process if you leverage CTX Feed Pro to do this.
CTX Feed will help you map all the categories of your products to make sure your product remains relevant and becomes visible to the prospective buyers searching for the products on search engines.
When you assign categories to your inventory properly, your customers will be able to find your products easily.
Another important thing to remember is that it's possible that your assigned Google product category might not match the categories of your desired marketing channels. In that case, it's essential to use the CTX Feed Pro so that you can match the individual product categories with the categories of the marketing channels.
Filters and Advanced Filters to Set Conditions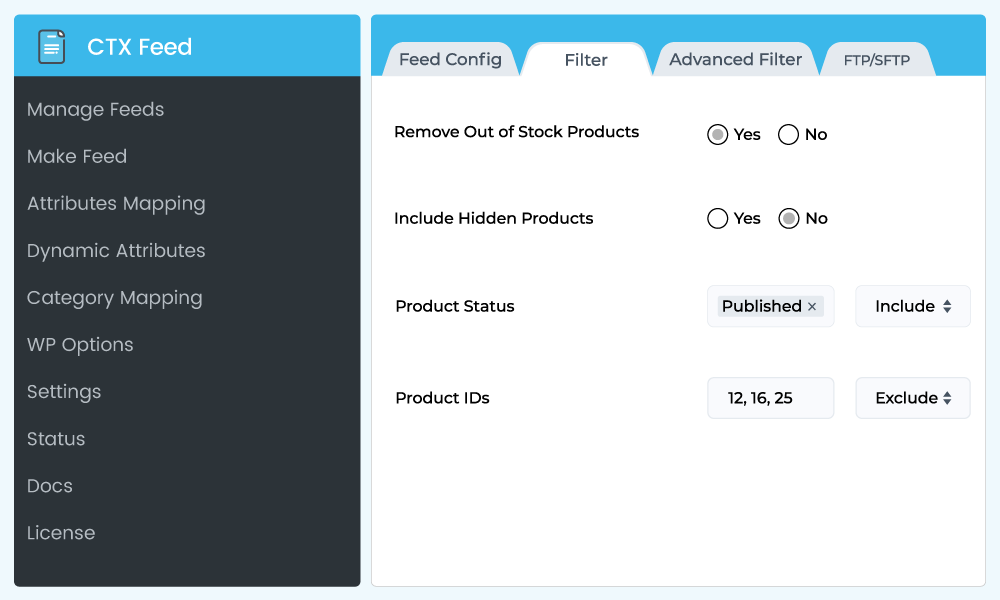 CTX Feed Pro comes with two prominent features: Filters and advanced filters. With the help of filters, you can easily include or exclude any of your WooCommerce products from your product feed.
Using this feature, you can add or remove out-of-stock products, empty description products, empty image products, backorder products, etc., on your WooCommerce product feed.
You can also use the filter options to exclude any category of products or any products that are not profitable for you to sell to your targeted marketplace for which you're making the product feed in the first place.
On top of that, by leveraging the advanced filters of CTX Feed Pro, you will be able to employ certain conditions on your WooCommerce products by attributes such as price, weight, height, description, availability, and more.
Depending on the conditions you set, the product feed will either include or exclude products from the product feed generated with CTX Feed Pro.
To summarize, Fiters and Advanced Filters features will enable you to:
Make feed with specific IDs
Include/exclude items based on different product status
Remove items having no images and descriptions –Video Tutorial
Enjoy endless filter opportunities with any attribute
Use conditional filtering
Filter items with multiple filtering conditions
Add AND/OR operators to the filtering conditions
Attribute Mapping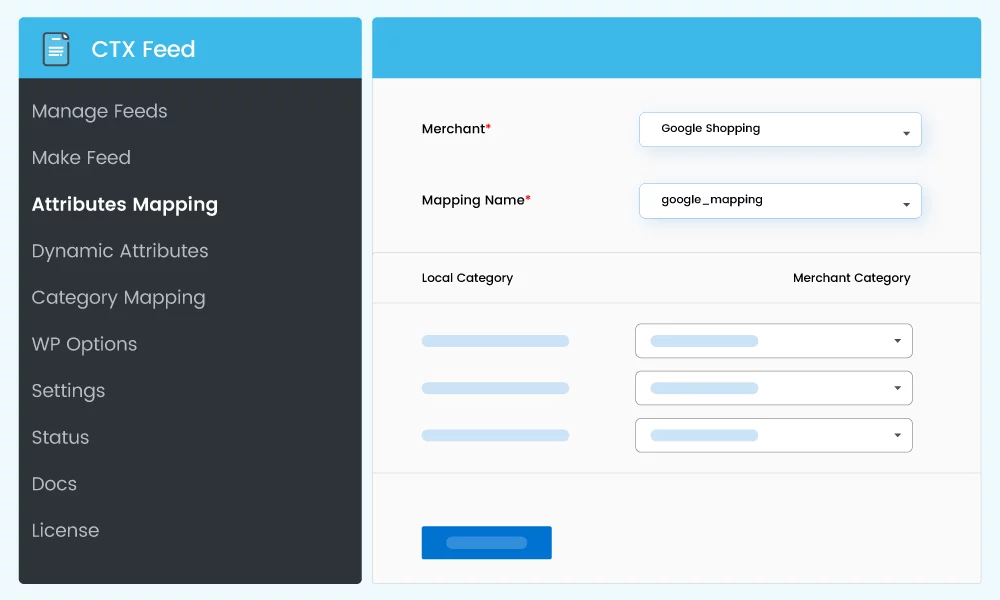 A good title is very important for making a product sell. A good title is the first thing that a customer read before he or she explores the product in detail. Good titles can bring more clicks and thus more revenue.
If you do not use catchy titles, your competitors might outdo you in this and consequently get more sales. A title gives the buyers important insights about the product. If your title is either too short or too long, it is bound to increase the bounce rate of the buyers.
Keeping that in mind, CTX Feed Pro enables you to make changes to the title while making a product feed with the attribute mapping feature.
You can either extend or shorten any attribute along with other attributes to make sure your products get more clicks from the relevant customers.
So, with the help of attribute mapping, you can customize the brand name, product name, seasons, and more on your product feed to make the product more popular with them. This feature is especially helpful when you generate a product feed for Facebook and Google Shopping, as these platforms are very competitive.
To summarize, the Attribute Mapping feature will enable you to:
Make a new attribute combining multiple attribute values
Add suffixes and prefixes to an attribute
Extend titles
Create better titles, descriptions, and other product information.
Product Brand
Your business or products get more attention and trust from your targeted customers once you start making your store or products part of a brand. Most customers nowadays consider the brand when they make a purchase decision.
You'll notice that an established brand can always sell more as they have their logo, name, and other properties known to people. That's why you should strive to build a brand and include the brand name as an attribute in your product feed. With CTX Feed Pro, you can easily create a brand and use that for your products.
Furthermore, CTX Feed Pro will let you extract other brand names as well produced by the branding plugins and incorporate them into your product feed.
Some of the brand plugins that the CTX Feed Pro plugin is compatible with include WooCommerce Brands, YITH WooCommerce Brands Add-On, Perfect Brands for WooCommerce, and Ultimate WooCommerce Brands Plugin.
Multi-vendor Feed Generation
CTX Feed supports some high-quality premium multi-vendor plugins that enable you to create product feeds either for a single vendor or for multi-vendors.
At present, you can use the Dokan, WC Marketplace, WC Vendors, WCFM Marketplace for WooCommerce, and YITH WooCommerce Multi-Vendor plugin to use this feature.
Dynamic Attribute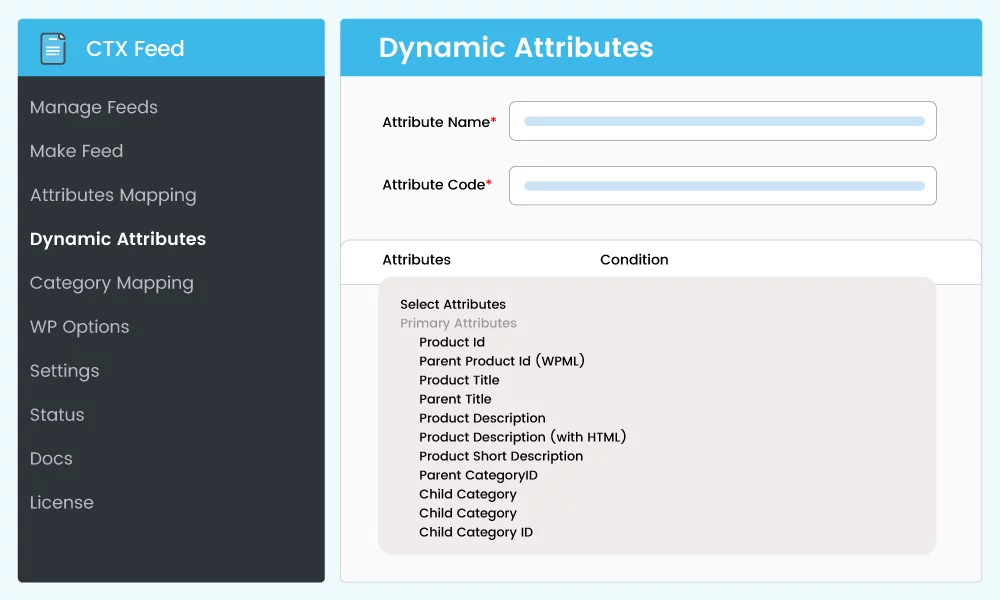 Dynamic attribute is one of the most attractive features of the CTX Feed Pro Product Feed Generator plugin. This feature will help you create some conditions for each attribute no matter what shopping platforms you are making your product feed for.
The objective of these conditions is to make sure that the products meet the conditions based on certain selected attributes. Once the conditions are met, the relevant information about the products will appear.
Let us clarify the feature with an example. If you want to set the height of any product to 5cm to be considered as big and lesser than that as small, you have to do that by leveraging the dynamic attribute feature.
With the help of dynamic attributes, you can easily meet the requirements of any shopping platform.
To summarize, the Dynamic Attribute feature will enable you to:
Use conditional attribute value
Use conditional stock status
Use static/Dynamic value based on any attribute value
Use Custom Attribute
In case you've any custom attribute field added to your product, you can expect to get the list of those product attributes while you generate a product feed. Consequently, you can assign the custom field values of your products to your channel attribute.
Leverage Custom Fields Such as ACF and Field Factory
It is another CTX Feed Pro feature by which you can easily assign the custom product attribute values to any feed attribute you want.
Product Taxonomies and Product Meta
Product taxonomies work like the categories of certain attributes. When you apply the brands, weight, and size of your products, they are meant to have a value of their own and get they serve as the value of the attributes.
You can add any product taxonomy or product meta to the feed that is created by any plugin with the help of the CTX Feed Pro.
Batch Feed Making
You may know that due to the memory limit and PHP execution time, it's quite tough to handle thousands of products together at the same time. Keeping this very fact in our mind, CTX Feed Pro is developed in a way so that it comes with the functionality of making feeds in batches.
As a user, you can make feed setting limits and offsets comfortably. You know what? This feature is compatible with common WordPress hosting providers irrespective of the number of products your store may have.
If you have a large store with hundreds of thousands of products, you know how hard it is to process all the products in a feed at a time. A larger inventory can cause an error for lower PHP execution time and memory limit along with poor hosting or server configuration.
To make sure you never get stuck in the feed generation process, CTX Feed Pro lets you create product feed in small batches.
You'll have complete liberty to set the batch limit to define the number of products you want to add to your feed. In this way, you can minimize the risk of error and rejection to the lowest.
WP Options
One of the most noteworthy things about CTX Feed Pro is that it lets you include any wp-options value in your feed file. No matter what the attribute is, you can easily add these values to them.
However, it's not that you can add wp-options values only from CTX Feed Pro. Rather, you can do that with the other related plugins as well. Simply put, apart from using the CTX Feed Pro generated values in your product feed file, you can also use values generated from other feed generators as well.
Multilingual Product Feed Creation with WPML, Polylang, and TranslatePress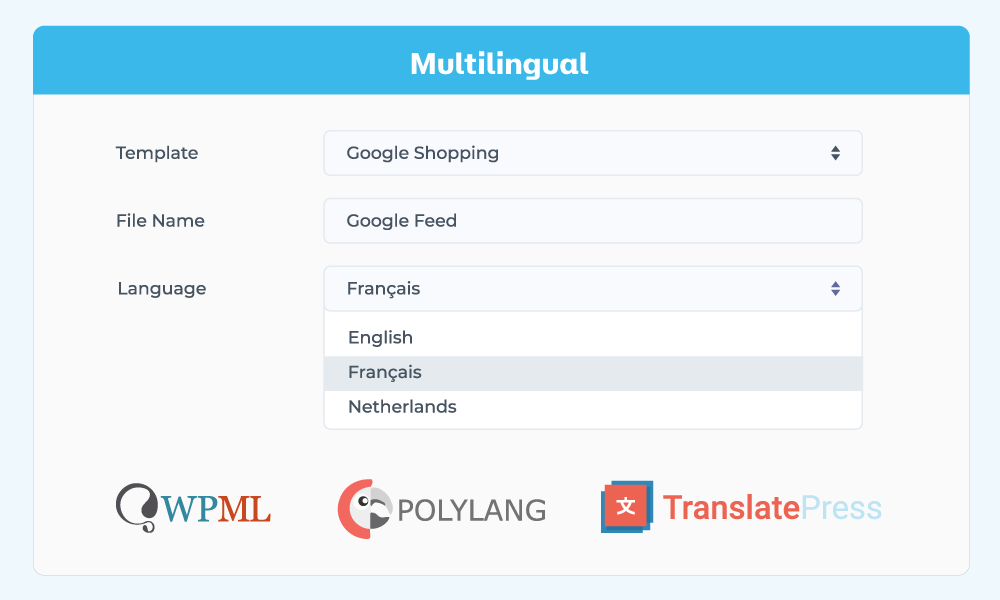 Using CTX Feed Pro, you can easily create a multilingual product feed smoothly.
CTX Feed Pro is well-compatible with multilingual plugins such as WPML, Polylang, and TranslatePress, which makes it easy for you to go beyond your territory and turn your business into a global one.
With CTX Feed Pro installed on your WooCommerce website, you can easily generate product feeds in any language or currency you want.
When you sell your products in the global market, it becomes easy for you to gain more traffic and, thus revenue for your business.
By removing the hindrance of language in different countries, you can easily access a large population of people who were previously unreachable. When you use the language of a specific country for the shoppers of that country, they can understand your products in detail, and the chance of sales increases to a great extent.
Currently, you can translate any product feed of CTX Feed Pro using WPML, TranslatePress, and Polylang. So, what are you waiting for?
Multicurrency Product Feed Generation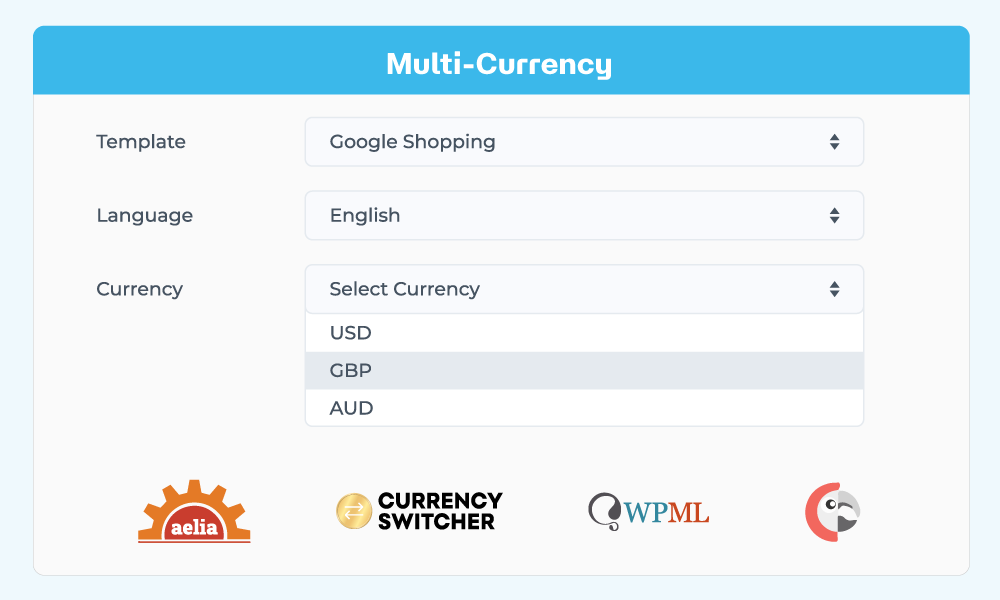 Making your product feed in different languages is not enough if you do not offer the shoppers to buy using their own currencies.
If you use CTX Feed Pro, you do not have to worry about making a multicurrency product feed as CTX Feed is compatible with multiple multicurrency plugins like WooCommerce Multilingual, Polylang WooCommerce, WooCommerce Currency Switcher, and Currency Switcher for WooCommerce.
What you all need to do is to use any of the compatible plugins and then configure them to create product feeds that support multiple currencies.
Compatibility with Different WordPress Plugins
Let us now show you some popular CTX Feed Pro compatible plugins that you can smoothly use along with CTX Feed Pro to enhance your capacity for better feed generation:
Multilingual Plugins:
WPML
Polylang
TranslatePress
Currency Switcher Plugins:
Aelia Currency Switcher
WOOCS Currency Switcher
VillaTheme Multi-Currency for WooCommerce
WooCommerce Multi-Currency by TIV.NET INC
Shipping Plugins:
WooCommerce Advanced Shipping plugin by Sormano
Table Rate Shipping plugin by BolderElement
Product Subscription Plugins:
YITH WooCommerce Subscription
WooCommerce Subscriptions
Composite Product Plugins:
Composite Products by WooCommerce
YITH Composite Products for WooCommerce
WPC Composite Products for WooCommerce by WPClever
WooCommerce Composite Products Plugin by extensions
Bundle Product Plugins:
Product Bundles by WooCommerce
WPC Product Bundles for WooCommerce by WPClever
WooCommerce Bundled Products by Iconic
YITH WooCommerce Product Bundles
Dynamic Discount Price Plugins:
Discount Rules for WooCommerce by Flycart
WooCommerce Dynamic Pricing & Discounts
Conditional Discounts for WooCommerce by Orion
Pricing Deals for WooCommerce by RightPress
Dynamic Pricing With Discount Rules for WooCommerce
Product Variation Plugins:
WoodMart theme variation gallery
Product Variations Swatches for WooCommerce by VillaTheme
Variation Swatches for WooCommerce
SEO Plugins:
Yoast SEO
All-in-one SEO
Rank Math SEO
Multi-vendor Plugins:
Dokan
WCFM Marketplace for WooCommerce
YITH WooCommerce Multi-Vendor
WC Marketplace
WC Vendors
Brand Plugins:
WooCommerce Brands
YITH WooCommerce Brands Add-On
Perfect Brands for WooCommerce
Ultimate WooCommerce Brands Plugin
It's an extensive list of compatible plugins, right?

Who Should Use CTX Feed Pro Plugin?
Any WooCommerce store owner who wants to create a product feed for promoting their products on Google Shopping, Facebook, TikTok, eBay, and 100+ other marketing platforms should use CTX Feed Pro. Using CTX Feed Pro for feed generation saves the time of store owners for manual product feed creation on spreadsheets.
So, if you're a WooCommerce store owner and want to promote your store products on multiple platforms, you should go for CTX Feed Pro to create a hassle-free product feed.
Getting Started with CTX Feed Pro Plugin
Now that you know what CTX Feed Pro can do for you and how it can help your business grow, it's time to know how you can install it on your WooCommerce website after purchasing it.
Let's go ahead.
CTX Feed Pro Installation Process
Before we walk you through the installation process, it's essential for you to know the minimum requirements for your website to have for installing the plugin. Here you go:
PHP version: 5.4 or greater
WordPress Version: 3.6 or greater
WooCommerce version: 2.4 or greater
Now you meet the criteria given above, it's time to download the plugin:
Go to the My Account section on our site.
Click on the Download Tab and then click on the Download link
There are two easy ways to upload and install the plugin on your WooCommerce website. Let's explore them one by one.
Option 1: Activate the plugin through the 'Plugins' menu in WordPress.
Go to Plugins > Add New.
Click on the Upload Plugin button at the top of the page.
Click on the Choose File button and select the downloaded plugin file from PC.
Then click on the Install Now button.
After activating the plugin, you will be redirected to the License activation page. Here you need to add your API Key and set your Subscription Type. Read the documentation about CTX Feed Pro License Activation.
Congratulations, you're done!
Option 2: cPanel/FTP or other ways
Extract the downloaded plugin zip file.
Upload the plugin folder to your server `/wp-content/plugins/` directory
Activate the plugin through the 'Plugins' menu on WordPress
After activating the plugin, you will be redirected to the License activation page. Here, you need to add your API Key and set your Subscription Type. Read the documentation about CTX Feed Pro License Activation.
Congratulations, you're done!
Final Thoughts
CTX Feed is actually a time and energy saver plugin when it comes to making a product feed for promoting your products to as many marketing platforms as you want. We hope that you'll benefit from the CTX Feed Pro, and it will help take your business to the next level.
More Resources: