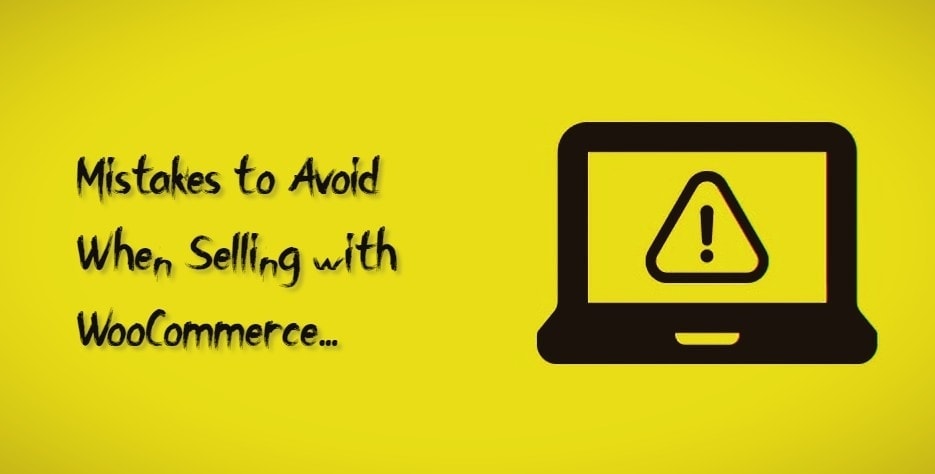 Mistakes to Avoid When Selling With WooCommerce
Mistakes are inevitable, and it's a part of life. We make mistakes, especially when we attempt any task for the first time. Learning from the errors is a good result but repeating the same mistake, again and again, is considered a bad result.
You need to maintain many things when you are in an online business, such as market factors, change in trends, competitors' behavior, SEO, customer service, website updates, etc. Especially in a user-centered space like eCommerce, some mistakes could cost a lot of money.
WordPress is considered the world's most powerful CMS, and its best shopping cart and eCommerce platform are WooCommerce. It's not difficult to set up your WooCommerce store and install plugins. But still, you make some common mistakes that you need to avoid.
You may have to go home with less money if any mistake takes place. That's something you don't want. Some common and crucial mistakes that store owner makes on this platform are given below:
Running an older version
It is a serious mistake that is underestimated due to its simplicity. Both WordPress and WooCommerce are regularly updated. Store owners neglect to download those updates and think that Wocommerce works fine, so there is no need to upgrade. But the assessment is not correct.
Running an old and unsupported version puts your business at a lot of risks. New security threats appear regularly. The old version makes your store vulnerable to all sorts of attacks. Security should be one of the highest priorities.
An outdated version is often a response to security risk. That can be a significant concern for any online store as it contains customers' sensitive financial and personal data such as credit card information, passwords, etc.
Some plugins are not compatible with the new update of WooCommerce. This is one reason why the store owner ignores updating.
But the question is whether you want to use plugins that are not updated consistently and take an unnecessary risk? On the other hand, you won't get official support for many plugins if you are not running the current version.
Not updating the plugins
Besides running an older version of the platform, another mistake is not updating the store's installed plugins. Two main risks may occur when running an unsupported or old version.
First, there may be security issues that were found and repaired on the newest version. Running old plugins leaves your store uncovered. Only the latest versions resolve many prevailing issues.
Secondly, your site can stop functioning; if you use a plugin to incorporate WooCommerce with any service like payment gateway or delivery method and the vendor changes the way sites link to them, your site will stop functioning. Make sure to test on a staging site with the newest version when installing a new plugin or to update the existing one.
When choosing a WordPress eCommerce plugin for your store, a lot has to be put into consideration. Here you'll get detail on five top WordPress eCommerce useful plugins for your store.
Not running a staging site
The staging site is an independent, private clone of your live site that can be used to test custom code, plugins, and themes. It is not a good idea to update your WooCommerce version and plugins on your live store without having a test on a staging site.
Though it takes time to test still, you shouldn't make changes to your store without examining them on the staging site properly. Not running a staging site is extremely risky and can cost you a great deal. It could be terrible for your online store. Many store owners who updated on WooCommerce live store before testing on staging site had to lose lots of orders and data.
A staging site will solve all these issues of updates or changes correctly, so do not neglect a staging site.
Not prioritizing security
Security is a significant part that you need to increase confidence in your site. An unsecured system may open your store to risk, as well as damage your store's reputation to your customers.
SSL certificates help eCommerce sites to protect sensitive data. If your customers need to enter their personal information on your online store, you need an SSL certificate. You will not have credibility unless your store is secure. Just imagine any hacking attempt compromises a transaction.
Most of the customers will ignore purchasing from a store that is not secured. One announcement of Google states that websites using HTTPS will be considered for search ranking.
Not running regular site backups
Your eCommerce site is like the backbone of your online store. You would be losing out on potential sales if anything were to happen to it. You can get your store back on track when you have backups.
Not running a site backup is one of the common mistakes that the store owner makes on this platform. Backups and security should be your top priority for eCommerce stores. A single incident can cause a huge problem when you do not have any backups.
You may have accidentally deleted any products, or your entire data from the store may get deleted. There are many helpful tools to make it easy for you to schedule backups for your store.
We hope this article will help you to avoid mistakes when selling with WooCommerce. All of the mentioned mistakes are entirely avoidable. Only one mistake could make your sales. Take some extra steps to avoid these mistakes for the sake of your online business.
Just building an eCommerce site is not enough. There are many more things that you should know. Read the linked article to know in detail about the things to know when you are new to eCommerce.