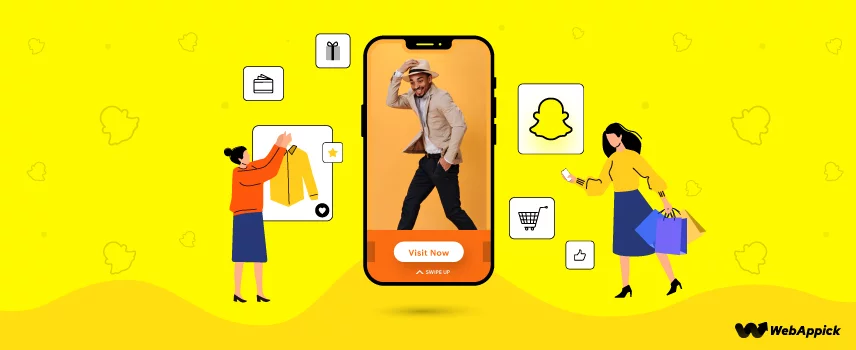 27 Successful Snapchat Ad Examples for Businesses (2023)
If you want to create awareness about your products among Generation Z (also known as zoomers) or increase conversion, Snapchat Ad is a must-try tool for you.
However, we understand that you may need some examples before proceeding to create your unique Snapchat Ads for your brands.
If that's the case for you, this post is all you need to read (and watch).
List of Snapchat Ad Examples
Below, we are going to present 27 extremely successful Snapchat Ad examples that have helped businesses drive awareness and increase conversion among Snapchatters.
Who knows, you might be next on this list of successful businesses and reap more than your expectation out of Snapchat.
For now, let's dive into the ad examples right away. Just click on the images of this post to open any ad on a new tab.
1. Domino's
Domino's leveraged Snap Ads, commercials, and filters while launching their "New Bigger Better" pizza campaign.
The result?
Domino's could reach 800k unique Norwegian Snapchatters who found both the message and the big pizza quite appealing.
Domino's made their Snap ads loaded with humor. The ad showed that the Domino's pizza is too heavy to carry by the delivery man and even the car that delivers it!
There was also an option for Snapchatters to adorn their Snaps with a Domino's filter.
The campaign did not just convince the viewers about the enormous size of the pizza, it also increased the purchase intent and brand awareness.

2. Wish
Wish is an e-commerce app that offers amazing deals and user experience. This platform lets global users buy directly from factories.
You should know that Snapchat now lets marketers connect their product catalog and create ads like Story Ads and Snap Ads based on that catalog.
Marketers can use products like CTX Feed – WooCommerce Product Manager to effortlessly generate a product feed with all the required attributes (automatically) and then use that on Snapchat for different kinds of ads.
Wish successfully leveraged this functionality of Snapchat to showcase a variety of products to sell. And they ended up achieving great results.
The goal of Wish to connect their catalog to Snapchat was to create Snap Ads and Story Ads easily. They focused mostly on app installs at efficient CPIs along with positive returns on spend.
They also used goal-based bidding to get the most efficient cost per install. This bidding strategy helped them to reach the most potential customers quickly. After applying this strategy, they could decrease the Story Ad CPIs by 76%. 
Ultimately, Compared to non-catalog ads, Wish drove 57% lower CPI from ads created by Wish's catalogs. Also, they increased their daily spending by 25 % with Snapchat. 
3. Starling Bank
Being a mobile-only bank in the UK, Starling Bank took the help of Snapchat to develop an AR Lens experience in 2019. 
Their goal in working with Snapchat was to reach new users and create brand awareness.
Their first Snap Ad campaigns focused on the installation of the paid app. Their target audience was the Snapchatters of 18-34 years old.
When analyzing the performance of the content, Starling found that they saved 61% cost per install on Snapchat compared to other platforms they tried.
Later on, Starling also made use of Snapchat's AR technology for offering a bespoke Lens experience.
When opened to the face, the Lens would present the murmuration of the starlings around the head of the users. And just by flipping the camera, the users would see the detailed augmentation of the birds across the sky that ultimately forms the logo of Starling.
Apart from the Lens, Starling also leveraged the Snap Ads and Commercials on Snapchat as a part of the brand awareness campaign.

4. TRUFF
Hot sauce brand TRUFF leveraged the Snapchat platform to reach new customers profitably.
The result TRUFF achieved with Snapchat is really overwhelming.
Having a 34.67% of increase in the ROAS, this luxury sauce brand could decrease the Cost Per Page View to 71.24% and the Cost Per Purchase to 30.52% when compared to the other platforms.
TRUFF used a series of story ads along with video ads to display how their hot sauce is being served in everyday situations. They tried both the cost bidding strategy and auto bidding strategy consecutively to get the most out of their ad campaigns.
5. The Ridge
The Ridge is a minimalist wallet brand that used Snapchat to reach a new audience. To measure their expected result, they took the help of the Snap Pixel. With that they were able to track the purchase journey of the users who swiped up on the ads or just viewed it.
They also used the Snap Pixel to create custom audiences based on the real buyers of their wallets. That turned out to be really an effective approach to cross-sell new products. Apart from that, they also sorted out the lookalike audiences to get a great boost in the sales.
The Ridge also made the efficient use of multiple creatives of which static creatives worked best for them. Last but not least, they also reaped the benefits of the vertical video editing tool and Snap Publisher to produce multiple ad variations easily and quickly.
All of the efforts from The Ridge helped them receive a 4.1x return out of their ad spend. Also, they could cut 20% cost per acquisition compared to other platforms.

6. Hubble
Hubble offers a daily contact lens subscription service at an affordable price to its customers.
The goal of Hubble to leverage Snapchat was to acquire new subscribers.
They focused on getting as many sign-ups as possible for their 14-day trial subscription.
To track the complete picture of the campaign, Hubble took the help of Snap Pixel.
They also used the Pixel custom audiences for engaging those customers who visited their site but didn't actually sign up.
Targeting this kind of audience along with the lookalike ones who either visited them in the past or signed up, Hubble achieved 84% lower CPA in Q1 compared to the standard targeting.
When it comes to featuring the products in the ads, Hubble leveraged GIF-like creative which was also punchy at the same time. Those short ads along with the dynamic ads captured the eyes and minds of the Snapchatters pretty fast.
Hubble also placed an intuitive call-to-action button at the end of their message so that viewers could easily browse the sign-up page to grab their free trial.
7. Sephora
Sephora is a beauty brand that joined in the battle for attention with similar beauty brands just before Eid, a Muslim festival.
To win the battle, Sephora partnered with Snapchat to develop a gamified Augmented Reality (AR) Lens.
To encourage the purchase of their products, this brand offered a special gift that Snapchatters could redeem using a voucher code during the checkout.
They developed a game after which the coupon code would appear. Many Snalpchatters participated in that game to get and redeem the coupon code.
Sephora ran this campaign during Ramadan for 4 weeks. It helped them get about 5% of their total transactions on their website.

8. The Giving Movement
The Giving Movement is a UAE-based athleisure retailer.
They turned to Snapchat for using its bunch of AR solutions and creatives to drive brand awareness, engagement, and sales.
This is the first brand in the MENA region that leveraged Snapchat's try-on lenses.
As a result, the audience went through the in-store experience virtually by dint of the AR technology.
This brand tested this engaging lens of Snapchat to fulfill three objectives: awareness, engagement, and conversions.
At the time of browsing the collection of this brand, the audience could change their outfit just by raising a hand up. Besides, they could also share how they look in the new outfit with their friends and family before they make the purchase decision.
This strategy worked really well to create brand awareness and served as a means to achieve conversions.
Adopting AR technology proved to be a successful strategy for the Giving Movement.
Over the course of 8 weeks to fulfill the 3 objectives mentioned above, this brand could generate 4.49M impressions, 1.79M reach, 26.7K swipes, and 3.438x ROAS!
9. Adidas Canada
adidas Canada came in partnership with Snapchat to take their Dynamic Product Ad strategy a step ahead. They were looking for an effective solution that could convert more shoppers to buy from them.
Focusing on the key priority audience categories along with the ROAS, they ran a month-long activation program. And the result was quite impressive for them.
However, that program could only meet the lower funnel objectives.
So, they came up with Dynamic Product Ads for both the retargeting campaign and the prospecting one.
They could make effective use of the Snap Pixel to leverage a strong retargeting audience pool. The Snap Pixel also helped them reach qualified Snapchatters more efficiently by bidding on Pixel Purchases.
The campaign result showed that adidas Canada achieved a 7% incremental purchase lift while it was 10.5% for the female audience. Also, the campaign brought them a $4.43 incremental ROAS.

10. KFC (for Zinger)
When KFC launched their fried chicken sandwich "Zinger" into space, they leveraged Snapchat to promote the campaign among the audience aged between 18-34.
The goal of the campaign was to create awareness and drive restaurant visitation.
However, KFC adopted multiple strategies to meet the goal.
First off, they used a mix of multiple Snap Ad creative formats such as short videos and cinemagraphs.
Next, they also launched an Audience Lens. It would turn the faces of the audience into a Zinger sandwich.
And you know what?
This Audience Lens was a big hit with the Snapchatters. It resulted in 19 million views and 15 million plays.
Last but not least, KFC came up with custom Chain Filters at its USA locations. This enabled the store visitors to use a Filter that featured a Zinger launching into space or launching into their mouths. This filter got 4.5 views along with 180 thousand uses.
As a result of these efforts, KFC got higher conversion rates and reached more audiences.
While their restaurant visitation lifted by 18%, the cost per visit increased by $0.21.
11. BACARDÍ
With the slogan "Do what moves you," BACARDÍ's goal was to update their brand image so that they could get back the young population of Germany around the age of 20.
BACARDÍ chose Snapchat as their digital communication platform because they considered it a good vehicle to reach the people of the 20s age group.
Plus, they found that Snapchat can offer them different ad engagement varieties.
This brand wanted to get to the maximum proximity to the audiences and their moments of choice.
So, what did they use?
1. Lens
2. Snap Ads and Commercials
3. Filter
BACARDÍ introduced a Lens for the Snapchatters that enabled them to dive into BACARDÍ 's summer feeling.
Leveraging the R&F Lens, BACARDÍ engaged easily with their target group for 10 weeks. They also reached 2.5M Snapchatters with satisfactory playtime of their featured Lenses.
Next, BACARDÍ created video materials for Snapchatters using their campaign slogan in every scene and following Snapchat best practices. Also, they made videos aligned with the 6-sec unstoppable ad format (Snap Ads & Commercials).
Last but not least, BACARDÍ implemented a variety of Always-On Filters to make sure Snapchatters can cover various moments of their choice.
This brand also allowed the guests to send personalized greetings to their friends at several festivals via Filter.
As a result of all these steps, BACARDÍ could get closer to the young generation they wanted to. They also could update their brand image. And finally, the campaign helped this brand to increase the Purchase Intent of BACARDÍ and win back the market leadership in Germany.

12. Peak Brain Training
Peak is a brain training app based in the UK. It lets the users challenge their brains with mental workouts along with fun games.
Peak wanted to reach the core millennial audience and drive app installs using Snapchat.
Peak leveraged the Ad Manager platform of Snapchat to run their campaign for app installation.
This brand developed a wide range of Top Snaps featuring video and text-based brainteasers. The aim of these was to keep their creativity fresh and get a high swipe-up rate.
The users of Snapchat could easily install their app just by swiping it up. The whole process was pretty seamless, and they didn't have to leave Snapchat to install the app on their device.
Let's now talk about the outcome of the campaign.
Just in two months, Peak's ads successfully generated about 1.7 million installs by Snapchatters. Both in terms of budget and impact, Snapchat became their second-largest marketing channel.
13. Circle Pay
Circle Pay is another brand that made use of Snapchat for better conversion. They used playful and mind-blowing creatives to show how easy it is to use their Circle Pay app.
Emphasizing creating native-like ads for the platform, this brand focused deeply on a strong but single CTA to inspire the app download.
They leveraged goal-based bidding that assisted them to optimize the campaign to drive app installs.
Also, this very bidding strategy helped them lift the ship-to-install rate by about 10%.
To reach the target audiences like techies and students, Circle Pay leveraged the predefined audience feature of Snapchat.
Lookalike audiences feature of Snapchat also helped Circle Pay use loyal customers as a model for finding new customers.
Circle Pay's main goal for the campaign was to reduce the cost per first transaction.
And you know what? With Snap Ads, this brand had 50% less cost per first transaction compared to their target. And that's when they discovered that they had found an exciting channel that can help them acquire new customers affordably.
Circle pay experienced a 33% higher sign-up rate and a 20% higher activation rate on Snapchat, thanks to the quality of Snapchatters.

14. GOAT
GOAT is a sneaker marketplace that came to Snapchat after analyzing their customer data to find out the most popular products. They used that very data to determine the shoes and styles for featuring in the Top Snap creative.
Leveraging the goal-based bidding feature of Snapchat, this brand optimized their campaign. Their goal was to reach those Snapchatters who are more likely to swipe up and install their app.
Just in 3 months, Snap Ads generated over 75K installs for GOAT's mobile app. Ultimately, they were able to drive LTV 20% above their goal.
15. Hopper
Being an airline-booking app, Hopper helps a user find the best time to fly and book flights. This brand makes the best out of a predictive algorithm to let the customers grab the best deals available out there. The users can 'watch' the flights and get notified when it's the best time for them to act.
The goal of Hopper for using Snapchat was to reach millennials who would download the app as well as watch and book flights actively.
So, what did Hopper do? This brand used a combination of location radius targeting along with geographically relevant creative.
They aimed to reach those Snapchatters effectively who are most likely to engage. Setting the airports as its central point, Hopper applied a radius around them to reach Snapchatters who were supposed to be highly interested in booking travel out of each airport.
They developed creative for specific flight deals. From the Snap Ads, Snapchatters could easily wipe up to download the Hopper app easily and then watch the route or buy the flight from this app.
Hopper scaled up their creative for various routes with simple and static ads that came with a clear call to action.
The result, as you can already guess, is inspiring. Hopper found that Snapchatters engaged with their campaign much more than the users of other platforms.
Snapchatters were 37% more likely to watch a route. On top of that, the booking rate from Snapchatters was 4x higher compared to the users of other platforms Hopper tried.
The Radius targeting strategy of Hopper helped them cut its cost by 50% per install.

16. Taco Bell
You must know Taco Bell, right? It is an American-based fast food chain restaurant. This brand wanted to drive overall awareness of their back Double Layered Tacos and Grande Stacker LTO programs using Snapchat.
Also, they wanted to measure the impact of their media efforts on in-store traffic.
What Taco Bell actually did was to use the combination of Snap Ads and Story Ads per LTO. They could reach Snapchatters using a mix of ad products.
The Snap Ads and Story ads followed best practices for creating creative. They used upfront branding along with a diverse mix of creative such as Cinemagraphs, Video, and Stills.
Let's talk about the result now.
The campaign for Taco Bell's Double Layered Tacos and Grande Stacker LTO drove cost-efficient results. Overall, both LTO campaigns drove more than 30K incremental visitors to Taco Bell stores in Canada.
Overall, Taco Bell could reach 2.6M Snapchatters with their multi-ad product approach.
17. Bespoke Post
Bespoke Post is a curated subscription company. With a view to growing their user base, they leveraged different ad products of Snapchat. Their goal was to get more subscribers but at the greatest efficiency.
This company leveraged visually stunning video creative with both Story Ads and Snap Ads to present their product story to Snapchatters.
That's not everything. They also optimized and refreshed their video creative regularly throughout the campaign.
Why? Because they wanted to attract the attention of Snapchatters. They also wanted to improve their messaging and solidify their product value to Snapchatters. This brand also targeted lookalike audiences to get connected to the most relevant audiences.
The result of all these efforts is pretty good. Bespoke Post could scale up their reach to Snapchatters massively. They got 11x new subscribers with a 57% lower cost per sign up.

18. Puma
Puma's goal behind the collaboration with Snapchat was to drive awareness along with generating fun nostalgia for their classic and iconic shoes Puma Suede.
They aim to reach out to those Snapchatters who are between the age of 16 and 30.
To be successful on Snapchat, Puma came up with a multi-product campaign. In this campaign, they focused on offering an AR Lens experience to Snapchatters.
This AR Lens allowed the users to try on both the Puma tracksuits and the icon Suede sneakers.
This brand also leveraged the Snap Ads and Commercials to reach the audience both via camera and content.
When it comes to bidding techniques, Puma adopted goal-based bidding.
Apart from getting good results like a lift in the action intent and ad awareness from the multi-product strategy, Puma also gained positive results for AR Try-on Lens.
19. Booking.com
Booking.com helps people book flights, hire cars, and find places to stay. They partnered with Snapchat with an aim of reaching new and engaged audiences.
They adopted the remarketing strategies using the dynamic ads on Snapchat to drive a new stream of incremental booking on their platform.
With the dynamic ad solution, Booking.com pulled visually appealing images directly from their product catalog. They displayed the locally relevant listings to the users based on the properties those users had already viewed.
What Boooking.com got from the dynamic ads is the positive incremental lift across their app and website.
The strongest lift came from the Snapchatters aged between 21 and 24. This brand also achieved 10.7 million impressions with a 1.3x higher swipe up rate than other advertisers in the US.

20. Fitment Industries
Fitment Industries is a pioneering online retailer that deals with car parts, suspension systems, custom wheels, tires, and relevant car accessories.
This brand simplifies and streamlines the shopping process of car parts and accessories for those who want to customize or upgrade their car.
Fitment Industries wanted to connect with mobile-savvy car enthusiasts. So, during the 2020 holiday season and beyond they partnered with Snapchat to build brand awareness and drive online sales.
What this brand tried from Snapchat is Video Ads. Their video ads focused on three main goals:
Building brand awareness among Snapchat users
Amplifying consideration with the target demographic
Driving online sales and repeat conversions.
Fitment used strategic and creative messages in their ads to achieve their goals.
They used the Snap Pixel to use the pixel data for accurately retargeting the interested customers. This brand utilized goal-based bidding to make sure their ads reach those Snapchatters who are most likely to view their products and add those to the cart.
So, what's the result?
Fitment got an 11x return on their ad spend with an overall Purchase ROAS of 18.8x from
Snapchat.
21. Motorola
Motorola used Snapchat to increase awareness and consideration among Snapchatters for their newest smartphone: moto g7 power. They wanted to let the people know about the 3-day battery backup feature of Moto g7 power.
They leveraged the Snap Ads along with Story Ads to show how customers can benefit from the long-lasting battery.
Ultimately, Motorola could increase the ad awareness by 8pts and consideration intent by 3pts.

22. Zinvo
Zinvo is a watch brand focusing on style-conscious and young individuals as their target audience.
This brand came to Snapchat for the first time to promote their signature watch "Blade" among the Snapchatters.
Zinvo made Snap Ads to let the young audience know how their watch stands apart from the crowd. The core focus of their Snap Ads was the rotating dial of the Blade watch. The fullscreen format of Snap Ads allowed them to bring the features of the watch to life.
The result of their efforts was pretty impressive. Snap Ads helped them get 3.6x ROIs and a 10x increase in site traffic.
23. Fishbrain
Fishbrain is a fishing app that lets users find suitable places to fish, analyze forecasts, and identify fish species. This brand found a good number of Snapchat users from the UK, US, and Canada.
Fishbrain tried many functionalities and features of Snapchat to grow their user base. Story Ads, Audience Insights, Auto Bidding, and Snap Installers Lookalikes, are just a few of them.
At the end of the experimentation, they could increase the number of app installs along with the ROI. They got a 92% conversion rate on iOS. They were also able to bring down their CPI by 77%, the swipe-up rate became double.

24. Trendy Butler
Trendy Butler is a men's apparel subscription service. This brand's specialty lies in the fact that they offer their members $150+ value in clothes for as low as $65 per month.
Trendy Butler wanted to reach the males of 18-34 and found that Snapchat is the best platform to get their target audience.
After finding Snapchat as their ideal platform, Trendy Butler implemented an always-on Snap Ads strategy. Their goal was to increase sign-ups for their apparel service. They came up with an endemic style creative with an organic look to drive sign-ups.
Apart from that, this brand also leveraged Snapchat's targeting capabilities as they wanted to reach high-quality Snapchatters who are more likely to sign up.
They also took advantage of the Snap Pixel to retarget visitors who left their website without completing the style quiz.
Last but not least, Trendy Butler also developed lookalike audiences to maximize their conversion rate.
So, it's time to talk about the result.
Trendy Butler found that Snapchat required them 4x lower cost per visit and 20% lower cost per purchase compared to other channels.
25. Vivint Smart Home
Vivint Smart Home works with household security and automation products. Vivint Smart Home considered Snapchat as a good source for generating quality leads. They discovered that Snapchat had a good number of homeowners with purchasing capacity.
This brand started their lead generation process with Snap Ads' vertical video format. This format helped them display the value proposition and product offerings vividly.
At the end of ads, they used a CTA that encouraged the viewers to swipe up and "Get a Free Quote" after filling out an attached lead form.
To pick up the most qualified leads, Vivint Smart Home used multiple targeting tools of Snapchat. They analyzed the audience based on demographics like age and average income.
Also, they separated their audience based on Lifestyle categories such as "techies" and "investors".
It's time to talk about the outcome. Vivint Smart Home got a 180% return on their ad spend on Snapchat. Also, they decreased their cost per lead by 34% and cost per system install by 31% respectively.

26. SunExpress
The airline SunExpress offers several direct connections between Europe and Turkey. Along with flying guests to many mind-blowing holiday destinations in Turkey, they reconnect them with their families and loved ones by dint of their direct flights from Europe to many Anatolian cities.
SunExpress decided to use Snapchat to drive awareness and increase engagement within the GenZ audience in their core markets.
SunExpress wanted to showcase the variety of direct flights to Turkish cities with their campaign and the beauty of those cities to fuel up the user's travel desire.
SunExpress found out that AR Lenses would be the best way to gain media results the most. As a result, they decided to leverage auction-bidded AR Lenses in Turkey and Germany.
What SunExpress created is an engaging AR Lens. This allowed Snapchatters to virtually travel to various wonderful destinations in the world that SunExpress offers to its customers.
Snapchatters could easily swipe up on an attachment link and land on the booking platform of SunExpress from where they would be able to book a flight to their dream destination immediately.
The result of the campaign exceeded the expectation of the SunExpress. They generated brand awareness, ad awareness, efficient CPMs, and a great share-rate.
27. McDonald's
When McDonald's launched their McPlant Burger, their goal was to innovate and meet their customers' needs.
After trialing the new McPlant Burger in some selected restaurants, they launched the burger across all their UK restaurants. And that's the time when McDonald's turned to Snapchat.
While running their campaign on Snapchat, this brand adopted a multi-product campaign with a full-funnel approach. This campaign offered gamified AR Lens to let the Snapchatters build their own McPlant Burger correctly within 30 seconds.
McDonald's made use of the First Commercial, Commercials, Snap Ads, and Story Ads to reach their customers in the marketing funnel.
So, what was the result?
Well, The gamified AR Lens brought great success for the company. They achieved increment in the ad awareness and action intent. While the average playtime was 21 seconds, they got a 2.75% AR Lens share rate.

Final Thoughts
To create a Snapchat Ad, you need a real product.
But to create a Snapchat product feed with all the product attributes, you need:
CTX Feed – WooCommerce Product Feed Manager Plugin (with a 30-day money-back guarantee)
Check it now if you haven't already!
By the way, to find out whether this plugin is the best fit, you can get the CTX Feed free version on your WordPress website:
You May Also Read