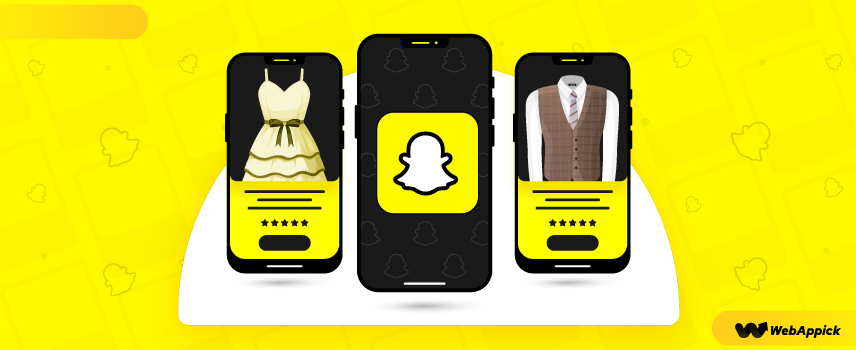 How to Create a Snapchat Product Feed in 5 Minutes (for FREE)
Snapchat is a trending hub for the GenZ people or zoomers.
If you have a business online and your target audience consists of those people who are in their early and late 20s, Snapchat is one of the best platforms for you to promote your business.
There is a wide range of ad types on Snapchat that business owners can leverage in their promotional campaigns.
However, creating ads by manually uploading your product data to Snapchat one by one is tiresome, time-killing, and resource-hungry.
Luckily, Snapchat lets business owners upload all their product information using just a single product sheet known as a product feed. With this, it is possible to generate and upload any product information for Snapchat to run ads.
If you are planning to run ad campaigns on Snapchat and are looking for the easiest and step-by-step guide to creating a Snapchat product feed, this post is all you need to read.
At the end of reading this post, you'll learn how to generate a product feed in 5 minutes or less using a feed generator WordPress plugin.
Sounds interesting? Let's go ahead then.
What is a Snapchat Product Feed?
A Snapchat product feed is a type of data feed for Snapchat that contains all the product information of a business.
While generating a product data feed for Snapchat, you need to follow the rules and requirements of Snapchat, especially when it comes to the mandatory product information fields.
To create a Snapchat product feed quickly, you can use a product feed generator plugin like CTX Feed.
A Snapchat product feed can come in different formats such as CSV, TSV, TXT, XML, etc. A Snapchat product data feed file is allowed to contain up to 10,000,000 products. Snapchat suggests medium to large businesses use product data feed for Snapchat catalog creation.
What's the Easiest Way to Create a Catalog on Snapchat?
You can create a Snapchat catalog in any of the 3 following ways in Snapchat:
Adding products manually, and
Use a product data feed.
Connect ecommerce platform
Once you select the catalog type, you will see those two options for creating a product catalog on Snapchat.
If you choose to add your products manually, you have to download a CSV template from Snapchat and then fill that up with product information one by one.
When you upload the CSV file manually, the file size can't exceed 500mb. Snapchat recommends using this for catalogs of less than 50 products.
If you go for the last option, we mean 'connect ecommerce platform', that'd enable you to import products from Shopify only, not from WooCommerce.
However, a more dynamic and quick way to upload your WooCommerce products to the Snapchat catalog is to use product feeds generated by a product generator plugin or extension.
Snapchat accepts any product data feed of up to 10,000,000 rows and recommends using it if you want to add more than 50 products to your catalog.
In our opinion, if you want to create a catalog of unlimited products on Snapchat quickly and without any error, choosing a product data feed will be the best approach.

What is a Product Feed Generator?
In simple words, a product feed generator is a plugin that helps you generate all the relevant product information and put them into a format of your choice that you can upload on a marketing channel to create a product catalog.
When you want to promote your products via ad campaigns on marketing channels like Facebook, Google Shopping, TikTok, Instagram, and Snapchat, it is best to generate a product feed with a plugin.
A product feed generator can generate product data feed in different formats and types depending on your preference along with the requirement of the individual marketing channel.
Why Do You Need a Product Feed Generator?
Well, you may already guess why a product feed generator can be a game changer. Let us tell you how a product feed generator benefits you.
Saves Money 💰
When you use a product generator, you don't need to hire anyone for adding the product information to a spreadsheet manually.
Instead, you can generate a product data feed of all your products almost effortlessly and automatically.
While hiring a person would cost you thousands for doing manual product input (with the possibility of mistakes as well), using a product feed generator can do it for free or only like hundred bucks if you want to explore premium features like removing certain products from the data feed by using filters.
So, ultimately a product feed generator will save you money and human resources.
Saves Time ⏱️
Time is actually more than money. Making a product feed manually for all the marketing channels can take countless hours. It is not really worth-spending time creating product data spreadsheets manually.
On top of that, if you are marketing your products on shopping engines, social media, and other marketing channels, it would be nearly impossible to create product data spreadsheets impeccably.
That's why you should always prefer using a product data feed generator that can create and manage all your product data efficiently.
Promote Your Products to Any Marketing Channel You Want 🚀
While creating a product data spreadsheet manually will help serve the purpose of promoting your product to one marketing channel at a time and you have to redo the spreadsheet manually as per the requirement of the platforms all the time, it's a good idea to go for a product generator.
Product feed generator plugins like CTX Feed serve you with readymade templates that come with the required attributes and their values automatically based on the products of your store that you can use for individual platforms.
For example, CTX Feed allows you to choose readymade templates for 100+ marketing channels to promote your products on.
Additionally, all the product feeds you create for specific channels are updated automatically per your preferred interval period.
So, when a product gets updated on your WooCommerce store, that gets updated on the marketing channels where you use the product feed file. And it's automatic.
3 Easy Steps to Create a Snapchat Product Feed
Now that you know what a product feed generator is and why it is helpful to create error-free product data, it's time to get into work.
We are going to walk you through the process of creating a Snapchat product feed step-by-step.
When you start making your product feed with a plugin like CTX Feed – WooCommerce Product Feed Manager, you'll surely be amazed by the simplicity and ease.
Let's get the ball rolling.
Step 1: Install the CTX Feed plugin
From your WordPress admin dashboard, click on Plugins>> Add New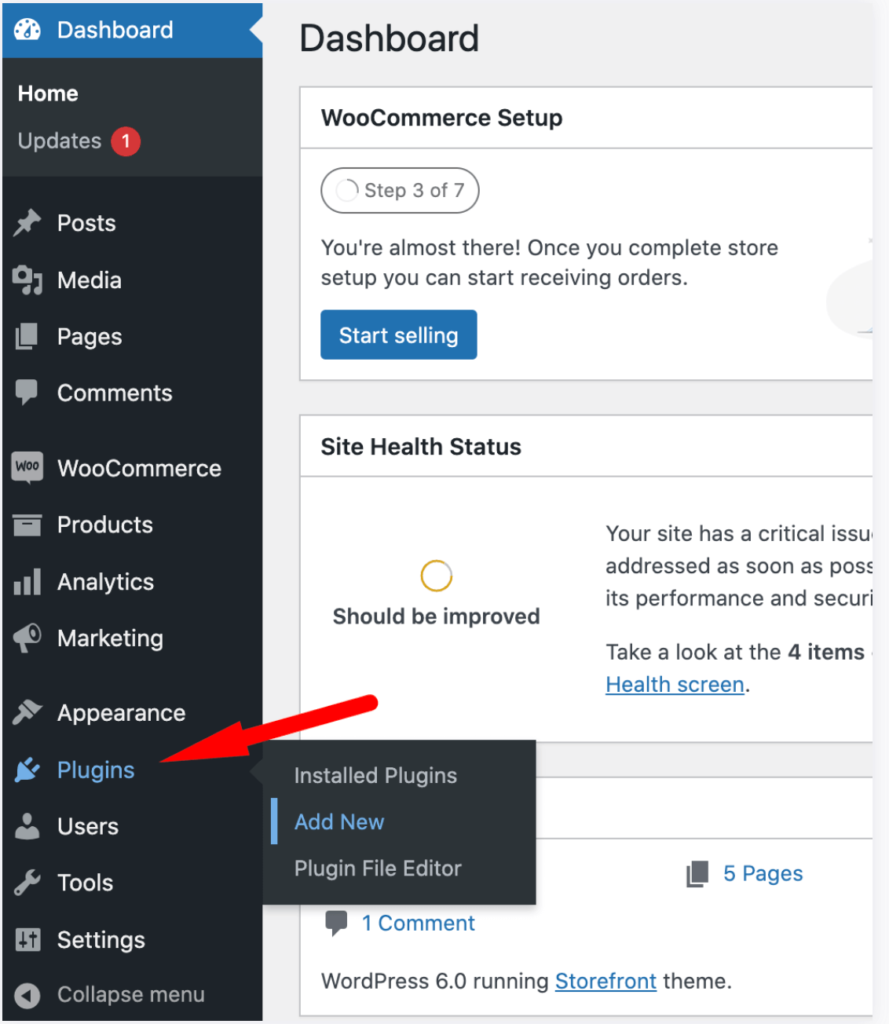 Type and search "CTX Feed" in the search field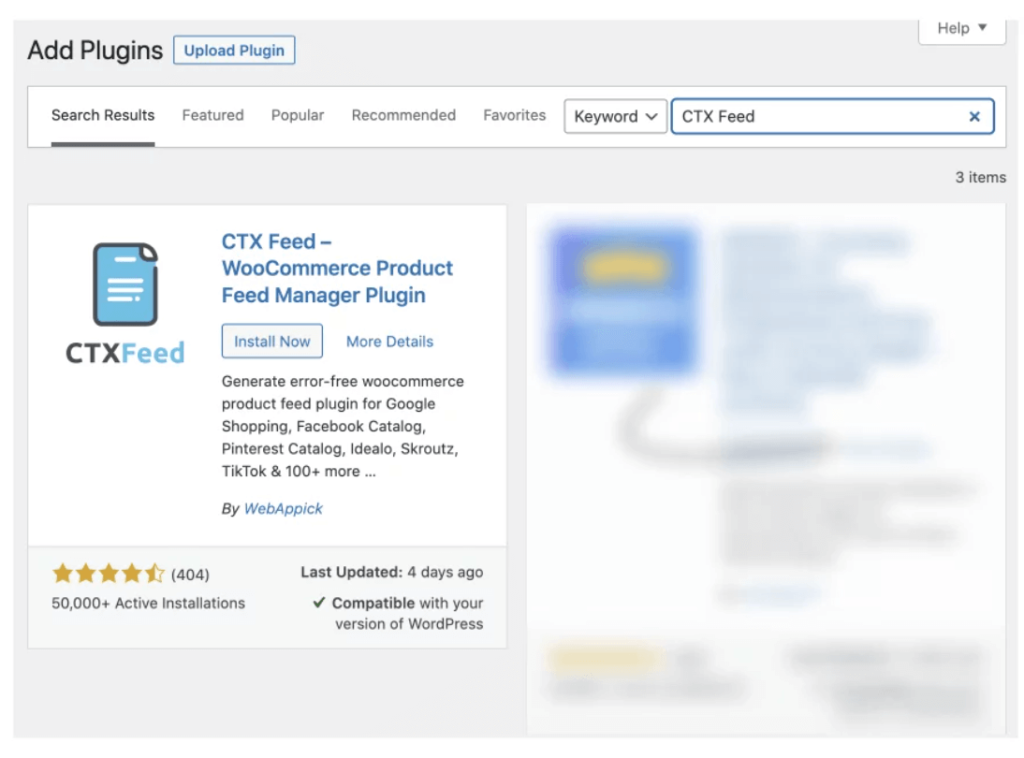 Click on "Install Now" and then the "Activate" button to complete the installation process.
Once the installation process is done, you'll notice the CTX Feed menu on the admin sidebar.
However, the CTX Feed plugin also has a pro version. If you want to use advanced features like filters, attributes mapping, and dynamic attributes, you can upgrade to CTX Feed Pro (30-day money-back guarantee with no questions asked) whenever you want.
Step 2: Make the Product Data Feed
Well, now that you're done installing and activating the CTX Feed plugin, let's go make a product feed for Snapchat.
I assure you, it will just take a few minutes.
First off, hover on the CTX Feed menu in the admin dashboard and click on Make Feed.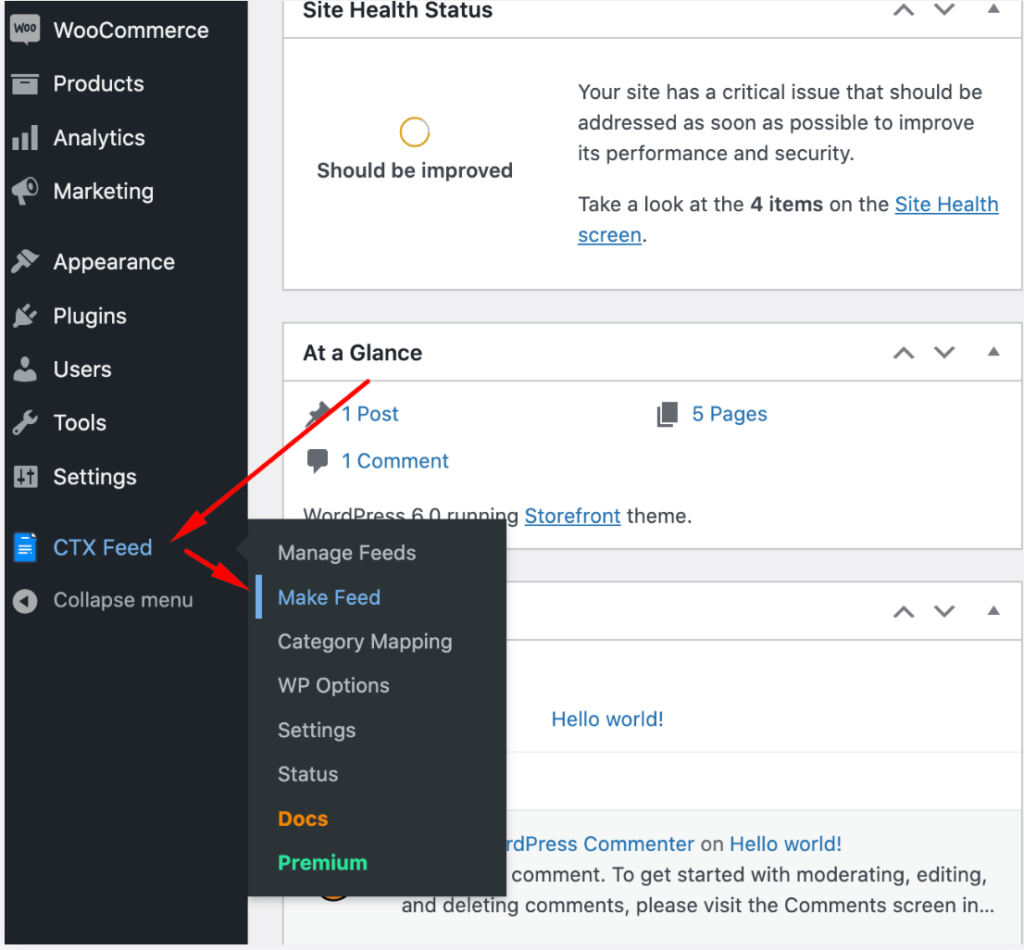 Alternatively, you can browse to the CTX Feed page and click on the New Feed button.
Content Settings
Here starts the actual product feed creation process specifically for Snapchat. You have to choose/fill in the following required fields to proceed on:
1. Country: Based on the settings of your WooCommerce store's location, this is usually populated automatically.
For example, if you chose the United States as your business location while setting up WooCommerce, the same country will be used in this field as well.
By the way, you can also change the country here if you want.
2. Template: One of the best things about CTX feed is the wide range of pre-built templates so that you don't need to do everything from scratch. As you are making a product feed for Snapchat, all you need to do now is to select "Snapchat" from the dropdown.
3. File Name: You are in complete liberty here. Just give the product feed you're making for Snapchat a name. However, if you need to create multiple product feeds, make sure to make every product feed name unique.
4. File Type: When it comes to choosing the file type for your Snapchat product feed, you have options to choose from different file format types such as: XML, CSV, TSV, XLS, and TXT.
Remember, Snapchat does not support XLS data feed right now. So, you have to choose from the rest of the file type options.
Just choose one (except XLS) as per your choice.
5. Delimiter: This option lets you choose the way you would like to separate an item from others in a line. Though a "Comma" is the default here and we suggest you use it, you can choose to use other delimiters as well.
6. Include Variations: If you are selling variation products, you can configure the way you want to include variations in the product feed.
7. Enclosure: Data that corresponds to the item in a column is enclosed with inverted commas or double-inverted commas signs. You may choose to use or opt out of using a delimiter. However, for our Snapchat product feed, let's go ahead with double inverted commas.
Feed Configuration
As you've already selected the Snapchat template on the content settings, you'll find all the required Snapchat field attributes below in the FEED CONFIG tab.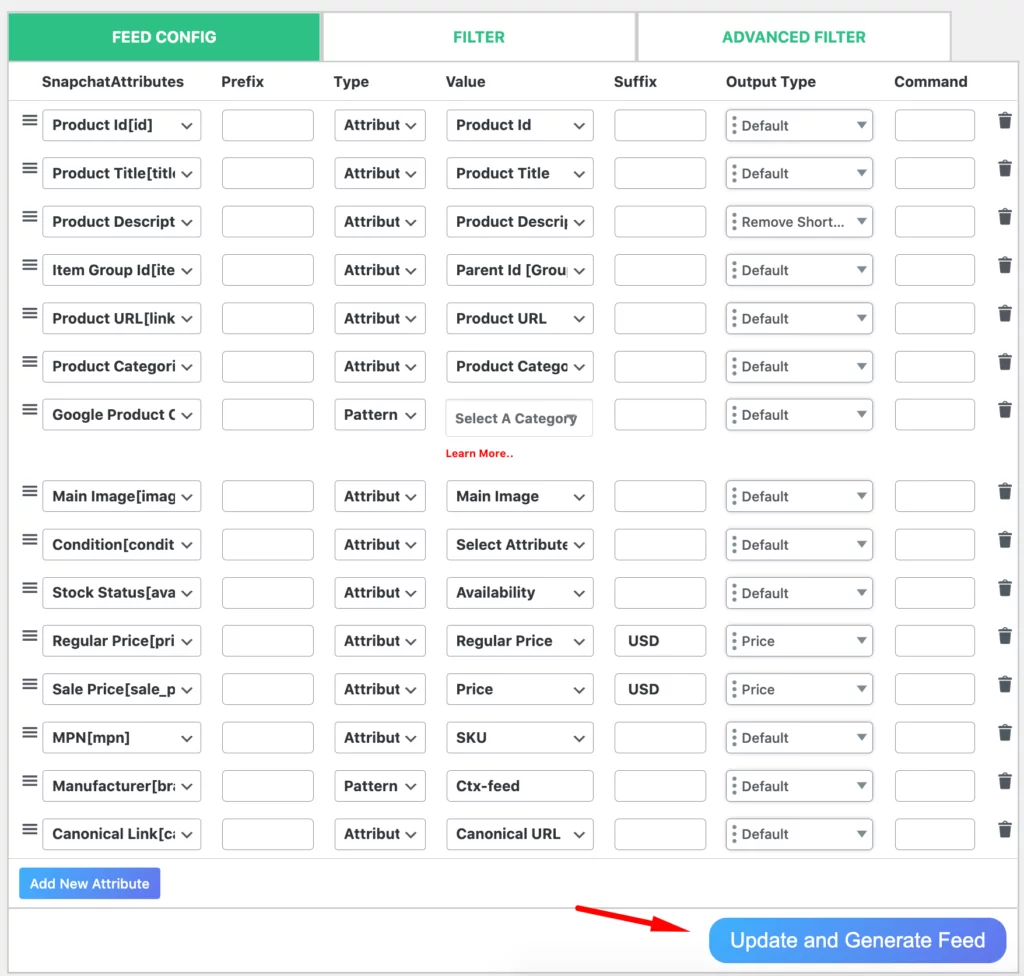 From this tab, you can modify, add, or delete any Snapchat field attributes. On top of that, you can rearrange their positions in the feed.
However, whether you make any changes or not, just go ahead clicking on the "Update and Generate Feed".

And that's it! You've generated the product feed for Snapchat successfully.
However, if you own the CTX Feed Pro version, you can have access to enriched Filter tabs from where you can remove/include backorder products, out of stock products, hidden products, empty description products, empty image products, empty price products and do lots more.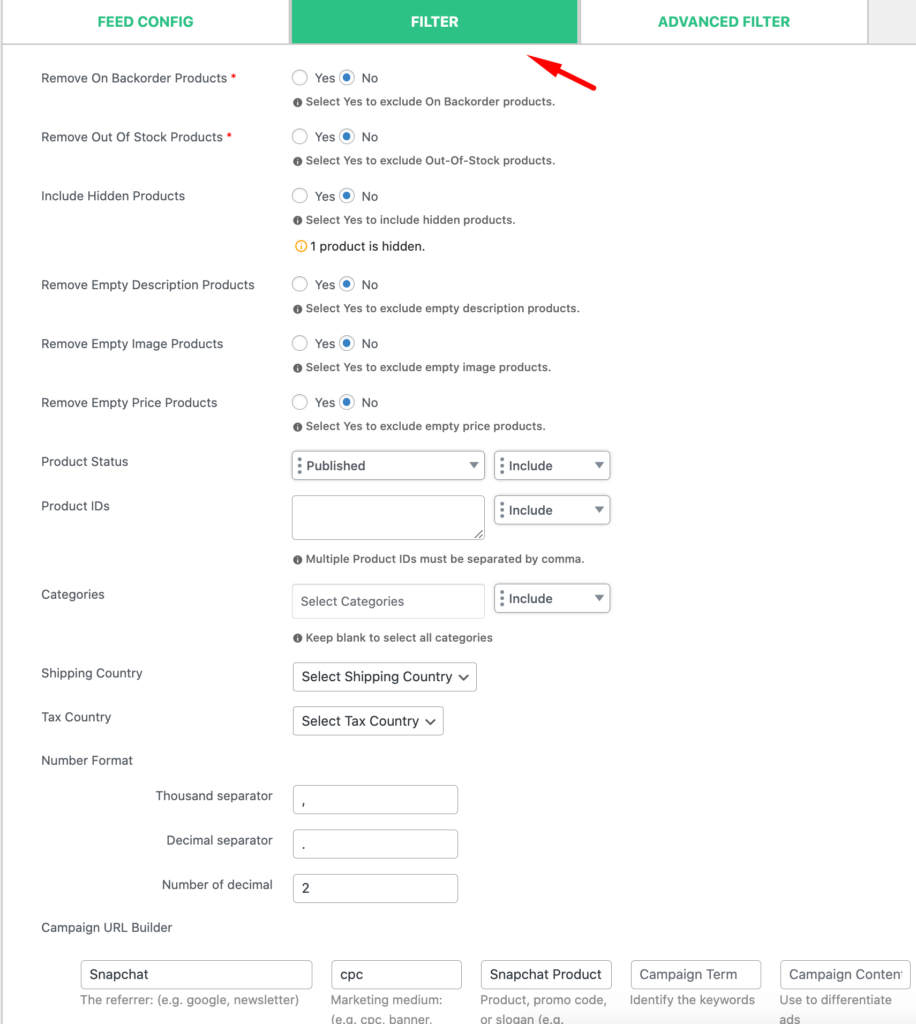 The pro version also allows you to use attributes mapping, category mapping, dynamic attributes, etc.

To get a clear idea about how CTX feed pro offers you way more features to customize the TikTok product feed, you can see the CTX Feed Free vs CTX Feed Pro comparison chart.
Step 3: Manage the Snapchat Product Feed
Your feed creation process for Snapchat is done. But, it is also important for you to learn how to manage the Snapchat feed you create with CTX Feed, right?
Just go to CTX Feed>Manage Feed
From here you'll be able to manage all the feeds you create for different marketing channels.
First off, you'll be able to set auto-update intervals for all the feeds. This is also a page where you will get the URL to specific feeds that you can use in multiple marketing channels.
From the action menu on the right, you can regenerate, view, and download any feed.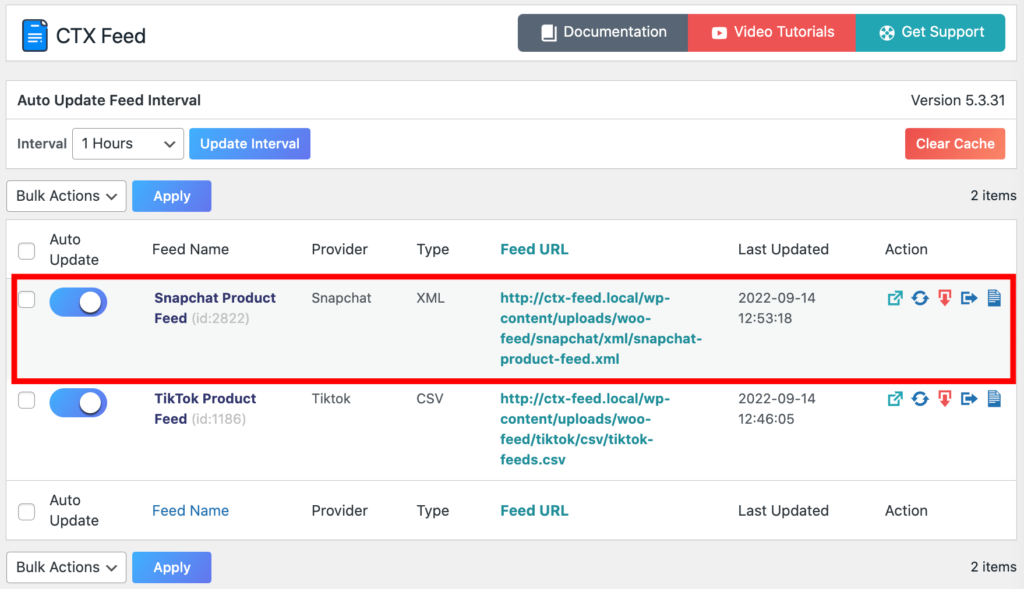 When it comes to the deletion of feeds, you can delete any product feed one by one or in bulk.
Bonus: How to Make a Snapchat Catalog Using a Snapchat Product Feed
As a prerequisite to creating a Snapchat catalog, you have to own a business account along with an ad account on Snapchat. You can do that easily by visiting ads.snapchat.com.
Let's now see how you can create a product catalog on Snapchat using the product feed you just created.
Log in to the Snapchat Ads Manager
Click on the Create Ads dropdown menu on the top-left corner. From the list of Assets, click on Catalogs.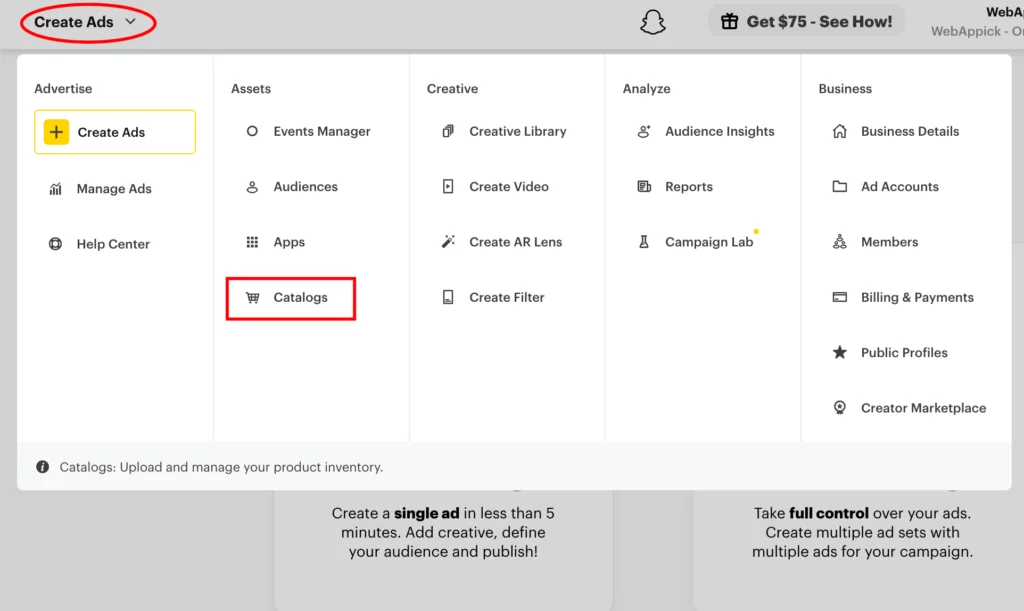 Now, you will find a Create a catalog button. Click on that.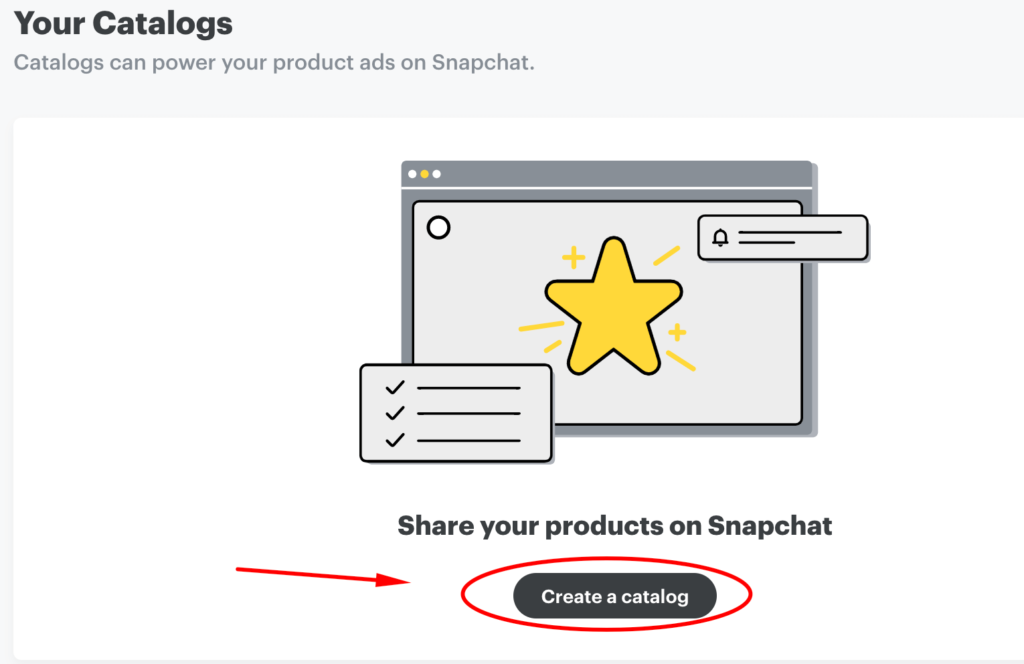 Select the type of business you want to create a catalog for. There are 3 options for you to choose from: Ecommerce, hotel, and flight.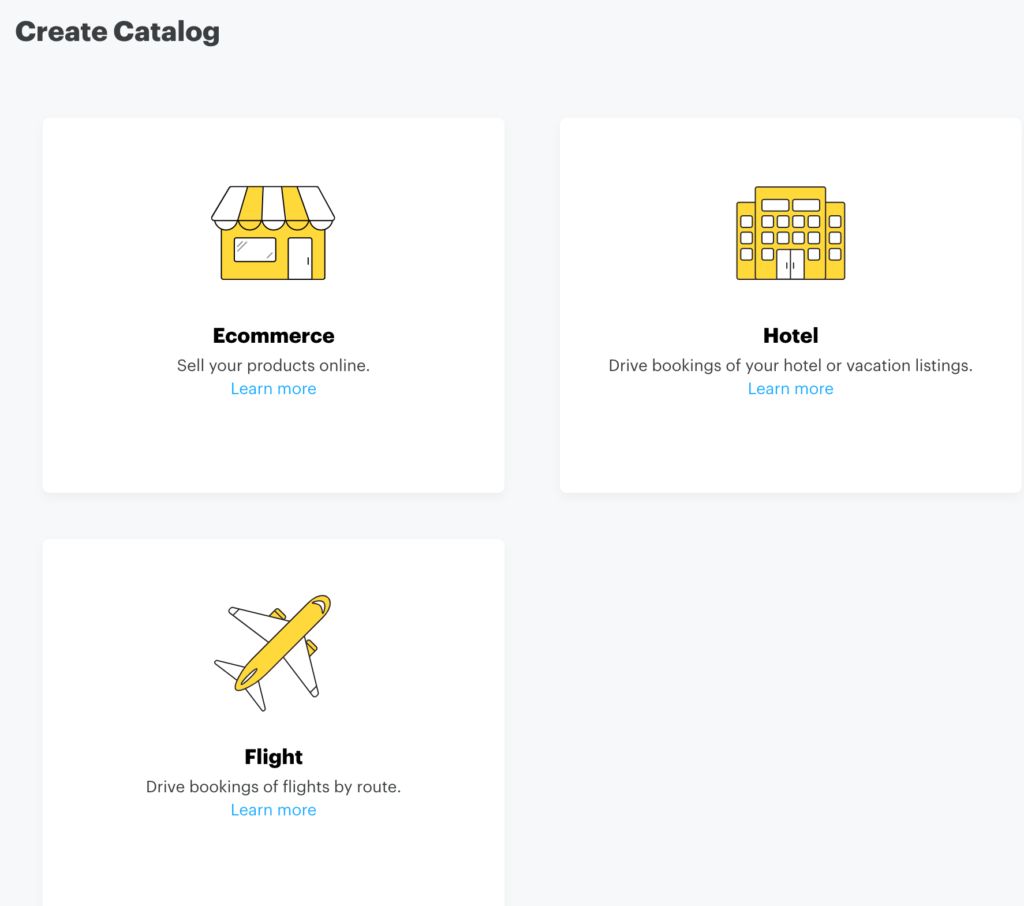 After selecting the business type, a page will load that will ask you to give your catalog a name and then choose the catalog data source. As we will be using a product feed as the data source for the catalog, just select the Use Product Feeds option.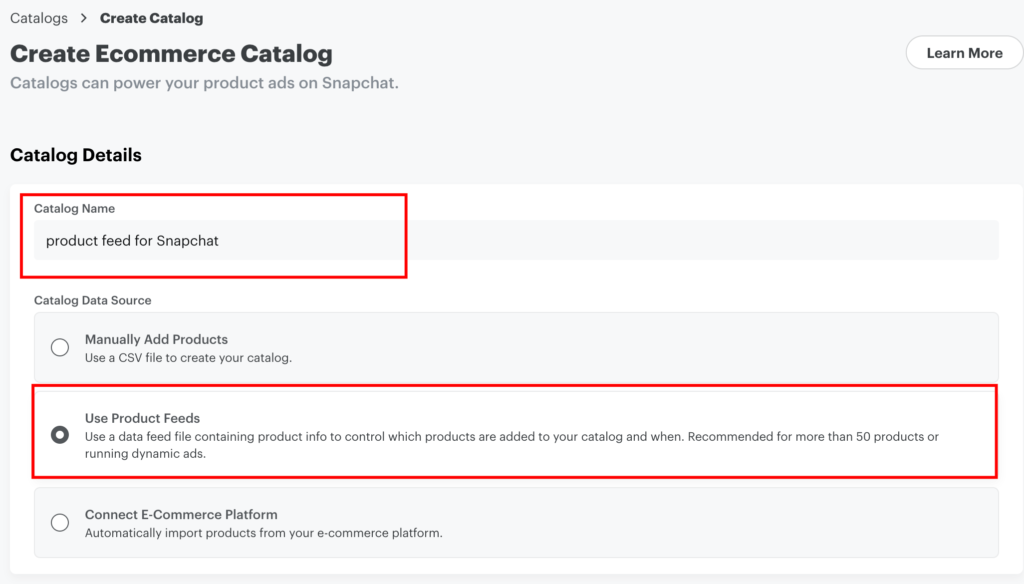 Now you'll see a bunch of new fields will appear at the bottom to help you add products from a product feed.
Here you'll need to provide the following information:
– Feed URL
– Username
– Password
– Feed Schedule
– Attach Pixels
To find out the Feed URL go to your WordPress Dashboard>> CTX Feed>> Manage Feed. Here you'll find the Feed URL for all the feeds you generate with CTX Feed. Copy the required Feed URL that you made for Snapchat by clicking on the URL.

Once you've copied the feed URL, paste that on the Feed URL box on the catalog creation page.

Next, you will see two fields for the username and password of your data feed. However, these fields are required only if your Data Feed URL is password protected. If the URL is not password protected, you can skip these fields.
Now, choose the preferred feed upload schedule hourly or daily.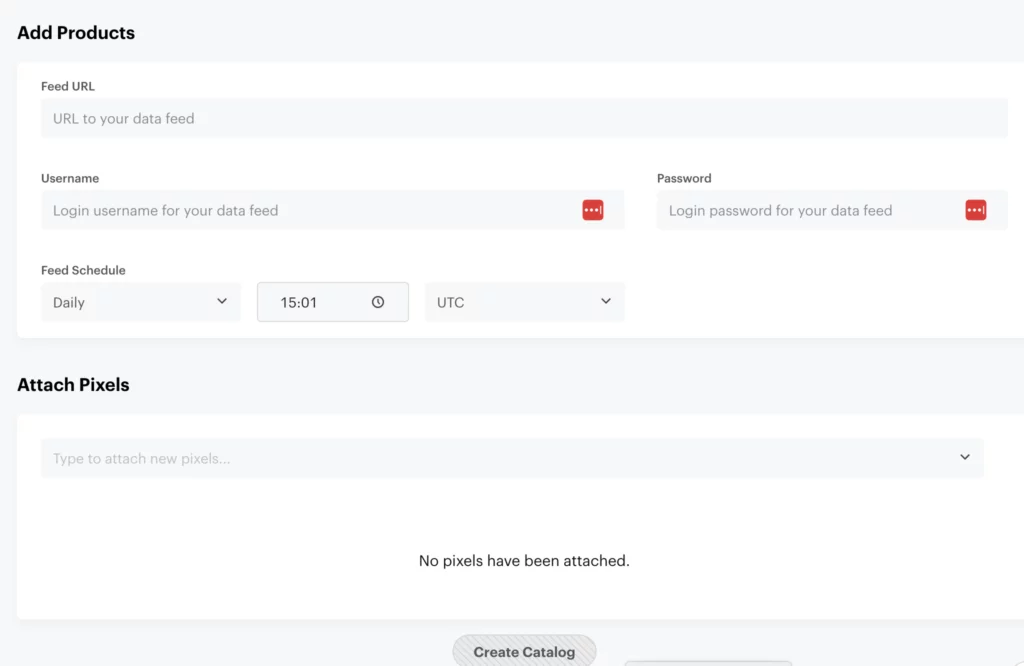 Attaching a Pixel to the catalog field is optional. You can add this if you want to make the pixel available for your organization.
Once you're all set, click on the Create Catalog button.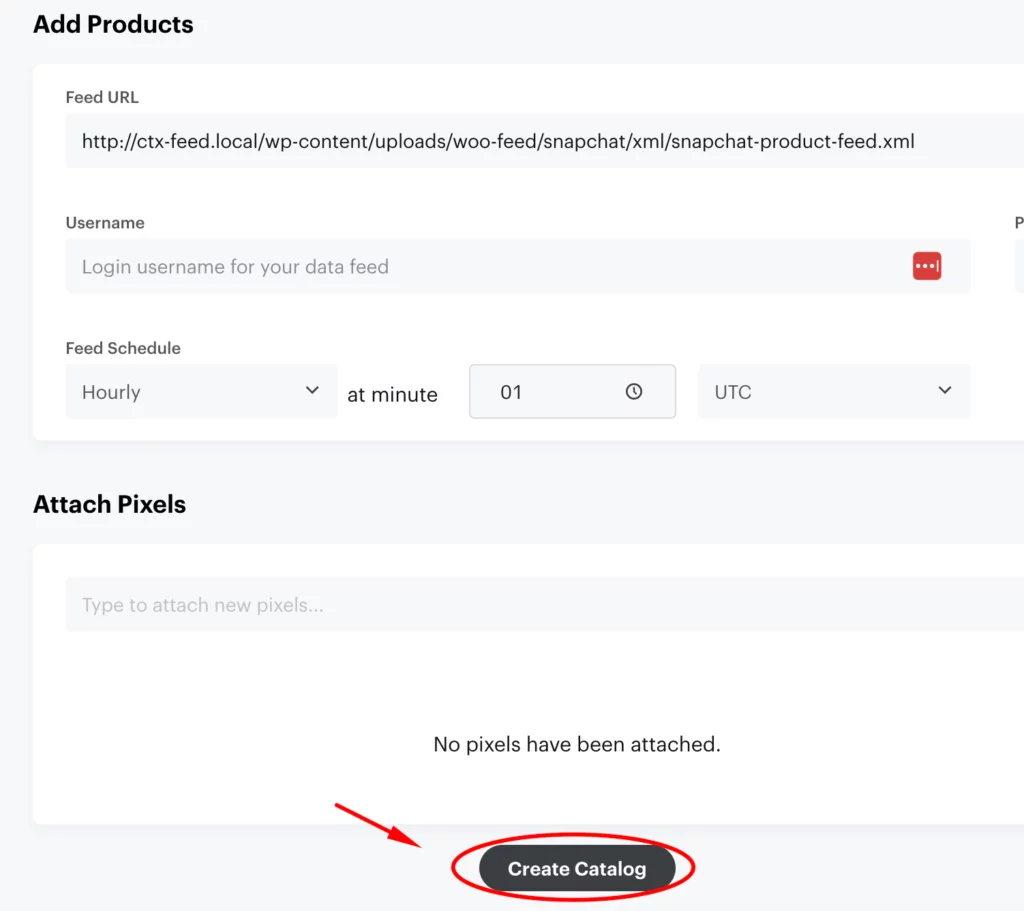 And that's all. For more details about catalog creation, you may follow the catalog creation guide by Snapchat.
Frequently Asked Questions (FAQs)
What are the Types of Ads I Can Run with Snapchat?
At present, you can use Snapchat to run 15 types of ads. Those are:
| | | |
| --- | --- | --- |
| Single Image or Video Ads | Dynamic Story Ads | Dynamic Ads for Travel |
| Lenses Campaigns | Story Ads | Collection Ads |
| Place Listing Campaigns | Native Lead Generation Campaigns | Dynamic Collection Ads |
| Filters | Swipe to Call or Text Campaigns | Commercial Campaigns |
| Dynamic Single Image Ads | Product Catalog Ads | Dynamic Ads |
What Are the Required Product Parameters in a Snapchat Product Feed?
Though a feed generator plugin will contain all the required parameters for Snapchat ads by default, it's good for you to know about the required product metadata attributes and what they are.
| | |
| --- | --- |
| Attribute | Description |
| id | Customers' product identifier |
| title | Product Description |
| description | US |
| link | Link to the product page |
| image_link | Link to a product image |
| availability | Product availability status. For example: In stock, out of stock, preorder, discontinued |
| price | Product price |
| brand, gtin, or mpn | Product brand, global trade item, or ID numbers like UPC, EAN, JAN, ISBN, and manufacturer part number. |
What are the Optional Product Parameters in a Snapchat Product Feed?
Below is a list of optional product meta for the product catalog. Though these are optional, we highly recommend using the applicable product metadata on your product feed so that your target audiences get to know your products better and you can generate more revenue.
| | |
| --- | --- |
| Attribute | Description |
| age_group | Age group of the targeted customers. For example: kid, adult, toddler, newborn, etc. |
| color | Product color. For example: yellow, green, blue, pink, red. |
| material | Main material or fabric of the product. For example: cotton, nylon, silk. |
| pattern | Product pattern. |
| condition | The product condition during the sale. For example: new, refurbished, used. |
| gender | Targeted gender(s) of the product. For example: male, female, unisex. |
| item_group_id | Id of products with different materials and sizes. |
| google_product_category | Exact product category according to the Google product taxonomy |
| product_type | Your defined category for your product |
| adult | Whether the product contains any adult content |
| custom_level_0 | Additional information about a product. |
| custom_level_1 | Additional information about a product. |
| custom_level_2 | Additional information about a product. |
| custom_level_3 | Additional information about a product. |
| custom_level_4 | Additional information about a product. |
| size | Size of the product |
| display_size | If the standardized size attribute does not match with the size string shown to shoppers on the product details page |
| size_system | The sizing system of your product is based on the country. For example: US, UK, AU, CN, MEX. |
| size_type | The cut of your product |
| additional_image_link | Additional URL link to the product image |
| sale_price | Price of the product on sale |
| sale_price_effective_date | The range of date when the sale_price becomes effective |
| address | Latitude and Longitude Coordinates indicating where a product is available |
| availability_radius | Radius around Latitude and Longitude Coordinates in which product is available |
Start Making Your Snapchat Product Feed Now!
If you have read so far, it's time to go ahead and create your first Snapchat product feed. If you face any difficulty or errors while creating a Snapchat product feed, feel free to let us know. We will try our best to help.

You May Also Read