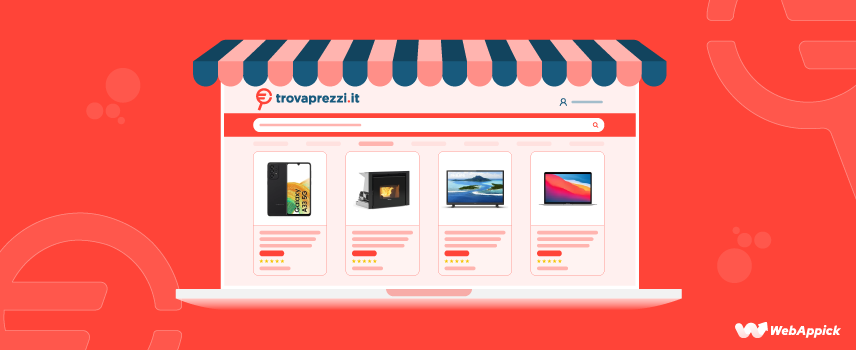 How To Generate Trovaprezzi Product Feed on WooCommerce
Did you know 93% of customers compare prices before making a purchasing decision?
Even you, as a WooCommerce store owner, would look for the manufacturer with the best prices to enjoy more profits, right?
Similarly, online shoppers are always on the look for the lowest prices when they target to buy something. Thus, price comparison engines come into play.
You can directly compete with your rivals by listing your WooCommerce products in price comparison search engines and reach potential buyers with less effort. And if your target market is Italy, then Trovaprezzi is your best choice.
But what are price comparison engines, and what exactly does Trovaprezzi do?
We will find that out in this article in detail and also talk about CTX Feed – Trovaprezzi product feed generator plugin that can generate and update product feed files for you automatically.
What is price comparison?
Before we talk about Trovaprezzi, let's start with the very basic term – price comparison.
To compare prices means to look at how much various retailers are charging for the same item. Buyers rarely make an online purchase without first looking at multiple online retailers or using a price comparison website.
Any sane consumer who needs a specific item would use a price comparison shopping engine to find the best deal. Customers typically visit four or more websites before making a final decision when making an online purchase.
What are price comparison websites?
Shopping search engines that display multiple vendors' prices for the same item are known as price comparison websites. They are also known as comparison shopping engines, comparison shopping websites, comparison search engines, or shopbots.
In response to a user's search query, a price comparison shopping engine compiles and presents results for the same product from multiple retailers on a single results page. Consumers can find the best deal on their desired product by using these sites to shop around and find the best price.
For instance, a customer is looking to buy a Sony PlayStation 5 gaming console. How can he/she compare prices quickly?
All they need to do is, go to a price comparison site and search for the item they are looking for, which in this case is PlayStation 5. After they input their search term, the price comparison site will then return hundreds of results.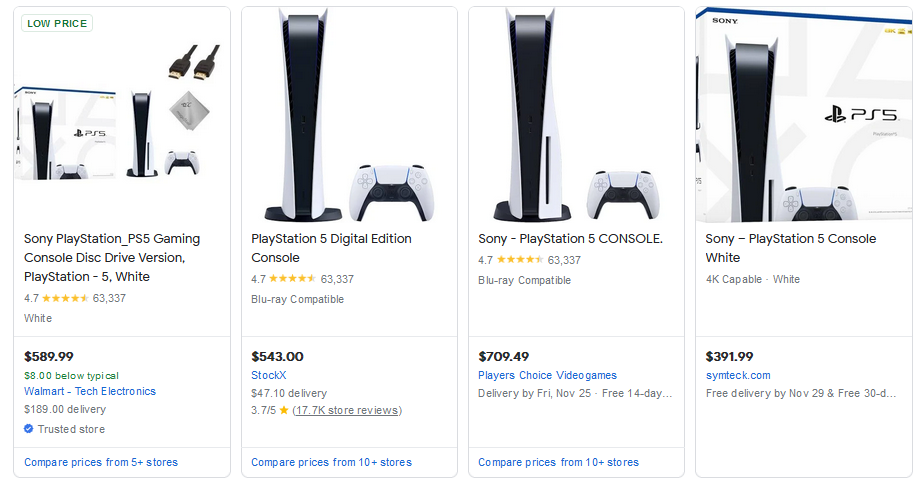 That's just one row of the result. As you can see, the comparison site is displaying PlayStation 5 from different sellers.
The majority of the time, these websites that compare prices do not sell the products directly. Retailers who use WooCommerce, like yourself, list their products on comparison websites like these, and when a customer searches for a particular product, the comparison websites display all the retailer's products.
What is Trovaprezzi?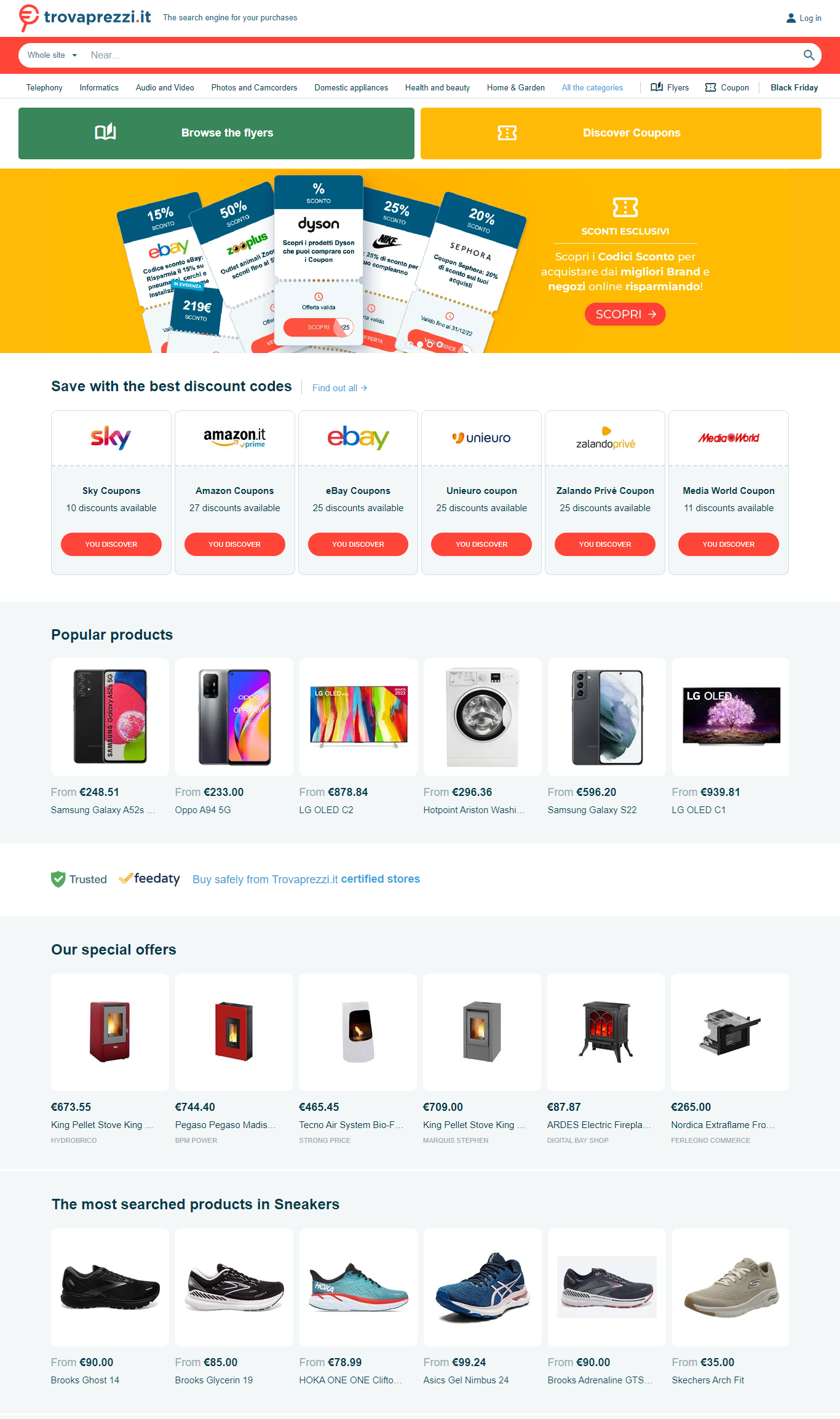 With a whopping 16 million visits per month, Trovaprezzi is the number one price comparison website in Italy. In operation for 17 years, they hold the title of "first price comparison engine" in Italy.
Around 3500 sellers promote their products on Trovaprezzi, and the website has a staggering 18+ million listed products for its visitors. The site also has over 400 product categories for sellers and customers.
How to list/promote your products on Trovaprezzi?
First, you need to create an advertiser's account on Trovaprezzi and then upload a Trovaprezzi product feed to that account.

To create a retailer account in Trovaprezzi, scroll down to the footer menu of the home page and click on the For e-commerce sites link. It will take you to the registration page.
Requirements for listing your products on Trovaprezzi
Following are the requirements for listing your products/offers on the Trovaprezzi eCommerce network.
Presence of an e-commerce section equipped with a virtual shopping cart.
Presence of company data: VAT number, company name, address of the company's registered office, and telephone number.
Reference of the legislation in force regarding the protection of personal data, "Law on privacy" (Legislative Decree 196/2003).
Reference of the legislation in force regarding the right of withdrawal in favor of consumers (Article 52 and following Legislative Decree 206/2005).
Reference of the conditions of sale in accordance with the Consumer Code (Legislative Decree 206/2005).
You can find all details regarding the above points and all the required data here in this link.
Next, you need to create a product feed for Trovaprezzi. Let's take a look at Trovaprezzi feed specifications.
Mandatory Trovaprezzi product feed attributes
Your Trovaprezzi product feed must have the following attributes in order to get listed in the marketplace.
Name
This means the title of your WooCommerce product along with the model/variation name. Avoid using any promotional lines or catchphrases.
Code
A product ID is required as the code. This field can be populated with either the WooCommerce product IDs or the product SKUs.
Description
You must describe the product's functionality and features. Include details like compatibility, specifications, and available variations in your product description. If you need to properly format the description, you may use HTML tags.
We caution you against excessive promotion in the Trovaprezzi product feed because it typically yields weaker results in this marketplace.
Brand
Use your own company's name as the brand name if you are the primary manufacturer. On the other hand, if you stock products from multiple manufacturers, you should use this field to list each product's official brand name.
EAN
Every authentic factory-made product has a special EAN number. Each item in the product feed must have a valid EAN code.
Categories
Don't forget to list every possible subcategory a product could have, starting with its parent. To demarcate each group, use either a comma (",") or a semicolon (";").
Image
You should provide the link to your primary product image. Keep the image free of any watermarks, slogans, or promotional text.
If you want your products to show up on Trovaprezzi, you'll need to upload at least one picture of each one.
Link
Input your WooCommerce product page's link.
Original price
This means your product's starting price. Leave out the currency symbol and just write the price.
When advertising on Trovarprezzi, most users offer discounts as part of their campaigns. It is still necessary to submit the original price so that Trovaprezzi can inform its users of the price from which they are benefiting.
Price/Discounted price
If you are offering a discount, please include the sale price in this attribute. If no discount is in effect, however, you should set this attribute to the Original Price.
You should not list the currency sign alongside the price.
Shipping cost
For your products to be available on Trovaprezzi, you must provide an accurate shipping price.
For instance, let's say you're selling water bottles online and covering the shipping costs yourself. There will be no shipping fees associated with this purchase.
If you are shipping water bottles and the shipping cost is 5 Euro, then you must submit this attribute for the water bottle with the value 5. Again, don't add the currency's sign to the total price.
Part number
Most electronic products come with a Part Number, also called an MPN, supplied by the manufacturer. You can use the product's original MPN here if you have it, or you can use the product's SKU.
Weight
When listing items on Trovaprezzi, you must include their weight. Kg (kilograms) is the unit of measurement for mass. Simply enter a numeric value and skip the unit input.
Stock
This is the quantity of a particular item that is currently available for purchase from your company.
Trovaprezzi product feed generator
There are two ways you can generate Trovaprezzi product feed.
Manual Trovaprezzi data feed – You can collect the required attributes and generate a Trovaprezzi custom feed. In this case, you need to manually copy all your product data and paste and organize it using software that supports Trovaprezzi CSV file or XML file creation.
If you have a long list of products, this will be too time-consuming and labor-intensive. Also, it will be tormenting to update this Trovaprezzi product feed.
Trovaprezzi product feed generator tool
This is an automatic method. You can generate a Trovaprezzi product feed using a third-party tool that can synch all your existing store's data into a Trovaprezzi XML feed.
After that, you can upload that file to your Trovaprezzi sellers' account. These tools will also enable you to update all changes from inside your eCommerce store.
If you have a WooCommere store, then there are plenty of Trovaprezzi product feed generator plugins available for you to choose from.
For this article, we have decided to demonstrate how to generate Trovaprezzi feed using the best Trovaprezzi woo feed plugin, known as the CTX feed.
CTX feed – Trovaprezzi product feed generator plugin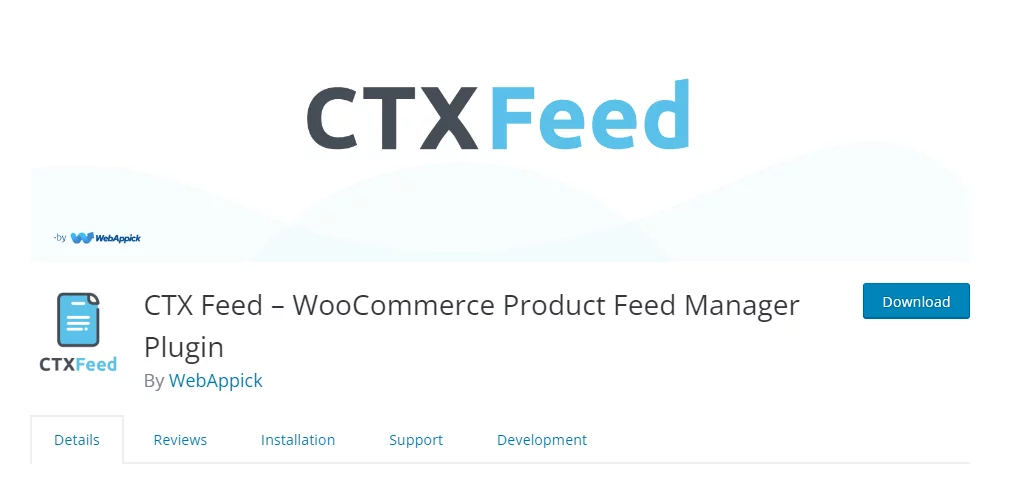 CTX feed is one genius tool that can help you promote your WooCommerce products across multiple channels. And the best thing about it is it has a free version available in the WordPress repository.
You can connect your WooCommerce online store to hundreds of different marketplaces and price comparison engines, generate a product feed file for those channels, and easily update your product data across all those marketplaces all from the same place—the WooCommerce admin panel.
In terms of product feed management, CTX feed is compatible with over 130 different distribution channels. This means you will be able to extensively promote your products to customers through any and all channels that are available to you, including online marketplaces, price comparison engines, search engines, affiliate websites, and social media platforms.

Thanks to the CTX feed plugin, your WooCommerce store gives you the ability to quickly and easily generate a product feed for Trovaprezzi, Rakuten, PriceSpy, PriceRunner, Kelko, Catch, as well as Google Shopping product feed or Google Merchant feed, TikTok catalog, the Bing shopping ads, the Snapchat catalog, the Facebook catalog feed, the Instagram catalog feed, and a wide variety of other channels as well.
Let's take a look at some of the benefits and important features that come with this plugin.
Quick and efficient
Manually creating spreadsheets can be very challenging, and it's possible that channels won't accept your feed if they see any errors. It's important to keep in mind that each sales channel has its own unique feed format and that you must adhere to those specifications when submitting your product feed.
In the case of products with multiple variants, you may have trouble updating the product name or description or experience issues with the product image links.
It will be a huge time sink to manually enter the data into the spreadsheet if you want to make the feed in CSV format. When making two feed files, you cannot simultaneously alter their format from CSV to XML.
The CTX Feed Plugin is an improvised answer to this predicament. Furthermore, you can format any attributes in accordance with the output type the plugin provides.
As a result, the plugin's specialized solutions can deal with simple problems, such as allowing users to list prices with any number of decimals rather than just two. In addition, the CTX feed provides a number of useful identifiers as optional extras to avoid confusion between items of the same brand.
User-friendly interface
The feed is made so that the designated channels can upload correct and accurate product information and attributes. Your customers can easily locate the products they're interested in without missing any of the details.
When a retailer satisfies all the requirements of a given marketing channel, the rate at which they are rejected decreases dramatically. All the pieces necessary to design and implement a feed to any channel are neatly arranged in the CTX Feed.
Every attribute and required field is conveniently located in the same window, so there's no need to open a new one whenever you need to make a change. Because you won't need to constantly hover in and out of the window during the uploading process, you'll be less likely to make a mistake.
100+ preconfigured templates & different file types
As we have already stated, the product feed specifications vary depending on the marketplace or marketing channel. You'll be in for a lot of work if you have to manually create separate files for each customer after learning about their unique product attributes.
CTX feed eliminates the need for that. The plugin comes with 130 different preconfigured templates. All you have to do is pick a template, make a feed, and connect it to the channel.
As an added bonus, the plugin is compatible with six distinct file types:
With these 6 varieties, you can tailor your product feed to each promotional platform. You can find details/attributes like the name, description, image URL, selling price, unique identifiers, and more inside the feed.
Therefore, their appearance in the feed file is determined by the type you've selected and the channel's preferred method of incorporation. CTX Feed takes care of everything after you select the feed type.
Price
The free version is available in the WordPress repository. The CTX Feed pro comes in different price plans.
Annual cost –
Single Site – $119.00
Five Site – $199.00
Ten Site – $229.00
You can also buy lifetime licenses of the pro version. However, you need to contact the company for a price quote.
Step-by-step process of creating Trovaprezzi WooCommerce product feed
First, we need to start by installing the Trovaprezzi product feed generator plugin – CTX feed and then generate the feed.
Step 1 – Install the plugin
Login to your WordPress admin panel and jump to Plugins >>Add New. Type the plugin name in the search field.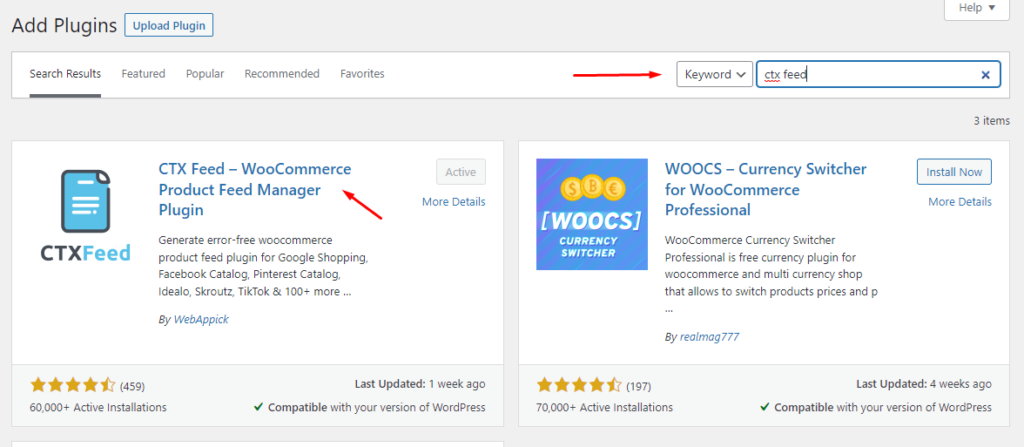 Install and activate the plugin. As soon as you install it, the CTX feed will create a separate menu in your left menu panel.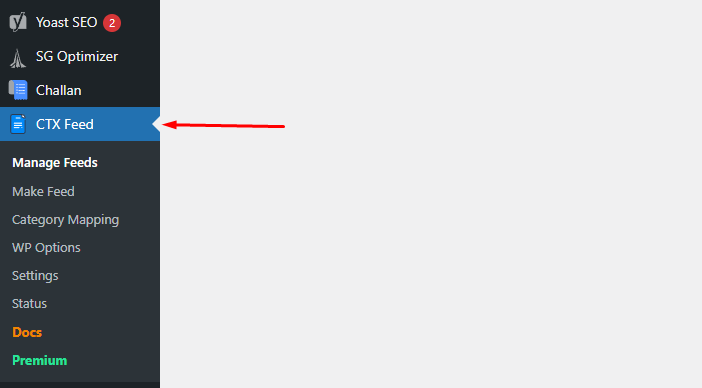 Step 2 – Enable necessary custom fields
WooCommerce product pages don't come with all the necessary attributes different marketing channel requires, such as Brands, GTIN, MPN, EAN, etc. Therefore, you need to create custom fields in your product pages to input these attribute values.
The great news is CTX feed has you covered when it comes to required additional attributes from different marketing channels. As we have already discussed, CTX feed already knows what attributes different channels ask for; the plugin has them already integrated inside its settings.
Go to the Settings page of the CTX feed and scroll down to the Custom Fields section.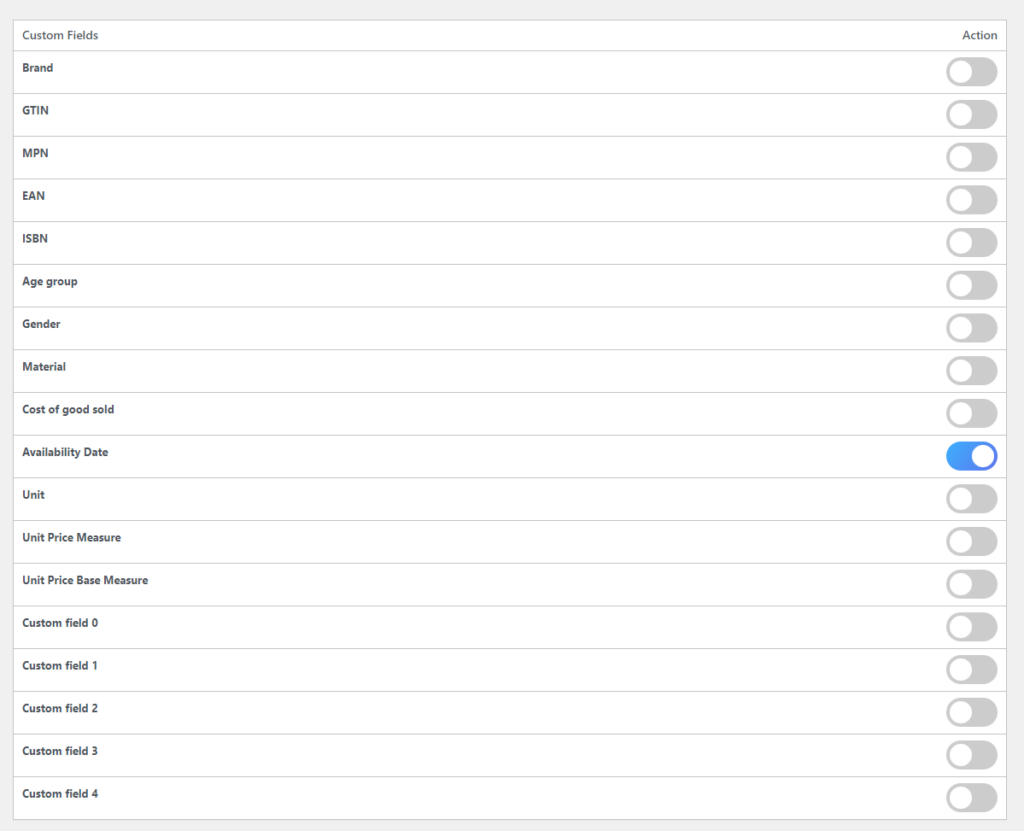 As you can see, there are options available for enabling MPN, Brands, EAN, etc. Let's check how they work.
Toggle to enable the EAN option.

Now go to any of your product pages and scroll down to the Product data section.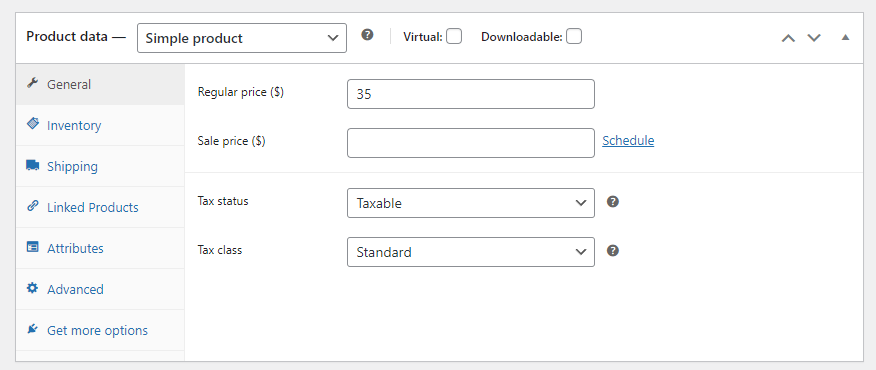 Click on the Inventory tab, and you will find all the custom fields you enabled on CTX feed settings.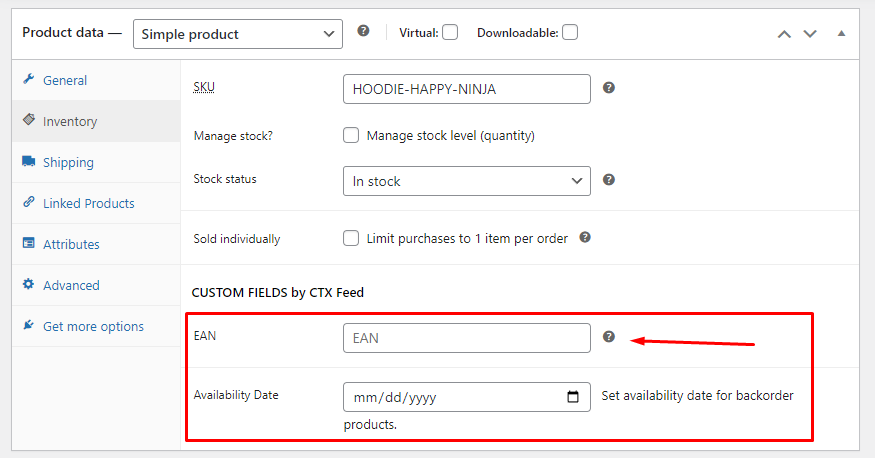 You can now input your EAN value in the box for that product.
Step 3 – Creating Trovaprezzi product feed
Hover over the CTX feed menu and click on the Make Feed option.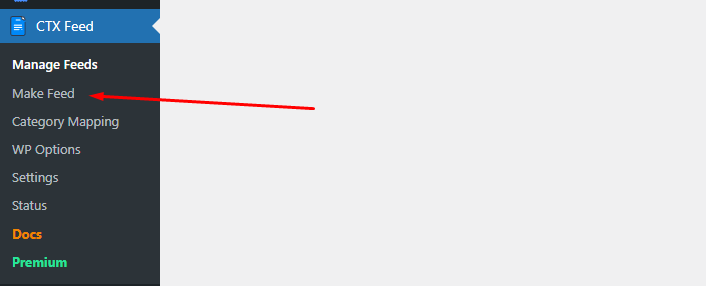 It will take you to the new feed generation window.

Select your country, or CTX feed will pick it for you based on your location. From the Template dropdown, select Trovaprezzi.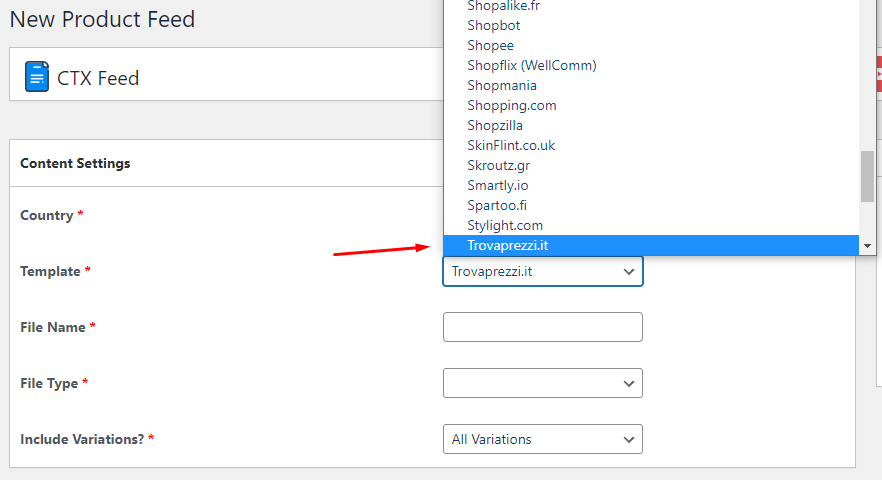 As soon as you select the template, CTX Feed will populate the necessary attributes in the Feed Config section. Before we check that, first give your file a name and choose the file type and variations.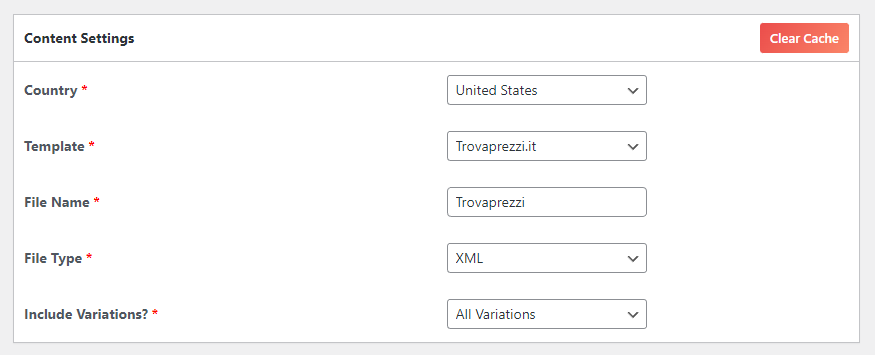 Now, let's take a look at the attributes CTX Feed generated automatically.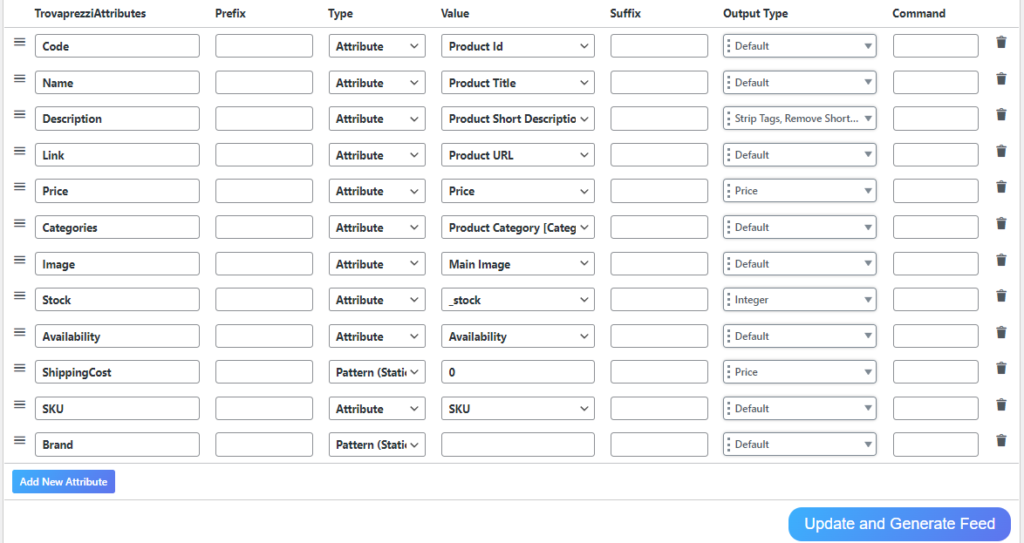 As you can see, all the mandatory attributes for a Trovaprezzi product feed we discussed earlier are present here. You can also add additional attributes if you need to by clicking the Add New Attribute or make changes to the existing ones from the attribute fields.
Otherwise, you can just go ahead and click on the Update and Generate Feed button to generate the Trovaprezzi product feed. CTX Feed will automatically fetch all your WooCommerce product data according to the attributes and organize them in a feed file.
Step 4 – Uploading the Trovaprezzi product feed to the marketplace
Go to CTX Feed >> Manage Feeds, and there you will find your created feed list.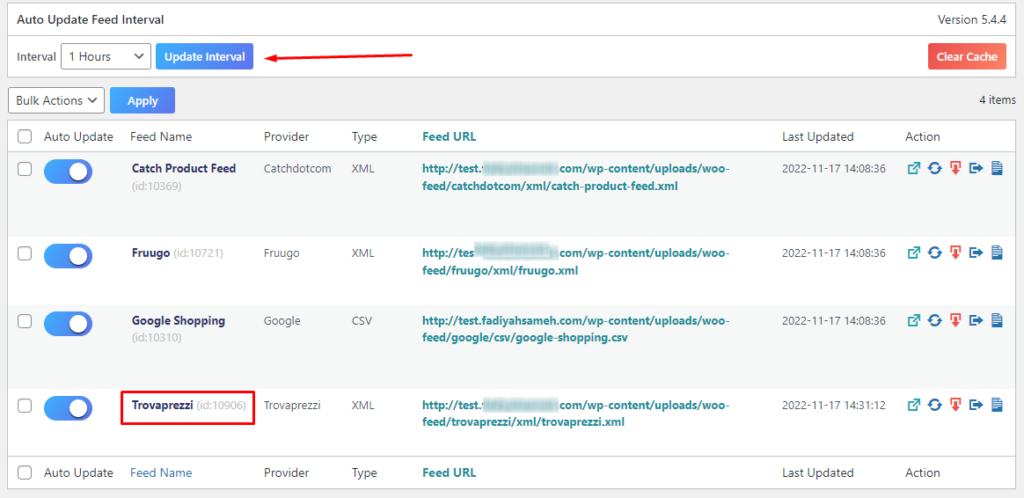 As you can see, you can set your auto-update feed interval from this page. What it does is the feed will be updated automatically after that interval.
For example, suppose you have set a 1-hour interval. In that case, CTX Feed will automatically refresh all the product feeds every hour, and all your product information will be updated across all channels where you connected through a product feed file.
You can download the Trovaprezzi product feed for WooCommerce file from the download button, as can be seen in the image below.

However, if you download and update a product feed file to the marketplace, it won't automatically update as you make changes in your WooCommerce store. You then have to regenerate and download and upload the file again every time you make any changes.
The best method is to copy the Trovaprezzi product feed URL and paste it to the Trovaprezzi retailer account via the HTTP/HTTPS method. That way, you are hosting the product feed file directly from your own server, and any changes you make will automatically be updated on the feed file.
Therefore, whatever changes you make to your product pages, Trovaprezzi will fetch that update from your feed file and display the updated data in their search results.
To copy the XML feed file, hover over the link, and a tiny copy icon will pop up. Click on that to copy the file and paste it into your Trovaprezzi account's appropriate field.

How does Trovaprezzi work?
Let's first discuss how price comparison sites work.
For end users, price comparison engines function very similarly to search engines.
However, a price comparison website shows a side-by-side comparison of products, with the primary focus being on the prices as well as some other significant features. On the other hand, standard search engines organize websites and products according to their rank, not by price or any other criterion for comparison.
On the retail side of things, WooCommerce store owners can sign up for an account on one of these websites that compare prices for a fee and submit information about their products, such as prices, features, photos, and so on.
After that, the price comparison engine will list your products and will display them whenever someone searches for products that are relevant to yours. In most cases, the products are ranked based on their prices.
Trovaprezzi website walkthrough
Trovaprezzi works similarly to all other price comparison sites.
If you visit the homepage, the first thing you will notice is the long search bar. Generally, it is the most used tool on any search engine.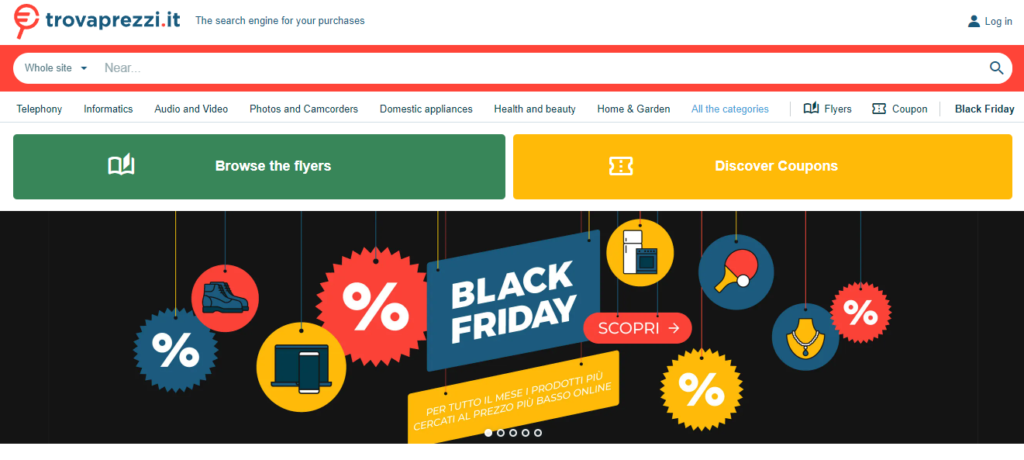 In addition to price comparison, Trovaprezzi is also a coupon site. Sellers can promote their coupons or flyers on the site. Customers can find the best coupon deals from the dedicated links on the homepage.
The website's search bar is very quick and efficient. When a customer searches for something, it quickly auto-suggests relevant products and best offers for that product in the search box itself.

Let's check out the search result page. We are searching for iPhone 14 max pro.
Search result page

The first thing Trovaprezzi will show you is the product image and the most important features underneath the title. Along with the title, it will show you the lowest price available.

Trovaprezzi will also display different variants of the product, which in this case, are the different memory versions such as 256, 512 GB, etc. You can filter your search by clicking any of the variants.
However, the most important part for you as a seller is the Price Trend section. Customers won't really bother about this section, but for retailers, this is a gold mine.
Go ahead and click on the Price Trend; it will pop up a detail window. You can study this chart to figure out how steady the price and popular the product has been and understand the pricing standard for the product.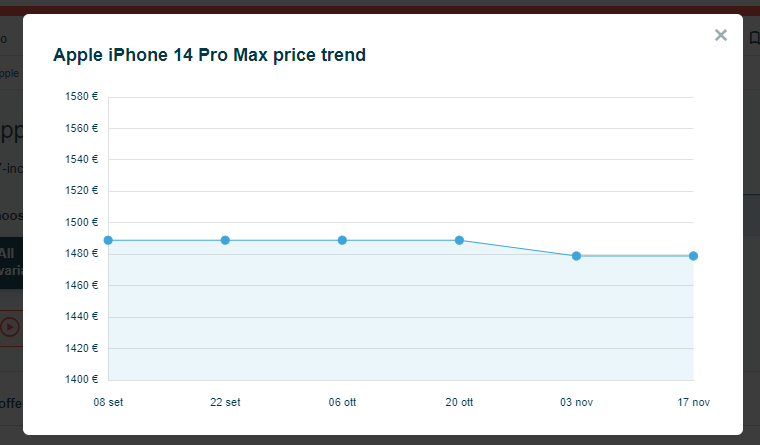 As a result, it will help you better understand the niche market and determine how to price your products.
Trovaprezzi also provides some necessary details about the products. Before we check the price comparison list, let's dive into these sections.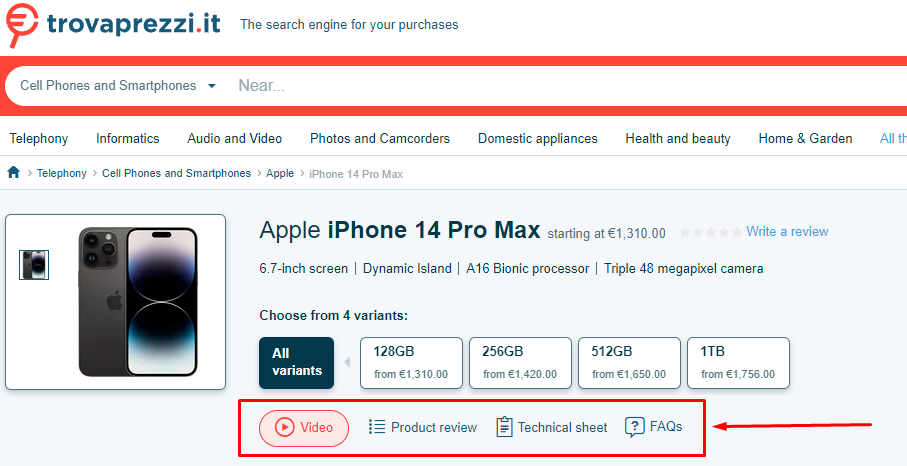 96% of customers prefer to watch a video when purchasing a product. Trovaprezzi is well aware of that, and that's why they have a separate section for product videos.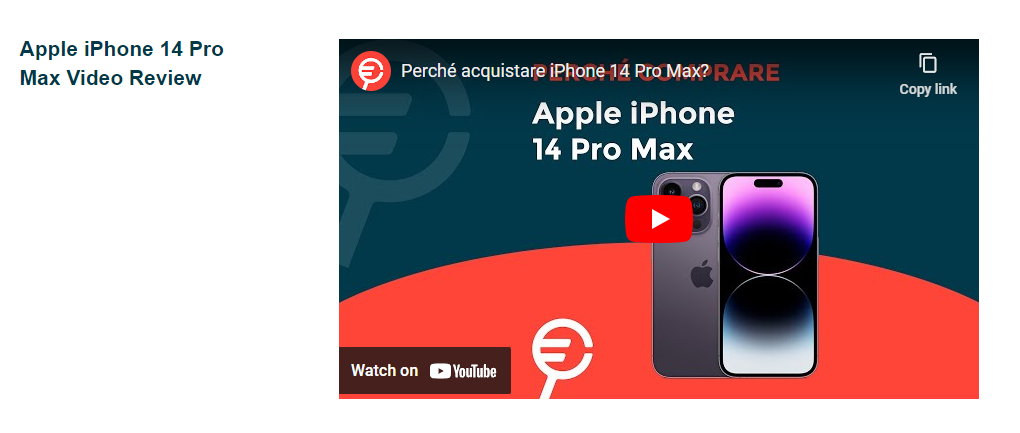 They also provide an expert review of the product to help customers understand and take the purchasing decision.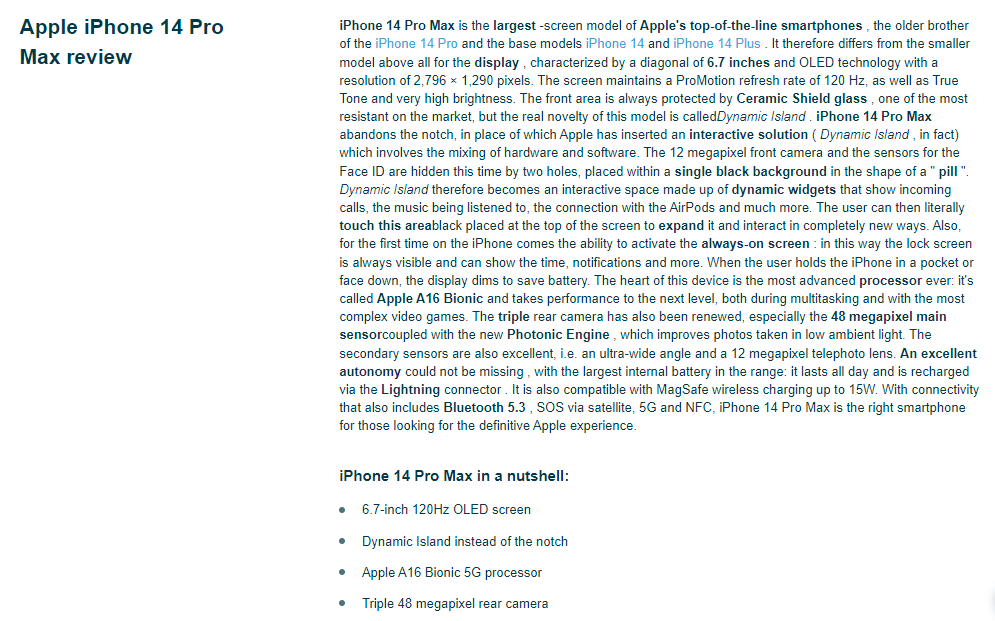 Additionally, they also provide a FAQ section where they answer the most asked questions.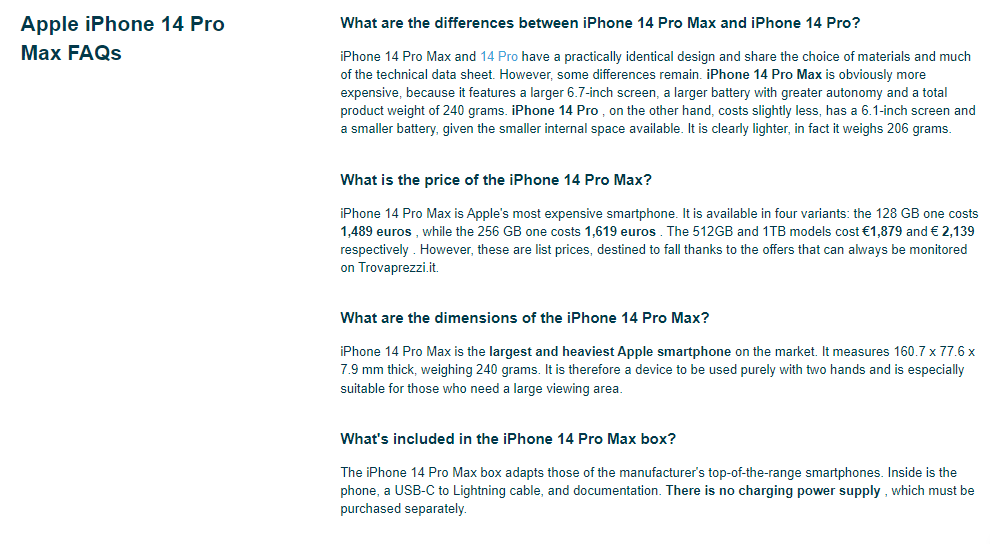 Now let's talk about the main features – the price comparison list.
Price comparison list
As you can see in the image above, Trovaprezzi is displaying prices of iPhone 14 max pro from different retailers. They rank the retailers by the lowest price offered.
When customers click on the See Offer button or even click the product title, it will directly take them to your WooCommerce product page for that product. From there, they can complete their purchases.

Let's dig into the features every list provides.
The first and foremost thing is the price and the shipping cost. This is every customer would want to check first, and Trovaprezzi also prioritizes it by highlighting it with bigger fonts.

The next most important thing any customer would want to check is the review and rating section. Trovaprezzi allows your customers to rate their experience with you and submit reviews.
The platform has its own verified review system where customers can submit their reviews without going out of the site. These on-site reviews will display a Trusted badge which helps immensely in earning the trust of new customers.

Trovaprezzi also supports reviews from third-party sites such as Feedaty. Let's click on one of the ratings and check how the site displays them.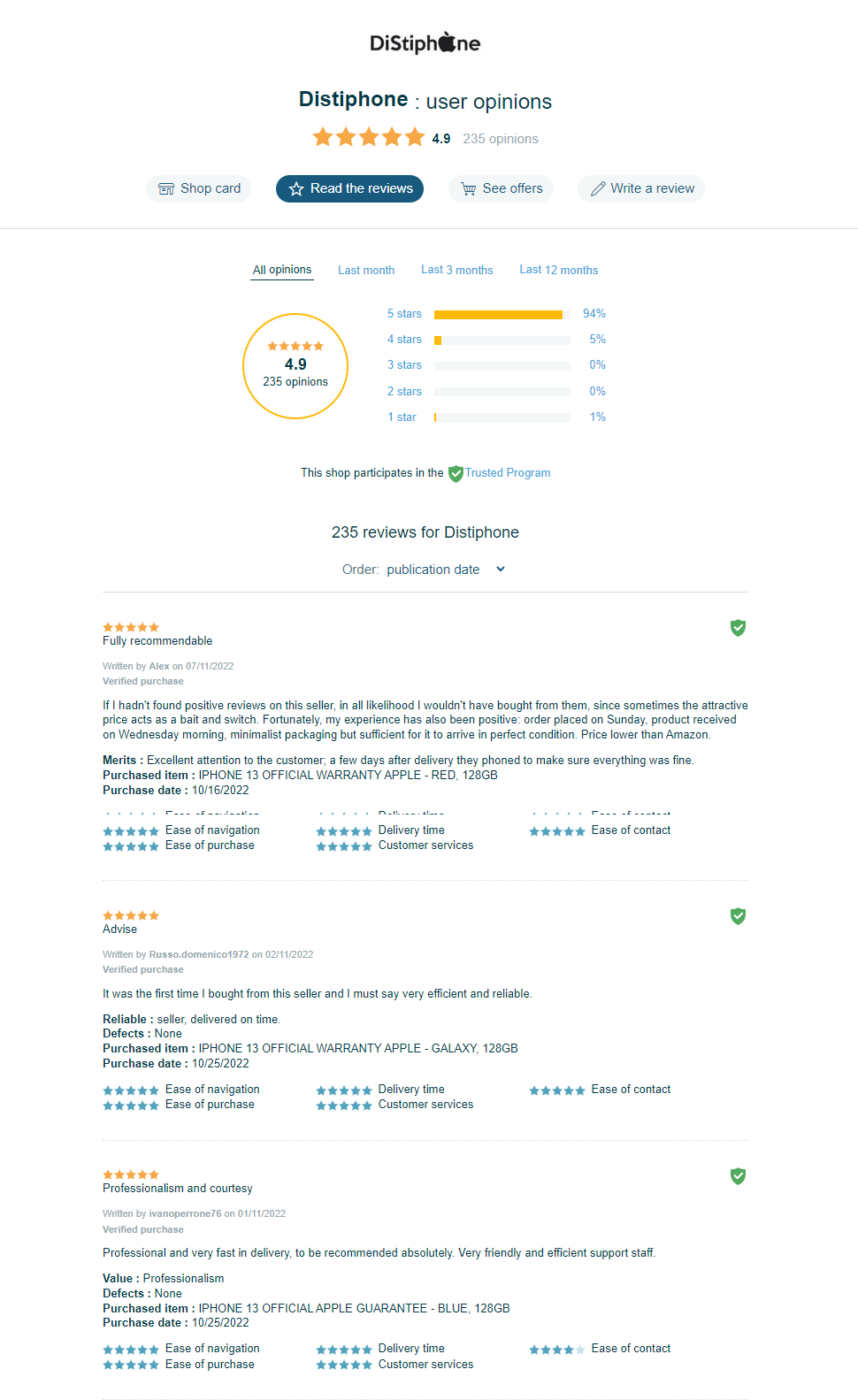 As you can see, customers can submit a detailed review of their experience with you. In addition to that, they can also check your company details in the Shop Card tab.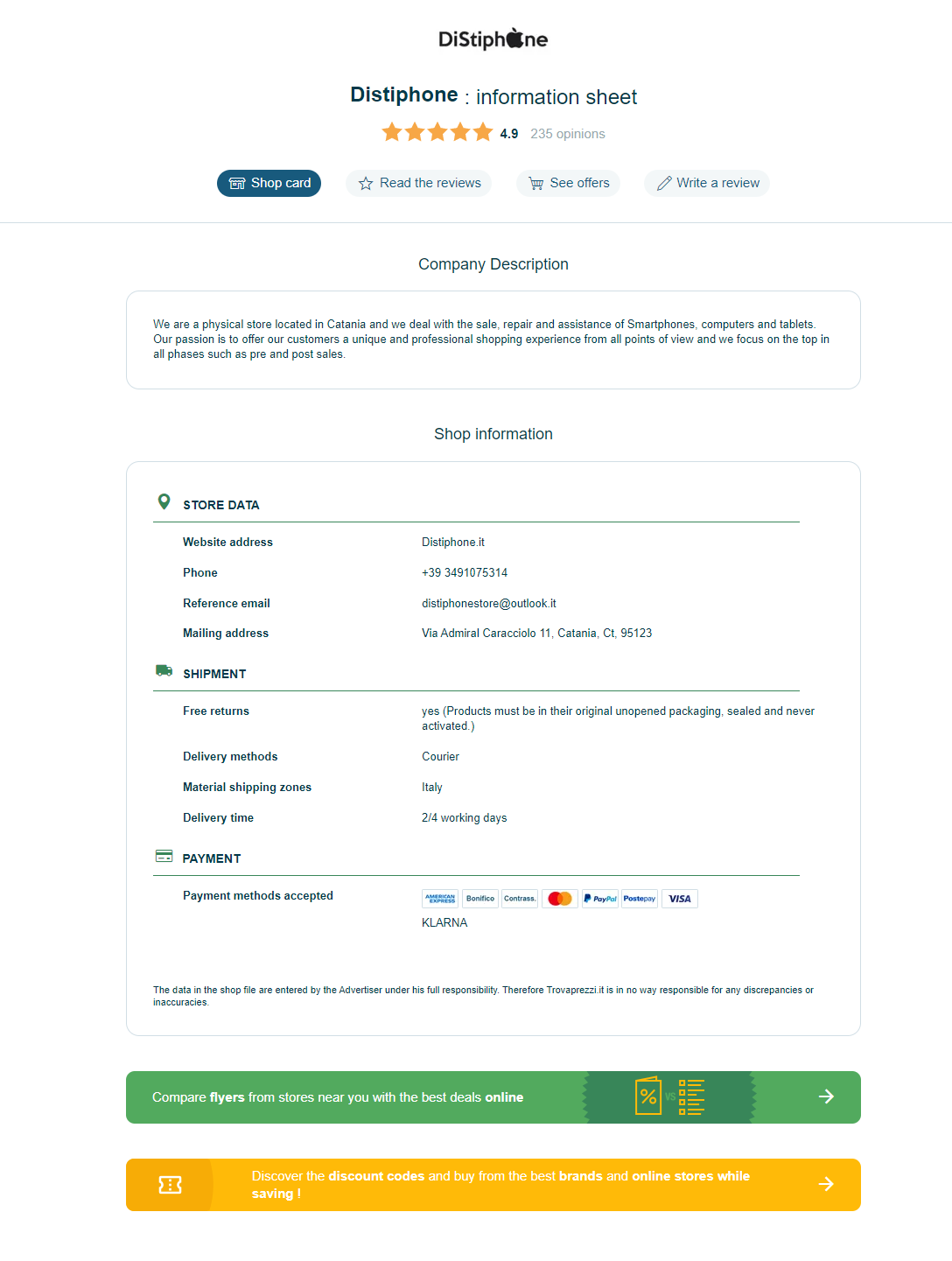 Here they can also check what payment method you support in your store. They can also check that from the comparison list on the search result page.
Additionally, Trovaprezzi displays some helpful information such as related articles, top products in the niche, buying guidelines, etc., on the left panel.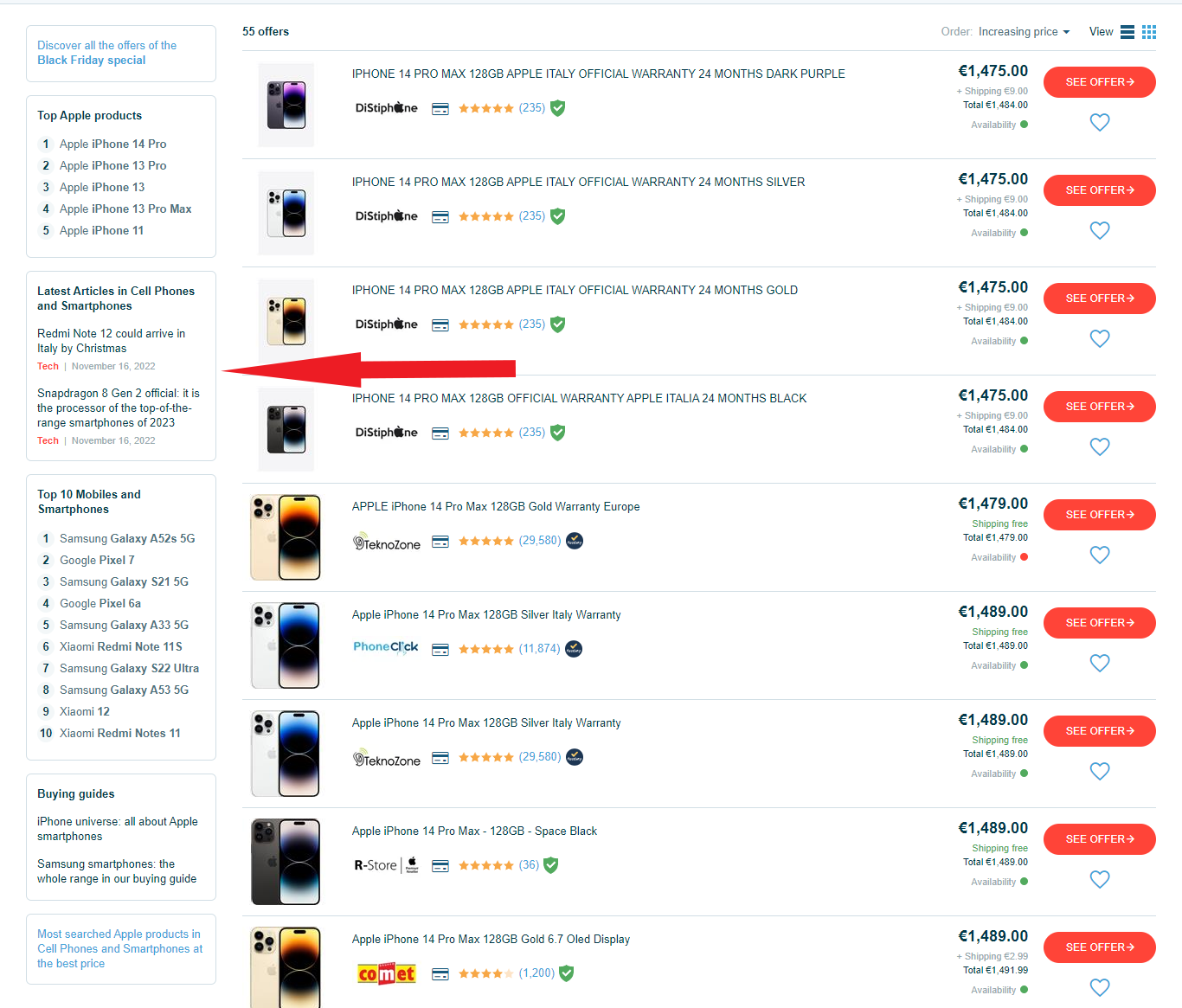 Frequently Asked Questions (FAQs)
Why WooCommerce store owners should choose to sell on Trovaprezzi?

With 16 million monthly users and over 400 product categories, Trovaprezzi is the number one price comparison site in Italy. If a WooCommerce store owner wants to increase traffic, attract highly qualified visitors, and increase their earnings, then they must list their products on Trovaprezzi.
How to Sell Woocommerce products on Trovaprezzi Marketplace?

You need to create an advertiser's account on Trovaprezzi and upload your Trovaprezzi WooCommerce product feed in order to list and sell your products on the platform. Use plugins such as the CTX Feed to create and connect a Trovaprezzi product feed directly from your WooCommerce admin panel.
Wrap up
If your target market is Italy and you want to increase your revenue, then Trovaprezzi is the best place to promote your products. The site has over 400 different types of product categories, ensuring that you can list your products no matter what niche they fall into.
And the CTX Feed Trovaprezzi product feed generator plugin makes the feed generation and Trovaprezzi data feed management a breeze.
Hope this article was of help to you. Let us know if you have any suggestions or comments on the topic.