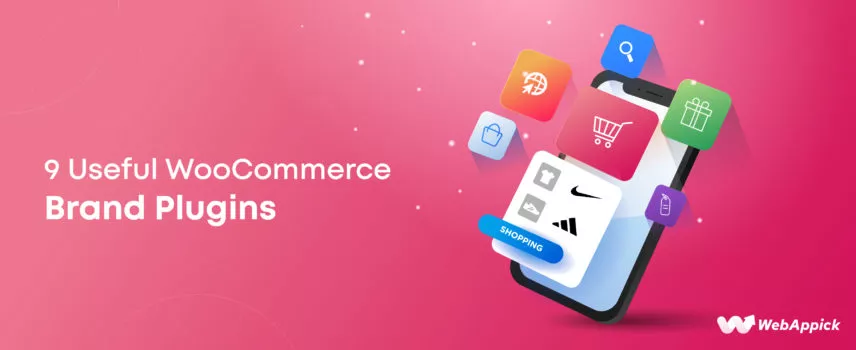 9 Useful WooCommerce Brand Plugins for your Store
If you are looking for some useful WooCommerce Brand plugins to add brand on your products page, then you don't need to look for somewhere else. We have researched to collect some excellent WooCommerce brand plugins for your eCommerce store, which allows creating a brand page.
A brand is defined merely as a set of expectations, stories, relationships, memories, and altogether in an account for customers to decide and choose a service or product over another. A product makes a lasting impression on how the customers perceive the brand.
A brand can provide a competitive advantage if your e-commerce product has many competitors. People usually buy from brands they like most.
For any business, it's always been essential for developing brand name and images. Branding is the process to create a strong, positive perception of a company by combining elements like – design, logo, information, and mission statement, etc. through marketing communications.
To build a loyal customer base and to be different from the competitors, effective branding is always helpful.
The form of long-lasting trust is impossible to some degree for newer e-commerce stores that exclusively operates on the internet. They have to build their confidence from scratch, which can be achieved through unique selling points, smart marketing, consistent customer service, and most importantly, competitive pricing.
With the help of the listed WooCommerce brand plugins, you can highlight quality products from each brand and also on particular brands pages. You can filter the product quickly.
You can check the list of useful brand plugin given below and based on your requirements you can choose your favorite plugins –
1.Perfect WooCommerce Brand plugin
The 'Perfect WooCommerce Brand' plugin will help you to assign brands to products and allow you to add product brands to your WooCommerce site. In simple text, you can add product brands to the WooCommerce site using this plugin.
Features:
Assigning brands to products.
To each brand – a banner and a link can be associated.
The brand tab for a single product page.
Brands slug is customizable.
Fully responsive and easy to use design.
Very lightweight and supports visual composer
Import brands from other brands plugin
Shortcode: Display all brands, Display brands carousel
Shortcode: Display brand as a list, Display brands as dropdown
Supports WooCommerce REST API
Widget: Filter product by brands
Widget: Display brands as a list, Display brands as dropdown
Translation-ready including English and Spanish
The features of 'Perfect WooComerce Brand' plugin is 100% free. The plugin is easy to use, and no premium version of this plugin exists.
2.WooCommerce Brands WooCommerce Brands enabled to create, assign, and list product brands. You can create brands for your shops with the brand's extension of WooCommerce. Each brand can be described, named, and assigned an image. The A – Z shortcode is a useful feature that allows you to list your brand and makes easy to find a brand.
Features:
Assigned to a product
Indexed and listed on using A – Z shortcode on a page
By using a widget, displayed in the sidebar
Displayed as thumbnails by using a shortcode
View products by using a dedicated layered nav widget
Easy to list and find your brand
Show the brand description (optionally)
Allows customers to view products by a brand to attribute filters
Allow you to list your brands on their page
The WooCommerce Brands will cost you $29 for a single site which entitles you to 1-year support and updates.
3.Ultimate WooCommerce Brands Plugin: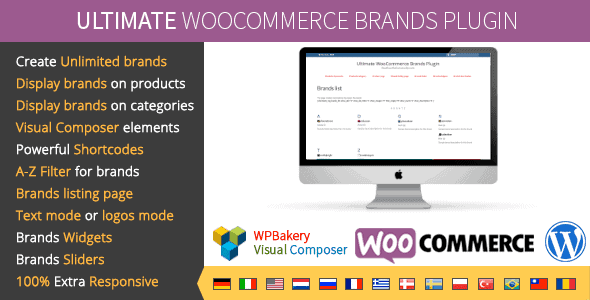 The 'WooCommerce Brand' plugin will enable you to add brands to your WooCommerce products on your existing site and allow you to create limitless brand categories for your product. Displaying of the brand name on the category or product pages etc. are enabled in this plugin.
Features:
Create brand categories (unlimited) for your products.
Workable with any theme that supports WooCommerce.
Products can be filtered on particular brand pages.
On the product page, display the brand name or logo.
Translation ready including MO/PO files
In different ways, WordPress Widget shows your brand list in the sidebar
Page display style can be changed in different ways in a shortcode
Responsive brands slider that supports touch.
Display logo or brand name on the product page.
A free light version of this plugin is available. To get more features, you can purchase the premium version costs $26 with 6-month support.

4.Product Brands for WooCommerce

You can easily customize every brand by name, description, and also image by using the 'Perfect Brands for WooCommerce' plugin. This plugin helps you to create brands for your shop. To filter the product use the nav widget and by using shortcode, the brands can be shown as thumbnails on a page.
Features:
Image size is configurable
Assigned to a product
Custom styling and custom HTML template
Filter using a special layered nav widget
Shortcode: displayed as thumbnails on a page
Products by brand ID can be presented with a shortcode.
Manual / Automated Embed
The 'Product Brands for WooCommerce' plugin is an open-source, free plugin. Some people have contributed to this plugin.
5.Brand for WooCommerce Plugin
This plugin enables you to create a brand for products on your products, and each brand has a name, description, and image. To display products by brand ID, you can easily use a shortcode, and you can create pages and custom images for your brands.
Features:
Widget with links to brand pages
Slider for brand links
Custom images and pages for brands
Options for additional customization
Display image and brand description for brand pages
Shortcode: display products by brand ID
Shortcode and Widget: product brands list by name
Shortcode and Widget: product brands list by name
On product pages, there is an option to display the brand image
'Brand for WooCommerce' is open-source software. The premium version of this plugin also available at 25$ for a single site.
6.YITH WooCommerce Brand Add-on

You can insert a brands system into your WooCommerce store for any product or category that you want by using 'YITH WooCommece Brands Add-On.' You may rapidly sell your brands and make lots of money from them because this brand system will allow you to highlight the most reputed brand so that your customer can get their favorite brand automatically.
Features:
To each product- one or more brand is assigned
Five widgets are included
Custom banner display for your brand
Hierarchically manage brands
Turn product taxonomies into brands
Assign one more brand for each product
Editing brand position in shop page and product detail page
8 shortcodes and 5 widgets
In the product title, a brand name can be inserted dynamically
A free version of this plugin available with limited features. If you still want to buy, it costs €53 with one year of support and update for a premium version.

7.WooCommerce Brand WordPress Plugin
This plugin allows you to assign brands to products, and once it is added. You can see it in your single product pages, a product category in your shop. It comes with a list of a brand, and there is Ajax filter option including drop-down and multi-sector filter with three styles.
Features:
Advanced options in setting page
Extra buttons and widgets
Supports multisite and responsive layout
Ten different views and supports WPML
Enable or Disable Display Brand Title
Enable or Disable Display Brands Extra Button
Only featured brands can be displayed
You can use either the free or premium version. The regular license of this plugin is $26 with 6-month support.
8.Premmerce WooCommerce Brand Plugin
'Premmerce WooCommerce Brands' plugin allows creating an unlimited number of brands which can be assigned to the products for product search, better cataloging, and more opportunities for brand promotion and marketing. This plugin also allows using all the WordPress taxonomies and related benefit.
Features:
Editing, creating and deleting brands
Shortcode to display the list of brands
Possible to sort products by category
Assigning a brand to a product
Semantic markup on the product page for the brand
Premmerce WooCommerce is open source software, premium version of this plugin is not available yet.
Have you found the suitable WooCommerce Brand Plugin for your store? We hope this article was helpful to you. We have discussed 8 useful WooCommerce Brand plugin, which will be very crucial for your brand and promote your business or product. The value of branding and how it may play an essential role in the successful path of your online store is also discussed in this article.

9.YayMail – WooCommerce Email Customizer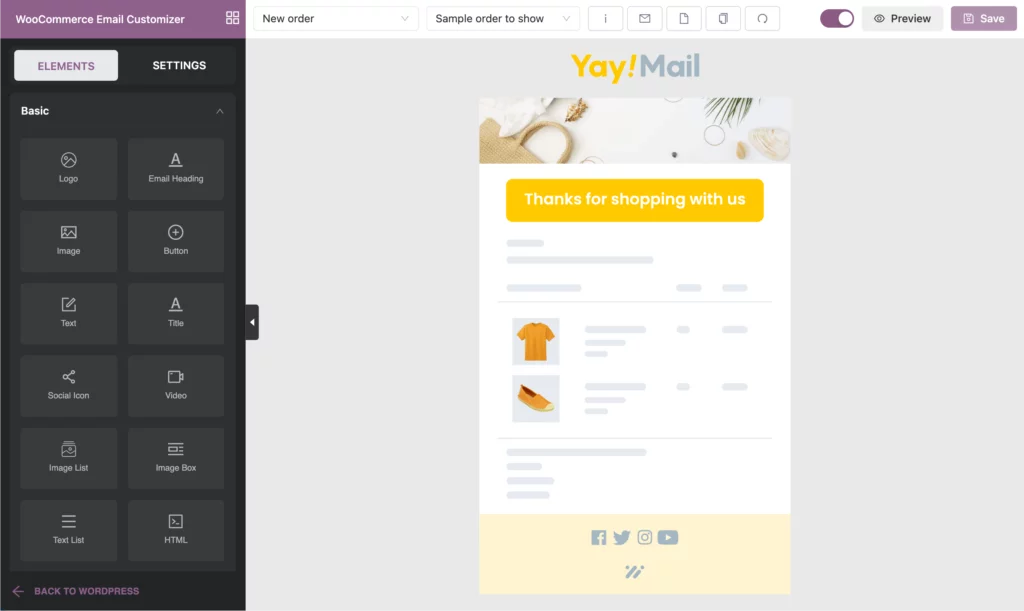 YayMail is an email builder to help your WooCommerce store and marketplace boost brand recognition. It comes with a drag and drop HTML email designer that allows you to edit text and insert media content like videos, images, brand logos, branded links, and so on.
Especially in multi-vendor marketplace sites, YayMail conditional logic email plugin helps increase cross-sale revenue by personalizing transactional emails. With custom email blocks, you can further introduce products based on the purchased items' categories.
Features:
Fully customize default order emails with YayMail Builder
Fully customize extra email templates and add shortcodes with YayMail Addons
Embed vendor's logo, banner, and slogan in WooCommerce emails
Add email signature and social icons
Compatible with all WordPress themes and page buiders
YayMail Free available for commercial use
You May Also Read