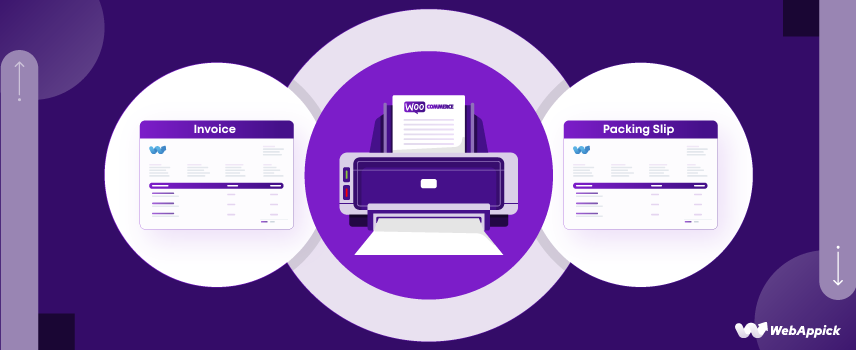 How to Create WooCommerce Print Invoices & Packing Lists
It is projected that in 2020, global business-to-consumer (B2C) online sales had reached $4 trillion. It is estimated that this figure will reach $5 trillion by 2022 and $6 trillion by 2024.
Great news, right?
However, 69% of your customers won't return to your shop if you can't deliver the package within the promised date. In other words, if you can't properly fulfill your orders, you will lose a big chunk of your customers.
Therefore, you need to excel in your order fulfillment services. You need to automate the processes wherever possible.
Two important components of the WooCommerce order fulfillment process are creating and processing WooCommerce print invoices & packing lists.
In this article, we will individually talk about the importance of WooCommerce print invoices and packing slips and show you how to create these documents using the Challan pdf invoice plugin.
What are WooCommerce print invoices & packing lists
Let's find out what these documents are and how they are important to you.
What is an invoice?
An invoice is a piece of paper that sellers send to clients to either get paid or as proof that they have already paid. No matter what kind of business you run or what industry you're in, invoices are important because they let you get paid for your services quickly and easily.
In the eCommerce world, invoices are generally created after the customers make the payment.
As a WooCommerce seller, your invoices must have some essential elements, such as information about the company, the client, the products or services bought, the date, the prices, etc.
Most WooCommerce invoices are made in PDF format and sent to the customer after the payment has been made.
What is a packing list?
A packing slip is a printed document that you, as the owner of a WooCommerce store, need to put inside the shipping box. On the packing slip, it says what items are in the box.
Your shipping department puts together packages with the help of a packing list. This list tells them what inventory needs to be pulled and shipped. The packing slip will then be sent with the goods that were ordered.
Customers can use the packing slip to ensure their package is correct when it arrives by looking at the order number, date, and items on the list.
Different companies may decide to put their packing slips in different places. Some may put it on the shipping label or wrap it in a polybag with a shipping label, but the best thing to do is put it inside the shipping box.
Importance of WooCommerce print invoices & packing lists
Both these documents carry different importance for your store. Let's start with the print invoice WooCommerce.
Importance of WooCommerce PDF invoices
Legal protection
A legally binding contract between you and your clients is essential for shielding yourself from fraud claims. An invoice serves as a binding agreement between you and your client.
When you create an invoice and send it to a client, they are legally bound to the terms of the order and the transaction. You and your clients can't deny it.
The parts of the invoice can be used as proof of record to defend against disputes in the event of a disagreement or discrepancy with regard to a specific order.
Keeping records
A WooCommerce invoice's primary use is for documentation/record keeping. Larger businesses, especially those operating on a business-to-business (B2B) model, will always require an invoice for their record database.
You, too, should place a high value on invoices. You can stay organized and know exactly what was sold to whom at all times if you maintain a formal record of your sales transactions.
It's always a good idea to issue invoices, even when dealing with one-on-one clients, so everyone can keep track of transactions.
Tax filing
Invoices for purchases should be stored indefinitely, as they will be needed for tax purposes.
When it comes time to file your GST and income tax returns, you'll need invoices. Companies can use invoices to identify potential tax violations.
For your WooCommerce company to run smoothly, it is imperative that you maintain an accurate accounting of all sales invoices. This will help you file your tax returns correctly and avoid any penalties.
Professionalism
The impression you make on your clients can be substantial with a clean, well-formatted invoice. Sending out invoices to customers is a sign of professionalism, even if you run a modest WooCommerce store.
A well-formatted invoice can help you stand out from the crowd and win your clients' confidence. Never forget that the invoice is a part of the customer's buying process.
Therefore, you should issue an invoice to the buyer after they have made a purchase. Additionally, plugins like Challan enable automating the entire invoicing process within WooCommerce.
Marketing tool
Send them branded invoices if you want to impress your clients with your professionalism and brand. Both the customized design and the tone of voice should reflect the impression you want customers to have of your company.
A customized WooCommerce invoice that includes all the standard components of an invoice and user-defined fields is a surefire way to get your clients' attention.
You can also include popular products links or special promotions in the footer of the document to increase your sales.
Consistent experience
When you use a WooCommerce invoicing plugin such as Challan, you can design a custom invoice template. As a result, all of your invoices will look the same with the help of a customized WooCommerce invoice template.
A WooCommerce pdf invoice template allows you to send consistent invoices to customers after each order is processed. In this way, your clientele can plan accordingly. They can quickly double-check the information they care about because they know exactly where to look. They will be able to use that time more efficiently.
Although it may seem inconsequential, making your customers' shopping experience more convenient will go a long way toward fostering loyalty. Similarly, a WooCommerce-specific invoice template can speed up the process by which your staff can locate the information they need to resolve any issues.
Time saver
After establishing a WooCommerce customer-specific invoice template, you won't have to worry about manually creating invoices for each customer going forward. The sending procedure is also automated for your convenience.
As we've already established, your custom pdf invoices make it incredibly simple for your team and customers to locate crucial information. So, if you want to save time and effort managing your store, consider creating a WooCommerce-specific invoice template using the Challan plugin.
Importance of packing lists
Shipment integrity
If your company has a dedicated packaging and shipping team, they can use the packing slip to know exactly what items to pull from stock to fulfill the customer's order. Packing slips are useful even if your company doesn't have a dedicated shipping division, as they list the items that should be included in the shipment.
Make sure you have everything the customer ordered by double-checking the packing list before sealing the package. By doing so, you can ensure that the items in the customer's package match the ones they ordered in terms of both quantity and variety.
Verifying the authenticity of an order prior to shipping is crucial for maintaining a constant standard of quality in your services.
Track all items in the order
Multiple shipments may be necessary if the quantity of an order is large or if it contains many different SKUs from various distribution centers. That means you have to ship items from the same order in separate boxes.
A packing slip is of great assistance in these circumstances. This is because packing slips record the quantity of items and their location within an order.
A packing slip is an easy way to keep track of when and what was shipped to a customer. This will help guarantee that your customers always receive their full orders and that the right items are sent out with each shipment.
Ensure quick delivery
Shipping labels are typically attached to the outside of the box while packing slips are placed inside.
If the courier company is unable to read your address because the label was damaged during shipping, they are permitted to open the box and look for other means of locating you.
Put the packing slip inside the box, and the shipping company will be able to locate the recipient's address and deliver the package directly to them rather than having to send it back to you.
This saves a lot of time. You won't have to worry about late deliveries, refunds, or repacking, and your customers will appreciate the convenience.
Brand building
WooCommerce plugins like Challan lets you personalize your packing slips with elements of your brand's identity, like logo, color fonts, and more. Professionalism shines through when you add a personal touch to the packing slip and invoice you send out with each order.
Identify damaged items
The packing slip can be used to sort damaged items if a shipment is lost or damaged. In the event that your package does not arrive when expected, having a packing slip on hand will help expedite the process of requesting a refund or resending the package.
Difference between invoice and print packing slip WooCommerce
It may seem a lot similar to some, but WooCommerce print invoices & packing lists serve different purposes.
We have discussed the differences in detail in this article. However, we will mention some of the main points for your understanding.
File format
The main purpose of packing slips is to show what is in the package that is being shipped. So, a packing slip must be a printed piece of paper that is attached to the package being sent.
On the other hand, an invoice can be both downloadable and printable. Most online stores send invoices as PDF files that are attached to emails.
You can also print it out if the company or customer you are sending it to wants you to do so.
Document Type
To put it simply, a packing slip is a shipping document. Only after the order has been confirmed should you start working on it. If you or your shipping department use packing slips, it will be much easier to keep track of what needs to be shipped and what has already been ordered.
Furthermore, this document will inform your clients of the contents of the shipment.
Invoices are billing documents that can be created before or after the order has been confirmed.
Invoices can be used for both requesting and providing payment from clients. Its primary function is as a legal and financial record for the purpose of resolving disputes.
Use cases
Every order placed through your WooCommerce store requires an invoice, regardless of the nature of the goods or services being purchased.
However, packing slips can only be made in the presence of actual products. Making packing slips is essential for informing customers of the goods they can expect to receive.
You don't need packing slips for virtual products.
Contents
Both the packing slip and the invoice have some elements in common. For example, both the invoice and the packing slip have the address of your company or warehouse, the billing, and shipping address of the customer, a list of products, the SKU of each product, the invoice and order numbers, the date of the order, etc.
But a packing slip doesn't have to have price summaries like payment method, tax amount, sub-total, and total price. Packing slips also don't have extras like personalized footers, thank-you notes, signatures, or other things.
On the other hand, a product's weight and size don't have to be on an invoice.
How to create WooCommerce print invoices & packing lists?
The core WooCommerce plugin has a bundle of great features for you to run an eCommerce store. However, it doesn't pack everything you need. But the vast range of extensions/plugins available for WooCommerce is what makes it an eCom powerhouse.
Unfortunately, standard WooCommerce doesn't offer the tools to create WooCommerce print invoices & packing lists. You need to use a third-party plugin.
For this article, we will be using one of the most advanced and modern pdf invoices and packing slip plugins available in the market. It's called the Challan.
Challan plugin for WooCommerce print invoices & packing lists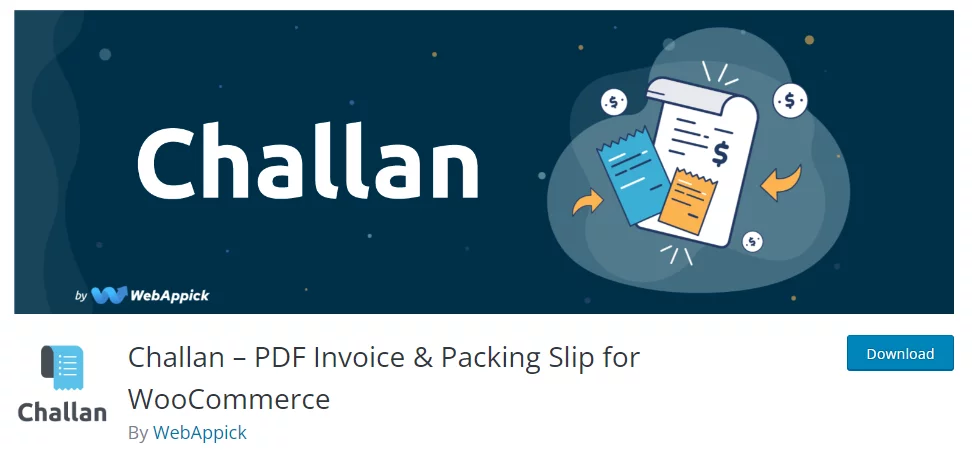 As soon as you install the Challan plugin, it will auto-generate invoices and attach them to your order confirmation email for every individual order. In addition, you can also download your invoices, packing lists, shipping labels, and credit notes from the order pages.
Customers can also download credit notes and invoices from their accounts page or from the order complete page.
The greatest advantage of Challan is its customization features. You can customize and personalize your WooCommerce print invoices & packing lists extensively with Challan.
Challan offers a set of pre-made templates for you to apply, and you can also set a custom background image for the documents. Moreover, you can customize every element and part of the invoice template using CSS.
You can upload your brand elements, such as your logo, slogan, custom footer notes, authorized signature, etc., into the invoice template to personalize it to match your brand pallet.
Challan is a freemium plugin with a free and paid version. Unlike other plugins, Challan doesn't just add a few features into its pro version but changes the whole gameplay with a bundle of added menus and tools.
Key features
Enables you to create pdf invoices, packing slips, credit notes, and shipping labels.
Allows you to attach packing slips with invoices.
Supports setting background images in WooCommerce print invoices & packing lists template.
Allows you to add QR and barcodes to your invoices and packing slip.
Enables you to include the product's SKUs, description, and image in the order item table.
Allows adding custom meta fields in your invoice & packing list template.
Lets you download and bulk print WooCommerce print invoices & packing lists.
Allows you to customize packing slips and pdf invoices with CSS.
Offers WPML support for the documents.
Price
Challan offers both annual and lifetime licenses.
Annual cost –
Single Site – $29.00
Five Sites – $59.00
Ten Sites -$129.00
Lifetime cost –
Single Site – $119.00
Five Site – $229.00
Ten Site – $457.00
How to create invoice with Challan free version
We will show you how to create pdf invoices using both Challan free and pro versions. Let's start with the free version.
From your WordPress admin panel, go to Plugins>>Add New and type in the plugin name Challan in the search box. Install and activate.

Right after you activate, Challan will start generating invoices and automatically attach invoice pdf to your allocated emails. You can also download them manually.
You can also download WooCommerce print invoices & packing lists for your previous orders. Go to one of your order pages, and you will notice a new Challan panel on the right side of your page.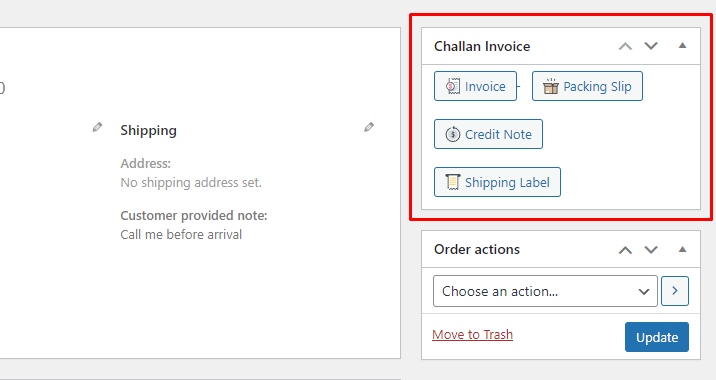 Let's check what the basic invoice looks like. Go ahead and click on the invoice button to download.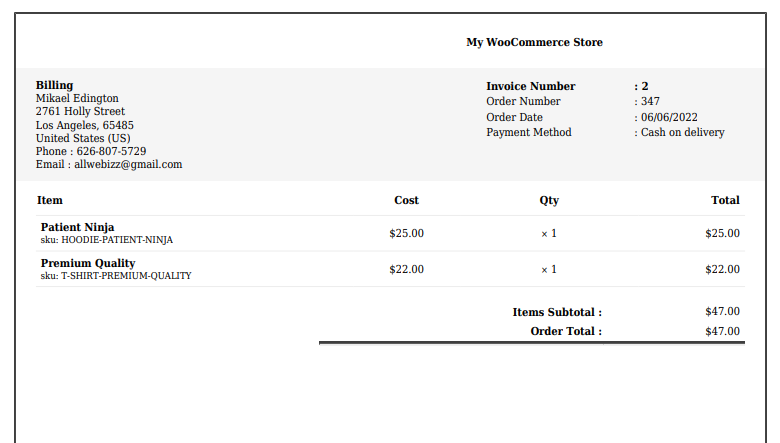 Very simple, right?
Well, you can personalize it with your brand elements. Let's check what options the free version of Challan offers you.
Basic invoice settings
As soon as you install the plugin, you will see that the WordPress admin panel has a new menu for Challan. Hover over and click on the settings.

Let's check out the settings tab.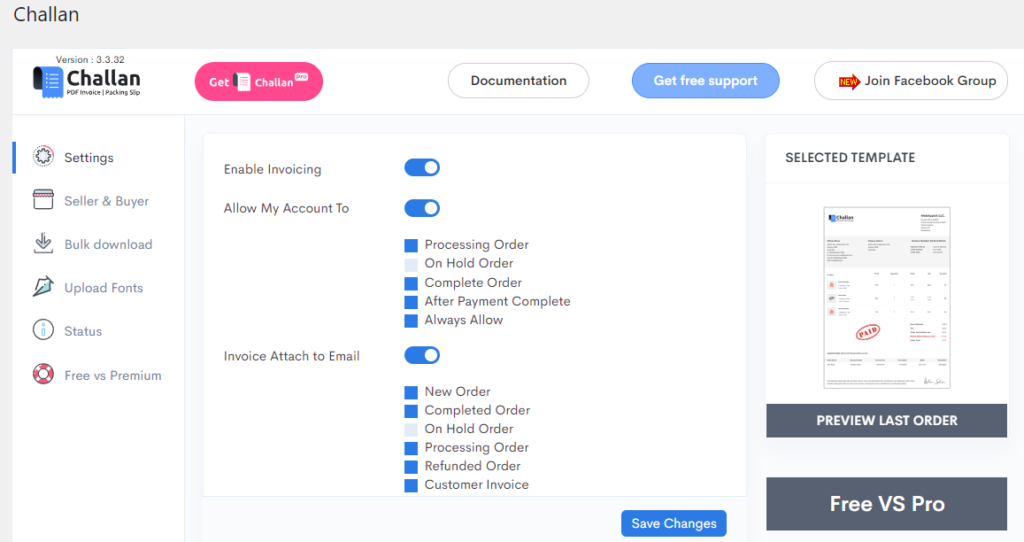 The Enable invoicing option will enable invoice generation.
Allow My Account To – In this section, you can decide if and when your customers can access their print WooCommerce pdf invoices and credit notes from their My Account page.
Invoice Attach to Email – from here you can select which emails should attach the invoice.
Now, let's go to the Bulk download section.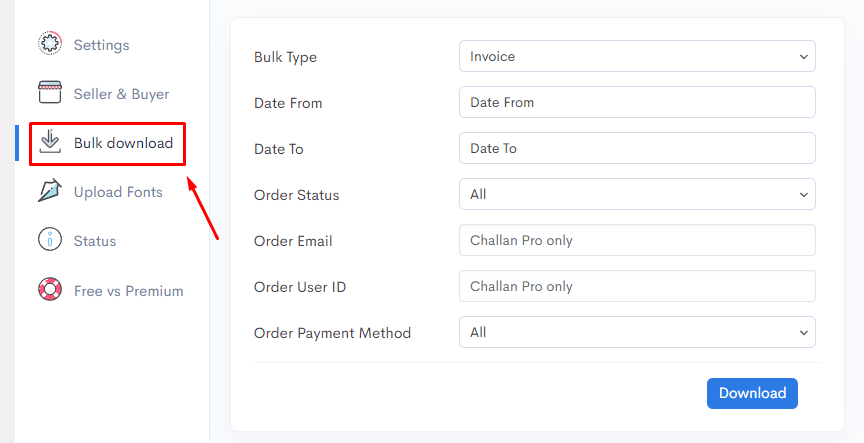 You can easily download all of your invoices from this location with just the click of a button. In the free version of Challan, you can filter by date and status; in the pro version, you can filter even further by the customer's email address or user ID.
Invoice customization settings
Go back to the settings tab and scroll down to find the template and paper size settings.

Challan free plugin lets you choose between A4, A5, and Letter paper sizes. These are the sizes of paper that will be used to print your bills.
Click on the Select template to check the available templates. Challan free offers you two pre-made templates.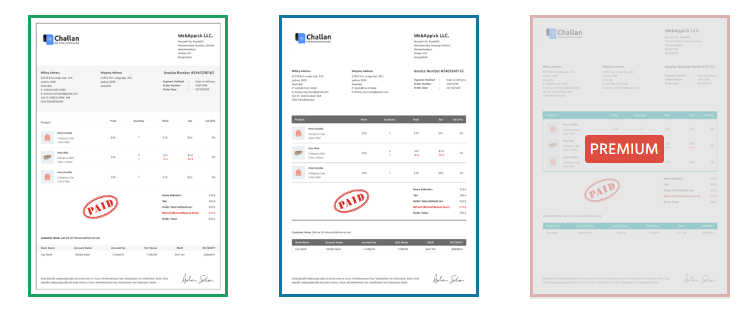 In the Order settings, you can put your own prefixes and suffixes before and after the invoice number.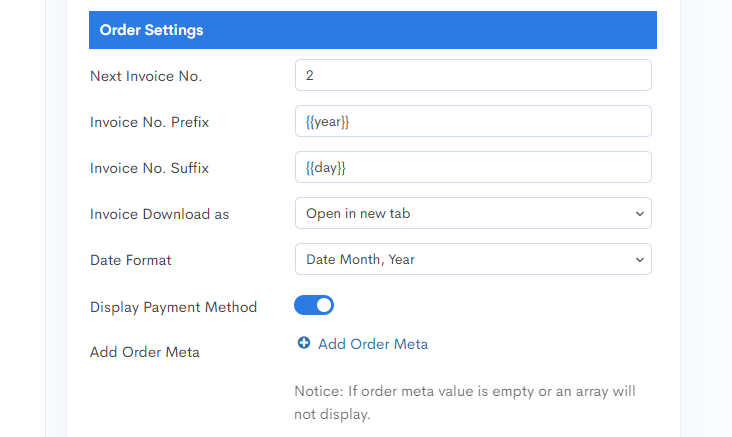 If your invoice number is 2, for instance, and you enter Prefix = "Current Year" and Suffix = "day," the resulting invoice will read "Current Year" + "Day," the current date. E.g., 2022-2-23.
By toggling the switch labeled "Display Payment Method," you can have the customer's chosen payment method shown on your invoices.
With Add Order Meta, you can show a number of extra details on your invoices.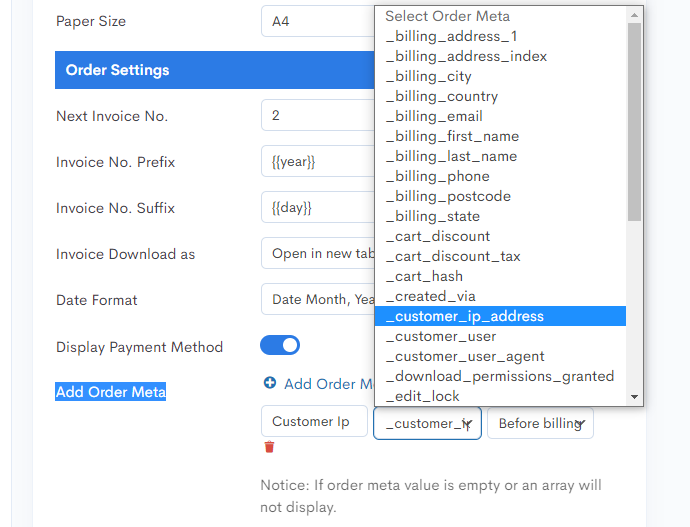 For example, if you choose customer IP and choose to show it before billing address, it will look like this –

You can set the length of the title by the number of characters in the Product Settings.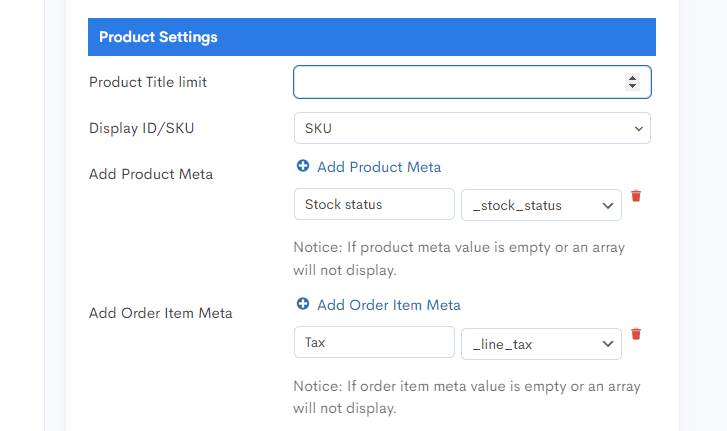 For example, if you set 10, only the first ten characters of the product title will be shown on the invoice. This is very helpful when the titles of your products are long.
You can choose whether to show the SKU or ID of the product on your invoice. You can also add different attributes from the product meta and order item meta to show them.
On your WooCommerce invoices, the above settings will look something like this-

You can configure whether taxes should be included in the order total settings.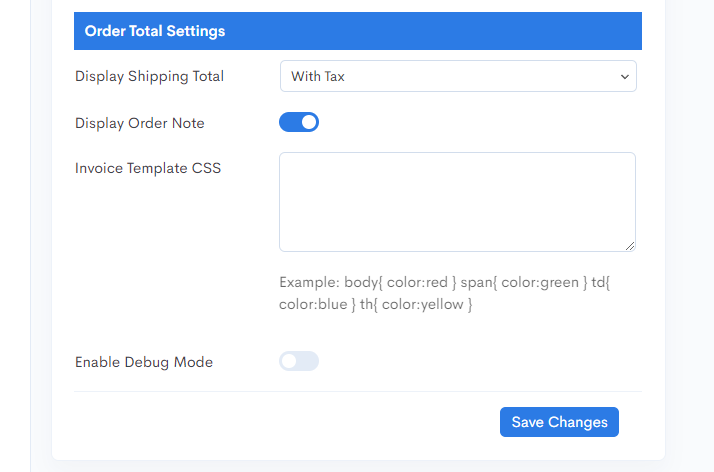 Seller & Buyer settings
This is where you input your brand elements. You can start by uploading your logo.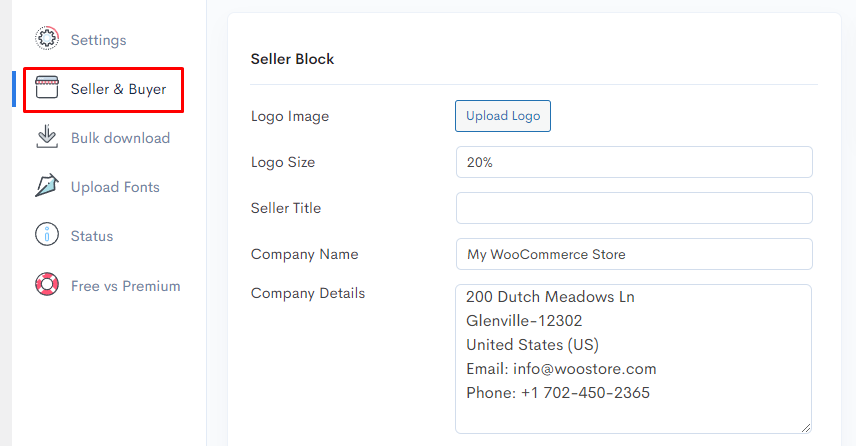 The ability to upload a logo is crucial for generating brand awareness and building customer loyalty. You can also provide standard business contact information like an address, phone number, email, etc.
You have the option of including a footer with your own text, links, and comments. All invoices will show the text you enter with a clickable link to your terms and conditions page.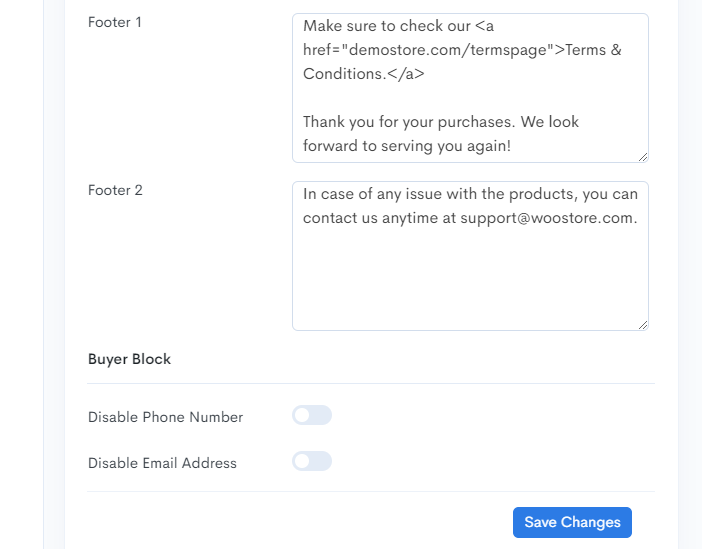 The premium version also allows you to customize the footer's font size and display a footer line and shipping address.
Now that we've adjusted a few things in Challan, it looks like this: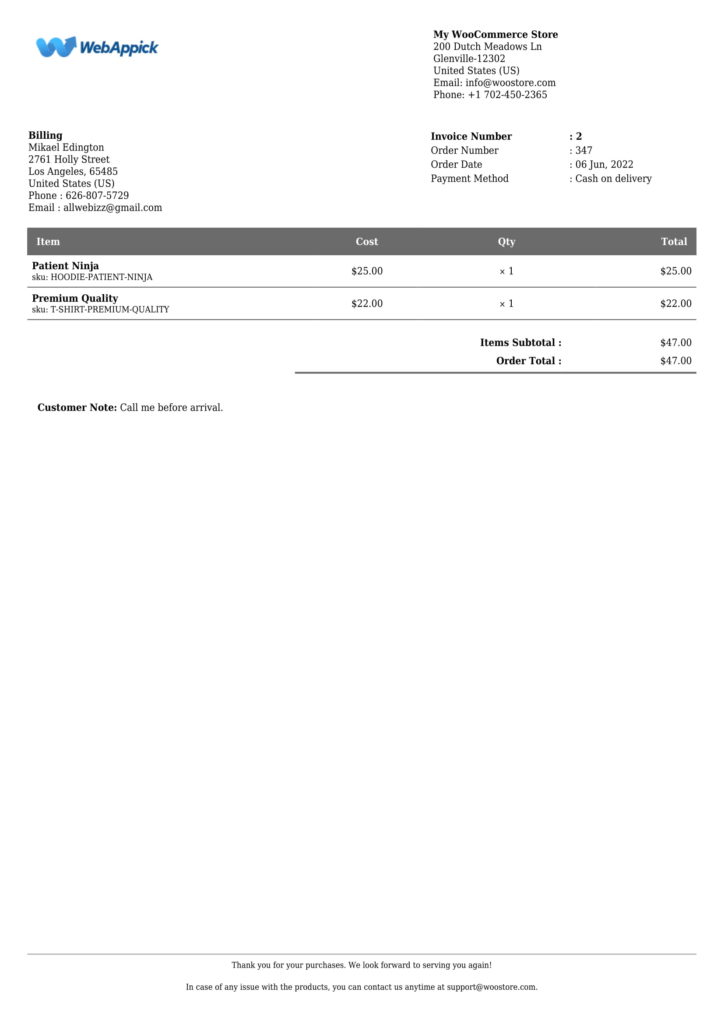 Creating an invoice with Challan pro
The pro version of the Challan WooCommerce invoice plugin is a completely different beast. When you upgrade to the paid version, you'll see a plethora of new options in the settings panel.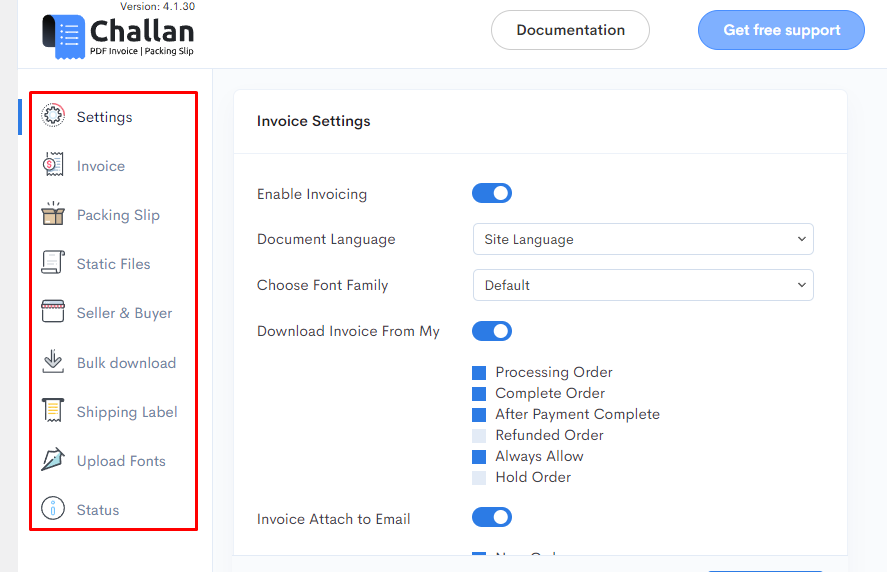 Invoice, packing list, and shipping label now have their own individual tabs.
Check out the "General" section of the settings menu. PDF bills can now include barcode and QR code displays.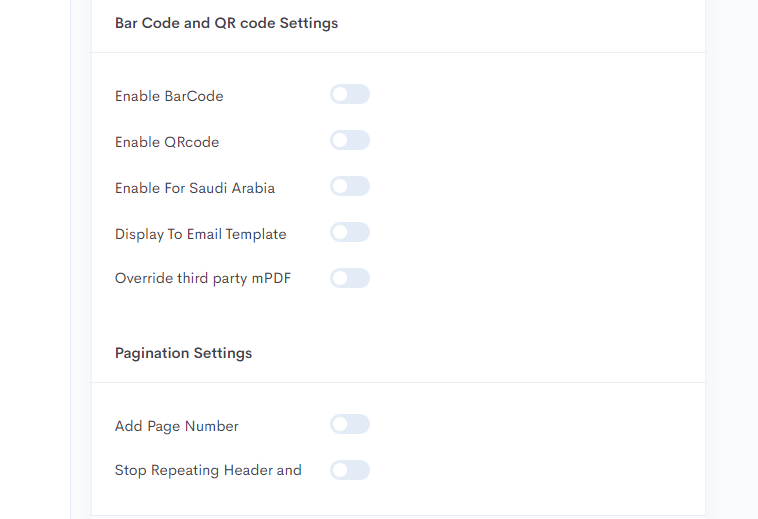 You can also show invoices in RTL format, generally, the Arabic language uses "right to left." The Pro version lets you show page numbers if your PDF invoice has more than one page.
Invoice tab
On the "Invoice" tab, you can now set the size of the paper you want to use and show "Paid" stamps on your invoices. Additionally, you can also upload our own custom stamp signs.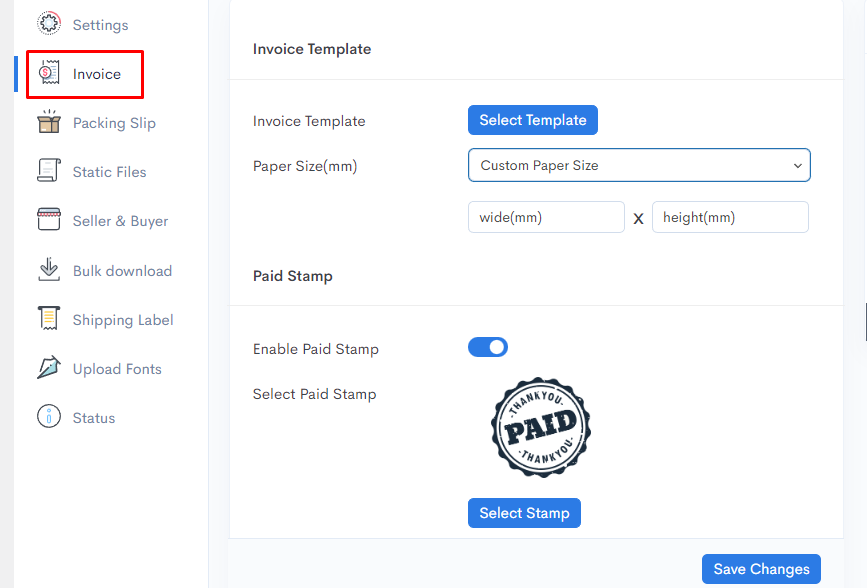 The pro version offers a number of pre-made templates for you to choose from.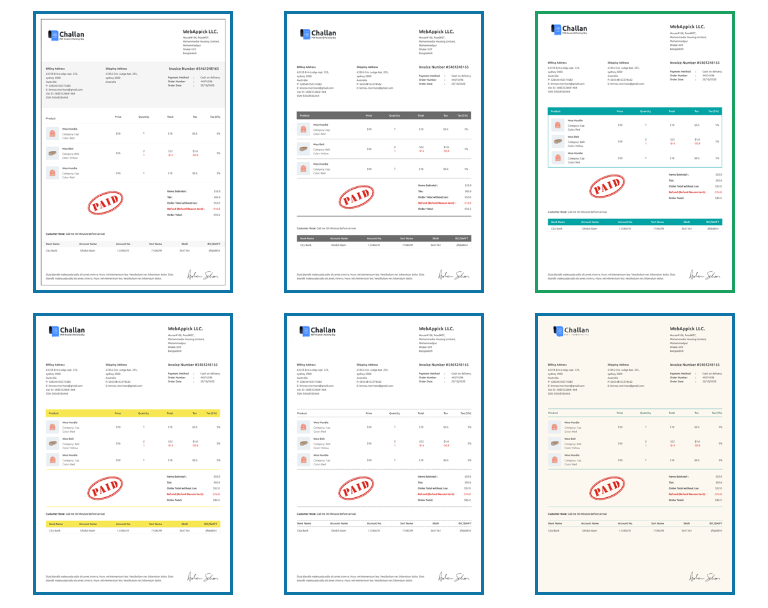 The Signature section is a wonderful addition to the professional version of Challan. The plugin allows you to upload and display a signature from yourself or an authorized representative.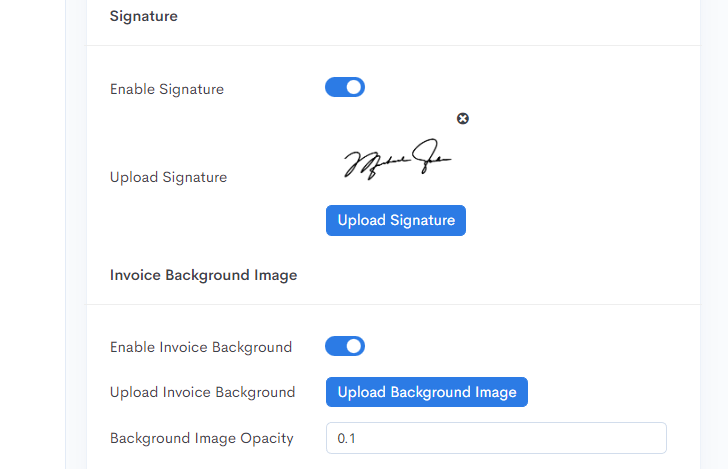 You can also upload a background image. Find out some of the background images we created for you here.
The Pro version has some great features for the product info table.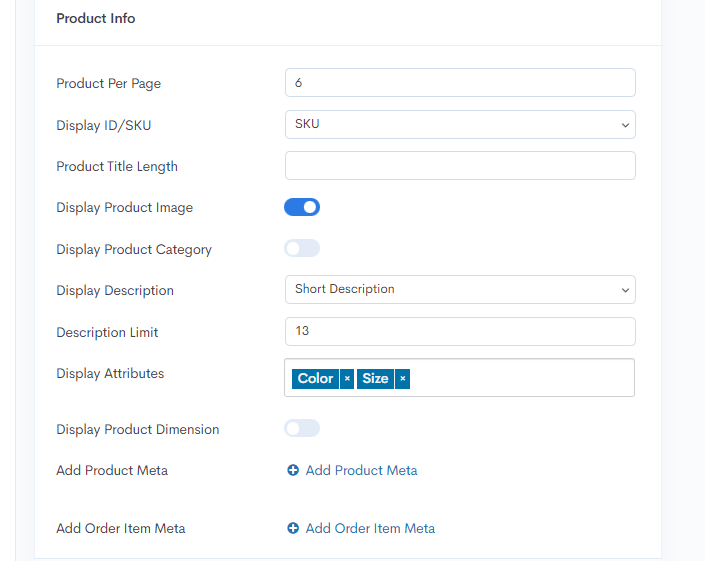 You can now choose how many items to show on each page. You can also show images, categories, descriptions, and different attributes for each product.
From this section, you can choose to show long or short descriptions and set the length of the descriptions.
Challan Pro also lets you add tax, VAT, SSN, discount amount, and bank information to your WooCommerce custom invoice template.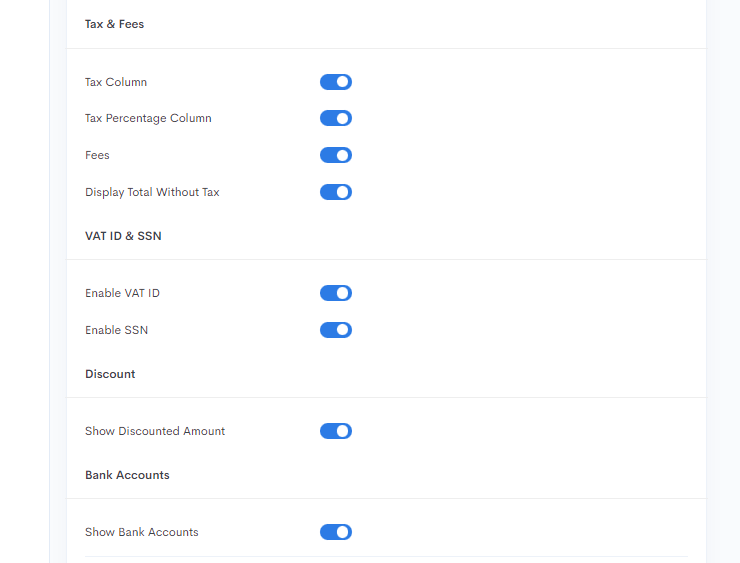 Let's have a look at how your invoice may look now.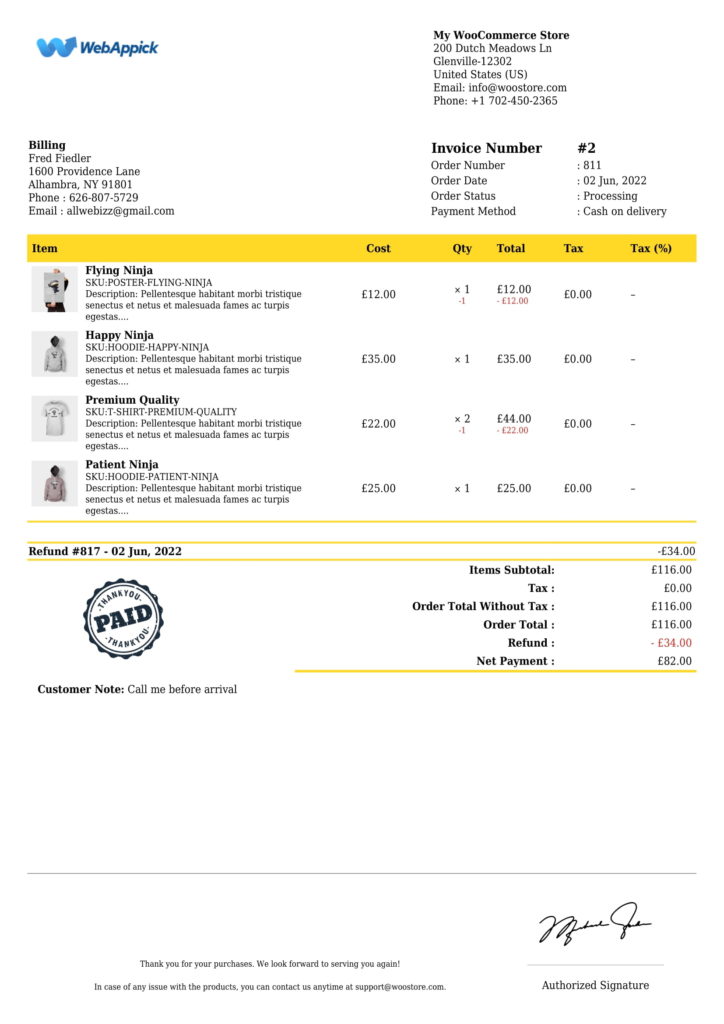 Let's take a quick look at the Static Files tab, which is a pro-version-only feature. Here you can upload static files such as terms & conditions along with your pdf invoices.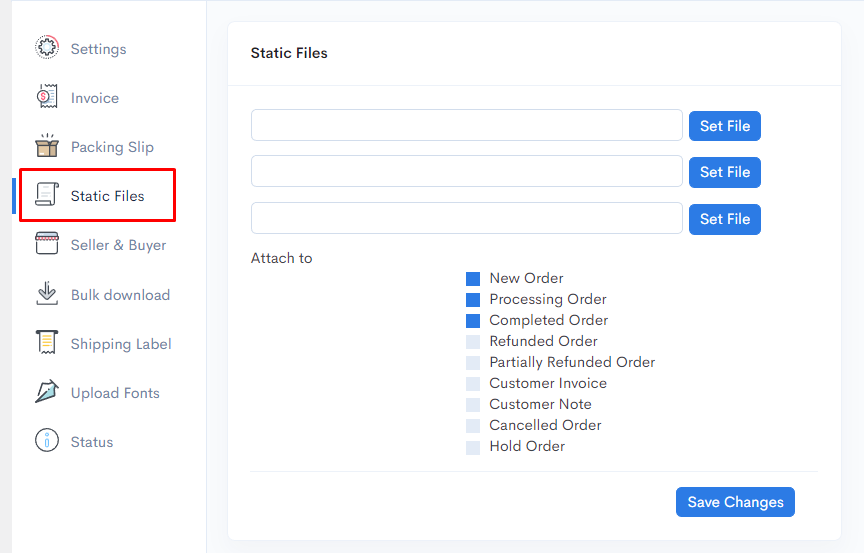 You have a maximum of three file uploads here. The file you upload here will be included in the order confirmation email sent by Challan, along with your invoices. Challan also allows you to upload your own font file to use with your pdf invoice template.
Read this article for more advanced customization and adding CSS codes to personalize your invoice template extensively.
How to create a packing list using Challan
We have already seen how to install the Challan plugin and modify the template using general and other settings. In order to download a packing slip, you need to go to the order page and click on the packing slip button.
The rest of the details, such as adding brand elements, custom header & footers, bar code, and QR code, etc., works similarly, and you don't need to alter them individually for packing lists.
Let's check out the dedicated packing slip tab options in the pro version.
Packing slip tab in Challan pro
Click on the Packing Slip tab once you install the Challan pro.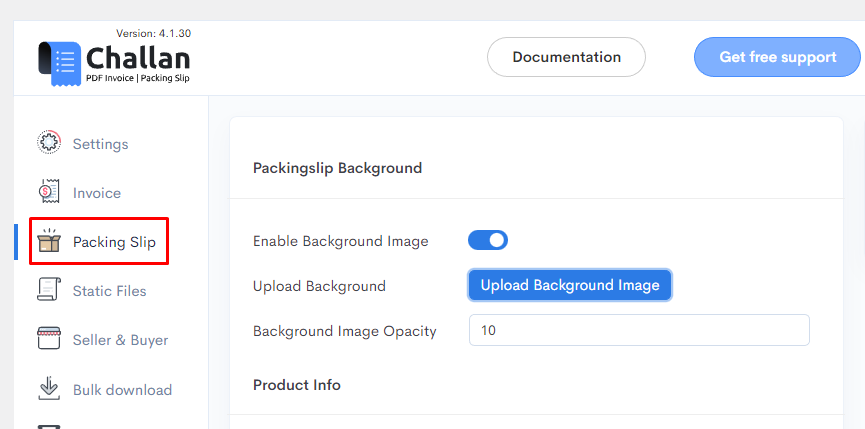 From Packing Slip Background, you can set a background image for your packing lists. This section also allows you to set the opacity of the background image.
You can modify the number of items/products per page for your WooCommerce packing list printout in the Product Info section.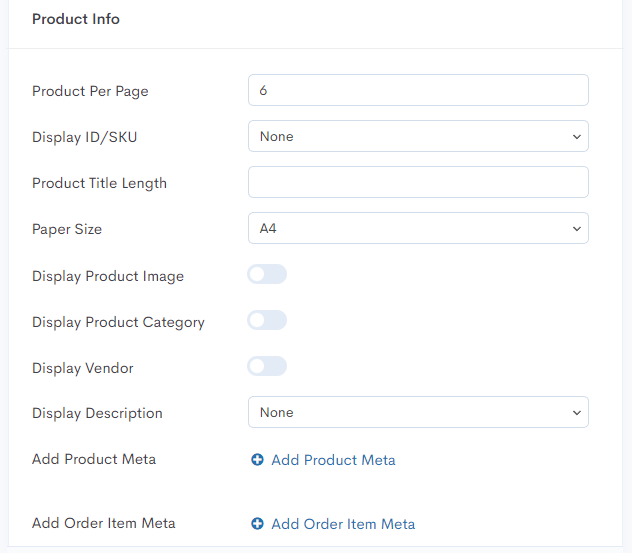 In addition, you can choose to display the SKU/ID and set the length of your product titles. In the pro version, there are additional paper size options. When necessary, you can also set a custom paper size.
Customers will appreciate the added professionalism of your WooCommerce store when packing slips include details like product image, category, vendor name, and short description.
With these options, you'll be able to make packing lists that are uniquely yours and stand out from the crowd.
In the product section of your packing list, you can also add order meta and product meta. The order info section of your receipt can also show order meta, along with any additional notes about your order and your refund address, if applicable.
Here's what the final version may look like.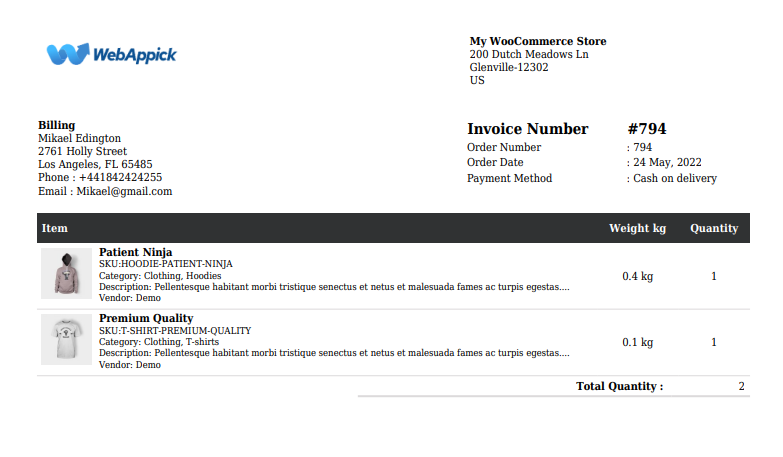 Frequently Asked Questions (FAQs)
How do I use WooCommerce PDF invoices and packing slips?

You can install a plugin such as the Challan to automatically create and send pdf invoices to your customers. With Challan, you can customize the WooCommerce print invoices & packing lists as per your brand requirements and pallets and show your professionalism to your customers. You can use packing lists to efficiently pack all items that were ordered. As a result of these, you can earn the trust of your shoppers and build a loyal returning customer base.
Can I print a packing slip with WooCommerce?

The standard WooCommerce doesn't allow you to print a packing slip. However, you can use a free plugin called the Challan to print your packing slips with a click of a button.
How do I print a list of invoices/packing lists from WooCommerce?

The WooCommerce core plugin doesn't allow you to do that. Not to worry, however, a plugin called Challan can do the task for you. Challan has a dedicated menu for bulk downloading all your invoice and packing lists.
Can WooCommerce generate invoices?

Unfortunately, default WooCommerce doesn't have the tools to generate invoices. However, there are plenty of third-party plugins to automatically generate invoices for your orders. You can use the plugin called the Challan.
Wrap up
The entire shopping experience in your WooCommerce store should be seamless and enjoyable for your customers.
With the right professional WooCommerce print invoices & packing lists design, you can help your customers throughout their shopping experience, gain their trust, and turn them into lifelong customers.
Customized invoices and packing slips can boost brand awareness and streamline product shipping. You can easily generate packing slips and invoices for your WooCommerce orders with the aid of the aforementioned plugin.
Hope this article on WooCommerce print invoices & packing lists helps you understand the importance of these documents and guide you on how to create them in your WooCommerce store.