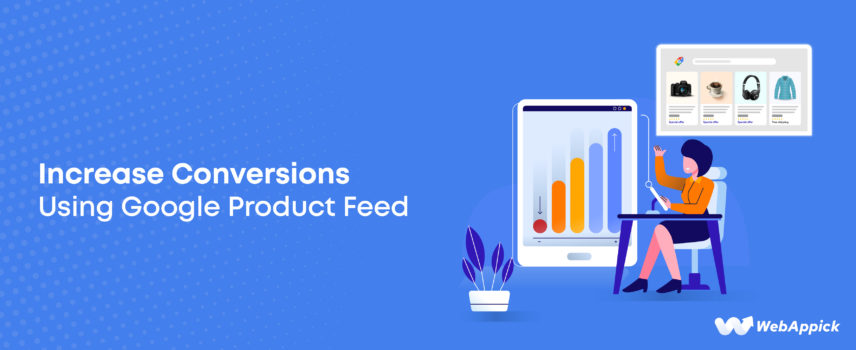 Increase Conversions Using Google Product Feed
When it comes to product data feed, Google Shopping has some of the strictest requirements of all shopping channels.  Any product carrying incorrect information may be removed from the search results if the feed fails to meet Google Product Feed Specifications. The more visibility you will get when the quality of your feed is better.
Things that you will learn from this article:
Keywords that are triggering Google Shopping ads and conversions
Highly suggested key elements
Use of price-bucket reports to optimize ads for high-margin conversions
Identify conversion issues and opportunities for improvement
Factors that impact the buying behavior of paid traffic
Managing bids and leverage your data feed to pinpoint best-performing ad groups.
There are lots of elements that play a big part in your advertising efforts when it comes to Google Shopping. Google Shopping requires a high standard of maintenance in different areas. There are no simple tricks. In this article, I will try to cover various elements that contribute to the success of your advertising efforts.
The root of your advertising is the data feed. It can be compared with a tree. The tree will fall if the roots are not strong enough. In Google Shopping, the data feed not only defined the quality of your ads but also the overall rankings. Few lists of key elements are highly recommended to focus:
Provide Google Merchant with daily data feed updates: Google Shopping is dynamic and the landscape changes constantly. Ensure that your price and availability is regularly updated, which enables you a better advertising.
Improve the quality of your title: one of the most significant ranking contributors is improving titles. If your titles are poor and optimized, then that will result in poor search terms. Google's Keyword Planner is an excellent way to find out keywords that have the highest impressions.
Provide high-quality images: it's good practice to show the product in high quality when listing your products. Keep in mind that, a customer wants to see the product, not products with logos, watermarks, etc.
Variant attributes: whether you list variants or main products, it's recommended to list attributes like size, color, age, gender, etc. You will be able to gain more impressions which may lead to more sales by adding these attributes.
Add the most top-level and accurate category: Google always shows top-level categories in the search results in a regular filter system. If you failed to specify where your product belongs then there are more chances that your products will be listed in the much lower categories.
Automated promotions: for these types of listings, you can add the necessary data eligible, though you do not control these. Automated promotions data can help to add additional promotions.
Add a promotions data feed: you will gain a competitive or equal advantage by adding a promotions data feed. It will increase your CTR (click-through-rate) as customers like promotions. If your competitors are already promoting, then this is important for you.
Check regular basis and make sure there are no errors or warnings: once you log in to Google Merchant Center and click on your data feed, you will see warnings and errors if available. Regular checking is a good practice to reduce the number of errors.
Equity: beginner merchants ignore the listing of variants and more likely to publish the main products. The chances of a click are higher for including variants, as it allows to gain more equity.
You already know how powerful the channel Google Product Search when you are selling products there. To give the shopper a better buying experience, Google has started focusing on its quality standards. Take time to comply with Google's data feed specifications, as that will pay off in the long run with improved searchability, more clicks, and conversation.
There is no doubt that Google Shopping drives qualified traffic. Google has transitioned the free Google Shopping programming to a fully commercialized to offer a better shopping experience for searchers. It means that the gravy train is over for website owners.
Regarding the conversion rate and traffic is driven to e-commerce websites, Google is the best in class. It's not difficult to get started with Google Shopping. Just follow these few easy steps:
log in to your merchant center accounts
open up the settings tab, and click "Adwords."
add your customer ID to your Adwords account
link your data feed and ready to go
You can start creating campaigns that target specific groups in your data feed, once your inventory is linked to Adword.
You need to know, how to compete on an existing new channel. By dominating the new Google Shopping, a few useful tips to 'Increase Conversions using Google Product Feeds' are:
Suppress out-of-stock products: If you don't want to show up any products on Google, suppress those products. Google chooses which products to target on PLAs. If you don't have a particular product, still that product is going to get traffic. Make sure to suppress those products for your data feed.
There's a need to be high availability for all your products. There's no reason for sending traffic to a page that doesn't have the actual product.  Even if the intent of the searcher is there, you are paying for traffic that is not going to convert. Paying for traffic that lands on pages that don't have the actual inventory are the worst thing you can do.
Learn how to bid appropriately: take advantage of the targeting capabilities of the new program. If there is any particular brand that does not perform well, then you can tag it with a term like "low" on your data feed and ignore to bid it as little as possible and tag all best-selling product as "bestsellers" in your inventory feed and double your feed for these products.
You will be in more great shape if you know how to bid correctly. Across your product listing ad campaign, make sure to set your all product bid as your lowest bid. Google will always select the product that generates the most revenue for Google.
Understand the places where your products will show up: One interesting quirk about the Google Shopping program is, you have to participate in one option for two different placements. Figuring out the right bidding strategy for your product is mix essential in any situation.
It also depends on your product mix and what you sell. Follow the data to see the products that converting and bid those and decrease bids that are not working. Follow the data just like Adwords; there are no specific rules.
Use the dimension search term report to cut keywords: maintaining a target portfolio of negative keywords is essential to avoid keyword creep in their paid search campaign. Search marketers who are familiar with Adwords know about it.
If you have set up Adwords tracking correctly, then you will be able to track which keywords have converted? It's straightforward to find out whether the keywords associated with the products you want to drive traffic to your product pages are the correct products or not.  If they do not, then add the keywords to the negative keyword in Adwords to block them from sending traffic to your website.
Finding short-term market inefficiencies: Take advantage of bid efficiencies or short-term bidding inefficiencies. The PLA program is new to many retailers, and many of them aren't even aware of the need to segment feeds. There's an opportunity for those who move quickly can pick up traffic on the cheap.
As compared to the PLA traffic, the Adword traffic is always multiple times more expensive. Try to pick up much of this traffic as possible while Google selects keywords as highly qualified that sends traffic to your e-commerce website.
Consider accelerating your ad placements: this technique is an advantage for the clients that are performing well on PLAs. But if you are not sure which products convert then probably, you don't want to experiment with the strategy.
Google gets to be more liberal about keyword associating with the PLAs, which is an excellent way of driving additional traffic to the website and lots of unprofitable traffic. But if you haven't had a PLA campaign, then it's not something to suggest to you about.
Consider getting involved in the Google Trusted Stores program: Google trusted program aims to help shoppers' identity on online stores that deliver excellent customer experience. It tracks seller metrics like customer complaints and on-time shipping.
The official launch of the Trusted Stores program was announced at the same time they announced the shift to pay with Google Shopping. The merchants that have performed well to earn the Trusted Stores badge are highlighted in organic paid and Google Shopping listing ads.
When you are looking at product optimizing, and product feeds, you may always think about who exactly these Google customers are. Google shoppers who are using these feeds are motivated. A loyal group of people who knows how to use Google products, Google Shopping, etc., are motivated.
Another thing that you may think is, how many of the new visitors are coming from the product feed. The percentage usually lands around 70 to 80 percent. It is an excellent opportunity to optimize conversion.
The two things you should keep in mind to increase conversion rate, creating an "aha" and developing confidence in the site. The first thing is that when somebody lands on a page, you want them to have that "Aha!" I am on the right site; this is a suitable product, I am going to buy from here, etc.
The other thing is confidence. You want them to have the confidence to say, "I can trust this site, so many people are using this store, the price of this store is reasonable, etc.
There are a few hallmarks, and a few things to run down to optimize paid traffic are explained below:
Continuity: is it the right product? Whatever is in the Google products feed, you might still want to ensure that's what they see arriving on the landing page.
Orientation: make it clear that they are in the right place when somebody arrives on your site for the first time. That's something that gets overlooked more than your realization.
Trust: you want people to trust you immediately. The more you can establish your trust on the page, the further along you are in competing in the product feed scenario.
Content: people want to know the dimensions. Without having the essential information, it will not be easy to get a good segment of your most savvy purchase. You are not going to make the sale if you don't answer the questions about your products that they are asking.
Navigation: you can use the technique to enhance for people so that they can get through your site easily from whatever landing page they are at. Your chances of getting sales to go up dramatically if people can easily navigate to another part of your site that's relevant to them.
Some general questions and answers are given below related to Google Shopping and conversion rate optimization:
How will the CPA and CPC campaigns conflict with each other, and how would you suggest managing this situation?
– You are going to run into conflicts when running two campaigns on Google at the same time targeting the same keywords. To get the most money for a particular click, Google always tries to optimize for its best benefit to get the most money. In theory, your CPC campaign should send more traffic than your CPA campaign.
I suggest, either lowering your CPA target to make the CPC campaign look more attractive to Google to start sending traffic or increasing CPC bids so that they can make more money that way.
On top of the current Adwords, how much of an overhead/effort is it going to be to set up and manage an ongoing shopping campaign?
– It's not hard to set up a product listing ad campaign. It's very straightforward.  You are right to go as long as you can slice and dice data. The alternative way is to use a service that allows you to modify the data feed, which you can slice and dice data in custom ways.
Are there any useful tools that will automatically list products on a website?
– It depends on the platform that you are using. If you are using a common platform, then it's easy to find a plugin for it. If you are using the WooCommerce platform, then you can have a look at the WooCommerce Product Feed plugin.
This plugin is to generate a product feed and automatically updates product information into the feed file according to the given schedule and also syncs your product to different shopping engines.
What are the best ways or the best techniques to get good quality product reviews?
– An excellent review inspires your customer experience and gives an eCommerce owner the exact insight of where his products stand in the global arena of online marketplaces.
A review plugin becomes mandatory for you if you decide to launch your own eCommerce-based website. If you have a WooCommerce online store and you need to collect customer reviews for your products, it's time for you to install a WooCommerce Review Collector plugin.
How does Google Shopping compare to Nextag, Shopping.com, and other CSEs?
–  Google Shopping is a huge driver of qualified comparison shopping traffic. Google is undoubtedly the number one category or number one engine regarding prioritizing your time. If you are selling specific things that Google prohibits, then you will have to go with other engines.
Are there any tips on how to increase the average order value of a customer?
–  There are lots of things you can do when it comes to the average order value. There's classic up-sell, there's classic down-sell, there's classic cross-sell. Most people look for the top-rated products or the highest-rated products.
There are many different types of Google product data feed, and each serves a different purpose. Your shopping feed needs to follow some specific rules and requirements, for Google to accept your products. Success in Google Shopping begins with the quality of your product data feed.