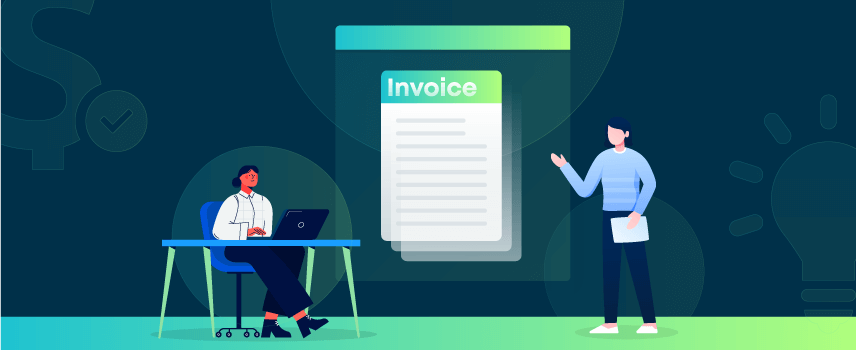 Commercial Invoice Template – All You Need To Know in 2023
A commercial invoice is a particular export document that helps a shipper get his package through customs. It is widely used in international shipments. An accurate and adequately completed commercial invoice template for export helps customs authorities quickly determine which taxes and import duties are applied to the package. And this prevents delays in shipment.
Additionally, these allow customs agencies to see whether the package meets all the relevant requirements. They can then pass on this information from the country of origin to the country of destination. If you fill in this invoice correctly, there is a higher possibility that your package will arrive on time.
It is a legal document and an agreement between the exporter (or shipper) and the importer that details the goods sold and the required amount that the customer must pay.
Governments often use this documentation to assess the total value of goods while determining the customs duties and importation control.
Thus, it acts as proof of the sale of goods from the shipper to the buyer/customer and the terms and conditions based on which such a sale occurs.
When is a Commercial Invoice required?
These invoices are required for any international shipment which carries a commercial value. It is required to fulfill all regulations under the product export/import regulations. The invoice is usually prepared ahead of the shipment.
Commercial Invoice vs. Proforma Invoice
A proforma Invoice is required in the pre-shipment process. It is used to provide customers with an idea of what they should expect in terms of the transaction details, including the price, quantity & quality of the product, the terms of payment, delivery, etc. In a nutshell, it defines the terms of sales but doesn't demand a payment.
On the other hand, a commercial invoice is required in the post-shipment stage and requests payment for items that have been sold. It displays the amount due and provides information about the buyer, seller, mode of dispatch, destination, current account, freight forwarder, payment terms, price, the currency of transaction, and much more.
Commercial invoice vs. Tax Invoice
A tax invoice is required to initiate the tax procedures. In contrast, a commercial invoice is required to specify invoice for quantity, quality, price & terms of sale.
Commercial invoice vs. Customs Invoice
A commercial invoice is used for all export-related activities, and a customs invoice is declared to meet the importing country's international border regulations. A customs invoice has an additional step involved, as a result of which it is also known as an extended version of a commercial invoice.
How to make a Commercial invoice: Step-by-Step Guide
To send to international customers, a small business should follow these steps:
1. Download a Commercial Invoice Form
The simplest way to build an invoice is to select and download from a range of customizable invoice templates available online, preferably from a creditable site.
2. Fill in Seller Details
Fill in your business's details, like the name of your business, the address, contact number, and email address.
3. Fill in Customer Details
Include the name and contact details of the person or company purchasing your products, along with the address if it differs from the billing address.
4. Assign an Invoice Number
Including a unique invoice number on the invoice is also highly recommended for future reference.
5. Include a Customer Reference Number
You might also want to include a customer reference number on your invoice. Your customers can use this number as a reference to contact you with questions, concerns or to return any items they purchase from you.
6. Include the Terms of Sale
The invoice should ideally detail your terms of sale. This is any information regarding obligations, risks, and costs that both the seller and buyer take on as part of the sale of goods.
7. Terms of Payment
Terms of payment such as important information regarding the terms and conditions you and the customer have agreed to for sale should also be a part of these invoices. It should also contain the purchase price.
8. Currency
Your invoice must include the currency you and the buyer have agreed upon for payment. Typically, the currency of settlement will be the currency of the source country. You may need to switch currency based on the client's country.
9. Include Shipment Method
Indicate how your products will be shipped to the buyer, for example, by air, by the ocean, or by surface.
10. The Quantity
An invoice of this kind also needs to detail the total quantity of each product to be purchased and shipped.
11. Item Description
Provides a complete description of all items to be shipped in the invoice. This can include the type of packaging they're in, the gross weight of each package, the quantity of each product, and the unit of measurement.
12. Air waybill (AWB)
AWB is a document that accompanies the goods shipped by an international air courier. It provides detailed information about the shipment and allows it to be easily tracked. The bill usually has multiple copies so that every party involved in the shipment can have it.
Types of International Commercial Invoice Templates
Canadian – For sending a package to and from Canada into another country.
FedEx – This form is for freighting a product internationally when submitting a package to FedEx.
DHL – Used at select DHL locations when sending a package to another country.
UPS – Used to send a package internationally through UPS.
USPS – To send a package internationally with the United States Postal Service.
Reasons for using an Invoice Template
You may often wonder why it is so important to use an invoice form instead of a custom invoice. The reason is simple: using an invoicing template saves you time and ensures timely payment.
With easy access to invoicing templates, endless customization capabilities, and a simple commercial invoice form layout already prepared for you, you would always have an invoice filled out and ready to send instantly in a matter of minutes.
Create the best Commercial Invoice with Challan
The Challan PDF invoice generator converts your invoice to PDF to make it look more professional, thus increasing your credibility in front of your customers. Ideally, your clients would like to receive a copy of your invoice as proper documentation, which is easy to read and store/save.

You can also share the encryption code with your customers allowing them to amend the PDF invoice.
There are certain benefits of using a PDF invoice. Here are some of those –
The content remains consistent across a PDF file.
Converting a file to PDF happens in a fraction of seconds.
When a Commercial invoice form is used in a PDF version, the file's size is automatically decreased compared to other formats.
The smaller and lighter file allows for a quick backup.
Hyperlinks work just fine in a PDF file.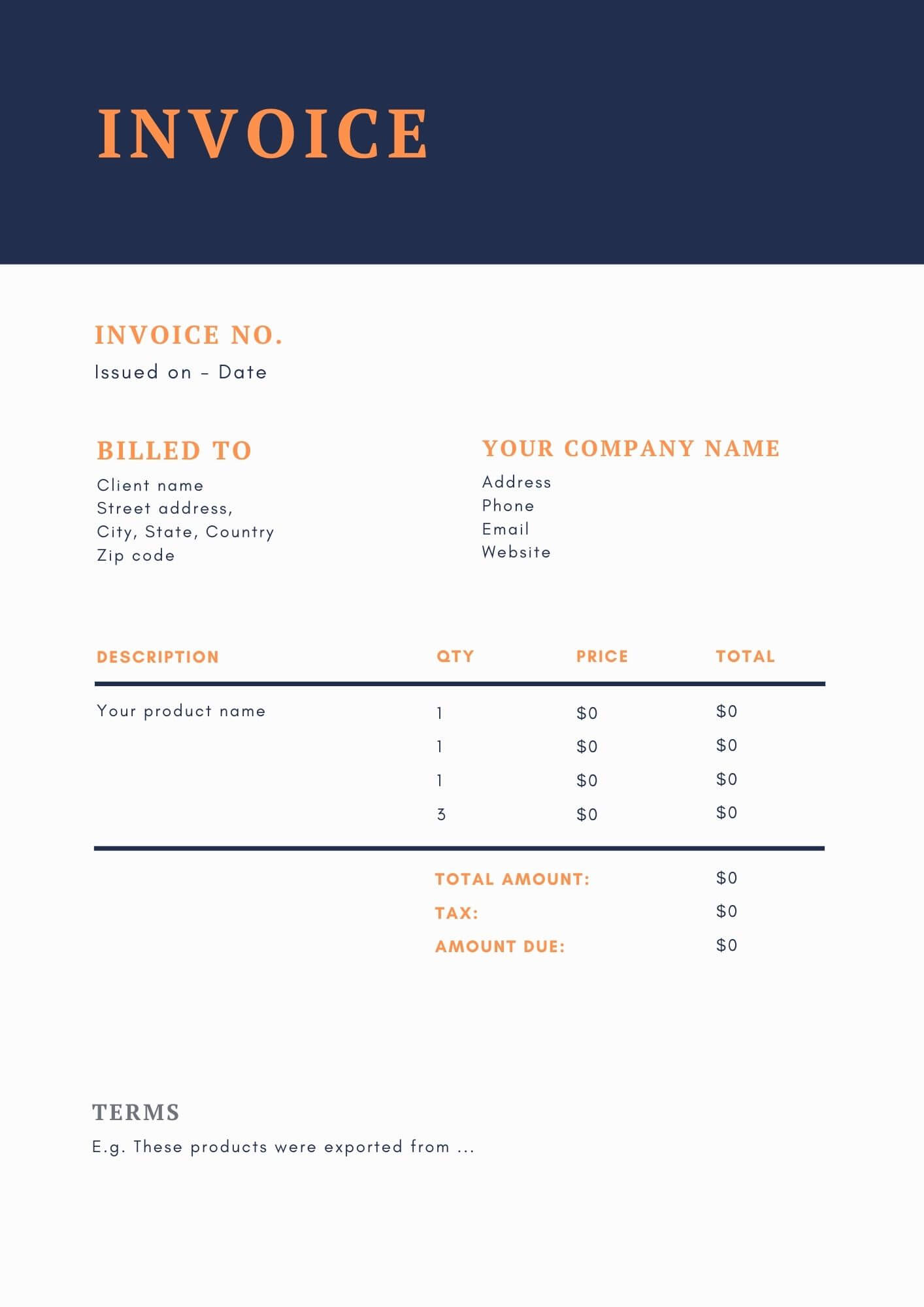 Challan – PDF Invoice & Packing Slip for WooCommerce helps you create free PDF invoices, packing slips, and shipping labels. This plugin has both free and pro versions. And the real difference lies in the features of both these versions.
The Pro version extends the capabilities of the free version manifold, making your invoices look more visually appealing and professional at the same time. From bulk downloads to enabling multi-lingual & multi-currency mode, you can take your business invoicing to a whole new dimension and use features such as paid stamp customized signature, watermarking multiple templates, and much more.
Helps in the order tracking
While set to be auto-sent when the order changes, the invoice attaches with the mail. This brilliant feature keeps your clients updated when the order is in process, is complete, or due for payment.
Stellar templates
Challan offers six contemporary professional commercial invoice templates that are already very popular in the market. You can now create a packing slip with your products' information, quantity, weight, or other product details. And the packing slip is also included as part of the offer.
Shipping Label
With Challan, you can print your labels either in bulk or individually. You can also download them to make them look like PDFs. You can also incorporate your eCommerce store's logo on your invoice.
Features
Create either a single or bulk PDF invoices at a time for every order placement
A simple interface with typing, drop-down, or enabling-disabling options
Packing slips with detailed information of your product and its description for single and batch orders
Six distinctive and commercial-aesthetic templates (4 templates are PRO)
Option to create the shipping label separately to make your delivery as subtle as possible
Bulk downloading enables you to download PDF invoices, packing slips, and labels at a time for perfect recordkeeping (PRO)
Allows you to create your personalized font to increase more variation with a visually appealing style using your preferred font
Multi-Language capabilities with the supported plugins
Multi-currency switching helps you understand your monetary transaction easily.
Adding detailed TAX information and VAT information with the total payable amount for auditing
Option to attach a credit note (PRO)
Supports date-format customization according to your preferred region
Product META allows you to add more information of the product in the PDF invoice with little effort
PAID STAMP allows you to select a range of stamps to use on the invoice to indicate that the payment process is complete
Digital Signature option for both parties make it easier to agree and provides a transparent solution to satisfactory invoice
How to generate an invoice with the Challan PDF Invoice & Packing Slip For WooCommerce?
Before you can generate an invoice with the Challan, you need to install and activate it.
Let's go through the step-by-step process of installing and activating it.
1. You can either type the following link: https://wordpress.org/plugins/webappick-pdf-invoice-for-woocommerce/ to download the free Challan or go to Plugins > Add New on WordPress. Type Challan in the search box and click on the Install button followed by Activate button.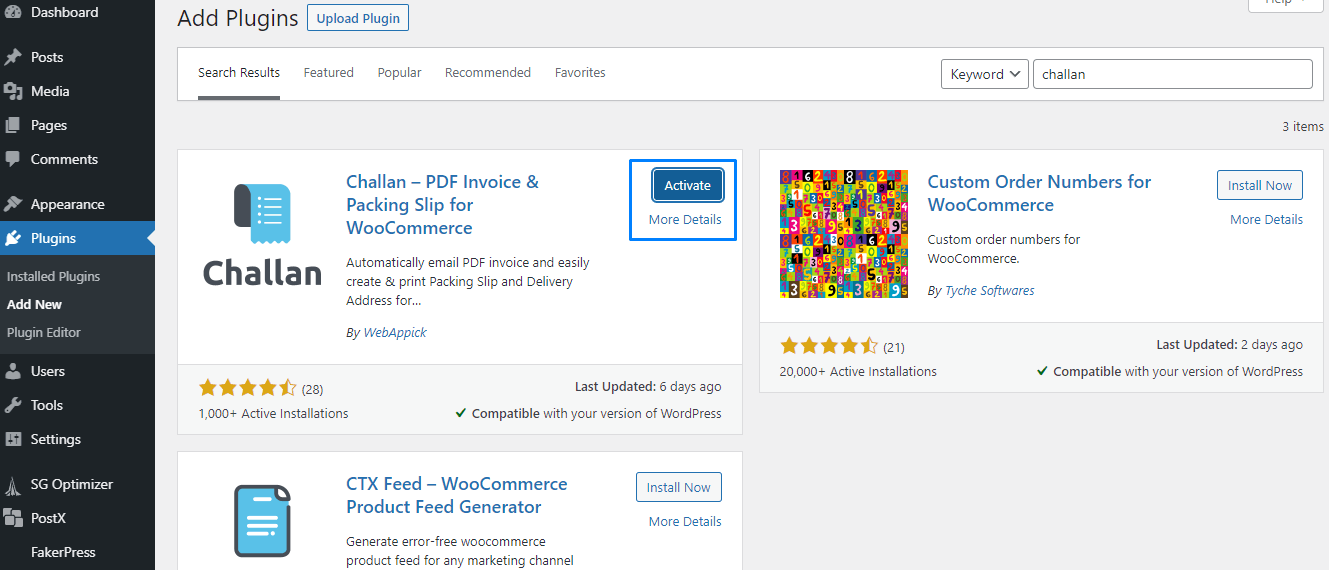 2. Go back to WooCommerce > Orders, and you will see a list of orders that are either completed, processing, or refunded. We have selected the topmost for this example. Click on it to move on to the next page.

3. You will then see the details of the recent purchasing order and its pertinent information. It includes the product SKU/ID, items, title, dates, billing & address, tax, cost, etc. Typically, this is how your Challan invoice would look like if you only used the WooCommerce invoice generator.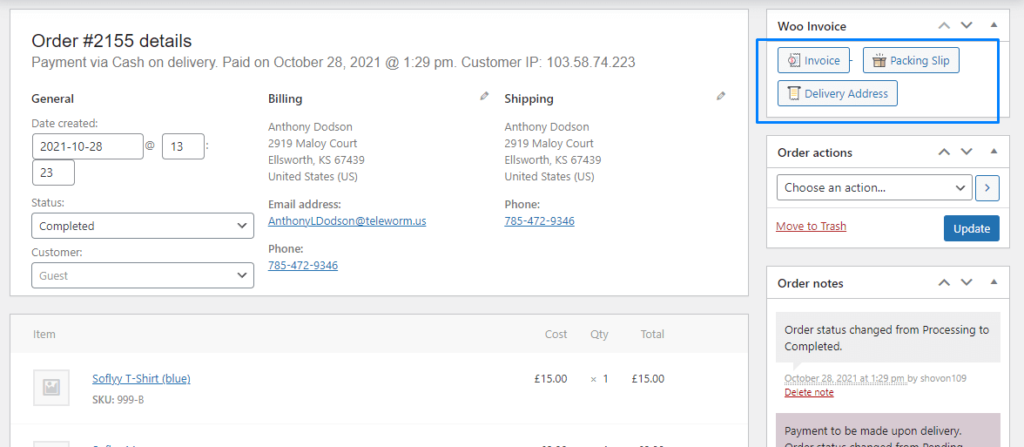 4. If you look at the top-right-hand side, you will see three options – 1) Invoice, 2) Packing Slip, 3) Shipping Label. Interestingly, these three options will only be visible once your Challan plugin is activated. Invoices generated by the WooCommerce invoice generator will not give you these options. Now, Click on each of these three options, and you will get the template generated by the Challan plugin. Let's see how it will look: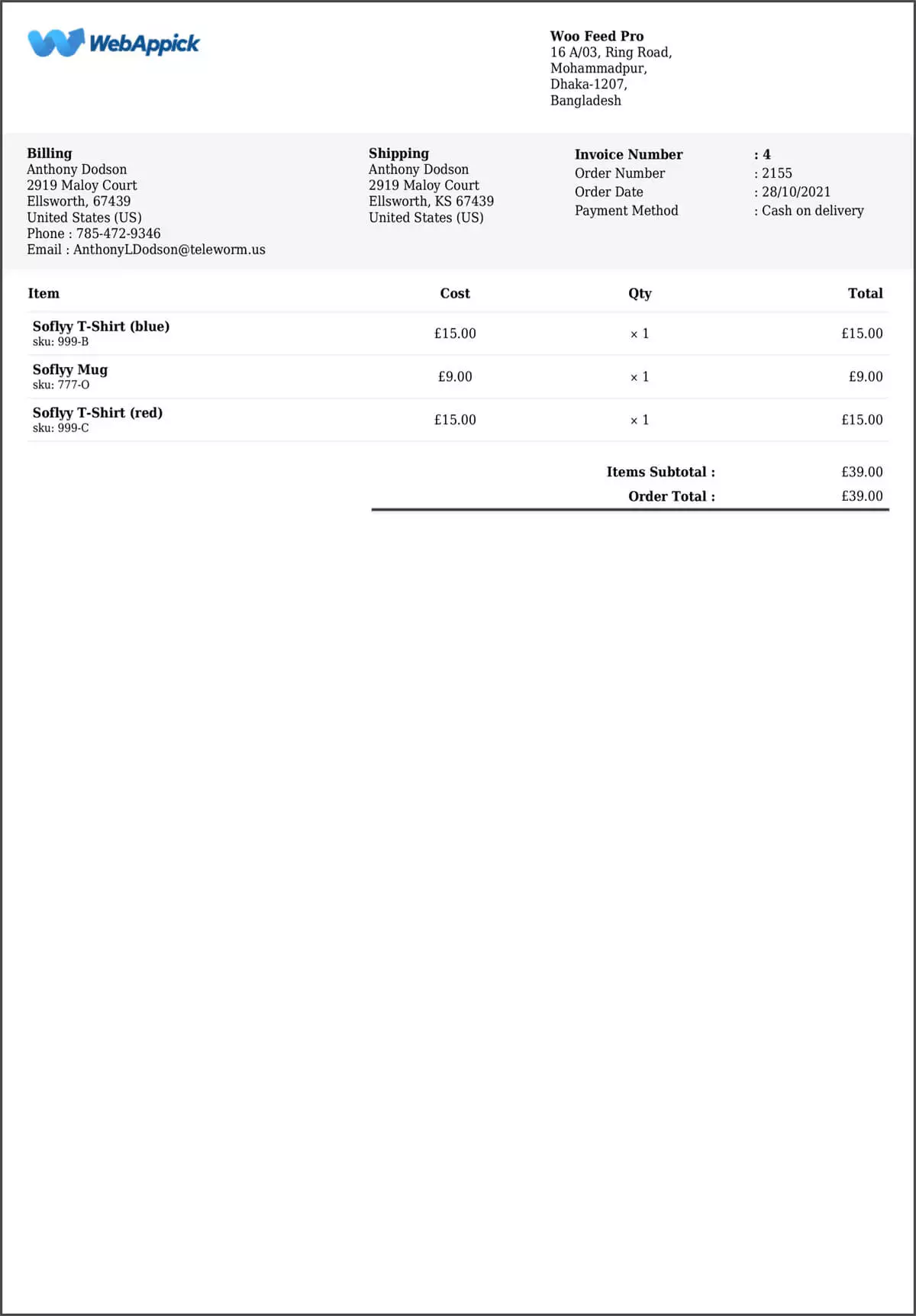 These are just the standard templates offered by Challan. You can download other attractive commercial invoice templates with the PRO version.
Personalizing WooCommerce PDF Invoice with Challan
You can customize your WooCommerce PDF invoices with Challan.
Click on Challan > Settings. It will take you to the first step of customization. Challan has a user-friendly interface.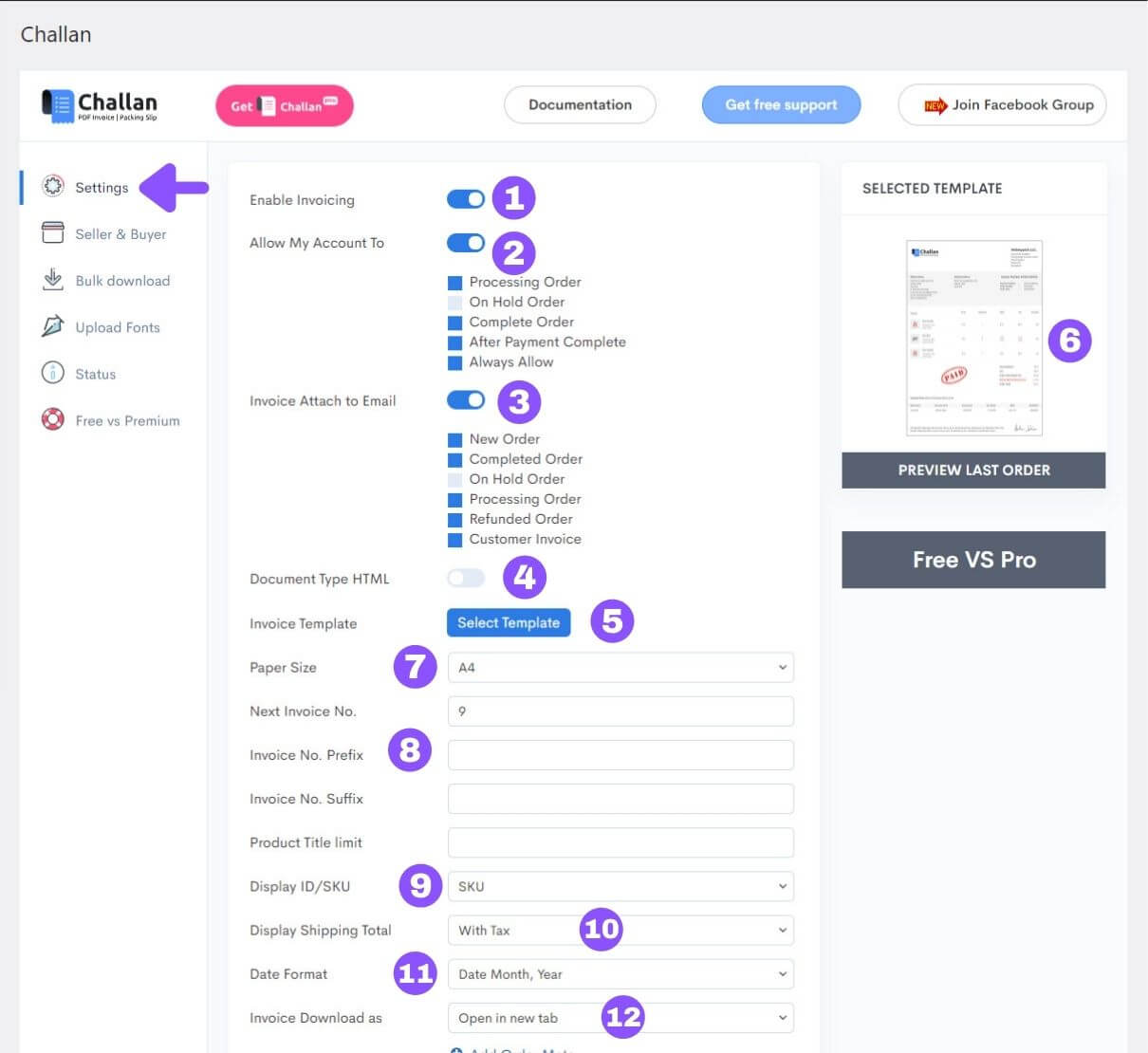 Enable your invoice by clicking on the toggle bar. It will create your PDF Challan invoices for each order placed at your online store.
You can download invoices at four different stages by enabling your download invoices option on My Account. These categories are;
Processing Order: As soon your customers place an order, they will see the invoice option right away regardless making of the payment.
Completed Order: Once the order is processed, the payment is made, and the items/services are delivered, the buyers can download it.
After Payment Completion: Once the payment is made either upfront at the time of placing an order or later, this invoice will be ready for download.
Always Allow: Same customers ordering anything next time can download the invoice anytime at any purchase stage.
3. For those of your customers who wish to receive invoices to help them with a later refund or want to get an update at every stage of the order, the invoice Attach to Email option rolls out five different options. These options are;
New Order
Completed Order
Processing Order
Refunded Order
Customer Invoice
4. You can turn on HTML if you want the invoice as an HTML file.
5. Clicking on the template button will give you two templates if you are a free user; and more if you are a PRO user.
6. Based on your template selection, the template preview will appear at the top right.
7. Paper size options are available as A4, A5 & Letter.
8. Prefix allows you to add numbers, signs, characters, or alphabets to make your invoice identifiable and unique.
9. You can either choose the SKU number of your product or the ID. Whichever you choose, you need to make sure that you have the proper ID or SKU setup on the Product section on WooCommerce.
10. If you select Display Shipping Total as With tax, it will reflect the tax on the cost of freight, and this cost will include both the amount and tax imposed on it. When you select Without the tax, your invoice will be free of any tax.
11. Date format allows you to modify the date pattern to dd/mm/yy, yy/mm/dd, yyyy-mm-dd, mm/dd/yy, etc.
12. If you want your clients to download the invoice simply by clicking the download, choose Direct Download. Otherwise, choose Open in a new tab.
Clicking on Seller & Buyer will show two individualized sections; 1) Seller Block and 2) Buyer Block.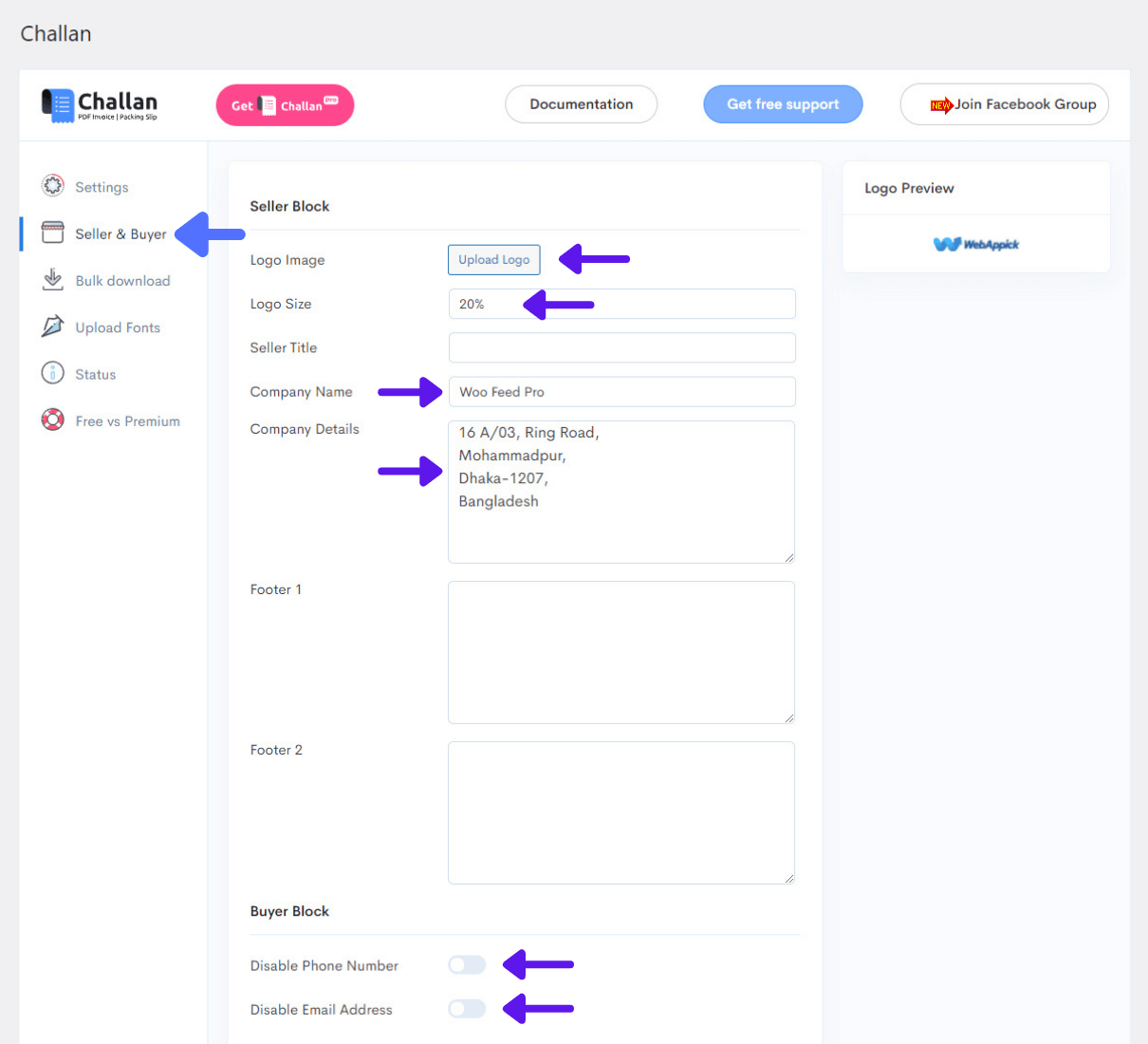 You can upload your company's logo from here and will also be able to get a preview of your logo. You can next choose your e-commerce store's name and its details, such as address. If you need to add any additional information underneath the invoice, set your footer 1 and 2. You also have the option to hide your clients' phone numbers and email addresses if you want.
Next, you click on Upload Fonts. This helps you to create different fonts in your invoice.
And Voila! You have finished the installation of Challan.
FAQ-s
What is a commercial invoice template?

Since a Commercial Invoice is an essential part of the international shipment of goods, it must include all the essential details to avoid unnecessary delays in border clearance.

A Commercial Invoice Template can be used to generate customized invoices via email for the international shipment of goods.
How to fill out a commercial invoice template?

While filling in the commercial invoice, make sure you include:

➜ Seller details like name, address, tax ID, and contact details
➜ Buyer details such as name, address, and contact information
➜ Reason for export
➜ Tracking Number
➜ Shipping date and number
➜ Incoterms
➜ A detailed description of goods in detail
➜ Quantity of goods, HS code, declared or the actual value of the shipment
➜ Freight and insurance cost
➜ Country of origin and country of destination
➜ Gross and Net weight
How do I make a commercial invoice?

You can create or generate these invoices with the Challan PDF invoices for WooCommerce. The plugin has both a Free and a Pro Version.
Can an invoice be used as a commercial invoice?

Commercial invoices require more information than standard or normal invoices. A commercial invoice would provide information like the full name, address, and contact details of the buyer, the country of destination of the packages or the shipment, etc.
Is there a free Invoice maker?

You can use Challan invoices to create WooCommerce invoices for free, but the template is basic, and there aren't many scopes to customize the invoices. Or, you can use a WooCommerce invoice generator, or more precisely, a PDF invoice generator, to add loads of features to it. And you can easily convert it to a portable document format (PDF).
How do I create bulk invoices with Challan?

Go to Challan > Bulk download, and you will discover three sections. Bulk Type asks you to either download the invoice itself or just the packing slip. Clicking on the "Date From" and "Date To" options will present you with a calendar. You need to select the date for which you need the invoice or packing slip in bulk numbers. Click on the Download button. Remember, the bulk download will curate the invoices or packing slips for your selected dates. The invoices will be a PDF file.
Wrapping Up
By now, you would have already had an idea of the importance of commercial invoices. Using a commercial invoice template simplifies the whole process, which can otherwise be pretty challenging – considering the amount of information in these documents.
Which Commercial invoice do you use? Don't forget to write us about that.
You May Also Read