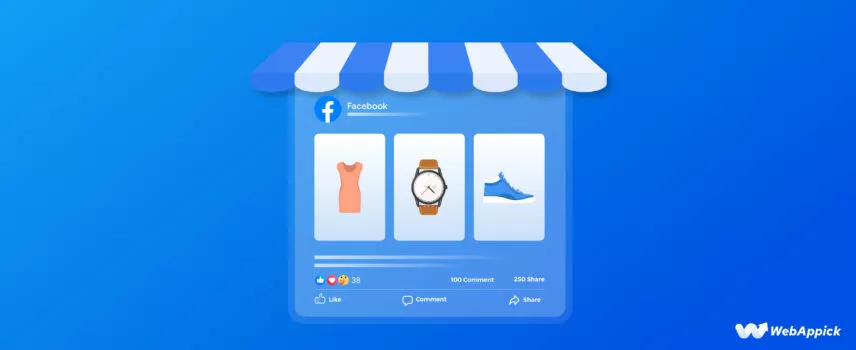 Facebook Product Data Feed Template: The Ultimate Guide
Facebook, the social networking titan, is a lot more than just a platform for people to connect. We can safely say that it has become so addictive that a significant number of people live and breathe inside its digital realm.
Along with general people, this is the primary marketing channel for an enormous number of businesses worldwide. A vast number of businesses do eCommerce business using Facebook even without maintaining any dedicated eCommerce website.
If you own a WooCommerce store, Facebook should be at the top of your list of marketing channels for promoting and selling your products. And the cherry on top is Facebook offers several features that facilitate online selling.
Still not sure whether you want to jump into marketing through this channel? Check out these statistics.
Almost 3 billion people hang out on Facebook each month, making it the third most-visited website globally.
More than half of Facebook users (54.9%) are into following brands or doing some casual product research.
Around 37% of Facebook users might hit the 'Buy' button (make a purchase) in 2023.
Your average retail Facebook page gets an impressive 974,000 views every month.
If people can send a text on Facebook, 53% more of them are likely to make a purchase.
There are a whopping 250 million shops on Facebook.
Therefore, better late than never, you should start listing and promoting your WooCommerce products on Facebook immediately. However, listing Woo products one by one and managing them will be a daunting task.
Facebook allows you to upload a product feed to save you from those hassles. This article will discuss the Facebook product feed template and how you can generate a Facebook feed using a WooCommerce feed plugin called CTX Feed – WooCommerce Product Feed Plugin.
Let's get started.

What is a Facebook product data feed?
As we were discussing, adding your WooCommerce products individually and managing all those data is not practical. You need to look for a quicker and easier option to add these products.
The best solution is to export all your products and upload them at once. But you also need to follow Facebook's guidelines when uploading these data in bulk.
For that, you will need to create a product feed. A product data feed is a file that contains an eCommerce store's product data under necessary characteristics such as prices, titles, product brands, descriptions, etc.
Here's an example of a Facebook product feed –
The red-marked column headers are the characteristics of your WooCommerce products. Under them are the values for each product.
You can create a Facebook product feed in different formats such as CSV, TXT, TSV, XLS, TXT, JSON, etc. The most popular format is CSV.
You then need to upload this file to the Meta Catalog manager. We will walk you through the steps later in the article.
In the Meta Commerce Manager, you will also find a Facebook product feed template to download and insert your data. Before we go there, let's find out the Facebook product data feed template requirements.
Facebook product feed requirements
The characteristics you saw in the example above are called product feed attributes. Every channel has its own set of product feed attributes and guidelines.
You can find detailed Facebook product specifications in this article here. For this article, we will quickly review the important attributes of different Facebook tools.
Facebook Shop attributes
id
title
description
availability
condition
price
link
image_link
Brand, MPN, or GTIN (at least one required)
Facebook Marketplace (USA only) attribute list
id
title
description
availability
inventory
condition
price
link
image_link
Brand, MPN, or GTIN (at least one required)
google_product_category / Facebook product category
Attributes for Page Shop, Dynamic Ads, Instagram Shop
id
title
description
availability
condition
price
link
image_link
Brand, MPN, or GTIN (at least one required)
How to create a Facebook feed using a Facebook product feed template
Facebook and Instagram have a common platform that handles all of these two platform's promotional content. It's called Meta Commerce Manager.
To list and promote your products, be it free listings for shops or running ads, you need to upload them in the Commerce Manager under a catalog. Let's start by creating a catalog before we show you how to download a Facebook data feed template.
Log in to the Commerce Manager with your Facebook details. For first-time users, it will show a similar screen below.
Click the Get Started button to start the process.
You can select the first option if you only want to create a Facebook shop or upload your products on a Facebook Shop page. Create a catalog to run all sorts of promotions on both Instagram and Facebook.
Brick-and-mortar stores can also list their products. But as you have an online store, select the following options.
We are uploading product information, so select the appropriate option, as you can see below.
This will create an empty catalog.
Downloading Facebook product feed template
To find the Facebook product feed format template, go to Catalog>>Data Sources. After that, click on the Data Feed option, and there you will find the Facebook product feed template download option.
Catalog Manager gives you two file-type options to download the Facebook data feed template. A Facebook product feed csv template and another in XLSX format.
You can open both of these Facebook catalog feed template on software like Microsoft Excel. Let's download the CSV Facebook feed template and check out what's inside.
As you can see, attributes are set as column headers, and along with them, Facebook also provided sample product data on the first row to show you how to insert the values.
You can also download niche-specific Facebook product feed template from the custom template menu.
However, this is still a manual method of arranging and managing your data and will create a lot of hassles for you.
Challenges of using a manual Facebook product feed template
Manually inserting your Woo product data into the Facebook data feed template will be time-consuming and prone to errors. This manual process goes against the very purpose of having a product feed: to automate product data listing and streamline the process.
Let's discuss the challenges in more detail.
Time-consuming data entry
Manually filling in a Facebook product feed template eats up a lot of time. Every detail about each product, like its title, description, availability, and price, must be typed in individually.
It's like entering information for each item one by one, which takes forever, especially if you have many products.
Prone to errors
Doing things manually opens the door wide for mistakes. With so much typing involved, there's a good chance of making errors—typos, incorrect prices, or missing details. It's easy to overlook things when you're entering a ton of data by hand, and those mistakes can mess up how your products show up on Facebook.
Efficiency goes out the window
The whole point of having a product feed is to make things smooth and automatic. But manually inputting data into the Facebook template goes against that.
It's like taking a step backward in efficiency. Instead of things happening automatically and quickly, you're stuck doing the hard work yourself.
Risk of incomplete or outdated information
Updating a manual feed can be a headache as your product lineup changes or new items come in. Keeping track of which products need edits or additions becomes a challenge.
So, your Facebook product listing might end up with missing or outdated info. Your customers will find different data on Facebook and your Woo store.
As a result, they will lose trust in you, leave your site, and probably never return.
To get out of all these manual Facebook product feed template problems, you need to seek help from an automated tool. And as we all know, there's a plugin for solving every problem in WordPress.
There are multiple product feed plugins available for WooCommerce. The best one in the market is CTX Feed.

CTX Feed – WooCommerce Product feed plugin
Before delving into the specifics, let's highlight the key points. CTX Feed has integrated a Facebook product feed template, which comes packed with all necessary guidelines and attributes.
The plugin automates almost the entire product feed generation process. Your task is to select the Facebook product feed template and click the save or generate button.
CTX Feed also saves you from hassles like copy-pasting and updating data manually. The plugin does all of these behind-the-scenes automatically.
In addition to that, you can also connect your feed through the URL instead of manually downloading and uploading the file. Let's find out more.
Simplified feed creation
We have already given you an idea of how effortless it is to create a feed with CTX Feed. It supports over 130 recognized channels.
This enables seamless integration with various marketplaces, search engines, affiliate sites, and comparison platforms. This plugin streamlines the entire process, eliminating the need for manual data entry.
Tailored for Facebook Catalog feed
CTX Feed excels in enabling the creation of Facebook Catalog Feeds and Instagram Shopping Feeds. It ensures your products are optimized according to the unique attribute requirements of these platforms, enhancing their visibility and discoverability on Facebook and Instagram.
Unlimited product uploads
There are no limits on the number of products you can upload, catering to stores of any size. Whether you have a few products or an extensive inventory, CTX Feed supports uploading them all effortlessly.
Facebook Pixel tracking
The plugin simplifies Facebook Pixel setup, enabling efficient tracking of online visitors and ad-campaign progress without requiring manual coding.
Facebook country/language override feed
CTX Feed supports multi-language capabilities, ensuring products display appropriately for different languages on Facebook, optimizing your reach and engagement.
Multiple feeds creation
The plugin allows you to create numerous feeds, each containing various products. These feeds can be efficiently managed from a centralized interface, simplifying organization and navigation.
Pre-configured templates
Access to over 130 built-in templates, including Facebook product feed templates, significantly reduces the time spent on researching individual channel attribute requirements. These templates are meticulously crafted for various marketplaces, sparing you the hassle of manual attribute configuration.
Supports various feed file types
CTX Feed provides the flexibility to generate feeds in multiple formats, including XML, CSV, TSV, XLS, TXT, and JSON. This ensures compatibility with diverse marketing channels, accommodating their specific file format requirements.
User-friendly interface
All necessary attributes and fields for channel-specific feeds are conveniently consolidated within a single window. This intuitive interface simplifies the feed creation process, catering to users with varying levels of technical expertise.
Support for WooCommerce product types
It fully supports various WooCommerce product types, including bundle, composite, mix and match, and subscription products. This ensures that regardless of the product type, CTX Feed can effectively manage and include them in your feeds.
Variable and variation inclusion
Effortlessly incorporate multiple variations of products within your feeds. The plugin facilitates efficient management of how these variations are displayed within the feed, ensuring comprehensive coverage of your product catalog.
Custom templates
The plugin offers the capability to create custom templates, empowering users to tailor feeds for personalized marketplaces or accommodate complex feed file requirements.
Extensive attribute support
CTX Feed covers many attributes, including title, description, image link, brand, price, MPN, tax, shipping, gender, and more. This comprehensive attribute support ensures that all necessary product information is included in your feeds.
Output type customization
With over 20 output types available, users can precisely manipulate attributes to avoid errors and ensure accurate product data representation across different marketing channels.
Category mapping
Align your store categories with marketplace categories, enhancing the searchability and relevance of your products across different platforms.
CTX Feed is a complete solution for making, improving, and handling WooCommerce product feeds on many marketing platforms, specifically focusing on making Facebook and Instagram integration smooth and effective.
Creating a feed using CTX Feed's Facebook product feed template
Let us show you how to generate a Facebook feed using the plugin. You can install the free version or upload the pro version.
To start creating a feed, select/click the following menu.
This is a fresh window.
Now, let's select the Facebook product feed template from the templates list.
Select your preferred file type. CTX Feed supports all possible file types.
After you select the Facebook product feed template, the plugin will populate the necessary attributes instantly.
You can customize any attribute or add new ones as per your need. You can now click generate to finish creating the feed.
Advanced filters for Facebook product feed template
The pro version has some additional filter options. You can exclude your out-of-stock products automatically. This is an extremely useful feature and can increase your ROI by an impressive margin.
You can filter your products by category, product status, shipping, and tax country. You can also create a feed for specific products.
Filter options also allow you to generate custom links for your feed. You can then track your feed products from analytics software like Google Analytics.
Custom fields on Facebook product feed template
Remember the attributes above, like Brand, GTIN, MPN, etc. Have you seen any fields in your WooCommerce product pages where you can input any values?
Unfortunately, they are not available on your product pages. More fields like this are not available on WooCommerce, but different channels, like Facebook, Google Shopping, etc., require you to input values for these fields in their feed.
The solution is to create custom fields on WooCommerce for these particular fields. Here, CTX Feed comes into play again.
This incredible plugin has all possible custom fields integrated inside it. You just need a single toggle to enable them.
Go to Settings and then find the Custom Fields tab at the top.
Let's enable GTIN and Brand.
Save and go to any of your product pages. Go to the Product Data section and click on Inventory.
You will find the GTIN field at the bottom. All custom fields you enable from the plugin settings will appear under CUSTOM FIELDS by CTX Feed.
You can add brands from the Brands By CTX Feed menu.
Once you input values in your product pages, CTX Feed will automatically collect them under the appropriate attributes and insert the data in the feed file.
Using the plugin, you can also create a custom Facebook product feed template.
Google / Facebook category mapping
If you take a look at the attribute list again, you will notice two attributes – google_product_category and facebook_product_category. What does this mean?
All websites have their own index or category structure. Google Shopping and Facebook also have their own menu or category structure.
Here's an example – Apparel & Accessories > Clothing > Shirts & Tops.
The closer your products align with the categories set by Facebook and Google, the greater the likelihood of them being visible to potential customers. If your WooCommerce product category structure isn't exactly similar to Google/Facebook, you can map and include the categories in the feed.
CTX Feed comes with a very easy-to-follow category mapping feature. Go to the Category Mapping menu and add a new mapping category.
Select Facebook from the merchant list.
The plugin will show your existing categories on the left and let you map them with Facebook categories from the right dropdowns.
This is a sample site; however, the final result may look like this –
After you save the mapping, you can select this attribute value from your feed window.
Uploading and managing the Facebook product feed template file
The Manage Feeds page contains all your feed files. From there, you can set automatic updates at your preferred intervals.
You can either download the file or copy the feed URL if you want to host it from your Woo site.
Go back to the Catalog Manager and jump to Data Sources >> Data Feed. Click next.
Select Yes.
There are three options available for you to connect your feed.
We will go with the URL option.
Copy-paste your Facebook feed URL and also set the update frequency.
Now, you have already set the update interval on the CTX Feed. Then what is this update frequency all about?
Let us explain step by step.
If you make any changes to any product details or add new products, CTX Feed will collect that new or updated data and insert it in the feed automatically at your set interval. For example, if you set 30-minute update intervals, the plugin will check for updates every 30 minutes.
Facebook will also look for updates or changes in your WooCommerce site through the connected feed URL. If there are any changes, Commerce Manager will fetch those at the set update frequency you just configured.
Therefore, you no longer have to worry about manual feed or product management. The plugin and Catalog Manager will take care of everything automatically for you, and customers will always see accurate data across your channels.
Importance of Facebook product feeds for WooCommerce store
Here are some reasons why you should have a Facebook product feed template to promote your Woo products on the platform.
Increased reach
Facebook is one of the largest social media platforms in the world, with over 2.9 billion active users. This gives WooCommerce stores that use Facebook product feeds a huge potential customer base.
Facebook product feeds allow you to showcase your products to users who are browsing Facebook, even if they are not actively searching for your products. This can help you to reach new customers and expand your market reach.
Improved customer engagement
Facebook product feeds allow you to interact with potential customers and answer their questions in real-time. This can help you to build relationships with customers and increase brand loyalty.
You can also use Facebook product feeds to run contests and giveaways, which can help to generate excitement around your brand and products.
Higher conversion rate
When customers see your products on Facebook, they are more likely to click through to your website and make a purchase. This is because they are already on a platform that they trust and are familiar with.
Additionally, Facebook's targeting tools allow you to reach specific audiences who are more likely to be interested in your products. This can lead to higher conversion rates and increased sales.
Improved ROI
Facebook product feeds can help you to improve your ROI on marketing campaigns. This is because you can target your ads to specific audiences who are more likely to be interested in your products.
Additionally, Facebook product feeds allow you to track the performance of your ads and campaigns in real-time. This information can be used to optimize your campaigns and improve your ROI.
Increase brand awareness
Facebook product feeds can help you to increase brand awareness by showcasing your products to a wider audience. When your products are displayed on Facebook, they will be seen by users browsing the platform, even if they are not actively searching for your products.
This can help to introduce your brand to new potential customers and increase brand recognition.
Drive traffic to your site
Facebook product feeds can also help you to drive traffic to your website. When users see your products on Facebook and click through to your website, this is known as a referral visit.
Referral visits are a valuable source of traffic for any website, as they are more likely to convert into sales than other types of traffic.
Generate leads
Facebook product feeds can also help you to generate leads. When users see your products on Facebook and express an interest in them, you can collect their contact information for future marketing campaigns.
This can be done by using Facebook Lead Ads or by linking your product feed to a landing page on your website.
Upsell and cross-sell products
Facebook product feeds can also help you to upsell and cross-sell products. Upselling is when you encourage customers to purchase a more expensive version of a product. Cross-selling is when you encourage customers to purchase complementary products.
Improve customer satisfaction
Facebook product feeds can also help you to improve customer satisfaction. By providing customers with easy access to information about your products and by allowing them to purchase your products directly from Facebook, you can create a more convenient and streamlined shopping experience.
Wrap up
Facebook itself prioritizes eCommerce product promotions on the platform. It has several eCommerce features that can help you reach an incredible number of audiences and drive them to your WooCommerce site.
We hope this article on Facebook product feed template will give a clear picture of how the feed files work and how to generate and utilize them to boost your business growth.