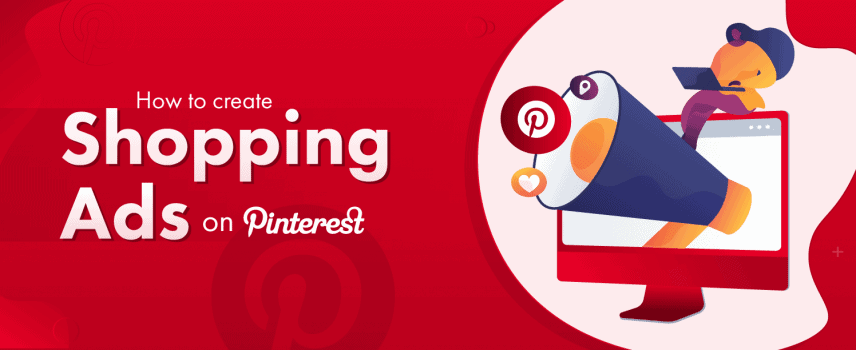 Pinterest is another widely known social media site that has lots of daily visitors. Though this American image sharing platform has a different concept than the leading social media platforms, it has more than 400 million monthly active users. Pinterest gives its users flexible options to save ideas.
It helps you save and discover ideas that are generally presented as images, animated GIFs, and videos. You can also create Shopping Ads on Pinterest to reach potential customers and make more profit. In this blog post, we are going to introduce the best Pinterest WooCommerce plugin for you.
At this moment, Pinterest harbors over 400 million monthly active users. It has also become a handy platform for marketers all around the world. As many people visit the site for ideas daily, advertisement of products and services is also effective on this platform. Pinterest has a feature called Product Pins.
But they have also added an option to share your products with your potential buyers. The product catalogs and personalized shopping recommendations for the visitors called "more from the brand" allows a business to display more product pins as a suggestion.
Why Pinterest Shopping Ads
If you are a regular Pinterest visitor, you must have encountered the promoted shopping Ads on Pinterest. Due to their effectiveness, more businesses are being drawn to Pinterest with their product Ads. A Pinterest WooCommerce plugin can be helpful to create proper shopping ads on Pinterest. Below is an example of how the promoted products look like on Pinterest.

Creating Shopping Ads on Pinterest is not just a trend; it brings results too. Shopping Ads on Pinterest will increase your store sales because many people frequently visit Pinterest for fresh ideas. Sharing your products will draw attention and create purchase intention among Pinterest visitors.
Now the question is, how do you create great Shopping Ads for Pinterest. How much do you want to learn about the Shopping Ads generation process, and its best practices is another significant concern. If you can spend very little time learning, then a WooCommerce to the Pinterest plugin will help to grow your business significantly.
Once you log into Pinterest, you need to hover over to Ads and locate Catalogs under it. You can manage your Pinterest Catalogs from here. Also, you can access and update your feed file from here. Get all the essential control options here by navigating a bit.

We will share the best WooCommerce feed generation plugin that will generate excellent Pinterest Shopping Ads for you. WooCommerce Product Feed for Google, Bing, eBay, and Many More is the best WordPress tool to create and manage product feeds for your WooCommerce store.
To satisfy your interest in what makes it the best tool, we have prepared this resource. This Pinterest WooCommerce plugin for WordPress has everything to offer for your product feed and Shopping Ads generation requirements. Like all other supported platforms, the intuitive interface and easy to follow steps make WooCommerce Pinterest integration surprisingly easy for you.
Follow this step by step guide to create Pinterest Shopping Ads with the best available Pinterest WooCommerce Plugin.
We hope you have already installed and activated WooCommerce Product Feed for Google, Bing, eBay, and Many More. If you have not installed it yet, there is nothing to worry about. You can download and install it from this link. Here is a quick guide if you need help with the installation. Using this WooCommerce to Pinterest plugin, you should get it first to follow along properly. Let's get started.
Step by Step WooCommerce Pinterest integration Guide
First of all, hover over to the new menu item on your WordPress dashboard called Woo Feed. There will be several options; click on the Make Feed option to create a new product feed. You can also click on Woo Feed, and its options will expand under it. Now click on Make Feed to get started.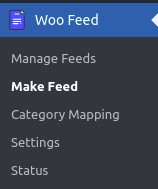 You will be directed to the new WooCommerce Product Feed creation section. To begin with, you need to take care of the content settings section at first. There are four options in the content settings.
Country
Template
File Name
Feed Type
The country is the first field you need to fill to get started with your Pinterest Shopping Ads. For this guide, we have selected the United States from the dropdown list. You should select your desired country from the list.
Secondly, you will find the option to select a template. This WooCommerce product feed management plugin offers lots of built-in templates to bring ease to your life. We proudly offer a built-in template for most of the supported merchant sites. For this WooCommerce Pinterest integration, we are selecting the Pinterest Catalog from the Popular Templates.
Now, you need to give a name to your feed file. You can name anything you want, but the name should be unique. If it matches an existing file name, then it will override the existing feed file. Adding the campaign name or the date with the file name is an excellent idea. As a result, you can be sure that the file name is unique.
Finally comes the Feed Type. You will find a dropdown option to select the Feed Type. This Pinterest WooCommerce plugin has support for five different types of Feed Types. The unsupported types will be blurred out, and you will not be able to select them. From the active options, we are selecting XML as the Feed Type
| | | | | |
| --- | --- | --- | --- | --- |
| Product Id | Product Title | Product Description | Item Group Id | Product URL |
| Product Categories | Google Product Category | Main Image | Condition | Stock Status |
| Regular Price | Sale Price | MPN | Manufacturer | Canonical Link |
Apart from this, there are options to add more attributes with just a click of a button.
Like other consequential product feed types, such as Google Shopping Ads and Facebook Dynamic Ads, the Feed Config section has seven options you need to take care of. Let's learn about those section names first.
Below is a list of the options in WooCommerce to Pinterest Feed Config:
Pinterest Attributes
Prefix
Type
Value
Suffix
Output Type
Command
Pinterest Attributes
One by one, you need to take care of all the available fields to create brilliant Pinterest Shopping Ads. In the Pinterest Attributes section, the essential attributes are already loaded for you. You can change their position with our drag and drop feature.
There is an Add New Attribute button at the bottom of the list. You can add more attributes by clicking on them.
Likewise, there is also a trash icon on the right side of the lists. You can remove the entire row by clicking on it. If you want to remove an item from the list, make sure you know what you are doing. If you are not skilled/knowledgeable enough, then you may end up harming your Shopping Ads.
Prefix
This is a brilliant option for this Pinterest WooCommerce plugin for WordPress. You can add marketing and promotional text with the product title, description, or any other fields with this option. As a result, you will easily extend the product title with your desired keywords or buzzwords to get more exposure to your customers.
Type
The next field in the Feed Config section is Type. You will find that all the fields are filled in with either Attribute or Pattern. Most importantly, if you add any row, then make sure to set the type for it. You should either set it to attribute or pattern.
Value
Value is the next field that you need to take care of. First of all, you will find everything filled up. You can make changes by selecting options from the dropdown. The most important field in the value section is to set the right category for the Google Product Category. Double-check this section because it has infinite importance. If you fail to select the right category, your product may not be displayed to the visitors. Apart from that, setting the right category will also save your marketing costs.
We have selected Clothing from the Apparel & Accessories section.
Suffix
This is almost similar to the Prefix section. It will help you add marketing or promotional texts. Moreover, you can also add a price symbol and currency code with your price, among many things. It would help if you found this very helpful for your WooCommerce Pinterest integration.
Output Type
There are different types of Output Types. The template comes with the Default option. You can select the other options from the dropdown.
Command
Finally, from this section, you can add advanced commands to modify your WooCommerce Shopping Ads for Pinterest.

You have already covered a lot to create your first Shopping Ads on Pinterest with our WooCommerce to the Pinterest plugin. Let's jump to the Filter Section to set the filter options.
Filter
Under the filter tab, you need to create your campaign URL with the URL builder. The campaign URL builder offers a very straight forward option to create the campaign URL. Under each field, there are suggestions to make the step easy for you. We are setting "Pinterest" in the mandatory fields for this demonstration.

FTP/SFTP
Finally, you need to take care of the FTP section to upload your feed files to the server automatically. This can also help you by automatically updating your feed files after certain intervals. Now, if you click on Update and Generate Feed, your Pinterest Shopping Ads will be created.
When you click on Update and Generate Feed, the plugin will create a feed file for you. You will get a confirmation and get redirected to the Manage Feeds section. You can edit and update your shopping ads or product feeds from here.
How easy it was to generate your first Shopping Ads for Pinterest with our Pinterest WooCommerce Plugin!
The premium version has some exclusive features.
If you are curious about the premium version and its features, we will try to give a quick highlight of the advanced features. The premium version of this Pinterest WooCommerce plugin for WordPress has lots of outstanding features.
First of all, if you are running a multilingual or multi-vendor site, it will benefit you. You can effortlessly target your customers in their local language with multilingual support. On top of that, it comes highly equipped for your multi-vendor site. You can create your Shopping Ads for a single vendor or select multiple vendors and include their products.
Support for product variation
It is normal to have variable products on your WooCommerce store. If you want to include product variations, the premium version has well-organized options. First of all, while including variations, you can either select the Variable Products, the Product Variations, or both of them simultaneously.
Apart from that, there is also an option to control the price of your variable product. Include and display the first, minimum, or maximum variation price in the Pinterest Shopping Ads.
Moreover, you can also control the number of variable products. All product variations usually don't have the same stock quantity, and you have four different options to display your variable product quantity. You can include the first variation quantity, minimum variation quantity, maximum variation quantity, or the sum of variation quantity.
More options to filter
Under the filter tab, you will find lots of newly added options to filter your Shopping Ads. You can include and exclude products in the easiest possible way. Apart from that, you will love the String Replace option. You can easily search for a string and quickly replace it using this feature. Most importantly, you can set multiple String Replace rules by clicking on the Add New Row.
Advanced Filter
This is a newly added tab (premium feature) that gives you an option to add strong filtering logic for your Pinterest Shopping Ads. You can either filter together or filter individually using this feature. First of all, select your filter type (AND or OR). Now you need to select an attribute from the dropdown.
Next comes the condition. Choose the best condition that matches your goal. Finally, you need to set the value for the condition to work on. You can set multiple conditions under the Advanced Filter too.

Visit our product page to learn more about this product feed manager's premium features for WooCommerce and Pinterest WooCommerce plugin.
After successful feed generation, you need to upload the file to Pinterest. In the edit data source section, you will first need to take care of the Product Feed URL. Copy the URL and paste it here. You also need to select the matching file format from here. Select the default currency and other necessary options from here.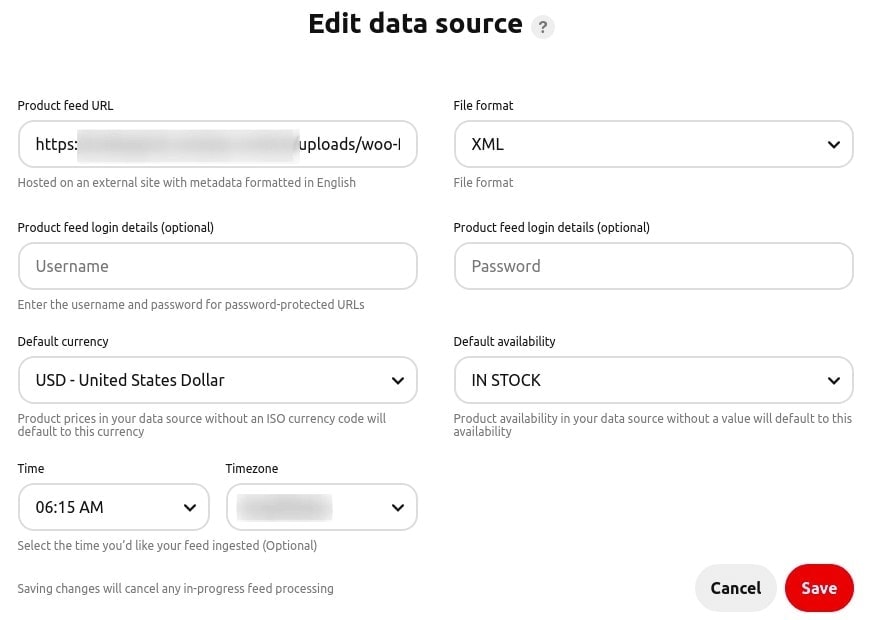 A brief overview of the Pinterest Catalog Dashboard
In the Catalogs section of Pinterest, you will find the data source. Pinterest also offers a detailed overview of when your feed was last updated, a status report, product count in your Pinterest WooCommerce feed, URL of the feed source. Additionally, under the Actions tab, you can check if there is an issue with your feed.

You can get a detailed report of the existing problems of your Pinterest WooCommerce feed file by clicking on View Issues. Pinterest will direct you to the report section. Apart from getting a highlight of the problems, you can also download the report from here.

We proudly boast on our WooCommerce Pinterest integration plugin that it can make your life easy. You will not find a better option to manage your product feeds and Pinterest Shopping Ads.
The plugin is regularly updated to ensure the best output for you. Merchant sites, price comparison sites, and affiliate networks tend to change a lot very frequently. So, the plugin also adapts those changes to keep you on top. Create great Shopping Ads for Pinterest with our Pinterest WooCommerce plugin.
Hopefully, you have a clear idea of how this Pinterest WooCommerce plugin can help you reach your goal. It has all the features that you can need in creating a perfect product feed. This product feed management for WooCommerce comes with lots of features and extended options.
As a result, it can be your one-stop solution to manage product feed on all the channels. You might be interested in learning how easy it is to create and manage product feeds for Google and Facebook.