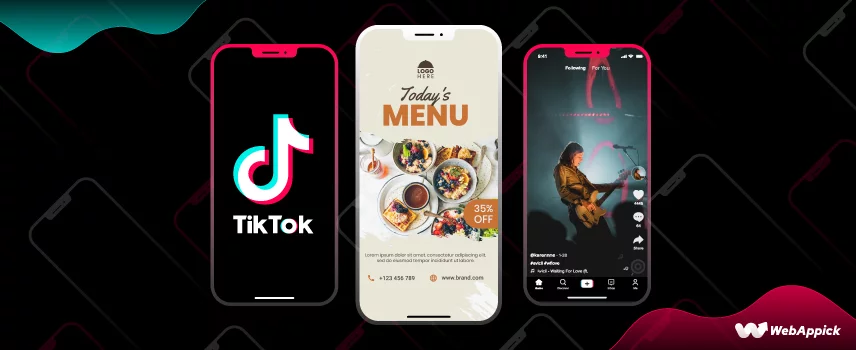 How to Create and Customize a TikTok Product Feed
TikTok is the new trending thing on planet earth.
Though it was launched to win the hearts of teenagers, TikTok has raised a large number of adult audiences by now.
And that has created an excellent opportunity for business owners like you to advertise products on this platform to get exposure and generate revenue.
If you're an ecommerce business owner and thinking of making ads for TikTok, the best way to upload your products to TikTok is to schedule a data feed on TikTok Ads Manager.
In this article, we will walk you through how you can create a TikTok product feed and upload it on TikTok Ads Manager.
This step-by-step guide is all you need to make error-free product feeds for TikTok and display all or any of the selected products to your target audience via TikTok ads.
What Product Parameters are Required to Create Dynamic Showcase Ads?
TikTok recommends using 36 product information or attributes to your product feed for your products. However, all the fields are not mandatory. Out of 36 fields, 9 are mandatory and 27 are optional.
Let's see a list of both mandatory fields and optional fields with an example.
Mandatory Fields
| | |
| --- | --- |
| Column | Example |
| sku_id | example_item_435 |
| title | Yellow V-neck T-shirts |
| description | Made of pure cotton. Available in different sizes |
| availability | in stock/out of stock/preorder |
| condition | new/used/refurbished |
| price | 10.90 |
| link | https://www.example.com/yellow_t_shirt |
| image_link | https://www.example.com/yellow_t_shirt_image_003.jpg |
| brand | Everlane, Uniqlo, James Perse |
Optional Fields
| | |
| --- | --- |
| Column | Example |
| google_product_category | Apparel & Accessories > Clothing > DressesApparel & Accessories > Clothing > Shirts |
| video_link | https://www.example.com/yellow_t_shirt |
| additonal_image_link | https://www.example.com/yellow_t_shirt_image_004.jpg, https://www.example.com/yellow_t_shirt_image_005.jpg |
| age_group | all, adult |
| color | yellow |
| gender | unisex, female, male |
| item_group_id | example_435_t-shirts |
| material | cotton |
| pattern | stripes5 |
| product_type | Apparel & Accessories > Clothing > Shirts |
| sale_price | 7.49 USD |
| sale_price_effective_date | 2019-11-30T0:00 |
| shipping | US:NY:Ground:3.99 USD:Standard |
| shipping_weight | 0.2 lb |
| gtin | 2314567790126 |
| mpn | 748777 |
| size | S,M,L, XL, XXL |
| tax | 0.03 |
| ios_url | iOS://clothing |
| android_url | android://clothing |
| custom_label_0 | Additional product information you want to include. |
| custom_label_1 | Additional product information you want to include. |
| custom_label_2 | Additional product information you want to include. |
| custom_label_3 | Additional product information you want to include. |
| custom_label_4 | Additional product information you want to include. |
| merchant_brand | Crisscross, Amazon, Alibaba, |
| productHisEval | 500:400 This means the product has been sold 500 times and received 400 good feedback. |
While making a TikTok product feed with CTX Feed, it will import all the necessary fields from your WooCommerce store's product pages.
However, you may need to add some information manually while making the product feed so that your TikTok product feed contains all the mandatory and optional product parameters.
To know more about the required and optional product parameters for TikTok ads, see here.
What You Need to Create and Use a Product Feed for TikTok
CTX Feed (Free/Pro version).
TikTok Ads Manager Account
5 Easy Steps to Create and Use TikTok Product Feed
From your WordPress dashboard, go to Plugins>Add New.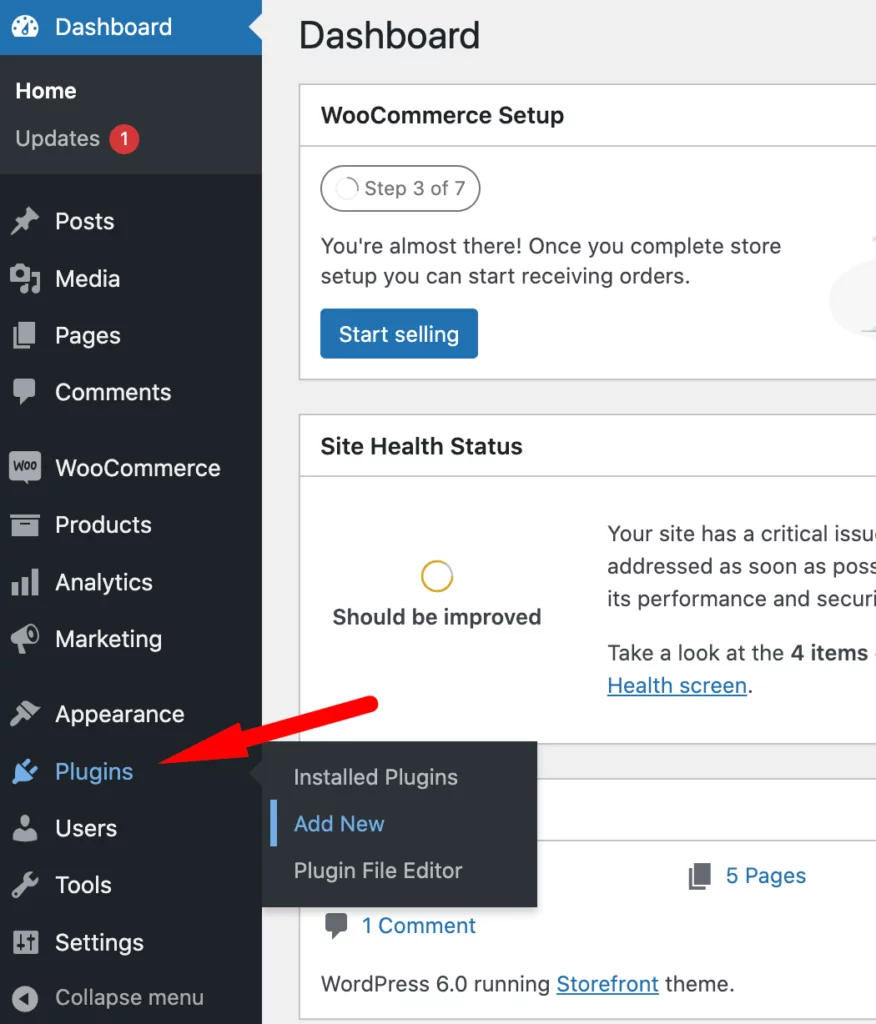 On the Search option, type "CTX Feed".
From the search result, install and activate CTX Feed.
If you can install the CTX Feed plugin properly, you'll see the CTX Feed menu on the admin sidebar.
By the way, if you want to make the best use of different filters, dynamic attributes, attributes mapping, etc., we highly recommend you to try the CTX Feed pro version.
Here's a video on how to install CTX Feed pro on your WordPress website: 
Step 2: Make the Feed
Now that you've installed the CTX Feed plugin, it's time to make a TikTok product feed from scratch.
I assure you: it's quite effortless and takes just a few seconds or minutes depending on the number of products you want to add to the feed.
Hover on CTX Feed and then click on Make Feed.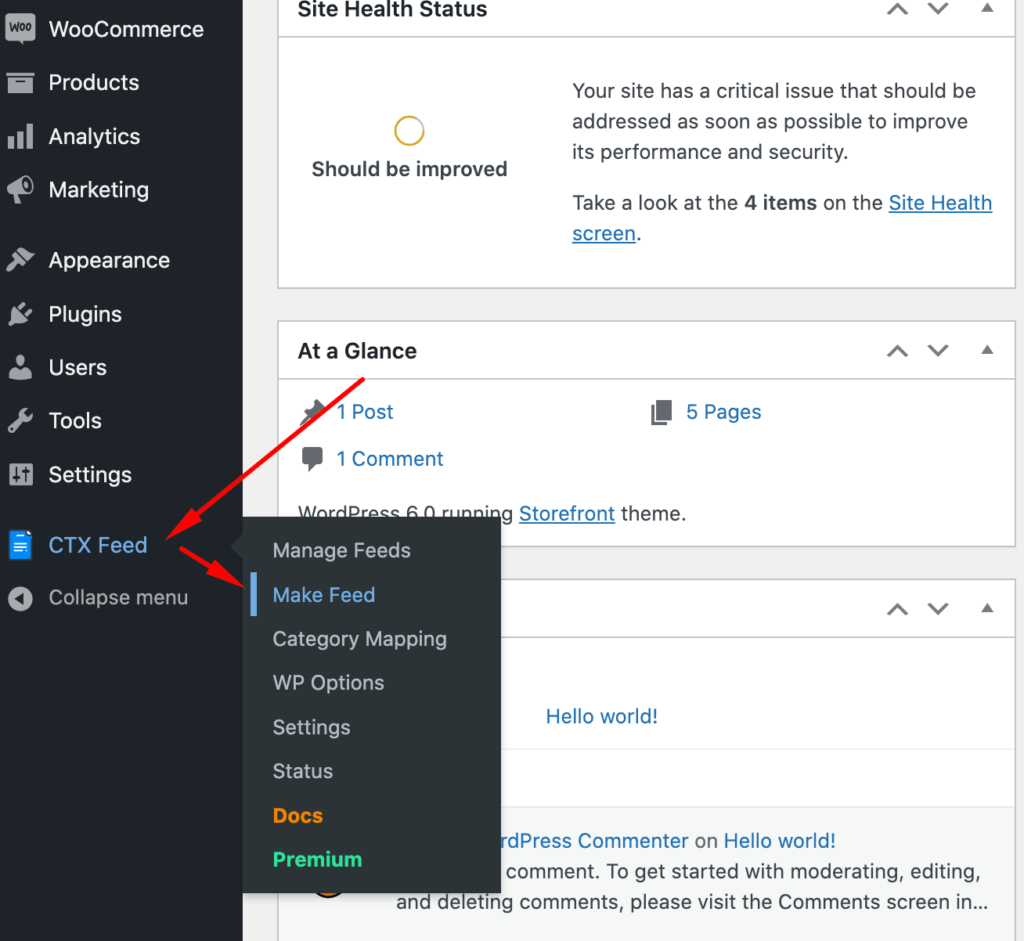 Alternatively, you can go to the CTX Feed page and click on the 'New Feed' button.
Content Settings
The first step to create a product feed for TikTok starts with content settings.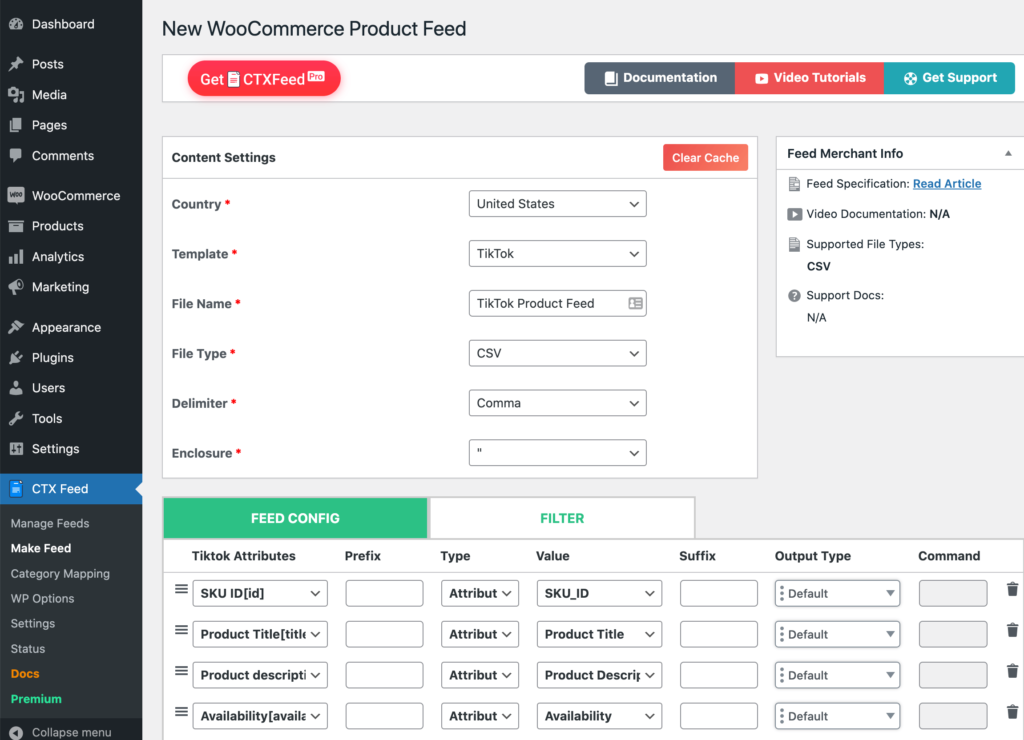 Let us explain the required fields for TikTok product feed creation one by one:
Country: CTX Feed will automatically choose the country based on your WooCommerce store's location.
So, if you use the United States as your business location while setting up your WooCommerce store, this will be the default country here.
However, you can manually select or change the country as well if you want.
Template: Here you have to choose the template for creating the product feed for your preferred channel. Apart from a wide range of ready-made templates for hundreds of marketing channels, you can also make customized templates to meet your needs.
As you're creating a product feed for TikTok, you have to choose TikTok from the dropdown.
File Name: Give your product feed for TikTok a name of your choice. By the way, if you create multiple product feeds, make sure to give unique names to all of them.
File Type: A product feed for TikTok supports CSV, XML (RSS and ATOM), ZIP, and GZ (except compressed with the tar command) formats.
At present, the CTX Feed plugin lets you create feed files for TikTok in CSV format only. So, choose CSV as the file type from the dropdown.
Delimiter: The Delimiter option lets you choose the way you want to separate the items in a line. Though Comma (",") is the default delimiter here, you can use other delimiters such as colon, space, pipe, semicolon, and TAB.
For now, let's keep the comma.
Enclosure: Data that corresponds to the item in a column is enclosed with inverted commas or double-inverted commas signs.
By the way, it's up to you whether you'll use an enclosure or not.
For this feed, let's go ahead with double inverted commas.
Feed Configuration
As you've already selected the TikTok template on the content settings, you'll find all the required TikTok attributes displayed under the FEED CONFIG tab.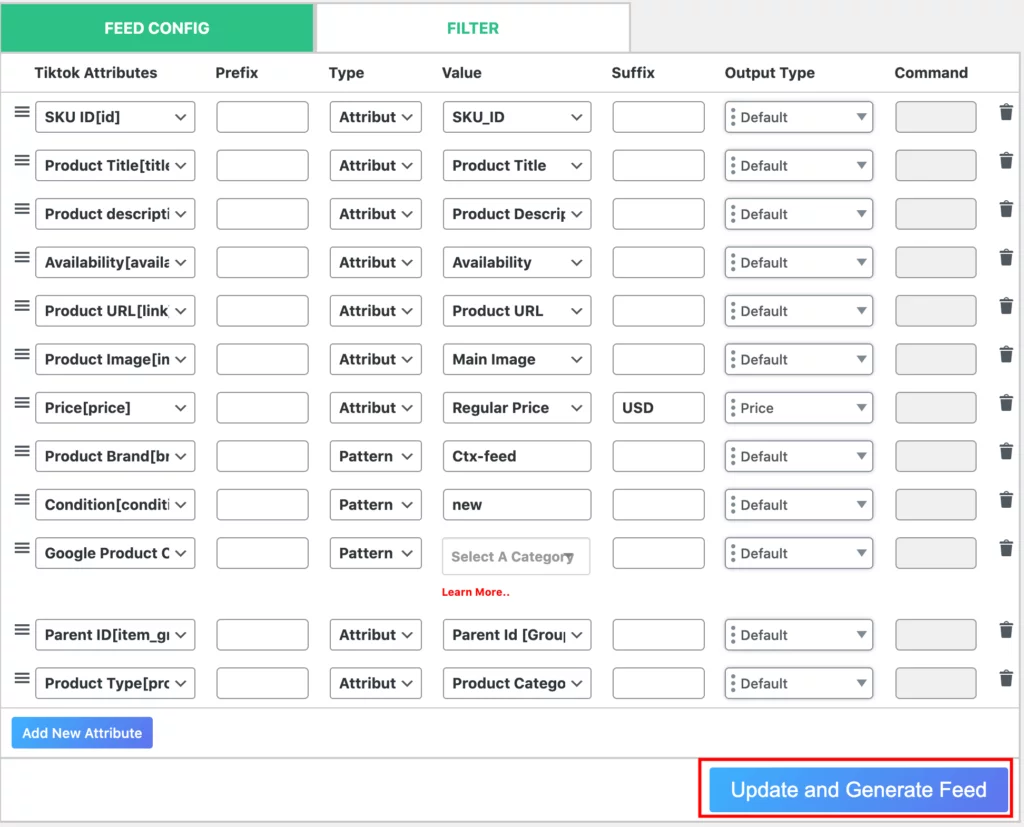 From this tab, you can add new or delete any TikTok attributes. Besides, you can add value, suffix, and prefix with any attributes if you want. You can also drag and drop the attributes to rearrange their position in the feed.
Once you're done, click on Update and Generate Feed. That's it.
However, if you're using the CTX Feed Pro version, you'll get access to the enriched Filter feature that'll enable you to remove backorder products, out-of-stock products, empty description products, etc.
See the image below to get an idea about the filters you can use with the CTX feed pro while you make the TikTok product feed.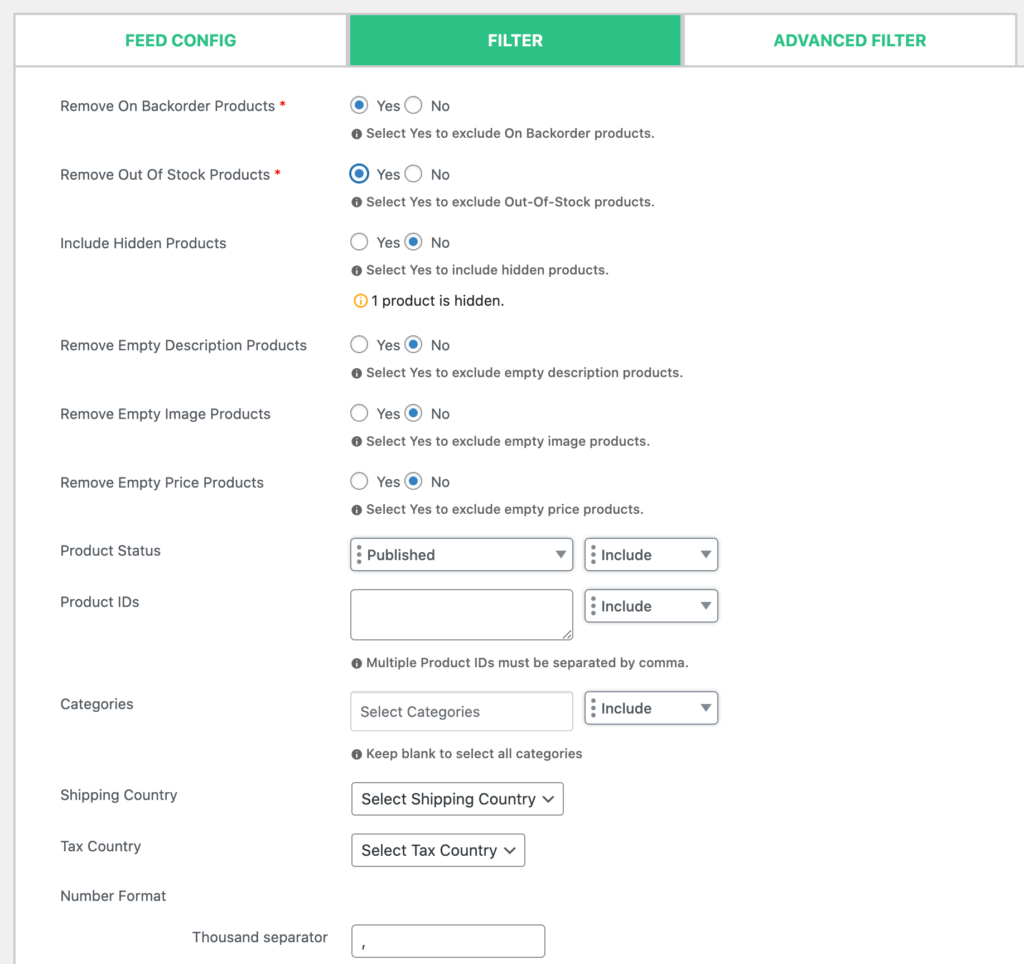 With the pro version of CTX Feed enabled, you can also leverage advanced filter, category mapping, attribute mapping, dynamic attributes, etc.

To get a clear idea about how CTX feed pro offers you way more features to customize the TikTok product feed, you can see the CTX Feed free vs CTX Feed pro comparison chart.
Step 3: Manage the Feed
Now go to CTX Feed> Manage Feed.
This is the place from where you will be able to manage your feed.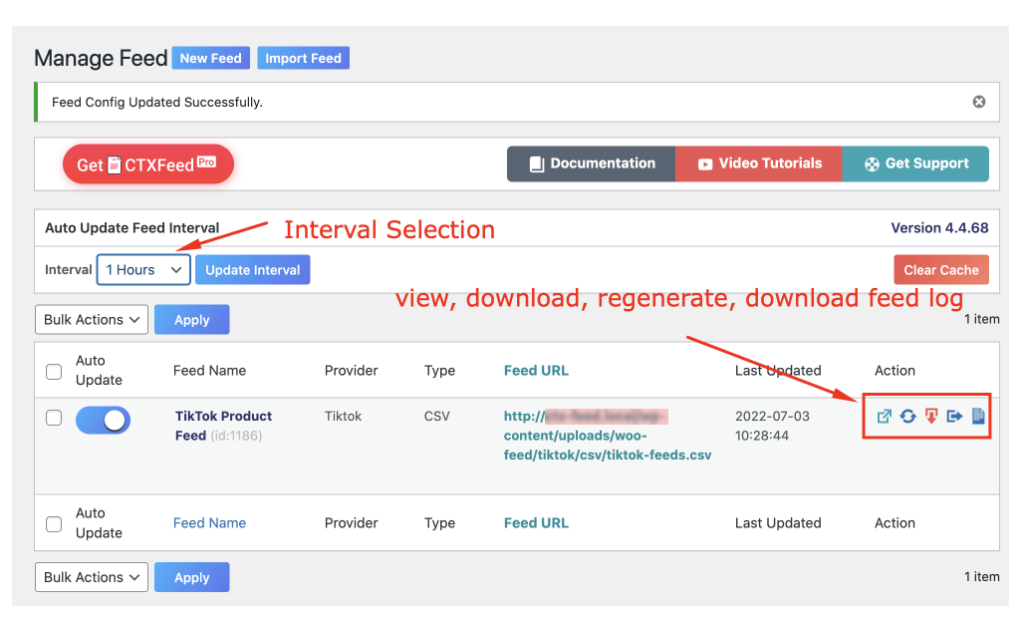 You can set the interval for when your TikTok product feed will get updated automatically.
You can delete any feed you like and individually on in bulk.
On the left side, you'll find the action menu. The action menu lets you view, regenerate, and download any feed from here. Also, you can export the Feed Configuration and download the feed log.
Step 4: Create a TikTok Catalog
Now, login to your TikTok Ads Manager's dashboard.
Go to Assets>> Catalogs to enter the Catalog Manager page.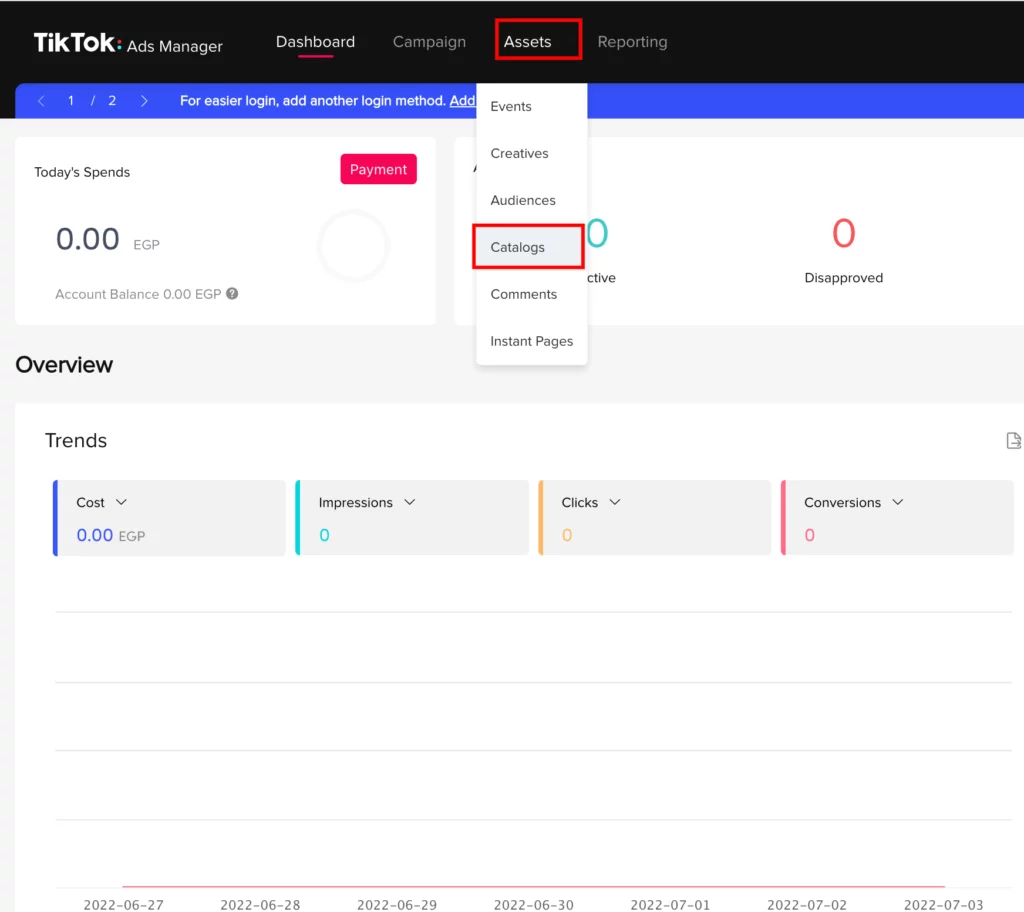 Now, click on "Create" to start the product feed uploading process.

And then, fill up the following:
Insert the catalog name
Industry and Catalog Owner ID can't be changed.
Choose the default targeting location
Choose the default currency.
Activate the "Showcase your products on TikTok" by clicking on the toggle button.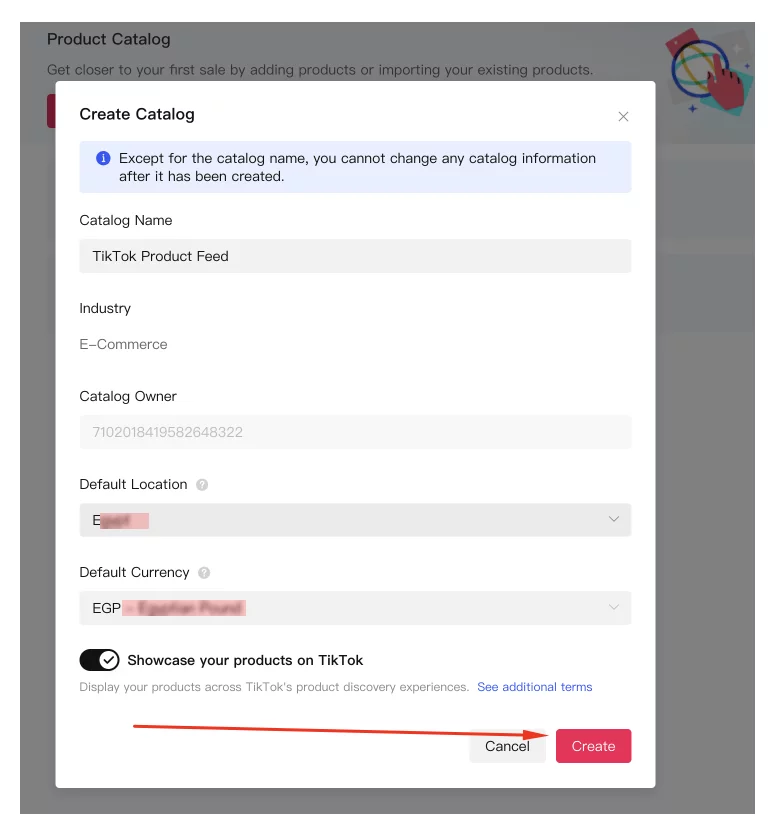 Once you're all set, click on "Create".
Step 5: Upload Your Product Feed Data to TikTok for Ads
Now, you'll see the two option tabs to add products for Dynamic Showcase Ads and Collection Ads. For both types of Ads, TikTok recommends adding at least 20 products to your catalog.
For both types of Ads, you can add the product feed/catalog by clicking on the "Add Products" option.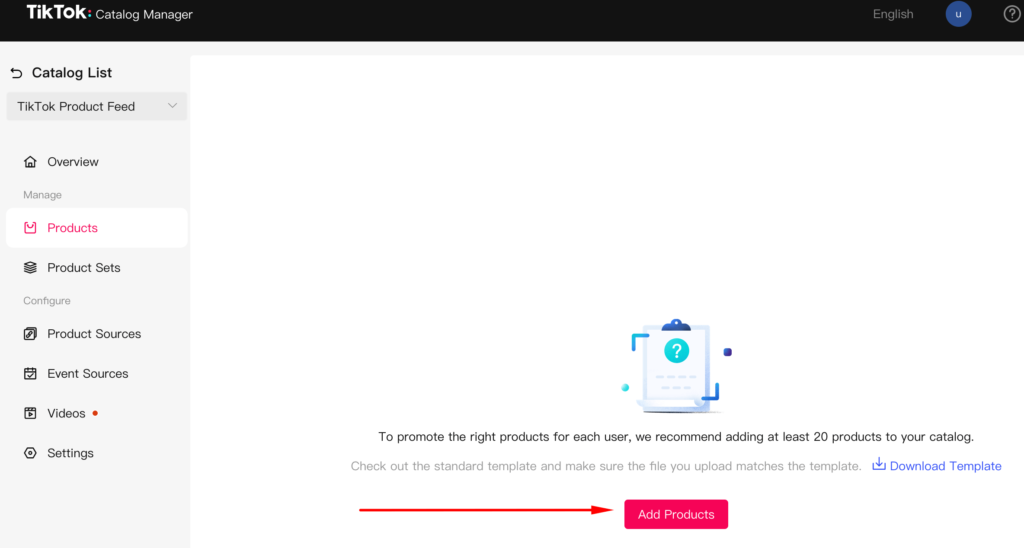 After clicking on the "Add Products" button, you'll see a popup window with the options to add products manually, schedule data feed, and upload a file. Select the "Data Feed Schedule" method and click on "Next".
Now, enter the data feed name.

Then, you need the Data Feed URL. To get it, go to your WordPress Dashboard>> CTX Feed>> Manage Feeds. Here you'll find the Feed URL for all the feeds you generate with CTX Feed. Copy the required Feed URL by clicking on the URL.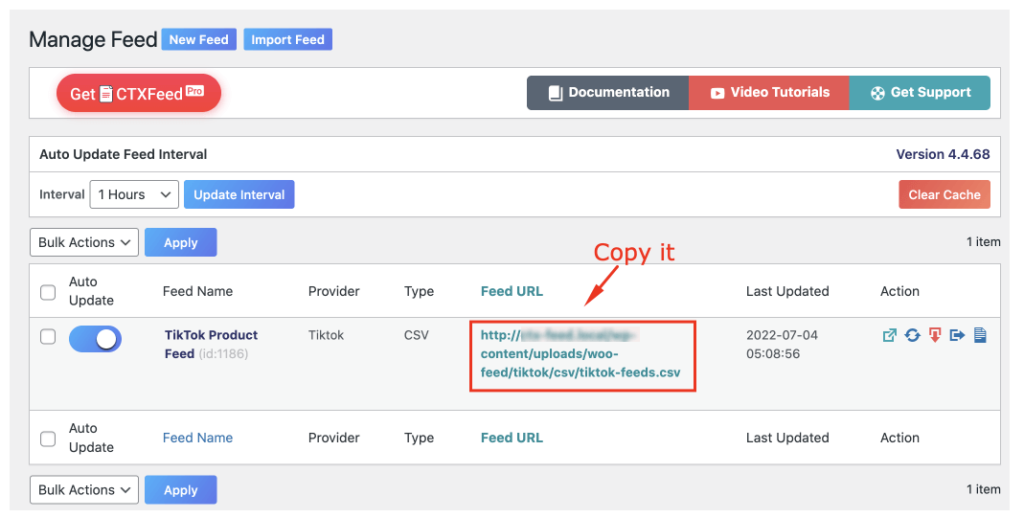 Going back to TikTok Catalog Manager, paste the Feed URL on the Data Field URL field.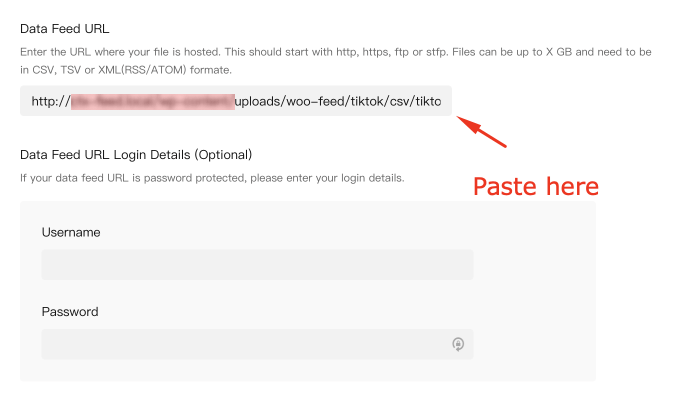 The next fields are to insert Data Feed URL Login Details. These fields are required only if your Data Feed URL is password protected. If the URL is not password protected, you can skip this step.
Scroll down to the Automatic Upload option and choose your preferred upload schedule hourly or daily.

Next up, select "Update your data feed" to add new items to the data feed or update existing ones.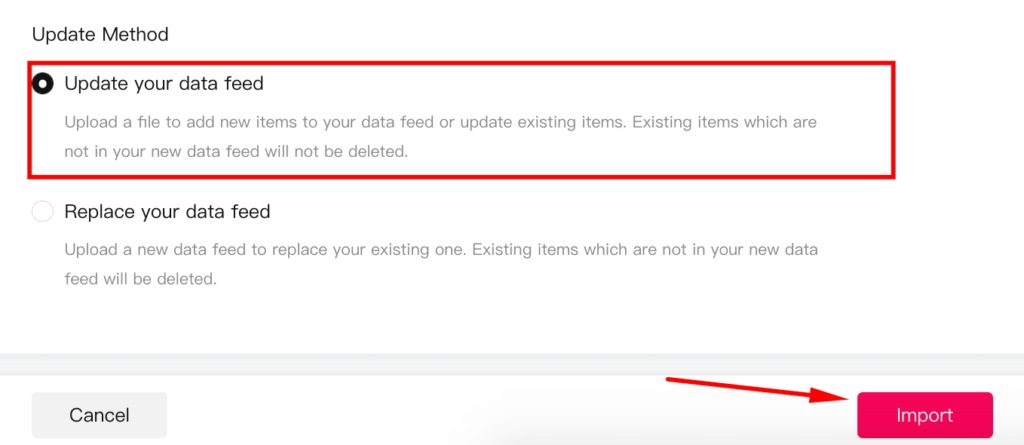 However, if you want to replace your old data feed, you have to select "Replace your data feed".
Once you're all done, click on the "Import" button.
That's it. Now, your products will get uploaded to TikTok and make you ready to run TikTok ads with your WooCommerce products.
How to Optimize the TikTok Product Feed Data for More Conversion?
Optimize the Product Title
When a TikTok user finds your ad interesting and clicks on the ad, the first thing they'll be redirected to is your product page, right?
And you know what?
The first thing they are supposed to see after visiting the product page is the product title.
That's why optimizing the product title is one of the most important things you should do while selling products online.
Let's tell you about some of the ways you can leverage to optimize your product title:
Include important product attributes such as product name, color, size, material, age group, gender, brand name, etc.
Mention all the required information in the title, but make sure that the title is not too long.
Insert key details in the front of the title
Optimize the title based on product categories
A title should be easy to read
Significant product details such as 'waterproof', 'gluten-free', 'dairy-free', 'vegan-friendly' etc., should be mentioned in the product title when applicable.
However, there are certain things you should avoid while writing the title of your products. Let's have a look at some of them:
Writing the title in ALL CAPS
Adding promo text like buy one get one (BOGO), discount percentage, limited time offer, etc.
Using Excessive and irrelevant capitalization
Mentioning the price/sale price in the title
Using emojis, HTML tags, symbols, foreign characters, etc.
If you can optimize the product title effectively, you can definitely expect better ROI and generate higher revenue.
Use High-quality Images
If you're looking for the best impression and product performance in TikTok ads, there is no alternative to using high-quality product images.
When it comes to better images, the first thing that you should care about is image resolution. Make sure that the captured images are taken with high-resolution devices.
As the best window displays bring better conversion for the brick-and-mortar shops, higher resolution images captured in the best light will do the same for online stores.
If you're selling your own products, it's best to hire a product photographer to capture the images of your products from a wide variety of angles. Only a pro photographer knows the best use of softboxes, background lighting, milky plexiglass, bounce cards, umbrellas, and product turntables.
If you snap a picture of your product with your iPhone and think that'll do, you can't be right. The angle, the shadows, the depth-of-field, etc. is bound to go wrong and the final output will look like crap.
Avoid using any placeholder images instead of the real product image. At the same time, do not use any products that come with logos or promotional messages.
Prioritize Your Most Valuable Products
When it comes to making a product feed for TikTok, make sure that you prioritize the most valuable products of your store.
If you want to get the maximum conversion out of your TikTok product ads, you have to be really wise while allocating resources.
Using the CTX Feed Pro, you can choose to remove or add any of your products to the TikTok product feed.
Make sure to add those products in the feed that may offer you the maximum benefits and revenue. Provide error-free data of your most potential products.
And make sure that those products do not come with any critical issues that might become a bottleneck for profit.
Optimize the Product Category
Though adding a Google product category is optional for your TikTok product feed, you should not neglect to add it. You know the exact category of your products and that's why it's you who should mention it in the category fields.
If you care about adding high-quality images, brand name, catchy title, and impressive description, you should add the product category to your products as well.
Adding Google product categories to your products will help the customers navigate through your products effortlessly.
To find out the Google product category of your products, you can see the Google Product Taxonomy, which features 6000+ categories and subcategories and is updated often by Google.
However, while using the category, be as specific as possible. Narrow down your products in the exact subcategories.
For example, if you sell hunting clothes, don't just categorize them as "Apparel & Accessories > Clothing". Instead, use the "Apparel & Accessories > Clothing > Activewear > Hunting Clothing" Google product category to exactly match the category with your products.
Get Your Links Right
When it comes to inserting the product link, make sure that the URL takes the buyers to the specific product page, not to your homepage.
Similarly, place the image link, video link, and additional image link cautiously.
Use the image_link attribute on the TikTok product feed for the main image of the product.
However, if you have more images for a product, you can use the additional_image_link attribute.
In case you have a product video, use the video_link attribute to insert your product video's URL.
Optimize the Product Type
Along with the product category, you should also set the product type of your products.
Though it's an optional field for TikTok ads, using the product type attribute correctly in your TikTok product feed will help you present your products more precisely.
Proper product type selection exhibits a better picture of the products you want to sell.
Add As Much Additional Product Info As Possible
Always remember that there is nothing like too much product information. Never omit any important product information in your product feed for TikTok. It's now proven that products with more relevant information boost the CTR significantly.
Optimize Stock Management
Though you may think it trivial, it's extremely important to advertise those items on TikTok that are in your stock. Advertising out-of-stock products bring nothing in return.
Some store owners buy the product from wholesalers or third parties after they make a sale. They do it to prevent unnecessary storage. But, we do not recommend this practice.
Why?
Well, if something goes wrong and you don't get the product or it gets late to bring the product and ship to the customers, it will affect your reputation negatively. It will also have an adverse effect on the customer experience.
To make sure you always deliver by the promised time, you have to ensure that you're taking orders only for the products that you readily deliver within the product delivery time.
If you use CTX Feed Pro, you can easily, in a single click, remove all the out-of-stock products from the TikTok product feed.
Get Detailed with Your Product Description
A product description is usually placed below the product title and to the right of the product image. Its main objective is to expand the title.
The proper use of product descriptions helps attract shoppers when they come to your product page. And that's why we encourage you to insert the most common search terms (that shoppers want to see) or keywords in the product description section.
You can include the use cases, warranty details, free delivery destination list, intended age range, technical specs, special features, product benefits, etc. on your product description for better conversion.
However, do not write unnecessarily lengthy product descriptions that offer frivolous information. Also, keep yourself away from keyword stuffing.
When it comes to description length, it's best to keep it within 1000 characters.
One last thing, make sure that you write your product description using correct grammar and punctuation. It'd be wise to limit the use of exclamation points and special characters.
Optimize the Brand Name
A brand attribute in the product feed for TikTok simply represents the product brand. Nike, Adidas, Uniqlo, etc. are some brand name examples.
Mentioning the brand name attribute in the product feed is mandatory to run ads on TikTok.
Make sure that you use the right brand name for the products you sell.
Optimize the Product Landing Page
Make sure that you're always consistent when it comes to TikTok ads and the product landing page.
Be it with title, pricing, age, gender, size, description, availability, or anything else, make sure that the ad and the product landing page display the same information in all the important attributes. It helps build trust with the customers.
Optimize the Custom Labels
A TikTok product feed lets you leverage up to optional columns to give more information about your products to the shoppers.
Adding custom labels properly will offer you an increased capacity for segmenting your products for better bidding and reporting.
You can use information like color, style, size, season, shipping, margin, price category, sale offers, etc. in your custom levels.
When creating custom labels, you need to assign a definition along with the values for each of the labels.
Include the GTINs
Though including the GTIN number for your product is not a mandatory field for the TikTok product feed, it's better to have GTINs for your store's products.
If you sell the product from other manufacturers, you are supposed to get the GTINs supplied by them.
The only time you can skip adding the GTIN is when you sell one-off products like antique furniture or used products or bundle products.
However, using GTINs where applicable will help you get noticed and increase the conversion.
Read More: WooCommerce GTIN Guide for WooCommerce Store Owners

Frequently Asked Questions (FAQs)
How do you show products on TikTok?

There are multiple ways to add or upload your product information on TikTok for starting a TikTok ad campaign. Out of all those, uploading a product feed is the best way you can leverage to show your products on TikTok.
How do I add a catalog to TikTok?

Creating a TikTok catalog is easier than you think. The first step starts with creating a product feed using CTX feed.

Then you have to log in to your TikTok ads manager's dashboard and enter the catalog manager page by browsing Assets>>Catalogs. Then, you provide the catalog name, default targeting location, and currency, and activate the toggle button that takes your consent for showcasing your products on TikTok.

Once you're all done, you have to click on the Create button. +

Once your catalog is created, you can upload the product data feed that you created earlier with CTX Feed.
 
Follow steps no. 4 and 5 from above to easily create a catalog and upload your product data on the TikTok catalog.

Final Thoughts
By now, you know how to create, customize, and use a TikTok product feed to promote your products on the TikTok Ads platform.
Now, it's your turn to run an ad campaign on TikTok and start earning revenue for your ecommerce business.
If you have any questions related to the TikTok product feed creation process, just let us know via the comment section. We will be more than happy to help you.
You May Also Read