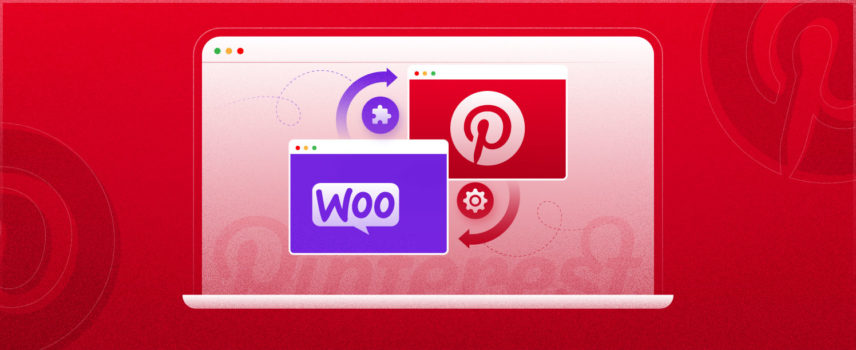 If you think about the leading social media platforms, what are some of the names that come to your mind? Pinterest should be one of them. It is one of the leading social media networks with lots of monthly active users.
Currently, Pinterest has more than 459 million monthly active users. Promoting your WooCommerce products on Pinterest also has a vast potential to help your business grow. Pinterest allows you to maintain a product catalog on it.
In this way, you can promote your products on this platform and reach many potential customers.
How can you enjoy the benefits? You will have to connect your WooCommerce store with Pinterest. If you do not know about connecting your WooCommerce store with Pinterest, leave your worries aside because we will share the best method to set up and integrate your WooCommerce store with Pinterest effortlessly.
With our blog and tools, we want to bring more ease and professionalism to your WooCommerce store management. As a result, you can enjoy a more productive and peaceful life. Most importantly, we want to ensure a higher revenue for you.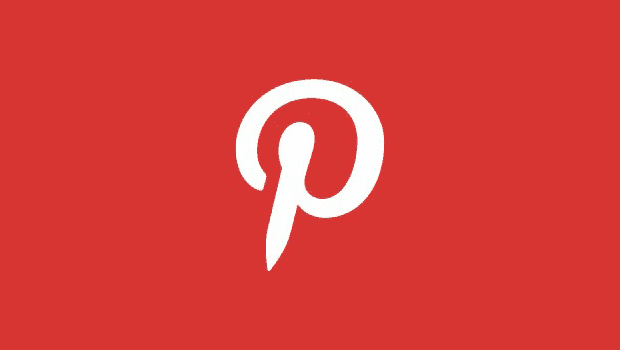 Behind the success of Pinterest, its vast popularity is one of the main reasons. Pinterest is a site to share ideas. People visit Pinterest to get ideas and inspiration. If you are looking for new ideas, Pinterest is an ideal place for that.
You will find lots of people who surf Pinterest for new ideas. On the contrary, there are also lots of people who share new ideas on this platform.
Ideas grouped are called boards. Pinners maintain boards with ideas that cover almost any subject that you might be interested in.
To maintain a catalog on Pinterest, you will need to connect your WooCommerce products with Pinterest. First of all, you will need an approved business account on Pinterest. Once you have an approved business account, you will have to upload your product feed to Pinterest.
Pinterest will use the shared feed file to get the list of your WooCommerce store products and information on their various attributes.
A feed file or product feed file contains a list of all products and essential product-related information. The product feed file cannot be just any file. There are specific file formats, and it has to follow the structured file format.
The most popular file types for a product feed are CSV, TXT, and XML. You may find additional file formats too. We have an in-depth discussion on the product feed. Visit here to learn more about the product feed.
Create WooCommerce product feed for Pinterest
Creating product feeds for your WooCommerce store can be tricky if you don't have the proper experience or the right tool. Even if you have the proper experience, listing all the products with all the required information is a highly tedious task.
One of the best parts of owning a WooCommerce store is the ability to customize your store as you wish. You can add a custom feature to your store by just installing a plugin. For your WooCommerce product feed generation and management, there are plugins too.
We will introduce you to one of the best available product feed creation and management plugins for WooCommerce.
CTX Feed
When it comes to product feed generation on your WooCommerce store, CTX Feed is the leading WooCommerce extension. It can ensure you an unmatched feed generation experience. It has support for more than one hundred price comparisons, product promotion, and affiliate network sites.
The built-in templates further enrich your feed generation experience with a quick start and perfect optimization options. Here is a quick link to the product page. You can learn more about it from there. Additionally, you can also download the plugin from the link above.
We hope that you have already installed and activated CTX Feed on your WooCommerce store. In case you are struggling with the installation, please take help from our installation guide.
After successfully installing and activating the plugin, you will find a new menu option on your dashboard called CTX Feed. Click or hover over to this new menu option and find the option to create a new WooCommerce product feed.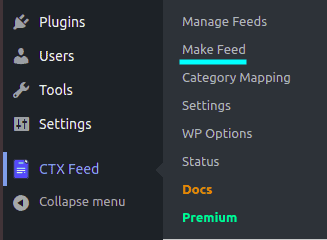 Creating your WooCommerce product feed for Pinterest should be a breeze for you from this point. Once you have clicked on the option to create a new feed, it will take you to the feed creation page. Here you will have to take care of a few options.
First of all, you will have to give a unique name to your product feed. A misleading name will lead to unfavorable future incidents. Then the most crucial step is to select the template from the built-in templates. Click on the option and select Pinterest from the dropdown.
Once you have selected Pinterest, it will load the suitable template for you. Completing your feed file is very straightforward from this point. You just have to follow through with the template that is already pre-generated for you.
We have described every step in another post. Without explaining the whole process again, we would recommend you to visit this post. Apart from the detailed explanation of the steps, you will also find lots of valuable insights from there. We hope that you have found the WooCommerce feed generation for Pinterest very easy.
Now you should have the feed file ready; it is time to upload it and connect with Pinterest. Under the Manage Feeds tab, you will find several options, including copying the product feed URL. Please try to remember this as you will need the URL to integrate WooCommerce with Pinterest.

Setting up and integrating WooCommerce with Pinterest
Once you have the feed file ready, head over to Pinterest. You will need to have a business account on Pinterest. You will find different menu options on the Pinterest dashboard, and under the Ads menu, you will find Catalogs.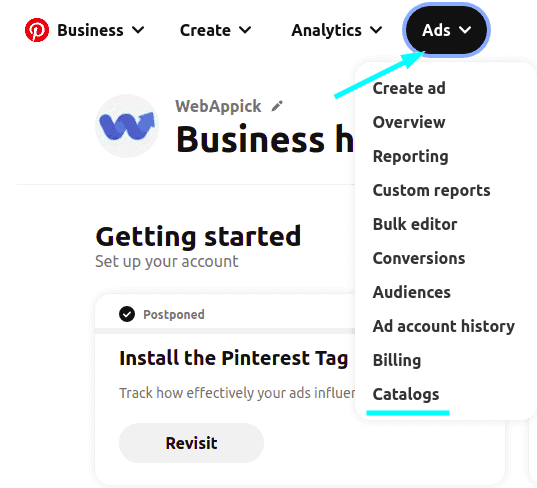 Here you will have to click on Catalogs. When the page is fully loaded, you will find your product data sources (For you, it should be empty now). On the right-hand side, find the option to Add New data source. With this option, you can easily connect your WooCommerce store with Pinterest.

Clicking on the Add new data source will open a new interface where you can link a data source of your WooCommerce products. You should already have a link to the product feed file ready prepared with the help of CTX Feed. Pinterest offers a very easy-to-follow interface to add your product feed link on its platform.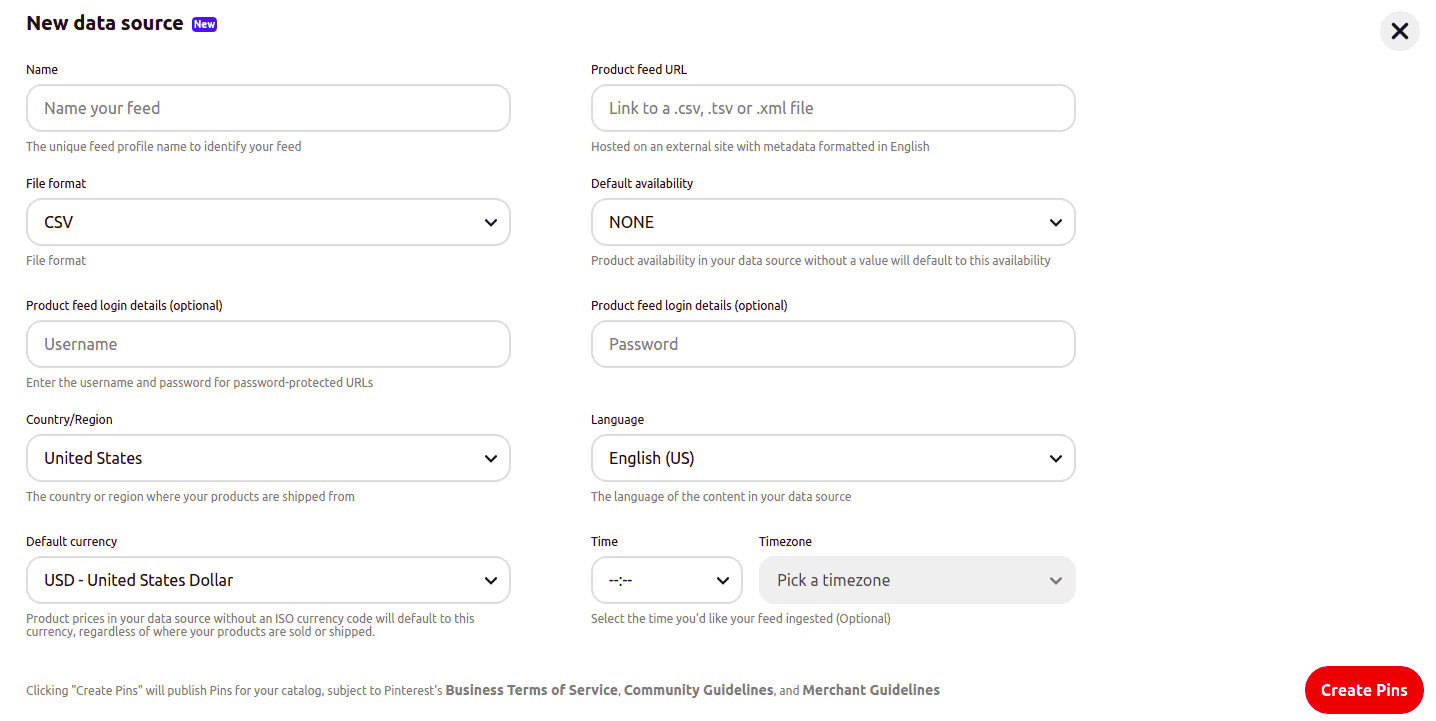 In the new data source interface, there are several options. Let's walk you down with all the options so you can easily follow through with the steps and add your WooCommerce product data feed link. The options of the new data source are listed below:
Name
File format
Product feed login details
Country/Region
Default currency
Product feed URL
Default availability
Product feed login details
Language
Time
First of all, you need to give a unique name to the feed to identify this later. If you put random characters, it can be difficult for you to track down a product feed file. You can also add a date with the feed name. Secondly, you need to take care of the file format.
Pinterest supports three different file formats (CSV, TSV, XML). Select an appropriate file format from the dropdown options. We have created the feed file in XML format.
Third comes the option to provide product feed login details. You will have to share the username of the product feed login details. Additionally, you will also find the option to share the password of the product feed login details. Both of these options are optional, so if your WooCommerce product feed file is not password protected, you can ignore these optional fields.
Next, you will have to deal with the country or region from where the products are shipped to the customers. You will find all the supported countries in the dropdown list; choose the appropriate one for you.
Apart from that, you will also have to set the default currency of your product feed. It also comes with a drop-down option so you can conveniently choose the right option for you.
Most importantly, you will have to share/paste the product feed URL. You can simply copy the product feed link you created for Pinterest and paste it here. You do not need to worry about the product data formatting because CTX Feed has already done that for you.
Next comes the option to set the default availability. There are four different options, and the option NONE is selected by default. The other available options for this field are In Stock, Out of Stock, and Preorder. Choose the best option for you from the dropdown.
Additionally, you will have to set the default language for your product data feed. Make sure that you select the language matching the content in your data source. Finally, you will find the option to set a time.
You will have to set both a time and a time zone in here. Based on this time, Pinterest will ingest the product feed and update your catalog. You can also consider this as an update scheduler.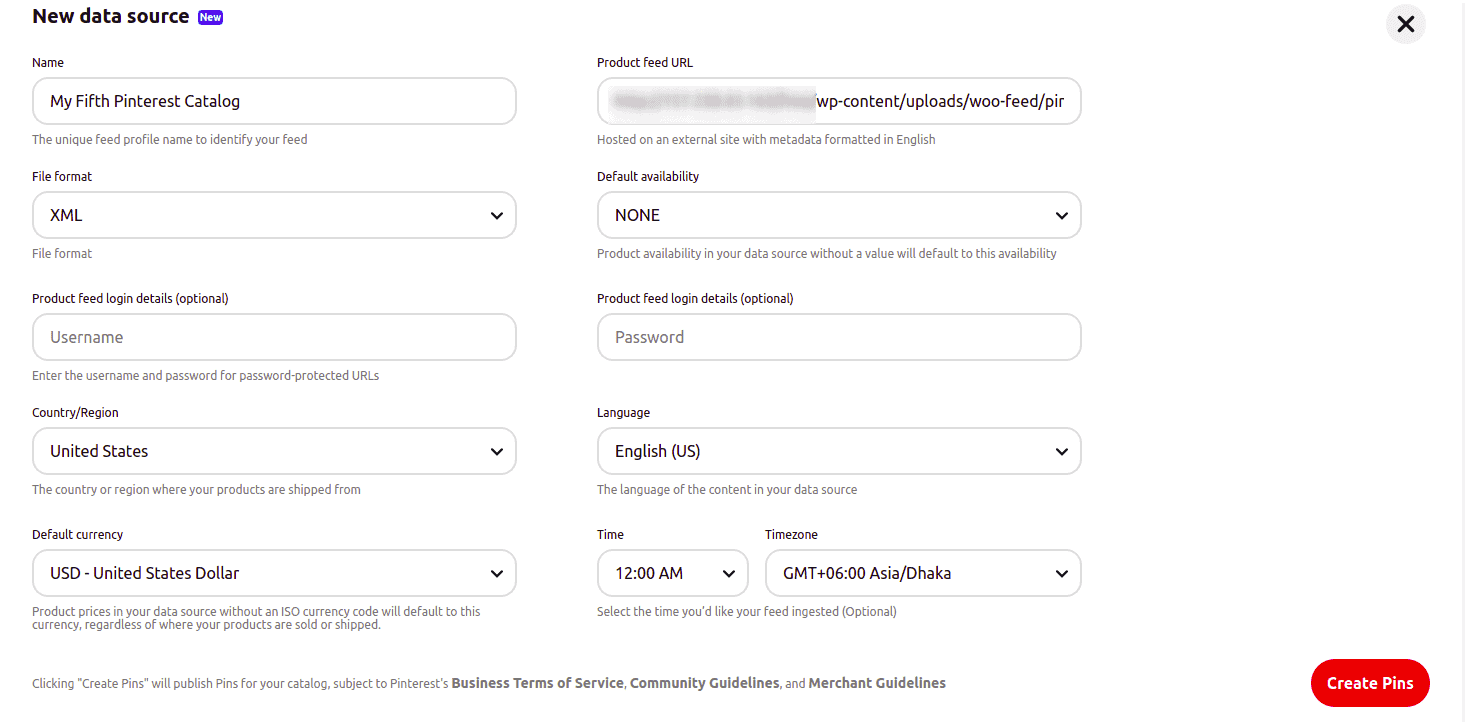 Clicking on Create Pins will finally complete your work, but you will have to remember that you agree to all Pinterest terms when you publish Pins for your Catalog.

This is how easy it is to integrate and configure your WooCommerce store with Pinterest. CTX Feed is a brilliant and must-have WooCommerce product feed management tool. It makes the whole integration straightforward.
CTX Feed also has a premium version with lots of advanced features on top of the basic features. If you are interested to learn about the feature of CTX Feed PRO, please visit this link.