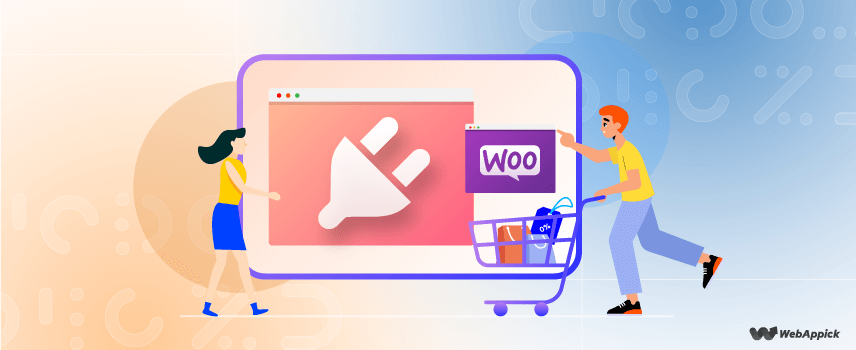 A Complete Guide To WooCommerce Shipping Plugin
If you own a WooCommerce store, shipping is something that goes hand-in-hand. WooCommerce shipping is one thing that is at the very core of your online store. Your shipping methods, shipping costs, shipping locations, shipping zones, and shipping rates determine if customers choose you over your competitors.
According to a survey, shipping costs turn out to be a major deal-breaker for customers. 55% of survey respondents cited this as to why they abandon their carts. 79% of people are more likely to shop online with free shipping.
In this guide, we will talk about all the different aspects of WooCommerce shipping that will optimize your online store for conversions.
We will also talk about some of the best WooCommerce shipping plugins for your store.
Let's begin with digging a little deeper into shipping and different aspects of WooCommerce shipping.
WooCommerce shipping zones
A shipping zone is a geographic region where a particular set of shipping methods and shipping rates apply.
WooCommerce aligns a customer to a particular shipping zone based on their shipping address and applies the appropriate shipping methods within that zone to them.
WooCommerce manages shipping by enabling you to configure a shipping zone, apply a shipping method for that zone, and state how much each shipping method will cost the customer.
You can also configure some additional settings, like whether or not you'd like to include a particular shipping class or condition for receiving free shipping, etc.
But everything begins with the shipping zones.
How to set up shipping zones, shipping options, and shipping classes in WooCommerce?
In the WordPress dashboard, go to WooCommerce > Settings.
Select the Shipping tab.
This is the built-in WooCommerce shipping settings for your store.
In the Shipping tab, there are three pages:
Shipping Zones
Shipping Options
And Shipping Classes
1. Shipping Zones
Under the Shipping Zones tab, click on the Add Shipping Zone button.
Choose a Zone Name for your reference. Select a Zone Region as well. You can either search for possible regions or use the dropdown menu to scroll through the list of locations.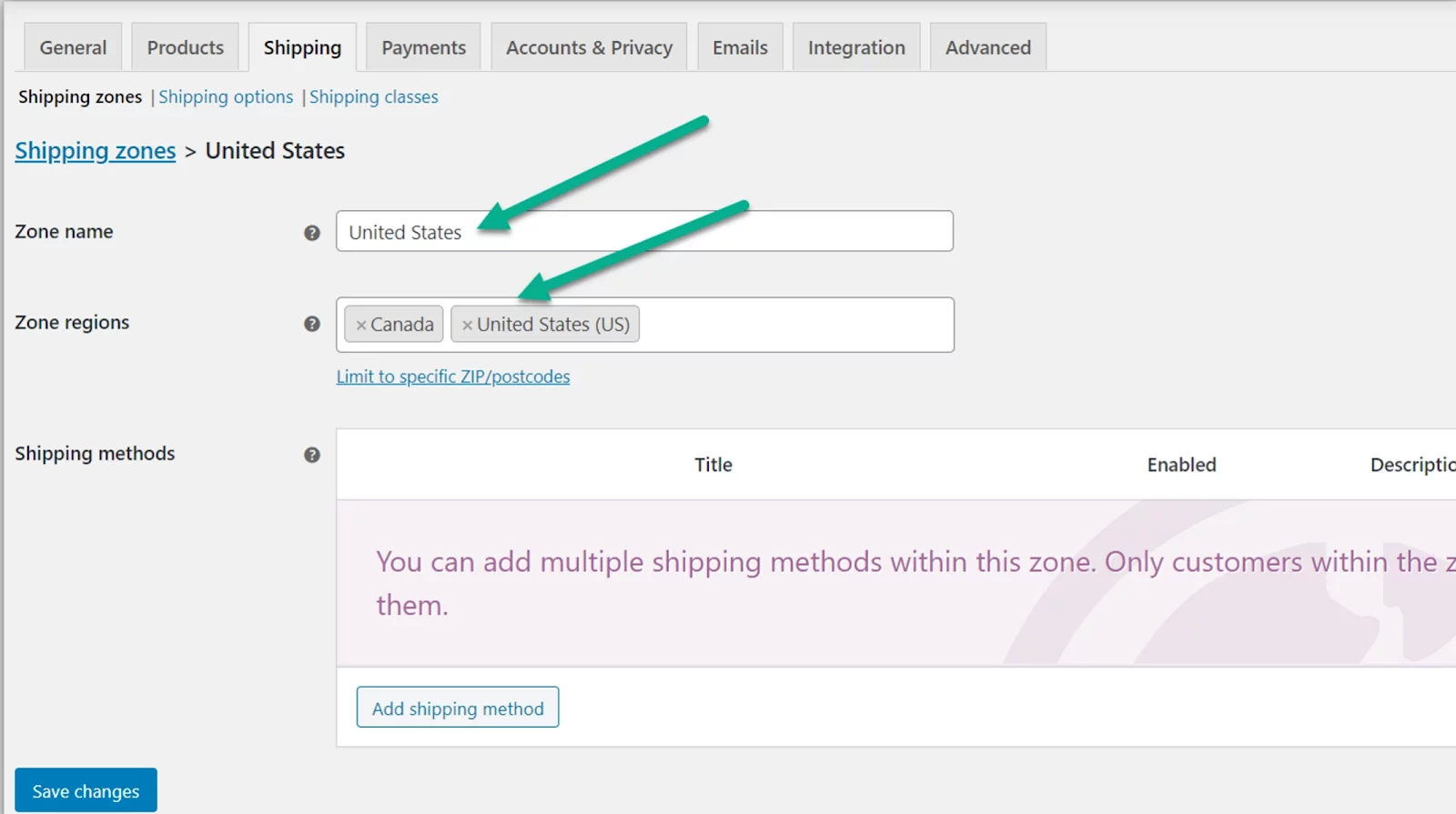 Scroll to the bottom of the page and click the Add Shipping Method button. Each zone will need a shipping method to specify how your customers will pay in those geographical regions. For example, you may implement flat rate shipping for customers in a particular region.
The three default shipping methods in WooCommerce are:
Flat Rate
Free Shipping
Local Pickup
(We will talk about the different shipping methods in detail later in the article)
Select the shipping method out of the three for a specific region and click on the Add Shipping Method button. You will need to choose a shipping method for every zone you have defined. They can all be the same or different.
As you keep adding/creating each shipping method, you need to go back to that list of shipping methods and click the Edit button for each one to set specific details for that WooCommerce shipping method.
You can also change the name of the shipping method here. For example, instead of Flat rate, you could call it standard shipping rate. You can also select if the rate is taxable.
Finally, you can configure the rate or amount of shipping.
WooCommerce also includes options for creating quantity and percentage-based shipping fees. You will know more about it when clicking the tiny "question mark" icon.
Similarly, every shipping method will have its own set of settings to configure.
You may or may not decide to activate some other optional configurations – like shipping calculators, shipping destinations, etc.
Shipping options
The second tab under the WooCommerce shipping dashboard is the shipping options tab. You can configure three things from here:
Can choose if you want shipping calculations to be done on the cart page, or you would like to hide the shipping cost until an address is entered.
You can also select the default shipping destination. This can either be the shipping address, the billing address, or use one address as both.
And thirdly, you can enable the debug mode from here as well.
Shipping classes
Shipping classes are used to group similar types of products and offer a standard shipping method and rate for each group. For instance, trousers might warrant a lower shipping rate than jackets.
You can go to the Shipping Classes link and click Add Shipping Class.
After adding a shipping class, click the Edit button under that item in the shipping class list, and then select one of the shipping methods you have added for that class.
A particular Shipping Class Costs area appears in the shipping method settings box. Choose the shipping cost.
Save the Settings.
WooCommerce shipping methods
WooCommerce offers three basic shipping methods:
Flat rate
Flat rate shipping is a fixed rate that you charge for a particular zone. You can use a variety of calculations to arrive at this rate. For example, you can charge customers based on the number of items in their carts or charge 10% of the total order cost as shipping cost.
Free shipping
As the name suggests, your customers don't have to pay for shipping with Free Shipping. This can typically be triggered by a coupon, a minimum order amount, or both. You can use this as a promotional technique to lure your customers into spending more. For instance, you can offer free shipping on orders over $100. whether you can afford such a trade-off should be a prudent decision.
You can also choose to conditionally apply free shipping only for those customers buying from specific WooCommerce Shipping Zones. There are plugins available to hide Woocommerce shipping methods conditionally.
Local pickup
Customers can use this option to pick up the items they have ordered online, directly from a pickup store nearby, if your online store offers such a facility. You can charge an optional cost for this if you want to.
Besides these standard methods, there are many free and commercial shipping method plugins for specific shipping methods in WooCommerce.
Premium shipping methods
If you want a flexible shipping method, you can opt for one of the premium shipping methods listed below:
API based shipping method
This shipping method provides live shipping quotes whereby rates are obtained from a third-party Application Programming Interface (API) for shipping carriers such as USPS, DHL, UPS, FedEx, and many more. Most of these carriers can be customized to display multiple rates or the cheapest rate. Furthermore, you can also provide shipping rates in various currencies with a WooCommerce Currency Switcher plugin.
User-defined shipping methods
There are some shipping methods where you can control your shipping rates. And hence, these offer flexible shipping options.
The user-defined shipping methods offered by WooCommerce are:
Table rate shipping
WooCommerce Table Rate Shipping allows you to create shipping zones for different countries, states, or even postcodes. You can then configure other tables of rates within each zone. You can calculate shipping costs based on the following parameters:
Shipping class
Weight
Dimensions
Item count
Cost
You can also set a maximum and minimum value for the shipping rates in this method. A Table Rate Shipping plugin can also do this for you.
Flat rate box shipping
This shipping method can create different zones for countries, states, and postcodes. You can also create multiple tables of rates within each zone and define shipping package boxes with their dimensions and weight limits. You can have a fixed rate, percentage rates, and rates based on the weight of the order's contents. Items to be shipped are packed in boxes based on their volume.
Per product shipping
You can calculate shipping rates with this shipping method by defining shipping rates at product and variation levels. Rates can be determined either as fixed or a percentage of costs based on the following parameters:
Per line
Per item
Based on country codes or post/zip codes
Why should you use a WooCommerce shipping plugin?
Shipping plugins help deliver your products to a broader range of customers, thus increasing your reach. The wooCommerce shipping plugin enables you to extend your online store capabilities, allowing you to configure different shipping options for your WooCommerce store – ironing out your delivery process and resulting in customer satisfaction.
Features to look for in a WooCommerce shipping plugin
You should essentially look for three main components in a shipping plugin for WooCommerce.
Flexibility
Logistical support
Advanced shipment tracking
Flexibility
Good online stores require close attention to flexible shipping. Store owners need to line up several factors to ensure that delivery to the destination is both flexible and swift. That's why it's essential to have a flexible shipping solution that lets you create multiple custom shipping options, rates, and methods. A WooCommerce plugin should perform all these functions and give you a robust shipping strategy.
Logistical support
A good WooCommerce plugin supports domestic and international shipping options, giving your buyers a much-deserved shipping benefit. A WooCommerce plugin backed by strong logistics support will also give your peers a level-headed competition.
Advanced shipment tracking
Shipment tracking for WooCommerce has emerged as one of the essential features that every customer expects from an online store. The ability to track their package as it moves through the logistics chain boosts not only the confidence of the buyer but also develops trust that goes a very long way in building your store's reputation. Hence, shipment tracking information is something you should look for in a WooCommerce plugin.
5 Shipping strategies to consider to keep customers happy
1. Offer live rates
Live rates or real-time shipping calculations and rates allow you to offer shipping rates synced in real-time. For instance, if your shipping carrier increases their rates by 5%, the shipping costs on your site will also update.
One of the most common reasons to use live rates is that they give your customers specific options. And since they'll have multiple options, including more expensive shipping options, they are more likely to pay for lower-cost alternatives, thus removing the need for you to offer free shipping.
2. Offer table rate shipping
Table rates use a set of rules or conditions to calculate shipping rates based on weights and sizes to shipping classes, order totals, destinations, and the number of items purchased. They offer the most customization options and are especially useful if you sell products that vary in shape, size, or type.
An example of a rule you could create:
Charge $7.00 for shipping for any package weighing less than ten pounds. Charge $10.00 for anything that weighs ten pounds or more.
3. Offer flat rates
Flat rate shipping is often the easiest to set up — you charge the same amount irrespective of order weight or size. This makes more sense if your products are similar in size and weight or if most customers order identical amounts.
It's straightforward and takes the guesswork out of calculating shipping rates – keeping both you and your customers happy.
4. Offer free shipping
This may not be the right choice for every store. You will need to consider how much shipping costs for your products and if your customers are prepared to bear higher prices. You can choose a half-and-half approach by adding some of the shipping costs into the product price and paying the rest yourself.
5. Combine multiple shipping options
If you are unsure which shipping strategy to go with, you can mix and match them to create the right one for your business.
You could offer flat rate shipping for orders under $100 and free shipping for orders over $100. If your average order size is $70.00, this approach might be a smart one. On the one hand, it encourages your customers to add more to their carts; it ensures you don't lose money on shipping costs on the other.
Best WooCommerce shipping plugins
List of some of the top free WooCommerce shipping plugins
1. WooCommerce shipping
Shipping for WooCommerce is more straightforward with the WooCommerce Shipping Plugin because this plugin will help you print shipping labels directly from your store by accessing the discounted rates of your USPS account. It integrates to your WooCommerce store seamlessly, and you will be able to manage everything from your WooCommerce store admin dashboard. By printing USPS shipping labels right from your store, you can save money, time, and effort by avoiding visiting the post office. However, you will need a premium version of this extension to USPS rates and services.
2. MWB WooCommerce multiple shipping addresses
This plugin allows customers to add more than one address for various products. This is helpful when a customer buys more than one product and wants to deliver each product to a different address.
Some features include:
Managing shipping addresses from the cart page for each product.
Activation and deactivation of shipping addresses.
Customization of the saved addresses.
Streamlines guest users via cookies.
3. Flat rate shipping plugin
The flat rate shipping plugin for WooCommerce takes flexible shipping to the next level in terms of shipping costs. It enables you to create and customize multiple flat rate shipping costs easily. You can calculate costs based on weight, country, product, quantity, category, and much more.
With this plugin, you can:
Create country-specific shipping methods.
Create shipping methods based on products in the cart, cart quantity, or cart subtotal condition.
You can create shipping methods based on specific tags or users
4. WooCommerce weight based shipping
You can use this free shipping plugin if order weight is one of the primary factors in calculating your shipping costs. Or if the products featured in your store are of a varied weight range. You can also set rules based on the shipping destination and cart subtotals. With the WooCommerce Weight Based Shipping plugin, you will get the flexibility to configure a rule to offer a flat or dynamic shipping rate based on weight.
5. WooCommerce table rate shipping by JEM
This is a free shipping plugin and is ideal to set up table rate shipping or tiered shipping on your WooCommerce store. It has a friendly user interface that allows for a fast configuration. This is one reason that makes it among the best WooCommerce shipping plugins in the market. This plugin also integrates with WooCommerce shipping zones. This is one to choose if you want to streamline your shipping process.
List of the best premium WooCommerce shipping plugins
1. WooCommerce shipping (+ Jetpack)
WooCommerce Shipping, powered by Jetpack, is an official extension from Automattic/WooCommerce that helps you print labels right from your WooCommerce dashboard.
In the Orders interface, you'll find a new Create shipping label button that allows you to easily print out and pay for shipping labels for all of your outstanding orders.
Once that is done, you simply need to put them on the box and request a pickup from USPS.
2. Advanced shipment tracking for WooCommerce
This plugin helps you display and manage tracking information from more than 150 different carriers. Once you add the tracking information, the plugin can display it both in notification emails and on the shoppers' account pages.
It also helps you create custom order statuses like "Shipped," "Delivered," etc.
The basic Advanced Shipment Tracking for WooCommerce plugin is free. However, if you want real-time status notifications, you'll need to pay for TrackShip, which starts at $9 per month.
3. Shippo
Shippo is a SaaS tool that helps you do everything except calculating live rates at checkout.
Once you receive an order, Shippo can help you check rates from over 50 different carriers to find the best delivery option for you. You can print out labels and pay for the postage right from the Shippo Dashboard. And finally, Shippo also allows you to include a return shipping label, and you'll only be charged for the return label if your customer uses it.
WooCommerce users can get a 90-day free trial with Shippo. After that, there is a pay-as-you-go plan (with limited features) for just 5¢/label. Alternatively, you can pay a flat monthly rate starting at $10 per month.
4. Conditional shipping for WooCommerce
This plugin is considered one of the top five WooCommerce shipping plugins. It offers a unique value proposition to your online store by allowing and limiting different shipping methods. The pro version offers more features and options to set shipping costs.
5. YITH WooCommerce order tracking
This plugin provides an option to display order tracking information to your customers in your store.
Prominent Features:
Automatically fill in the shipping carrier details, tracking code, and shipping date.
Tracking information can be displayed in different places on the Order Details page.
A premium version of the plugin with more advanced tracking features is also available.
FAQs
What is weight-based shipping?
Weight-based shipping is ideal when you have products that vary significantly in weight.
To calculate shipping rates based on weights, you need to measure their weight, dimensions, and other factors that affect how much it will cost to ship them. Calculating shipping rates in this manner is the most accurate method to ensure that your products are priced correctly.
What are conditional shipping payments?
WooCommerce does not allow you to assign payment methods to shipping methods. This option is only available for Cash on Delivery, which can be displayed along with selective shipping methods.
Other payment methods are displayed every time, regardless of the shipping methods chosen by the client. This can sometimes be a nuisance to sellers who wouldn't want to offer the option of paying using online transfers with high fees.
The Active Payments for WooCommerce plugin can be used in these situations where you can mix and match payment and shipping methods any way you want. All conditional shipping payments options are displayed in a table.
What are the default WooCommerce shipping methods?
WooCommerce offers three types of shipping methods by default. They are flat rate shipping, free shipping, and local pickup. You can ship items to your customers at a flat or standard rate per item, shipping class, or order using flat rate shipping.
Is WooCommerce compatible with USPS, FedEx, and other shipping carriers?
WooCommerce is compatible with USPS, FedEx, and other major shipping carriers. You can use plugins such as WooCommerce FedEx Shipping with Print Label and USPS Shipping Method by connecting them to your WordPress dashboard. By this, you display real-time shipping rates at cart and checkout pages and print labels, and monitor tracking information.
Can I offer free shipping with WooCommerce?
Yes, you can offer free shipping with WooCommerce. It is one of the three methods available by default. It can be triggered by a coupon, a minimum spend, or when both conditions are satisfied. You can also restrict free shipping to a specific shipping zone or class.
What are WooCommerce shipping zones and classes?
A shipping zone is a geographic region. A shipping class is a pre-set group with products based on weight or dimensions. These make managing shipping processes based on specific rules and conditions simpler.
Wrap up
With the WooCommerce shipping plugins on this list, you will calculate rates accurately, streamline the process, offer complete shipping services to your customer, print labels, and create a better user experience for your shoppers. These plugins will also ensure that you do not pay a lot in shipping charges.
If you have any questions about WooCommerce shipping, Let us know in the comments!