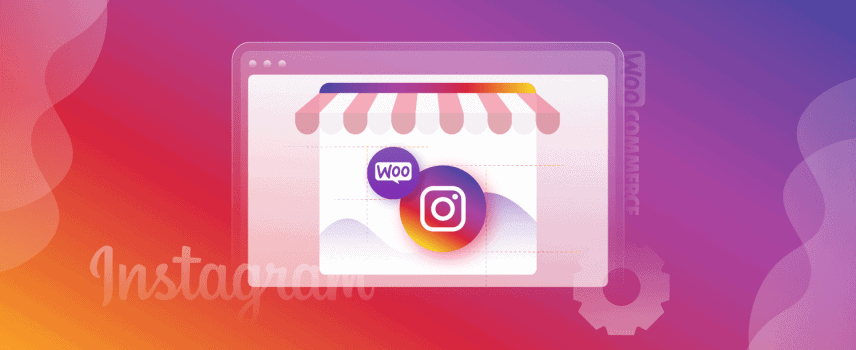 A Completed Guide for Setup & Optimizing WooCommerce Instagram Shop
Instagram is one of the largest and successful social media networks. It has enormous popularity among users. You will find that there are more than one billion monthly active Instagram users. While browsing on Instagram, you must have noticed posts that have a shopping bag icon on them.
Yes, those are the Instagram shoppable posts. Apart from the average daily users, Instagram offers this vital feature for businesses that sell their products online. If you do it right, you can generate more revenue for your WooCommerce powered e-commerce store from an Instagram shop.
A bit more on Instagram Shoppable posts and how they work
The Instagram shoppable posts look like usual Instagram posts except for a shopping bag icon at the right top corner of those posts. You will find these types of posts when browsing through a company's Instagram gallery. When you view those products, there are little dots that show up.
Clicking on the little dots on those posts will show you the products promoted on the Instagram post. When you click on the small dots, it will show you information related to the product along with a link for the item.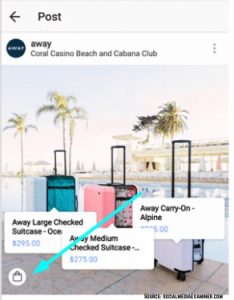 When you finally decide to go for a product, you can go to the full product page from the Instagram shoppable posts. You can go to the company website and purchase the desired product. Thus Instagram helps store owners to sell their products in a very creative way.
Recent trends show that people love to browse on social media and make purchases for their desired products. With your WooCommerce store, you can also do the same. Take advantage of this modern trend and Instagram shoppable posts to flourish your online store.
We will learn about setting up and optimizing your WooCommerce Instagram shop to reap the best result for your store. There is nothing to be overwhelmed with the setup; it will be relatively easy if you follow this guide.
We have another resource on how to connect your WooCommerce store with Instagram. You can consider it as the first part of this post. If you have not yet connected your WooCommerce store with Instagram, you will not use the Instagram shopping feature. Please visit this post to link your WooCommerce store with Instagram shopping properly.
Topics covered in this post:
Getting an Instagram Business profile
Connecting Facebook with Instagram
Account Review for Instagram Shop
Time to turn on Shopping
Tag your products
Shopping Sticker in stories
CTX Feed – WooCommerce Product Feed Generator
Optimization and feature highlights of CTX Feed
Final Words
Getting an Instagram Business profile
We hope that you already have an Instagram account. In case you don't have an account, you can quickly create one by using your Facebook account to register. Additionally, you can also use an email address to sign up for Instagram. After successfully logging into Instagram, go to settings and find the option Switch to Business Profile.
You will get the option to fill in the information associated with your business. Instagram will review your request and notify you once they approve your Instagram Business Profile. Now it is time to connect Facebook and Instagram.
Connecting Facebook with Instagram
Your newly created or old Instagram business profile has to be linked with the Facebook Catalog that you should have already created with CTX Feed and uploaded to Facebook. Connecting your Facebook page to Instagram is also very easy.
First of all, you need to convert your account into an Instagram professional account. Secondly, you need to ensure that you own the page you are trying to connect to or the page's admin.
To add your Facebook page to Instagram, go to the edit profile section of your Instagram account. You will find an option called the Public Business Information. Under this option, locate and click on Page.
You can choose a page from the dropdown option to connect with Instagram. Additionally, you can also create a new Facebook page from here. This is how simple it is to connect your Facebook page with Instagram. You can learn more about this from here.
If you are not an admin of the page, it will not appear in the dropdown list. To verify this, you can check your Page's settings and see if you have permission to add that page to your Instagram business account.
Here is an excellent resource on how to create catalogs for Instagram.
Account Review for Instagram Shop
It would help if you had everything in place now. The product catalog is ready, and you have also connected to the Facebook page with your Instagram account. Now, when you connect the catalog with Instagram, you should submit your account for review.
You can follow this guide to know about the steps required for the submission properly. Usually, account verification does not take more than a few days, but it can take longer than under different circumstances.
First of all, go to your Instagram Business profile and tap on the menu icon.
Secondly, select Settings.
Thirdly, sign up for shopping.
Fourthly, follow the steps offered by Instagram to submit your account for review successfully.
Finally, visit Shopping in your Settings to check the status of your request at any time.
For some businesses, Instagram may ask for additional information. Sometimes, it may ask for information to verify that you are the owner of the website. If Instagram notifies you for domain verification, you need to follow the domain verification steps suggested by Facebook/Instagram.
Time to turn on Shopping
When your account has passed the review and approved, you can turn on the Instagram Shopping feature.
First of all, go to your Instagram business profile and tap on the menu icon.
Secondly, select Settings.
Thirdly, tap on Business and then Shopping.
At this stage, you have to select the Product Catalog that you want to connect with your account.
Finally, you are done turning on Shopping for Instagram.
In case you cannot find Shopping in the Settings, it might be because your account is still under review. You can always come back and check.
Tag your products
We have set everything right. Now it is time for the final touch. At this moment, you are eligible to use product tags to highlight the products in the photos and videos that you shared on Instagram Feed and Stories. The option is brilliantly comfortable, and you will love the process.
To add tags to your products, you will have to upload an image to post on Instagram. This image should contain the products you sell online—only tag products from your catalog present in the Photo.
Follow the steps below to add products tags to your posts successfully:
First of all, you need to add a photo to Instagram by tapping on Add Photo.
Secondly, add a caption for the photo.
Thirdly, tap on Tag Products.
Tap on the photo.
Search for the product on your catalog.
Select the product that matches the product on the photo.
Tap on Done
Finally, share your product with your Instagram followers.
So connecting your Instagram shop for WooCommerce is not very difficult after all. You can follow the simple steps that we have described above and do it with ease. The tricky part of this task is taken care of by CTX Feed.
It will generate product feeds for the Facebook catalog and ensure the timely updates of the product data feed you create for your WooCommerce Instagram shop.
CTX Feed – WooCommerce Product Feed Generator

This WooCommerce Instagram shop plugin offers out-of-the-box features for you to create the most optimized product feed for your Instagram shop. The manual creation of product feeds very time-consuming and error-prone. With CTX Feed, you do not have to worry about anything else like the format and the required attributes of a Facebook product feed set.
Get started with the built-in template and follow the magic offered by the WooCommerce Instagram shop plugin.
Optimization and feature highlights of CTX Feed
The plugin has lots of options to optimize your product feeds for the WooCommerce Instagram shop. Many filtering options will allow you to add or remove products from your feed quickly.
Moreover, you can add a prefix or a suffix with your product title to make them more appealing to your potential customers. The premium version of CTX Feed offers excellent options to deal with your variable products.
You must lead a busy life with your online store management and other personal stuff. Like the opportunities created for e-commerce in recent years, the competition has also risen to a new height. If you fail to get your hands to the best strategy or the best tool, it will be unfortunate, but you will fall behind your competitors.
Instagram shop for WooCommerce can be a game-changer if you follow the right step to set up your store. CTX Feed will add the required ease to manage your Instagram WooCommerce shop in the most optimized way.
This plugin's scheduled update feature will refresh the data on your feed file and offer the latest information for the Facebook catalogs. When Facebook asks for information, it will show the most recent information about your product.

Apart from creating the most optimized product feeds for your Instagram shop for WooCommerce, other important optimizations will further help your business to bloom. The premium version of CTX Feed comes with support for multi-vendor and multi-lingual sites.
As a result, you can create product feeds by selecting a single vendor or in a combination of multiple vendors. Moreover, you can optimize the language of the product feeds that you are creating. With support for the most popular multilingual plugins, you can create the feed file in a language that your store currently supports.
Final Words
WooCommerce is a very well-known and popular platform to create and manage an online store. Due to the easy-to-follow interface and lots of available tools, creating an online store and managing one is very easy with WooCommerce.
You already know that as an owner of a WooCommerce powered e-commerce store. After connecting your Instagram shop for WooCommerce, you will need a WooCommerce Instagram shop plugin to ensure your store's best result.