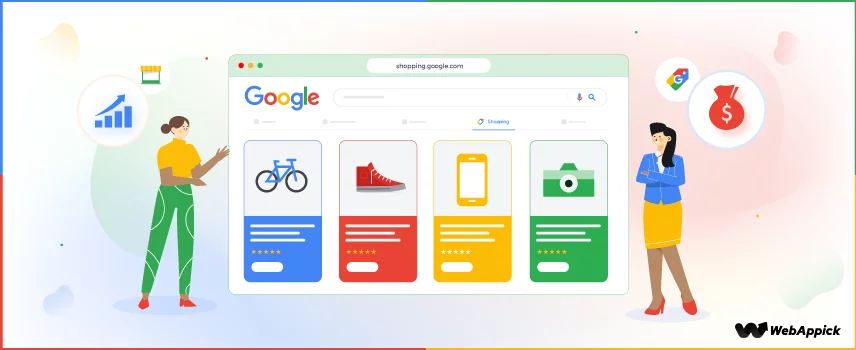 20 Google Shopping Ads Benefits You Might Not Know Yet!
We know that you, as a business owner, are trying your heart and soul to grow your business. You usually spend your money on product and inventory management, product quality, hiring more employees, etc., right?
If you notice carefully, most of these are offline-based tasks. Well, it seems that you're ignoring online advertising at the beginning.
But, should it wait for later?
No!
Besides working on offline strategies, you must advertise your products on Google Shopping too!
Why Google Shopping, you asked?
Well, 49% of people use Google to find new products online. If you can present your products there, you can promote your products to thousands of people.
And, you already know it: more promotion=more sales=more revenue.
In this article, we are going to briefly summarize the Google Shopping Ads benefits for WooCommerce stores. Thus you can understand why so many businesses are switching from traditional ads to Google Shopping Ads in 2022 and beyond.
What are Google Shopping Ads?
Before talking about the benefits, let us give you a crystal clear idea about what exactly are Google Shopping ads.
Google Shopping Ads are nothing but Google Product Listing Ads. These are a special type of ads used to display detailed product information on Google search results. The shopping ads include rich product information such as product name, image, price, merchant name, etc. on the body.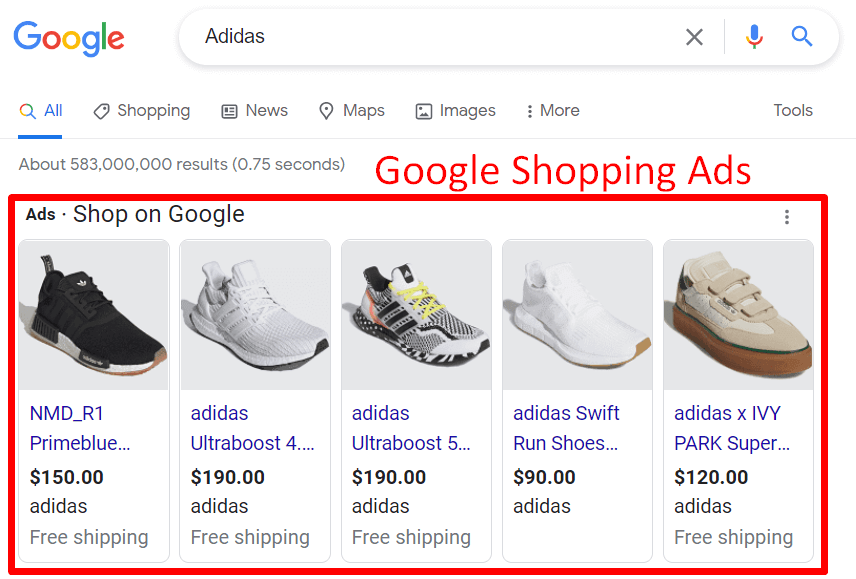 Google Shopping Ads are incredibly beneficial for the WooCommerce store owners. You can automatically rank in the very top position for the related search queries.
As you may notice in the photo above, these ads are displayed above the organic results too! Right now, Google Shopping is available in almost 50 countries so far.
Check Google's official introduction video to understand about Google Shopping.
Read More: How to Setup Google Shopping Ads to Maximize Revenue?
20 Awesome Google Shopping Ads Benefits for WooCommerce Stores
About 8.5 billion searches are conducted on Google everyday. So, if you start a shopping campaign, you will definitely get some boost for your WooCommerce website. In this section, I've listed a few benefits of promoting your products via Google Shopping Ads.
Let's check those out.
1. List Your Products for Free
At the end of April 2020, Google announced the free product listing on the Google display network. By the way, the paid ads will still appear on the top portion of the Google Shopping tab. But, the products with free listings will appear underneath that.
The following image shows the search results of "smartphone under $1000" under the Shopping tab. The upper section shows the Google Shopping Ads, and the following section displays products from the free product listings.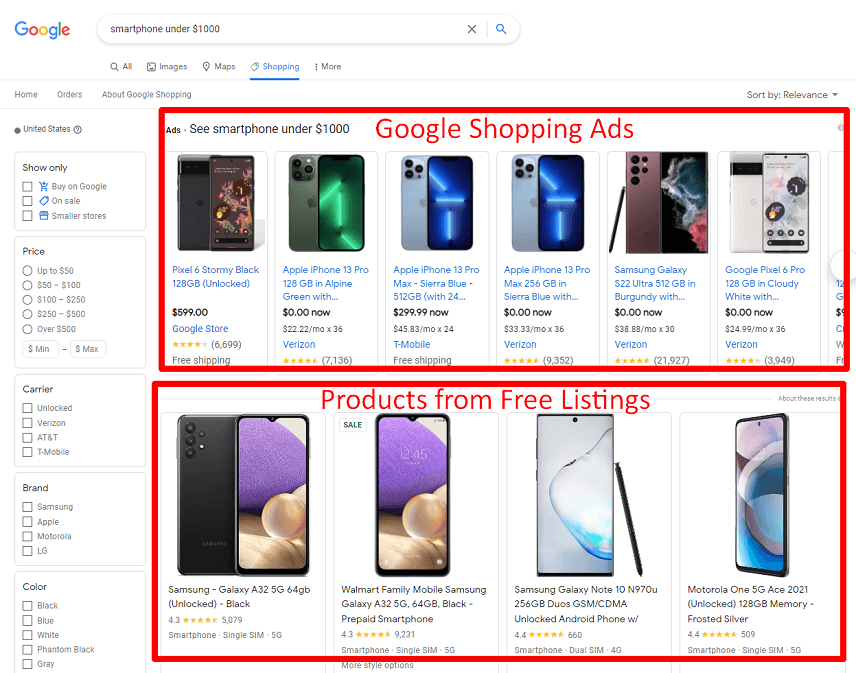 In short, Google offers a great opportunity to promote your best-selling products on the Google shopping tab. All you have to do is submit a product feed on Google.
To make your products eligible for free product listings, you have to include the following attributes on your feed:
id – It's the unique id to each product, such as SKU id.
title – It presents the product name.
price – It indicates the price of that particular product.
availability – Indicates the stock update of a product.
link – It's the URL of your product page
description – It describes a product with relevant features and technical details.
image – It holds the product image link.
However, you don't need to add those manually. There's a better, effortless, and time-saving solution to this.
What's that?
Use CTX Feed!
Ok. But why CTX Feed?
Because CTX feed is the best product feed generator for the WooCommerce stores. This plugin can generate unlimited product feed for the WooCommerce stores. It supports 100+ popular merchant channels, including Google Shopping.
So, generate a product feed for Google Shopping and submit it to the Google Merchant Center. Even though you don't run any Google shopping ad campaigns, Google will still display your products on the Google Shopping tab.
2. Creates A Strong Visual Appeal
Did you know that the human brain can identify an image within 13 milliseconds! Even 90% of all information transmitted to the brain is the visual elements. So, it's important to create a strong visual appeal via your shopping ads. Besides, it is one of the most important Google shopping ad requirements to run a successful campaign.
But, a typical Google ad allows text. In order to add visuals, you have to use Google shopping ads. Apart from texts, the shopping ads include some additional information about a product, such as product image, name, price, manufacturer price, etc.
Here's a sample google shopping ad that appears for the search term of "computer table".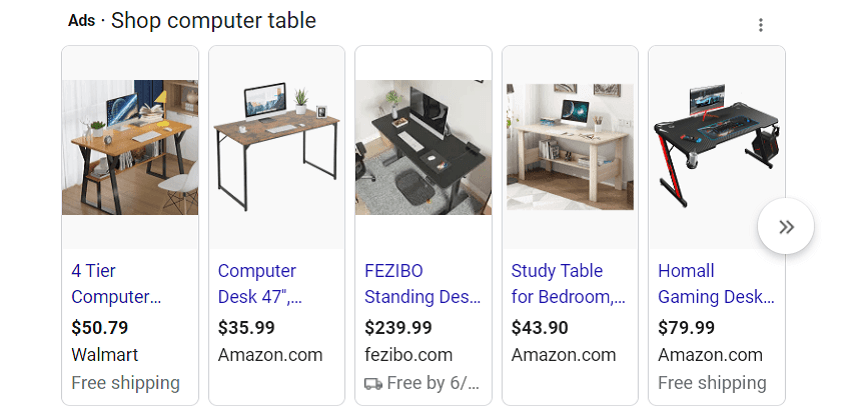 As you can see, because of the combination of texts and images, these ads look comparatively more visually appealing than the other search ads.
3. Get Better Return on Ad Spend (ROAS)
Every business expects to get a return of every dollar they are spending to grow their business. So, it's better to use Google shopping ads to promote the business.
However, it doesn't guarantee the sale of your product. But, these ads generate better revenue than the other forms of ads. So, if you implement the shopping ads for your business, there's a huge possibility of getting more sales.
As we have described in the previous section, the shopping ads display comparatively more information on the ad body. Along with the product's introductory description, it also includes the product image, both original and discounted price, product reviews, etc.
Thus visitors also get more information about a product even before clicking on that ad. If you can utilize the product information properly, it will increase the conversation rate for sure.
Remember, the smoother experience you can ensure, the better revenue you'll get. So, make your ads as visually appealing as possible to ensure a better experience.
The human brain can process visuals 60,000 times faster than texts.
4. Ads Automation
Once you set up the Google merchant center and upload a product feed, Google will automatically get those products. So, you don't need to upload products while setting up the ads.
Google will automatically collect the product information from your submitted product feed. All you have to do is just link the merchant center account with your Google ads account.
Simply change the product feed whenever you update your product, and Google will display the updated product information automatically. However, if you use advanced product feed generator tools like CTX Feed, you don't even need to update the product feed manually.

Right now, CTX Feed supports 5 update intervals for the free version and 8 update intervals for the premium version. Whether your online store contains a few hundreds or millions of products, CTX Feed will automatically update all of those pretty easily.
It will save you time and the manual labor of thousands of hours. Further, you don't need to worry about submitting your updated product information to Google.
Simply update your product information on your store, and your job is done. CTX Feed will then update the product feed with the latest information so that the Google Merchant Center can fetch your updated information automatically.
Besides the product information, Google also matches the user's search intention with its powerful AI and machine learning technology. Thus your products are displayed in front of the most potential buyers. As a result, you will get a spike in the revenue curve after using Google shopping ads.
5. Increases Brand Awareness
Do you ever wonder why entrepreneurs spend millions on building their brand identity?
Well, because it increases their acceptance among the customers, offers customer loyalty, and keeps them ahead of their competitors.
You know, a loyal customer mostly purchases goods from his trusted store. And one of the best ways of creating a loyal customer base is to increase brand awareness among the users.
Promoting products via Google shopping ads also increases brand awareness among the customers. Though the main objective of these ads is getting more sales, it promotes your brand too.
Google advertising platform uses CPM to merit your brand identity. CPM basically stands for cost per 1000 impressions. The advertisers have to set their price they want to pay for 1000 impressions. The cost for CPM depends on product pricing, industry, or competition.
6. Get Better CTR
We have already mentioned in the previous section that these shopping ads are comparatively more visually appealing than text-based ads. And, as these ads are intrinsically more eye-pleasing, the possibility of clicking on these ads increases.
Even the placement of these ads also increases the click ratio. Generally, the shopping ads are placed on the top of the search result pages. So, it will cover a large portion of the visible area, especially when you use a device with a smaller screen.
As a result, the products will be more visible to the customers. It not only increases the product visibility or brand awareness but also improves the click-through rates.
Overall, the possibility of generating more sales also increases when you will get more clicks on your products. Besides, a better CTR also sends a positive signal to the ad platforms. It helps to boost your ad ranking on the search engine result pages.
Google Shopping Ad costs 23% lower CPC and generates a 26% higher conversion rate than text-based ads!
7. Drives Qualified Traffic
Google shopping ads help to drive qualified traffic to your website.
How?
Because –
It appears in the top position of SERP.
Provides better information for search queries.
Shoppers will be redirected to the product page, etc.
Let's explain these reasons in short.
First of all, the shopping ads appear even before the search ads and organic results. If your ads can answer search queries, there's a huge possibility that people will click on your website.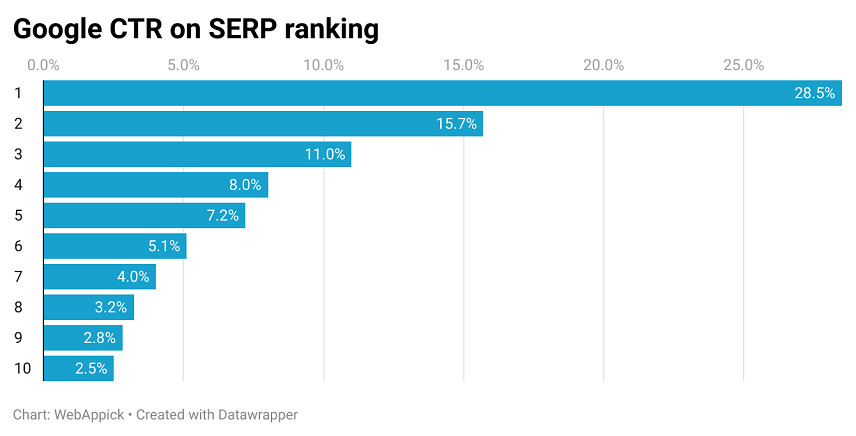 As the shopping ads appear in the top position, you will get more clicks for sure.
Even after clicking on the Google shopping ads, the visitors are redirected to your own website. Thus you will get your visitors directly into your website. But, the scenario will be different if you choose other marketplaces like Amazon or eBay for promoting your website.
As Amazon, eBay, or other marketplaces sell their products through their own website, you won't get those visitors directly on your website. You might think, 'Anyhow, I am selling my products; what's wrong with that?'
Well, the problem is you are missing the web traffic and brand promotion section here. However, it won't be a big deal for small businesses. But, if you dream of growing big, you must take this opportunity.
8. Ensures Better Customer Experience
Your targeted customers will respond to your ads only if you provide a better experience for them. Try to follow these tactics while setting up an ad.
Redirect the visitor to the specific product page rather than a general shopping page.
Add the appropriate product photo within the natural lighting condition.
Show the relevant products while adding products into the cart.
If you can ensure these facts, your visitors will definitely return. Alternatively, you can say that it will work as a bridge to convert a regular customer into a loyal customer!
9. Higher Consumers' Purchasing Intent
Among all of the marketing platforms, Google shopping ads have higher conversion rates.
Why?
Because, people are here for their shopping. And while someone is planning to go shopping, they are most likely ready to purchase those products.
So if you can attractively showcase your products, there's a huge possibility of getting more clicks and sales. Thus you are getting not only a better conversion rate but also an improved Return On Ad Spend (ROAS) rate.
Remember, people searching with the shopping keywords are already on the Desire stage of the sales funnel. So, you can convert them into actionable customers only by offering better products with attractive visuals.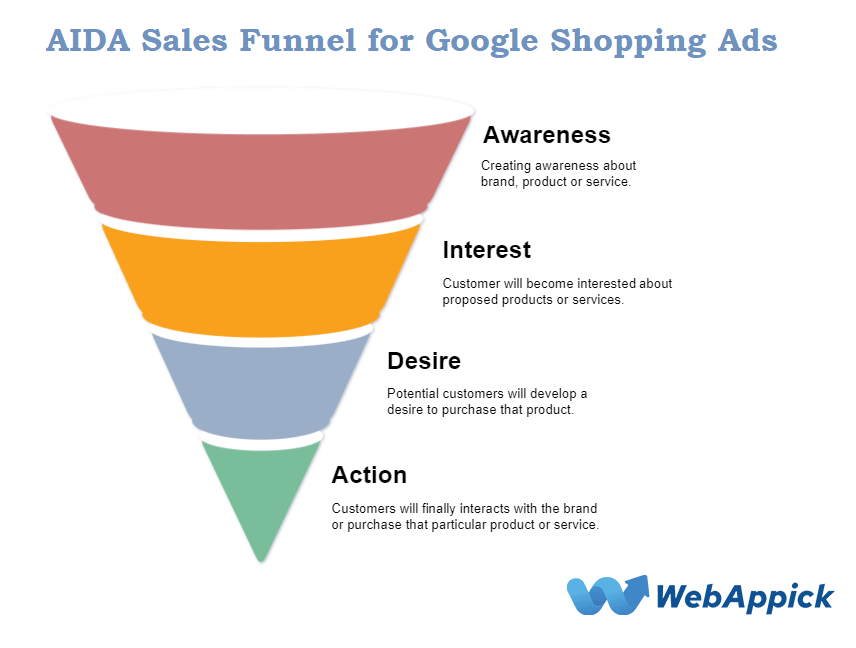 That's why the retailers also tend to spend more on this platform. A report in Forbes mentioned that the American retailers are now spending 76.4% of their total ads budget only on Google shopping ads.
10. Improves the Product Visibility Rate
Another major benefit of Google shopping ads is the product visibility rate. Unlike the other ad platforms, products promoted through the Google shopping ads platform get more visibility much faster.
Why?
Because these ads are being displayed continuously on various google services simultaneously. Here is the list of places where your shopping ads will possibly appear –
Google search result page
Gmail inbox
Under YouTube videos
Google shopping tab
Google Map and
Other search partners
As you might already know, most of these ads appear even before the organic results. Even these ads are designed with attractive images and informative texts. So, there's a very small possibility of getting those ads unnoticed.
11. Beneficial for Local Businesses
If a local business owner has an eCommerce website for the shop, Google shopping will surely be beneficial.
But, what about the physical stores?
Well, shopping ads have an impact on the physical stores' customers too!
If you upload a product feed with local products, Google will prioritize those products for local searches. So, whenever someone searches for those products within your shop area, Google will display your shop location under the Google Map section.
Check the image below –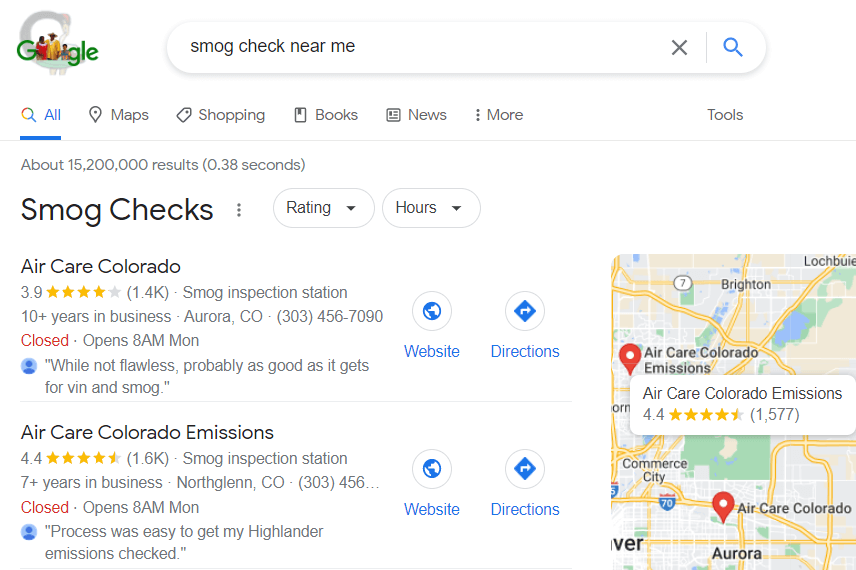 Google displays these results for someone who is searching for a smog-checking service provider near the Colorado area. You can get the opportunity to feature your product or store here.
You have to perform only two tasks to get featured in this section –
Set up a free Google Business Profile and
Upload product feeds on Google merchant center
Thus your website will become eligible to get displayed on the search result page. On the search result page, Google includes "Directions" or "Get directions" buttons which will show the direction to your website whenever someone near your business searches for relevant information on Google.
12. Easier Remarketing
Remarketing is a common marketing strategy to reach out to the most potential customers. In this strategy, the retailers serve ads to the users who performed some specific tasks. It might be someone who visited a website, a particular page of a site, added a product to the cart, or something like that.
Besides, the remarketing strategy works better than the traditional ads like email marketing with customized email, running display ad campaigns, etc.
But, the main barrier to an effective retargeted ad is the lead collection part. Fortunately, it won't be a big deal if you can link your website data with your Google Shopping feed.
However, remarketing with Google shopping won't cause any privacy issues. Google's data collection policy is so subtle that even those who are so concerned about data privacy will barely notice those data collections.
Even the marketers also agree that retargeting results are the same or better than the traditional advertising methods like search ads, display ads, email marketing, etc. And it can lead to a 1,046% lift in the brand name search!
91% of marketers agree that retargeting performs better than other ads.
13. Benchmarking Performance with Competitors
Having the competitor analysis is a great-to-have tool for every business owner. It helps to analyze the competitor and set up ads budget to overcome your competitors.
Here's the list of industry benchmarks for Google shopping ads –
CTR – Click Through Rate
CPC – Cost per Click
CPA – Cost per Action
CVR – Conversion Rate
These are the common performance benchmarking metrics for Google ads. Analyze these benchmarks properly and improve your ad performance.
14. Review Aggregation
In this digital world of business, every organization should embrace reviews. It not only expresses the user's experience but also impacts the buying decision of the new customers.
The famous American wireless network operator, Verizon, reports that 90% of online shoppers rely on online reviews. Besides, it has several other benefits too. For example –
Reviews can build trust with customers.
It facilitates referrals and word-of-mouth marketing.
Responding to reviews shows that a business cares about its customers' opinions.
Reviews impact the buying decision directly.
Reviews give credibility to your business etc.
So, it clearly shows that online reviews DO matter for businesses!
You know, Google displays the product reviews on the Google ads. So if your products have some positive reviews, it will definitely help you to stand out from the crowd.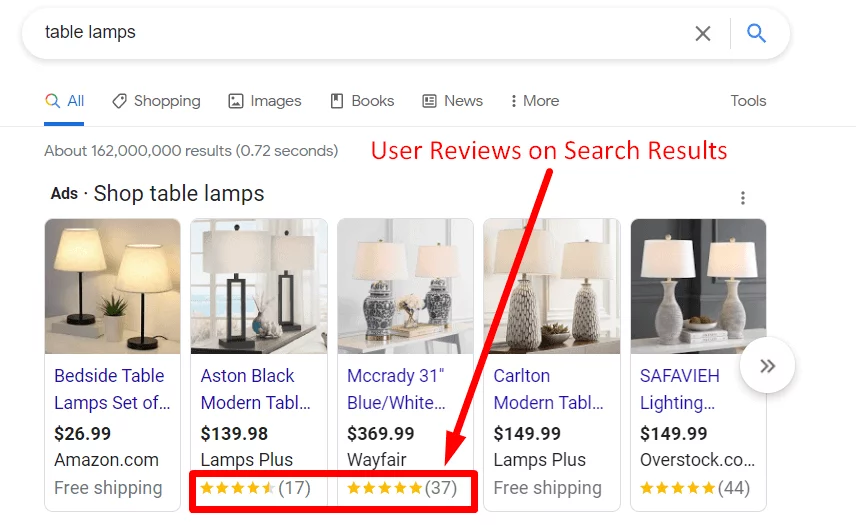 However, there are no specific amount of reviews that may affect the buying decision of the customers. But, Google requires at least 50 product reviews across all your products to show the product reviews on shopping ads.
But, you can also submit reviews data via Google's supported reviews aggregators. Just make sure that those reviews data don't violate Google's product rating policies.
A study by Northwestern University reports that adding only 5 reviews on a product can increase the product purchasing possibility by about 270%.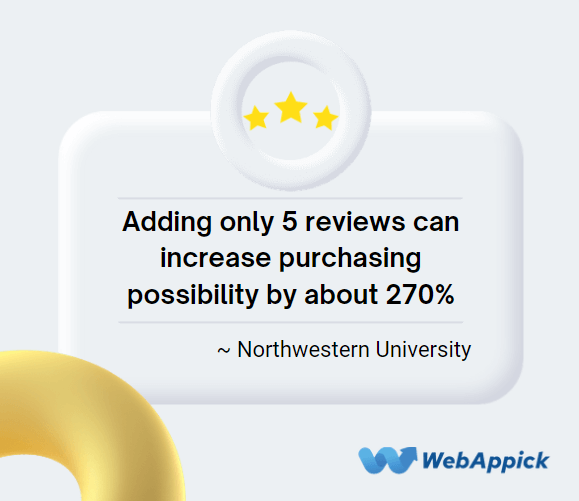 Besides the conversion rate, reviews also improve the CTR and impressions. And, better CTR means better revenue!
15. Rank at the top of SERP
How often do you navigate to page six to find something you are looking for?
Rarely, right?
Yes. Because searchers always prefer to get their desired result within the first page of SERP. But, you might already know that there's no surefire way of ranking in the top position.
Well, we can provide you with a better solution to rank higher on Google shopping. Use Google shopping ads to promote your product.
Because the Google shopping ads are always displayed above the fold section. Just below the shopping ads, you will get the search ads which will be followed by the organic search results.
So, you can easily say that Google shopping is a surefire way of ranking at the top for the relevant search queries. Well, it's probably the easiest process of ranking at the top of search result pages. That's why people don't hesitate to spend on shopping ads.
Americans are spending 76.4% of their ad budgets on Google Shopping Ads.
~ Forbes
16. Get Quality Leads
Whenever someone searches for a product on Google, generally their primary intention is to purchase it. So, whenever they notice a relevant ad, they are more likely to click on that product and probably make a purchase too!
Suppose someone searches for a smart lamp on Google. Then he might get the following result.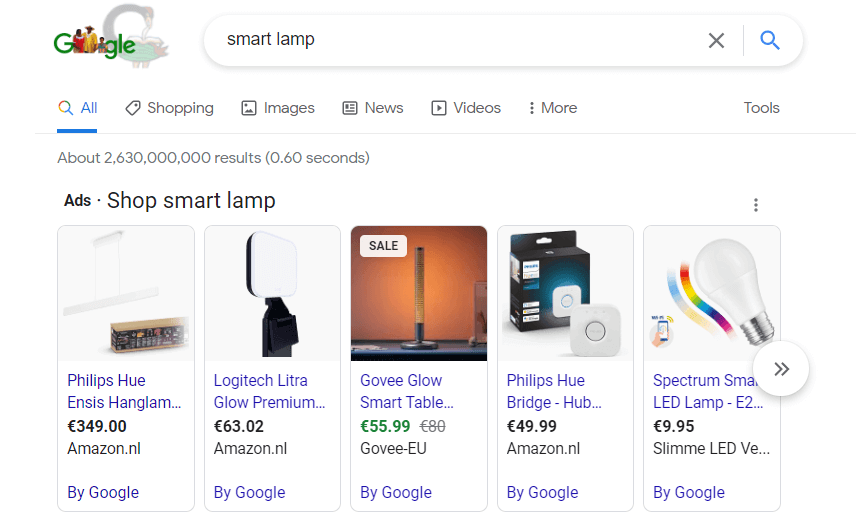 As you can see, Google displays the shopping ads at the very beginning of the search result. These ads contain several useful information like –
An attractive image
Product name
Sale price
Merchant name, etc.
If any of those ads can impress the visitor, he can get some additional info only by hovering on that particular ad. It means, whenever someone finally clicks on an ad, he might already be one-step closer to purchasing that product..
It not only increases the purchasing probability but also reduces the bounce rate. As the shopper already knows what to expect from your product page, so it reduces the bounce rate too.
Note: Besides selling that particular product, you can use it for several other purposes too! You know, the shopper has to perform some additional tasks like adding products to the cart, providing order information, etc. to order that particular product.
So, design your product page as appealing as possible. Make sure to provide the best experience to the customers. Further, you may offer some compelling offers or discounts for the repeating customers. It may encourage the customers to purchase from your site again!
17. Easier to Manage
The process of creating or managing the Google shopping ad is pretty easier than the other ads. You don't need to insert keywords, set up product information, or set up complex budgets while setting up the shopping ads.
All you have to do is just generate a product feed from your WooCommerce website and upload it to the merchant center. Google will automatically collect your product's information from the feed and display it on the body of the ad.

Note: Try to follow the Product Naming Convention while writing your product title and description. It will not only provide clear information to the customers but also optimize your ads.
18. Get Better Response from the Smartphone Users
As of 2022, there are 6.577 billion smartphone users worldwide. It is expected to reach 7.690 billion within 2026.
And this massive amount of people spend 4.8 hours per day on their smartphones. Nowadays, people are using their smartphones for playing games, browsing the internet, communicating with friends & families, tracking their fitness, etc.
Among all of these, shopping is no exception! Scrolling the eCommerce websites or searching for new products online becomes a common scenario while commuting from one place to another.
In short, there are thousands of people who are continuously searching for different products via their smartphones. If you can optimize your ads for smartphone users, that could be a great source of potential buyers.
As the shopping ads are displayed on the top, these ads can grab users' attention pretty easily. Most importantly, these ads are displayed as carousel ads. It makes these ads more noticeable for the smartphone shoppers.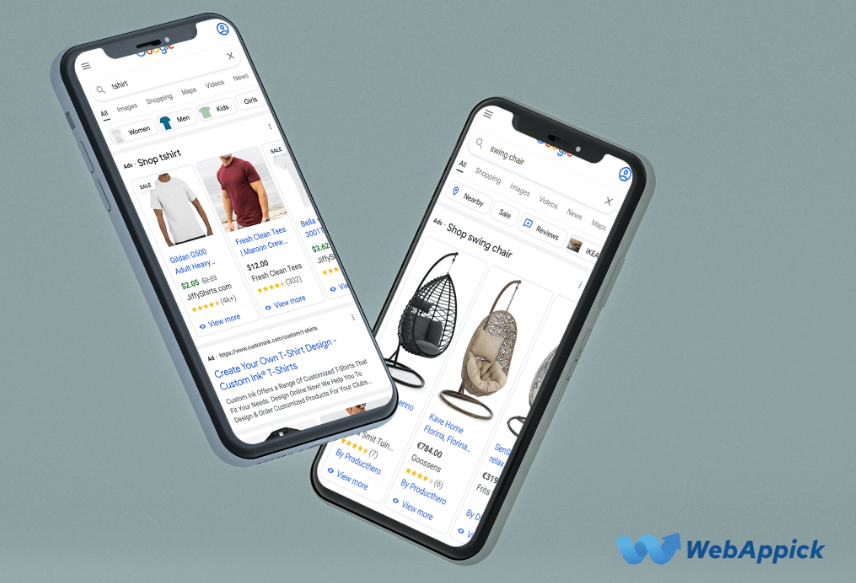 The image above displays the shopping ads for t-shirts and swing chairs on a smartphone screen.
19. Improves SEO Performance
Most eCommerce owners believe that SEO optimization is required only for ranking on organic search results. But the reality is quite different. It is required for both organic and paid Google shopping campaigns.
Preparing a well-structured product data feed will help to boost your product ranking in the Google shopping section. So, you have to find some relevant keywords and optimize those on your product title and description.
After the implementation is done, generate a product feed using CTX Feed. This WooCommerce product feed plugin can generate error-free and optimized feeds for Google shopping ads. Besides, it has a pre-designed feed template that is 100% compatible with Google merchant center.

20. Measure Your Analytics Effectively
When business owners run an offline campaign, they have only two performance indicators. Either they have to calculate the revenue or measure how many customers visited the store.
But, the scenario is pretty different for online advertising. Google ads dashboard displays different performance indicators to measure the product shopping ads performance.
Let's talk about a few of those key performance indicators –
Impressions – It indicates the number of times your product ads have been displayed on the web.
Cost per click (CPC) – CPC indicates the amount you are paying for every click on your campaign.
Conversion rate – It specifies how many visitors take your desired action like purchasing a product, subscribing to newsletters, downloading eBooks, etc.
Click-through rate (CTR) – CTR is the ratio of clicks to impressions your ads get on a campaign. The equation is clicks ÷ impressions = CTR.
Ad reach – The ad reach indicator indicates the number of people who saw your ad.
These are the common performance measuring indicators for Google shopping ads.
However, don't get confused with the website analytics tool and Google ads dashboard. The analytics tool is used to measure website performance. But, the ads dashboard shows only the ads' performance.
That's the end of our journey of explaining the benefits of Google Shopping Ads for a successful campaign.
Tips to Optimize Google Shopping Ads
To achieve better Google shopping ads benefits from a campaign, there's no alternative of optimizing the ads. In this section, we have listed a few simple tips to optimize shopping ads.
Optimize the product feed
Use keywords on product titles and descriptions
Mention similar price on product feed & landing page
Use relevant & high-quality images
Place required attributes
Add additional attributes (if possible)
Add negative keywords
Exclude unprofitable products
Adjust your bids
Create multiple ad groups
Track the changes, etc.
Try to implement these tactics on your shopping ads. Hopefully, it will bring some good results on your shopping ads.

FAQ
1. How to Create Google Shopping Ads?

Creating a shopping ad aka product listing ad is a pretty straightforward process. You can do it only by following five steps. Let's have a look at the Google shopping ads set up process –

1. Create a Google Merchant Center (GMC) account
2. Verify your online store with GMC
3. Generate and upload a product feed to GMC
4. Link the ads account with GMC and
5. Publish the ads campaign

Easy peasy, right?

2. Are Google Shopping Ads Worth It?

Ideally, Google shopping ads are really worthy for the customers. Because you will get a better return on ads spend (ROAS) on Google than other platforms.
3. Is Google Shopping Paid or Organic?

Google shopping can be both organic and paid. If you want to promote your products via Google ads, you have to choose the paid campaign. But, you can also list your products for free via using the free product listing feature.
Conclusion
Are you still confused about leveraging Google shopping ads for your WooCommerce website? Well, hesitate no more. Create a shopping campaign today and enjoy numerous Google Shopping Ads benefits by spending a very little.
If you need any support for creating product feed, shopping campaigns, or optimizing your shopping ads, feel free to contact via the comment box below.
So, start your shopping ad campaign and get ready to spark!
You May Also Read