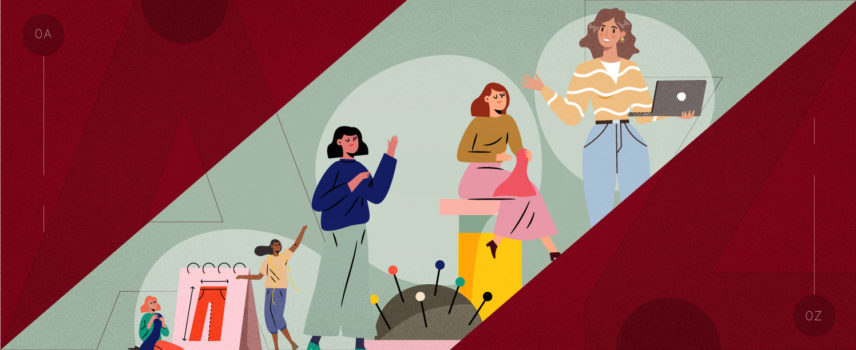 How to Start an Online Fashion Store with WooCommerce – From A to Z
It may appear that everything has gone digital in recent years. Online courses, books, and even online stores are thriving. Moving your business to the web does not have to be intimidating. You can set yourself up for success by understanding a few customer-centric aspects of an eCommerce store.
Don't worry; we'll take it slowly!
What's an eCommerce store?
An eCommerce store is something you've definitely heard of before. Any commercial transaction that takes place over the internet is considered to be part of an eCommerce store. To put it shortly, eCommerce is a brick-and-mortar store with an online presence.
Furthermore, we can compare eCommerce platforms to a digital form of catalog shopping because they are manageable on computers, tablets, or smartphones. eCommerce transactions provide access to nearly every imaginable product and service, including books, music, plane tickets, and financial services such as stock investing and online banking.
Not only that, but eCommerce gives retailers a great deal of flexibility and control. You can also discover that a virtual marketplace allows you to increase your sale and consumer base. This sector has many economic potentials, especially when you consider the lower costs of a virtual storefront.
Now let's see a couple of online retail statistics and see how the numbers grew in the past years.
Online Shopping and eCommerce Statistics
As internet service grows around the world, the number of digital buyers continues to grow as well. In 2020, nearly two billion people purchased products or services online, with global eCommerce sales exceeding 4.2 trillion dollars.
As you can see from the screenshot above, from 2014 to 2021, this timeline depicts a forecast of the number of digital buyers worldwide. Researchers anticipate that over 2.14 billion people will purchase a product online by 2021, up from 1.66 billion in 2016.
One thing is for sure: eCommerce was rapidly expanding even before COVID-19. However, the outbreak prompted even more Americans to go online, resulting in a further $105 billion in net sales in 2020 and a two-year acceleration of eCommerce.
Because of store closures and consumers' fear of contracting the virus in public, eCommerce thrived without a doubt. And data from the first quarter of 2021 shows that the coronavirus is still affecting retail spending. Online sales increased 39% year over year in the first quarter of 2021, nearly tripling the 14% increase in the first quarter of 2020 and outpacing the third and fourth quarters of 2020.
There's an adage that says that while some will benefit, others will suffer. This is especially true in light of the current circumstances. The findings show a strong uptake of eCommerce across regions, with consumers in emerging economies embracing online shopping the most.
For example, between August 2019 and August 2020, online sales in China jumped from 19.4% to 24.6%. In Kazakhstan, the online share of retail sales grew from 5% in 2019 to 9.4% in 2020.
Moreover, in Thailand, downloads of shopping apps increased by 60% in just one week in March 2020. The trend toward eCommerce adoption seen in 2020 is likely to continue during the post-pandemic recovery period.
While the pandemic accelerated the shift to online selling and shopping, it has now altered consumer behavior, and there is no turning back. According to a Wakefield Research survey for Square's Future of Retail report, consumers make 43% of their monthly retail purchases online.
Online shopping is popular among parents and city dwellers, who say they now make roughly half of their purchases online. And retailers are catering to their requirements. So, if you are thinking about starting an online fashion store, all we can say is that now is the time.
Given all of these statistics and studies, it is clear that eCommerce stores will thrive in the future. So, without further ado, let's see what qualities you need to open an online business and how to build an online store from the ground up using WooCommerce!
Skills Required to Launch an Online Fashion Store
There has never been a better time to open an online store. With the simplicity and security that online business provides, it's no surprise that people prefer to scroll through their smartphones rather than get in their car and head to the store.
Furthermore, eCommerce makes it much easier to start a business and make money without the additional cost of a physical store. Of course, that doesn't mean you won't have to put in a lot of effort to get your business off the ground.
Confidence and Faith
You may believe that achieving business success will boost your confidence. In reality, confidence in yourself and your abilities is what will propel you to success in the first place.
You must be self-assured to run a successful online fashion store. Believe in yourself, and don't let negative thoughts get in your way. When so many variables go into making your business a success, it can be difficult to be confident as a retailer.
Time Management
Owners and managers set a good example. Values and work ethic have a significant impact on a company's environment and, in many circumstances, revenue.
The great thing about being your boss is that you don't have to answer to anyone. That, however, implies that you are solely responsible for completing all tasks. And drive and passion can only take you so far. If you can't manage your time well, you will quickly burn out, and you most certainly don't want that to happen.
A company with strong time management can tackle problems as they arise without disrupting day-to-day activities. This is critical for businesses that rely on consistent output to increase ROI – a planned, structured schedule allows for extra time for problem-solving or unanticipated circumstances.
An Eye for Digital Marketing
As a business owner, you will have to wear many hats. While you don't have to be an expert in everything, knowing digital marketing is highly beneficial. The good thing is that learning about digital marketing online is now easier than ever. Some excellent resources are available to help you learn about search engine optimization (SEO), paid advertising, social media, email marketing, and other topics.
HubSpot Academy, for example, has a comprehensive library of online certification courses ranging from content marketing to digital advertising. In addition, LinkedIn Learning offers simple-to-follow video courses that provide an overview of digital marketing topics.
Financial Means
It's a good idea to have a clear notion of your beginning costs before you open an internet store. The good news is that you can also do research online and take classes to better manage your finances.
You should pay special attention to the following points:
Knowing your credit score.
The various types of business loans.
Budgeting is a skill that must be learned.
Networking
Last but not least, your network is most likely one of your most valuable assets. Because even if you are an expert jewelry designer, you may not know how to form an LLC or create a professional logo. You can find people who know how to do these things and enlist their help through the power of networking.
It's fine if you're new to networking. To get you started, here are a few ideas:
Sign up for LinkedIn and join some relevant small business owner groups.
Make contact with your friends and family. They're an excellent resource for broadening your network.
Now that you know a little more about what it takes to create an online fashion business, it's time we see how the giants are doing it!
Online Fashion Stores – Best Case Practices in 2021
It's no secret that online fashion brands face fierce competition. The best fashion brands, regardless of size or niche, share a few characteristics such as:
Are adept at communicating visually with their customers.
Use product descriptions to give their product's personality.
With their About page, they can tell a compelling story.
Introduce new products regularly.
Sell a specific appearance.
Make it simple for customers to buy the correct size and fit.
Invite their customers to become a part of their community.
Now let's see a couple of best case practices along with some examples that can inspire you.
Large and High-Quality Images
According to research, content that comes with relevant photos receives 94% more views than content that does not. This figure is even more crucial when it comes to eCommerce product pages.
The image on your product pages visually communicates to visitors the details of your product. As a result, one of the most crucial eCommerce product page best practices is to use a high-resolution, zoomable image above the fold. Furthermore, using multiple photos taken from different angles to give visitors an overall view of the products added an extra edge.
Here's an example of an outdoor clothing and gear company, Patagonia's product page.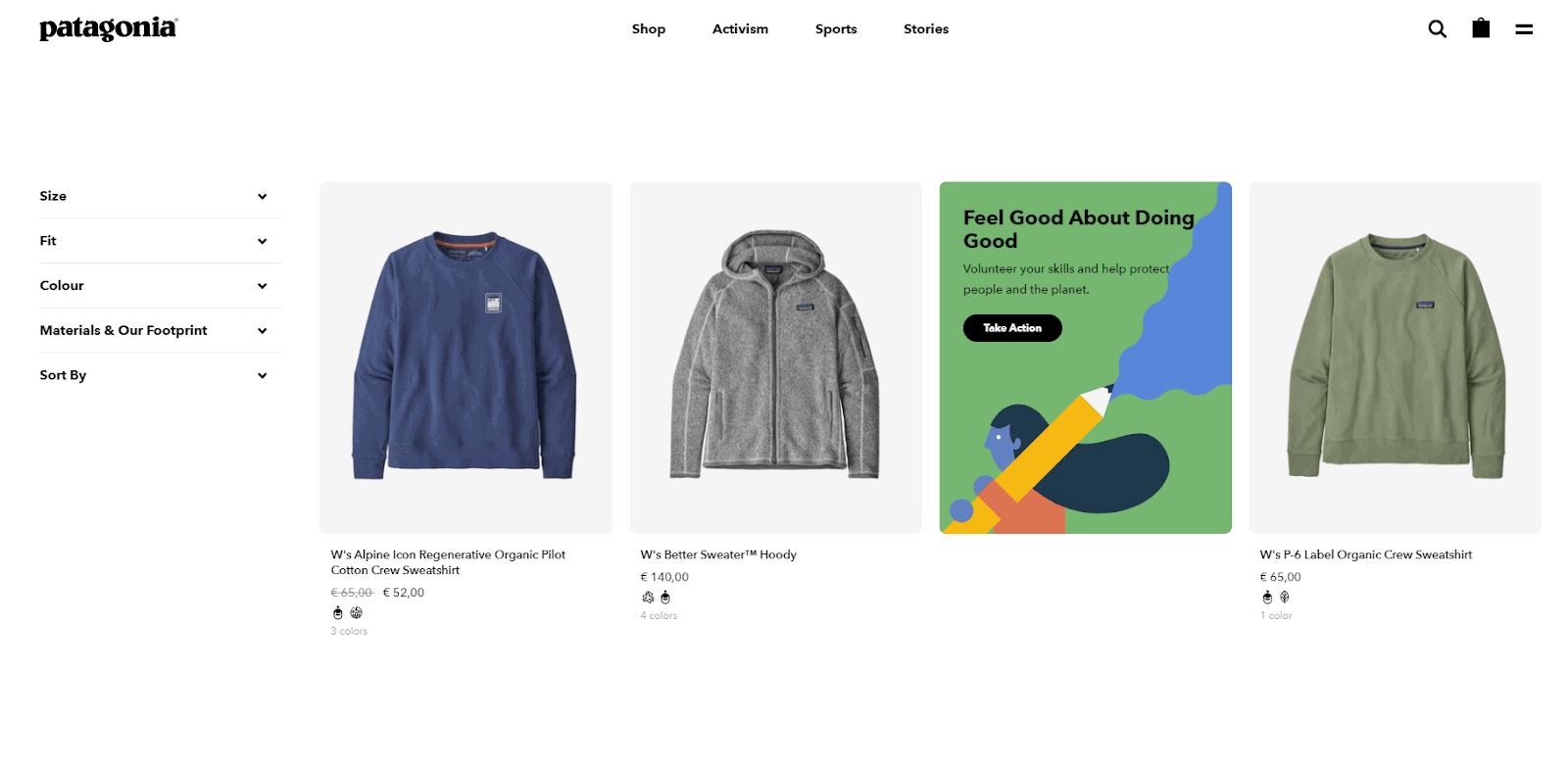 As you can see, high-quality imagery has been shown to increase engagement, establish credibility, and, most importantly, improve conversion rates, and Patagonia is no exception. No matter how smooth and frictionless your user experience design is, having low-quality product images will harm your bottom line.
Noteworthy CTA
A CTA could be anything from an add to cart button to a buy now button. It must be easily identifiable and must compel the visitor to act. Different colors represent different things in various cultures. Keep two things in mind when choosing a color:
First, consider whether that color elicits the desired emotion in your target audience. Second, how does it contrast with the rest of the page's color scheme? Ideally, you want the CTA to stand out so that it captures the attention of the customer.
Here's a look at Bohemian Trader's CTA for reference.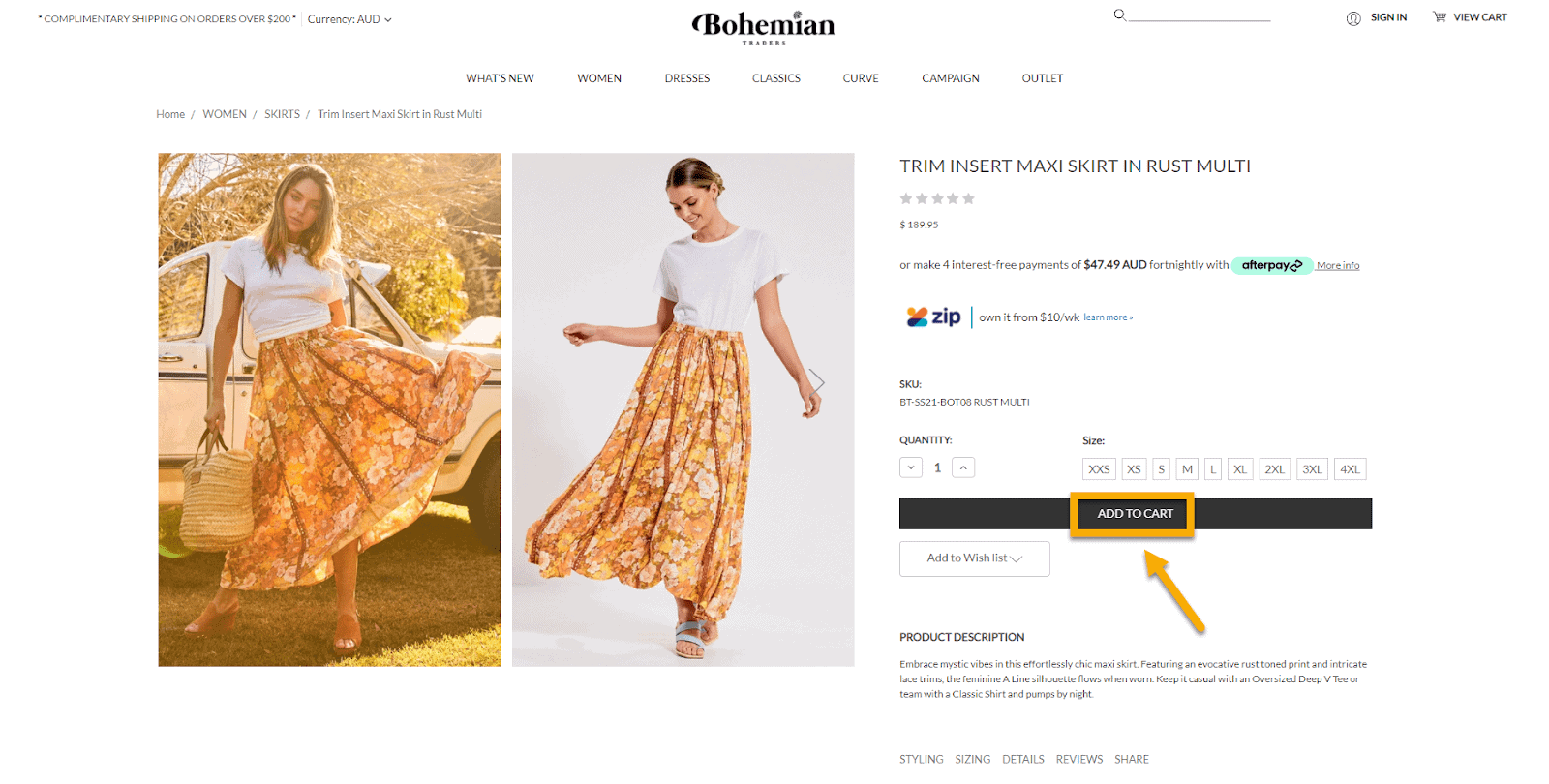 You can't miss this CTA even if you try to. It is perfectly aligned with the overall website design of the shop and is placed in an area where visitors see it first.
Seamless Navigation Between Pages
To help users find their way around, make sure you use breadcrumb navigation. Visitors can use breadcrumb navigation to understand the product hierarchy and navigate to other areas of interest. They have also proved to lower bounce rates.
Breadcrumbs are a secondary navigation aid that helps users understand the relationship between their current location on a page (such as a product page) and higher-level pages (a category page, for instance). 
Did you know?
The term derives from Hansel and Gretel's story, in which the children leave a trail of breadcrumbs to help them find their way home.
Here's an example of ASOS and its breadcrumbs.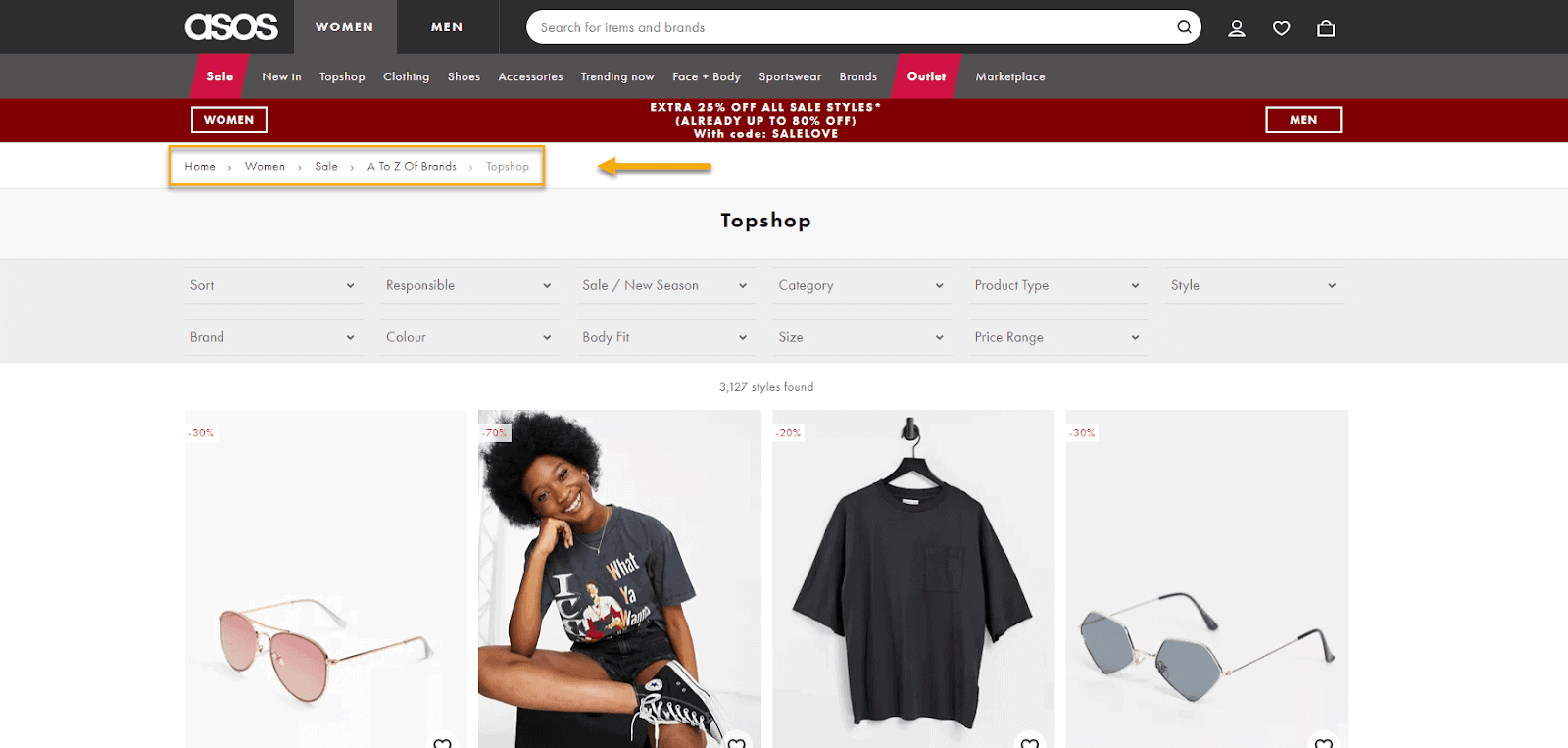 As you can see, breadcrumbs show you which categories you clicked on to get to the page you're on now. They also make it simple to return to a previous page if necessary.
A Sense of Scarcity
Another best practice to improve eCommerce product pages is to enforce the scarcity/urgency principle – products that are selling out quickly can entice users to convert faster. You may persuade someone to buy something, but they may not always be willing to do so right away.
They may want to compare the prices of their chosen items on other websites, look for discount coupons, the best payment options, or simply forget about the products — all thanks to the web's plethora of distractions.
Please take a look at how the folks from Wolf&Badger do it.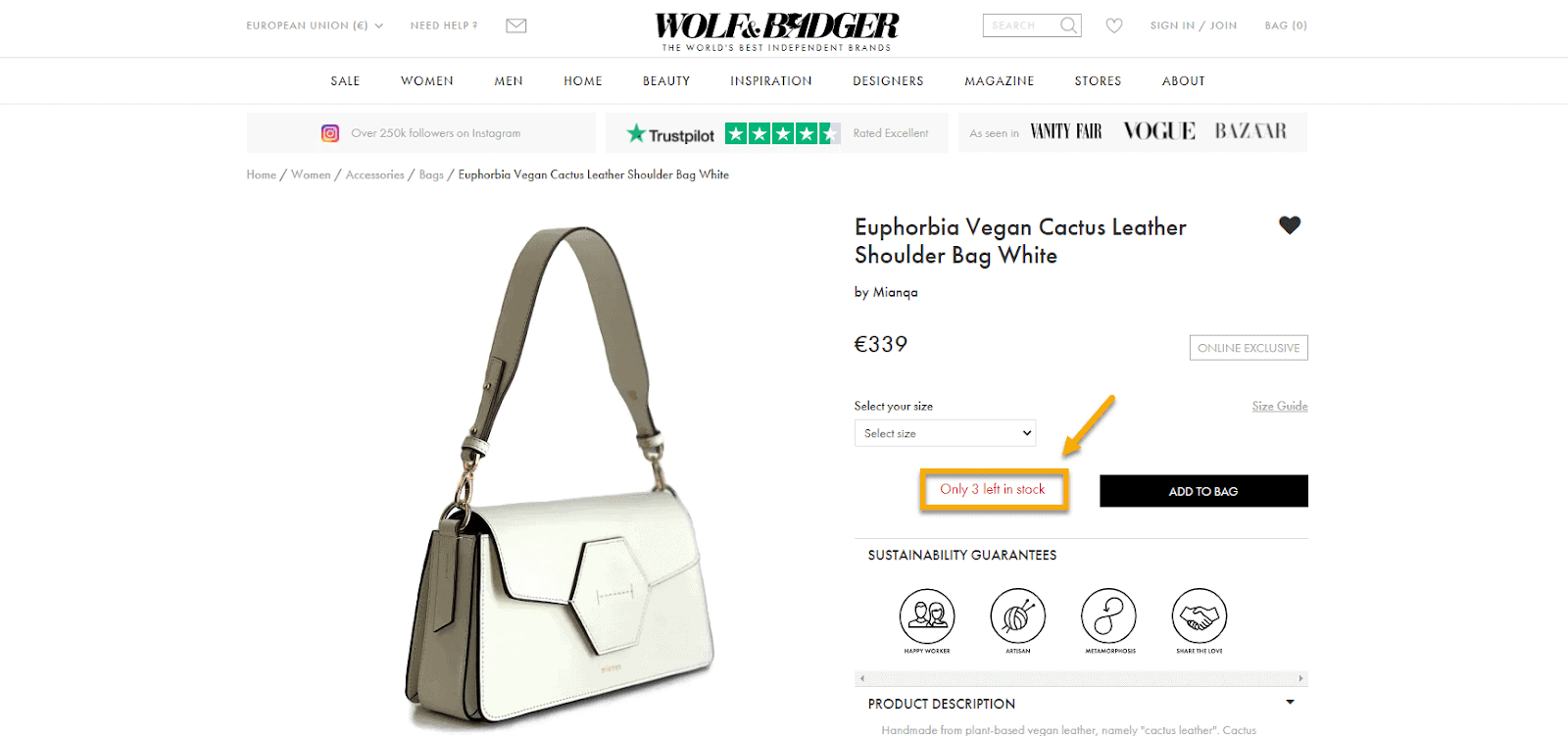 Notifying buyers when a specific size is out of stock is akin to shooting two birds with one arrow. This not only informs online shoppers that a specific product is unavailable but also serves as positive reinforcement.
Filtering and Sorting
Sorting is a method of changing the order of any product listing in which users can specify which criteria they want the products listed. As a result, price-conscious web users may prefer to sort the products by price, from cheapest to most expensive.
A strategy for reducing the number of products in a product listing is filtering. Users choose whatever criteria are essential to them, and only products that satisfy those criteria are displayed. Price-conscious users, for example, may choose to view products priced under $10 (thereby filtering out all products priced more than $10).
Check out the example below by About You.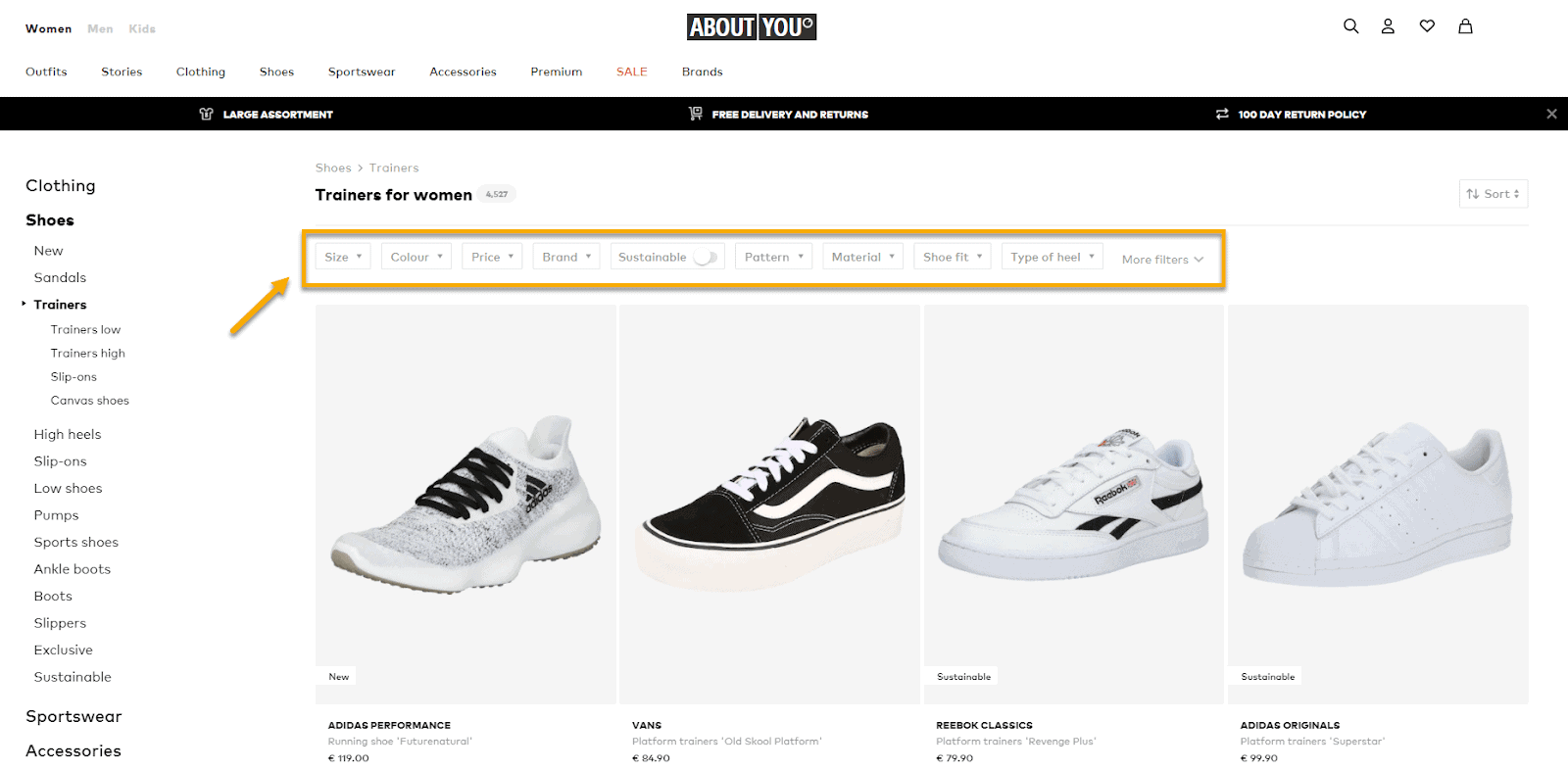 Sorting and filtering are critical for assisting users in locating the products they seek. Because users' levels of sophistication when shopping online are increasing, they are more likely to 'flick' between similar sites in a matter of seconds.
Recap:
So you know how eCommerce works, what skills and traits you'll need to start an online store, and what best practices to look out for. Great! Let's see how we can do it with the help of WooCommerce!
How to build your online clothing business with WooCommerce
Before you begin, we recommend you read the WordPress documentation first, as you cannot build a WooCommerce store without first going through WordPress. This will show you how to install WordPress on your web host and how to engage with posts, pages, comments, and other features.
After you've done this, these are the steps you need to follow.
Pick a WordPress Theme
After installing WordPress and logging in to your dashboard, you'll need to select a WordPress theme, which will influence the design of your site. There are numerous options available, ranging from free to paid themes, and they can vary in terms of their quality and features.
When choosing a WordPress theme, keep the following points in mind:
Does it work in tandem with WooCommerce? A WooCommerce theme simplifies the process of setting up your store and designing your website. WooCommerce does provide a free Storefront theme designed specifically for online stores. Both the Galleria child theme and the new Threads theme play a crucial role for clothing retailers.

Is the theme quick to load? While there are numerous ways to improve website performance and load time on your own, selecting a theme that is optimized for speed gets you started in the right direction.
Is it compatible with mobile devices? Examine the theme demos on a mobile device and the documentation to ensure that it looks just as good on phones and tablets as it does on your desktop.
Is it SEO-friendly? Examine the documentation to see if the developers designed the theme with SEO in mind.
What functionality and features are you looking for? Make a list of the features you want on a website. While you can add eCommerce product addons for additional functionality, it's often easier if the theme already includes what you're looking for.
After you choose and install your theme, it's time to consider the design of your website. While your theme may have its features and page builder, WordPress and WooCommerce provide simple ways to customize your site.
Also, the newest version of the Gutenberg editor lets you use flexible blocks to create any page you want. Headings, text, images, columns, videos, buttons, galleries, and other elements can be dragged and dropped.
Activate WooCommerce
To do this, you need to follow these steps:
Go to your WordPress Dashboard > Plugins > Add New > Upload
Select WooCommerce
Install
Activate
Just like this:

Choose the Pages for Your Site
Here are some examples that perform well in the fashion industry:
About. Take advantage of this opportunity to describe your mission and story.
Product Page. Product pages provide many specifications and characteristics to assist in answering inquiries, providing reviews, comparing products, and facilitating purchasing.
FAQ. Answer your customers' questions regularly.
Collections. Sort your clothes by season, gender, style, and other factors.
Fitting Instructions. Describe how items fit, how customers can measure themselves, and your clothing measurements.
Stores. Do you also sell your products in stores? Those are listed on this page.

Contact. Make sure your customers can contact you if they have any questions or feedback.
Policies. Describe your return and exchange policies, as well as how you use and protect your customers' data.
Lookbook. Display real people wearing your clothing and demonstrate how to pair items together to create cohesive outfits.
Grow your Store
Consider what additional functionality you might require or want in your store. What business model are you going to use to sell your products? What methods of payment will you accept? Do you want shoppers to be able to personalize your clothes?
The good thing about WooCommerce is that it has a plethora of useful extensions that will assist you in creating any store you can think of!
Here are a few examples that are especially useful for fashion stores:
Product Add-Ons: Allow your users to ask for personalization on your t-shirts and other clothing, such as words or pictures. Provide gift wrapping and other options as well.
Product Vendors: Allow diverse apparel designers to sell their products on your website while keeping commissions under control.
Variation Swatches and Photos: Color swatches are visual, interactive image swatches that you can use to design your products and display color options for your clothing.
WooCommerce Subscriptions: Sell themed clothing subscription boxes or send out a new pair of fun socks to customers every month. Recurring payments can be easily managed.
Optimize for SEO
Although there are many aspects to search engine optimization, the most important thing to keep in mind is that Google prioritizes the customer experience. They want to show their users high-quality material, so make sure your website does.
The following are the main elements of any SEO scenario:
Product Title: Include keywords in a rational way that is appealing to users. An appropriate product title should entice people to visit your website or purchase your product.
Meta description: Make it interesting by writing a short fragment about your page topic! Meta descriptions should entice users to read more.
Slug (or URL): Keep it brief but descriptive, and don't forget to include your keyword.
Alternate Tags: Google and screen readers use alt tags to "read" your images. Instead of stuffing these with keywords, describe exactly what's in the image.
To achieve this, head over to your WordPress Dashboard and hit All Products. Once you have a list of all of your products, hit Edit, and from there on, you will be able to optimize your products for SEO.
Here's a sneak peek: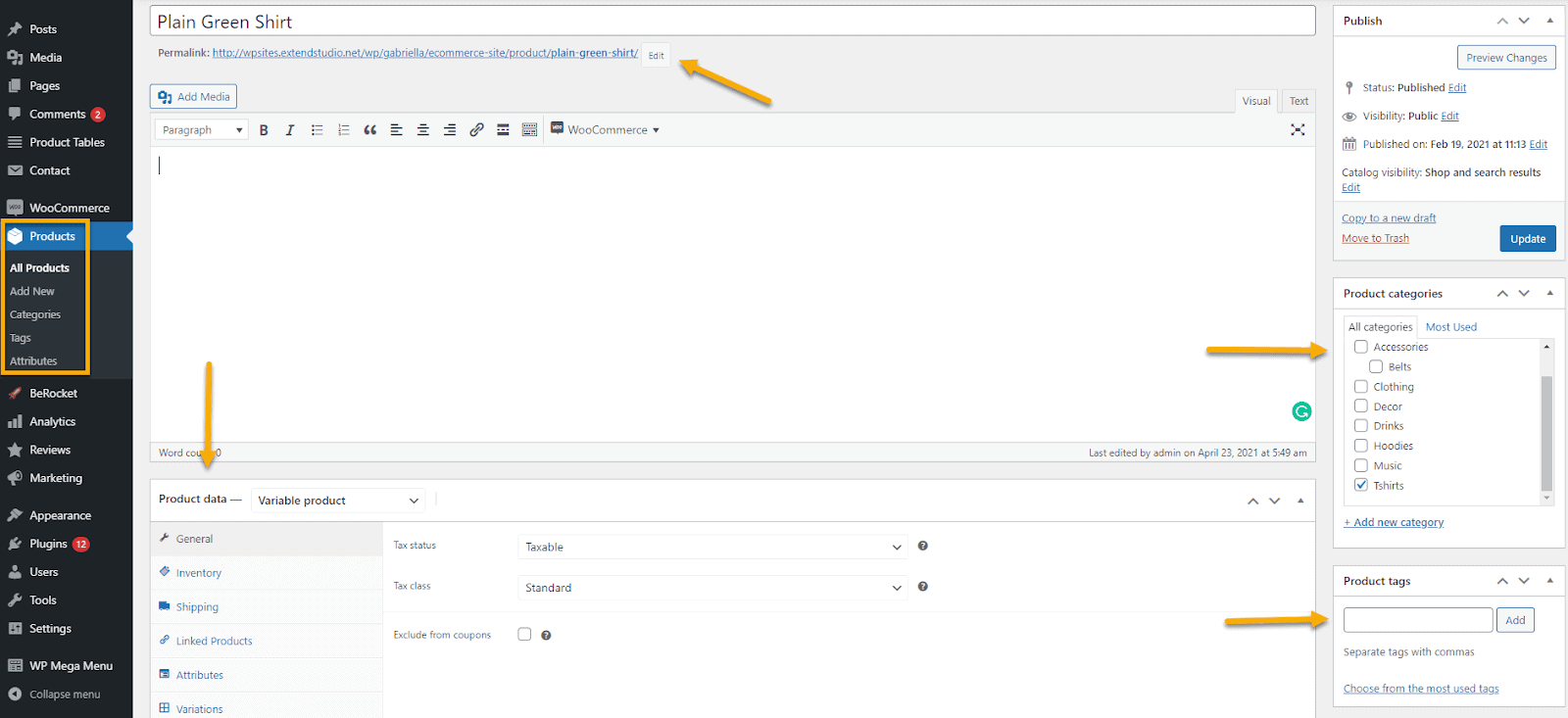 Add High-Quality Images
We've already discussed the importance of adding good product images. Now let's get to the technical part of it.
To add images using WooCommerce, this is what you should do:
From your wp-admin Dashboard, jump over to Product in the left side menu and select Add New or All Products.
Set your main product image and gallery images as seen below.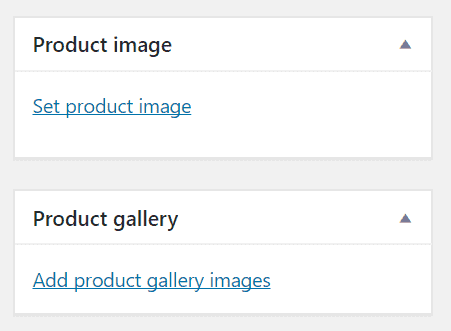 Click the Set product image link to add a product image. By clicking this link, you will be taken to the WordPress media selector. You can either select an existing image or upload a new one from this page.

Once you've chosen or uploaded the image, you want to use, click the Set product image button on the dialog to proceed. You should now see the image you chose in the Product Image box.
Edit Product
After you've decided upon the image, it's time you set the product's features. From your wp-admin Dashboard, go to Products → All Products → and then hit Edit on one of them and get started. This is how your page will look.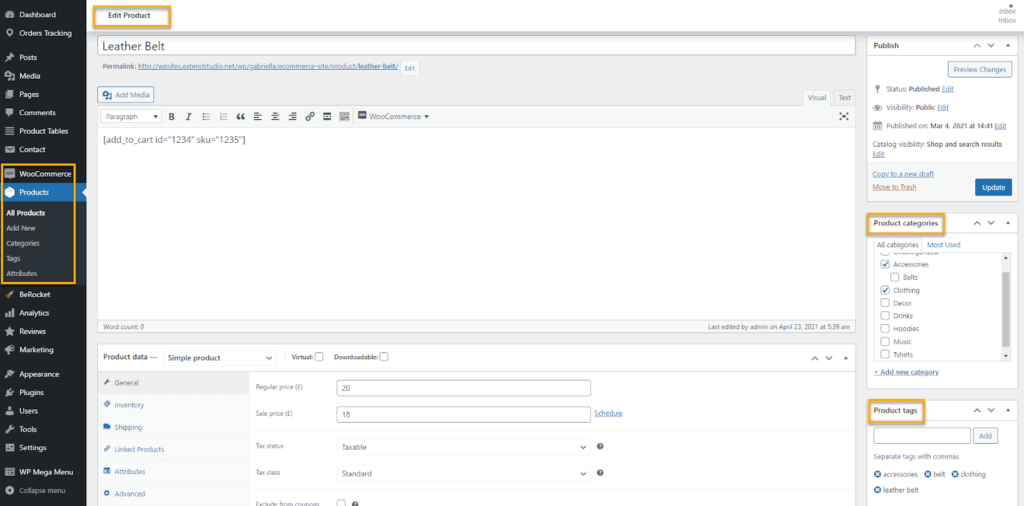 You'll be able to set product tags, product categories, quantity, shipping, price, product description, and much more from here. If you feel like going on a higher level of customization, we also have an article on how to customize your WooCommerce product page like a pro.
And speaking of price, let's go more in-depth regarding the process of setting up a payment method via WooCommerce.
How to Choose Payment Methods for Your Online Store
The ideal WooCommerce payment gateways rely on the nature of your company and its requirements. If you own an online store, you have a lot of options. But, before we get started, there's one last thing we should go over.
When choosing a payment gateway, keep the following factors in mind:
Is the payment gateway compatible with WooCommerce? WooCommerce integration is endorsed by major online payment gateways. If you use an payment gateway like PayPal, make sure it integrates seamlessly.
What are the costs of the transaction? For each transaction or product you sell, you will be charged the fees of each payment processor. This is especially important if you sell low-profit items or products at a significant discount.
Is it possible to make a credit card payment? In general, credit cards are the most popular method of payment for online transactions. If your payment gateway does not accept credit cards, you may lose customers.
WooCommerce, fortunately, provides WordPress users with a variety of payment gateway options. You'll only need to install a WordPress payment plugin to integrate each of the payment gateways we'll go over below.
PayPal Standard
Accepting PayPal payments on your website is built into WooCommerce. PayPal is one of the most popular payment options, offering a wide range of services for personal, business, and eCommerce use.
It is available in hundreds of countries, though some may have different restrictions. Check to see if it is accepted in your area as well as by your target audience. Remember that because the Standard Paypal extension for WooCommerce lacks an on-site checkout experience, your customers need to visit the PayPal website first to complete their transactions.
WooCommerce PayPal Pro
PayPal Pro for WooCommerce is a paid WooCommerce extension developed by the WooCommerce team. It enables you to use PayPal with a more user-friendly checkout experience, allowing customers to complete their purchases without leaving your website.
The customer enters their credit card information during the checkout process, and PayPal handles the rest. As a result, the checkout process is extremely smooth, and the user is never required to leave the website.
Stripe
Stripe accepts all credit and debit cards, so your customers can pay with both Apple and Google Pay. Stripe is also available in over 40 countries and supports over 135 currencies. Stripe has no set-up or annual fees, but they charge 2.9 percent + 30 cents per transaction.
It also provides a more pleasant check-out experience. Customers can stay on your website during the check-out process, and it works well on both mobile and desktop apps.
Keep in mind that you can use Stripe with any WordPress membership or subscription plugin.
Take-Home Message
Pat yourself on the back if you've made it this far!
You've learned what skills you'll need to start a thriving fashion boutique, some of the best case studies from well-known fashion stores, the steps you'll need to take to set up your store with WooCommerce, and how to choose a payment method. Isn't that fantastic?
Nonetheless, if you still feel like pimping up your WooCommerce store, feel free to get inspired by some of the ideas to make your store unique than others.
Remember that while starting a fashion website may appear daunting, the key is to begin! You'll be on the right track if you follow the steps in this article, spend time connecting with your customers, and create high-quality products.
Good luck with your sales!